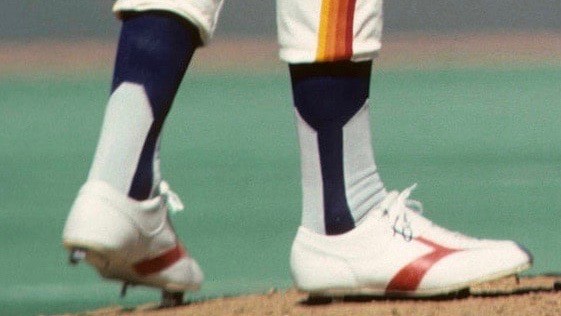 Last Friday I wrote about how the Astros apparently pioneered the use of two-in-ones — in other words, socks with with a faux stirrup pattern knit into them — in 1976 and '77, which was a huge surprise to me. As I wrote in that post, I had no memory of the 'Stros wearing two-in-ones back in the day, and I had long thought that two-in-ones came into existence around 1990, not in the 1970s.
Today I have some follow-ups on that report, beginning with a major find from uniform designer/historian Todd Radom. After seeing last Friday's post, he did a bit of research and came up with this item by New York Daily News columnist Dick Young, who was covering a sporting goods trade show. This ran on Dec. 12, 1975 — the winter before the Astros apparently began wearing two-in-ones: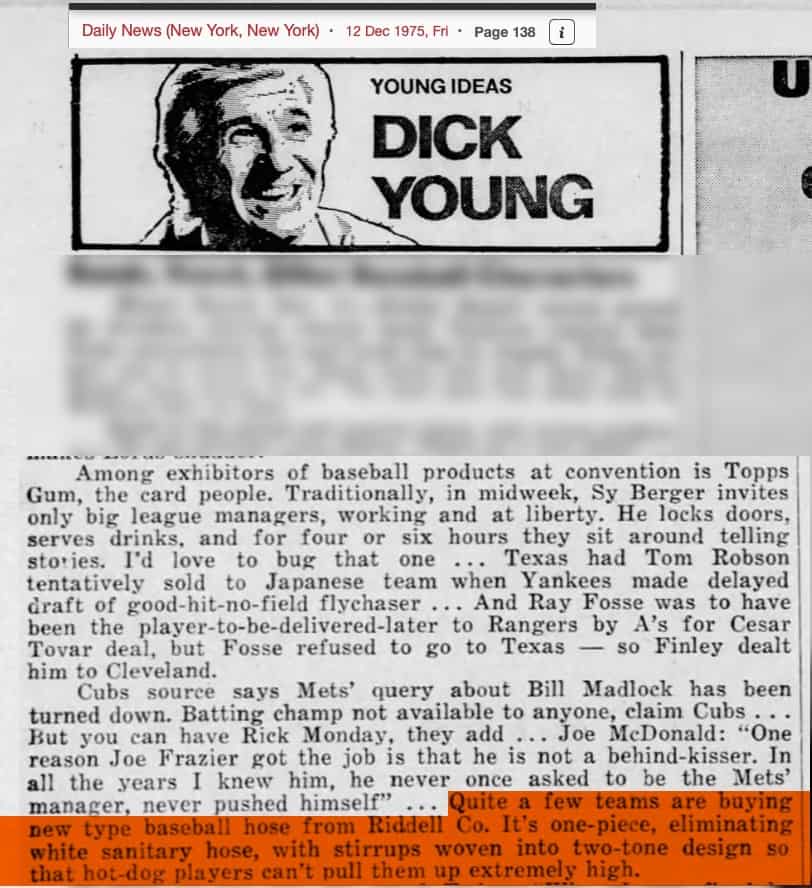 In case you're having trouble reading that orange-blocked text, it says:
Quite a few teams are buying a new type of baseball hose from Riddell Co. It's one-piece, eliminating white sanitary hose, with stirrups woven into [the] two-tone design so that hot-dog players can't pull them up extremely high.
So that explains why the 'Stros began wearing the two-in-ones in 1976 (as opposed to '75, when the tequila sunrise uniform made its own-field debut) — the two-in-ones weren't available until then!
Also of note: Young wrote that "quite a few teams" were purchasing the new hose. So did any other teams wear two-in-ones in 1976? If so, I'm not aware of it, but of course I wasn't aware of the Astros wearing them until just last week. Hmmmmm.
It may seem odd to hear that Riddell — a football helmet company — pioneered a kind of sock. But Riddell was a big footwear company back in the day (shoes as well as socks), so it's not as incongruous as it may sound today. Anyway, I got in touch with my Riddell contact to see if they had any old paperwork about the two-in-ones, or if there were any old-timers on the staff who might be able to tell me more. Unfortunately, no dice on both accounts. Too bad.
The other key bit of new research comes our way from Jeremy Snyder (aka @QuirkyResearch), who found this wire service article about Astros slugger Cliff Johnson from May 1977 — the second season that the 'Stros wore the two-in-ones (key passage highlighted; click to enlarge):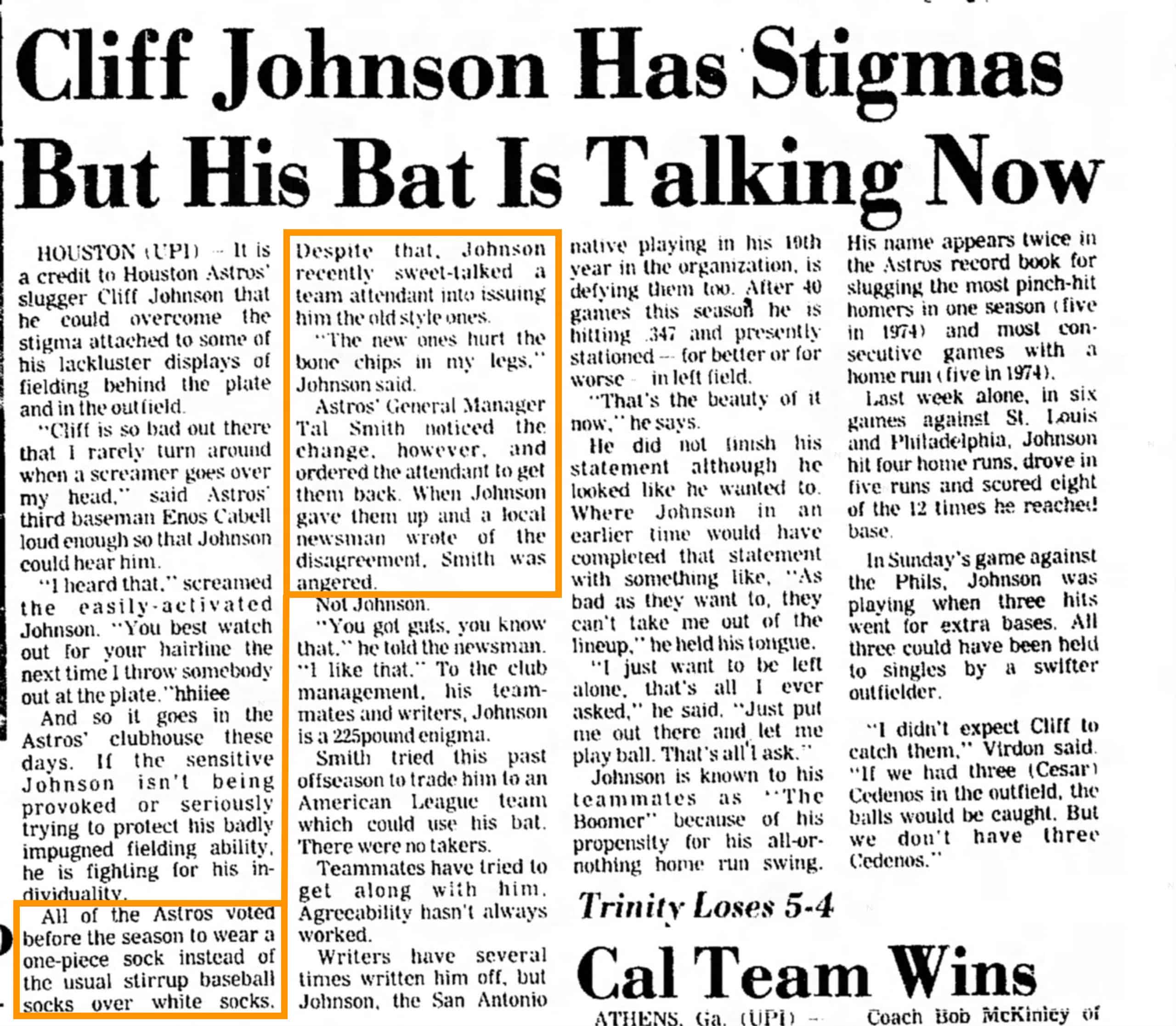 Here's the transcription of that highlighted passage:
All of the Astros voted before the season to wear a one-piece sock instead of the usual stirrup baseball socks over white socks. Despite that, Johnson recently sweet-talked a team attendant into issuing him the old-style ones.

"The new ones hurt the bone chips in my legs," Johnson said.

Astros General Manager Tal Smith noticed the change, however, and ordered the attendant to get them back [from Johnson]. When Johnson gave them up and a local newsman wrote of the disagreement, Smith was angered.
There are several nuggets of interest here:
• First, it's interesting to learn to that the Astros voted to wear the two-in-ones on a team-wide basis in 1977. That implies that the socks were optional in '76, the first year they were worn.
• Seems counterintuitive that Johnson's bone chips would be aggravated more by a single-piece sock than by the two-piece stirrup/sanitary combo, no?
• We clearly need to see the article that was written by the "local newsman." Unfortunately, Houston papers are not included in any of the online newspaper archives I have access to. If anyone out there has a Houston library card, this archive might have what we're looking for. Anyone..?
I also contacted Astros historian Mike Acosta to see if he could offer any additional insights on any of this. He put me in touch with a longtime member of the team's clubhouse staff, but that employee has been preoccupied with the team's postseason activities. Since the team has two days off before the start of the ALCS on Sunday, I'm hoping he can make some time for me in the next day or two — will advise.
As an aside, I went looking for 1976 and '77 photos of Johnson. Didn't find much in the way of hosiery-inclusive pics, but I did find this shot in which his NOB appears to be seriously off-center: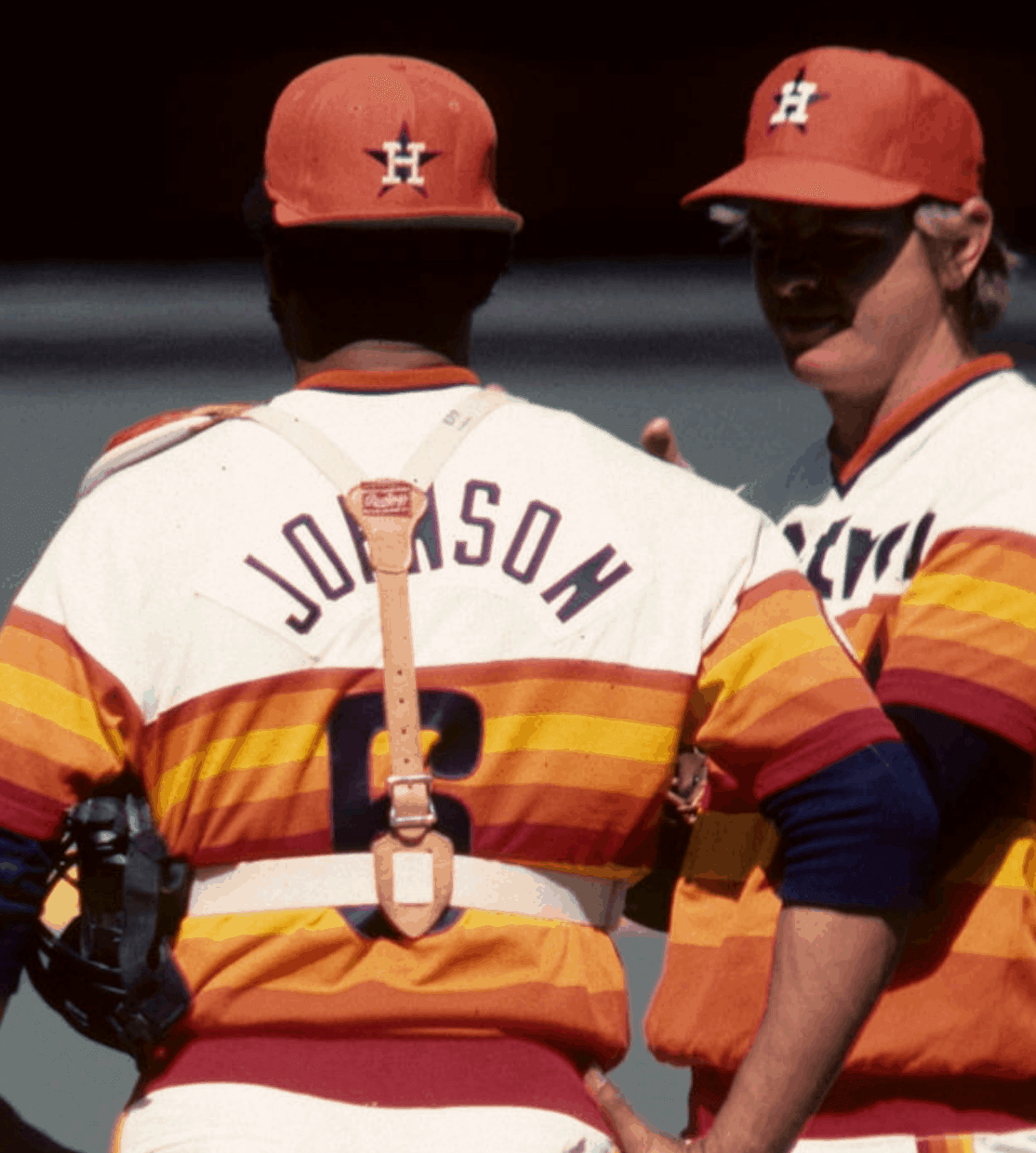 That has nothing to do with his socks, but it's still an interesting find!
• • • • •
• • • • •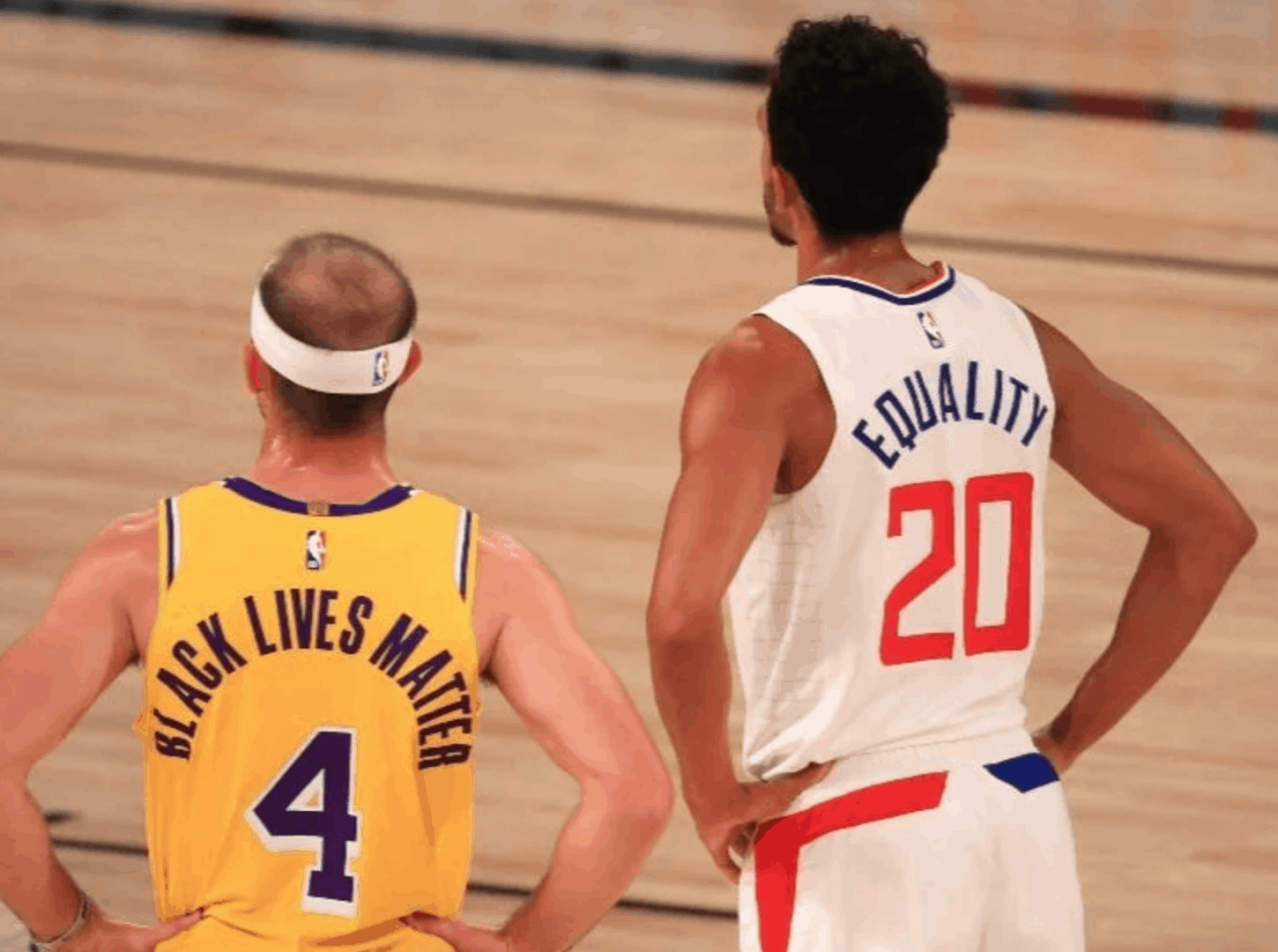 Virtue signaling reminder: In case you missed it, yesterday's post was a lengthy think piece on the subject of sports uniforms being used as a platform for virtue signaling (i.e., non-sports messaging regarding assorted worthy causes). People really seemed to like it, and I was seriously wowed by all the thoughtful comments that people posted.
The full package — the piece and the comments — is a testament to the great comm-uni-ty we've all built there. If you haven't already read the piece, I hope you'll check it out — and the comments as well.
• • • • •
• • • • •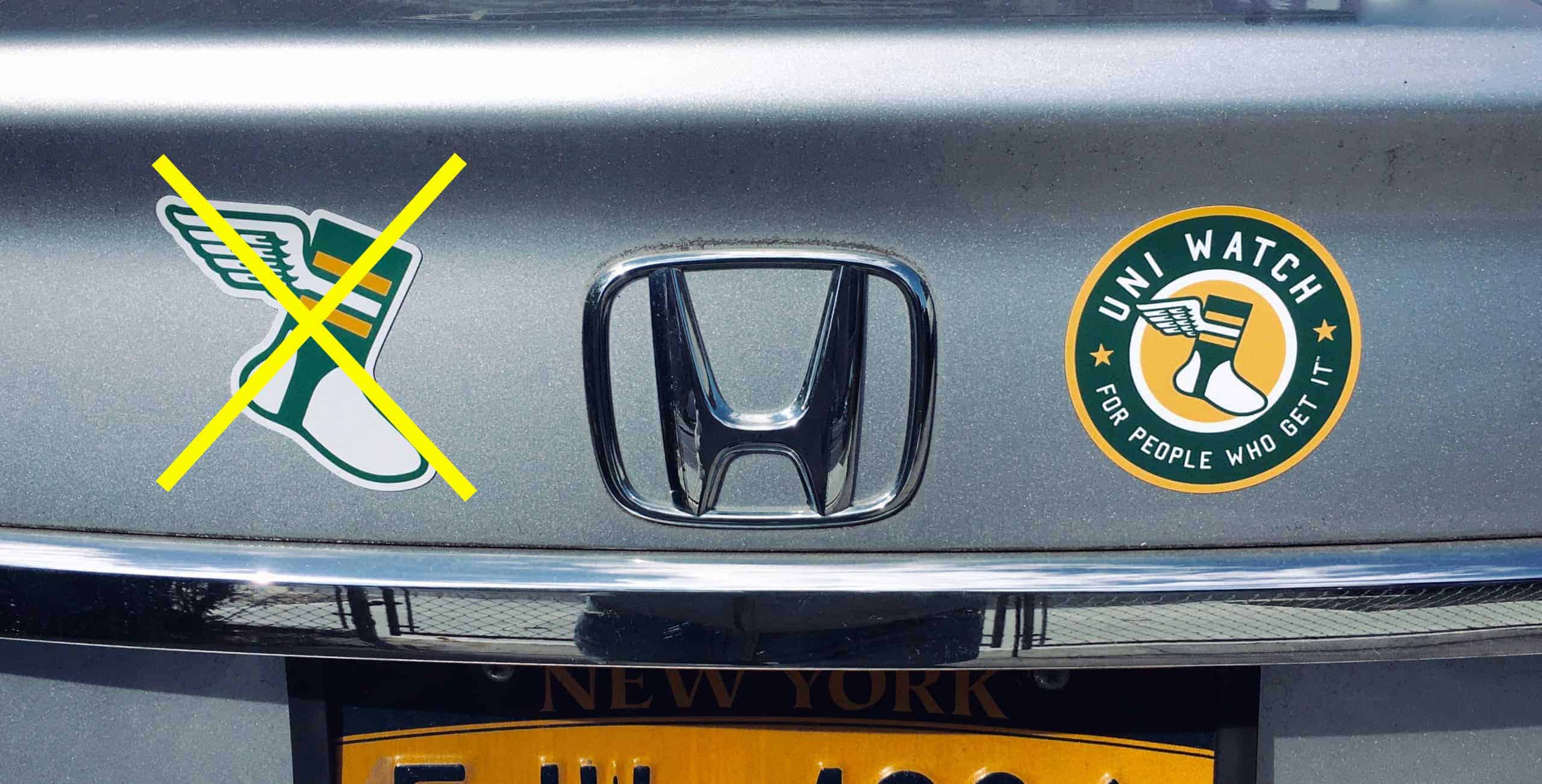 Click to enlarge
Magnet update: Thanks for the hugely positive response yesterday to the two Uni Watch magnets. The winged stirrup design is now sold out (if you want to be notified when it's restocked, shoot me a note), but I still have about a dozen of the round design.
They're $3 plus $1 for shipping. Very limited supply, so just one per person. If you want one, send me $4 via Venmo (use @Paul-Lukas-2 as the payee), Zelle (plukas64@gmail.com), or Google Pay (plukas64@gmail.com). If you'd rather use Apple Pay or a paper check, contact me and I'll give you the info you need. Sorry, no PayPal. After sending payment, email me with your mailing address.
If you're outside of the USA, the total price is $5. If you want one, contact me and I'll arrange an alternate form of payment for you.
If you want to combine your purchase with an order for a Uni Watch key ring, a trading card, a seam ripper, a koozie, or a chain-stitched patch, please email me and I'll give you a price that includes a combined shipping fee for the whole shebang. (Sorry, these are the only Uni Watch items I can combine into one shipment, because our other items ship from separate locations, not from Uni Watch HQ.) Now sold out!
Thanks!
• • • • •
• • • • •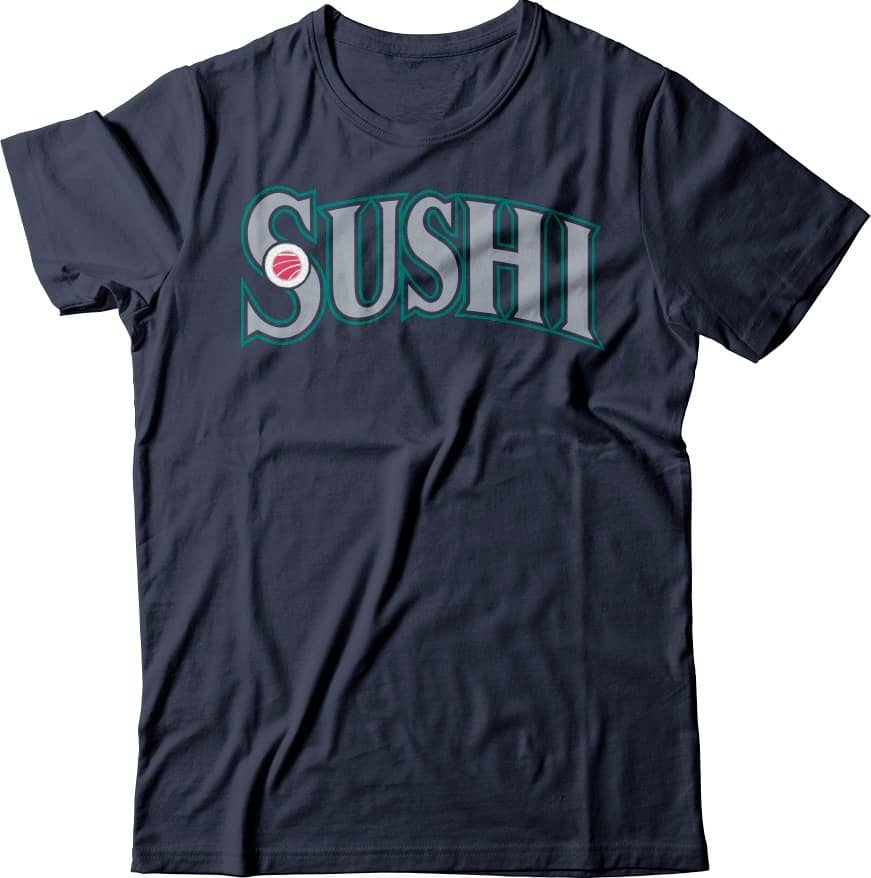 ITEM! New menu addition: As you can see here (and can click to enlarge), a new design has been added to the menu of theoretical T-shirt designs. Wouldn't it be fun — just, you know, in theory — if it were actually available in real life?
If you'd like to discuss that topic — or any of the other items on the menu — feel free to give me a shout and we'll have a nice chat about it.
We have another menu item currently being refined in our test kitchen, and I think it's the best one yet. Stay tuned.
• • • • •
• • • • •
The Ticker
By Anthony Emerson


Baseball News: A Seattle radio host is calling on the Mariners to make wholesale changes to their identity (from Tim Dunn). … On Instagram, former MLB player Nick Swisher posted a childhood picture of himself dressed in a Yankees uniform (from Mike Engle). … Oh my goodness, check out this amazing Phillies letterhead from 1950 (from @Phixated). … Folks, how do we feel about a beer advertisement incorporating a team's logo to make part of their name? That's Estrella Jalisco at Dodger Stadium. To me it's especially awkward because the interlocking LA on the sign doesn't make the top line read like "Estrella" at all (from Perry Shirley).

NFL/CFL News: Reader Kurt Rozek sends along this shot of Eagles camp in the 1960s, and notes the tan pants the players are wearing. "This obviously isn't during WW II when they were the Steagles for a year or so," he says. Perhaps they were surplus from that era, but does anyone have a definitive answer? … Kansas City WR Tyreek Hill was punished by the NFL in the past for mocking defenders with the peace sign, so this year he put the peace sign on his gloves (from Mike Chamernik). … Ted Arnold sent in the season ticket card he got from the Toronto Argonauts, complete with a nice pin. Love the cover, depicting the CN Tower with football laces. … The Patriots are sending out gift bags recognizing New Englanders who go out of their way to help others (from @VictoryCB). … The Ravens are wearing their purple jerseys on Sunday, but their "Gameday Threads" tweet doesn't actually show all of their gameday threads, so we don't know about the pants yet (from Adam Marcus). … A mic caught Browns coach Kevin Stefanski commenting to CEO Paul DePodesta about the lack of uni contrast in some NFL games. … Rumor has it the Buccaneers are making plans for a new retractable roof stadium, with ground-breaking to occur in 2022. Wouldn't be that surprising if Tom Brady is still around to play in the new stadium (from Kary Klismet). … Kary also sends along this article from the Packers' website about the history of Lambeau Field. … Also posted in the NBA section: For some reason, EA has added the Antetokounmpo brothers to Madden 21. "The brothers wear Greek-themed unis with faux-Greek lettering and a meander pattern on the sleeves," says Mike Chamernik (also from @NFL_Journal).

College/High School Football News: Virginia Tech RB Khalil Herbert will wear No. 25 this weekend, and the team will go white-white-orange against UNC (from Andrew Cosentino). … UNC itself will go white-navy-white in that game (from James Gilbert). … Miami is going white-white-green against Clemson (from Jason Lefkowitz). … Virginia is going white-orange-white against NC State (thanks, Jamie).

Hockey News: Canada will wear gorgeous "heritage" sweaters for the 2020-21 international season, starting with the World Juniors in December. Hype video here (from Jakob Fox, Adam Peleshaty and Mike Chamernik).

NBA News: This is great: The jock tag on the jersey given to Shaquille O'Neal at his Heat introductory press conference featured a Spurs logo. If it was noticed at the time, heads probably rolled (from Steve Flack). … Cross-posted from the NFL section: For some reason, EA has added the Antetokounmpo brothers to Madden 21. "The brothers wear Greek-themed unis with faux-Greek lettering and a meander pattern on the sleeves," says Mike Chamernik (also from @NFL_Journal).

Soccer News: Gibraltar's national team has unveiled a new crest and kits (from Kary Klismet).
.

Grab Bag: Ever wonder why a ton of cassettes and CDs from the 1980s and '90s had the same red block font on the spine, no matter the artist or genre? This Twitter thread has your answer (from Alex Graber). … Singapore's postal delivery service is receiving new uniforms (from Kary Klismet). … Also from Kary: A new podcast about collegiate sports logos has just released its newest episode, about the logos of Oklahoma and Oklahoma State. … One more from Kary: ICE has seized a shipment of more than 300 counterfeit championship rings in Indianapolis. … Fresno's Central Unified School District has a new athletics logo. … The University of Houston's costumed mascot, Shasta, will now wear No. 27. Shasta previously wore the last two digits of the current year (from Ignacio Salazar). … New volleyball floor design for USC (from Jeremy Brahm).
• • • • •
• • • • •
• • • • •
That's a wrap for this week. Stay safe, enjoy Phil's weekend content, and I'll see you back here for Monday Morning Uni Watch. — Paul