In the '66 @CFL season, Ottawa played @MTLAlouettes twice in Montreal. During 1 of those games, some kids broke into the Ott locker room and stole several home jerseys. My dad's #76 jersey was among them. Today (57 yrs later) the jersey arrived home. *Worn by my son.#cfl #family pic.twitter.com/7ezZXwkPfR

— Jed Roberts (@jedrock43) June 28, 2023
On Wednesday, longtime Uni Watch reader Moe Khan, who lives in Montreal, pointed me toward the tweet shown above. It was posted by former CFL player Jed Roberts, who played for Edmonton from 1990 through 2002. Roberts comes from a CFL family: His father Jay Roberts, who's now deceased, played for the Ottawa Rough Riders from 1964 through 1970. And as you can see in the tweet, one of Jay's jerseys was stolen in 1966 and was recently returned to Jed.
I don't know much about the CFL, but I know a good story when I see one, so I DM'd Jed and asked if I could interview him. We spoke yesterday by Zoom. Here's a transcript of our conversation, edited for length and clarity: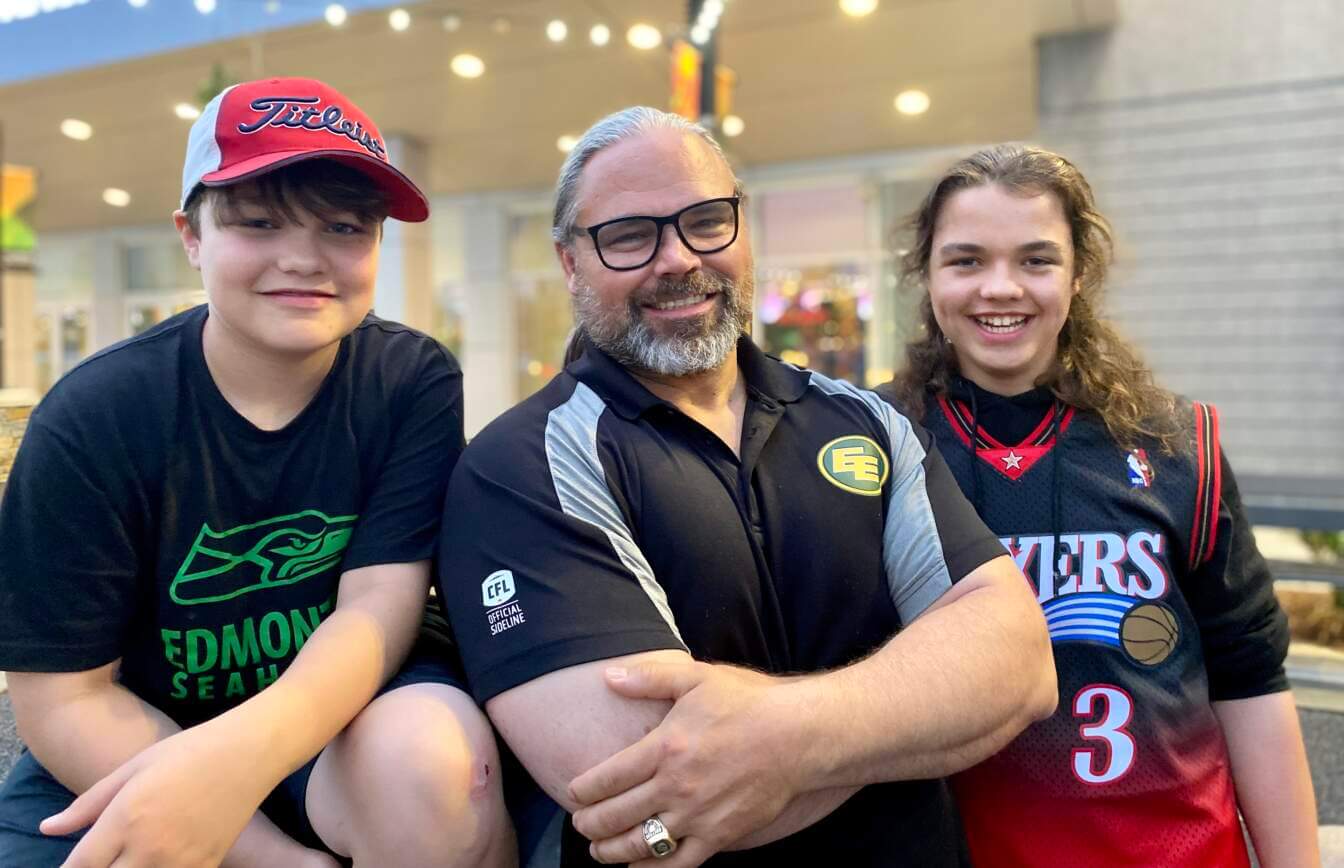 Uni Watch: Tell me the story of how your father's jersey was stolen in 1966.
Jed Roberts: Well, it's something that I was vaguely aware of. It's one of those CFL lore things, you know, right up there with the Grey Cup being stolen. Anyway, the story goes that the Ottawa Rough Riders were in Montreal to play the Alouettes. And during the game, some kids somehow got into the locker rooms, and then they just grabbed whatever they could, a number of the Rough Riders' home jerseys. I'm not sure why they even had them there, because it was an away game.
UW: That was my next question, actually — I was sort of confused about that.
JR: Yeah, it's a little bit odd. Anyway, the kids took a whole bunch of jerseys, and my dad's jersey was among them. And the cool thing is — and I didn't realize this when my dad told me about his jersey being taken — but this jersey is the one that my dad wore in his rookie year, in 1964.
UW: So they were still using the same actual jerseys, two years later.
JR: Yeah. I've got it right here. [He holds up the jersey.] And you know, to be quite frank, if they hadn't taken it. I'm not sure that it would have survived to this day, so they kind of did us a favor by taking it.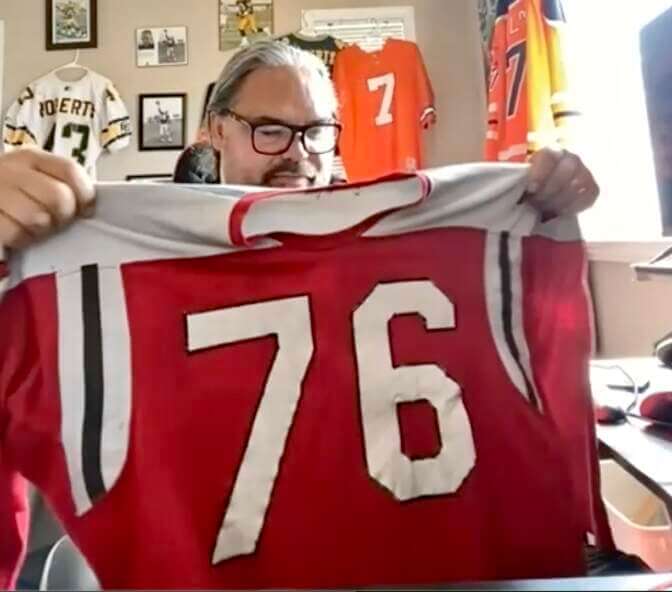 UW: Did your father talk about this incident at all while you were growing up?
JR: I spent a lot of time listening to him and his friends tell stories about things that happened while they were playing, and that came up a couple of times. But my dad was, you know, easy come, easy go. He didn't really care about stuff like that.
He did have the wherewithal to put away a whole bunch of stuff for me when I was a little kid — he had a trunk full of jerseys and other stuff. But then his second wife got angry with him and put the trunk out in the yard and didn't tell him, and it was out there for a few months and it ruined everything in the trunk. So when this gentleman kind of called me right out of the clear blue sky and said, "Hey, I have this jersey," that got my attention, because all of my dad's other stuff was gone.
UW: When was that? When did you hear from this guy?
JR: Maybe two weeks ago.
UW: So it was just a stranger who tracked you down and called you?
JR: He messaged me on Facebook. It wasn't the guy who stole the jersey — it was a friend of his. He said, "Hey, my friend has this jersey. Would you be interested in getting it back?" He said his friend was having a bit of crisis of conscience and wanted to return it. So I said, "Well, what would he charge?" And he goes, "Are you kidding? It's free."
UW: So the same guy who took it had kept it for all these years.
JR: Yeah. And it's beautiful, man, it's in great shape. He took really good care of it.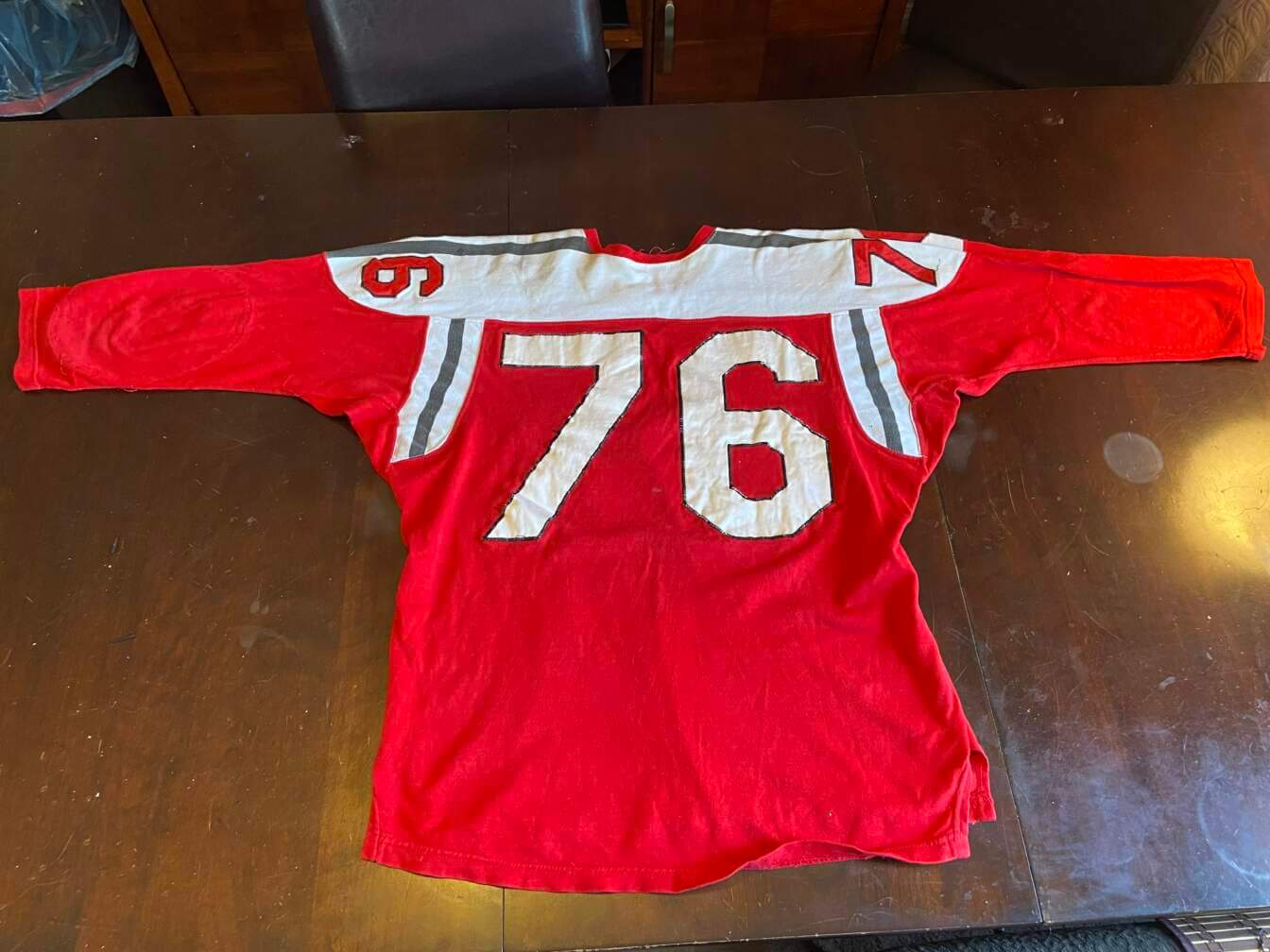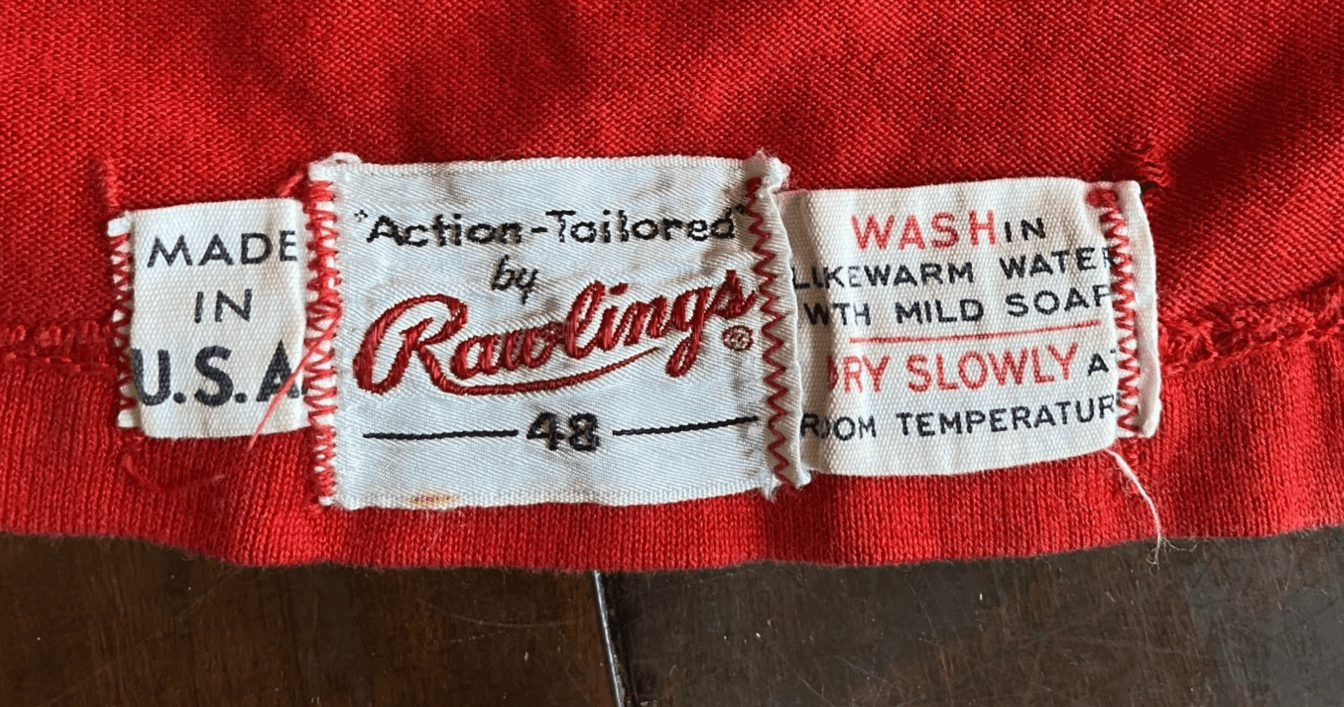 UW: Why did the friend contact you and not the guy who actually took it?
JR: That's a good question. I'm actually trying to follow up on that a little bit. But he lives in Quebec, and the jersey showed up in the mail, just like he said.
UW: What sorts of feelings ran through you as you opened up the package and saw your dad's jersey?
JR: Well, the first thing I did was I marched upstairs, and I asked my son Kekoa to put it on. And he did. And then he was like, "What is this?" And I told him what it was. And he was like, "Whoa, okay." So then we took a few pictures of him wearing it in the backyard. His middle name is Jay, after my dad. It's too bad my dad passed away in 2011, because he would have been tickled to have this jersey.
UW: Do you get the impression that the guy and his friend are looking to return any other jerseys that were stolen that day?
JR: I don't know for sure, but I would imagine so. I mean, if they got in touch with me, I don't see why they wouldn't do it for someone else.
UW: Do you have any photos of your dad wearing this jersey?
JR: No, unfortunately. The CFL hasn't been great about curating its history, so there aren't many photos from that time period. I do have a photo of Ron Stewart wearing that same uniform, though.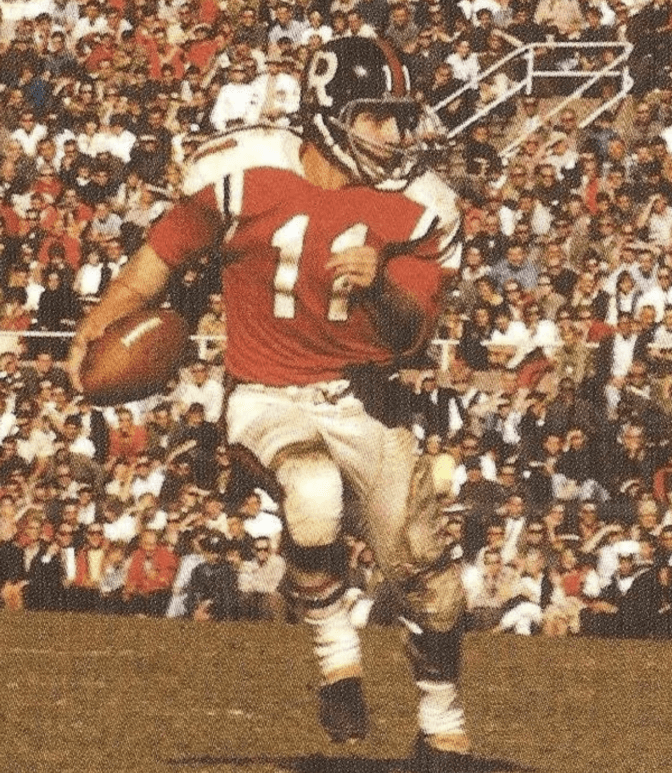 UW: What are you going to do with the jersey?
JR: Probably frame it.
UW: I think those are all my questions. Is there anything I haven't asked you about that you want me to know?
JR: Just that there are good people out there. I think that's the big takeaway. I think people can get pretty cynical sometimes, so it's easy to lose sight of the fact that there are good people out there. I think most people are genuinely pretty good, and are willing to help out. And this is just one more example of that.
———
How nice is that? What a great story, plus Jed seems like a total peach of a guy. Please join me in thanking him for sharing his story with us.
Update: Bill Schaefer of the Gridiron Uniform Database found this 1964 photo of Jay Roberts wearing the jersey that would eventually be stolen:
How great is that? What a great capper to the story!
(Huge thanks to Moe Khan for bringing Jed Roberts's tweet to my attention.)