The sports world features all sorts of merchandise, most of which is just boring, mass-produced slop. Here at Uni Watch, we're not opposed to merchandise, but we like to think that ours is more interesting, creative, and fun than most of what's out there. Here's what we're currently offering (for most of the photos on this page, you can click to enlarge):
The Uni Watch Cap

Show that you Get It™ without 100% cotton twill strapback cap, featuring our embroidered logo and, as with all Uni Watch products, no visible maker's mark. Available here.
Uni Watch Bats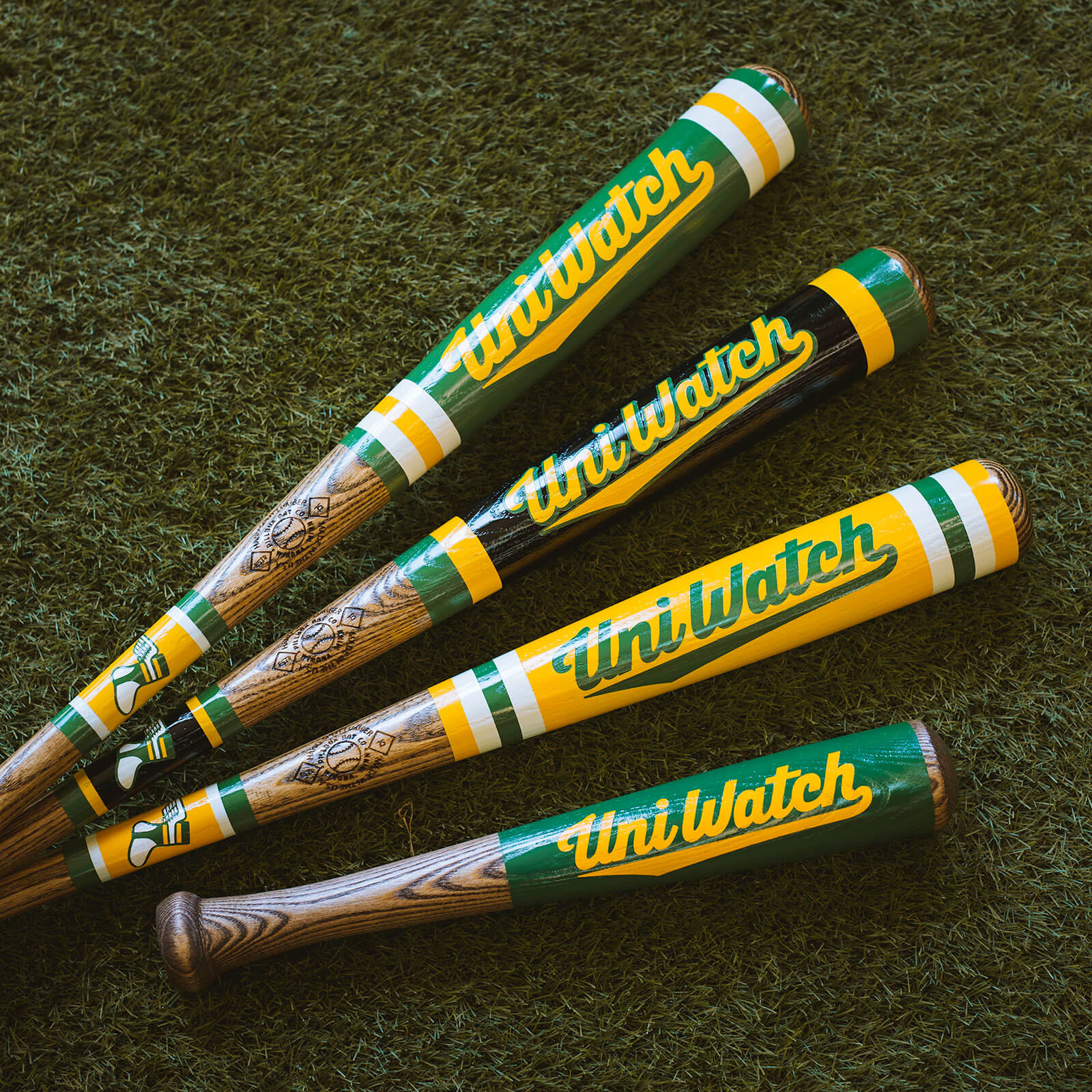 I'm super-excited to offer these sensational-looking painted bats, produced in collaboration with the great Pillbox Bat Co. Available in green, yellow, BFBS, and miniature. Check them out here.
.
Uni Watch Pins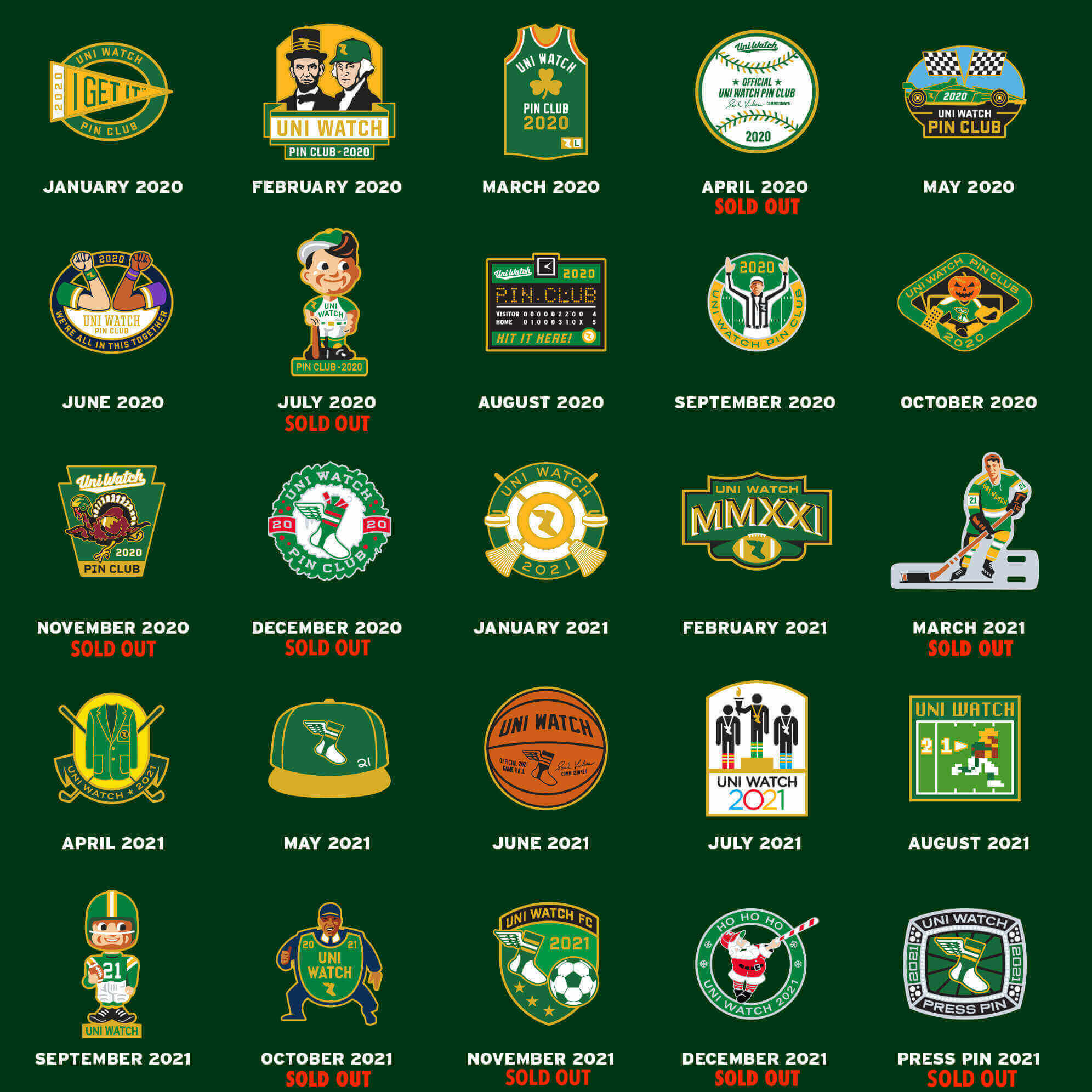 In 2020 and 2021, we had a monthly series of limited-edition enamel pins. That program is now finished, but we're selling the remaining pin inventory at a serious discount, with even deep discounts for multi-pin bundles. Full details here.
.
The Uni Watch Pint Glass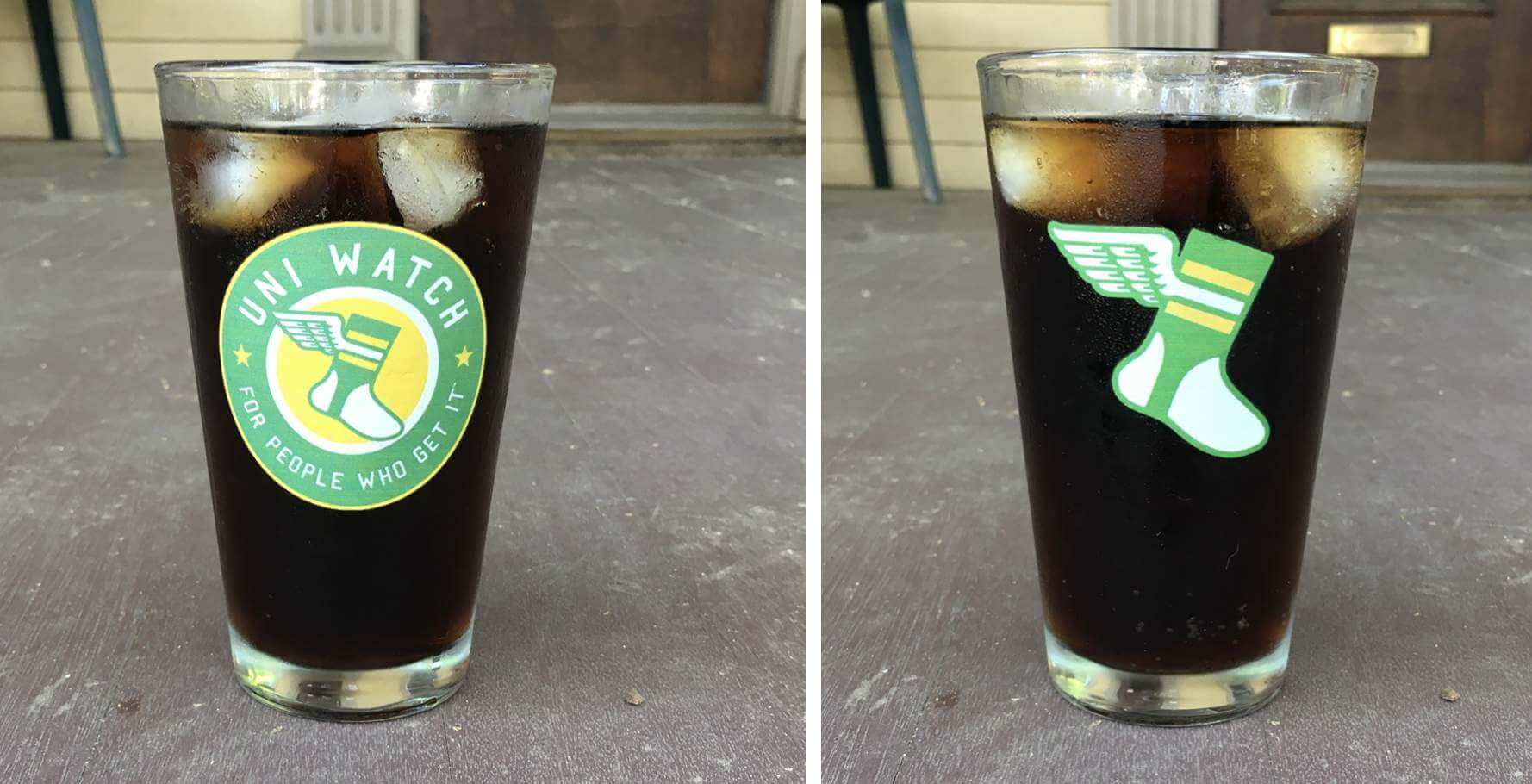 Bottoms up! Enjoy beverages in style with our first piece of Uni Watch glassware. Features our circular logo on one side and the winged stirrup on the other. You can order it here (plus we have other pint glass designs here, here, and here).
.
Uni Watch T-Shirts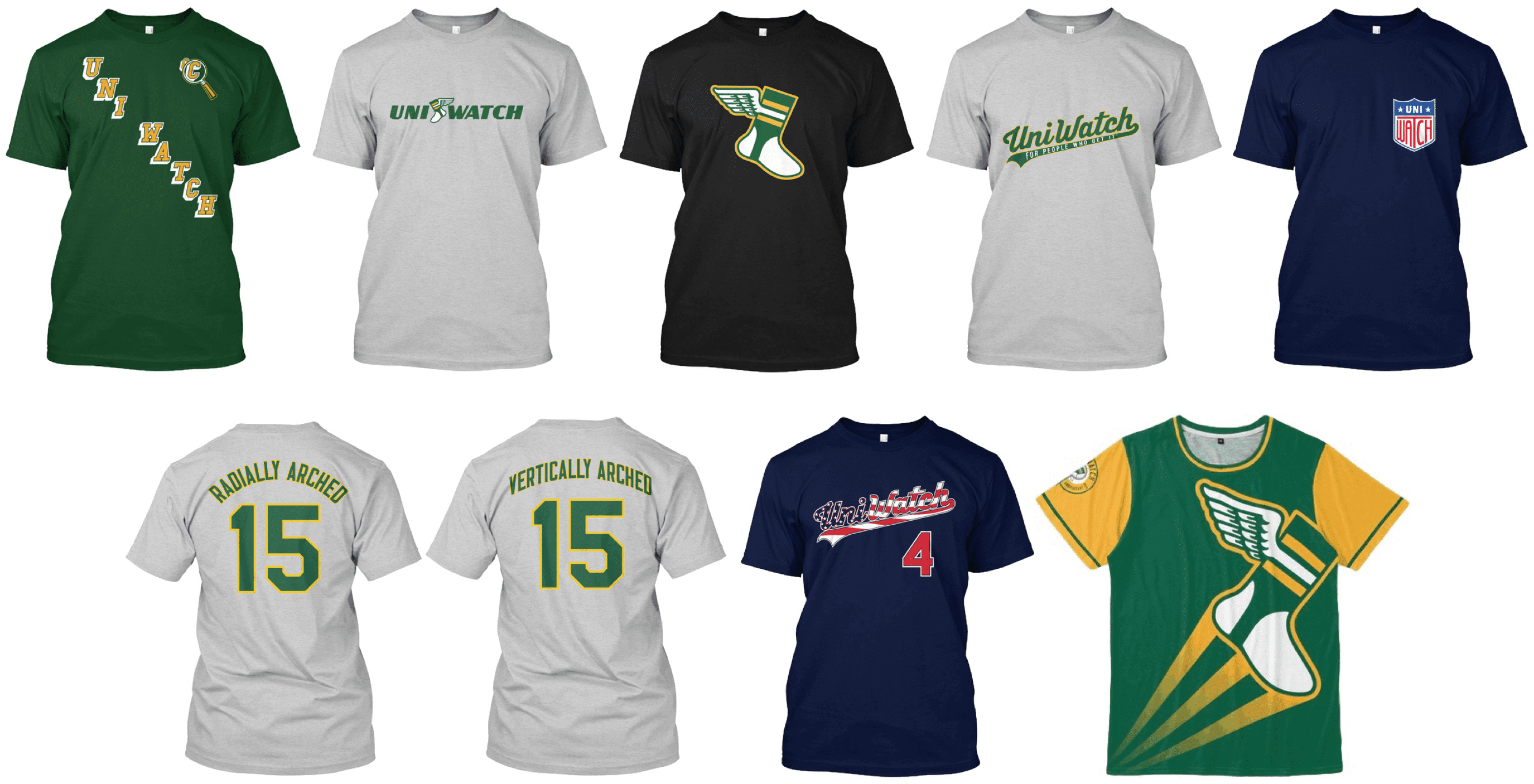 Our Uni Watch Online Shop has a wide range of T-shirts (including several more than the ones shown above). Almost all of them are available in multiple color options, and most of them are also available in long-sleeved, sweatshirt, and hoodie models, so click around and explore our full product line. Plus our T-shirt shop also features coffee mugs (again, all of which are available in multiple color options). Check it out here.
.
"Hit Sign, Win Stirrups" Items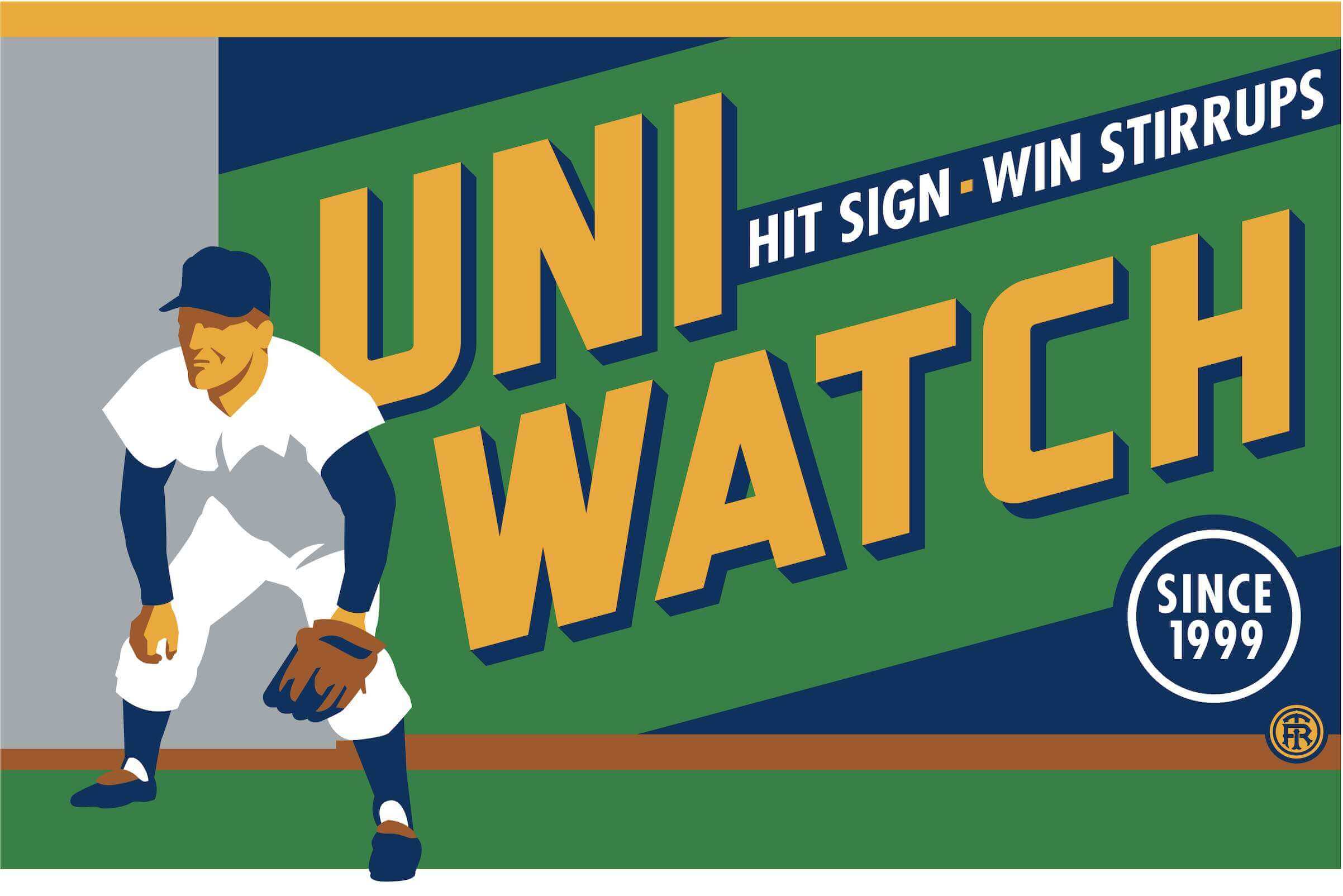 Our "Hit Sign, Win Stirrups" graphic, designed by the great Todd Radom, was originally showcased on a limited-edition T-shirt in 2017. After being out of print for more than four years, it's now available in a variety of formats: as a T-shirt; as a hoodie; as a pint glass; as a poster; and as a canvas print.
.
Uni Watch Grilling Tools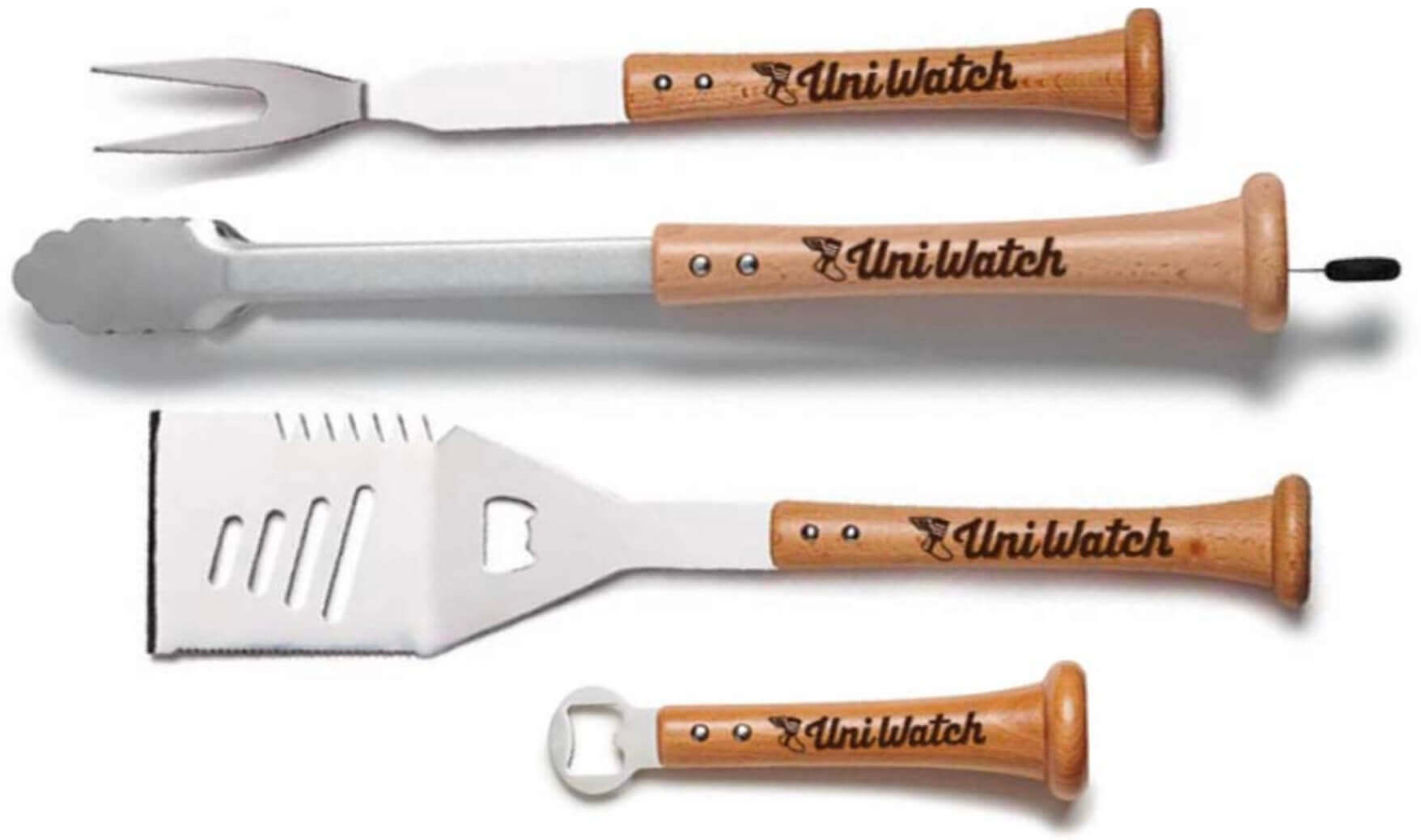 We're excited to partner with Baseball BBQ, which turns old baseball bats into cool grilling tools, for this new product line. In addition to having the Uni Watch script laser-etched onto the handle, these tools also have the winged stirrup etched onto the knob. There's also a cutting board! The full collection is available here.
.
Uni Watch Magnets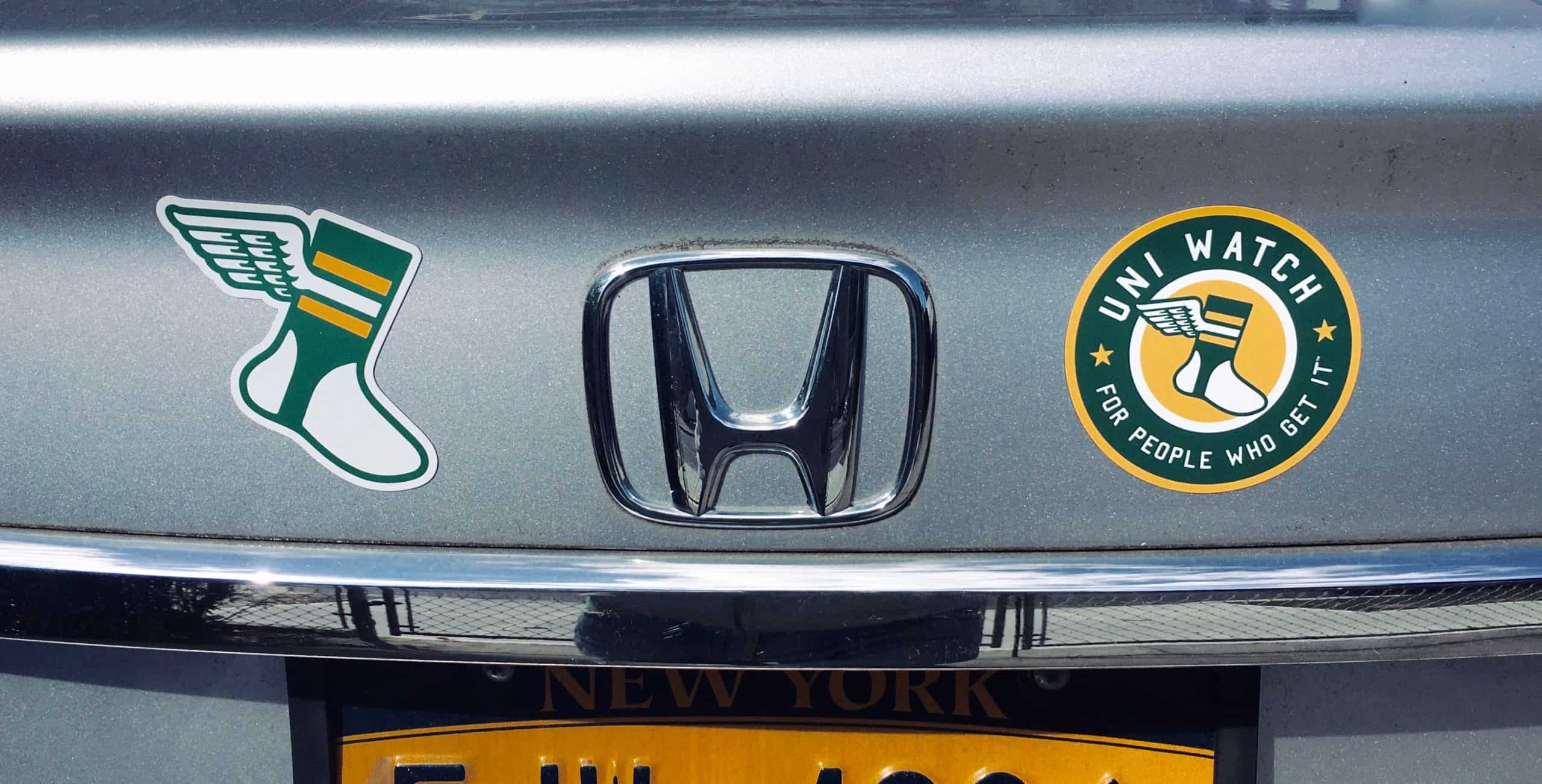 Perfect for your car, fridge, file cabinet, gym locker, or whatever, our flexible magnets come in two different designs. They're available here.
The Uni Watch Tequila Sunrise Deluxe Shirt
More than a mere T-shirt, our Tequila Sunrise Deluxe shirt has fully sublimated wraparound stripes in eye-popping colors. A spectacular way of showing that you Get It™! Order it here.
Update: We now have a hoodie version of this design — again, with full wraparound stripes, plus "For People Who Get It™" is printed on the inner pocket: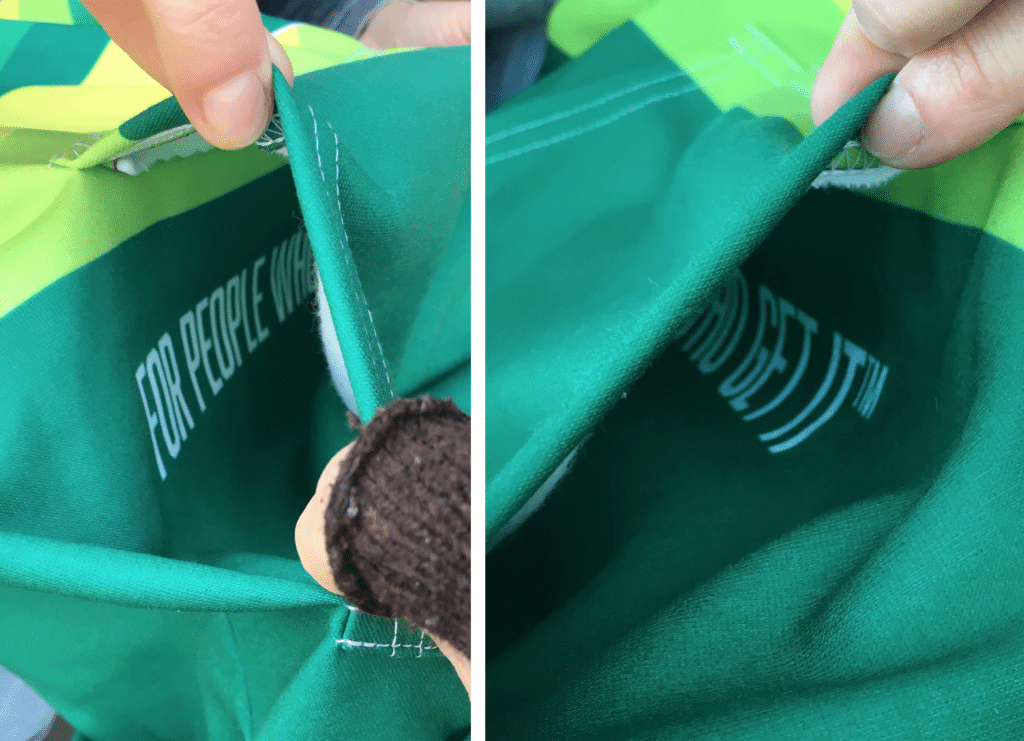 The hoodie is available here.
.
Uni Watch Seam Rippers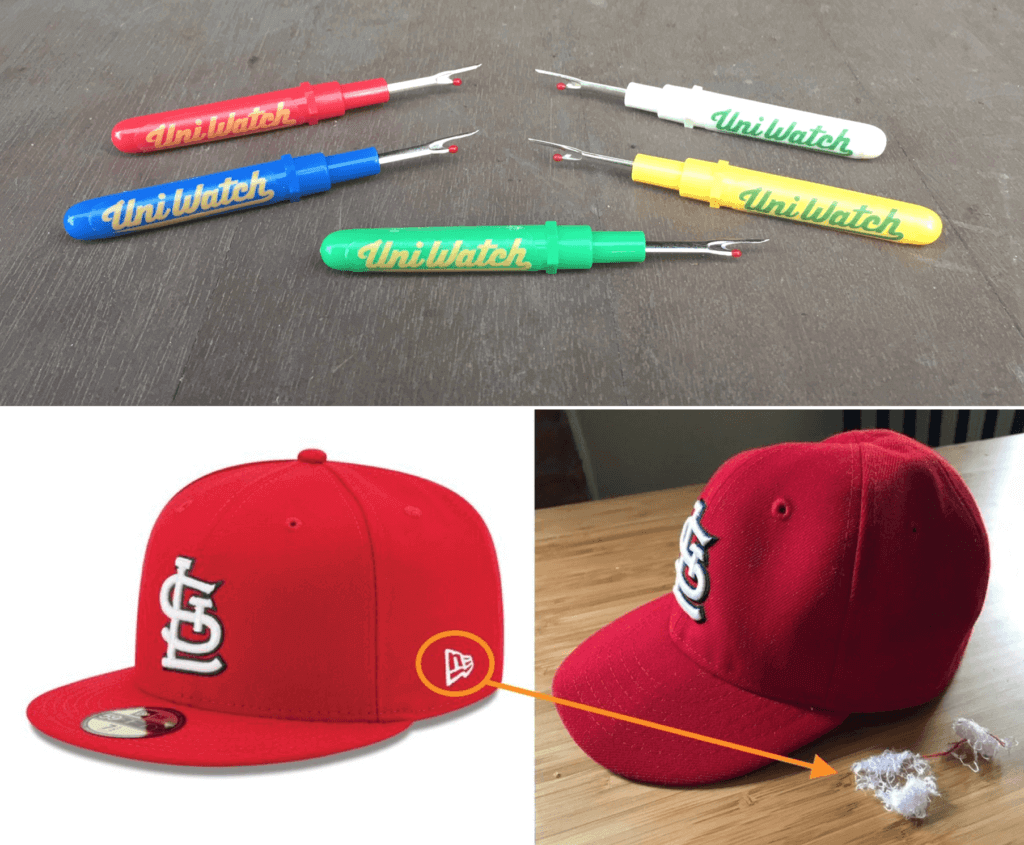 If you're a uniform DIYer, or if you just like to remove the annoying maker's marks from caps or jerseys, Uni Watch seam rippers are the perfect tool for the task.
Full details here
.
.
Naming Wrongs Shirts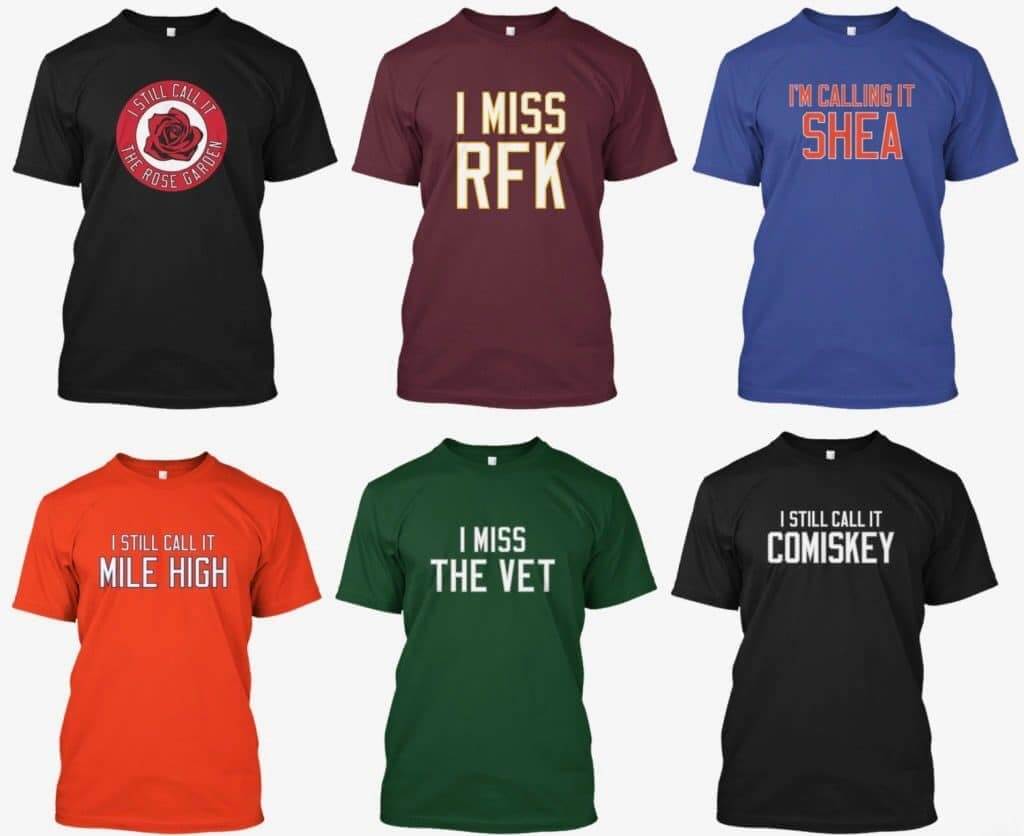 Are you annoyed, or even embarrassed, by stadium and arena names like Guaranteed Rate Field and the KFC Yum! Center? If so, then you'll love Naming Wrongs, a Uni Watch side project that lets you reclaim your favorite sports venue's dignity. We have shirts (and sweatshirts, and hoodies) for dozens of MLB, NFL, NBA, NHL, NCAA, and CFL facilities, and almost all of them come in multiple color options. Browse the full collection here.
.
Uni Watch Trading Cards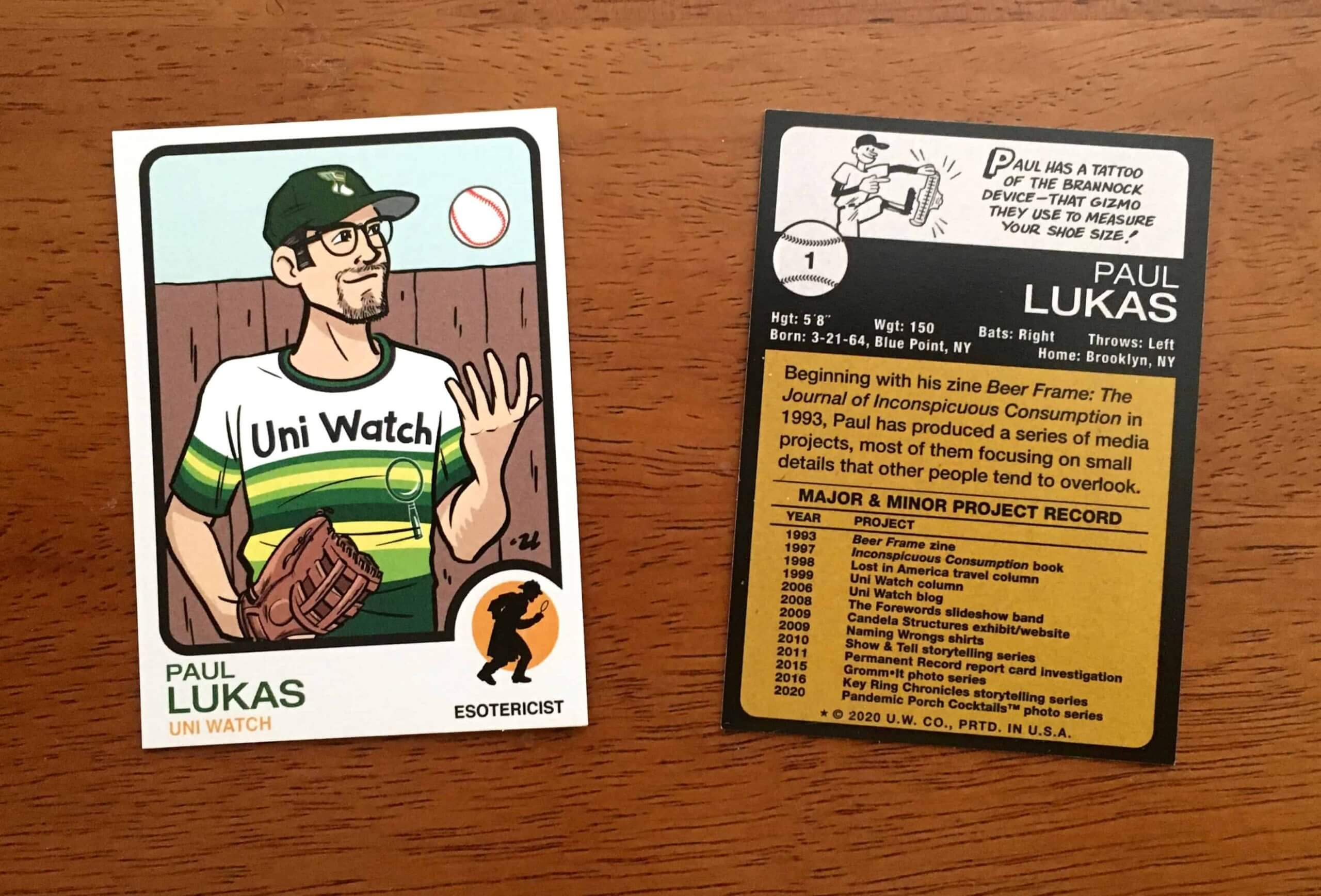 I was going to be featured on my own official Topps trading card, but then MLB put the kibosh on that, so I decided to make my own card instead. Art and design by the amazing Rob Ullman. Each card comes with a piece of the shirt I wore for my Topps photo session, so each card is a relic card. There are also 11 autographed cards — 10 signed in green ink and one in purple — randomly distributed throughout the set, so you could end up with one of those! Additional info and ordering instrux are available here.
.
Uni Watch Koozies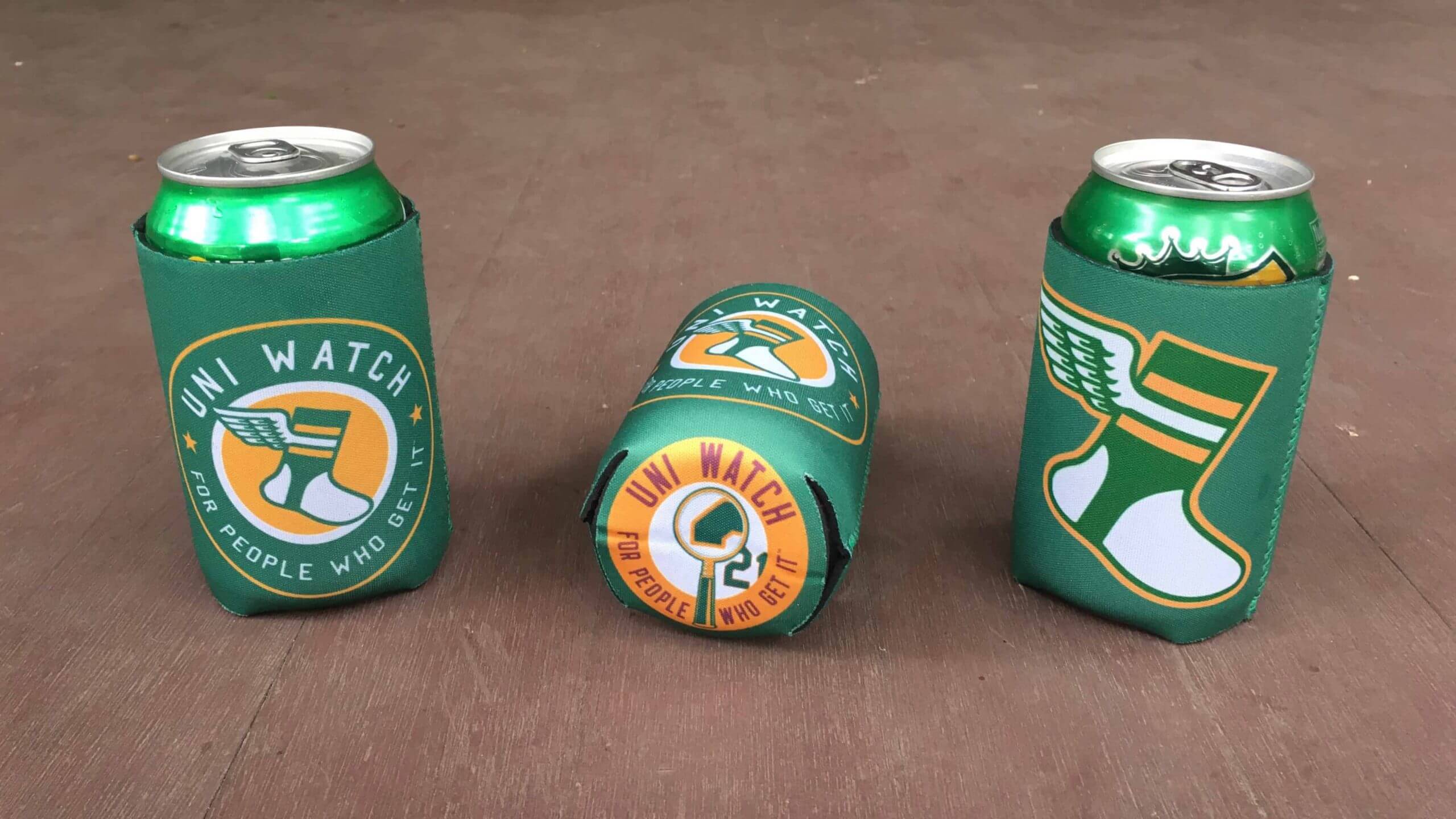 After getting loads of requests, we now have collapsible Uni Watch Koozies! They feature our winged stirrup logo on one side, our circular logo on the other side, and our magnifying glass logo on the bottom. They're available here.
.
Uni Watch Coasters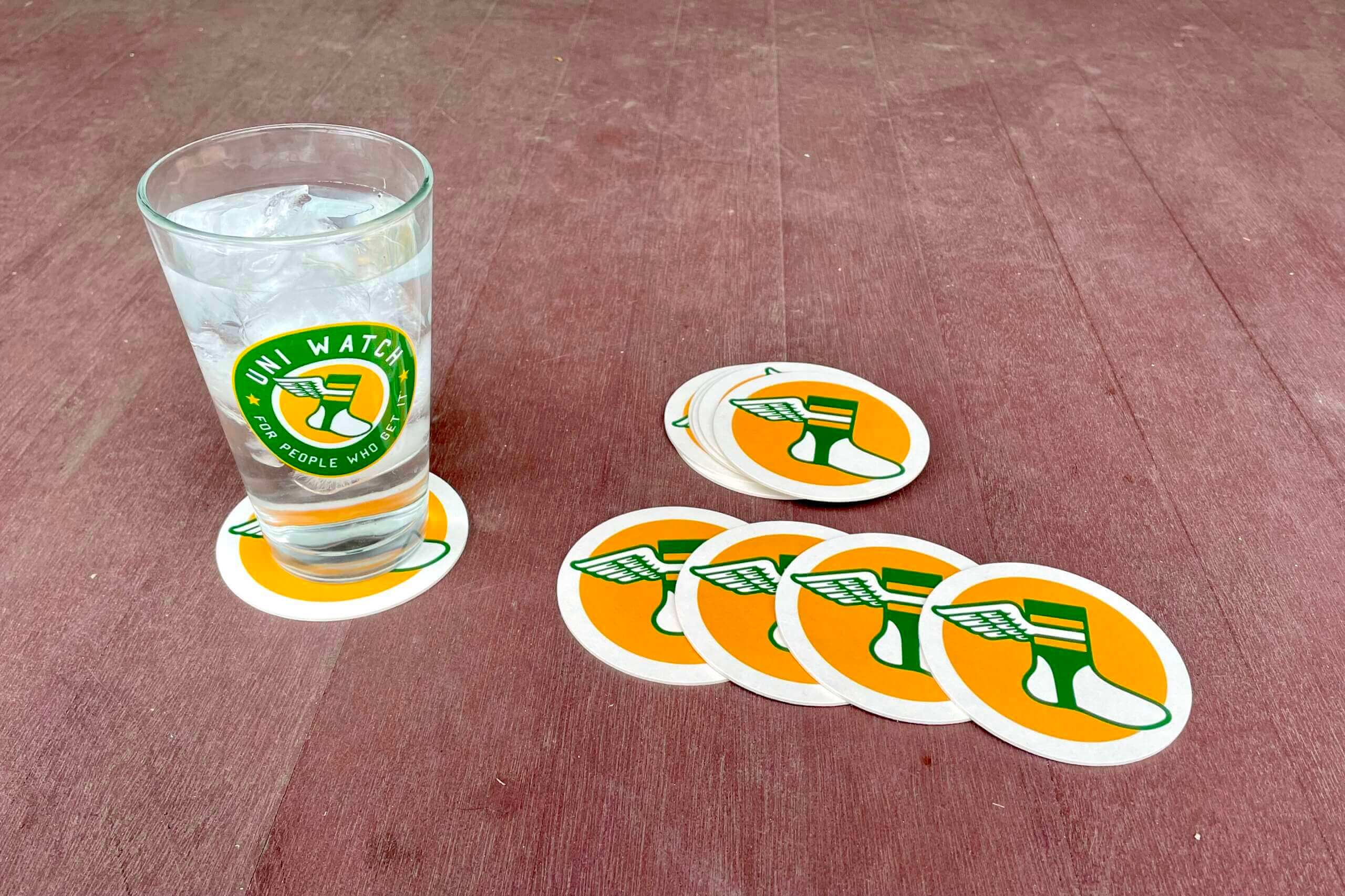 These sturdy cardboard coasters are made in the USA. They're available here.
.
The Uni Watch Chain-Stitched Logo Patch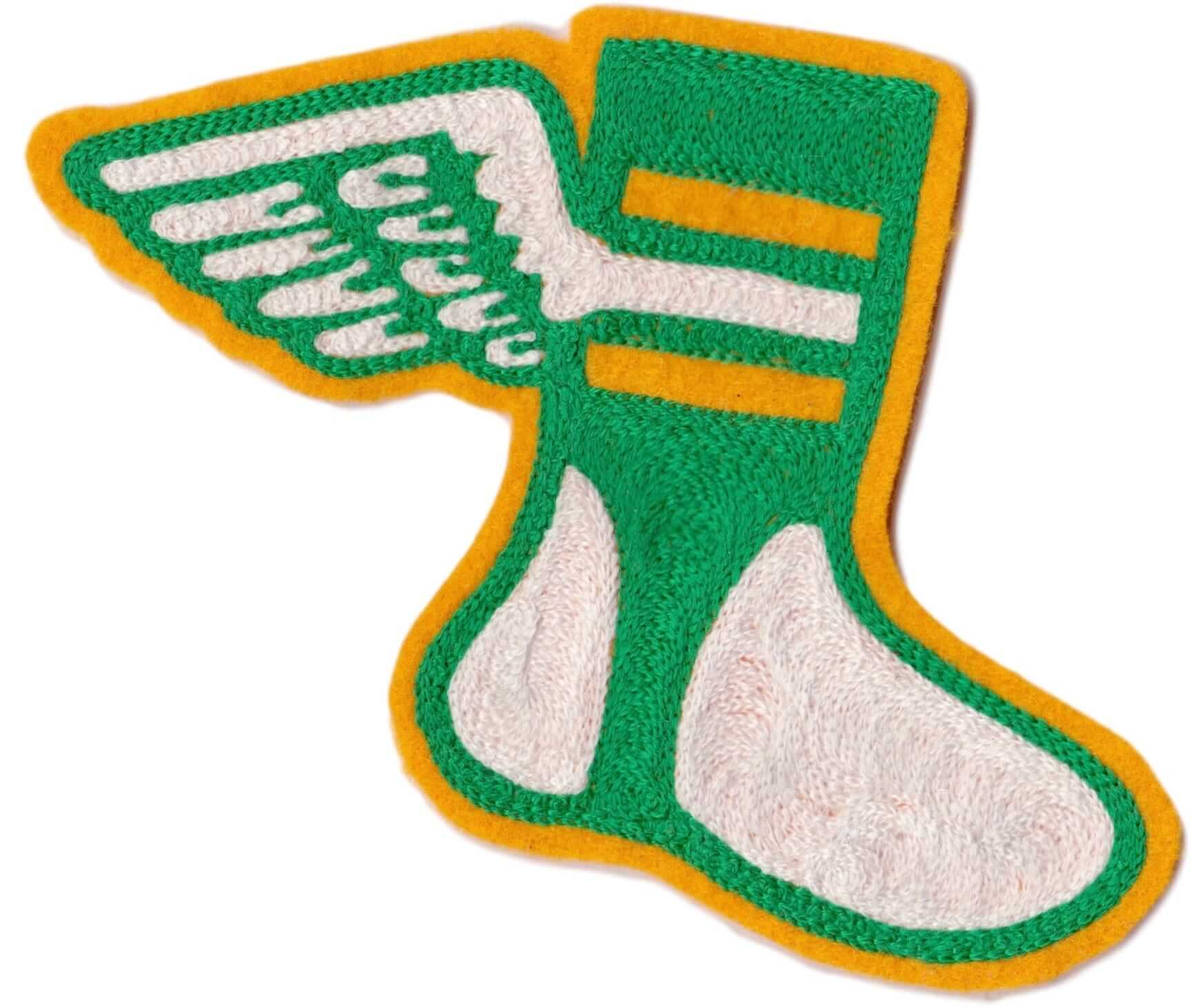 Master embroiderer Amy Bengtson does all the chain-stitching for Ebbets Field Flannels, and she's been making these beautiful logo patches for us. They measure about 6″ by 6″ — perfect for sewing onto a jacket or sweater, or just for displaying. Amy makes these to order by hand, so no two are exactly the same. You can order them here.
.
Uni Watch Membership Cards
Since 2007, we have offered custom-designed membership cards to our readers so they can show that they Get It™! Each card comes fully laminated and has the member's name on the front and the member's choice of a jersey-style name and number on the back. We've designed over 3,000 of these cards, and we'd love to design one for you. The card also entitles you to a 15% discount in our Uni Watch and Naming Wrongs T-shirt shops. Full details here. (Want to get a membership card for someone but don't know what design to get? Purchase a gift membership and let your lucky recipient choose the design!)
.
Uni Rock T-Shirts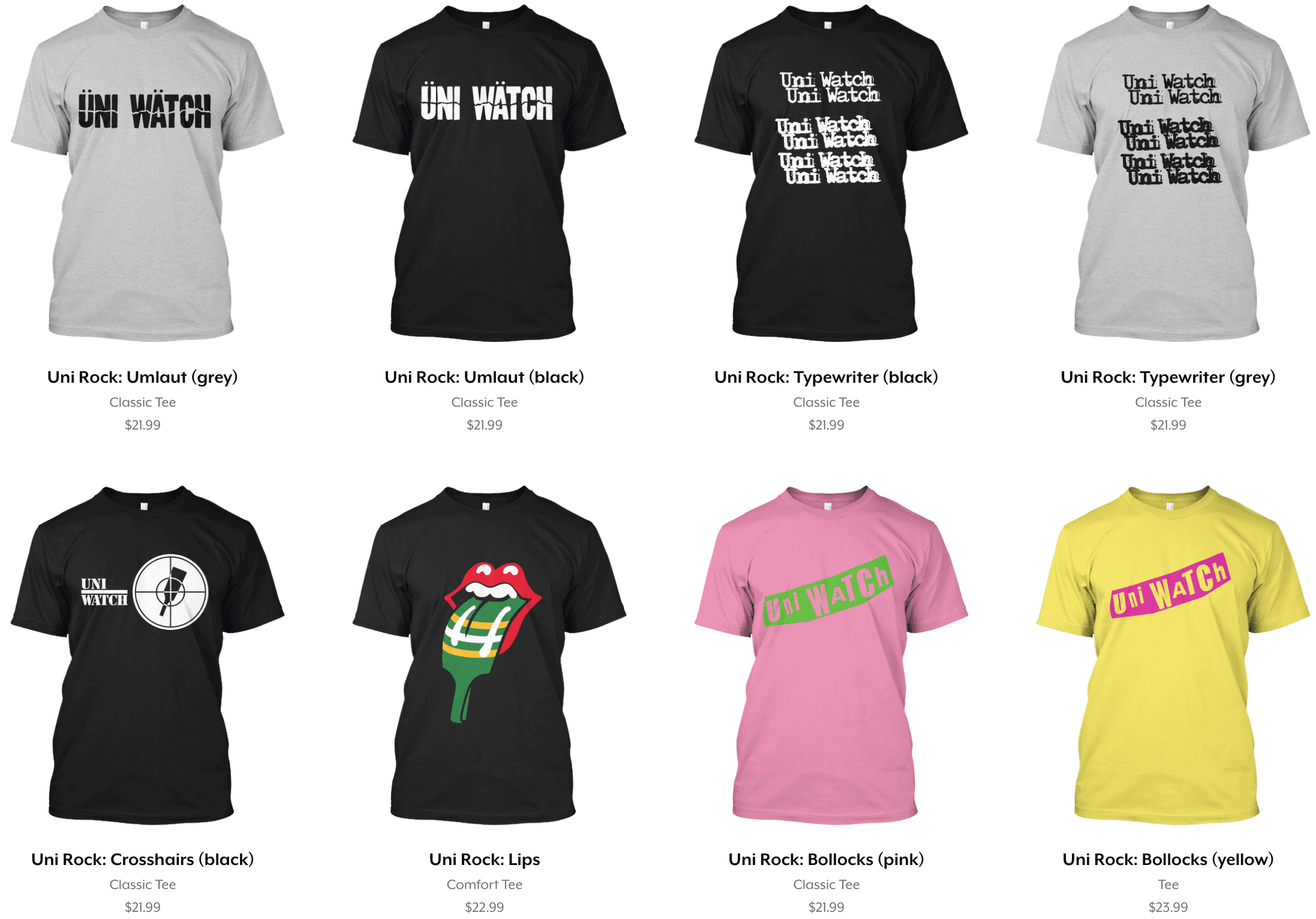 What do you get when you cross sports design, music design, and Uni Watch? You get Uni Rock, a series of T-shirts that put a Uni Watch spin on classic band logos. Check out the full collection here.
---
That's it. If you have any questions about any of this, please feel free to get in touch. Thanks for considering our products!
We're always looking for fun product opportunities (in the past we've done cufflinks, mini-helmets, key rings, socks, plates, gumball helmets, and a lot more). If you have ideas for new Uni Watch products, we'd love to hear from you. Thanks.