Major League Baseball today unveiled the jerseys for this year's All-Star Game. As you can see above, the design motif is a nod to this year's host team, the Mariners. The overall feel is very generic, with individual team identities relegated to the right-sleeve patches (and a credit card logo incorporated into the other sleeve patch). In other words, these would be great BP/workout jerseys, but they're terrible as game jerseys. Sigh.
Although there are no visuals regarding the pants, SportsLogos.net is reporting that the American League will wear white and the National League will wear navy to match the jersey. Yikes.
As previously reported, the caps for both leagues will be pale green and the socks for both leagues will be navy.
More interestingly, the jerseys are being rendered in Nike's new "Vapor Premier" template, which will be used for all MLB jerseys in 2024. Here's a not-very-helpful guide to some of the new features: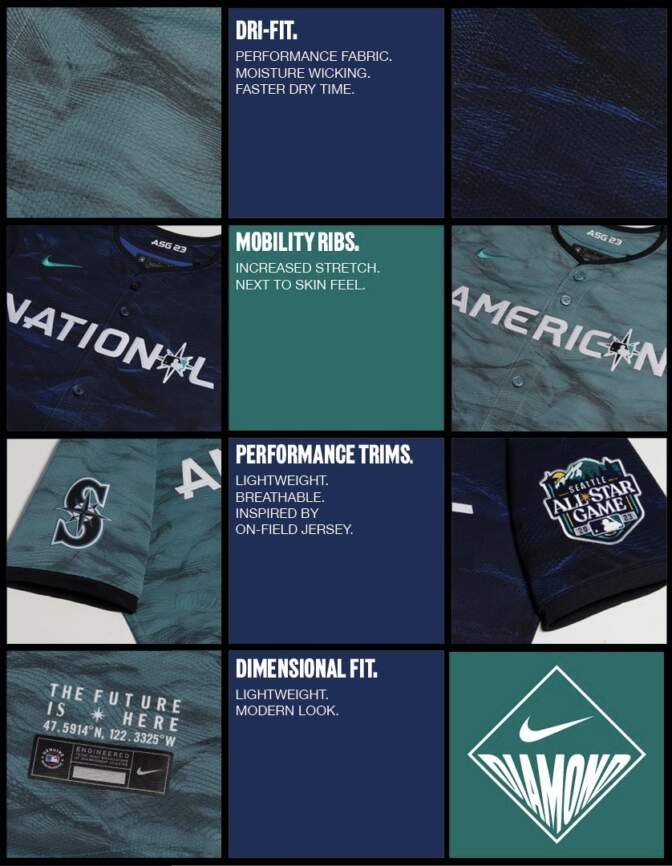 MLB and Nike began test-driving this template back in 2021, both in spring training and in the minor leagues. The short version is that there are slight differences in the collars, sleeve cuffs, and plackets; for additional details, see my report from 2021.
This isn't the first time MLB has used the All-Star Game to introduce a new uni element. At the 2005 ASG, they debuted the then-new Coolflo batting helmet, which became the MLB standard the following year.