For all photos, click to enlarge
Back in spring training, at least one MLB team appeared to be testing out a new Nike tailoring template — presumably the one that will be introduced for the 2022 MLB season. Now it appears that a minor league team is also testing out that template, giving us a clearer picture of how MLB uniforms might look next season.
Let's start by going back to mid-March, when MLB teams were playing spring training games. At the time, several people noticed that some Royals players — but not all of them — appeared to be wearing a new jersey style. It had a new seam around the collar, mesh numerals (presumably more lightweight), and a weird sort of reinforced ribbing just above the sleeve cuffs. In addition, the headspoon piping was a bit thicker and appeared to be positioned closer to the edges of the placket and the collar, so that the MLB logo was positioned below the headspoon instead of above it. Here are several examples: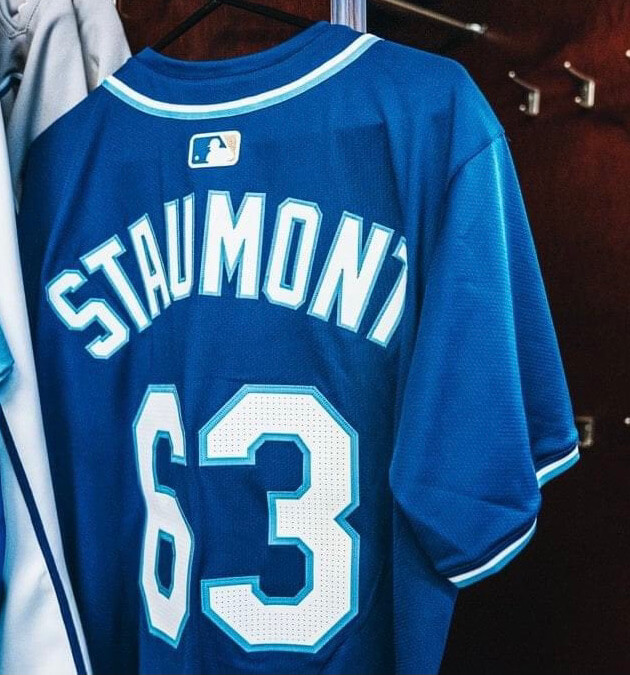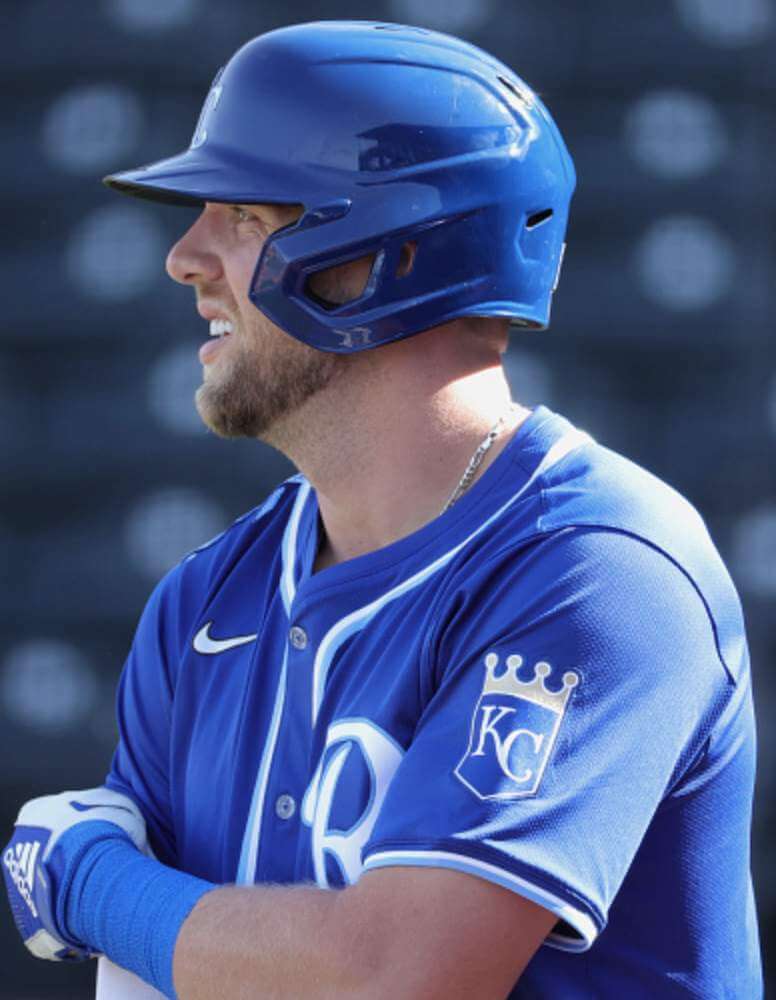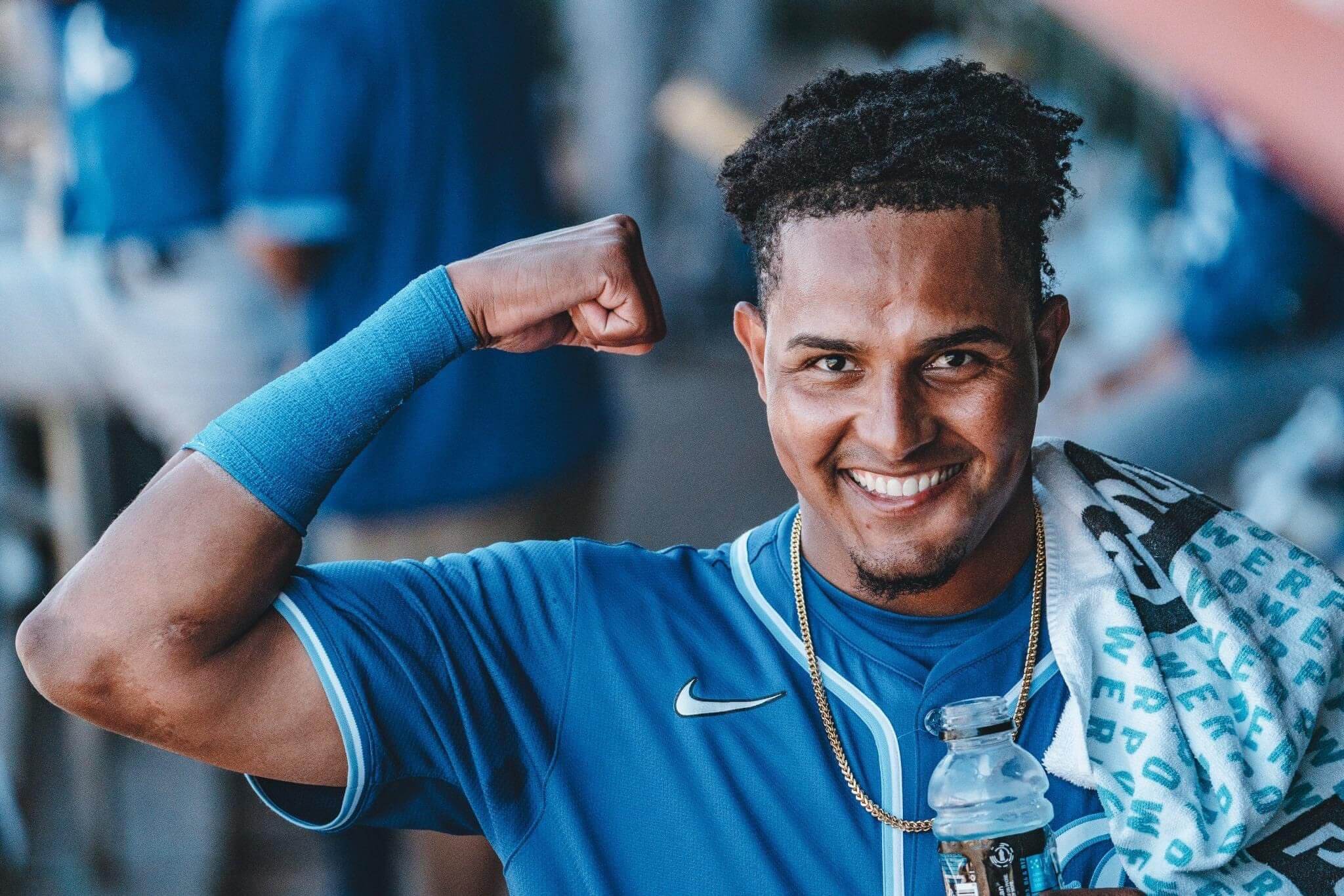 Although it's hard to be 100% certain, it also looked like the new jerseys were using a thinner, more flexible sleeve patch: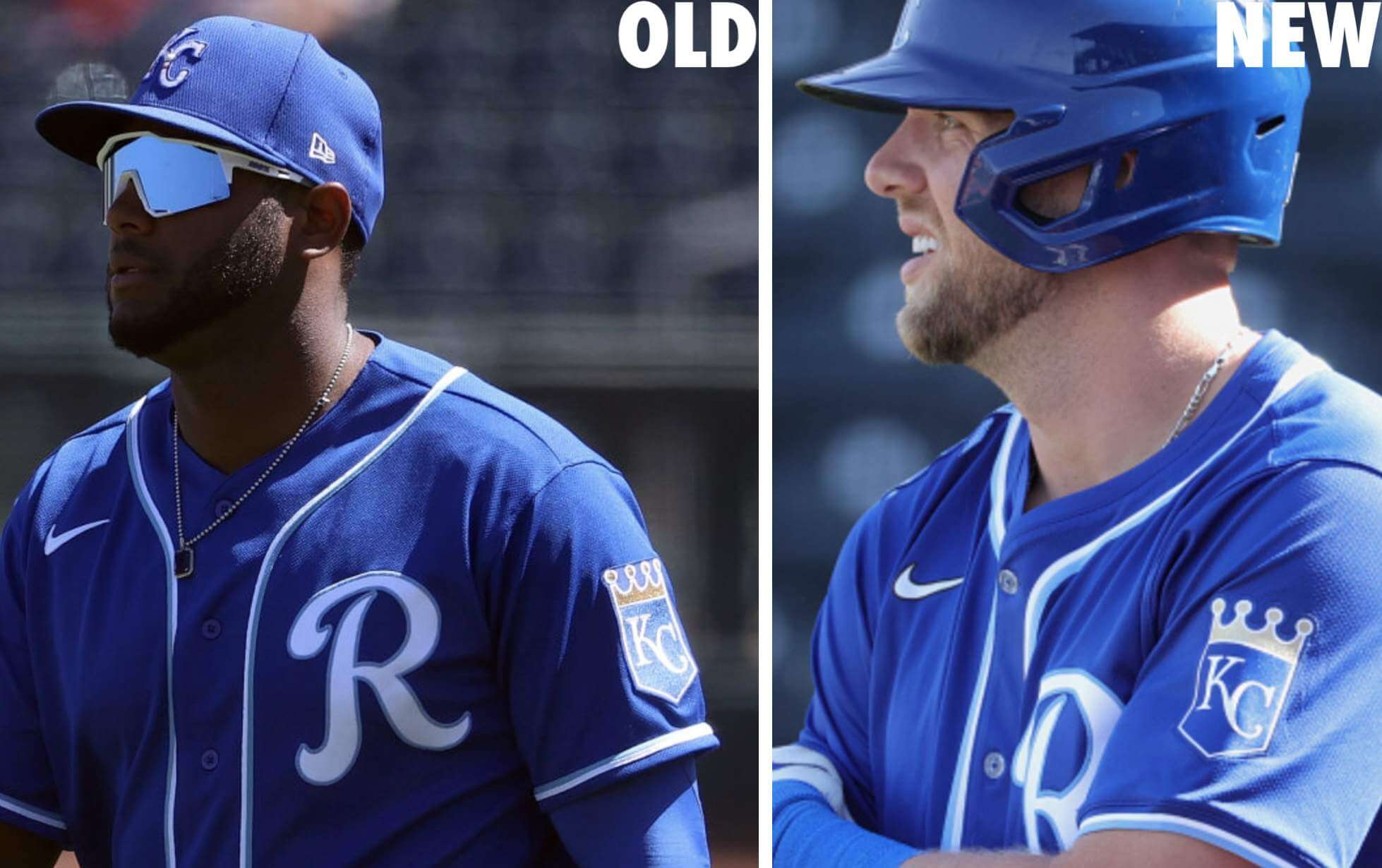 Word I heard through the grapevine was that this was basically a test drive for next season's MLB jerseys. I'm not sure if any other teams were doing it, and it appears to have been strictly a spring training experiment. I've seen no evidence of the new template during the MLB regular season.
But it turns out that at least one minor league team is also trying out the new template. That would be the Yankees' Triple-A affiliate, the Scranton/Wilkes-Barre RailRiders, whose season began earlier this month. Just like the Royals' spring training jerseys, the RailRiders' jerseys have mesh numbers. But since the RailRiders have pinstriped uniforms, the pinstripes are visible through the mesh, and they stop at the new collar seam: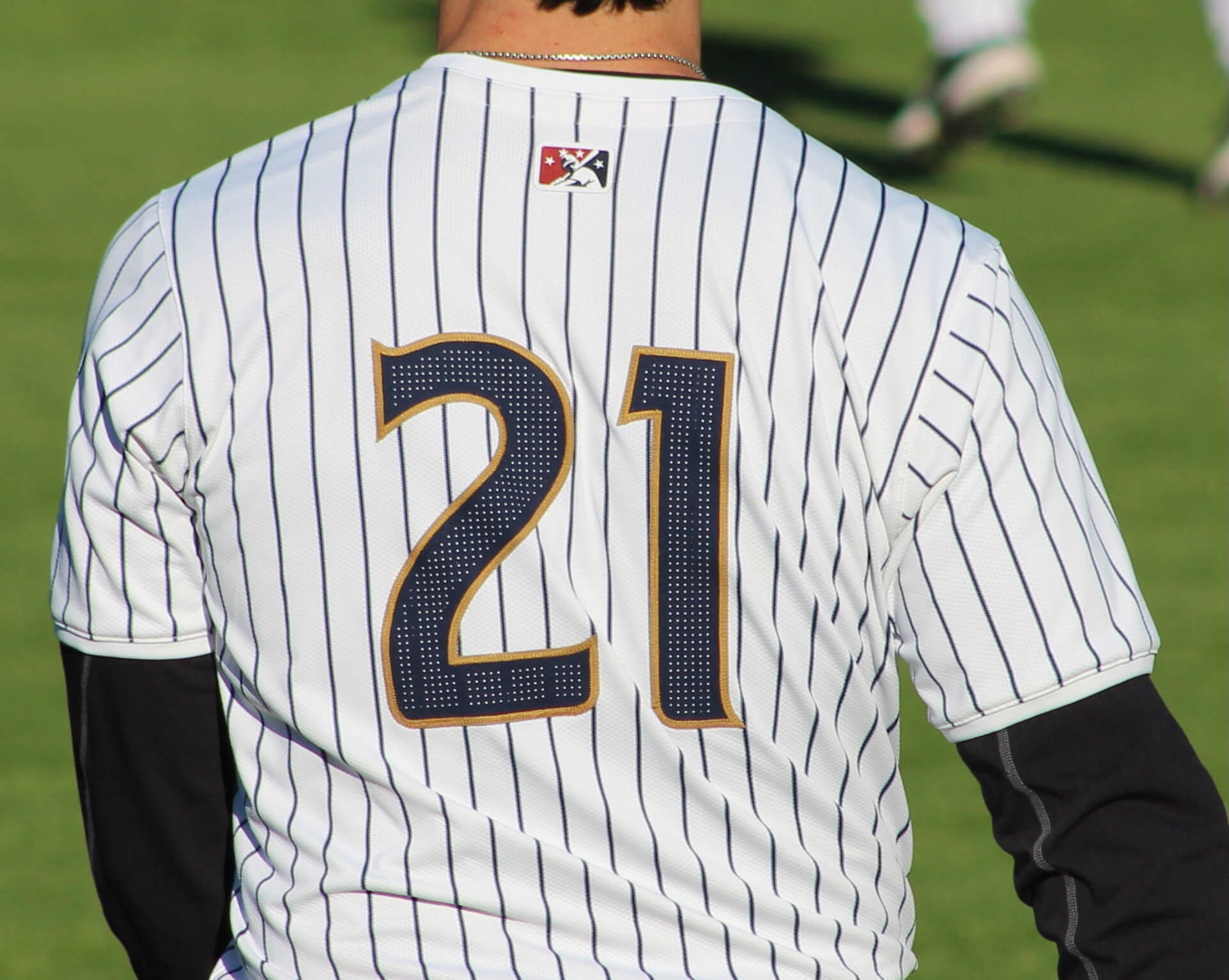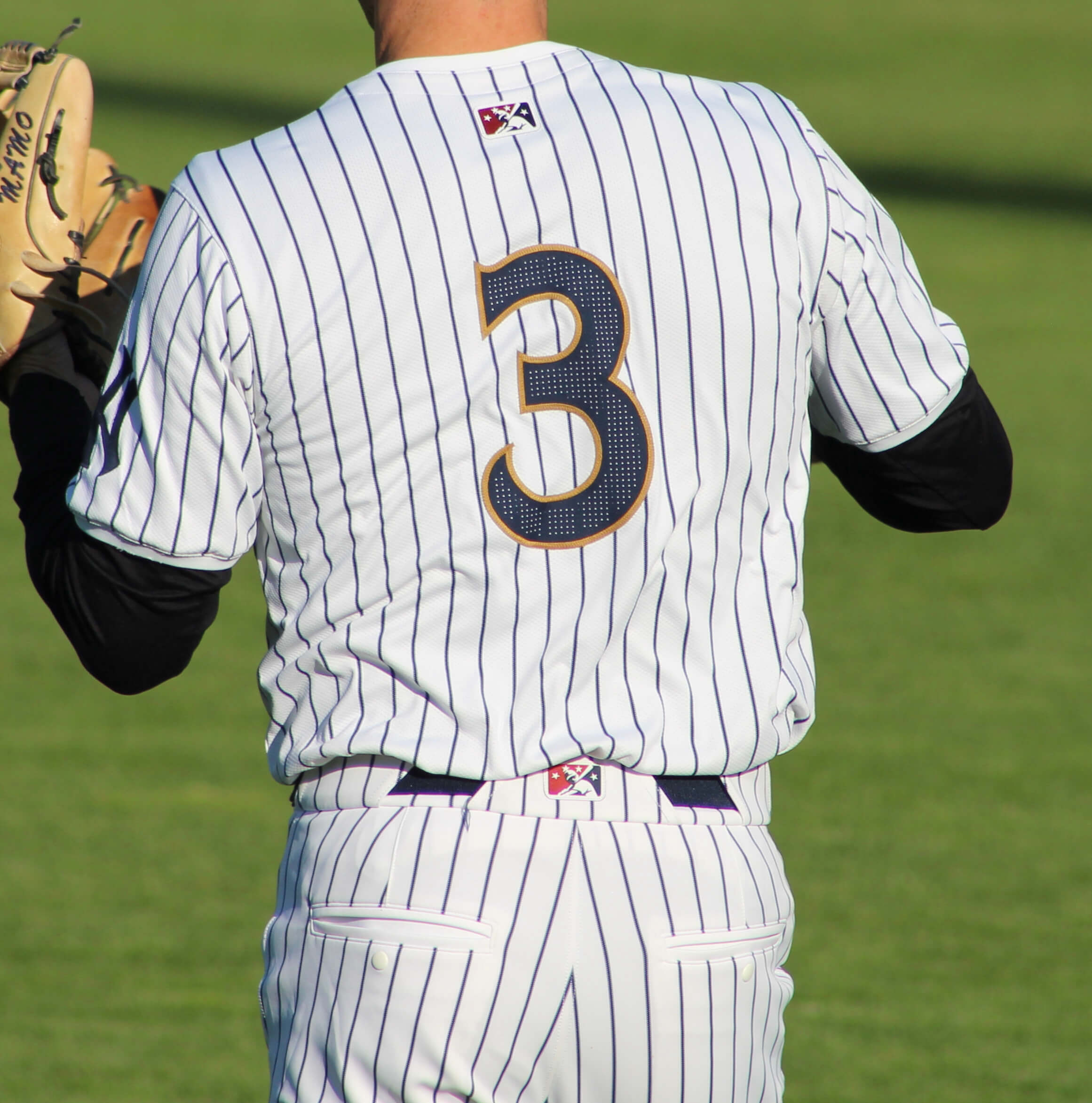 If you look closely at that last photo, you can see another change: The pants pockets have snaps instead of buttons!
Here are some front views. You can see how the pinstripes don't go all the way to the edge of the collar or the sleeve cuffs: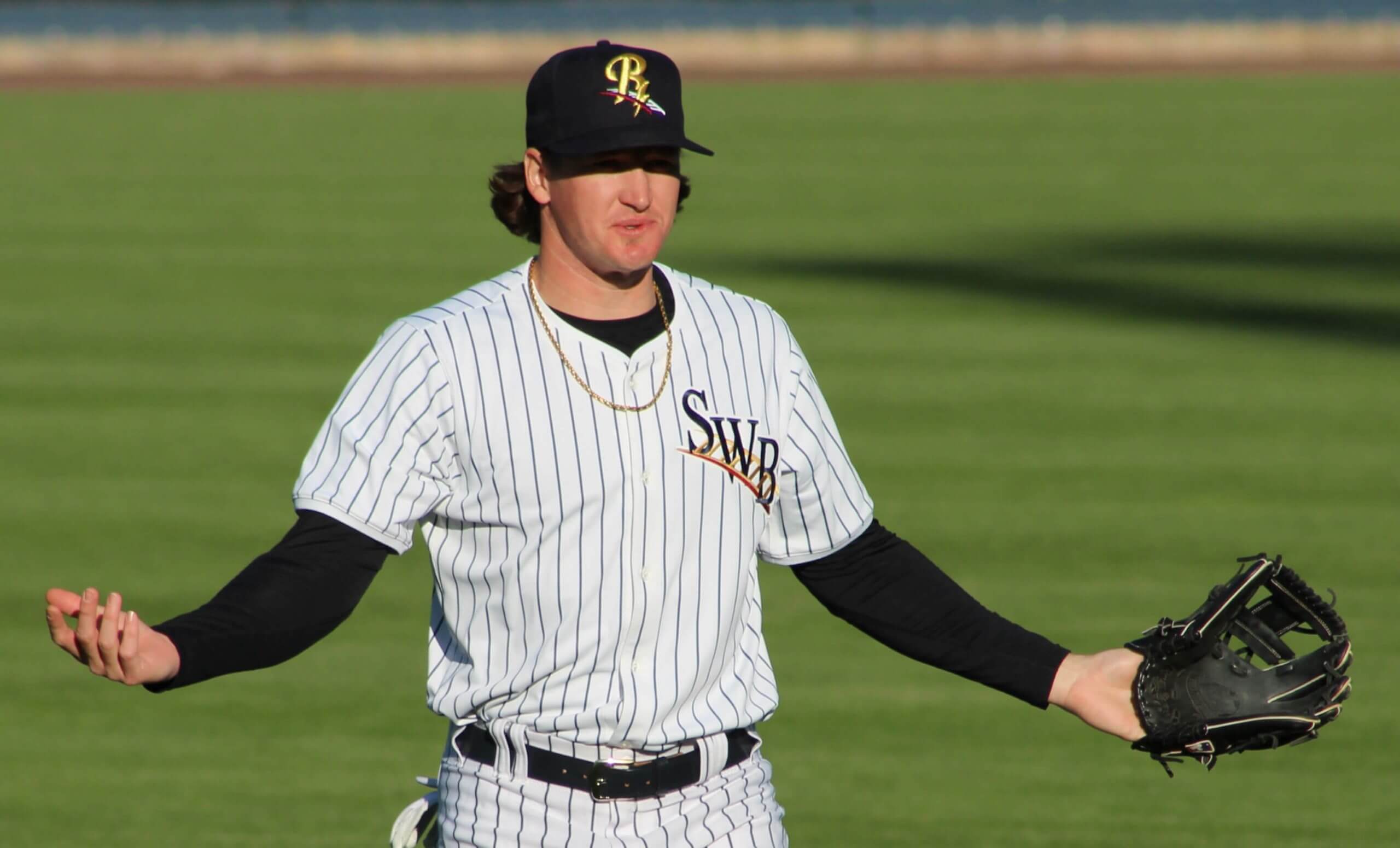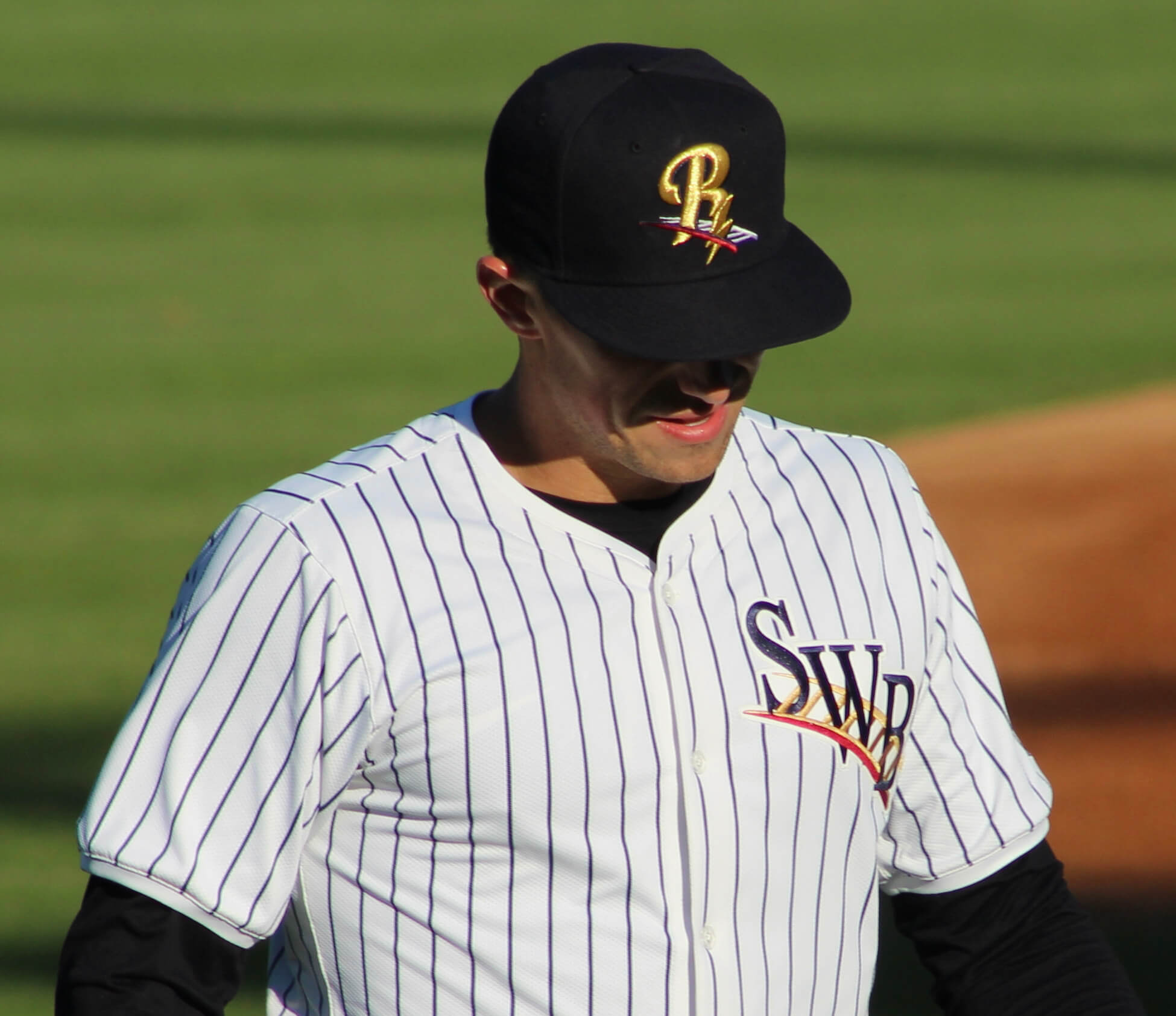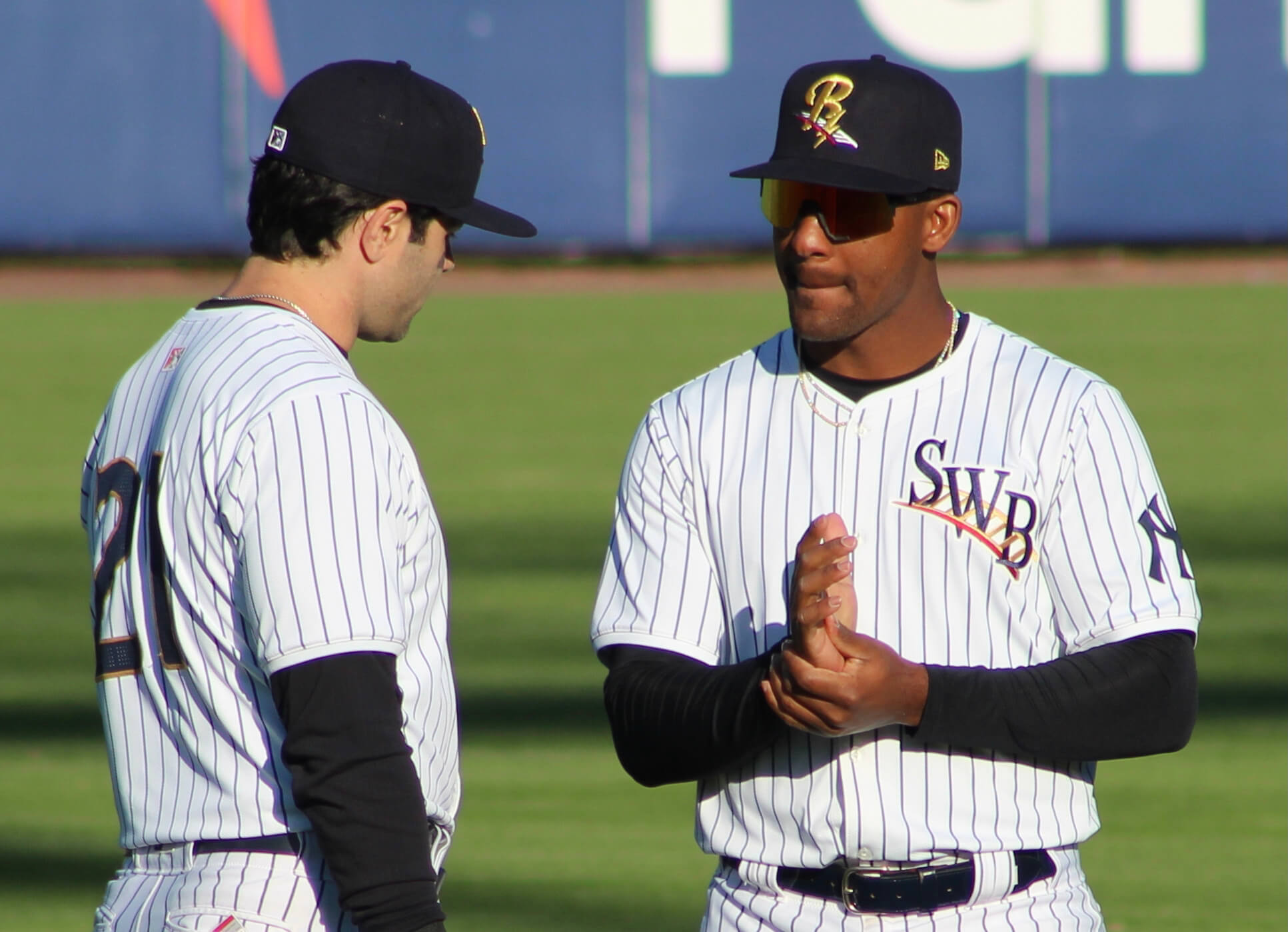 Those photos were all taken by Uni Watch reader Michael Slesinski, who attended a RailRiders game last week and noticed the unusual uni details. When he sent the photos to me, he didn't realize that those details had also shown up on some Royals players during spring training. But as soon as I saw his pics, I recognized the similarities to the KC jerseys.
Notice anything else unusual about the RailRiders' new unis? No maker's marks! I wanted to know more, so I contacted the RailRiders. A team spokesman confirmed that these uniforms are indeed made by Nike and that the team is indeed testing out the new tailoring template. The spokesman didn't know why there was no maker's mark, but I'm wondering if it might be because Nike doesn't have an MiLB on-field license. (Are there any MiLB teams outfitted by Nike? Off the top of my head, I can't think of any that wear the swoosh.) Whatever the reason, it certainly makes for a better-looking uniform.
As for the other elements:
• Mesh numerals: Not ideal, especially when paired with pinstripes, but I'm hoping the mesh pattern won't be visible from a distance.
• Collar seam: I kinda hate how the pinstripes will no longer go to the edge of the collar. Also kinda hate that the MLB logo will now go below the headspoon. For teams that have neither pinstripes nor headspoons, no biggie.
• Sleeve cuffs: No biggie. For some reason I'm not bothered as much by the pinstripes not going to the ends of the sleeves.
• Pants pockets: I can see how snaps would be easier to deal with than buttons, but why have any closure mechanism? Why not just have pockets with no snaps, no buttons, no Velcro, no nothin'? Aside from maybe Tim Raines protecting his crack vials, has any player in the history of the game ever put something in his back pocket and then buttoned it closed? (True story: When I had a suit custom-made 10 years ago, I told the tailor to omit the buttons on the back pants pockets. He looked mildly horrified but did as I asked.)
(Of course, I'm sure we'll also be hearing that the fabric is eleventeen percent lighter, that the pants zipper is made from a new space-age polymer, blah-blah-blah, but none of that matters from an aesthetic standpoint.)
Are any other MiLB teams wearing this template? Keep an eye out for the uni elements I've highlighted here (including the lack of a maker's mark, which is probably the biggest and most obvious tell) and maybe we can learn more about this new style, which will likely be coming to the bigs next season.
Update: Reader/commenter Patrick R. reports that the Single-A Hilsboro Hops appear to be wearing this same template. But unlike the RailRiders, the Hops' uniforms have the Nike maker's mark on the sleeve and the back of the pants:
Flight 23 pic.twitter.com/KpyHrRMSXR

— KEV (@VisualsbyKev) May 19, 2021
(Kudos to Michael Slesinski for spotting the RailRiders' uni anomalies, and my thanks to him for sharing his photos with me.)
• • • • •
• • • • •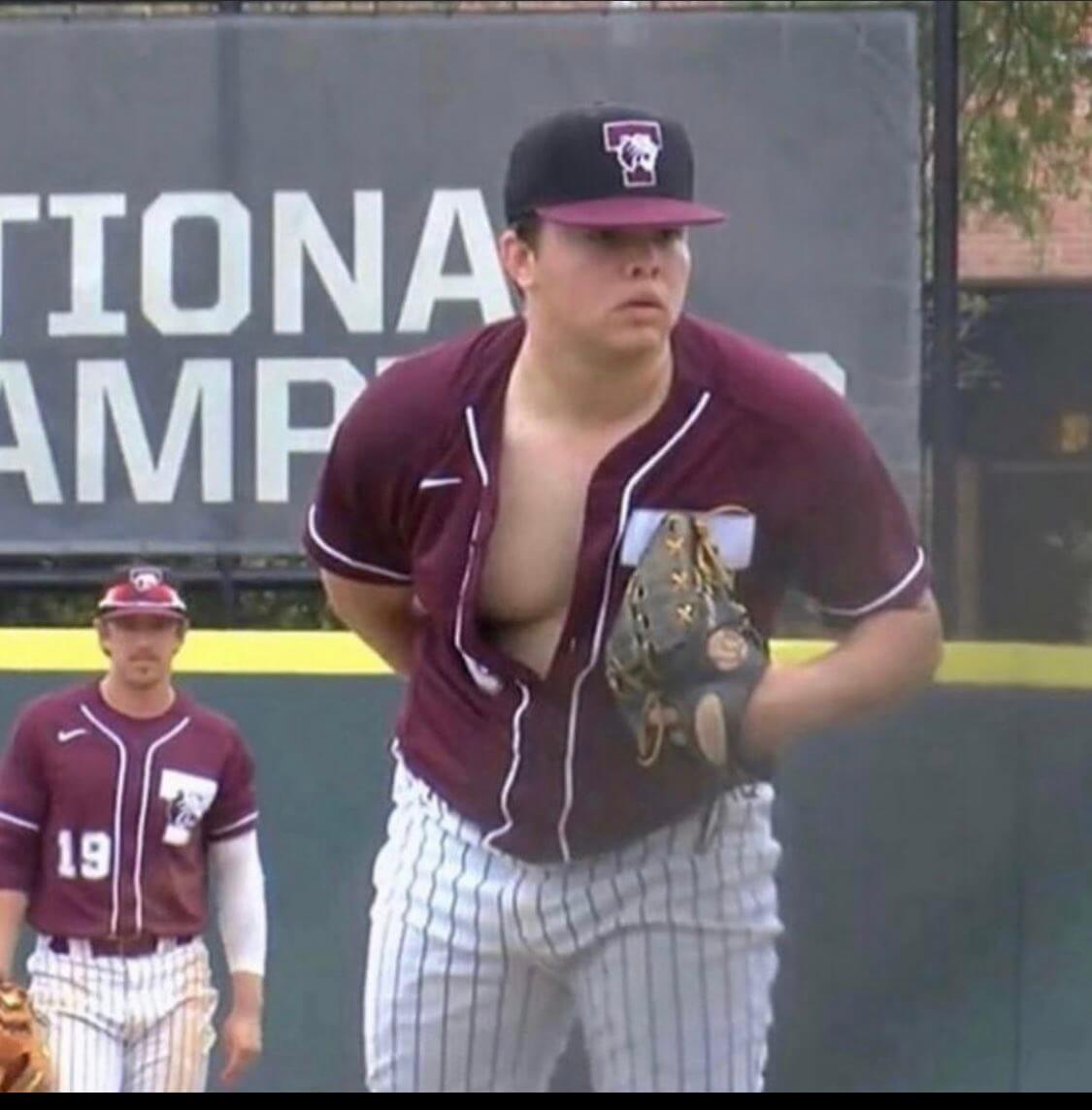 Click to enlarge
He's tossing a one-titter: It would be safe to say that this Trinity University pitcher has not embraced the new trend of having one's jersey sewn shut. Yikes!
(Thanks to all who shared this photo yesterday.)
• • • • •
• • • • •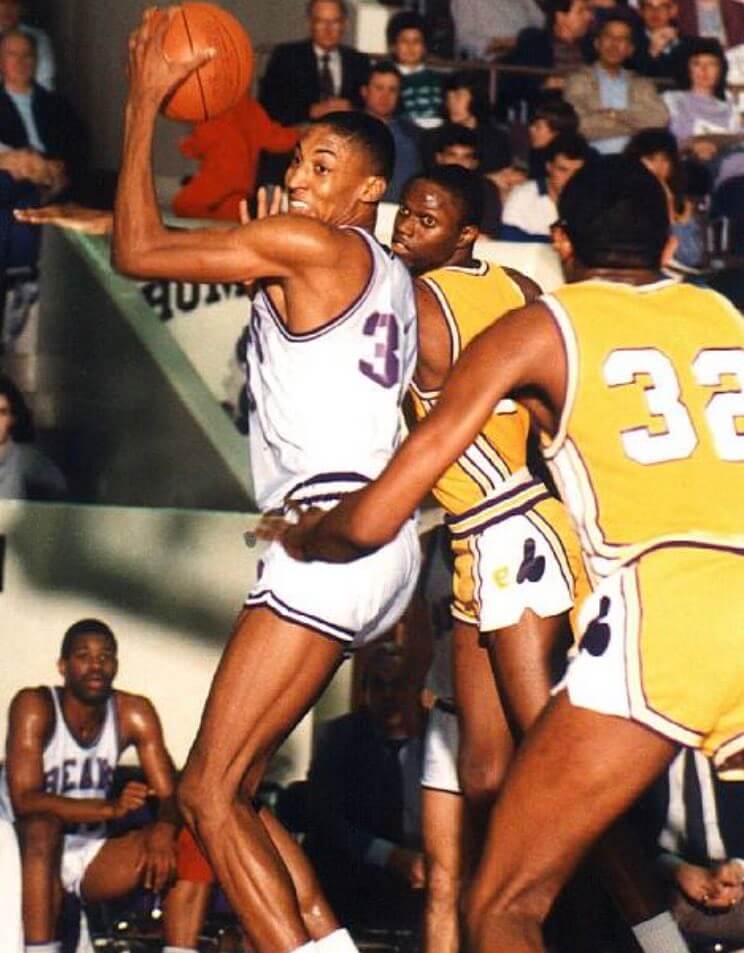 Click to enlarge
Too good for the Ticker: The photo above shows a young Scottie Pippen playing for Central Arkansas in 1987. I don't know the identity of the opposing team, but that appears to be the Montreal Expos' logo on their shorts! Anyone know more?
(Big thanks to Twitter-er @uniformcritic for this one.)
• • • • •
• • • • •
The Ticker
By Paul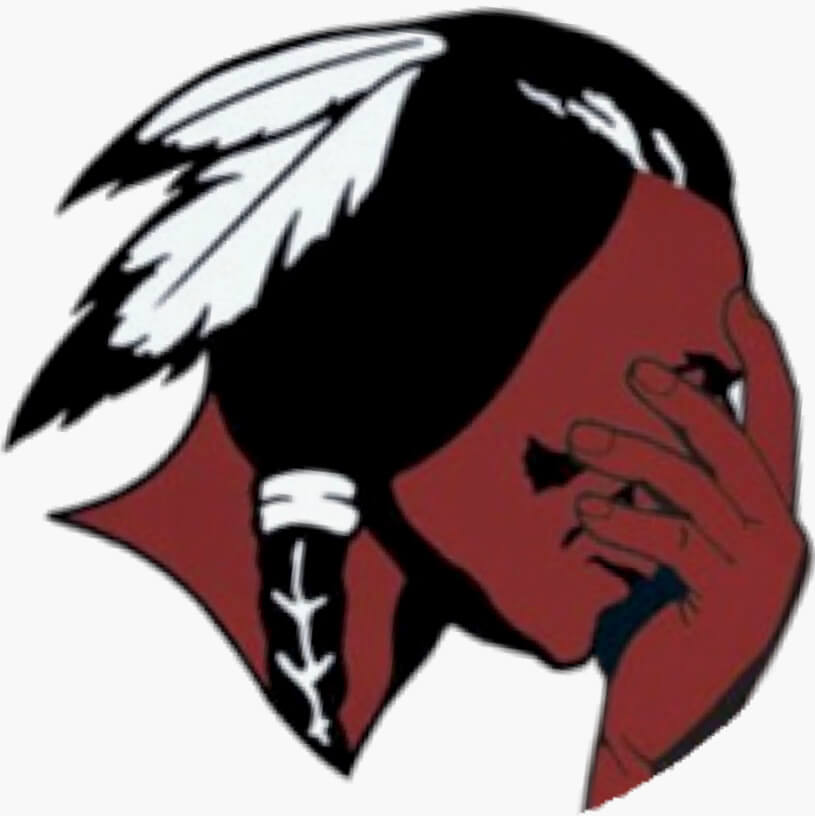 Indigenous Appropriation News: Back in March, a video game suggested that the Cleveland MLB team had considered going with a white "Cleveland" home jersey, and a team rep later confirmed to me that they had been thinking about it before ultimately scrapping the idea. Looks like they also made some retail jerseys of that design. … A committee has recommended that a new high school in Lincoln, Ne., be named for Chief Standing Bear of the local Ponca tribe. Key quote: "The recommendation comes with a pledge that the district continue to work closely with the Native community if the name is approved — especially when it comes to deciding on a mascot and school colors." … Here's a really powerful, deeply reported story on how the controversy over a high school's "Savages" team name divided a Missouri town. Very strong work here by reporter Briar Napier — recommended reading. … Weirton High School in West Virginia will keep its "Red Riders" team name but is dropping its Native American-based logo. … The rest of these are from Kary Klismet: The school district in Clinton, Mich., has changed its team name from "Redskins" to "Redwolves". … Amesbury High School in Massachusetts has formed a committee to consider whether to retire its "Indians" team name. … North Haven High School in Connecticut is retiring its Native-themed team name and visual identity. … Wisconsin Indianhead Technical College has changed its name to Northwood Technical College and introduced a new logo and mascot. … The Native American Guardian's Association, a national group advocating for "increased education about Native Americans," has sent a letter to Rutland High School in Vermont, urging the school to revive the "Raiders" team name and Native imagery it recently retired. … Buried within this story is the news that a new Nielsen poll shows more Americans now support retiring Native American team names and mascots than object to it.

Baseball News: The Lexington County Blowfish — a summer wood-bat team — will wear jerseys with the names of local towns instead of NOBs (from Joel Mathwig). … A man charged with stealing the Chattanooga Lookouts' mascot's uniform turned himself in. … Dodgers 2B Gavin Lux tore his lucky pants and had to make an in-game switcheroo (thanks, Brinke). … Here's Mets P Noah Syndergaard, who's still rehabbing after last year's arm surgery, in a St. Lucie Mets uniform (from John Ronello). … Iowa softball P Sarah Lehman received a framed jersey with vertically arched lettering as part of the softball team's Senior Day celebration, while the rest of her fellow seniors received jerseys with straight horizontal lettering (from Kary Klismet). … Also from Kary: Here's a thread featuring photos of particularly distinctive college softball batting helmets. … After Reds P Wade Miley tossed a no-hitter while wearing a temporary Hulk tattoo, other Reds pitchers have been wearing temporary tats of their own (from Brice Wallace). … A college summer league in Indiana will feature new uniforms for a bunch of new teams. You can see the uniforms by scrolling through this Twitter feed. … Here's something I didn't know: The Phillies' famed Saturday Night Special uniforms were worn on Photo Night. … Not an ideal photo, but look at the brutal uni combo worn last night by the Lehigh Valley IronPigs (from Chris Velardi). … Classic bit of blue collar cosplay at Oregon State, where players who exhibit "hard work and sacrifice" get to wear a hard hat in the dugout and during pregame activities (from Kary Klismet). … Orioles 1B Trey Mancini's batting helmet could use a new paint job (from Eric Starke). … A Cubs groundskeeper had to replace first base during last night's game after Nats manager Davey Martinez tore it out of the ground and threw it during an argument (from Max Weintraub). … Mets 2B Francisco Lindor's green-dyed hair was poking through his batting helmet last night. … New uniforms and logo for the Evansville Otters of the Frontier League.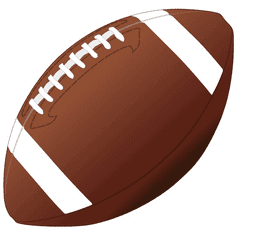 Football News: Lions rookies explained their uni number choices. … Ravens WR Marquise Brown is changing his uni number from 15 to 5 (thanks to all who shared). … New uni numbers for some U. of Washington players.

Hockey News: The QMJHL is retiring No. 4 league-wide in honor of Guy Lafleur (from Wade Heidt and Mike Engle). … An Arizona plumbing firm has poached the Sharks' logo but has the shark biting a wrench instead of a hockey stick (from @lizardfingers25). … Pretty cool goalie gear design for Canada's Michael DiPietro for the IIHF Men's World Championships (from Wade Heidt).

Basketball News: The Philippines' men's national team has unveiled new uniforms for FIBA's 3-on-3 Olympic qualifying tournament (from Kary Klismet). … You'll soon be able to dress Fortnite characters in NBA jerseys. … ESPN for some reason showed a clip from last night's Lakers/Warriors play-in game paired with L.A. Rams and Baltimore Ravens logos (from Nicklaus Wallmeyer).

Soccer News: New fiesta-style shirt design for San Antonio FC (thanks to all who shared). … The rest of these are all from Ed Zelaski: New away shirt for Bayern Munich. … New home kit for Liverpool. … New home and away kits for fourth-tier English side Forest Green Rovers

Grab Bag: McDonald's has found a clever way to spell out words using only its logo. … You can now buy paint in official Dunkin' Donuts colors (from Jason Hillyer). … Western Michigan University is rolling out a new logo (from Kary Klismet). … Also from Kary: Cool story on how FedEx recycles old uniforms. … A new exhibit in London looks at the rise of global sneaker culture (NYT link) (from Tom Turner). … New Aussie rules football guernsey for Port Adelaide (from Ash Norris).