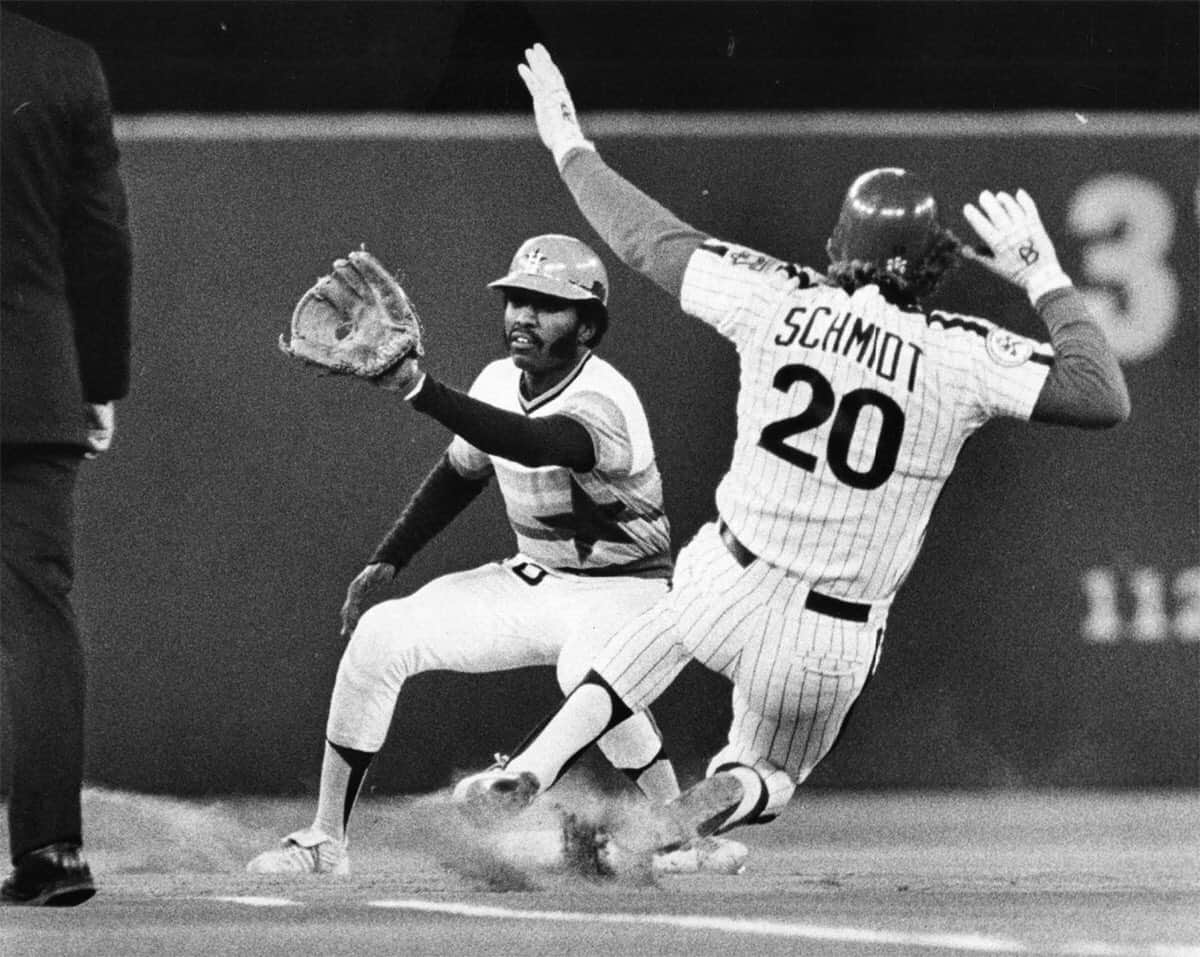 For all photos, click to enlarge
There are several well-known examples of MLBers wearing a batting helmet in the field, including John Olerud, George Scott, Dick Allen, and a few others. Until now, though, I don't think I'd ever seen Astros infielder Larry Milbourne doing it — or any other middle infielder, for that matter!
That photo came my way yesterday from reader Andrew Woolley, who found it in the Temple University Library archives. According to the caption, the photo was taken on May 4, 1976. I did a bit of research but couldn't find any other photos of Milbourne wearing a helmet in the field, nor could I find any explanation for why he did so in that one game. Anyone know more?
Ah, but the helmet is just the most obvious uni-notable aspect of that photo. Look at Milbourne's stirrups. They look like two-in-ones, don't they? They seem to have those telltale straight lines and corners that two-in-ones have, instead of the graceful curves of true stirrups. Let's zero in on Milbourne's hosiery compared to baserunner Mike Schmidt's: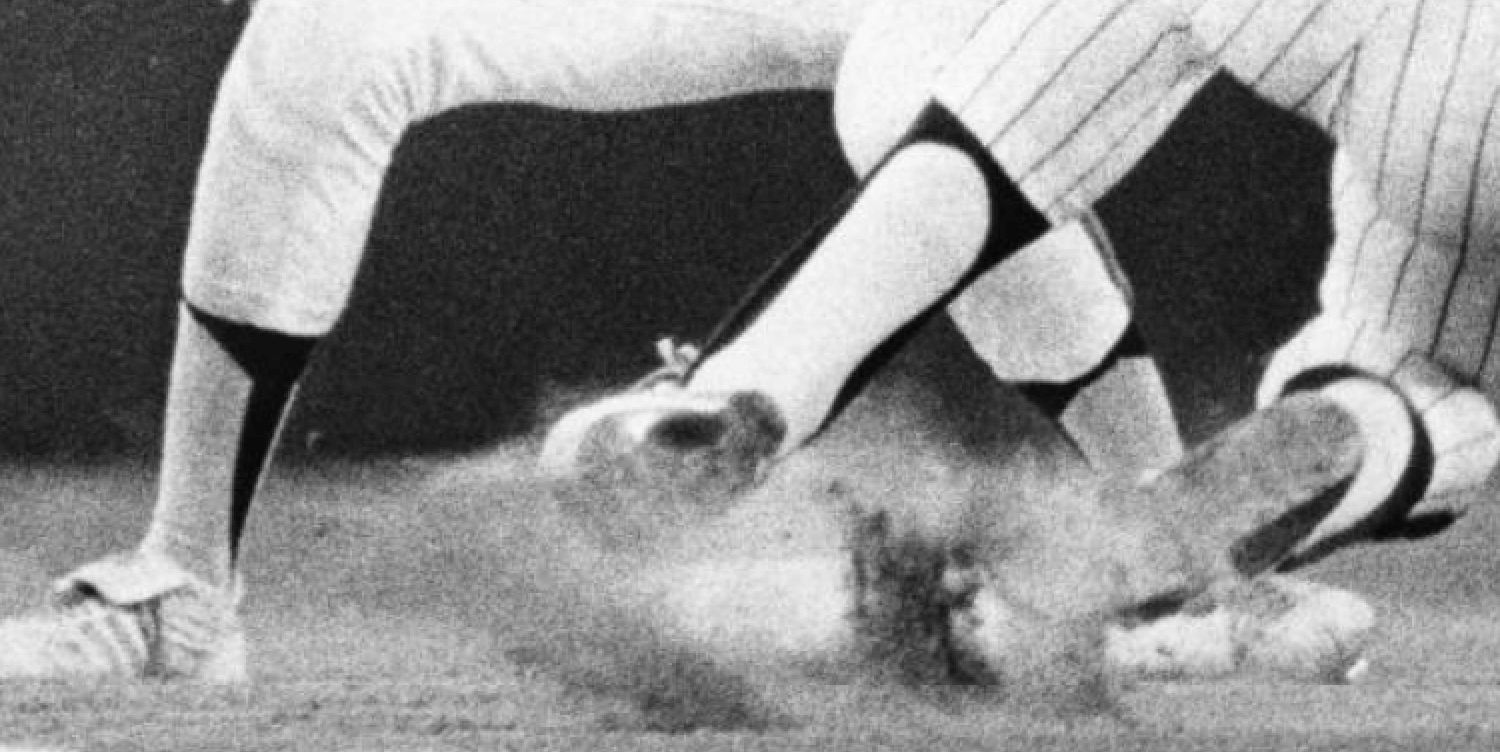 Definitely looks like Milbourne was wearing two-in-ones. I assume almost everyone reading this knows what that means, right? But just in case, here's a quick primer on two-in-ones and how to spot them.
For most of the 20th century, baseball players wore stirrups over white sanitary socks. But at some point someone got the idea to combine those two layers of hosiery into one — hence the name "two-in-ones" — by knitting a simulated stirrup pattern into a sock (just like stripes can be knit into socks — same idea). Sometimes the pattern simulates a ribbon stirrup, in which case the "pattern" is essentially just a vertical stripe, and sometimes it simulates a more traditional, old-school stirrup. Here are examples of both — ribbon-style two-in-one on the left, traditional-style two-in-one on the right: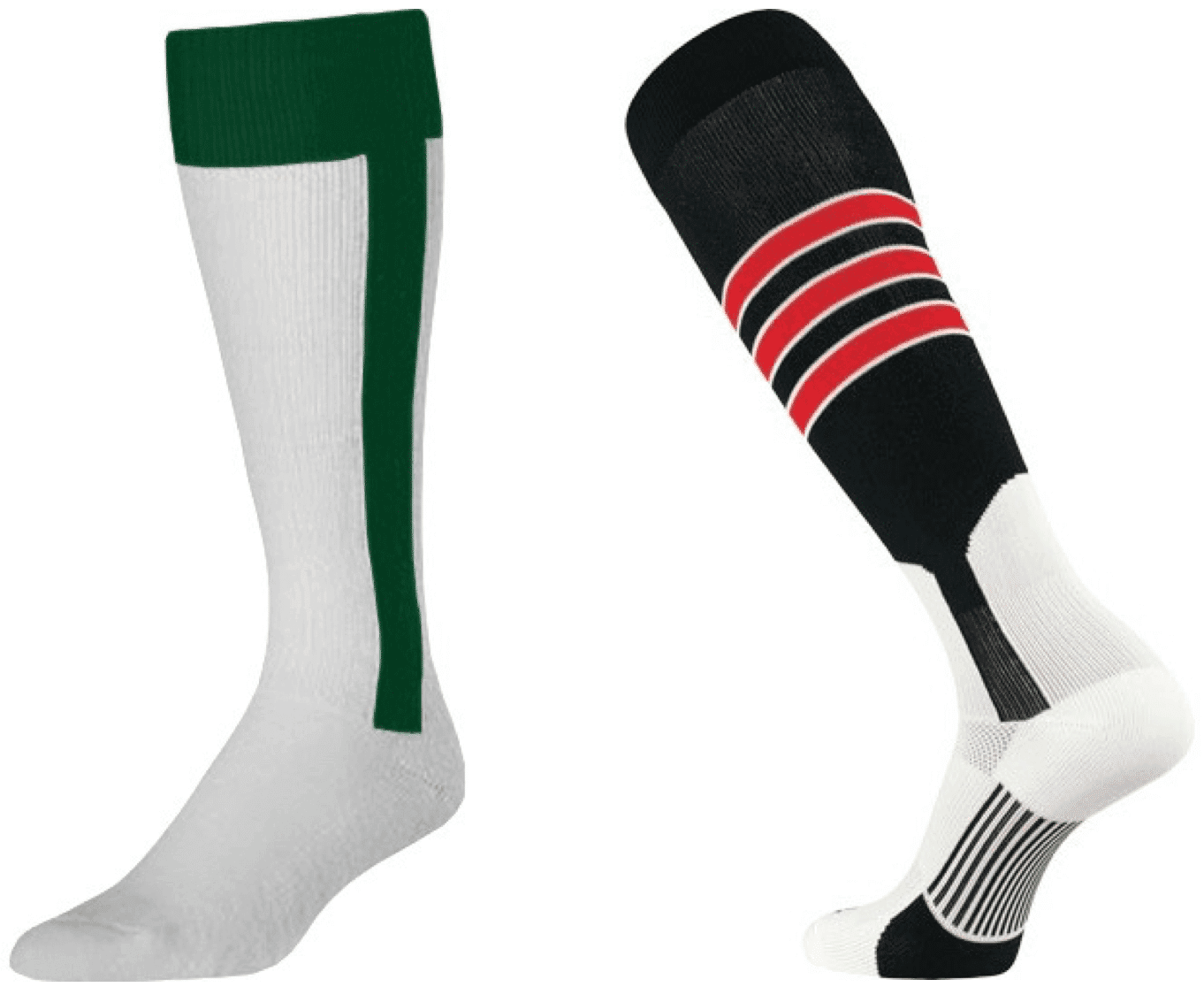 The good thing about two-in-ones is that they're simpler and lower-maintenance. The bad thing is that they look like shit. For starters, as you can see with the ribbon stirrup, the stripe (along with the rest of the sock) tends to hug the contours of the player's leg, resulting in a wavy line instead of a straight line. Moreover, one of the inherent limitations of knitting is that ornamentation can only go vertically or horizontally — there's no way to create a true curve. So a true stirrup's gracefully curved opening is impossible to duplicate on a two-in-one. Instead, the curves have to be simulated by a series of horizontal and vertical strokes. The result looks a lot like old-style low-res digital bitmapping, complete with jaggies: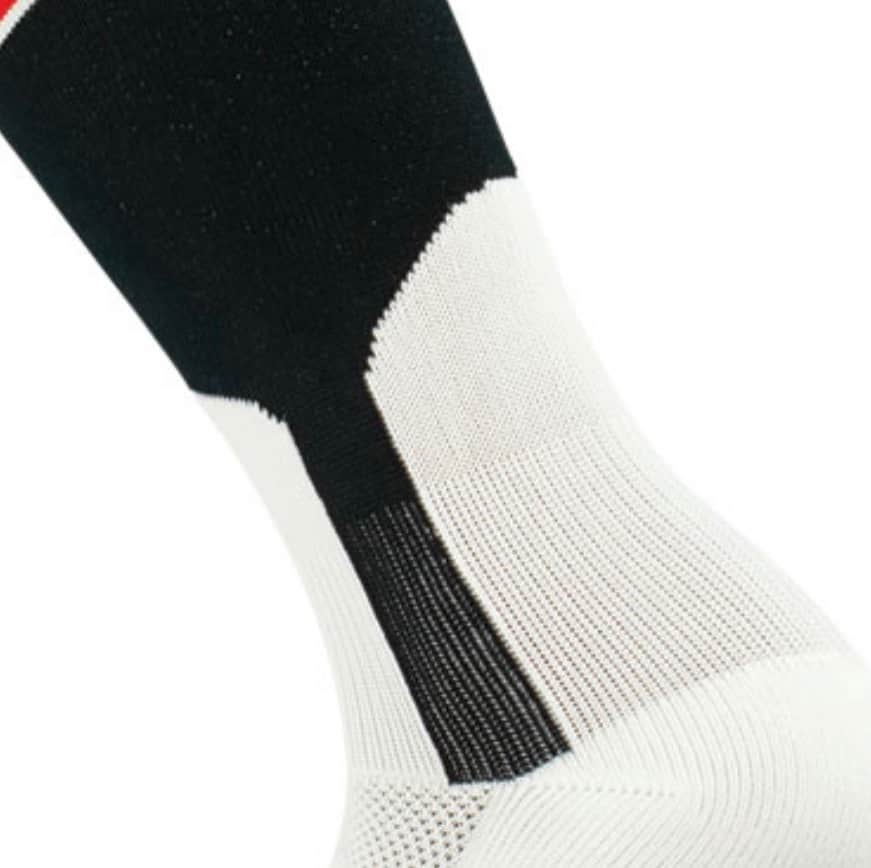 When viewed from a distance, the jaggies aren't visible, so the line of color just looks diagonal. But diagonal lines are a poor substitute for genuine curves.
With all that in mind, let's look again at Milbourne's and Schmidt's lower-leg stylings: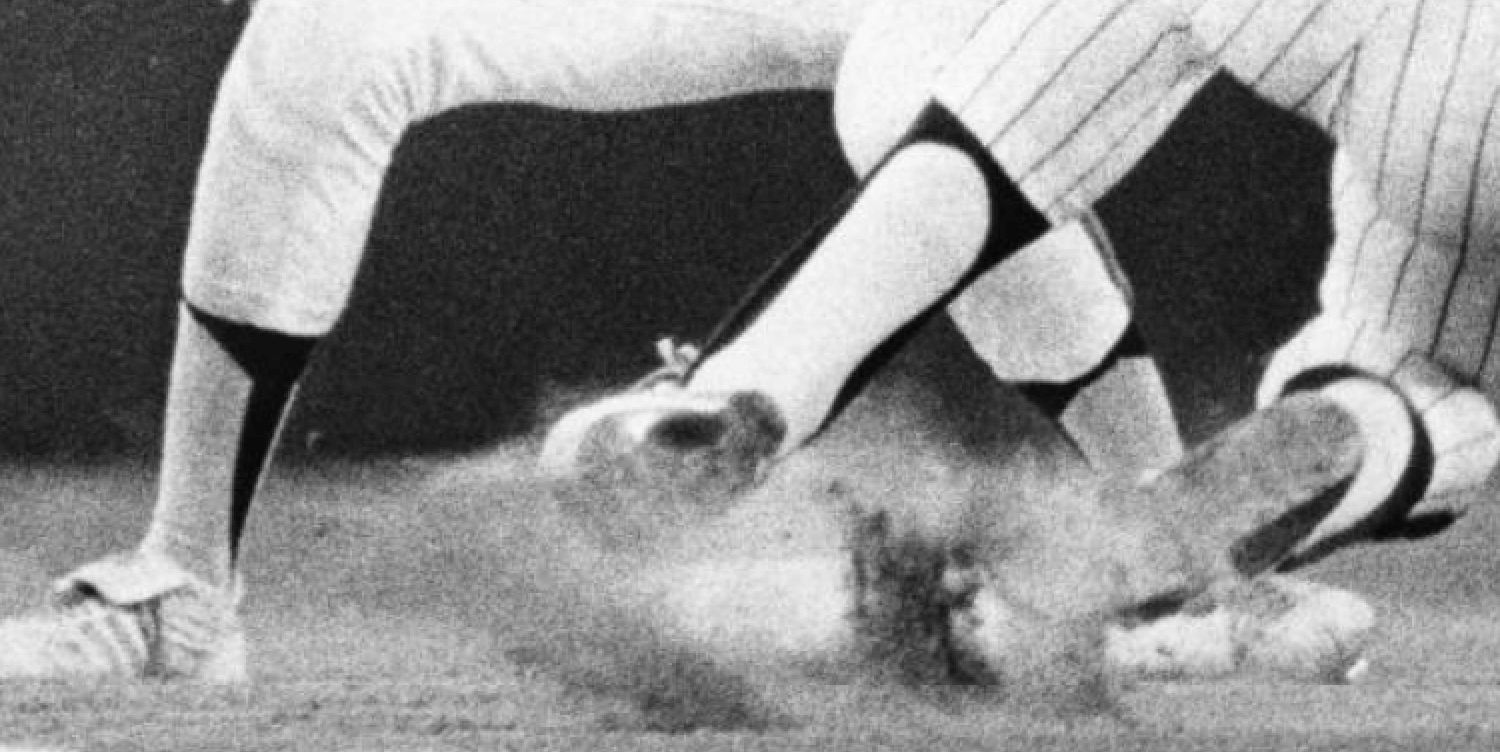 As you can see, Schmidt's stirrup openings have real curves, while Milbourne's have a series of angled lines. That's the tell — he's wearing two-in-ones.
Or at least that what it looks like. But when I saw that photo yesterday, I was still somewhat dubious. "Two-in-ones hadn't yet been invented in 1976," I thought to myself. "Milbourne must have been wearing some early form of ribbon stirrup."
But then, literally about two hours later, reader Emil Frye sent me a 1977 wire photo of Astros pitcher Mark Lemongello — wearing two-in-ones! Check this out: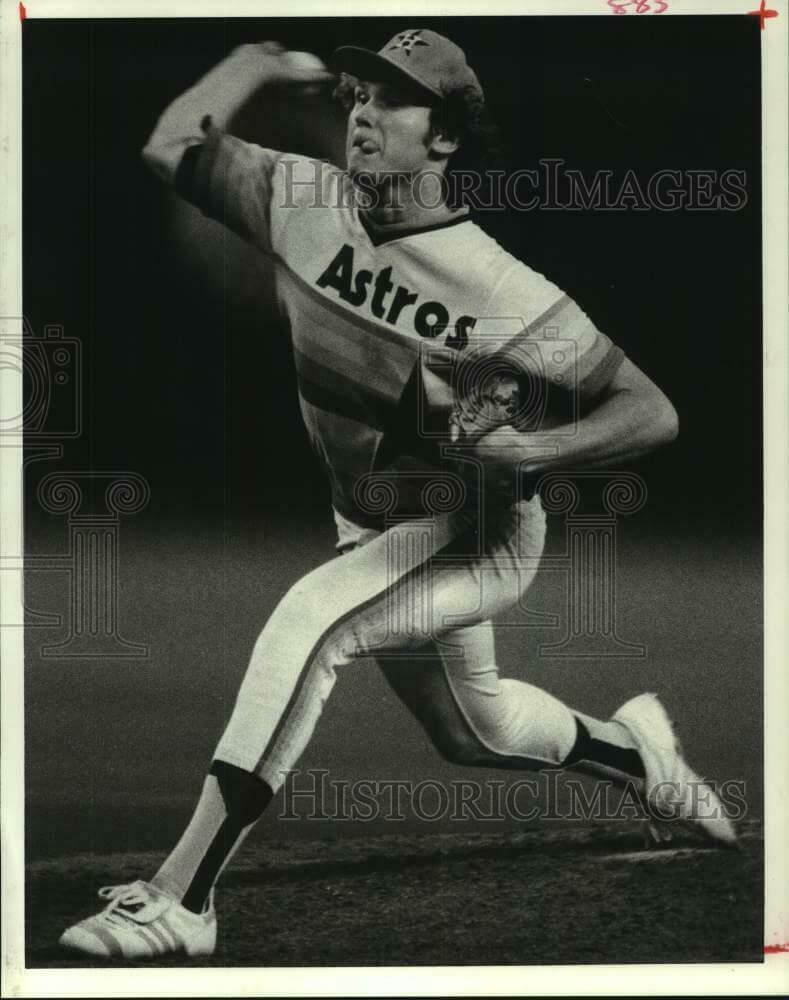 The blocky lines and corners are even more apparent on Lemongello than on Milbourne!
I have to say, I was watching a lot of baseball during this period (every televised Mets game, every televised Yankees game, every NBC Game of the Week, every postseason game, etc.) and was every bit as stirrup-obsessed then as I am now, but I have zero memory of the Astros — or anyone else — wearing faux stirrups. If you had asked me earlier this week when two-in-ones were invented, I would have said, "Somewhere around the late '80s or early '90s," and then I would have said something about them being a scourge on this Earth ever since. But the 'Stros were apparently using them in the mid- to late 1970s — I had no idea!
I wanted to know if these two instances were just flukes, so my next step was to look for additional photos of Milbourne and Lemongello. Sure enough, here's another shot of Milbourne with the Astros, purportedly from 1976. You have to click to see the full-size version, and even then it helps if you blow it up a bit, but he definitely seems to be wearing two-in-ones: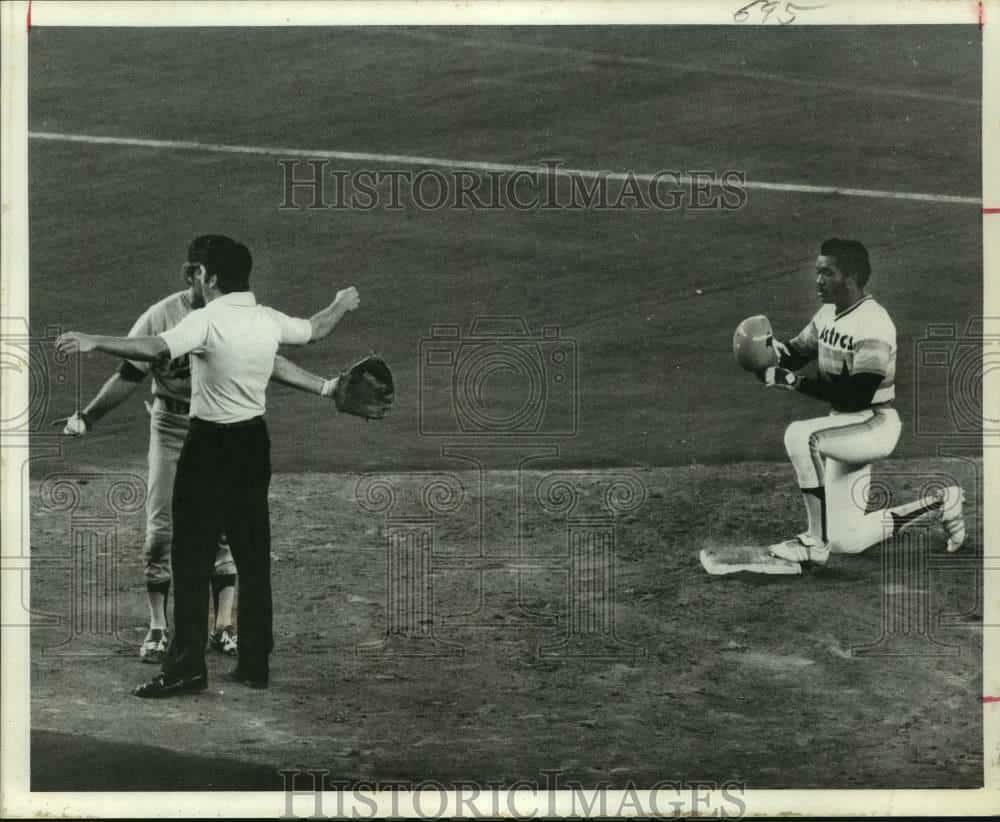 As for Lemongello, he's definitely wearing two-in-ones in this shot (the photo is undated, but he wore No. 42 for Houston for only two seasons — 1977 and '78 — so it's definitely from the same time period we've been discussing):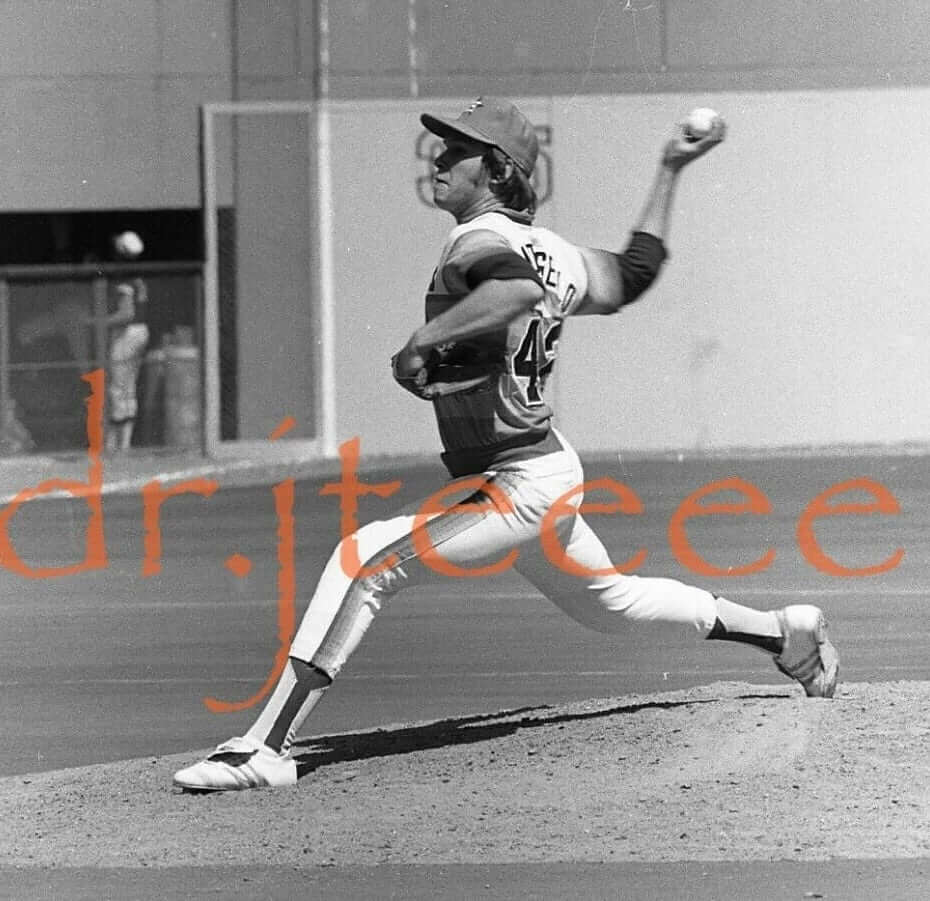 And here's a color shot of Lemongello (also undated). If I hadn't seen the other pics, I might not think he's wearing two-in-ones in this shot. But in the context of the other images, I think he definitely is: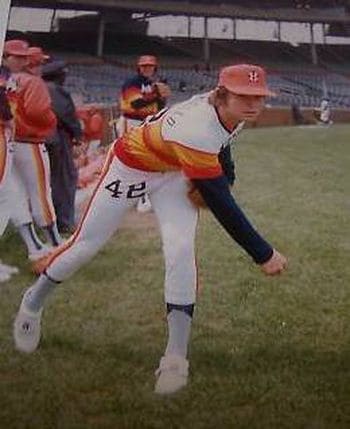 By this time I was convinced: Larry Milbourne and Mark Lemongello were definitely wearing two-in-ones for the Astros in the latter half of the 1970s. But were any other Astros wearing them?
I spent a good chunk of yesterday afternoon looking at Astros photos from 1975 through 1980 (I was so fixated on this topic that I even skipped my daily bike ride in Prospect Park!). I found that many of the Houston players from this period wore genuine stirrups. But quite a few of them were clearly wearing two-in-ones in 1976 and '77. Those appear to be the only two seasons when the phony stirrups were in use.
Let's start with some photos from 1976. These next two pics are of infielders Enos Cabell and Roger Metzger: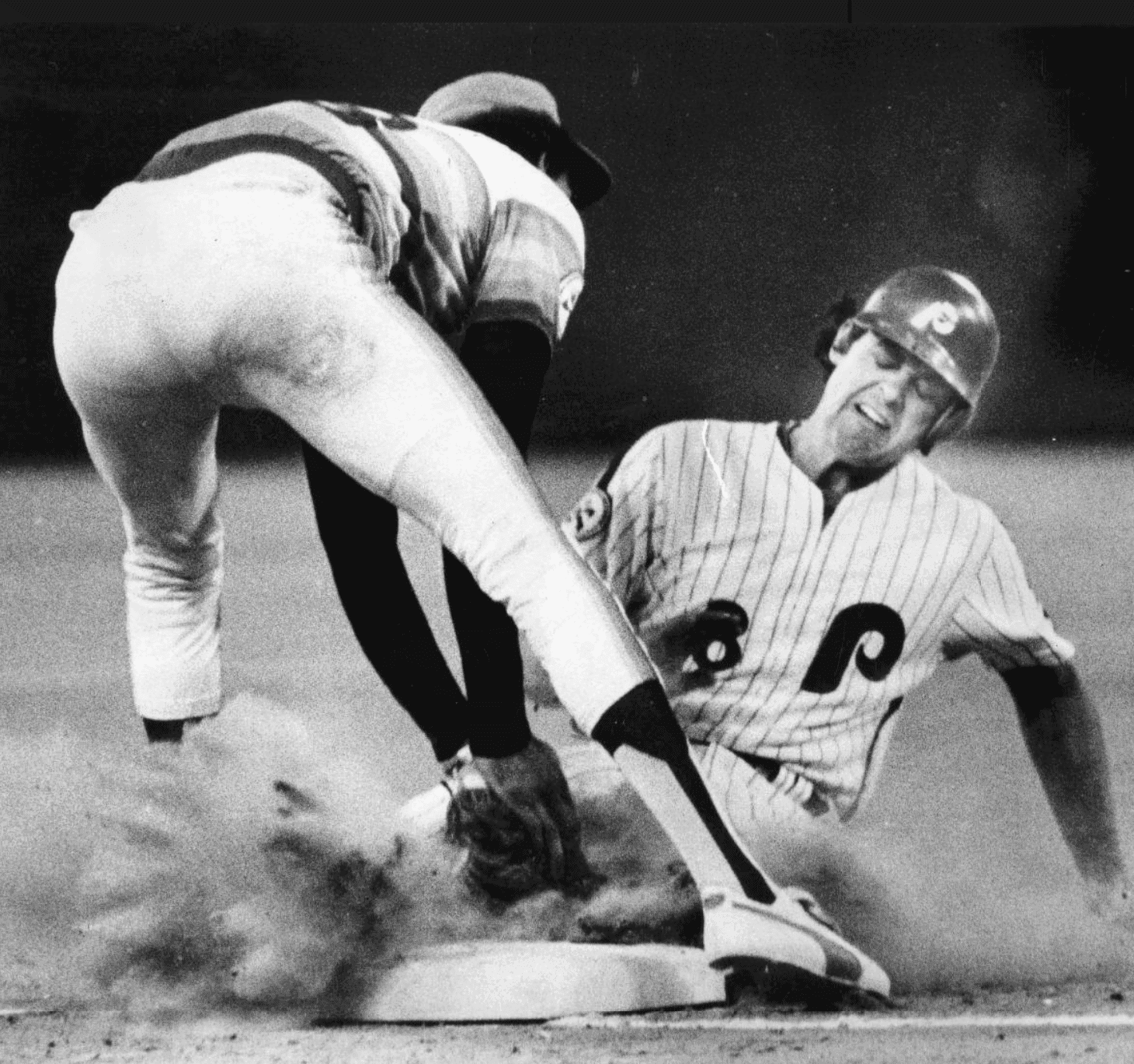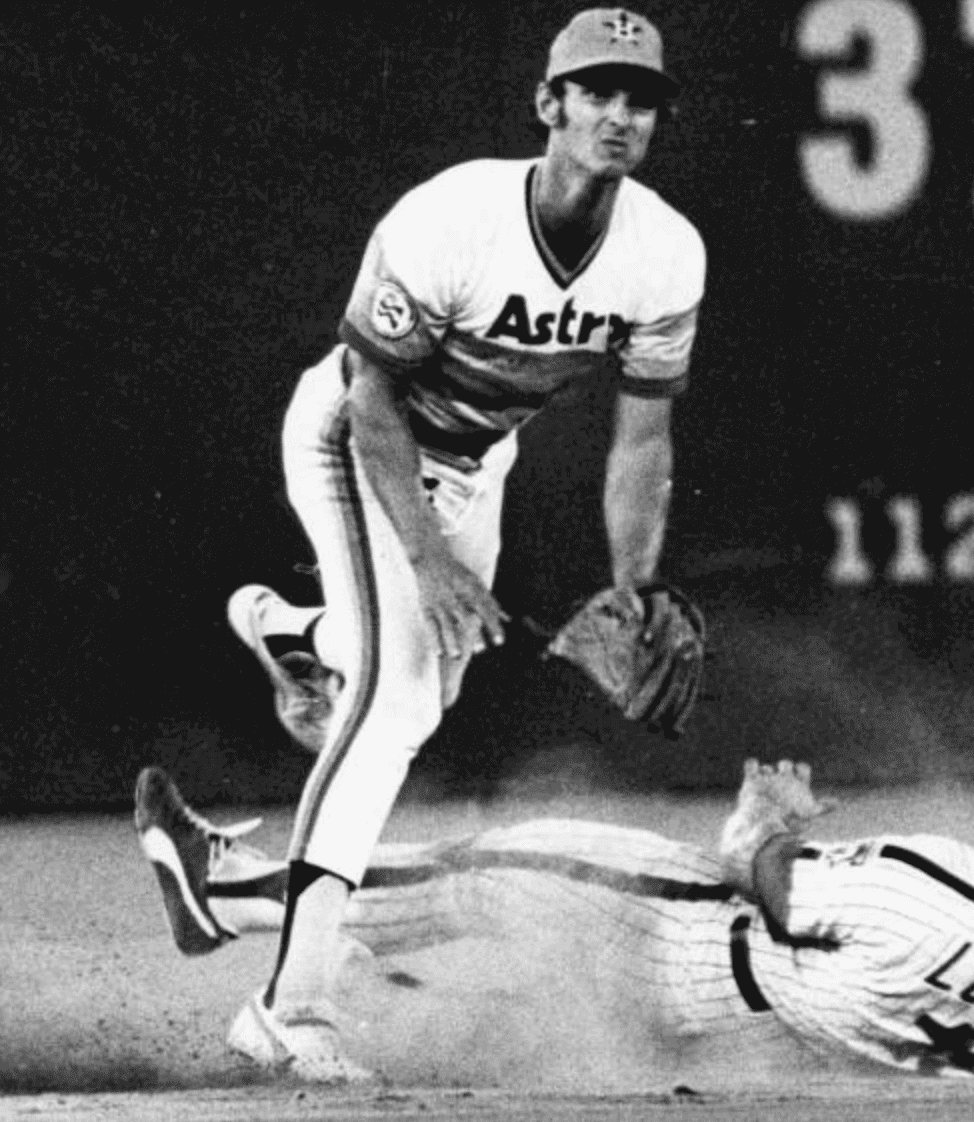 Next up is a doozy of a photo showing (from left) first baseman Bob Watson, pitcher Gilbert Rondon, and third baseman Jerry DaVanon all wearing the accursed faux hose: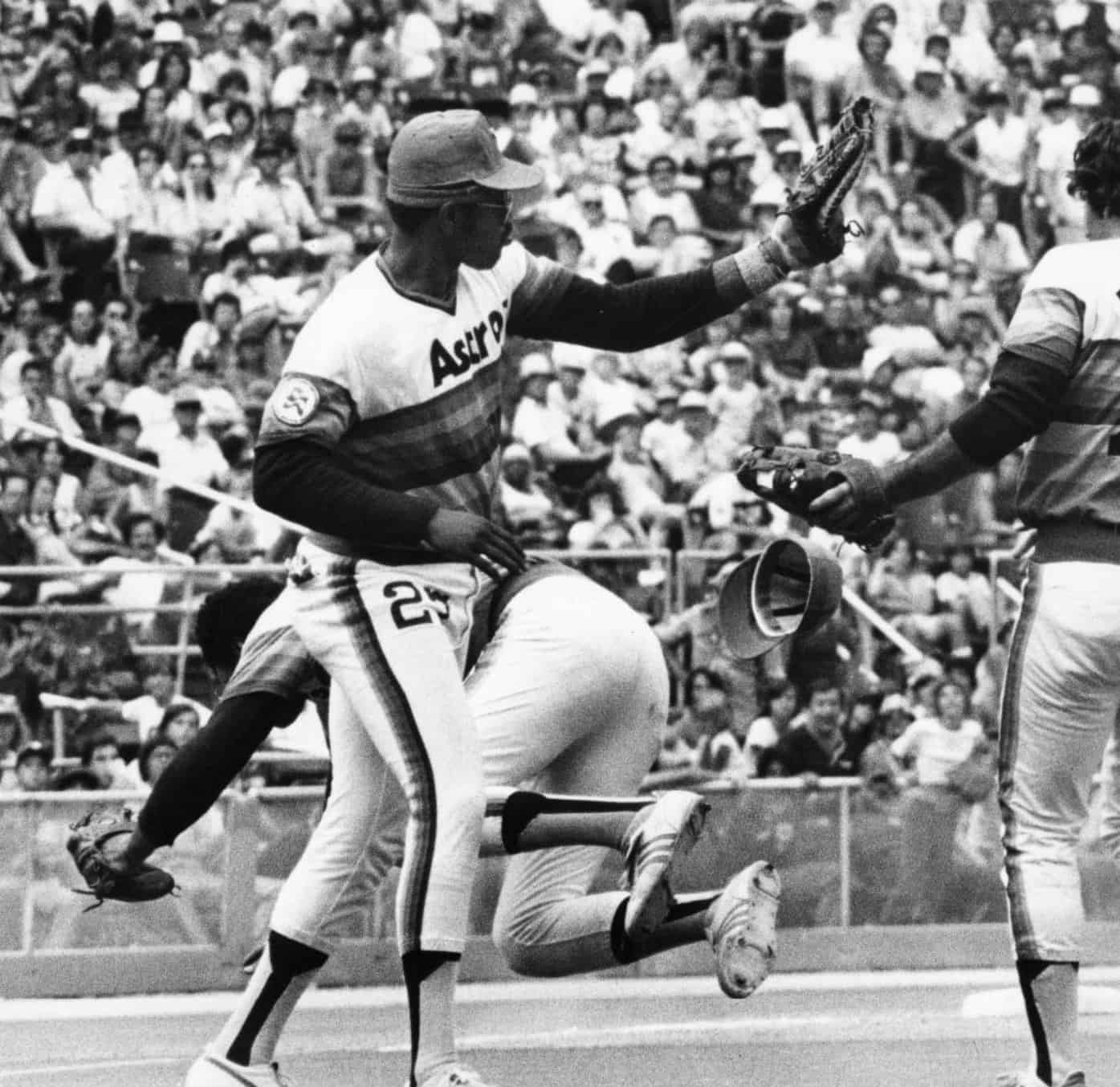 Here's pitcher Joaquin Andujar's 1977 Topps card, featuring a photo almost certainly from 1976: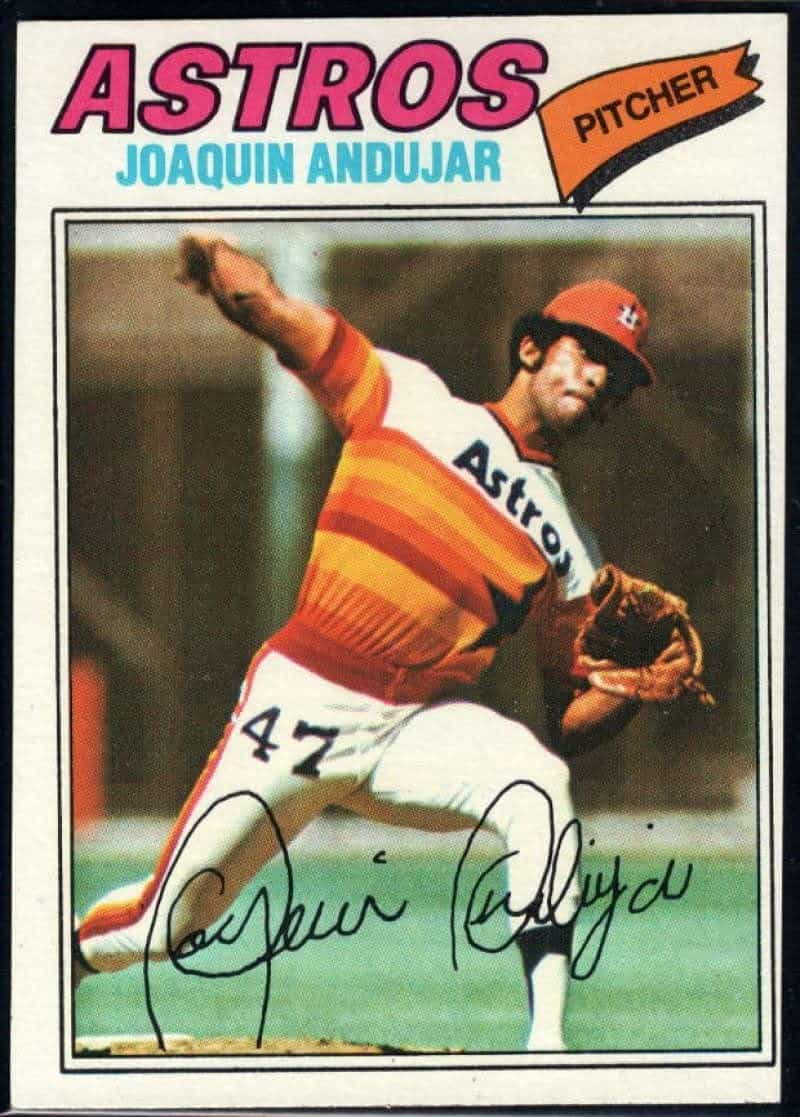 Even the coaching staff wasn't immune, as you can see in this shot of pitching coach Mel Wright:

Moving on to 1977, here's a shot of infielder Rob Sperring:
Here's a color photo of pitcher Ken Forsch. The photo is undated, but that rear-jersey style was used only 1977, '78 and '79, and I couldn't find photos of any Astros wearing two-in-ones after 1977, so I'd be willing to bet that it's from '77: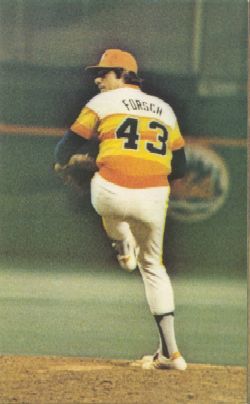 Looks like Cabell was still wearing the two-in-ones in '77 as well.
———
I could go on, but you get the gist: The Houston Astros definitely had two-in-ones as a hosiery option in 1976 and '77. Maybe some of you already knew that, but I sure didn't, and my mind has thus been completely blown.
In some ways, this makes sense, because the Astros were pioneering all sorts of things in the uni-verse during that period, beginning with the groundbreaking tequila sunrise jersey. In addition, they had just become the first MLB team to put uni numbers on pants, the first modern team to use essentially the same design at home and on the road, one of the first two National League teams to wear white shoes (the Phillies were the other), and so on. When viewed in that context, it's not so surprising that they'd also be the first team — as far as I know — to wear two-in-ones.
The funny thing about all this is that the Astros had two bona fide stirrup stalwarts during that time frame — guys who set a really good example for everyone else. The first, of course, was outfielder Jose Cruz, whose high-stepping high cuffery was the envy of the league.
And Houston's other hosiery hero? This one might surprise you, but it was manager Bill Virdon, who knew a thing or two about how to wear the lower half of a baseball uniform:
Embed from Getty Images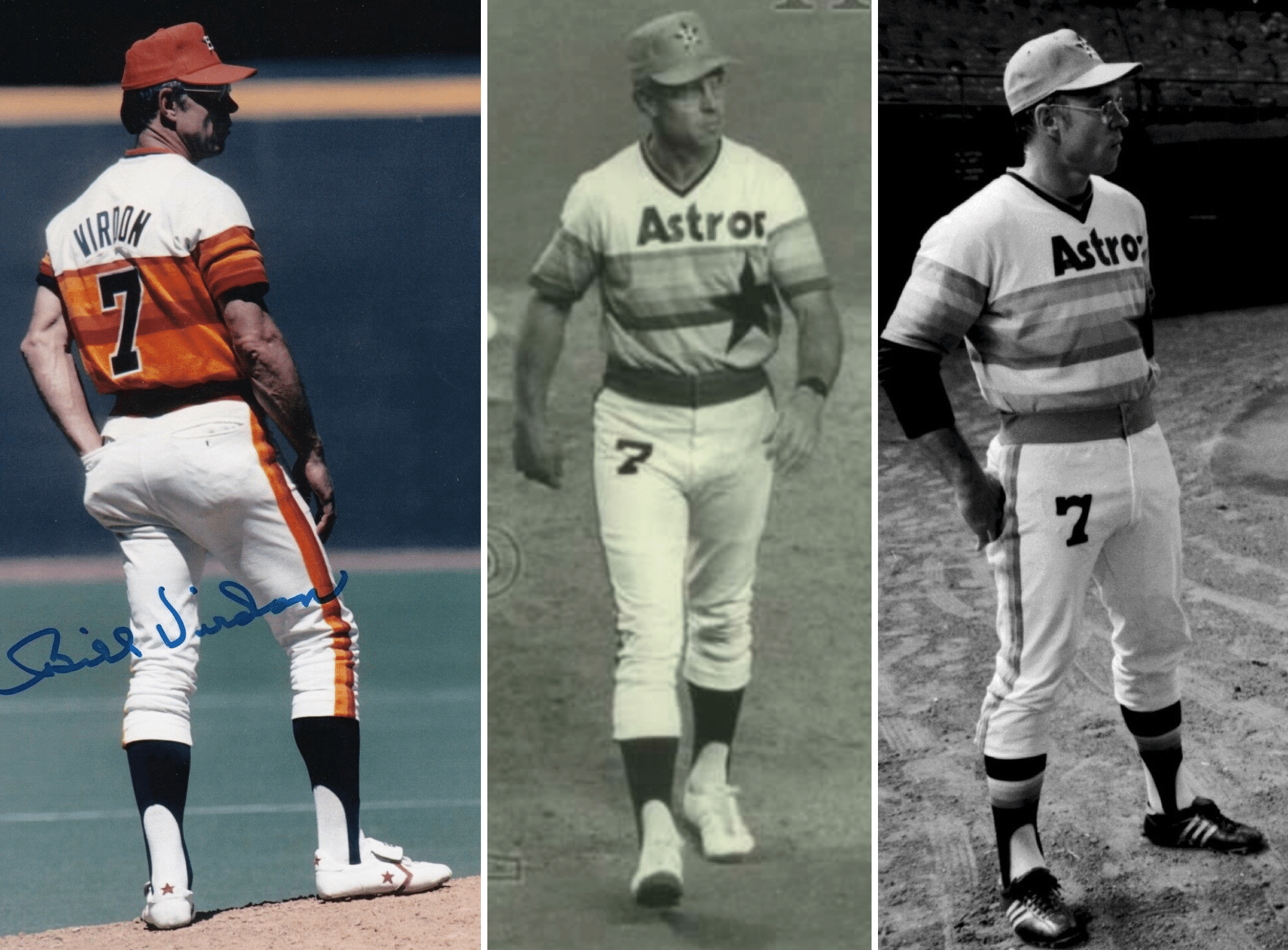 Even as a kid, I always admired the way Virdon wore his uniform. I mean, with a guy like that running the show, who'd want to wear anything else? But then I found this 1977 spring training shot — definitely two-in-ones. Et tu, Bill?
Anyway: I still don't understand how I never noticed this before. Of course, it never would have occurred to me back in 1976 that faux stirrups could even exist, so I wouldn't have been looking for them. Still, it seems like I would have noticed that Houston's 'rups didn't look quite right, and it definitely seems like this would have come up on Uni Watch prior to now. But it's always good to be reminded that there's still a lot to learn out there!
Meanwhile, we still don't know who came up with the idea for two-in-ones, or how they became part of the Astros wardrobe, or why they stopped wearing them. If anyone knows more, I'm all ears.
Update: A few minutes after this post was published, the great Twitter-er @QuirkyResearch (aka Jeremy Snyder) found a 1977 Palm Beach Post article that extolled the virtues of the Astros' uniforms, including the following:

So the two-in-ones were definitely part of the tequila sunrise toolkit. Again, I've never heard about that before. Amazing stuff!
(Super-duper thanks to Andrew Woolley and Emil Frye, whose photo submissions yesterday led me down this very intriguing rabbit hole.)
• • • • •
• • • • •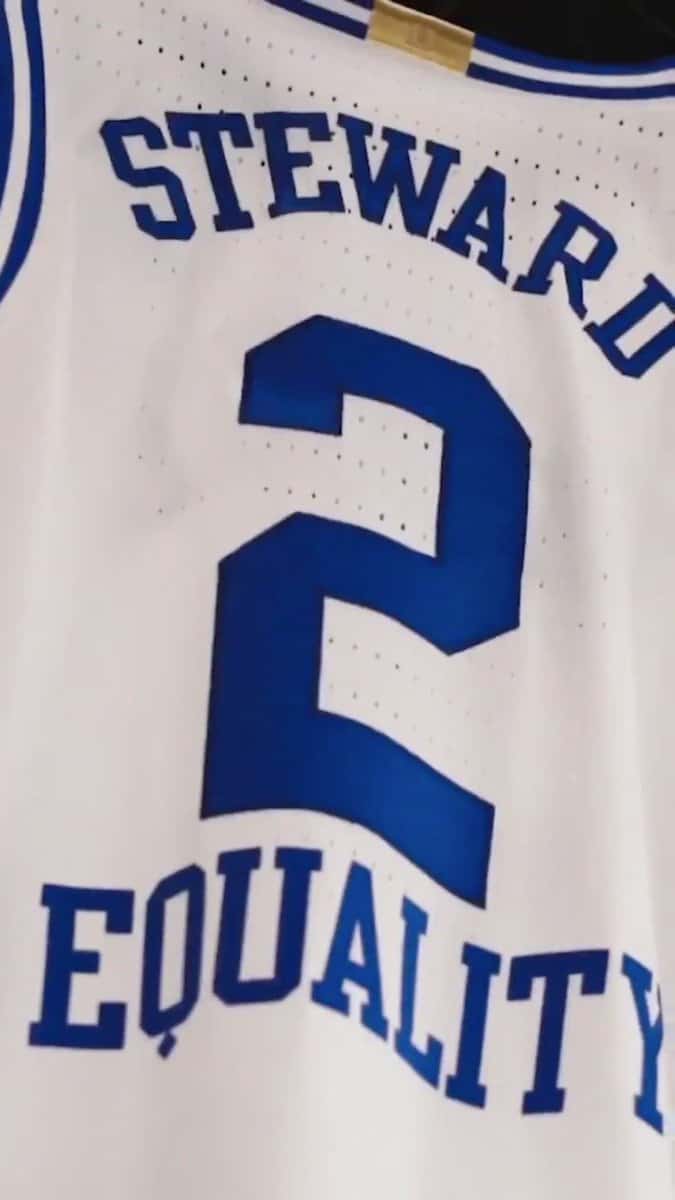 Q tip: The Duke basketball team yesterday announced that the word "Equality" will appear below players' rear uni numbers. Irrespective of the messaging, what I found most fascinating about this was the letter "Q" — it's basically an "O" with a little diamond at the bottom. Not sure I've ever seen a Q rendered in quite that way before. I really like it!
(I'm sure there's some sort of pithy QAnon joke that could be made here, but let's please skip that. Thanks.)
(Thanks to Ian Lee for this one.)
• • • • •
• • • • •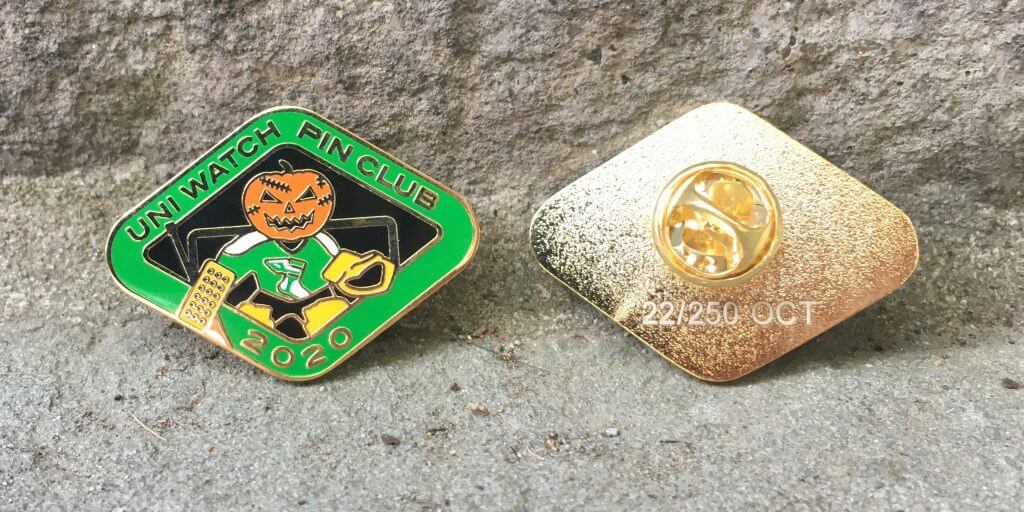 Click to enlarge
October Pin Club reminder: In case you missed it on Thursday, the Uni Watch Pin Club's October design is now available. As you can see above, it features a jack-o'-goalie (complete with Gerry Cheevers-style stitch marks on his face!). It was produced in a limited/numbered edition of 250 pins, and we sold 124 of them yesterday. You can order yours here.
Need to get caught up? Here are our January, February, March, May, June, July, August, and September pins. (Sorry, April sold out!)
Also: I'm trying to get at least a ballpark sense of how many people have been collecting 'em all. If that's you, and if you plan to purchase the remaining pins to complete the year-long collection (in which case you'll qualify for a bonus pin, available only to collect-'em-all-ers), please shoot me a note. No need to provide any documentation or proof — that will come later. For now, I'm just trying to get a rough sense of how many people we're talking about. Thanks!
• • • • •
• • • • •
The Ticker
By Anthony Emerson


Baseball News: The Cubs legal department may want to contact this trucking company (from Kevin Gahalla). … The Chiba Lotte Marines will wear 2005 throwbacks over the weekend (from @bigdaddy45_1969). … Speaking of NPB throwbacks, the Orix Buffaloes wore 1967 Hankyu Braves throwbacks yesterday (from Jeremy Brahm).

NFL News: Last night's Thursday Night Football broadcast cropped the Broncos' logo in a very odd way (from multiple readers). … The Broncos also have two guys on their roster with "III" on their nameplates, which might be the first time a team has had two players with that specific NOB permutation on the roster (from Adam Stockinger). … The Ravens will go mono-white in the battle of the Beltways (from Andrew Cosentino).

College/High School Football News: Memorial sleeve patches are rare in football, but Iowa has added one for former head coach Hayden Fry, who died back in December (from multiple readers). … Florida Atlantic has unveiled their new uniforms. Very Patriots-y, no? (From Ayden Pierce Maher.) … Penn State will award the No. 0 to a special teams player who is a "tough, dependable, disciplined, physical leader who inspires his teammates with his accountability and production" (from William F. Yurasko). … Vanderbilt will have a new helmet featuring a retro logo and the Nashville skyline. The rest of the ensemble can be seen here (from multiple readers). … Virginia Tech will wear maroon-white-maroon at Duke (from Andrew Cosentino). … Virginia will go blue-white-blue tomorrow (thanks, Jamie). … South Carolina will go mono-white against Florida (from Tyler Cronin). … Richmond's equipment manager describes his job as "just spraying [sanitizer] all the time" in the age of Covid (from Tommy Turner). … On a similar note, Arkansas posted a video about what their equipment manager goes through to get game-ready during a pandemic (from Matt Snyder). … NC State will go red-white-red (from Gabe Cornwall).

College Hoops News: California University of Pennsylvania has a new floor (from Kary Klismet).
.

Soccer News: For the second year in a row, West Ham's women's team will wear pink shirts in October (thanks, Jamie). … Also from Jamie: New kits for Scottish third tier side Forfar Athletic.

Grab Bag: Two Irish hurling clubs with clashing colors usually both wear their second kits when they play each other. But this year, both their second kits are dark-colored, so they're having a coin flip to decide who will wear what. That linked article also mentions the ways the clubs have solved color clashes in the past (thanks, Jamie). … Casey's, an Iowa-based convenience store chain, has a new logo (from Kyle Treckey). … American University has put together a virtual tour of its athletics facilities for potential recruits who can't visit in person due to the pandemic (from Kary Klismet). … Also from Kary: Major League Rugby's Utah Warriors have announced plans for a 10,000-seat multi-purpose stadium in Salt Lake City. … Italian rugby club Zebre have some really crazy and totally awesome new kits (from Stephen Mason). … New logo for the Sailor Pen Company (from Scott Rogers). … New rugby union uniforms for Welsh sides Scarlets Rugby and Cardiff Blues (from Ed Zelaski).
• • • • •
• • • • •
• • • • •
Our latest raffle winner is Anthony Gonsalves, who's won himself a Uni Watch Color Remix T-shirt. Congrats to him, and my repeated thanks to Zach Pearce for sponsoring this one.
Mary and I are getting our flu shots this morning. If you haven't already gotten one, you should do it soon!
Enjoy Phil's weekend content, stay well, and I'll see you back here on Monday. — Paul