For all photos, click to enlarge
Now then: Notice anything different about this photo (shown above, I hope!) of Seahawks safety Jamal Adams from last night's game against the Eagles?
Adams was one of at least three Seattle players who were wearing an updated Nike tailoring template that, to my knowledge, had never been worn before in an NFL game. The telltale giveaway is the design at the base of the collar, although there are other differences. Here's a comparison — old template on top, new on bottom:
It's interesting that the new version has more seams. That doesn't necessarily bother me from a visual perspective, but I thought one of the big selling points of the old/current template was that it had so few seams.
The new collar treatment, however, does bother me. I really liked the little triangle treatment for the NFL logo — simple, understated, quiet. The new winged/cowcatcher treatment calls too much attention to itself. Pfeh.
I found photos of two other Seahawks wearing the new template last night — linebacker Bobby Wagner and wide receiver DK Metcalf (who, as an aside, wears No. 14, which somehow feels like the least wide receiver-y number):
While this template — technically known as the Vapor Fusion design, while the older version is the Vapor Untouchable — is new to the NFL, it is not new to the football field. Nike's favorite guinea pig, Oregon, began wearing it last season and has continued doing so this year:
All of this is similar to how the Untouchable template was introduced to the NFL in a gradual manner. First Oregon wore it at the end of the 2015 season in the
Alamo Bowl
. Then it made its NFL debut a few weeks later
in the 2016 Pro Bowl
. Then it was used for a bunch of Color Rash uniforms in the 2016 regular season, plus I believe a few select players also wore it for their primary uniforms (just like the Seattle players last night). Then more examples of it began surfacing
at the NFL draft
and in subsequent
rookie photo shoots
. And then it was finally rolled out for the majority of NFL teams in 2017. I've been hearing through the grapevine that a new template is likely on the way for next season, and last night's sightings would seem to confirm that things are indeed moving in that direction.
Meanwhile, the Colts and Ravens still use the now-ancient Elite 51 template (but without the accursed Nikelace, thankfully), and the Packers, somewhat incredibly, have eschewed all of Nike's offerings and still use the old Reebok tailoring and fabric. It remains to be seen whether those three teams will upgrade or stick with what they have.
(My thanks to Clifford Baxter and Garrett Beatty, who were the first to spot the new Seahawks jerseys.)
• • • • •
• • • • •
Click to enlarge
ITEM! December Pin Club launch: As we enter the final month of this very difficult year, designer Todd Radom and I wanted to strike a happy note for the winter holidays. Transforming our winged stirrup into a stocking overflowing with stocking-stuffers, with a wreath to boot, seemed like the right way to go. You can order it here.
This is a limited edition of 200. Like all of the Pin Club releases, each pin is individually numbered on the back:
Also:
As I've been mentioning all year, people who collect all 12 monthly pins will receive a Uni Watch Pin Club 2020 All-Star pin as a free bonus. Here's what that pin will look like:
Important:
We haven't yet had these All-Star pins manufactured because we need to know how many to make. That's where you come in. Here's the deal:
• If you've ordered all 12 pins — including the December design that's launching today — please prove it by emailing me with some combination of photographic evidence and/or receipts. For example, if you order the December pin today, you could send me a photo of the 11 pins you've already received plus your email from Teespring confirming that you ordered the December pin. Or you could wait until the December pin arrives and take a photo of all 12 pins. Or you can simply go to "My Purchases" in your Teespring account and take a screen shot of that. As long as you can prove that you collected 'em all, that's what I'm looking for.
• That email should also include your shipping address, so we know where to send the bonus pin.
Finally, I'm happy to announce that the Pin Club will continue in 2021. The January and February designs are already in production, and Todd and I have lots of good ideas for the rest of the year that I think you'll really enjoy. Stay tuned, and thanks for your support of this project!
• • • • •
• • • • •
Click to enlarge
NBA update: S-word.
(Thanks to Brazilian leakmeister @camisasdanba, aka Igor Coelho, for his latest scoop.)
• • • • •
• • • • •
Click to enlarge
Too good weird for the Ticker: As you can see above, Duquesne guard Tavian Dunn-Martin wears No. 8. But wait a minute — 8 isn't a legal number in college hoops, so what gives?
Here's the deal: That isn't an 8. Dunn-Martin actually wears No. 0, but Duquesne is using an eccentric number font that makes a 0 look like an 8. Here's how it looks on a few of Dunn-Martin's teammates, and also on graphic that the team posted on Twitter:
So strange! I'm fairly certain that people are going to be emailing/tweeting me about this one all season long.
(Big thanks to Colton Homan for bringing this one to my attention.)
• • • • •
• • • • •
Click to enlarge
Collector's Corner
By Brinke Guthrie
Follow @brinkeguthrie
Welcome to December! Just 24 shopping days until Christmas! Leading off is this set of great-looking 1960s Green Bay Packers prints, which were a promo from Mobil gas stations. The size is 11″ x 14″. You get eight prints in this set from artist Bruce Bamberger. It would be perfect to put under your tree.
Now for the rest of this week's picks:
• This eBay auction is for a set of eight 1940s Dodgers/Yankees/Red Sox scoresheets. Check out the advertising: "Avoid '5 O'Clock Shadow' — GEM Blades."
• Look at the logos on this 1950s NHL Original Six 8″ cloth patch, from the Toronto Star Weekly.
• Kids, this is how they made sneakers back in the late 1960s and early '70s, as seen in this auction for a pair of Pete Maravich Keds sneakers. Cushioning? Who needs it?
• Does anybody really know what time it is? You will with this nifty 1960s Roman Gabriel watch. Someone cleverly noticed that there are 12 letters in his name, so let's just use those on the watch face instead of the numbers, right? Also notice the Rams helmet on the packaging. The seller says this has never been out of the box.
• This auction is for the box only of a 1920s Reach American League baseball. I love the text on the box: "The Official Ball of the World's Series," and "I Certify That This Ball Is Identically the Same as Furnished the American League, Of Which I Am President" — signed E.S. Barnard. Ol' E.S. was A.L. president from 1927 until his death in 1931.
• This matchbook advertises the Henri Richard Brasserie, where they served "Bonne Cuisine!"
• Pepsi was your sponsor for this 1977 set of Pete Rose playing cards.
• If you're wearing this shirt, it's pretty clear that the San Diego Chargers and John Hadl are your favorite team and quarterback.
• Not quite sure what an MLB Action Cartridge is. Looks like you popped little film cartridges in, and then this hand-held player showed them on the wall like a little movie projector, but I'm just guessing on that. Whatever it is, this one features the Cubs, Tom Seaver, and Hank Aaron.
• For some reason, this DIY New York Jets helmet buggy sports a reversed Jets logo.
Got an item to include on Collector's Corner? Tweet submissions to @brinkeguthrie
• • • • •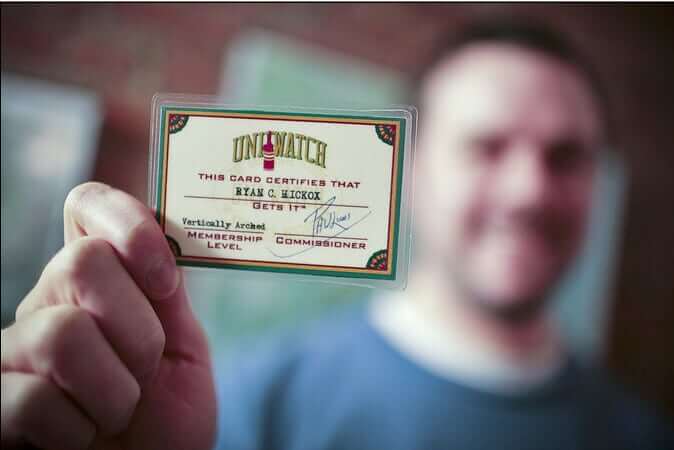 • • • • •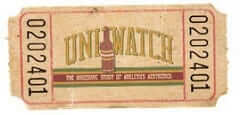 ITEM! Second part of insane membership raffle: Yesterday we raffled off five memberships that were donated by longtime reader Bert Ayers. Today we're raffling off another five memberships from him.
No entry restrictions on today's five prizes. To enter, send an email to the raffle address by 8pm Eastern tonight. One entry per person. I'll announce the five winners tomorrow. Please join me in thanking Bert for doing this!
As for yesterday's membership raffle, the five winners are Evan Friednash, Erik Papke, Zeke Perez, Dan Bodurtha, and Greg Morrison. Congrats, guys!
• • • • •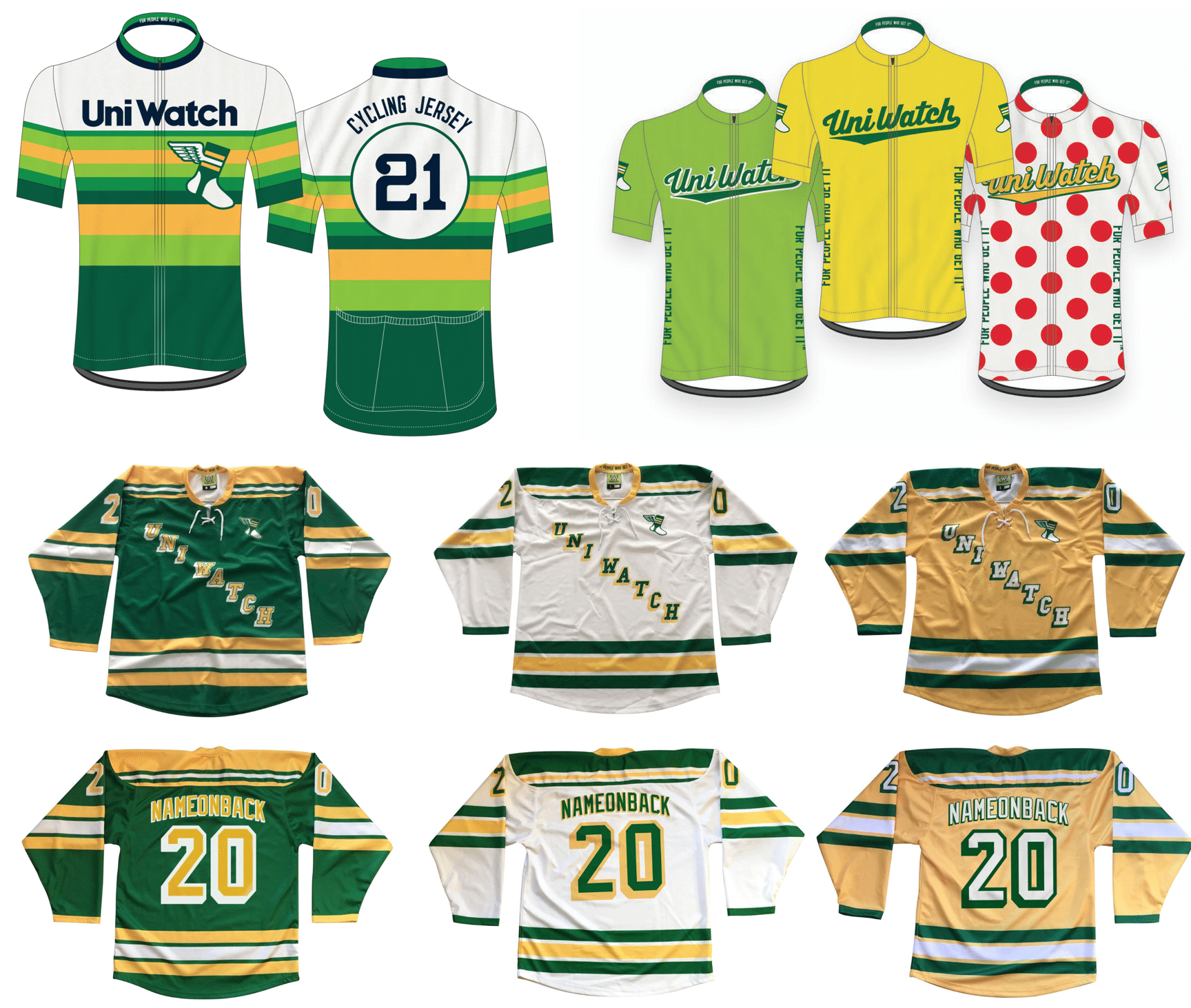 • • • • •
Click to enlarge
Merch reminders: In case you missed it last week, we're once again taking pre-orders for another round of Uni Watch hockey jerseys, tequila sunrise cycling jerseys, and Tour de Uni cycling jerseys — all available with your choice of number and NOB.
You'll need to get your order in by Dec. 11, and they should arrive by mid-January. (Sorry, too late for Christmas delivery — mea culpa on that.) Full details here.
And as long as we're talking merchandise, keep the following points in mind:
• The Uni Watch Classic Cap, which normally costs $39.99, is now only $35.99 — a 10% break. All fitted sizes are currently in stock, along with the adjustable strapbacks.
• I've also reduced the price of Uni Watch trading cards. Full details here.
• You can see our full range of merch offerings here.
My thanks, as always, for your consideration.
• • • • •
• • • • •
Click to enlarge
Culinary Corner: As I've occasionally mentioned in the past, I'm a big fan of the "Will it waffle?" school of kitchen experimentation. And one thing that will definitely waffle is leftover Thanksgiving stuffing, so that's what I had last night.
But! Not all stuffing is created equal — some is semi-solid, some is crumbly. Ours this year was more of the crumbly variety, and it had gotten a bit more dried-out in the fridge over the last few post-Thanksgiving days, so I figured it'd be good to have a binder to help hold it together in the waffle iron.
I started by beating an egg in a bowl. Then I added a bunch of our leftover gravy and swirled it around with the egg. Then I added a bunch of our leftover stuffing, mixed everything so it was moist, and popped it in the waffle iron. As you can see above, it came out really well, and tasted even better than it looked. So good!
• • • • •
• • • • •
The Ticker
By Alex Hider

Baseball News: MLB announced yesterday that it is creating a five-team "draft league" next summer for college draft-eligible players. They also unveiled the logos for the five teams (from our own Anthony Emerson). … The Triple-A Charlotte Knights are renting out luxury suites in their home ballpark to anyone who wants to change up their work-from-home routine for a day (from James Gilbert). … Yesterday was glove day for the Oregon softball team (from Timmy Donahue). … The Marlins' Triple-A affiliate moved from New Orleans to Wichita ahead of last season. But after the pandemic wiped out the MiLB season in 2020, the team may get demoted to Double-A before ever throwing a pitch in Wichita (from @PhillyPartTwo).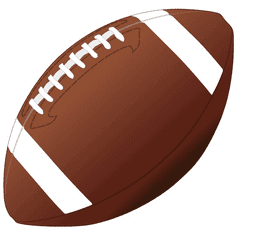 Football News: This is waaaay too satisfying: Check out how the Chiefs and Bucs logos lined up atop PTI's rundown graphic (from Mike New). … Assumption University in Massachusetts has renamed its stadium after alumnus and current Notre Dame coach Brian Kelly (from Kary Klismet). … Navy is slated to unveil its uniforms today for its game against Army (from Timmy Donahue). … The ridiculously named Tony the Tiger Sun Bowl has been canceled (from Ignacio Salazar). … The Clemson Uniform Tracker has been updated from this weekend. … Reader Jason Walker was watching Missouri high school football championships and noticed one team, Raymore-Peculiar, was wearing uniforms with a maker's mark he didn't recognize. I don't think I've ever seen it before either — anyone know more?

Hockey News: The Stars unveiled their full Reverse Retro uniform — not just the jersey — in a video yesterday, which shows the white jersey paired with white pants, gloves and helmets. … Devils blog Pucks and Pitchforks has released its all-time rankings of the team's uniforms (from Kary Klismet). … We had several unveilings from the National Women's Hockey League yesterday: New uniforms for the Metropolitan Riveters, the Connecticut Whale, and the Minnesota Whitecaps (thanks to all who shared). … The club hockey team at Air Force has some pretty slick sweaters (from Ryan Black).

NBA News: Here's more info on the fonts used in that Cavs' "ransom-note" City jersey that leaked the other day (from Mace Adams and @WesHappy). … The Pistons' new hype video for the upcoming season features a new team slogan and logo with the city's area code — 313 (from @MMMMBLT). … For the latest in NBA number assignments, check out Etienne Catalan's Twitter feed. … This timelapse showing an artist making a LeBron James clay figurine is captivating (from Paul Friedmann). … Speaking of LeBron, hard to imagine him wearing a number other than 23 or 6, but as a freshman in high school, he wore 32 (from William Henry). … The Timberwolves are hinting that their new alternate uni will be unveiled on Thursday.

College Hoops: Samford's players wore several distinct NOB styles this weekend (from Clint Richardson). … Steph Curry now has his own brand under Under Armour's umbrella, and Davidson — where Curry played in college — is now wearing that brand logo as their maker's mark (from Andrew Hayes). … Latest anti-Covid measure: Louisville has installed hockey-style glass in its arena, to protect the fans and players from each other (from @ezbutton11). … LSU wore purple at home last night, with Southeastern Louisiana wearing grey (from Chris Mycoskie). … Good example of bad design: Stanford's red jersey typography is practically invisible on the team's black jerseys (from Griffin Smith). … Liberty is using drop-down NOBs — and clownishly huge numbers — this season (from Nute Thompson).

Soccer News: Couple of notes from our own Jamie Rathjen: Scottish women's team Glasgow City are adding the name of a charity, Scottish Women's Aid, to their shirts next weekend, and Torino of Italy's Serie A wore one-off jerseys last night because their advertiser, Suzuki, won the MotoGP team championship. … Romania has unveiled the kits they will wear in the 2021 Tokyo Olympics (from Germán Cabrejo). … Right up Paul's alley: The Tampa Bay Rowdies once had a green-and-gold hoop-striped sock mascot named Hoops! (From Tommy Gough). … New home shirt for St. Pauli (from Ed Zelaski).

Grab Bag: The logo for the 2021 Indy 500 has been unveiled (from Paul Davis and Brandon Wheatkings). … The Biden administration inauguration logo has been unveiled (from our own Anthony Emerson). … Indiana University Fort Wayne is asking for public input in choosing a new team name after its predecessor, Indiana University – Purdue University Fort Wayne, split into two distinct institutions (from Kary Klismet). … New police badge design for the Argyle Police Department in Texas (from Timmy Donahue). … Fascinating story about college cheerleaders — among the few NCAA athletes allowed to make money on their own likeness (NYT link). … New NASCAR/football jersey crossover from Luis Fernando, this time for Bill Elliott. … Washington Post national correspondent Philip Bump did a bit on CNN yesterday from his home, which is decorated with a gym scoreboard (from Brett Baker). … A boy in England was told that his Adidas-brand Covid mask is against his school's uniform policy. … Cricket Australia's Indigenous T20 kit now comes in a long-sleeve version (from Jeremy Brahm).
• • • • •
• • • • •
Click to enlarge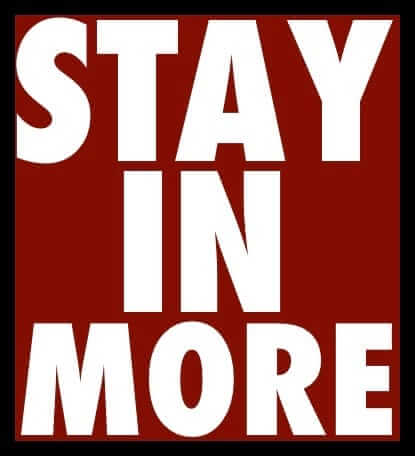 What Paul did last night: As you can see, our neighbor Willie (or maybe Willy — I'm not sure how he spells it), who lives across the street and one house to the right, has put up his holiday lights. It looks better from the porch than it does in this photo — very festive!
The people who live directly across the street are observant Jews, and the ones who live to the left of that house are a mix of Orthodox Jews and Muslims, so Willie's lights are probably the only ones you'll be seeing in my Pandemic Porch Cocktails™ photos over the next month or so. Our own house will likely get some lights (our landlords usually put them up in early December), although I'm not sure if they'll be visible in the PPC™ pics. Wait and see!
As always, you can see the full set of daily Pandemic Porch Cocktails™ photos — now more than 250 of them — here.
• • • • •
Please join me
in wishing the happiest of birthdays to our own Anthony Emerson, who produces the Tickers that run on Fridays and Saturdays. Enjoy your special day, Anthony! —
Paul