[Editor's Note: Today we have a guest entry from longtime reader/pal Jeff Ash, who's going to tell us about a very cool bit of NFL memorabilia. Enjoy. "" PL]
By Jeff Ash
Fifty years ago this fall, when my dad stopped for gas after church on Sundays, we'd get something special.
It was the autumn of 1966 — the heart of the Green Bay Packers' "Titletown" dynasty and the year they would go on to win what's now known as Super Bowl I. When you filled up at Bob Drollinger's Mobil station at 12th and Broadway on the south side of Sheboygan, Wisconsin, they'd hand you a large manila envelope with "Packers in Action" on the front.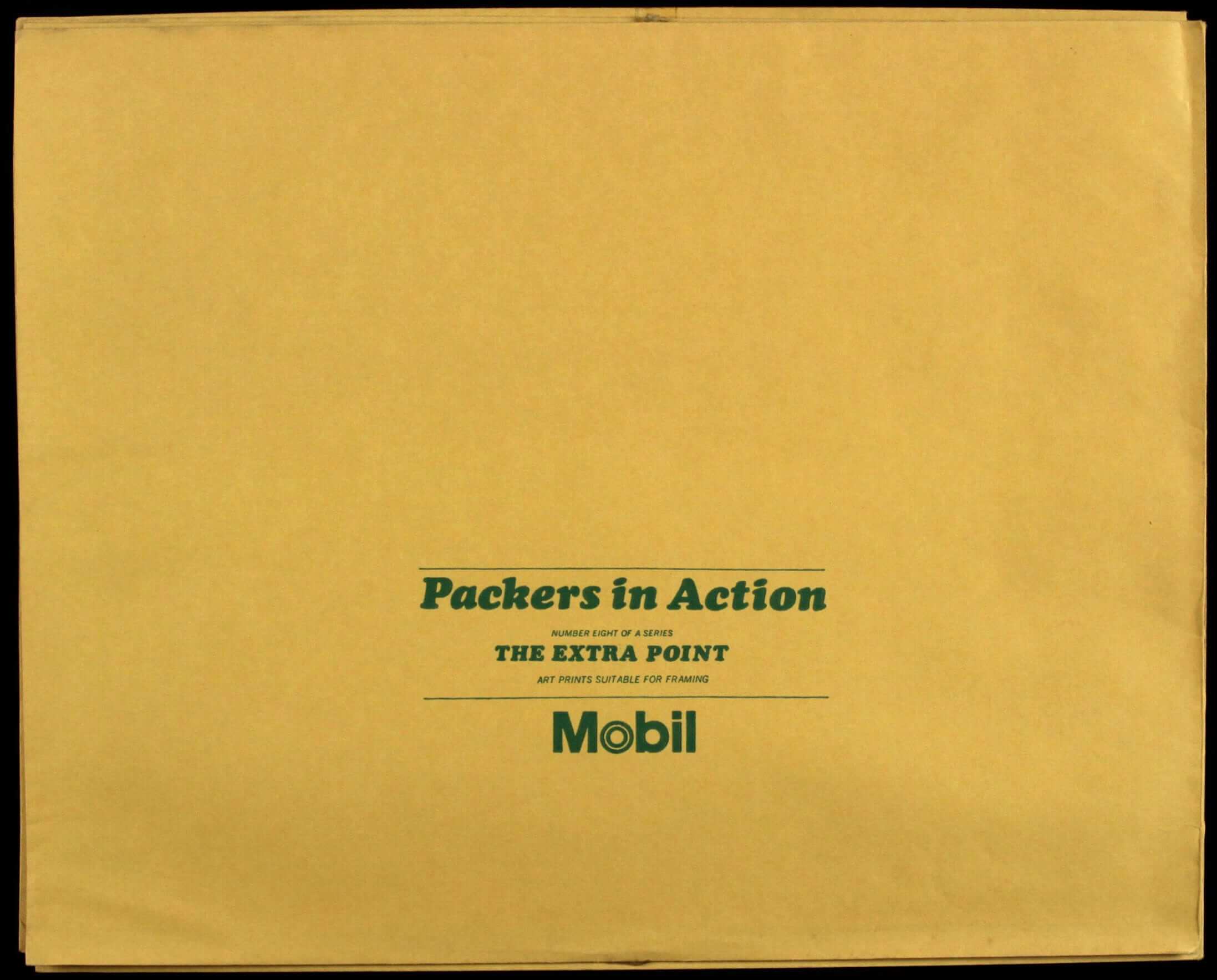 Inside was a beautiful 11″ by 14″ print of a Packers action scene, like this one: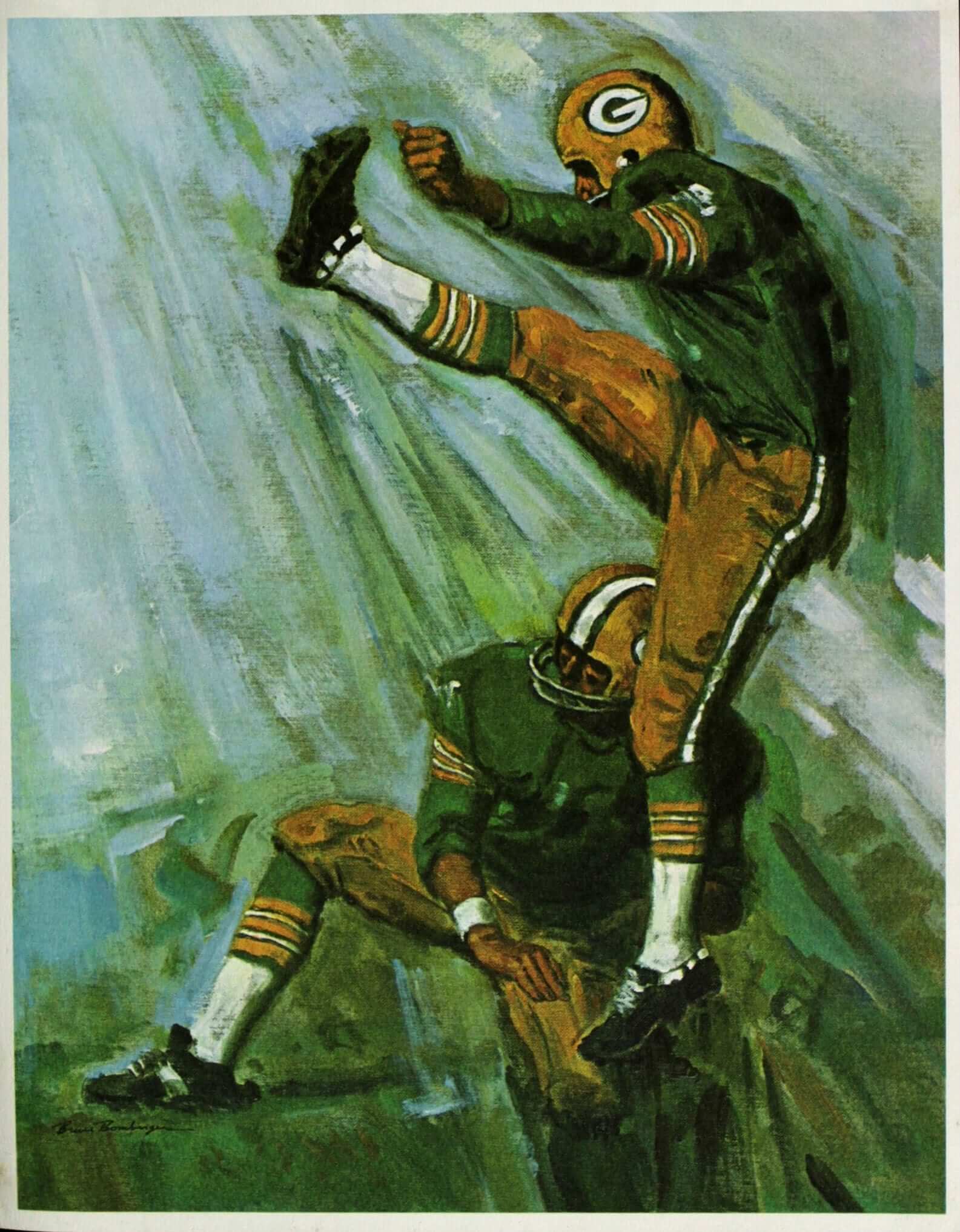 I was nine years old, and I loved them. Fifty years later, I still have my original prints. The edges are tattered, the result of being taped to my bedroom wall for several years, but they remain as vivid as they were during my childhood.
Mobil tapped one of the nation's top advertising artists to do the series: Bruce Bomberger, a highly regarded illustrator who was in his late 40s at the time. His prints dynamically and realistically capture a sun-splashed, rough-and-tumble NFL.
The print shown above, called "The Extra Point," shows the Packers alone, with no opponent. The other seven show the Packers facing their rivals from the NFL's Western Conference (yes, the conference alignments were a bit different in those days). The Rams appear twice, surrendering "The Pass" and "The Sweep." The 49ers give up "The Touchdown." "The Block" thwarts the Vikings. "The Catch" comes over a Bears defender. "The Punt" gets away against the Lions. The Colts are brought down on "The Tackle." You can see all of those in the slideshow below, or by clicking here.
The prints were apparently a one-off deal for all parties. No other NFL teams appear to have been accorded the same promotion by Mobil, and Bomberger doesn't appear to have done any other NFL prints. (Mobil is better known among sports memorabilia collectors for giving away glass tumblers with NFL team logos. We got those at the gas station, too.)
Bomberger's prints are reminiscent of the wonderful series of NFL action posters by the great Dave Boss of NFL Properties. Boss did his paintings at about the same time, in 1965, and they were used for game program covers, playing cards, and posters from roughly 1966 to 1968.
Bomberger's body of work is less well known among sports fans but no less great. In 1949, while working for the San Francisco art service Patterson and Hall, he created artwork for the Western Pacific Railroad's new passenger line, the California Zephyr, which contributed to the classic "Western look" created by San Francisco commercial artists of that era. Later, during the mid-'60s, advertising legend Leo Burnett had Bomberger create artwork for a series of Marlboro cigarette ads that rebooted the Marlboro Man's image by portraying him as a rugged cowboy.
Bomberger also did illustrations for the biggest magazines of the day and a diverse range of advertising clients (you can see more of his work here, here, and here). He died in 1980 at the age of 62, but his legacy lives on in the hearts — and on the walls — of many Packers fans.
•  •  •  •  •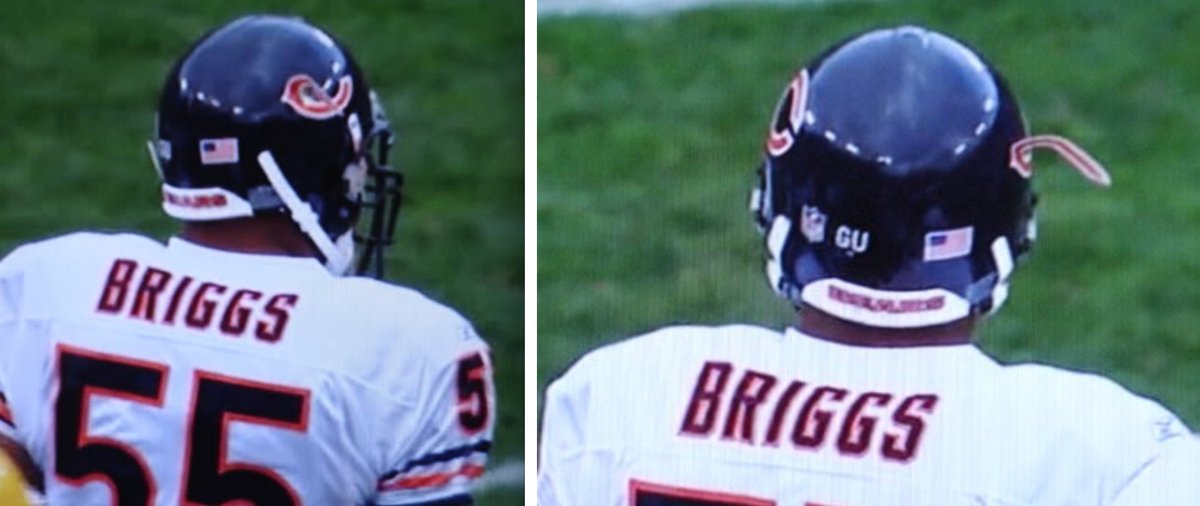 New ESPN column: In the aftermath of Bears running back Ka'Deem Carey having his left-side helmet logo knocked clean off of his helmet on Sunday, I've gone through my archives and written an ESPN piece about similar instances of helmet decal malfunctions over the past decade. Check it out here.
• • • • •
Important T-Shirt Club reminder: If you collected all six of this year's Uni Watch T-Shirt Club designs, you qualify for the year-end prize — a patch based on the jock tag graphic that appeared on this year's shirts. In order to claim your prize, you must send me proof that you purchased all six shirts by the end of this week. The proof can be photos of the shirts or screen shots of your "Thank you for your order" emails from Teespring and Represent. Send your proof to me here. Thanks.
• • • • •
LAST CALL for the year-end raffle: In case you missed it last week, the annual Uni Watch year-end reader-appreciation raffle is now underway. The deadline for entering is 7pm tonight, so move fast.
• • • • •
Click to enlarge
StripeRite update: Finally got my own set of StripeRite socks yesterday. That's right, I had to wait, just like everyone else. Even when we had samples made a few months ago, I only saw photos of those, not the actual samples.
Now that I finally have the real thing in my possession, I couldn't be happier. They came out really well. If you want your own, you can order them here.
Incidentally, we recently got word that StripeRites will be featured in an upcoming issue of GQ — not bad, right?
• • • • •
Click to enlarge
Annals of advertising: Was flipping through a 1962 issue of Life magazine yesterday when I came across this full-page ad for concrete. They don't make ads like that anymore, eh?
A quick internet check reveals that the trade group responsible for the ad, the Portland Cement Association, is still in existence. Even better, their web address is cement.org, because of course it is.
• • • • •
The Ticker
By Paul

Baseball News: It's not uncommon to see a player wearing a windbreaker under his jersey during spring training, but the windbreaker is usually in a team color. Not so with this old Sandy Koufax shot. … The trend toward raised/3D batting helmet logos is spreading (from @southlandsports). … Longtime NYC-area baseball writer Bob Klapisch, clearly in "Gotta find something to write about in late December" mode, says one key to speeding up the game is to cut TV commercial breaks to one minute and make up the revenue by "selling space on players' helmets and jerseys." Uh, no.

NFL News: Here's a good look at the Giants' helmet and jersey for tomorrow night's game in Philadelphia. As usual for the Thursday-night series, the stars on the captaincy patches are centered, instead of flush-left. Also: white sideline jackets. … Interesting equipment-related quote from Jags CB Jalen Ramsey, regarding the Texans' final drive of the game last Sunday: "All I know is, I started that drive with my mouthpiece on my helmet. I ended the drive, my mouthpiece was on their sideline. I'm not sure how that happens without being called hands to the face, but it did." Maybe his mouthpiece should be, you know, in his mouth. … As of yesterday's practice, the Rams still had their white helmet horns. I assume they'll be swapped out for the gold horns later in the week (from Christopher Pisciotti).

College Football News: Memphis added a helmet decal last night — a blue ribbon plus the shape of Tennessee — to support the victims of the recent Gatlinburg fires (from Mark Aubrey). … It's a little hard to see, but Louisiana Tech is going wiht a stars/stripes helmet logo for the Armed Forces Bowl (from James Poisso).

Hockey News: Here's an interview with Penn State's equipment manager. "Among other things, he helped design the team's GFGS jersey," says William Yurasko. … The Wilkes-Barre/Scranton Penguins have had some cool Xmas uniforms over the years (from David Shucosky).

NBA News: The Lakers will unveil a bronze statue of Shaquille O'Neal on March 24 (from our own Mike Chamernik). … Black vs. gold for last night's Bucks/Cavs game in Milwaukee. … Trail Blazers F Mo Harkless's NOB is leaning to one side (from Chris Chaussee).

College Hoops News: Virginia Tech coach Buzz Williams has the logos of all the schools he's coached for posted in his garage (from Ricky Schumaker). … Portland and Portland State went green-vs.-purple last night (from @wipeout944).

Soccer News: No photo, but according to this story the third-divison Spanish team Guijuelo "had the picture of a huge ham leg on the front of their jerseys on Tuesday." … Update: Thanks to commenter Nick Linney, we now have a photo of the ham-enhanced jersey.

Grab Bag: Here's a look at Brazilian volleyball uniforms through the years (from Jeremy Brahm). … Beyoncé is being sued for using the Roc-a-Fella logo in one of her videos. … Our resident auto racing enthusiast, David Firestone, has written an analysis of the new NASCAR logo. … American Airlines' new uniforms have been controversial, with staffers saying the new unis cause bad skin reactions, so some of the airline's executives are wearing the uniforms to show that they're not so bad. … Here's how red and green became the colors of Color Rush colorblindness Christmas. … The black bat used by a player in the opening game of the 2016-17 Big Bash cricket competition has been banned by Cricket Australia (from Graham Clayton).
• • • • •
Happy Winter Solstice. After today, the days start getting longer. And not a moment too soon, right?