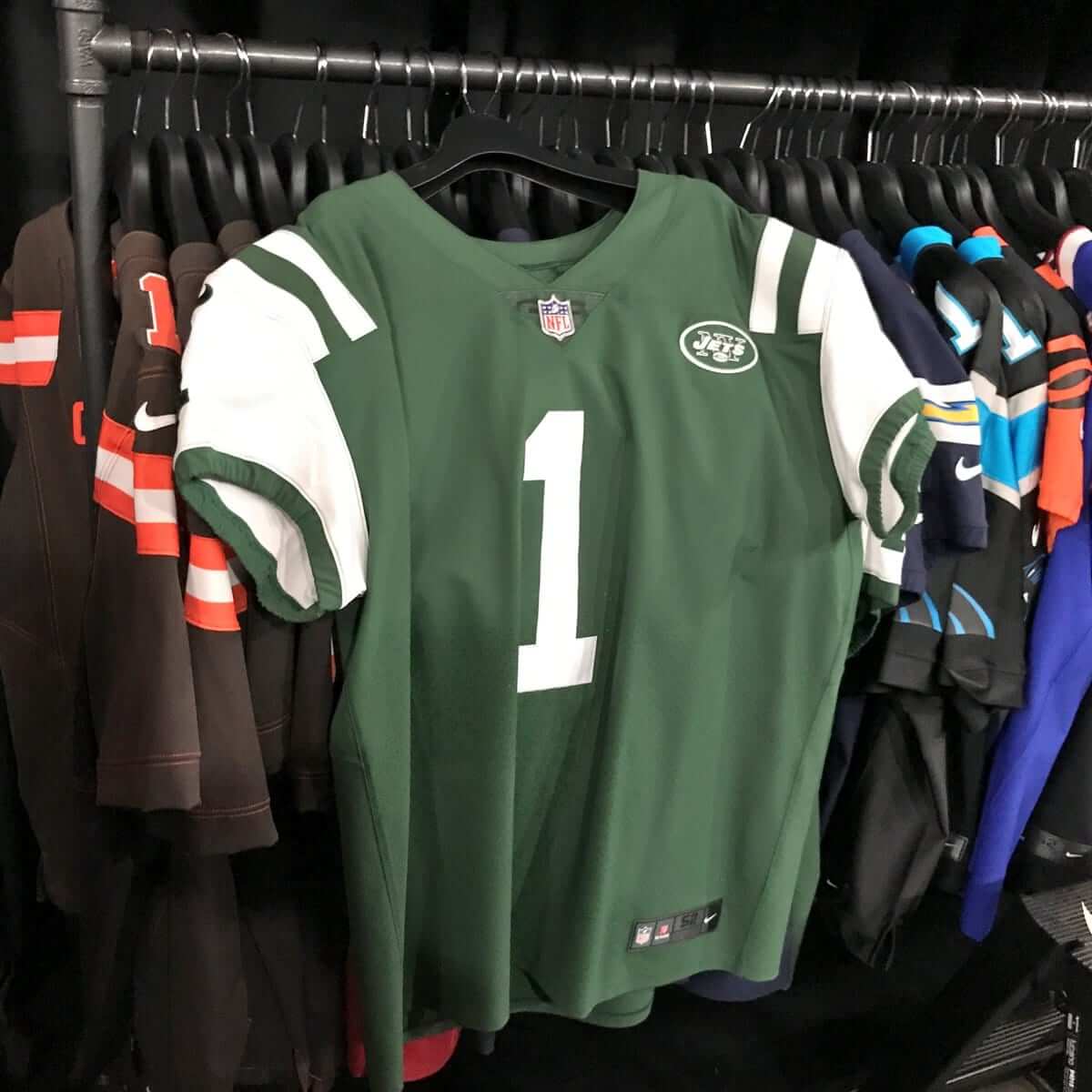 For all photos, click to enlarge
As the NFL prepares for tonight's draft, assorted teaser photos are showing various teams' jerseys rendered in Nike's latest tailoring template (the one with the painfully cringe-worthy name, so I won't be saying it out loud), which means they're blissfully, gloriously free of the brutal Nikelace collar that's been such a gridiron pestilence over these past five seasons.
You can see the Jets' new collar above. Sure looks better than this bullshit, right? And here's how the new collar treatment will look in Philly: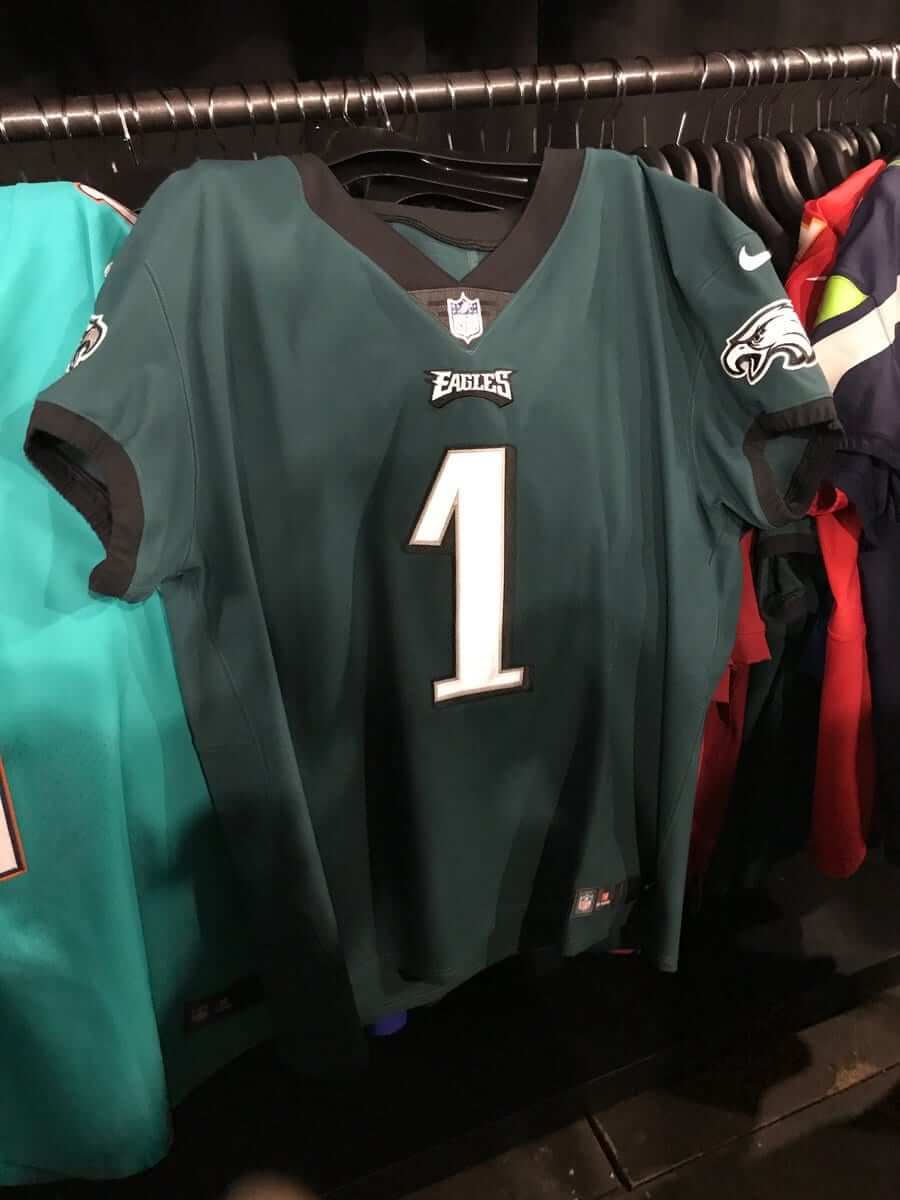 Yeah, the little triangle thingie is annoying, but not nearly as annoying as this. Let's not let the perfect be the enemy of the good, shall we?
This next photo provides a peek at a bunch of additional teams' collars. See if you can spot the one jersey that's different from all the others: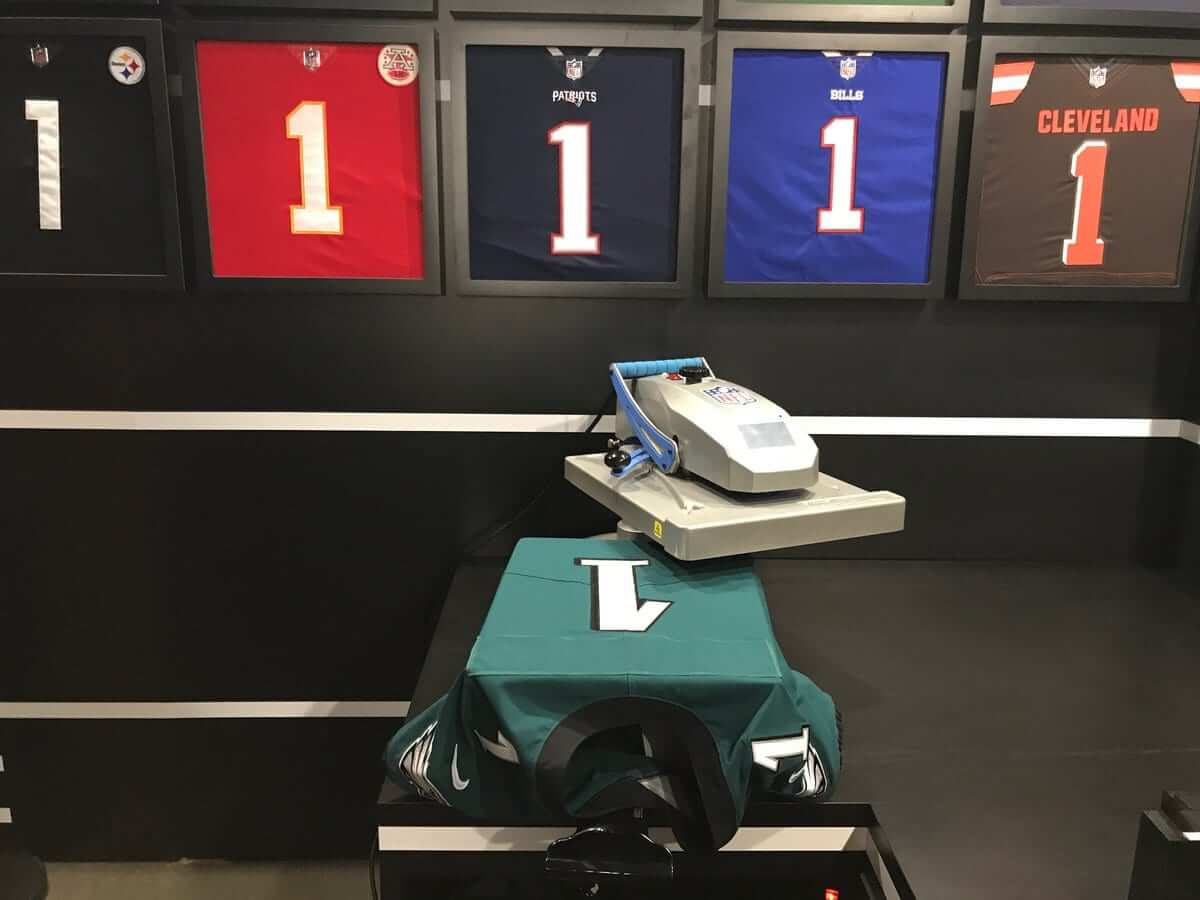 That's right, the Browns still have the Nikelace. Maybe they didn't have one of the new jerseys available for the photo shoot. Or maybe Cleveland will be stuck with the old style this season while everyone else gets to wear the new style. Would anyone really be surprised by that?
The Browns' latest potential indignity notwithstanding, that photo also shows how the new jersey style has some design implications for teams with striped collars. Look at the New England and Buffalo jerseys — the collar striping, which used to come to a point, is now truncated. I'd say this issue is much less objectionable than the Nikelace, but it's still irksome. Several other teams could have the same problem if they adopt the new template. (Keep in mind that some teams, like the Packers, Panthers, and Falcons — all of which have striped collars — have been wearing the old Reebok template all along. It's not yet clear, at least to me, whether they'll transition to the new template or stick with the Reebok format.)
We'll presumably get a better look at the jerseys during the draft tonight. But I won't be seeing any of that, because I always spend the last Thursday night of the month seeing one of NYC's most entertaining bands, so I'll miss the riveting spectacle of Roger Goodell standing next to a series of overgrown children — what a pity. But I'm sure I'll catch up on any jersey developments when I get home, right? Right.
•  •  •  •  •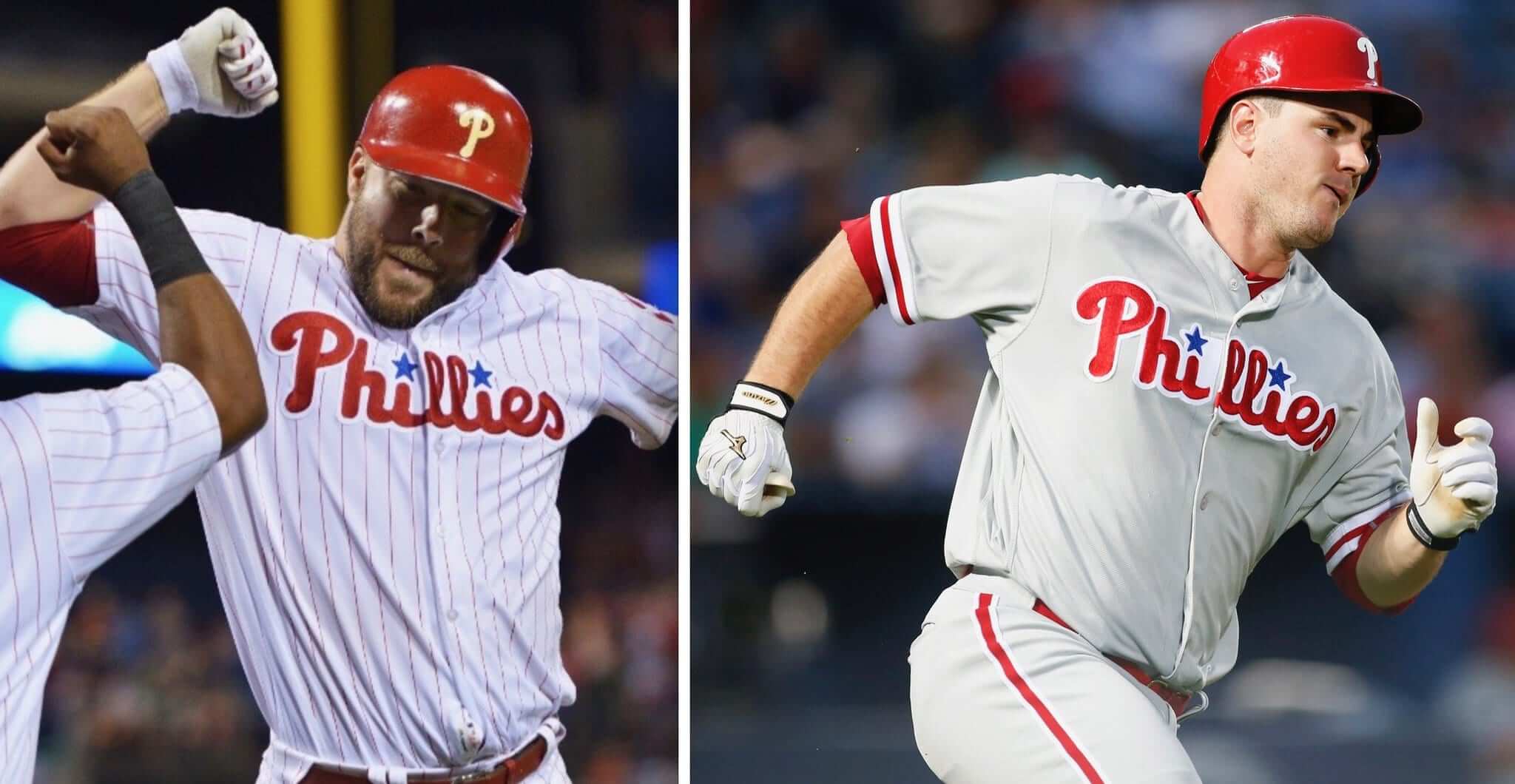 New ESPN column: Today I have a new ESPN column on the common MLB uniform trope of teams wearing their team name on their home whites and their city name on their road greys, with a closer look at the 10 teams that currently don't follow that standard (including the Phillies, shown above). Check it out here.
•  •  •  •  •
Click to enlarge
Beauty is where you find it, Part 1: Last night I had dinner with my friend Shane at this Chilean restaurant in Queens (very good). As we walked back to the subway, we passed this cluster of gas meters mounted along the side of a house. I love how the pipes are sort of nested to created a repeating pattern. Kinda reminds me of a classic meander design, like this:

•  •  •  •  •
Click to enlarge
Beauty is where you find it, Part 2: My friend Nicole is a certified financial planner and a serious fan of vintage collectibles. Put those two things together and you get her latest find: the old board game shown above. Love the box design, especially the little anthropomorphized dollar signs running amok.
•  •  •  •  •
New T-shirt reminder: In case you missed it yesterday, our latest T-shirt in the Uni Watch Artist's Series, designed by the great Scott M.X. Turner, is now available, and it's a doozy.
Here's the concept: If Uni Watch had a bowling team, what would the team be called? The Athletic Aesthetics, of course! And what would the team wear? A classic bowling shirt with chain-stitched embroidery, of course!
Scott's T-shirt is based on that idea, with a simple "Uni Watch" insignia faux-chain-stitched on the front-left chest and a spectacular design faux-chain-stitched on the back (for all of these images, you can click to enlarge):
How great is that?! An anthropomorphized magnifying glass wearing a ballcap and stirrups — tremendous! The graphics really capture that old-school bowling shirt style, too. Even better, the design works well in a wide variety of shirt colors. Here are some of the ones we're offering (there are several more on the sales listing page), just to show how flexible the design is:
Like all of our Artist's Series shirts, this one is a limited edition, available until late next week. You can order it here. My thanks, as always, for your consideration.
•  •  •  •  •
The Ticker
By Mike Chamernik

Baseball News: The Indians have been wearing red shoes at home recently, much like what they did during the 1990s. … Also, Jose Ramirez has been wearing dot-patterned TruSox, instead of Stance socks, much like what Francisco Lindor wears under his stirrups (from Nick Qualters and Robert Hayes). … Yet another Cleveland note: OF Abraham Almote wears a Mims Band, a modern version of the old "Say No to Drugs" personalized wristbands (from @PatDStat). … The Yankees' Henry Cotto, who wore No. 28, had an upside-down 5 instead of a 2 during the early part of the 1987 season (good spot by Andrew Nesnay). … Braves P Julio Teheran has his initials sewn onto his spikes (from Jason Stewart). … A baseball field in Rhode Island removed five wooden poles that stood in play in front of the right field fence. The poles, which held netting that protected nearby homes, were determined to be safety hazards for players (from Matthew Algeo). … The Salt Lake Bees will wear black-and-pink jerseys on May 13 (from Brady Hack). … Newer ballparks have fewer obstructed views, but the trade-off is that some of the seats are much farther away than they were in older ballparks. … New uniforms for the Chinese team Uni-Lions, who at the very least have an excellent team name (from Jeremy Brahm).

NFL News: RB Marshawn Lynch will wear his usual No. 24 for the Raiders. The number was previously worn by Charles Woodson, whose second stint in Oakland ended in 2015 (from Brinke). … Also, the Raiders team headquarters has this logo display. I've never seen the logo at the bottom before. Have any of you? (From Rudy Gutierrez.) … NFL prospect Deshaun Watson is a fan of Cardinals' black alternates. Arizona has the 13th pick in tonight's draft and is considering drafting Watson if he is still on the board (from Phil). … A player's suit and sense of style on draft day could determine future endorsement deals. … The Lions have new helmets, but a display at the draft hasn't been updated with the new design (from @jawnes12). … The Rams have a new AT&T ad patch on their practice jerseys. Chris Cruz notes that not everyone has the patch yet, and that patches on the red QB jersey have a white background. … The Rams gave Skybound, the Los Angeles-based multimedia entertainment company, a new helmet that still has their old logo on the nose bumper (from Bob Novotny). … Pro wrestler Stone Cold Steve Austin wore a Patriots jersey with "3:16" on the front, in reference to his "Austin 3:16" catchphrase, during a trip to Boston in the late 1990s (from @YUNGGOD3HUNNA, via Phil).

College Football News: Michigan coach Jim Harbaugh gave Pope Francis a Wolverines helmet and retro Jordans during a trip to Rome this week. The helmet has a "266" decal, since Pope Francis is the 266th pope, and U.S. and Italy flag decals — arguably a mistake, since the pope lives in Vatican City, a nation with with its own flag (from Phil). … Oregon will sell excess equipment and uniforms to the public on May 6 (from Andrew Cosentino).

Basketball News: The Pacers filed for a trademark for a new Indiana-shaped logo. It made its first appearance on a Pacers racecar earlier this week when the team submitted their bid for the 2021 All-Star Game (from Conrad Burry). … Rutgers offered a sneak peek at one of its new Adidas basketball jerseys (from Phil).

Soccer News: New black away kit for Dundee United FC (from Ed Å»elaski). … New home kit for Indy Eleven of the NASL (from Nile Smith). … Neither @miked3783 nor I was aware that Lacoste once made soccer jerseys. … An Isis enforcer removed the "blasphemous" Real Madrid logo from a local resident's jersey in Mosul (from Steven Nabil). … Players for Bjarg, a Norwegian soccer club, wear NNOB jerseys, but coaches have their names on their bench coats (from Roy Ellingsen). … Dulwich Hamlet is letting fans vote on next season's home jersey design (from Ed Å»elaski"). … New 125th-anniversary kit for Liverpool. Additional photos here (from Jeremy Brahm). … Speaking of Liverpool: Here's a short history of their crest (from JohnMark Fisher).

Grab Bag: Flyers legend Bobby Clarke once owned a house that had a pool in the shape of the Flyers logo (from Jackie Treehorn). … It's always interesting to see athletes wearing "wrong" uniforms at the ends of their careers (from Phil). … Three finalists were announced for a new flag design for Tulsa, Okla. The public will vote to determine the winner (from @hardchargindady). … First Lady Melania Trump's birthday was yesterday. Oddly, the American flag shown on her birthday card had only 39 stars (from Andy Moeschberger).
•  •  •  •  •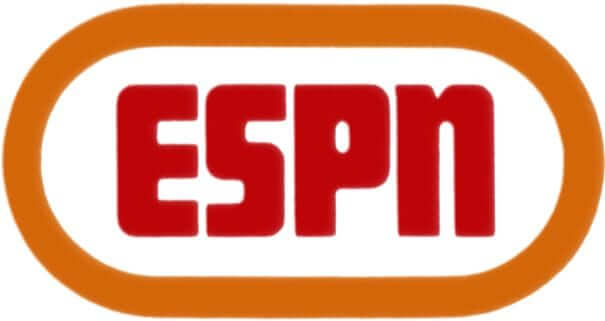 On a serious note: As many of you are aware, yesterday was not a good day up in Bristol. As news of the unpleasantness spread, many Uni Watch readers got in touch to ask if I was okay and offer their support.
I truly appreciate everyone's concern and am happy to report that I was unaffected by yesterday's events. In fact, I signed a new contract just last month, which means ESPN was willing to continue investing in my work even as they were planning cutbacks in other areas — a heartening and humbling realization.
Many of my colleagues, including one good friend and some people I've worked with in various capacities, were not so fortunate. My thoughts today are with them.