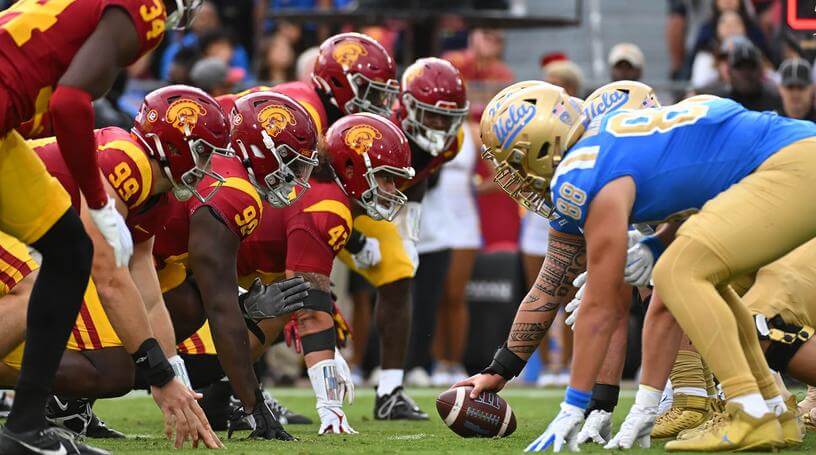 Good Sunday morning, Uni Watchers! I hope everyone enjoyed a peaceful Saturday.
Weekend posts on Uni Watch are generally just one-article-plus-Ticker per day, but both yesterday and today were and will be chock full of news and articles. In case you missed it, yesterday we learned the Utah Jazz had apparently leaked the Seattle Kraken's Winter Classic jersey. I also began what will be a series of NFL uni-protocol proposals, which I'm calling the 2+3+2 (+3) Project. That covered the AFC East, and today I'll add another installment on the NFC East. Finally, news broke later yesterday afternoon with another Winter Classic jersey leak, this time for the Vegas Golden Knights. So if you missed any of those, or you only checked UW in the morning, feel free to catch up. Aside from the NFC East 2/3/2/3 Project, I'll have an additional posting today, from Kary Klismet, who continues his own "Dressed For The Season" series, just in time for Thanksgiving. So be sure to check back often.
Now then.
Yesterday, USC and UCLA once again engaged in their (now) annual tradition of playing a color-vs-color game, although this will be their final meeting as long-time members of the PAC-12 Conference. They will resume the tradition next year, when both are new members of the B1G Conference.
The annual UCLA/USC tilt always means then end of the NCAAFB regular season is nigh, and many of us consider the color-vs-color matchup to be the pinnacle of such contests. Indeed, the cardinal and gold of USC strikes a nice contrast with the "UCLA blue and gold" of the Bruins.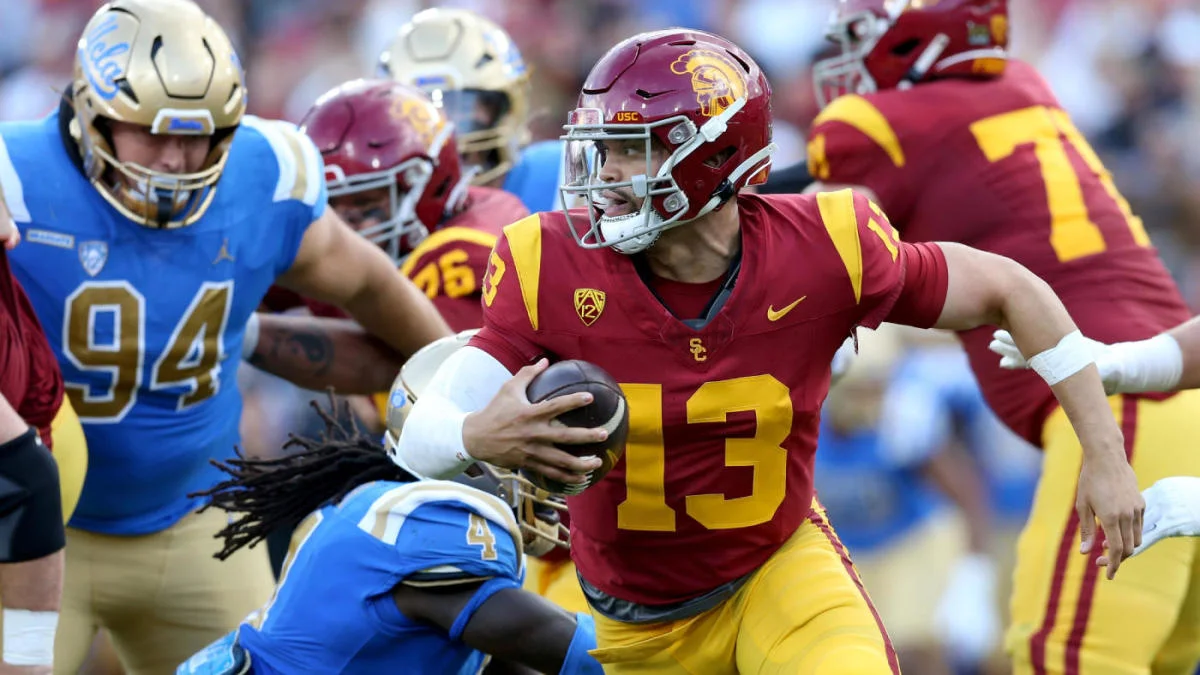 It's a great matchup, to be sure. But as far as color-vs-color games go, it's far from perfect. True, the cardinal and UCLA blue jerseys contrast exquisitely, and the cardinal and UCLA gold helmets work well. But the closeness — but yet still distinctly different shades — of athletic gold and metallic gold of the pants isn't optimal. In fact, they clash rather than complement.
Both teams have stellar uniforms on their own (though I have some quibbles about UCLA's current shades of blue and gold), but when paired together, it's close, but still not-that-close, to perfection. Don't get me wrong, I'll sign up for this uni matchup any day of the week, and I'm glad this game will continue as a rivalry game for the foreseeable future.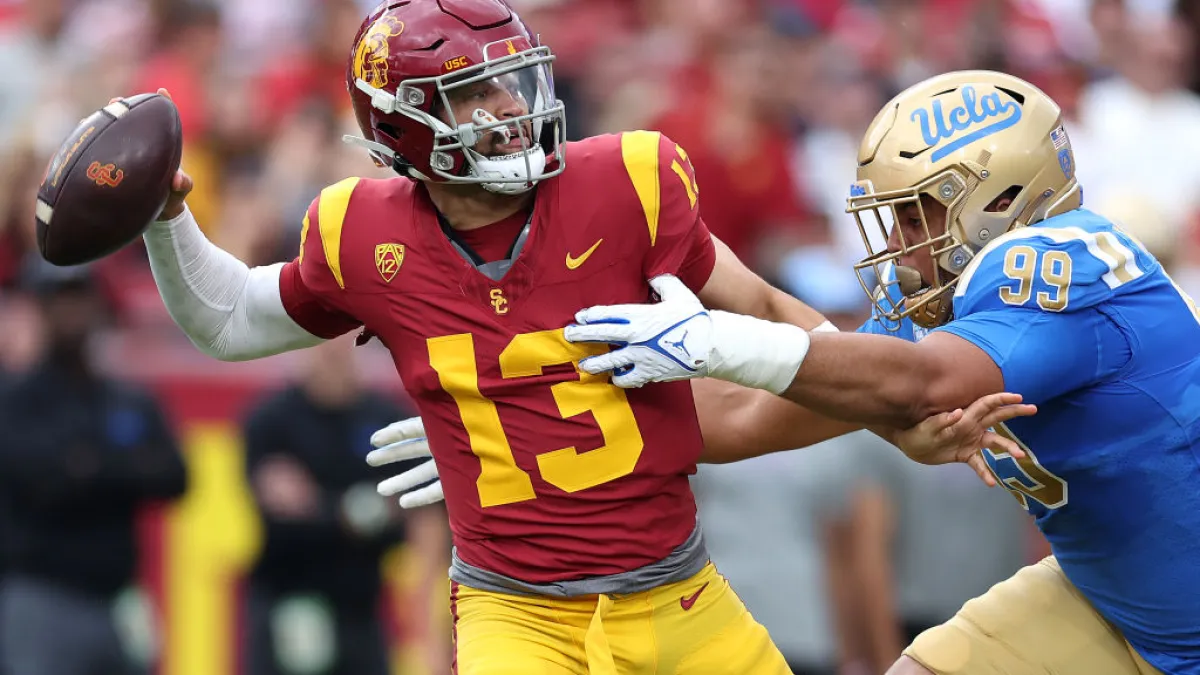 You can see many more photos here.
And with that, I'll turn the rest of this section over to TJ and your…
• • • • •
Sunday Morning Uni Watch, Week 12
by Terry Duroncelet, Jr.
HOW IS IT WEEK 12 ALREADY?!?!?! Time is fake.
__________
From Wednesday:
• Ohio/Central Michigan: 9 days ahead of The Day of Consumerism Fetishism Black Friday, the Ohio Bobcats dressed for the occasion.
• Miami (OH)/Buffalo: Color-vs-color (I guess) matchup between these two. At least team colors were (mostly) featured prominently, and in this day and age, that's all we can ask for sometimes.
__________
From Thursday:
• Pitt/Boston College: It feels sacrilegious to say this, but this is one of those few times where Pitt didn't look so rad. Granted, the mono-blue isn't the worst thing I've seen, but nothing beats the gold trou. Also, Pitt seems to have a bit of a tendency to repeat this look against Boston College, as evident with this UA-era pic of BC and the Panthers some years back (different angle).
__________
From Friday:
• Washington State/Colorado: WAZZU decals for the Cougars (closer look). I like 'em, but I wish they had a small "LITTLE" next to it, just as a fun shoutout to all of the Tenchi Muyo fans out there (myself included).
__________
From Saturday:
• Idaho/Idaho State: I wish I could mention more FCS schools, but at the very-least, this one bears a mention, however: Idaho wore black ribbon decals on the back of their helmets in recognition of the 4 people who were murdered last year (closer look). Additionally, this game was color-vs-color.
• Memphis/SMU: Memphis listened to The Rolling Stones once, and then decided to make it their personality.
• Ohio State/Minnesota: I always love an appearance from Goldy, even if it wasn't the best showing. You didn't think I was gonna leave you without a closeup, were ya?
• Miami (FL)/Louisville: 'Cards' script for Louisville.
• Arizona State/Oregon: The Sun Devils wore PT 42 decals on their helmets against Oregon, in recognition of Pat Tillman.
• TCU/Baylor: I've never seen such a cacophony of colors in my LIFE (well, that's debatable). At least 7 different "The blood's on your hands" jokes just materialized in my mind. I can already hear people saying "'Bloodshot'? More like 'BloodSHIT'!" At least the color dynamic was there (and of course, a closer look at those helmets).
• Ball State/Kent State: Contrast Matters: MoVi Edition.
• Arizona/Utah: G.I.Joevember togs for the Wildcats, with grey pants! Phil actually wrote about these back in August.
• FAU/Tulane: It seems that teams can't wait for End Up on WorldstarHipHop for Left-Hooking a Woman for a Discounted Flatscreen TV Day Black Friday to break out the BFBS.
• Northwestern/Purdue: …Case in-point. Also, peep that helmet closeup for Northwestern.
• James Madison/Appalachian State: A cautionary tale worthy of a movie: Jame Madison had a perfect season going for them, AND were ranked #18 in FBS play. Impressive for an FBS newcomer. They then proceeded to wear BFBS like the other 2,456 zillion schools from Week 12… and then proceeded to LOSE THAT GAME. How's that crow tasting, Dukes? (side-note: please don't eat actual crows, that's fucked up)
• LSU/Georgia State: LSU wore their purple tops with white helmets and pants against Georgia State. For those wondering about LSU's purp shirt protocol: they only wear the purple tops at home against non-conference opponents, with the exception of neutral site games, and the very-first home game of the season, IIRC (I'm probably wrong).
• Texas A&M/Abilene Christian: Full-maroon for the Aggies (I think for the first time since 2014??). And in a move of pure spite, Aggies WR Moose Muhammad wore sleeves in a killer performance, a move that would've gotten him yelled at by the previous coach, who's no longer in the picture.
• • • • •
Thanks, TJ! Now for the rest of your SMUW.