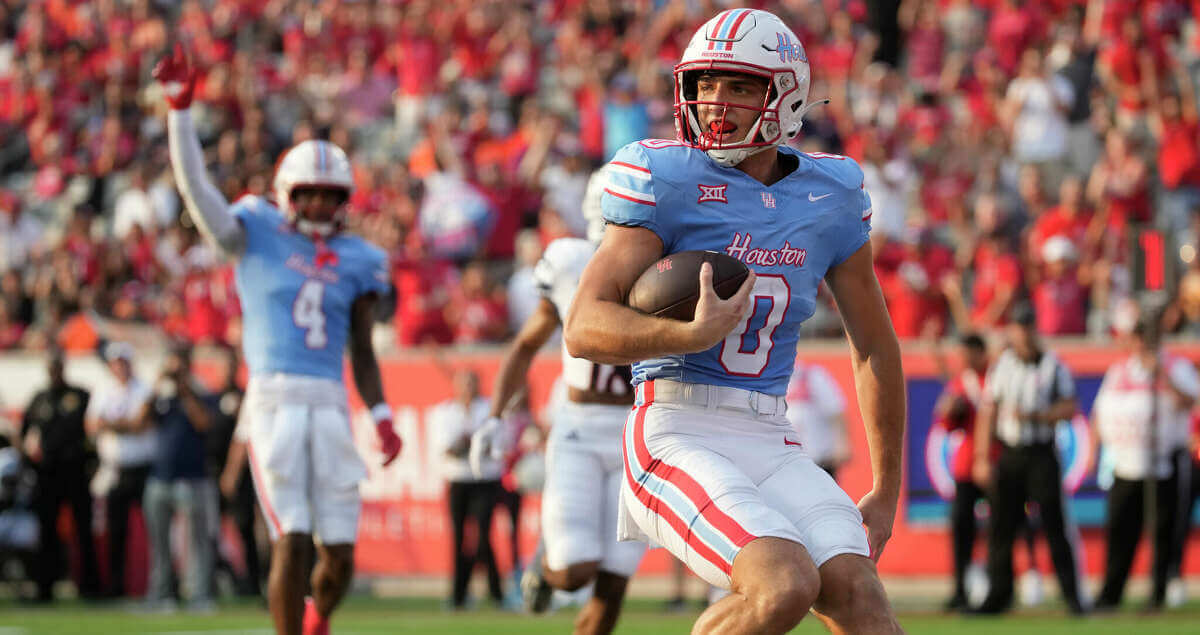 Good Morning Uni Watchers! I hope everyone has had a good week. Welcome back to Sunday Saturday Morning Uni Watch. As SMUW and all of its contributors have Labor Day weekend off by tradition, we begin the 2023 Season with a Saturday morning offering, catching you up on all the college gridiron action from Weeks "0" and 1.
Before we get started, some housekeeping: most of the SMUW crew returns for this season — Terry "TJ" Duroncelet, for more than a decade running now, is back with the game rundowns, Wade Heidt returns for his second season of bringing us "CUUW" (Canadian University Uni Watch), which looks at the college football action from the Great White North, Jimmer Vilk is again back for his "Five and One" segment, and Rex Henry and Dennis Bolt are back tracking all the uniforms for the ACC and Pac-12 respectively, and Dennis also handles the longest-running SMUW feature, the "Duck Tracker."
Unfortunately, former trackers Ethan Dimitroff (Big XII and SEC) and James Hill (B1G) will not return this season. At present I have not replaced either tracker. So: If you have graphics skills and would like to track either or all of the Big XII, SEC, and/or B1G conferences for 2023, please give me a shout! (Phil.Hecken@gmail). If I'm unable to fill any or all of those, we'll still have tracking for the ACC and Pac-12 this year, but hopefully some of you college football fans will be able to step in and fill Ethan and James' shoes.
I usually "grab" one game from the weekend to highlight in the opening, but for the opening SMUW I just set things up. TJ will have the wraps of the more important uni-deets for Weeks 0 and 1.
One last change from 2022. Last season, I ran SMUW (along with CUUW) as one post, and then Jimmer's 5 & 1 and the uni tracking were each two separate articles. This year, everything will be in one handy-dandy early morning post. If there is any additional breaking news on a Saturday or Sunday, I'll add articles as necessary. Usually there will just be one post on Saturday and Sunday, but that is contingent upon whether there is any uni news that needs to be covered. Next Saturday, for example, the Boston Bruins will be unveiling new uniforms for 2023, to celebrate their centennial, so I'll have an early morning post and then also cover the Bruins' unveiling.
I think that about covers everything! Please welcome back Terry, Wade, Jim, Rex and Dennis as we kick off SMUW for 2023!
• • • • •
Saturday Morning Uni Watch
by Terry Duroncelet, Jr.
HELLO, and welcome to the start of the 2023 college football season! Before we begin, let's pour one out for the Pac-12, because HOLY. We can figure out the chaos hours situation with the conferences next year, but for now, let's get into it:
From Saturday, August 26th
• Notre Dame/Navy: We kick things off in Dublin, as both Notre Dame and Navy wore some pretty cool one-offs. However, the luck of the Irish was truly on Notre Dame's side, as they would win in convincing fashion.
• LA Tech/Florida International: Ruston's own Bulldogs getting a head start on the FreedomEagleLand demonstrations, I see. I can practically hear the eagle screech (which is actually a hawk, but that's neither here nor there, I guess).
_____
From Thursday, August 31st
• Wake Forest/Elon: All-white vs all-black affair between the Twitter Tyrants and the Demon Deacons.
• Arizona State/Southern Utah: The Sun Devils' NOBs are giving me the energy of this meme from back in the day.
_____
From Saturday, September 2nd
• Texas/Rice: Man, that new Nike template (Vapor Forceful Farts 5000, or whatever it's called) REALLY highlights how low-set any sort of chest lettering will look when rendered on Texas's unis (another look).
• Notre Dame/Tennessee State: Interesting red/blue number theme TSU's got going on. It's giving me L.A. Dodgers (closer look).
• TCU/Colorado: Well, TCU better get used to playing the Buffs every year beginning in 2024. From a uni perspective, I actually REALLY dug Colorado's unis in this game. Nice, T H I Q Q black outline on the numbers, reminds me of the original New Orleans Saints. BTW, the 'L' on Buffaloes Junior QB Shedeur Sanders's jersey is for "Leader", as part of Deion Sanders's Leaders and Dawgs… program? I don't know what word to use here. Here's what the 'D' looks like.
• North Carolina/South Carolina: Color-vs-color! I feel like I mention this in some capacity every season, but a proposal for 2023: MORE COLOR. Also, here's a look at the mortarboard patch worn by RB and grad student British Brooks.
• Tulane/South Alabama: The Jaguars wore these helmet decals against Tulane, with a bit of funny lore behind it.
• Iowa/Utah State: EXCELLENT-looking game between the Aggies and Hawkeyes.
• Purdue/Fresno State: What's better than a visual banger? TWO visual bangers! I think I mentioned this a year or two ago, but I think Fresno State is one of the better-dressed Adidas-outfitted squads.
• SMU/LA Tech: The feral urge to not reference this game as "The SMU Bulldogs vs the LA Tech Mustangs" is palpable.
• North Texas/Cal: Man, that new Nike template (Vapor Forceful Farts 5000, or whatever it's called) REALLY highlights how low-set any sort of chest lettering will look when rendered on Cal's unis (another look). Wait… why does that sound familiar?
• Houston/UTSA: Love Ya Red Blue. Those pant stripes could stand to be trimmed down some, though.
• Memphis/Bethune-Cookman: More color-vs-color games for Week 1.
And that'll do it for the first week of the 2023 season! Tune in tomorrow for the second half of our double-fister (ew, I don't like the way that sounds). See you tomorrow!
• • • • •
Thanks, TJ! Great rundown and welcome back.