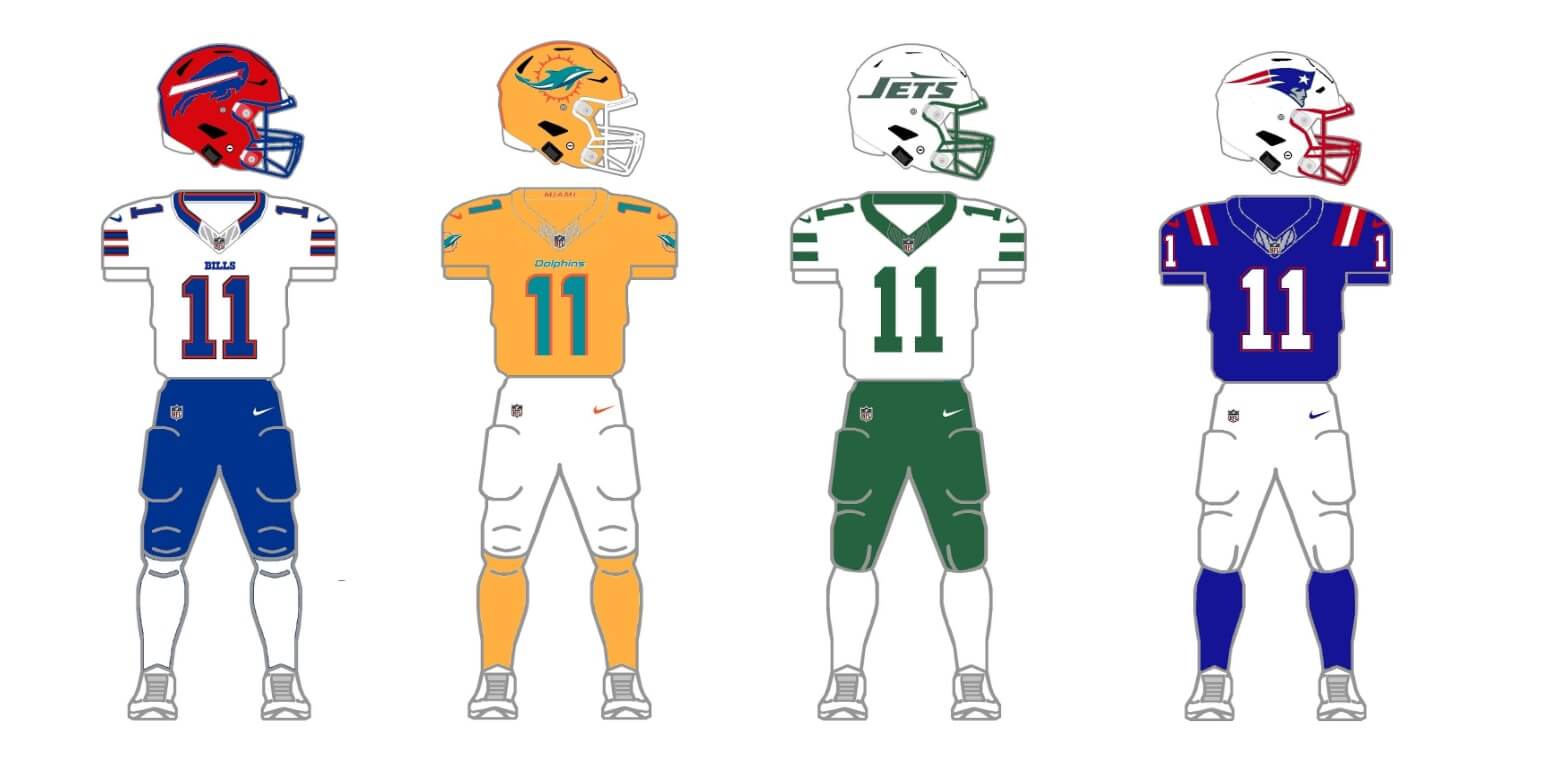 When the NFL eliminated the "one shell" rule a couple seasons ago, it opened up a world of possibilities for throwbacks (as we've seen in spades over the past two years). But the single helmet repeal wasn't permitted just for throwbacks; teams were allowed to introduce a second color shell which could be worn with any Classic (throwback), Alternate or "Color Rush" (CR) uniform, and several teams did introduce alternate helmets for non-throwback use. However, teams were forbidden from pairing the alternate shell with either the primary home or road uniform.
That got me to thinking. Since the NFL is probably going to, at some point, allow the second shell to be paired with any uniform, why not see how teams would look if they paired their alternate shell with one of the primary uniforms. For example, the Buccaneers now have a white helmet, which they are pairing with their throwbacks. But what if they paired the white shell, and added their current helmet logos, with one of their primary unis? More than half the teams have second shells now, so that would cover about half the league.
It was going to end there, but seeing how almost every team has at least three jerseys, I wanted to see how the alternate shell would pair with teams' home/road/alt (but NOT CR). Then I got into the pants. And the socks. It should come as no surprise to you but if you start pairing an alternate helmet with the home/road/alt, with all the pants and socks combos, you've got a LOT of different possible uniform combos. In some cases it's waaaay too many. So I had a project in mind but I needed to narrow the scope.
After a great deal of hemming and hawing, I came up with an idea: How might it look if every team were permitted to have two helmets, three jerseys, and two pants (and three sets of colored socks)? Each team to be able to mix and match any of the uniform elements. Home teams would decide upon a combo and — in a thought borrowed from soccer — none of the uniform elements worn by the home team could be in the same color as the road team (in other words, helmet, jersey, pant & sock colors would all be different for opposing teams).
The catch in this plan is currently many teams don't have alternate uniforms that would mix/match well. Other teams, like the Packers or Raiders, for example, basically have one helmet, two jerseys, and one set of pants, even if you count their rarely worn throwbacks. So in order to make this 2+3+2 (+3) Project to work, I have created some new helmet colors (or jerseys/pants/socks) and, in order to make sure each element is interchangeable, tweaked some unis. A good chunk of teams have at least one throwback, so I figured, as long as I'm at it, let's give some teams a full set of throwbacks (or fauxbacks) which also fit the project parameters.
Each team gets a "dark," "light," and "medium" color jersey. So color-vs-color games would be permissible (although I would hope teams would not go "dark" jersey vs "dark" jersey) as teams could wear their designated "medium" color jersey against a dark. The idea is to provide both optimal contrast and aesthetically pleasing matchups. With regard to socks: with these basically a free-for-all now, I decided that each team would get three solid color socks (and hopefully all of the players wear the same color sock or compression pants at the same time).
That's basically the genesis for this set of concepts. I'll explain my selections beneath the concepts, and note how extensive the changes would be. A couple clubs already would fit into the 2+3+2 (+3) parameters, and I'll note that as such. For each club I will show only straight on views — Ideally all pants will have regular stripe patterns and teams will eschew the yoga pants (same color pants and socks, often with stripeless pants) look. Template borrowed from the fantastic GUD.
Here we go:
• • • • •
AFC East:
BUFFALO BILLS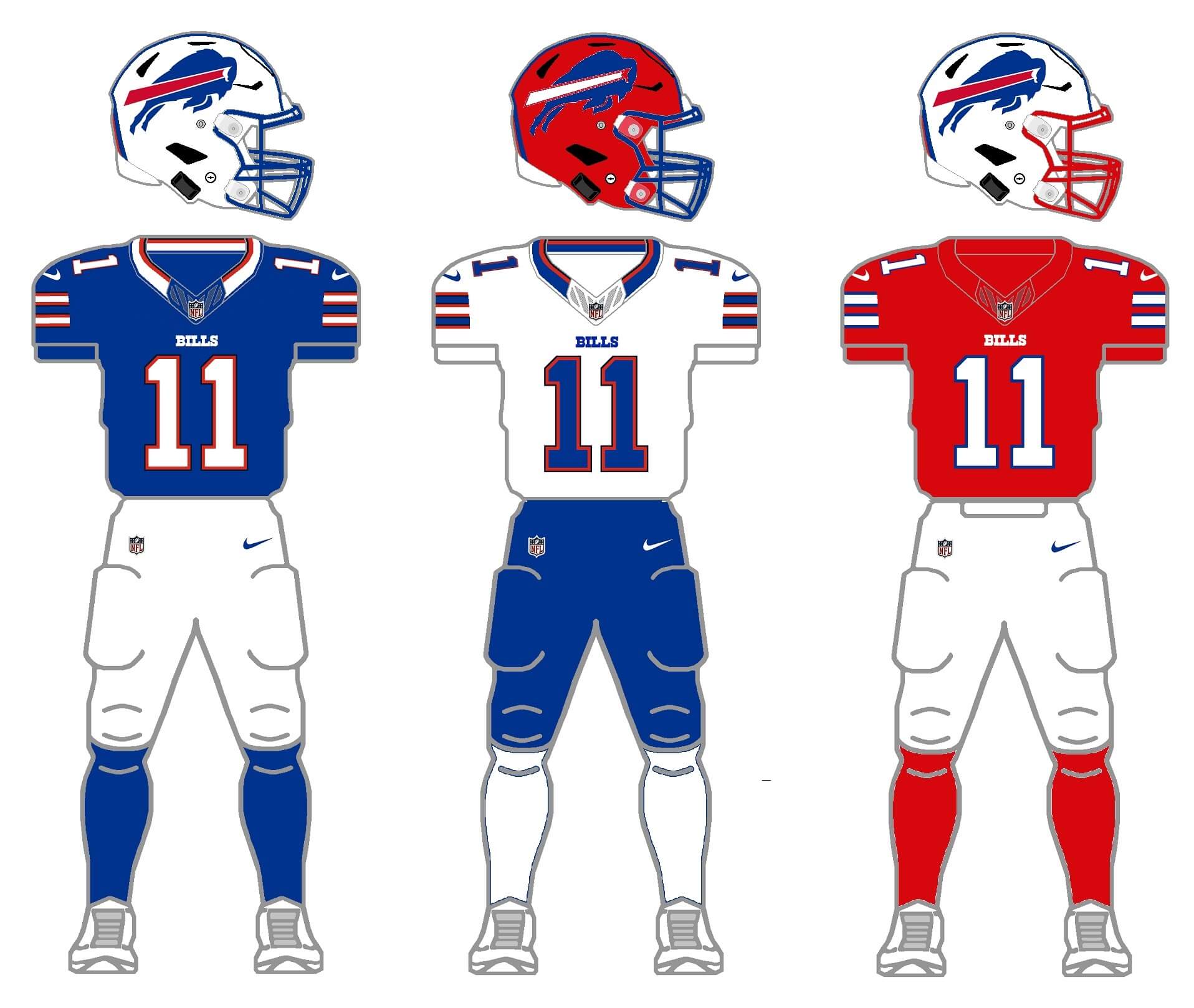 Right off the bat, the Bills almost perfectly fit the 2/3/2/3 criteria. The only thing they don't (yet) have is a second color shell. And for the past two years, the Bills have teased both a red helmet and a blue helmet. So, I decided the second shell should be red, which would (in the real world) allow them to wear their Supe-era throwbacks. But for this project, the red shell would be used to mix/match with any of the Bills' possible combinations (three of which are shown above). Their current white helmet, three jerseys (blue, white and red), white and blue pants (I eliminated their current third set of red pants), and three socks (b/w/r) round out the options. In this instance, the blue jersey is considered "dark," white is "light" and "red" is medium. I've also given two new facemask options (red and blue). [The Bills — like the Giants and Texans and others — use red/white/blue. While I consider red to be "medium," I'd prefer those teams NOT pair the red jersey with another dark jersey, even though I consider it permissible under the 2/3/2/3 parameters.]
__________
MIAMI DOLPHINS
The Dolphins are one of three AFC East teams to have a Classic (throwback) uniform, so I decided to give two options for them: one based off their current primary uniforms, and one based off the throwback.
Current uniform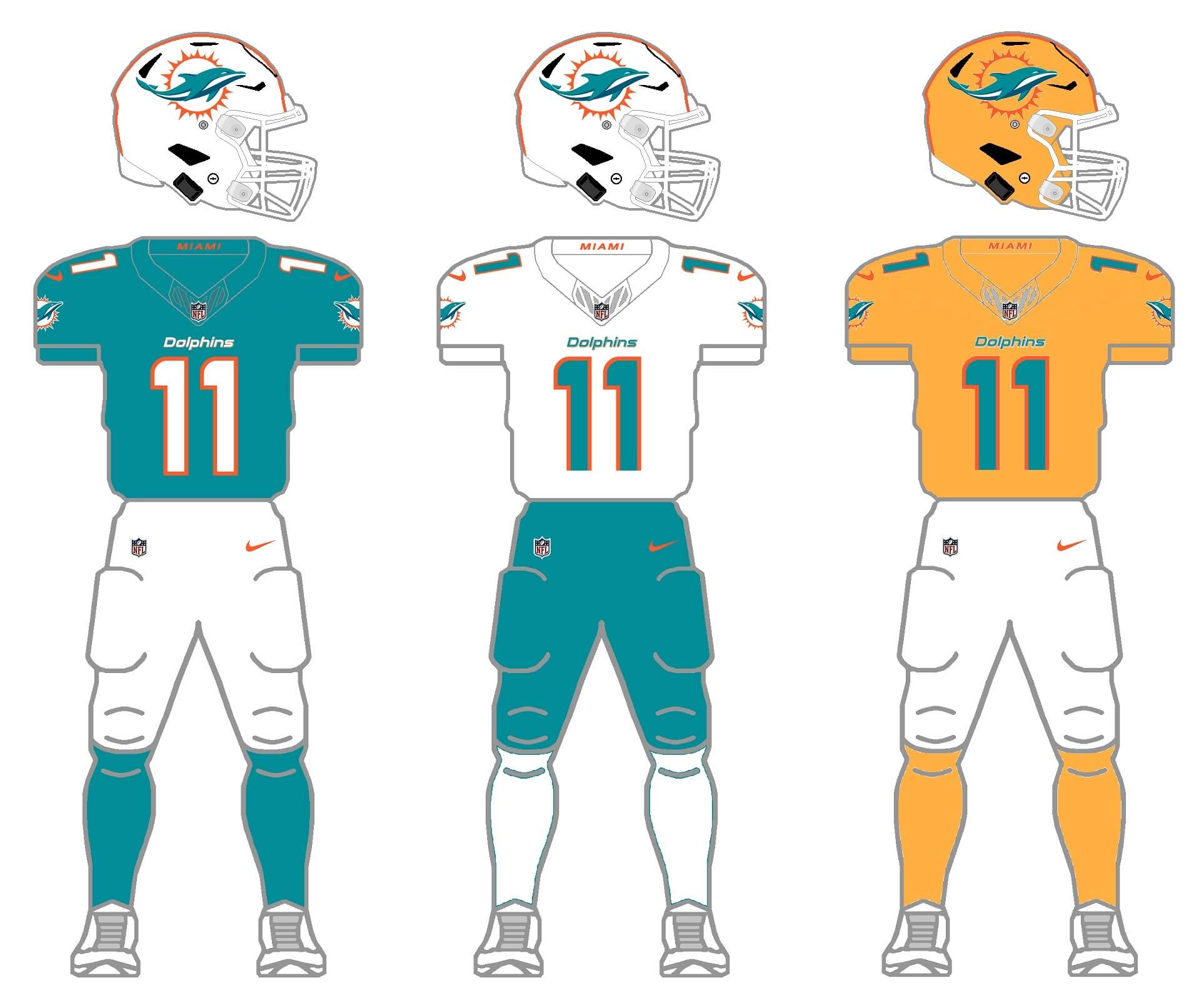 The Dolphins have a perfectly fine uniform IMO (despite most of us wanting them to make their throwbacks their primaries). But it only has one helmet shell color option (white) and only two jerseys and pants (white and aqua). So for the 'phins, I would need to create a second helmet as well as an additional jersey and set of socks. With aqua, orange and white their primary colors, I decided to give the team a more pastel shade of orange for their new helmet/jersey/socks. The Dolphins do have some history with both an orange jersey as well as their (now retired) CR unis. I used a shade of orange that is lighter than the jersey, and similar to their CR shade. (I did also try an aqua helmet, but felt the orange worked better.) Ideally the Dolphins would stick with the white helmet and white/aqua pants and shirts, but if they were to play a white-helmeted team, that would be cause to break out the orange.
Throwback uniform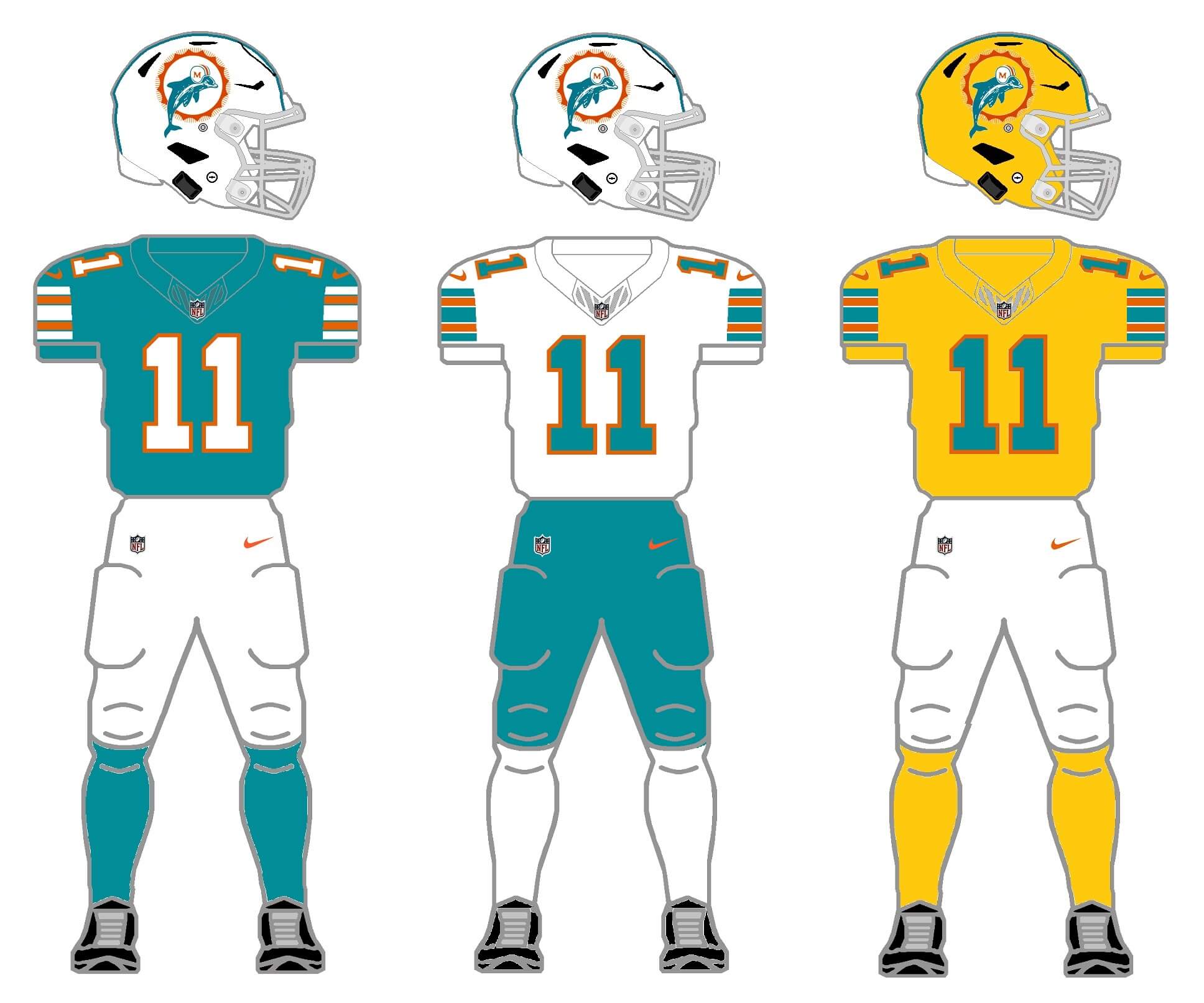 I think most of us would agree that the Dolphins should make the throwbacks permanent, but until they do, I'm just throwing this out there. The situation is similar to their current primary unis in that a second shell and third jersey/socks are needed. I went with orange again for the "medium" — in a slightly different shade (almost a goldenrod) from the current proposed orange, which I think works a bit better with the throwback helmet. I wouldn't want to see the orange elements too often, but against another white-helmeted team I think this works.
__________
NEW ENGLAND PATRIOTS
Like the Dolphins, the Pats also have a throwback uniform which just so happens to have a white shell. So I've proposed an additional helmet for the current uniforms, ditched the dark blue pants altogether, and added white pants to pair with their white shell. I also added a red jersey and socks.
Current uniform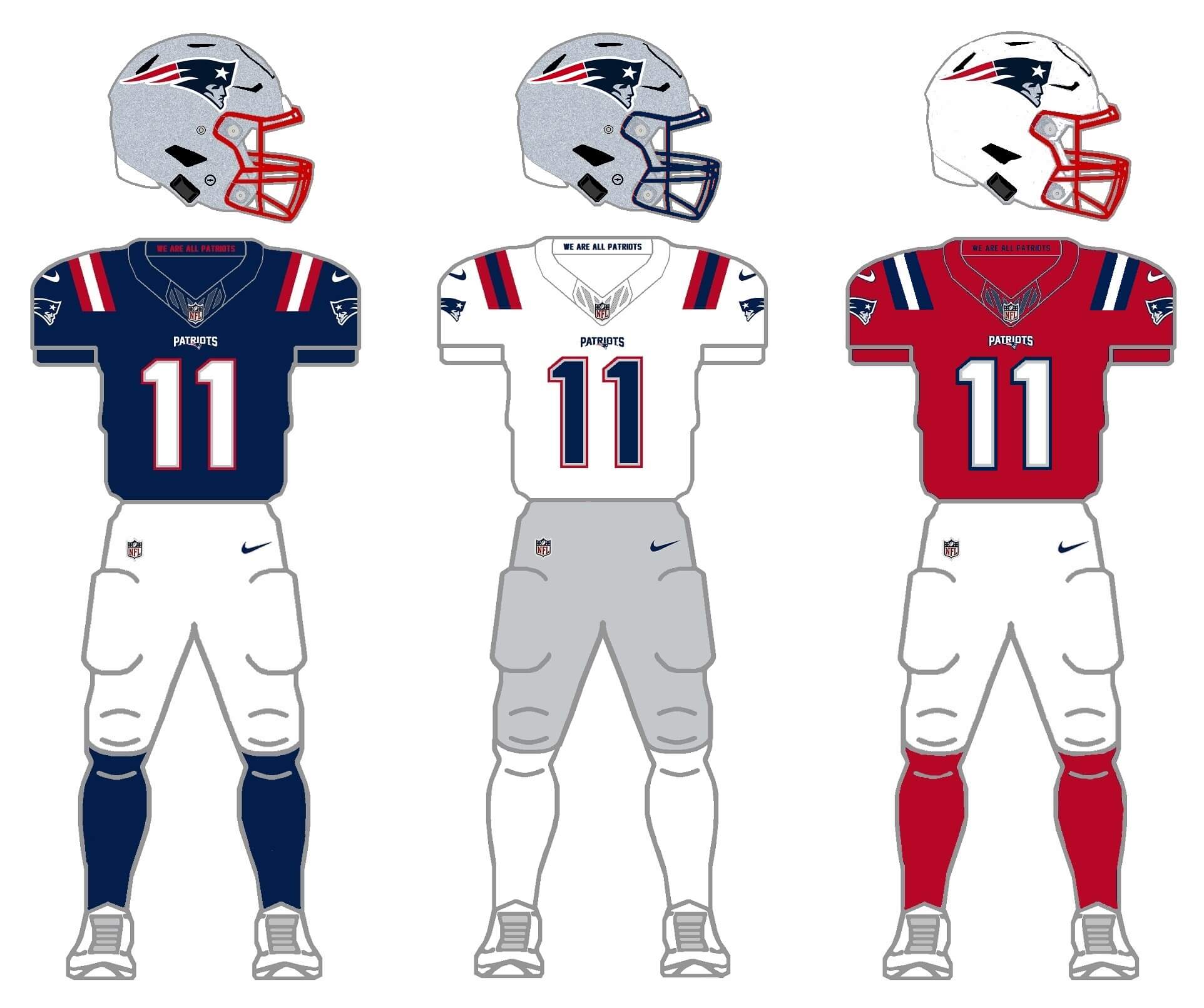 The propensity of the Patriots to go silver over mono-blue is NOT a good look. So the first thing I did was to get rid of the blue pants as an option, leaving them with silver/gray and white. I also gave the team an alternate red (medium) jersey which, when paired with the white helmet and pants, gives off a bit of a throwback vibe. Socks would be blue/white/red.
"Fauxback" Uniform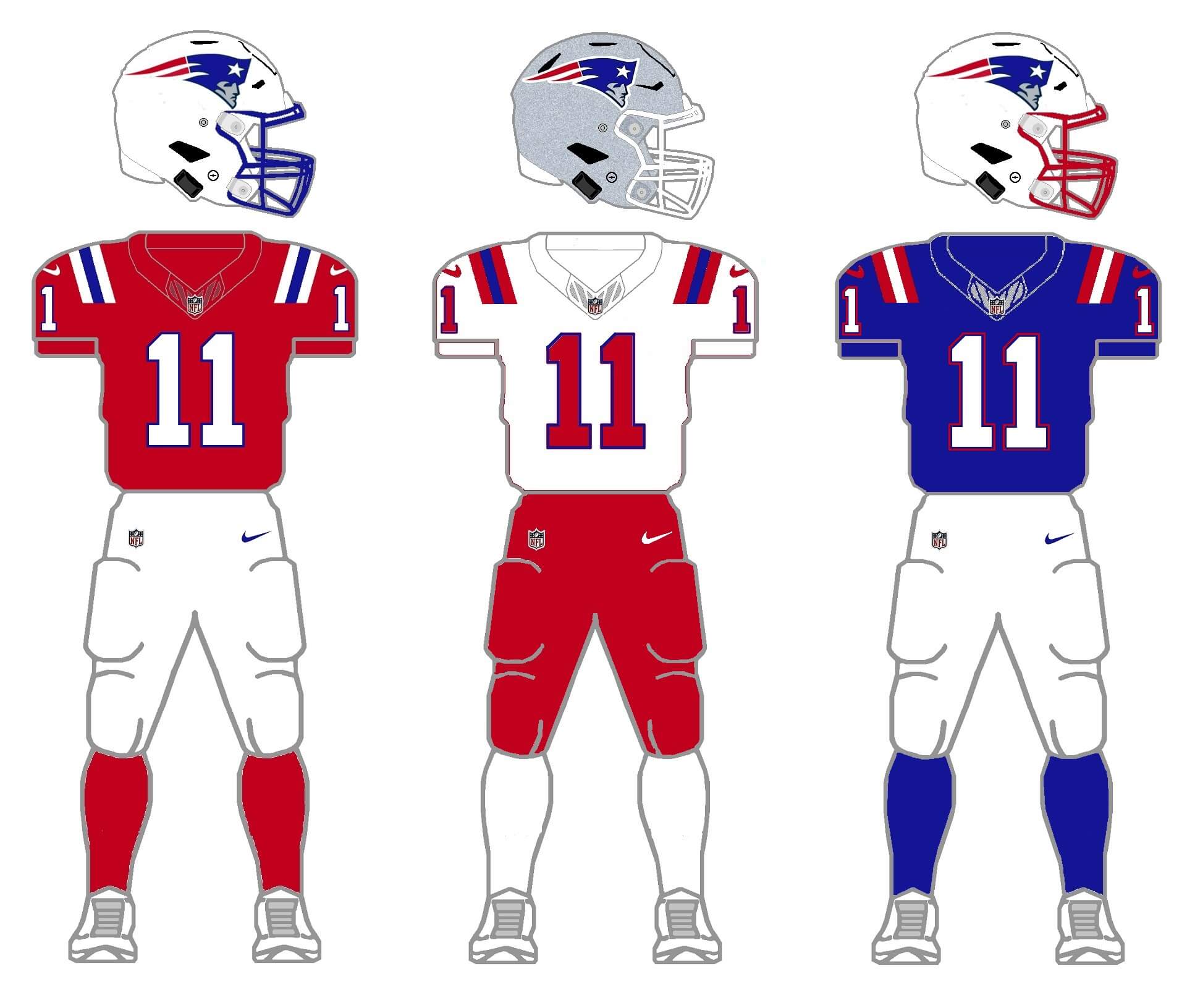 When I created the white/red/white/red uniform (seen in the "Current" graphic above), I said it gave me a throwback vibe. So I thought a fauxback uniform encompassing several eras might work. I kept the Flying Elvis helmet logo (previous and current eras) and provided three facemask options, and worked with the current throwback jersey to create a fauxback. The red and white jersey and pants harken back to the Pat Patriot style, while the royal blue jersey encompasses the bridge between Pat and the Brady years. I think this assuages those who remember a lot of losing in the red jersey era — keeping that Pat Patriot-era look while still providing visual cues from their successful era unis.
__________
NEW YORK JETS
The Jets are another team who have introduced a throwback uniform (white jersey version only), although they currently still have a black alternate shell. Everyone knows the Jets colors are green and white (and NOT black), so I created a white shell to be used with both the current template as well as a full throwback option.
Current uniform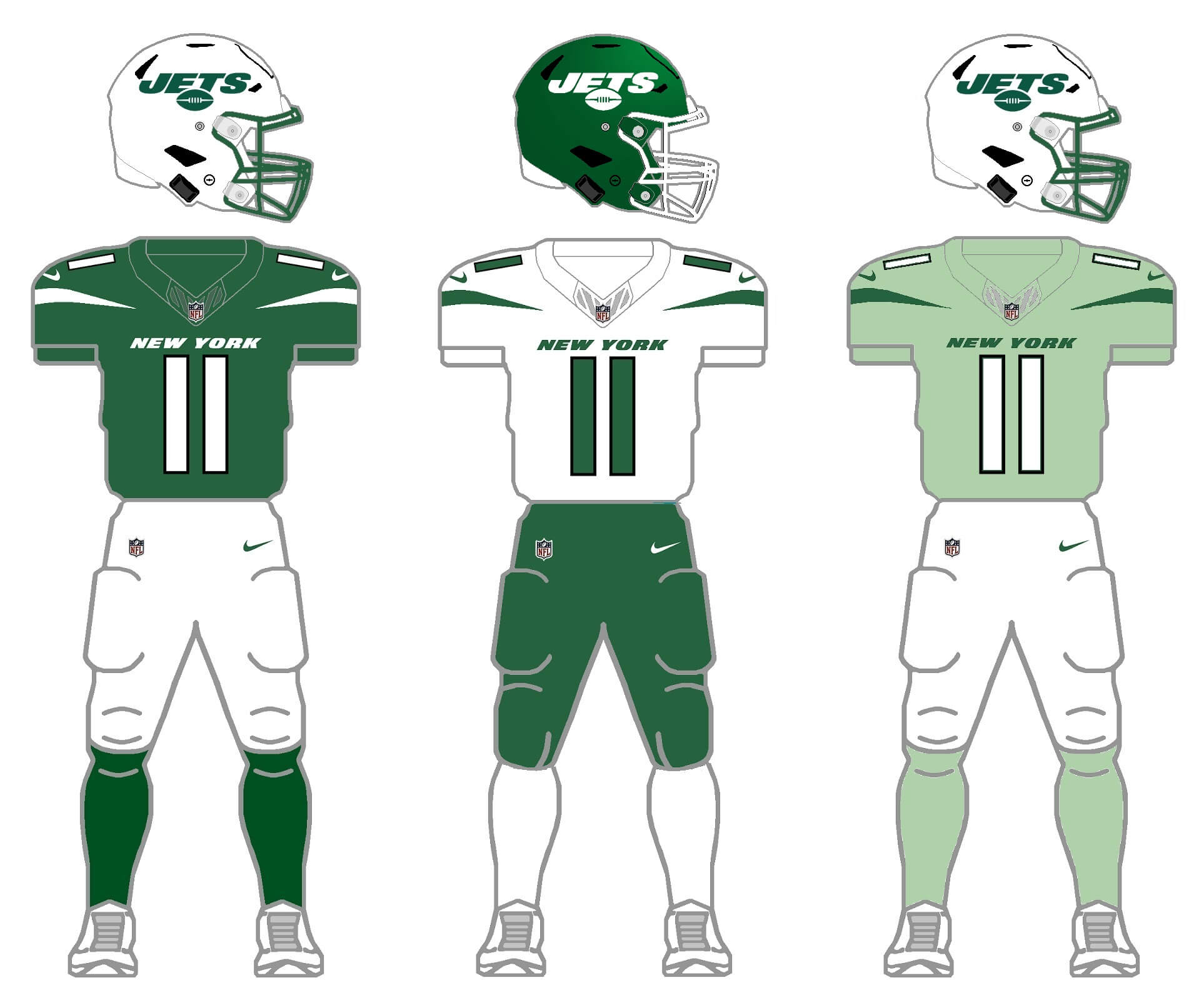 With a desire to eliminate black from the Jets color palette, and only two colors of green and white, coming up with a third jersey/socks option was actually a difficult decision. I tried giving them silver/gray (to mimic the color of an unpainted airplane), but, while that color "worked" in terms of the 2+3+2 (+3) parameters, I wanted to try something a bit different. So I split the baby and created a jersey/helmet color that basically combines white and green. I'm not unhappy with the results, but I'd prefer the Jets stick with their two basic (white/green) colors. I gave the white helmets a green mask and the green helmet a white mask, which I think works well. Unless the Jets wanted to change things up, I can't see a need for the "seafoam" elements, but they'd still mix and match reasonably well.
Throwback uniform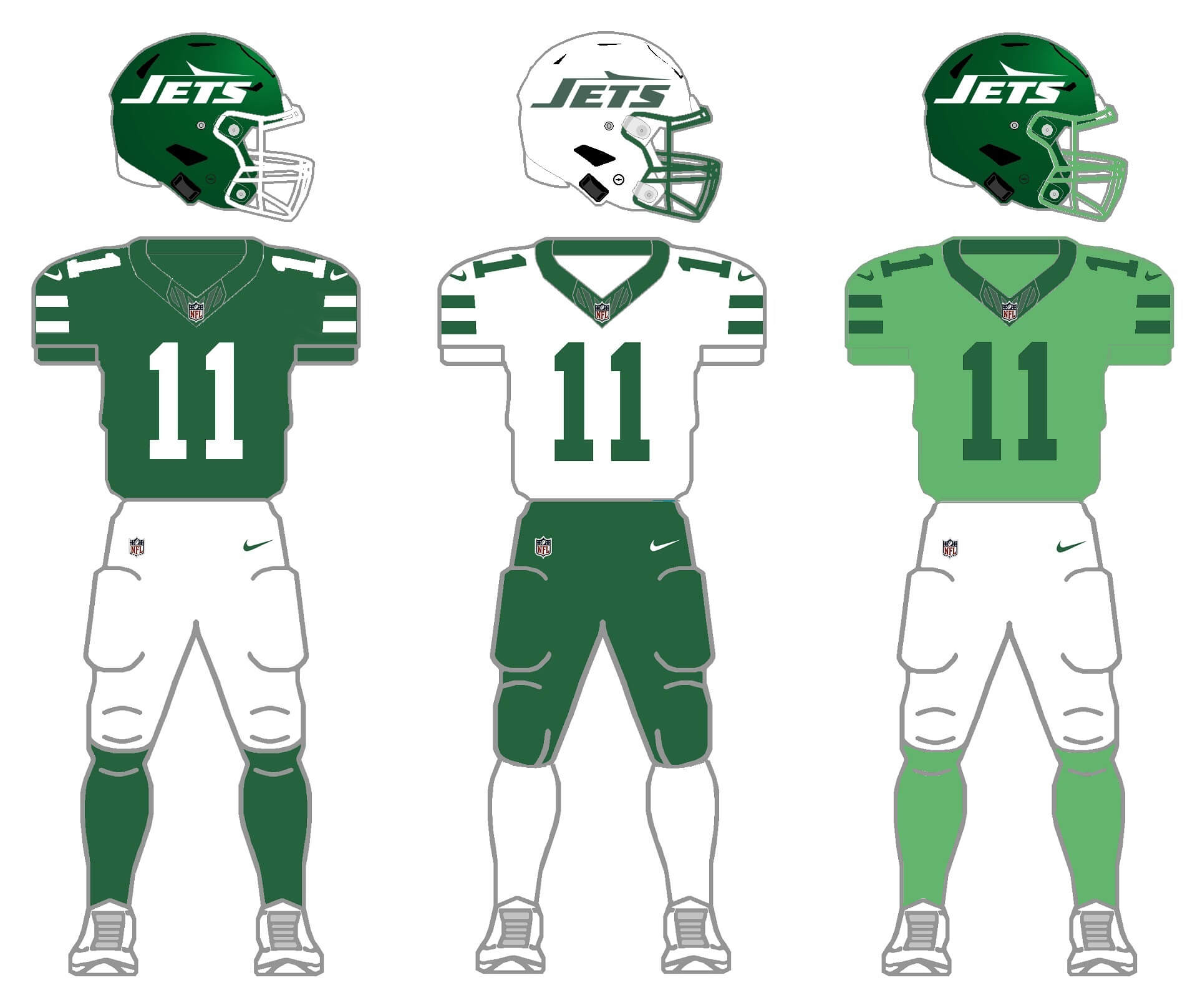 The same thinking with the current uni applies here. The solid green and white elements work well (and I particularly like the white shell), so a third jersey/socks aren't really needed. I wanted to make another pastel-ish green for the third color, but I made this one slightly darker than the proposed "current" third. (I think I like the "current" alternate green shade better than the throwback alternate shade, but wanted to see both for comparison.) And while my favorite Jets uniform was the Namath-era kelly greens, I am also a fan of the Sack Exchange throwbacks they introduced this season. White, green and "pastel" green masks are also options.
• • • • •
Thanks for indulging me, and I hope you at least enjoy the concept of 2/3/2/3. I'll tackle the other seven divisions in separate posts. Please leave any comments/suggestions/critiques in the comments below!