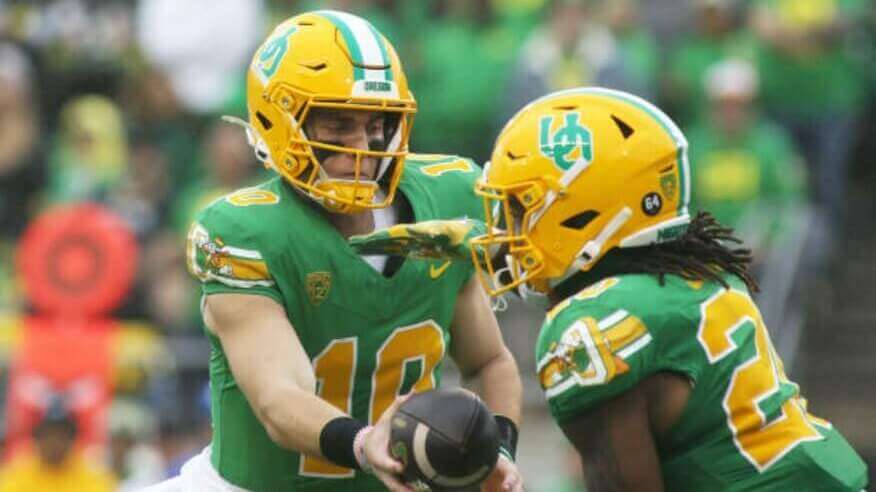 A very good Sunday morning to you all. I hope everyone had a good Saturday.
There was a lot of uni-action and shenanigans on the gridiron this week, so I'll keep today's intro short. Yesterday, the Oregon Ducks (after teasing them a couple weeks back but initially not announcing a date for their wearing) broke out their "Rose Bowl Throwbacks," or, more appropriately, their 1996-1998 uniforms. My Duck Tracker, Dennis Bolt, did an excellent piece on the throwbacks, which includes looks at other times they've worn this throwback, as well as the originals. I'd heartily recommend reading that to bring you up to speed on the 2023 throwbacks.
Oregon has, over the years, worn a lot of different uniforms, but I think these are my favorite. The kelly green and athletic gold are such a classic color scheme — much better than the various shades of green and yellow (and black and gray and silver) the team has worn since. The interlocking "UO" helmet logo is as good or better than the groundbreaking "O" helmet and logo introduced shortly after, and certainly looks better than any wings ever have.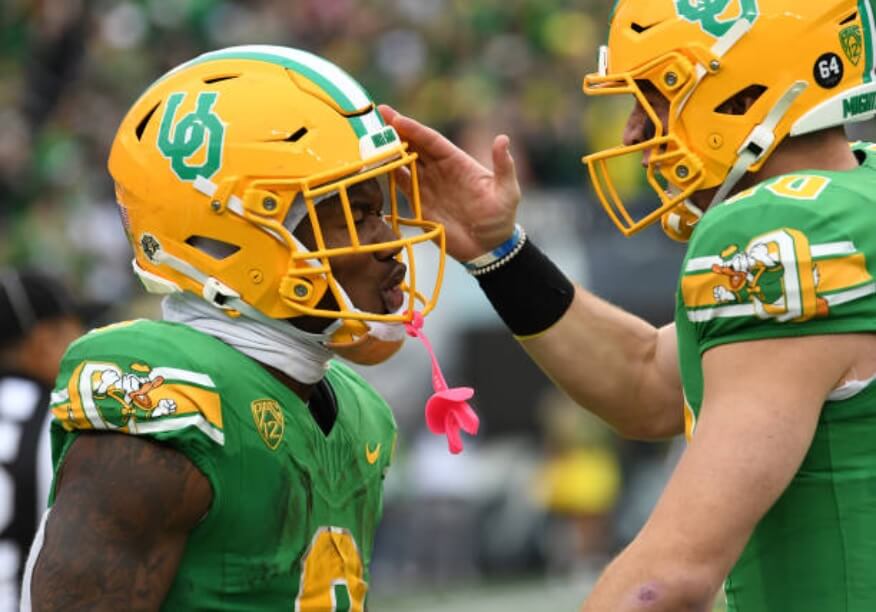 The Ducks opponent — Wazzu — unfortunately went mono-white, but because of the overcast sky in Eugene yesterday, the contrast was welcome and the game actually looked pretty good. Probably not good enough to crack Jimmer's 5 & 1 (on the good side), but quite pleasing to the eye.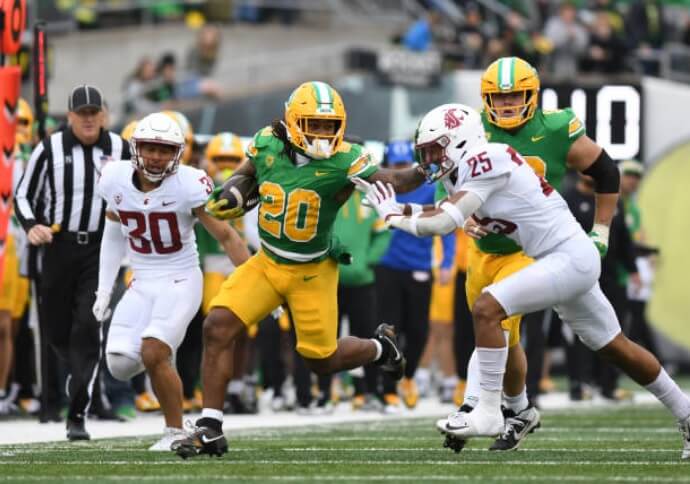 .
You can see a lot more photos here.
And now, let's get this show started! Here's Terry with the rest of your…
• • • • •
Sunday Morning Uni Watch
by Terry Duroncelet, Jr.
After last week's humble offerings, this week decided to go full-throttle and then cut the brakes. Perfect for Homecoming Week (Part 1, at least), which a lot of schools had over the weekend. I'm MORE THAN SURE that I missed some things, but nevertheless, Here's Week 8…
From Tuesday:
• Liberty/MTSU: Seasonally-appropriate black domes for the Blue Raiders. While I was searching for images, I discovered that these two teams have apparently done this dance before.
__________
From Wednesday:
• UTEP/New Mexico State: Contrast Matters: Schrödinger's Logo Edition. I'm serious when I say that the mono-navy decals on the navy helmets are COMICAL.
__________
From Thursday:
• Marshall/James Madison: I spotted this dude during Thursday night's game (how's that shirt workin' for ya, my guy?), just before the camera operator realized their criminal mistake and gave us the Jaws Rainbow of Life before panning back to the field. Thanks to my occasional appreciation for juvenile humor and the existence of DVRs however, the damage has already been done.
__________
From Saturday:
• Air Force/Navy: Air Force wore their Air Power Legacy uniforms against the Midshipmen (the same ones talked about here).
• Nebraska/Northwestern: It's hard to tell, but Nebraska wore their Memorial Stadium/100 uniforms against Northwestern (better detailed photos here).
• Mizzou/South Carolina: Gold at home for Mizzou. Just one of the many fantastic-looking games from the weekend.
• Tulane/North Texas: Throwback bacon decals for Tulane. There's a Green Eggs and Ham joke here somewhere.
• Iowa/Minnesota: Rare gold tops for the Hawkeyes.
• LSU/Army: Even MORE rare gold/white/white combo for the Tigers. The flag patches probably coincide with this game being only the second time that these two squads have played each other, and the first time in 92 years.
• UAB/Memphis: UAB broke out the Children's Harbor uniforms earlier in the season, but what I didn't know was that they had a second children's health uni in the wings: their black and lime Smile-a-Mile alts (here's the website). These are slightly different from their CH unis (Smile-a-Mile on the left, Children's Harbor on the right).
• Illinois/Wisconsin: Not quite the quintessential Cheesehead/Ursine matchup we're all thinking of, but this one's plenty easy on the eyes.
• UConn/South Florida: UConn not only did white at home against the Bulls, but they also wore pink 'C' decals… or so I thought. Turns out, the Huskies wore multiple colors on their helmets, similar to what Miami (OH) does (more info here).
• Miami (OH)/Toledo: You thought I was just gonna gloss over them, didn't you?
• UTSA/FAU: Fun cream alts for the Owls. Here's a closer look at the Roadrunners' Hispanic Heritage helmets, with thanks to Blaise D'Sylva.
• UNLV/Colorado State: Pinktober black alts for the Rebels (closer look at the helmet).
• Washington/Arizona State: The Huskies looked like the Pokémon pre-evolution to the Purple People Eaters. I love it.
• Michigan State/Michigan: Michigan State wore all-black uniforms on Saturday. Michigan responded by wearing black eyes.
• West Virginia/Oklahoma State: BANGER. ABSOLUTE BANGER of a game. I've now gotten to the point where I'm describing nice-looking games as "bangers", somebody please put a stop to me.
• Louisiana/Georgia State: Throwbacks for the Ragin' Cajuns. That helmet decal has serious neon sign energy.
• Pitt/Wake Forest: Pitt wore white helmets for the first time in almost 80 years against the Demon Deacons. Keep these in the rotation, PLEASE! (but like, add a blue or even a gold facemask)
• San José State/Utah State: I'd like to personally thank the Spartans for re-embracing gold in their uniforms.
__________
Week 8 is in the books! Next Saturday is effectively the Halloween week, so expect teams to come out in their Saturday Worst (which is what I want). Hope you all have a fantastic day, and I'l see you next week.
• • • • •
Thanks, TJ! One hell of a wrap today — stellar coverage.
And now, onto the rest of your SMUW…