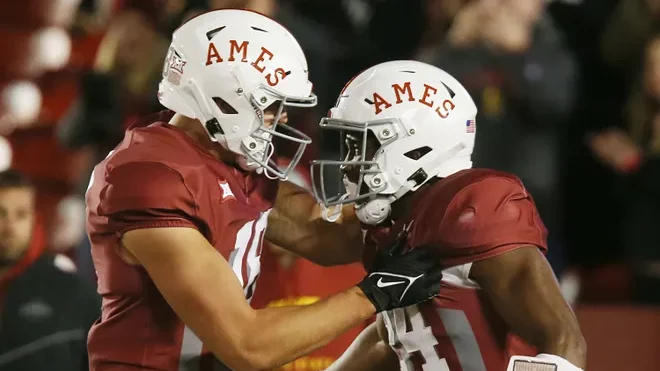 Good Sunday Morning, Uni Watchers. It's time for Week Six (wow, we're basically half-way through the season) of the SMUW.
Yesterday, the Iowa State University Cyclones held their (now) annual Jack Trice Memorial game, and the 2023 ediiton was even more special against TCU, and ISU wore special uniforms to commemorate the 100th anniversary of his death. In case you missed it, yesterday reader/contributor/pal Kary Klismet penned a fantastic piece, Iowa State's Memorialization of Jack Trice — A Uni-centric History, which not only describes the uniforms worn yesterday, but includes a LOT more detail of the life and tragic death of Jack Trice. I heartily recommend your reading that if you didn't see yesterday's article.
As you know from reading that article, Iowa State played fairly fast and loose with the throwback — which is understandible in a way, since the uniforms they were trying to recreate were 100 years old. White helmets were worn yesterday, atop a red jersey, and tan pants.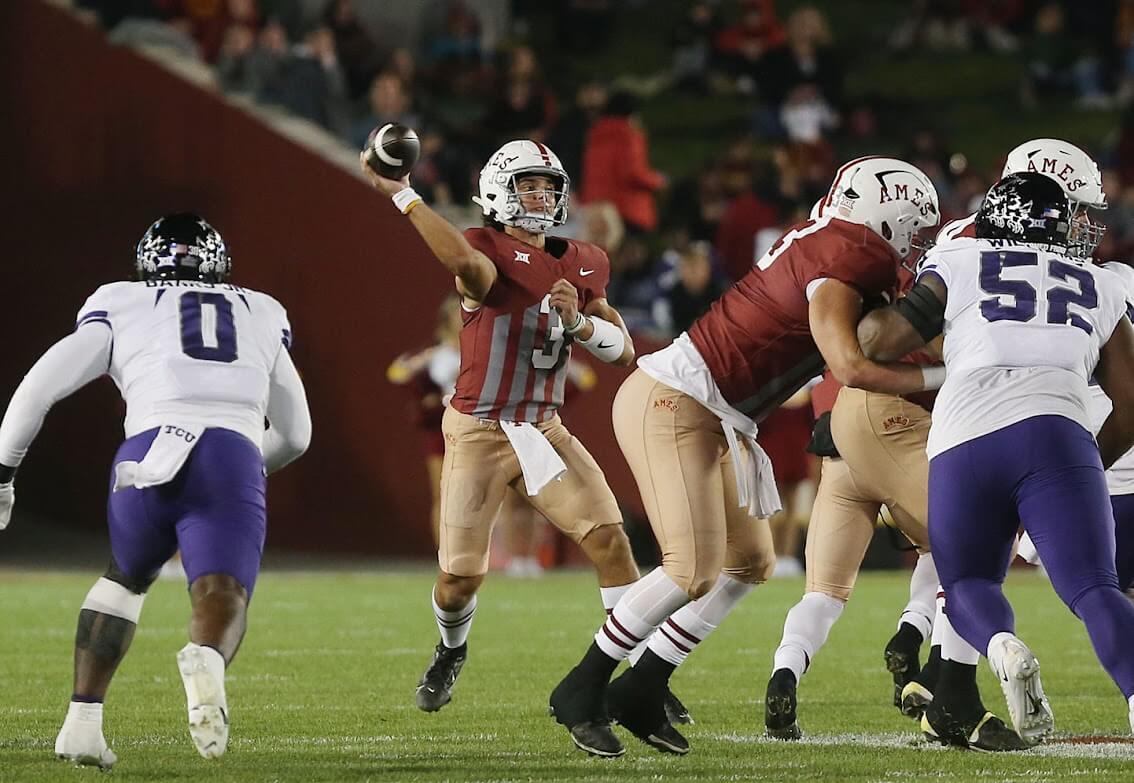 Of course, if helmets were worn at all back in the early 20's they were of the most basic leather variety, so I can't fault ISU too much there. The sides of the helmets read "AMES."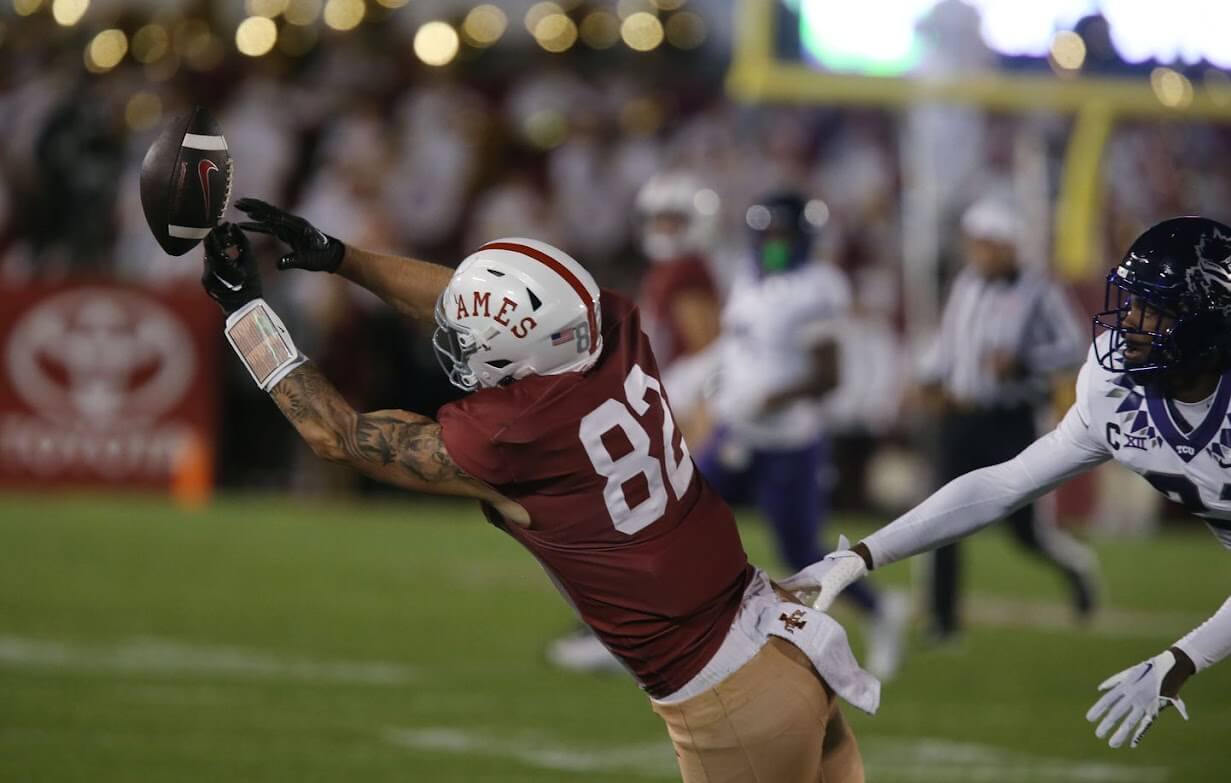 As you can see in that shot, the jerseys were NNOB.
The front of the jersey featured five grayish lines, arranged in a Chevron pattern, beneath white numbers. The five stripes were supposed to resemble those of "friction strips," which were commonly used back then to aid in holding onto the football.
Fortunately, this game was moved to FS1, so I was able to watch most of it. It wasn't a bad looking game, by any means, but the slightly disjointed white/red/tan combo of ISU somewhat clashed with TCU's black/white/purple. But the importance of this game historically far outweighed the importance of aesthetics. It has been a wonderful on-going gesture from ICU to honor the memory of Jack Trice.
About my only real complaint about the uniforms was the tendency of the numbers to scrunch up. I don't know if this has anything to do with the "friction strips," but it made for some odd-looking numbers in the tight shots.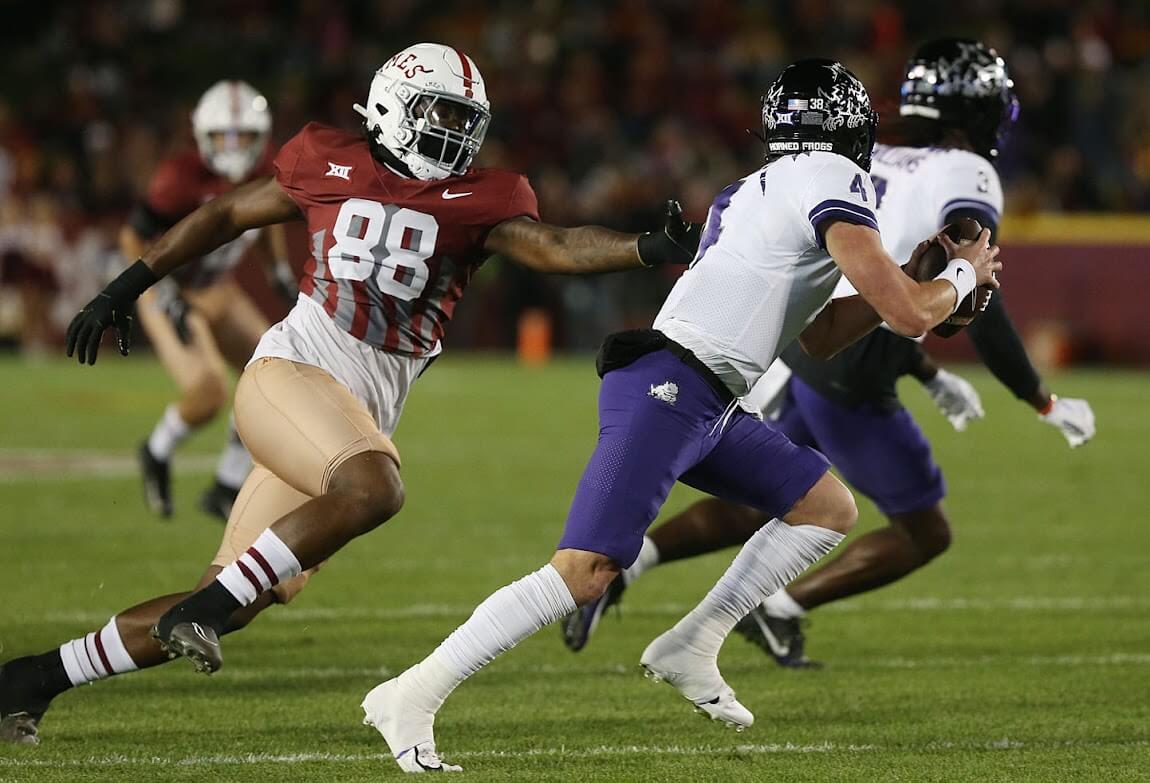 As you can see in the last shot, several of the ISU players were wearing untucked white undershirts, which while I get is the new thing, but I felt the players should have presented a less slovenly appearance when playing a game to honor Trice. YMMV.
You can see additional photos here.
And with that, I now turn the rest of this over to the one and only TJ Duroncelet, who will bring you the rest of today's…
• • • • •
Sunday Morning Uni Watch
by Terry Duroncelet, Jr.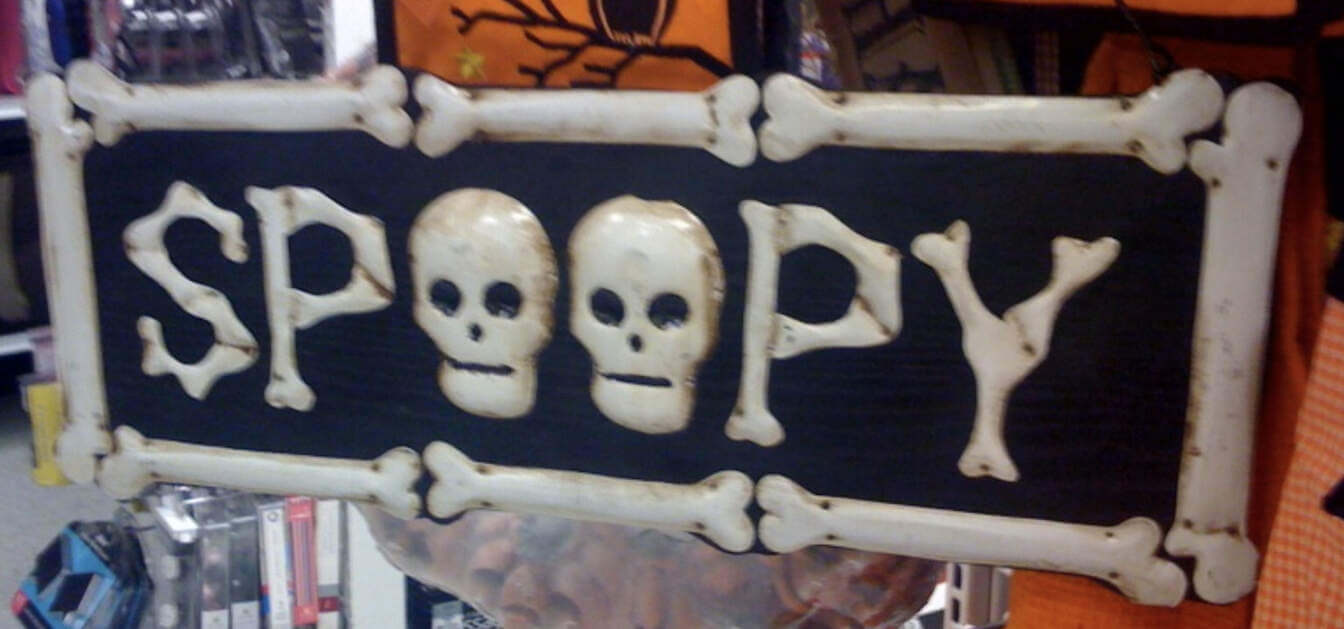 No, this image will never not be funny to me. Anywho, as is tradition (of a couple of years ago), I welcome all uniform acts that would otherwise be considered heinous during the month of October. All of the clown suits, BFBS, GFGS, and everything in between is a-okay by me… but ONLY for October. The moment the first whistle blows on whatever games happen on Wednesday, November 1st, it's back to logic and reason. Anywho, let's get down to business.
__________
From Wednesday:
• Middle Tennessee State/Jacksonville State: Normally, I would make some snide comment about MTSU dressing as the Black Raiders instead of the Blue Raiders (their actual team name), but it's October, so they get the green light here. Bonus points for committing to the full look with matching helmets. Go big or go home.
• New Mexico State/Florida International: Every year, without fail, I am rudely abruptly reminded that Pinktober is a thing (closer look at FIU's helmets)
__________
From Thursday:
• LA Tech/Western Kentucky: WKU wore 'Tops' decals vers[es] the Bulldogs of LA Tech. I am completely straight-faced while typing this.
__________
From Friday:
• Oklahoma State/Kansas State: The Cowboys UNDERSTOOD THE ASSIGNMENT. Classy. I just wish that this game were next Friday, when it lands on the 13th.
• Illinois/Nebraska: Illinois wore memorial decals in honor of the most Chicago man there ever was, Dick Butkus, who died on Thursday. The Chicago Bears had a game literally the same night of his passing, so they had no time to pull a uni-borne tribute for him, but Illinois had just enough time to model the decals after the helmet that Butkus wore during his time at the University.
__________
From Saturday:
• Kansas/UCF: Contrast Matters: A Different Kind of Red, White, and Blue Edition. Blue/blue/red is probably Kansas's most underrated look. Meanwhile, Central Florida took the term "white gold" to its most logical conclusion (I don't know why the image is squished like that). Though I supposed the KNights will refer to this as the Tarnished Gold uniform.
• North Carolina/Syracuse: Is it just me, or is there an odd pattern of teams that wore all-white this weekend having a tendency to lose that game (and by big, too)? Nah, I'm sure it's just a coincidence.
• Georgia/Kentucky: Okay, THIS IS GETTING RIDICULOUS. What is this, White Flag Weekend?
• Wisconsin/Rutgers: Contrast Matters: Mirror World Edition.
• UAB/South Florida: The Charizards Flames wore their Children's Harbor uniforms against the USF Bulls (more info in case anyone's new to the Homecoming practice).
• Ohio/Kent State: …I'm not even gonna say anything. I'm just gonna hyperlink and let you guys draw your own conclusions. Also, Ohio wore some neat-o helmets.
• Arizona State/Colorado: Gold facemasks for the Buffs (closer look).
• Texas A&M/Alabama: Looks like Nike has a strong foothold in College Station.
• FINALLY, some ghost-clad teams broke the streak, including UConn (v. Rice), South Alabama (v. Louisiana/Monroe), and Old Dominion (v. Southern Miss), among others who I probably missed.
• …And a tiny NOB for good measure.
• • • • •
Thanks TJ! Now onto the rest of your SMUW…