The Diamondbacks wore their "Serpientes" City Connect uniforms on Friday night, and starting pitcher Zac Gallen went the extra mile by wearing a snakeskin belt! That's pretty cool, but there's a little hidden storyline lurking within his waistwear, which I want to talk about today.
If you look closely at the belt Gallen was wearing on Friday night, you can see that it wasn't just snakeskin — it was also monogrammed with his initials, "ZG":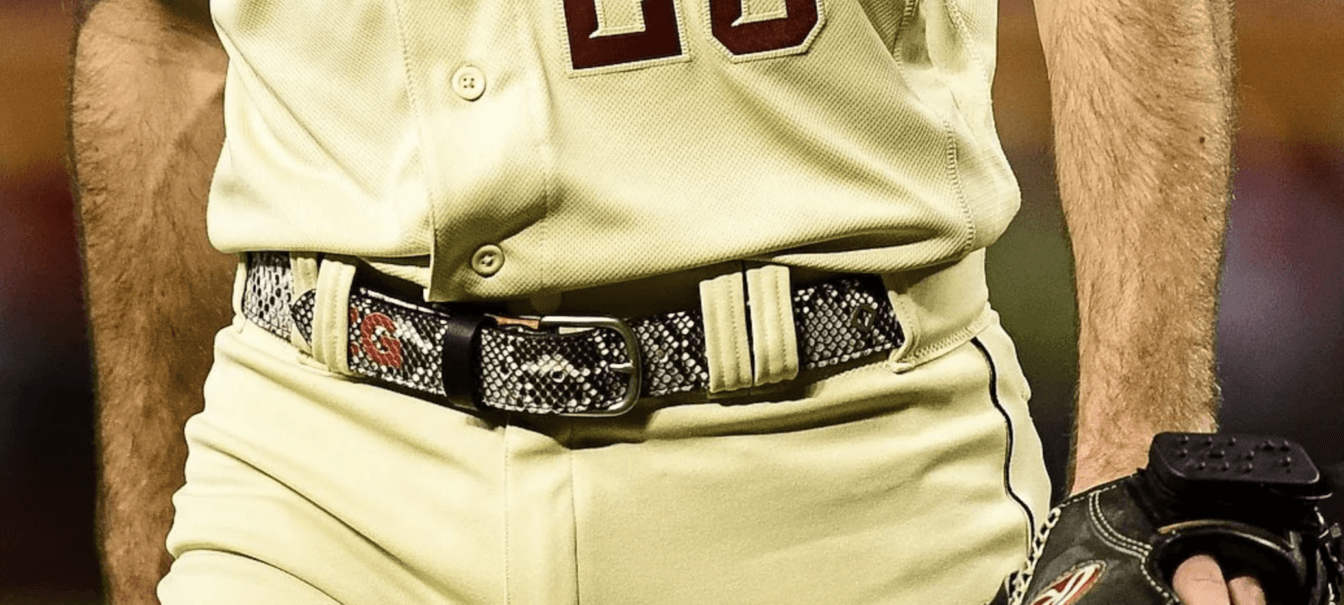 I was wondering if Gallen had worn this belt before. The last time he pitched while the D-backs were wearing the CC uni was on April 21. And sure enough, he was snakeskin-belted for that game as well: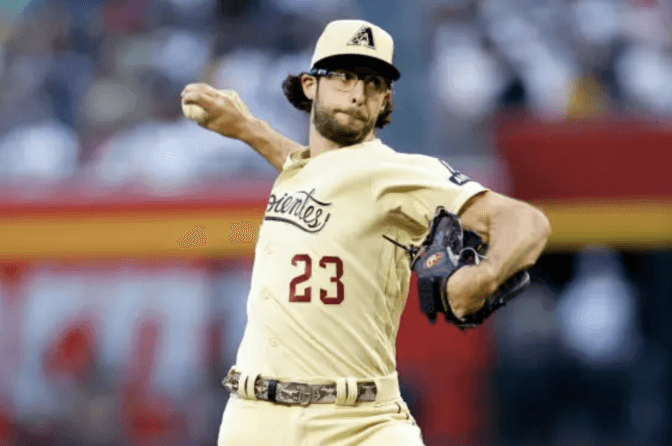 Looking back earlier, I found that Gallen wore normal, non-snakeskin belts in 2022 and '21, so he's done the snakeskin thing just twice — on April 21 and June 16 of this year. But if we zoom in on the April 21 belt, we can see that it's not the same as the one he wore three nights ago: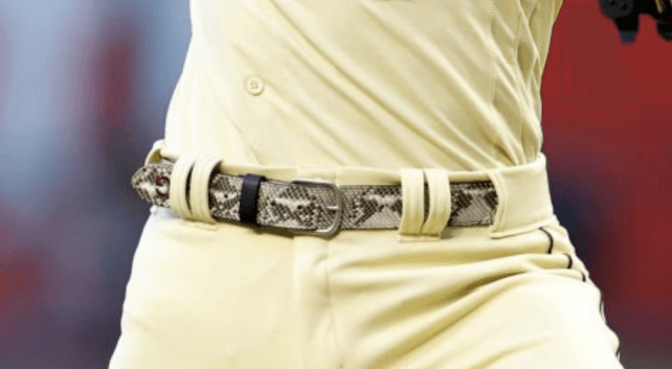 The monogram was upside-down! And why did that happen? Because Gallen is among the small subset of MLB players who wear their belts with the buckle facing to the left (a phenomenon that I examined in close detail two years ago). So here's what I think probably happened: Gallen arranged to get a monogrammed snakeskin belt from the manufacturer but didn't specify that he wears the buckle facing left. The manufacturer made the belt in the right-handed default style. Gallen wore the belt on April 21, complete with the upside-down monogram, but then told the manufacturer, "Oh, sorry, I should have told you that I wear my belt the other way" (or something like that), and then the manufacturer made him a new, properly oriented belt.
The most surprising thing about this is that Gallen is right-handed. Until now, I don't think I've ever seen a right-handed player who wears the buckle facing to the left. He's been doing it for years, but it took the belt monogram to get me to notice it. Zac Gallen: uni-que!
Incidentally, I think all the Arizona players should wear snakeskin belts with the CC uni. For that matter, they should probably do it for every game. There aren't many team identities that can be represented so literally on the belt, so you may as well go all the way with it!