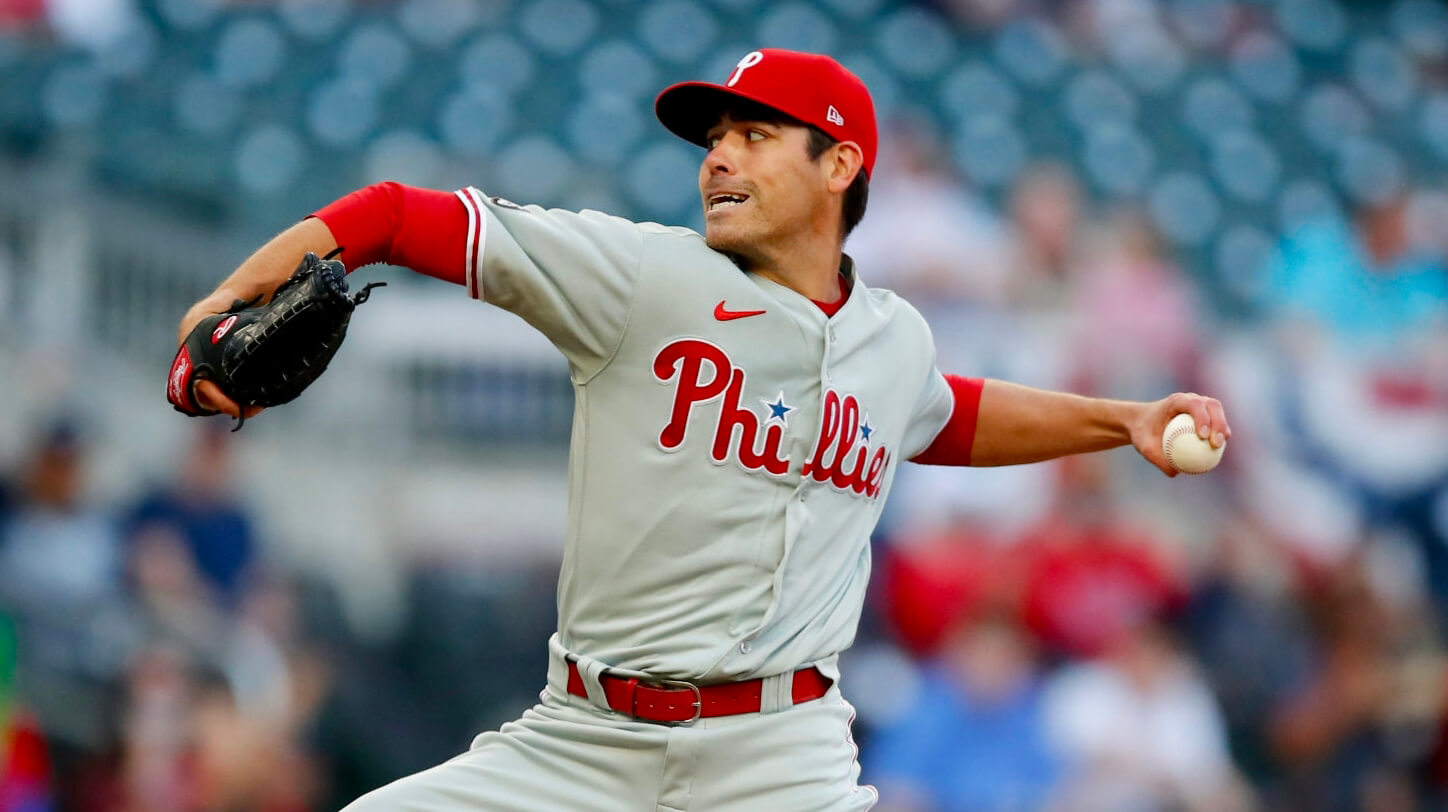 For all images click to enlarge
Good morning! Hope everyone had a good weekend, as I did.
Now then: Phillies pitcher Matt Moore has been in the big leagues since 2011, and I've probably seen him pitch, or at least seen photos of him, countless times during that span. Despite all that exposure to him, it wasn't until last Friday night, when he was pitching against the Mets, that I noticed something very uni-unusual about him — something he does differently from most MLB players. Can you spot what it is in the photo above?
Answer: Moore wears his belt with the buckle and pin facing to his left (or the viewer's right), while the belt's tip and built-in loop are on his right (or the viewer's left). That's contrary to how the vast, vast majority of players wear their belts, as you can see in these group shots: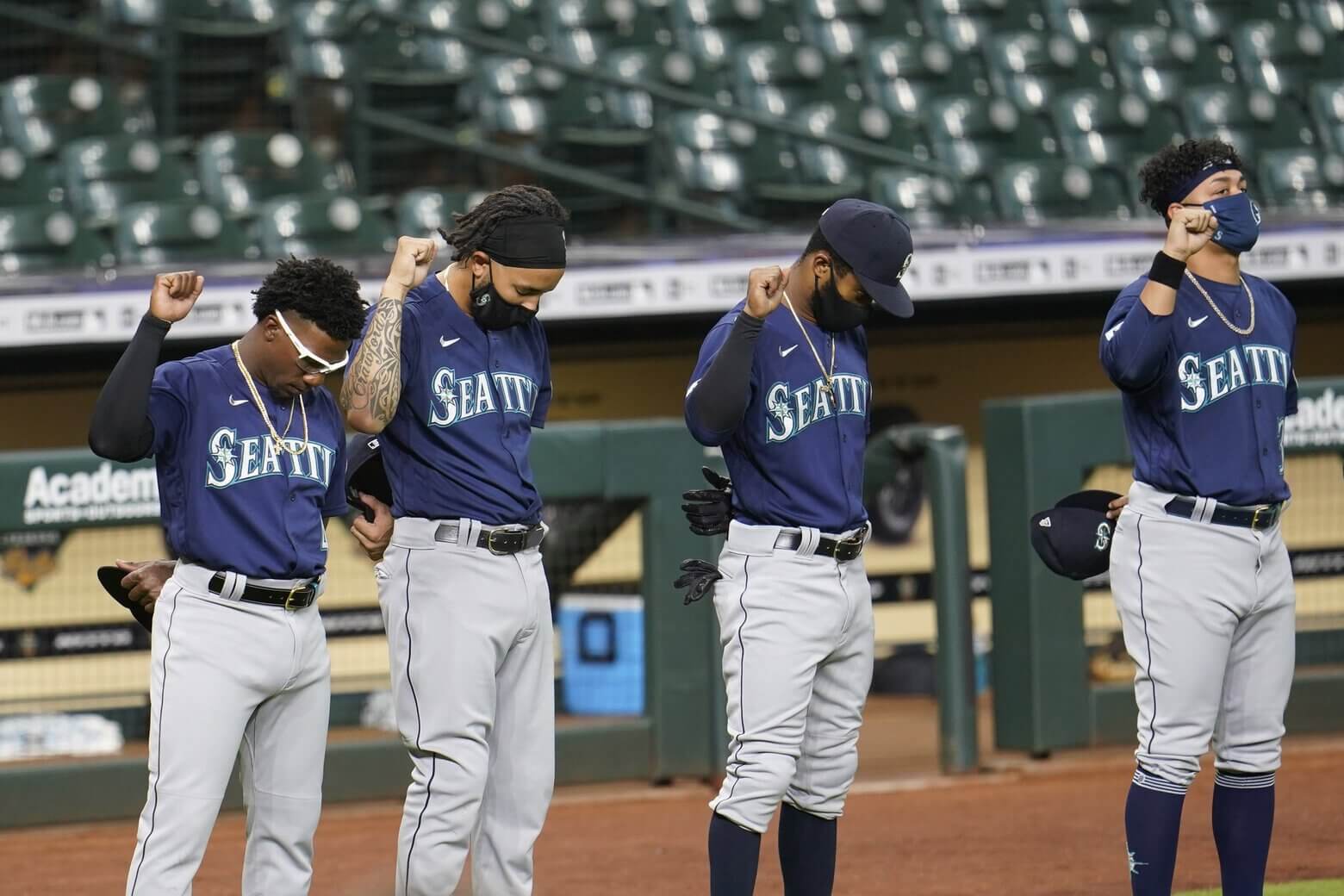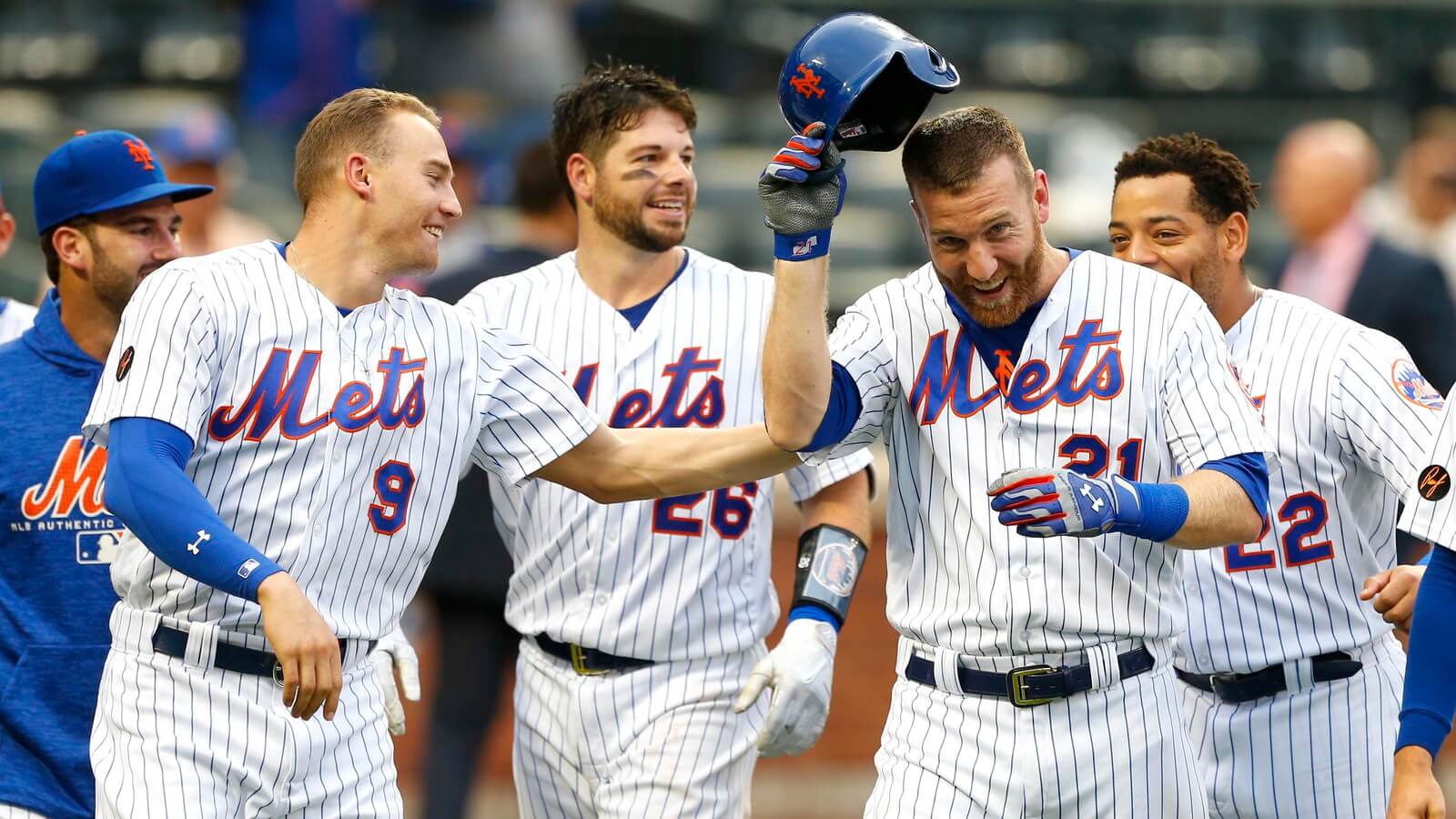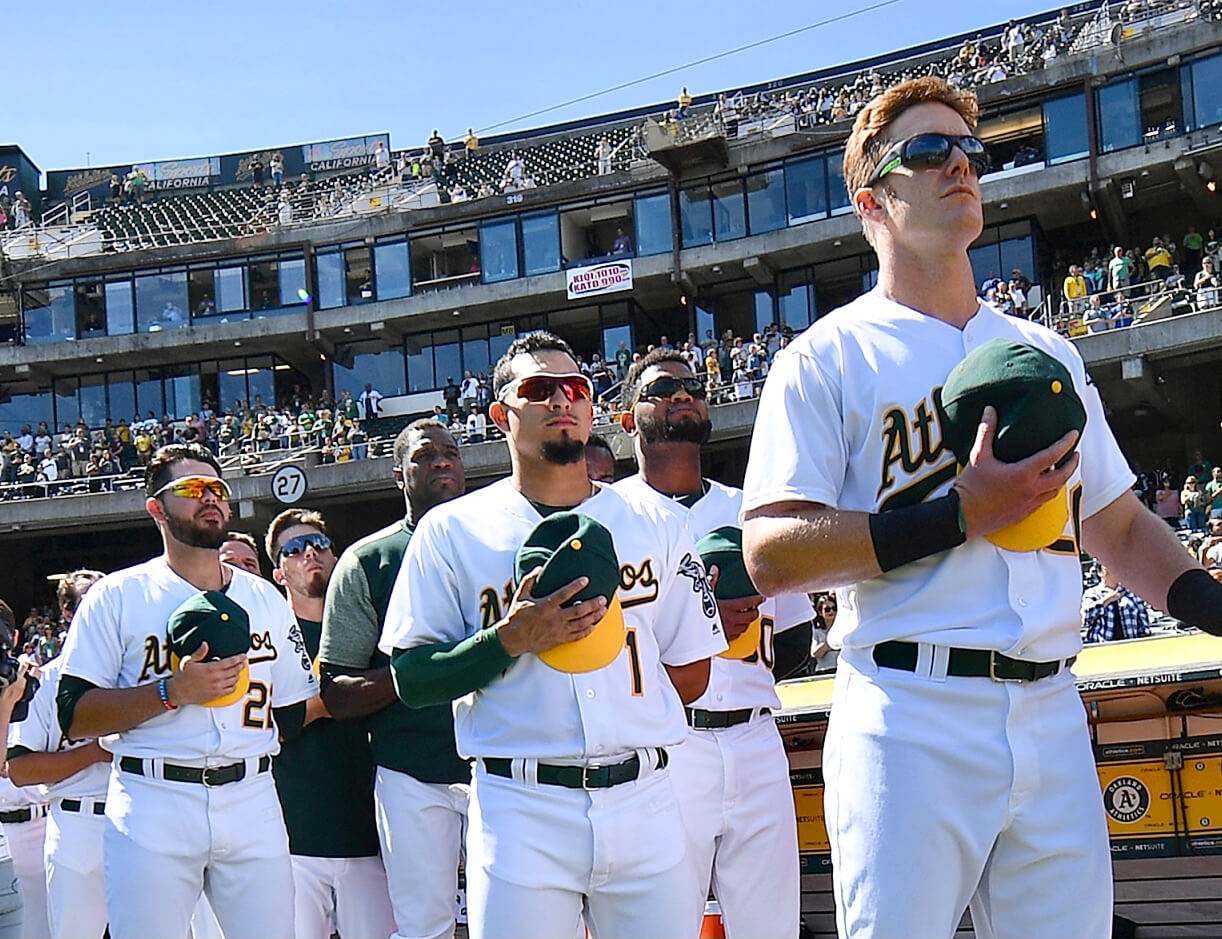 Wearing his belt the opposite way is not a new thing for Moore. He's done it throughout his big league career, as you can see in these shots from his stints with the Rays, Giants, Rangers, and Tigers: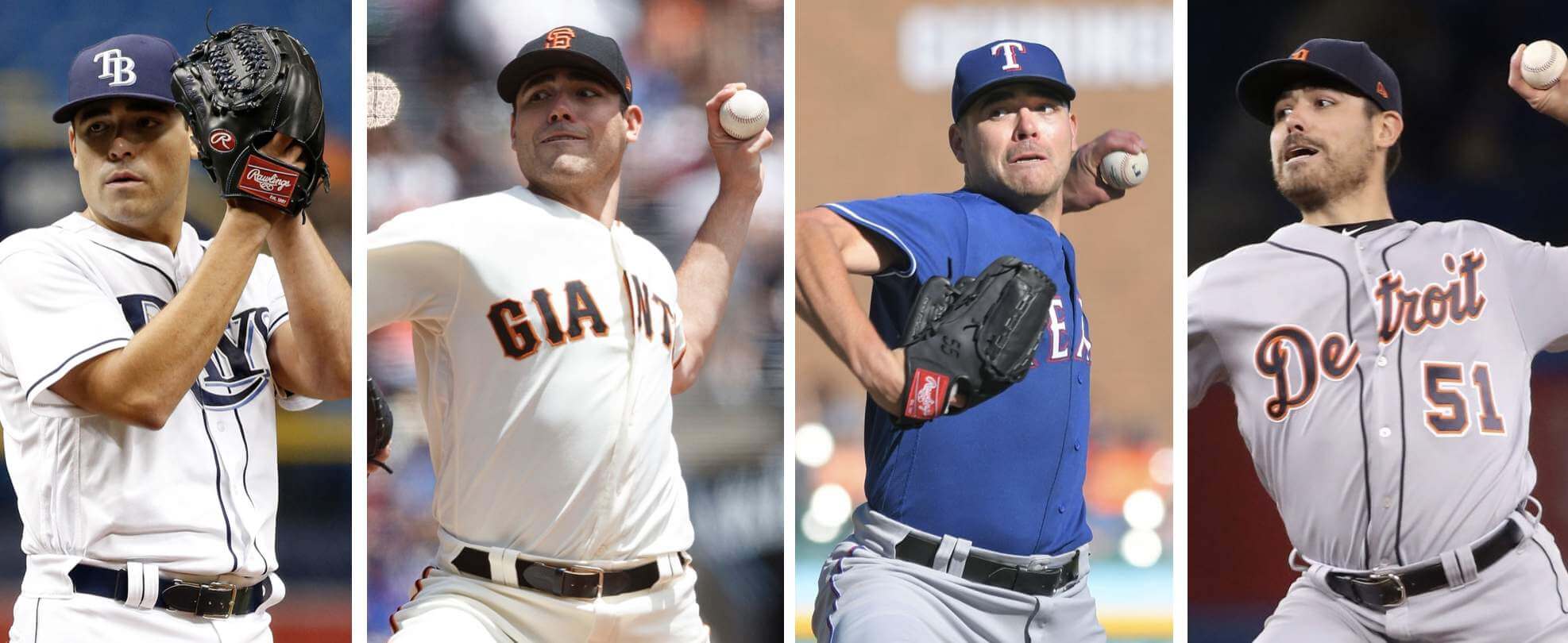 You might think that this is simply a lefty-vs.-righty thing, and that all southpaws wear their belts like Moore does, but that's not the case. My photo research indicates that while a few other left-handed players wear their belts the same way as Moore's, most of them do it the "normal" way. Here are some examples (I've been focusing on pitchers because they're the most frequent subjects of close-up photos, plus it's easy to see their handedness):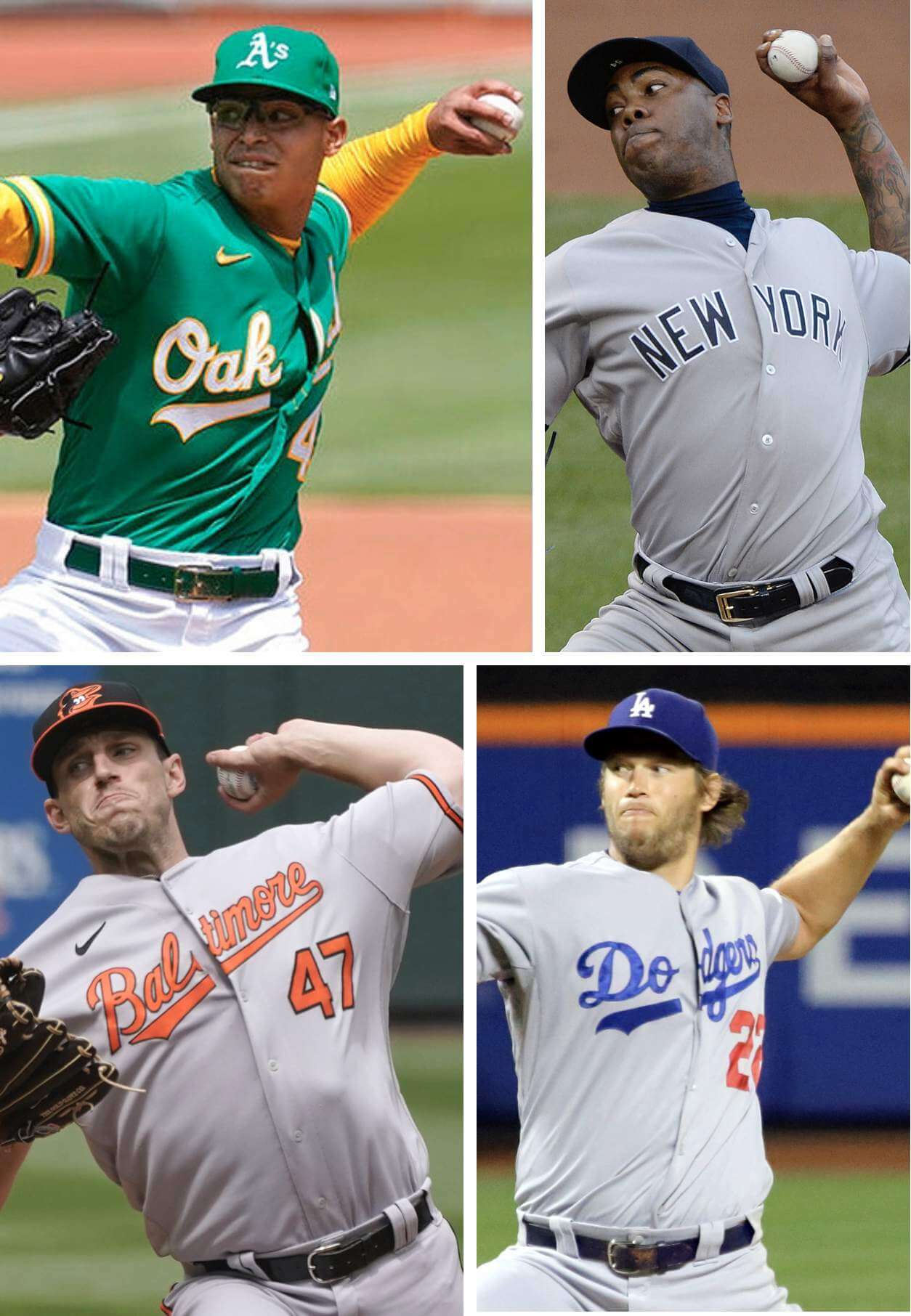 So who wears their belt like Moore does? Four guys that I've identified (although I'm sure there are more) are Cubs pitcher Andrew Chafin, former MLBers Randy Johnson and Jerry Blevins, and Rockies manager Bud Black: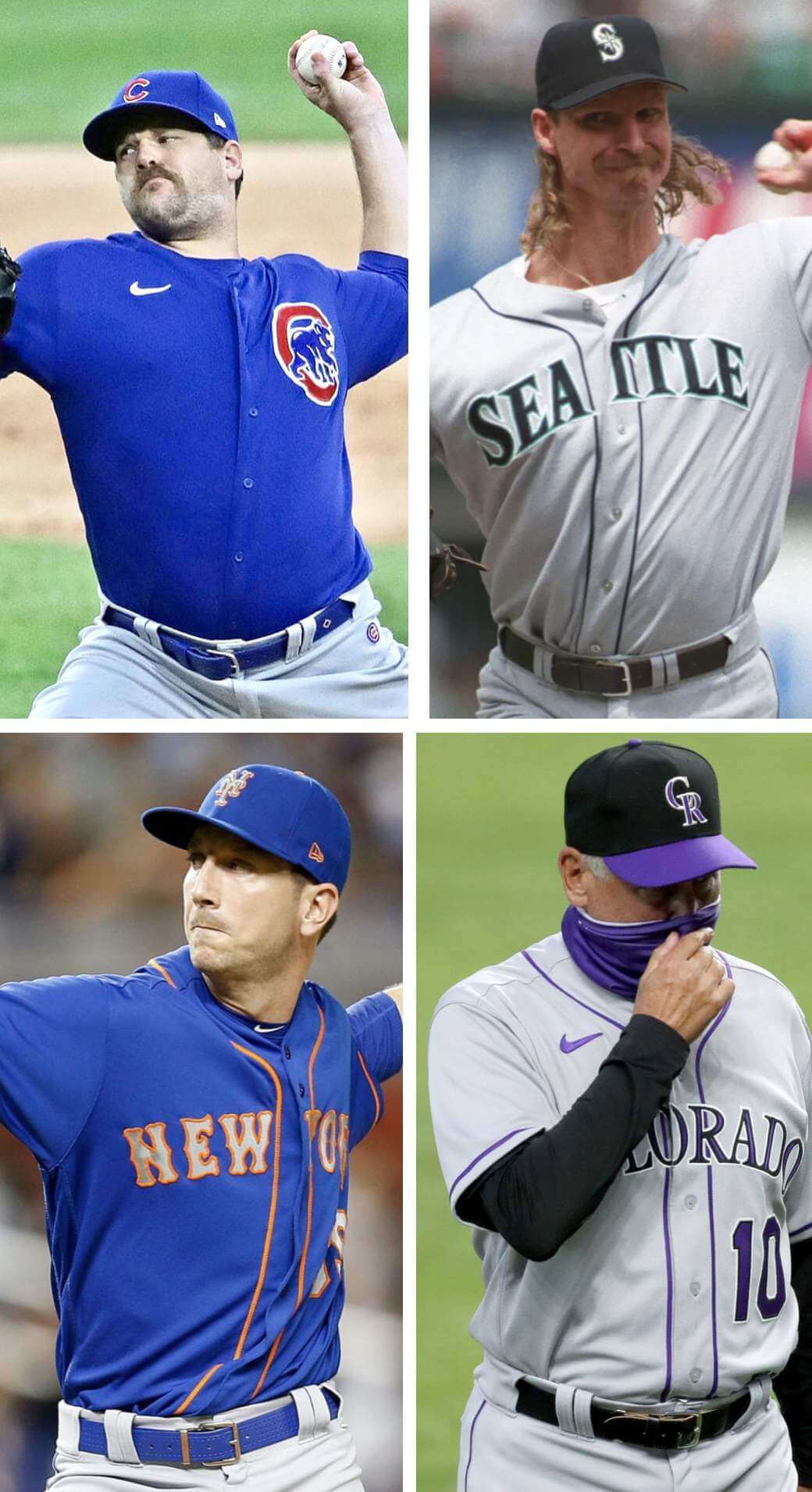 All of those of those guys are left-handed. Based on my photo research so far, it appears that while not all lefties wear their belts this way (in fact, most of them do not), all of the people who wear their belts this way are left-handed. So for simplicity's sake, let's call this the lefty belt style, and we'll call the more common format the righty style.
If you'd asked me a few years ago which direction most MLB players' belt buckles faced, I'm not sure I even could have told you — it was the rare uni detail that I wasn't attuned to. But over the past few seasons we've seen an increasing number of players wearing belts with uni numbers and/or contrast-colored belt loops, and those new custom elements — at least the ones I've seen — have always been on righty-style belts. Or to put it another way, the number and contrast-colored loop have always been leaning to the player's left (or the viewer's right):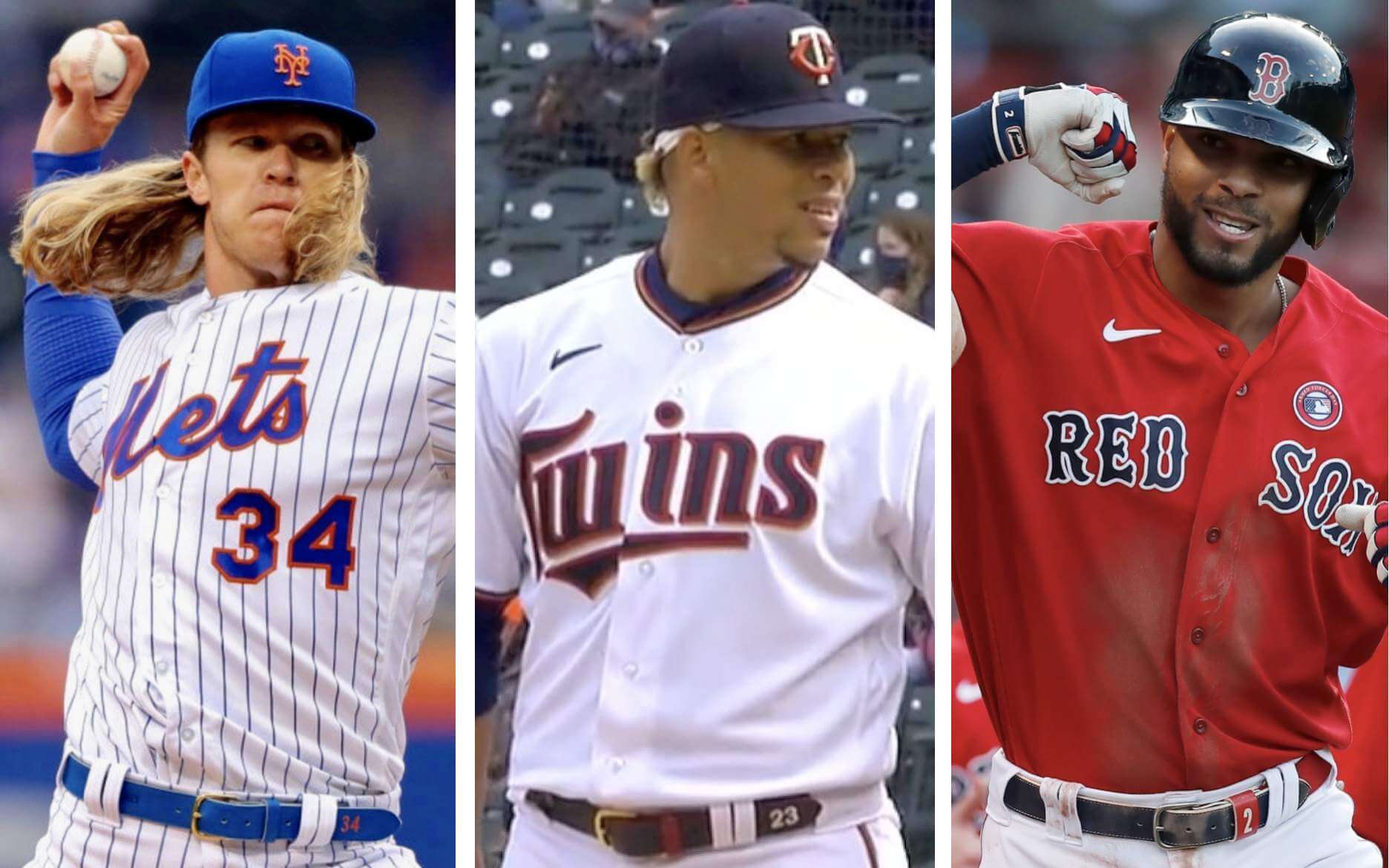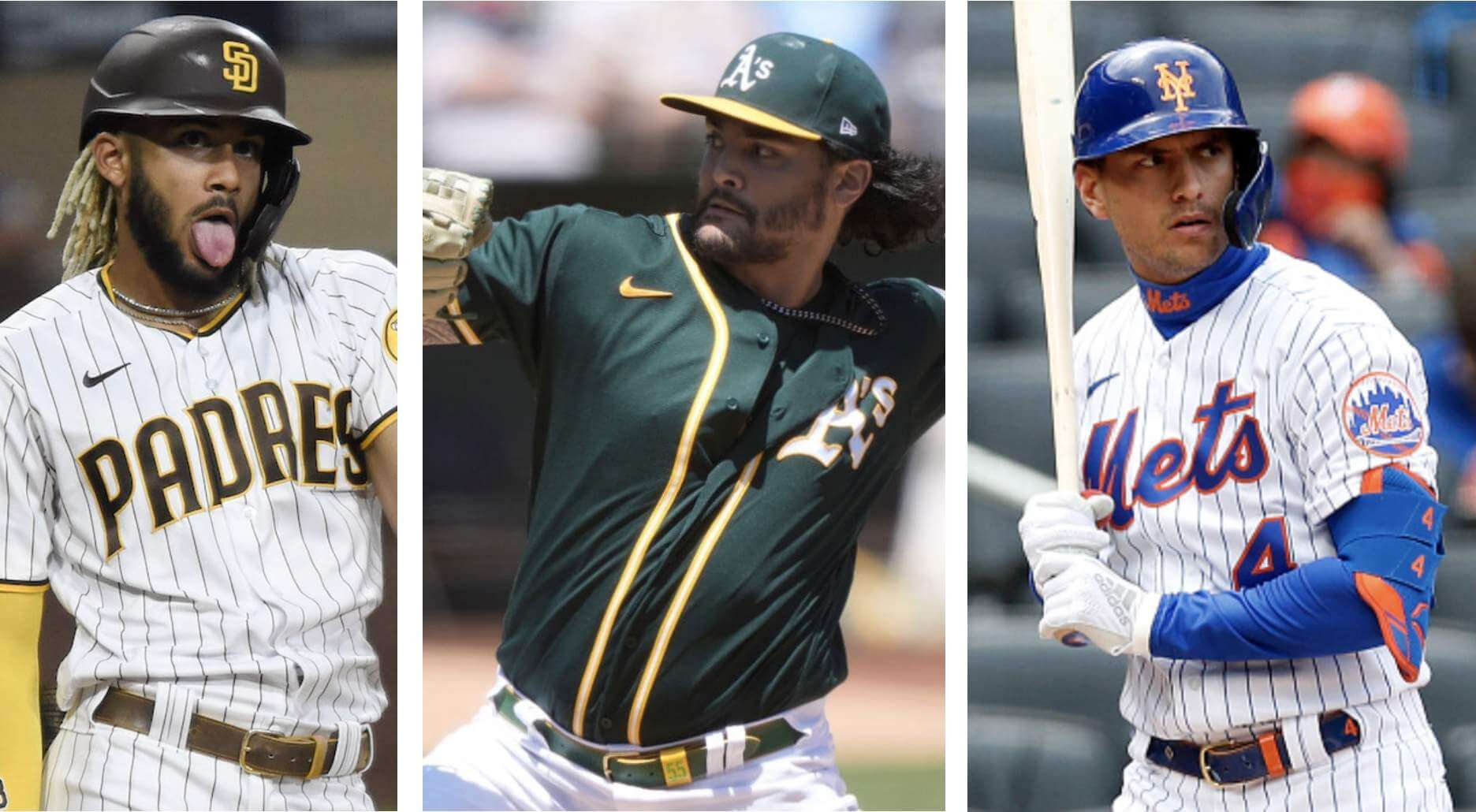 I'm fairly sure that's why Moore's lefty belt jumped out at me when I saw it on Friday night. Seeing all those uni-numbered belts, with all of them formatted the same way, had gotten me accustomed to seeing the belt worn in the righty format. So when I saw Moore's buckle, it looked notably different, even though his belt isn't uni-numbered.
Speaking of which: If Moore got a conventional righty uni-numbered belt and wore it in his usual left-handed style, the number would end up upside-down! In order to accommodate him (or anyone else who wears the lefty style), the manufacturer would have to rotate the number 180 degrees when printing it onto the belt.
It's worth mentioning here that I am left-handed, and I wear my belt like Moore does (i.e., when I put on a belt, I begin by threading in through the belt loops along my right hip, and then I pull it tight by grabbing the end with my left hand). I never thought of it as a lefty thing — it's just what feels natural to me.
How do other lefties out there wear their belts? And are there any righties who use the lefty belt style?
• • • • •
• • • • •
Have you ever seen an ejection during a wardrobe malfunction in a baseball game? pic.twitter.com/VHaLQPLgoR

— Doug Gray (@dougdirt24) June 26, 2021
And speaking of belts: Welcome back to Ump Watch, where we continue to document the wide world of umpire attire. Our latest report is a doozy and comes from last Friday night's Triple-A game between the Louisville Bats and Indianapolis.
The key uni-related moment came when plate ump Takahito Matsuda apparently broke his belt buckle while bending over to sweep off home plate. A broken belt wouldn't be an issue for a base ump, but the plate ump needs his belt to hold the side pockets where he stores the balls. So Matsuda called the other two umps to his side (Some Triple-A crews have only three umps, not four), and one of them removed his belt so Matsuda could use it.
The best part of this is that Louisville skipper Pat Kelly, who had apparently been jawing a bit with Matsuda during the game, evidently added a few more choice remarks while Matsuda was in the process of swapping belts. So Matsuda's standing there at home plate, trying to retain a bit of dignity while strapping on someone else's waistwear, and he tosses Kelly from the game in mid-belt-swap! That ended up prompting a very entertaining rhubarb. Fun stuff, and all nicely documented in the video above.
Footnote: Matsuda put on his belt right-handed.
That concludes this installment of Ump Watch, and also wraps up our belt coverage — at least for today.
(Bottomless thanks to Erik Spoonmore, Kenneth Traisman, and Tim Dunn for this one.)
• • • • •
• • • • •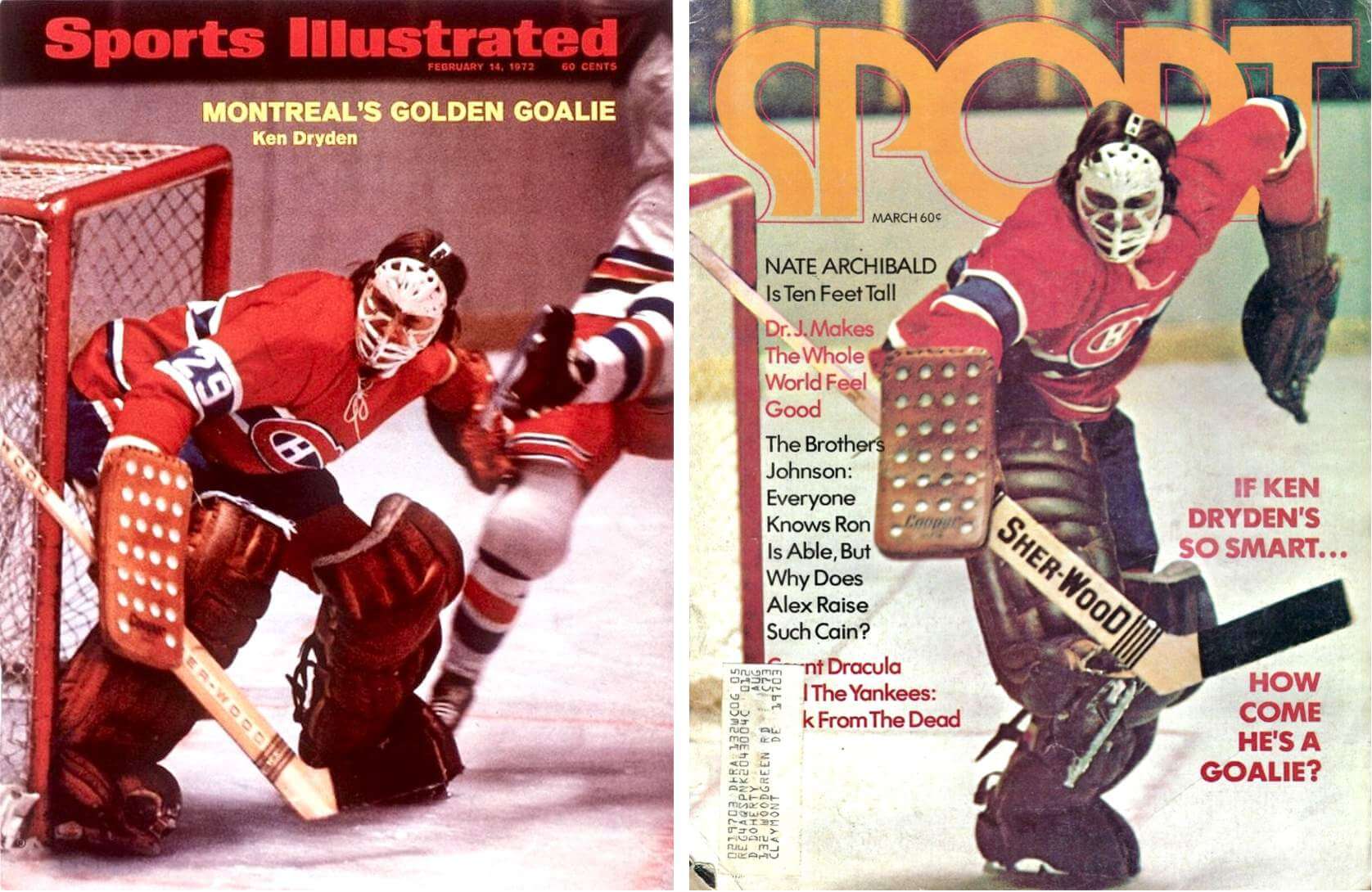 Click to enlarge
Blast from my past: When I was a kid in the early 1970s, I had copies of both of the magazines shown above, because I was completely obsessed with Ken Dryden's goalie mask. There was nothing else quite like it in the NHL (and there never has been since then). As a result, I became a Canadiens fan, even though I was, you know, a kid on Long Island who'd never been to Canada and didn't speak French.
Half a century later, I no longer follow hockey as closely as I once did, but I'm still a Canadiens fan, at least nominally. So I'm tickled that they've made it to the Stanley Cup Final(s) for the first time since 1993. I realize they'll probably lose to the Lightning, but they weren't favored to win their playoff rounds against the Leafs, Jets, or Golden Knights either, and here they are, still standing. I'll be rooting for them as the series gets started tonight, and I'll be watching Game Two on Wednesday with my neighbor Harris, who grew up in Canada. Go Habs!!
Incidentally, I never noticed until now that Dryden doesn't appear to have TV numbers in the cover photo on the right. What's that about?
Finally, as long as we're talking about the NHL: In case you missed it over the weekend, the current issue of The Hockey News is reporting that jersey ads are "all but assured" for next season, so this Montreal/Tampa series may be our last look at ad-free NHL sweaters. Sigh.
• • • • •
• • • • •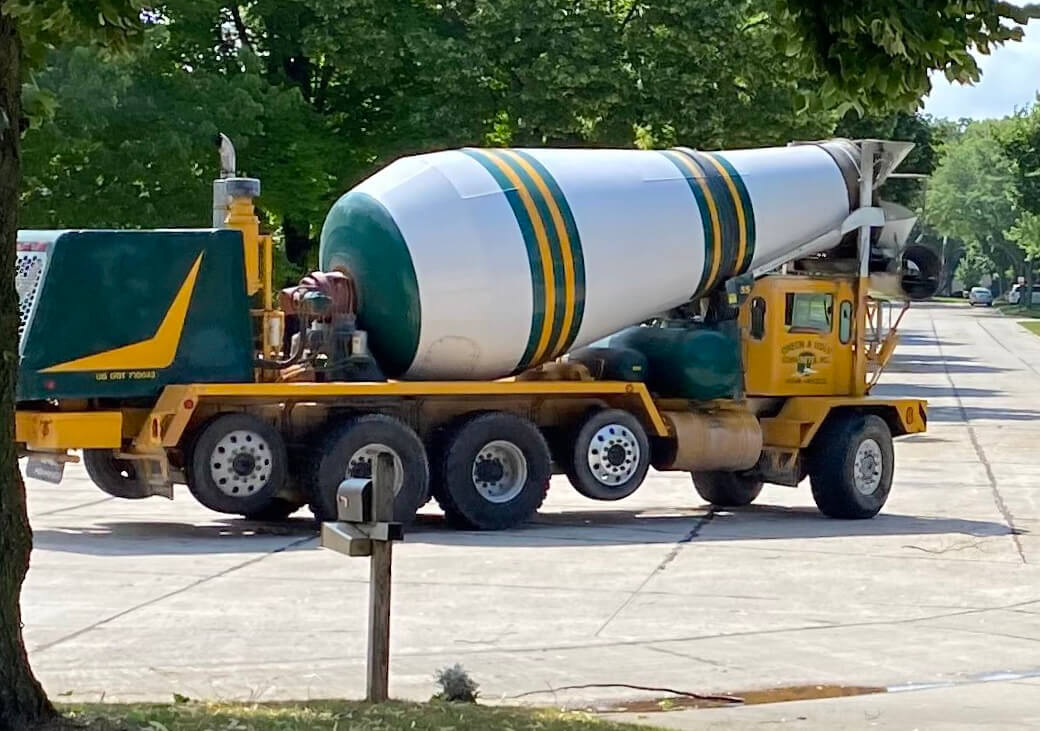 Click to enlarge
Oh. My. God. Can you guess where longtime Uni Watch reader Kurt Rozek lives? If you guessed "Green Bay," you're right! He got this photo of a Packers-themed cement mixer shown turning around in his cul de sac the other day. "I wish the Packers would return to having five fused sleeve stripes, instead of three separated ones," he says.
• • • • •
• • • • •
Click to enlarge
Cap update: Great move by reader Brian Pidgeon, who added a pair of Stargell Stars to his Uni Watch cap! How great is that? Looks so sharp!
Speaking of caps: We finally got our new supply of shipping boxes (they were delayed in transit) and are caught up on cap orders. We're now sold out of most sizes but sill have the remaining inventory:
7-1/4: 2 caps
7-3/4: 5
7-7/8: 5
If you want to get one of these last remaining caps, here's how to order. Once they're gone, they're gone!
• • • • •
• • • • •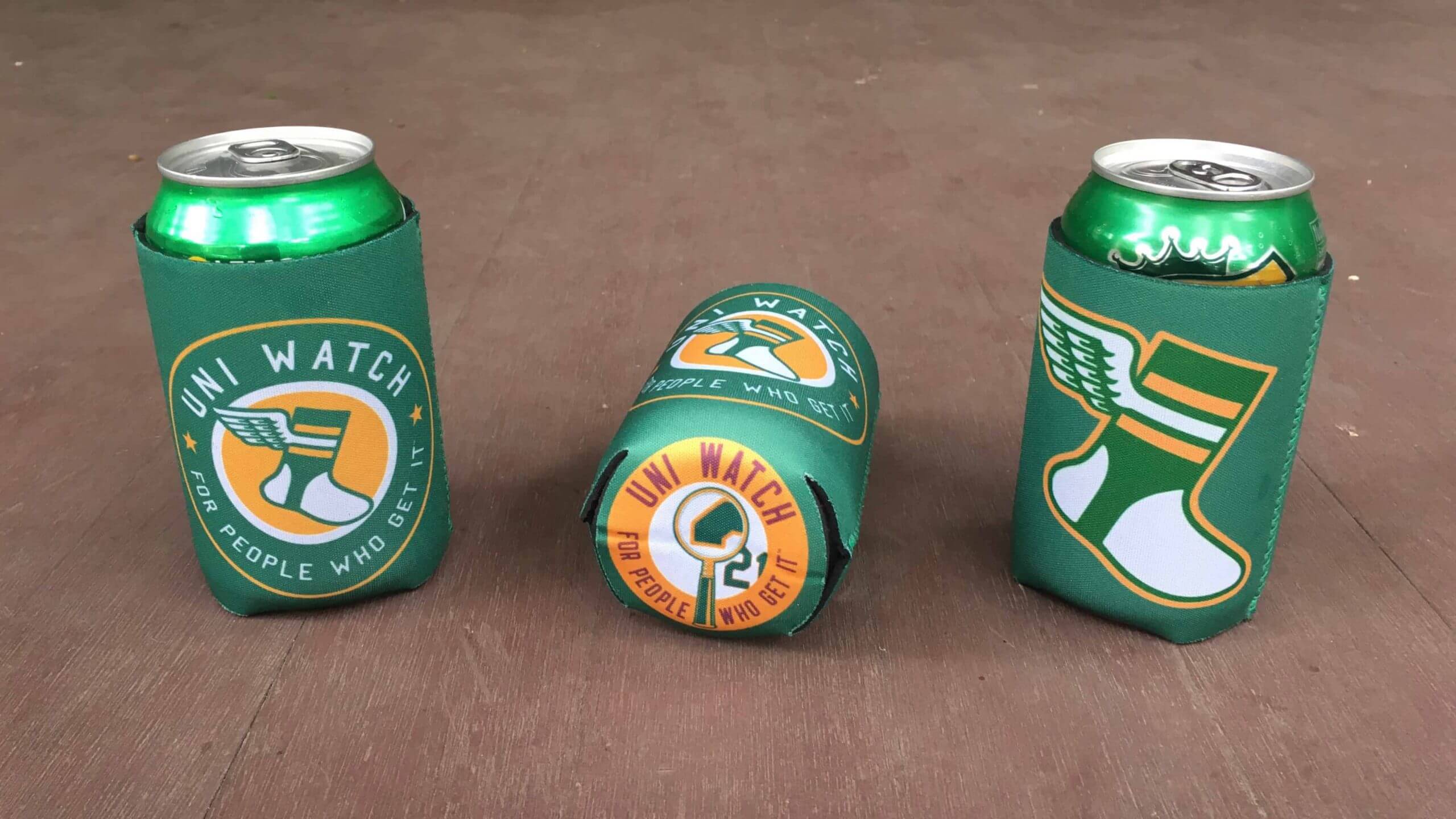 ITEM! Koozie raffle: Remember, Post-Pandemic Porch Cocktails Day is coming up next Thursday, July 8, and I'm encouraging everyone in the comm-uni-ty to help celebrate our return to normalcy by taking a photo of yourself having a beverage that day on your porch (or stoop, or deck, or whatever). If you'd like to have a Uni Watch pint glass or koozie for the occasion, so much the better, but that's certainly not necessary.
With all that in mind, reader Chris Hickey has generously donated funds for two koozies, so I'm going to raffle those off today. This will be a one-day raffle. USA mailing addresses only. To enter, send an email with your mailing address to the raffle in-box by 8pm Eastern tonight. I'll announce the two winners tomorrow. Good luck!
• • • • •
• • • • •
The Ticker
By Jamie Rathjen

Baseball News: Remember Paul's obsession with Phillies P Aaron Nola's cap? Nola tied the MLB record with 10 consecutive strikeouts on Friday, so the cap he wore that day — which included the New Era logo was sent to the Hall of Fame. Now let's see if he goes back to the unbranded cap in his next start (from Samuel Thornton). … The Double-A Bowie Baysox and New Hampshire Fisher Cats played a black-vs.-black game yesterday, never mind that it was hot (from Dan Mickelson). … In 1999, Diamondbacks P Randy Johnson accidentally put on a Giants hat after a brawl between the teams (from Rich Fuller).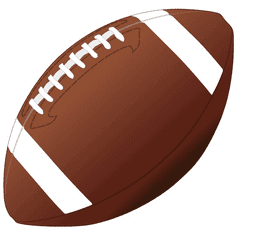 Football News: Buccaneers COO Brian Ford said on Friday, shortly after the news about the end of the one-shell rule broke, that the team plans to wear creamsicle throwbacks (from Kary Klismet). … Also from Kary: One USA Today writer has opinions on which throwbacks should return. Unlike the column he sent in for yesterday's Ticker, all featured designs actually are ones that wouldn't have been allowed previously.

Hockey News: Multiple readers told us that pictures of the Canadiens' Stanley Cup Final patch started appearing this weekend. "Can confirm the patch at home will be en français but I don't know about the road jerseys," says Mike Engle. I would think this the first time the current SCF logo has appeared in French on a uniform, but Sportslogos.net does have versions for other years. … The National Collegiate Hockey Conference, a Division I men's conference, doesn't have a name for its tournament trophy, which makes it unusual (from Kary Klismet). … Also from Kary: A complex in Attleboro, Mass., is renaming one of its rinks after A.J. Quetta, a high school player who suffered a spinal injury earlier this year.

Basketball News: This thread shows the uniforms of some of the men's national teams participating in Olympic qualifers. Separately, here's Canada (from Jeremy Brahm and Adam Peleshaty). … Australia's men's team also has different manufacturers going on (from @Texas_AU). … This video recaps some of the protective masks worn by NBA players (from K.C. Kless). … Baylor bought the court on which they won this year's Division I men's championship to turn it into memorabilia, which is something other recent Division I men's champions have done (from Kary Klismet).

Soccer News: Some MLS and NWSL teams wore rainbow numbers this weekend, including OL Reign, the North Carolina Courage, and New York City FC, who had a matching captain's armband. The expansion San Diego NWSL team also participated, even though they don't start playing until next season. … Meanwhile, Portland Thorns striker Christine Sinclair wore the transgender pride flag armband she recently wore for Canada. … Brazil's Vasco da Gama wore a shirt with a rainbow sash yesterday (from Trevor Williams). … New first shirt for the Netherlands' Feyenoord. … Spokane is to get a new stadium to host USL League One and W League teams next year. … New outfitter for Portuguese men's champs Sporting Clube, who have switched from Macron to Nike (from Ed Zelaski). … Also from Ed: New away shirt for Stoke City.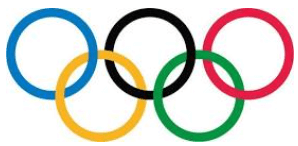 Olympics News: The Swedish Olympic team is outfitted by Uniqlo, so about a month ago they revealed various outfits and other designs, including a soccer kit, which is obviously different than the ones the Adidas-outfitted national teams usually wear.

Grab Bag: The former Ontario Junior A Lacrosse League, a men's junior indoor league, dropped the "A" from its name and has a new logo (from Michael Sullivan). … Reader Jeremy Brahm has been keeping track of the double NOBs worn by volleyball players as part of the Equal Jersey program. Participants on both sides of the Brazil/Poland men's Volleyball Nations League final yesterday wore the NOBs of Russian women. … In Denver, the Broncos', Nuggets', and Avalanche's stadiums are currently all lit in rainbow colors (from Kary Klismet). … The W Series, a women-only racing series now supporting Formula One, is allowing its teams to have their own liveries, like in other series, instead of giving everyone the same one in a few different color schemes. One innovation carried over from before is that drivers' national flags are painted on the rear wing. … There are still five U.S. high schools that have "Midgets" as their team name, and Little People of America wants to change that (from Kary Klismet). … With the northwest being battered by a heat wave, Major League Rugby's Seattle Seawolves wore their green away kits at home last night. "They usually wear navy at home," says Sy Hart.
• • • • •
Tomorrow I'll have a major announcement about an important new Uni Watch development. See you then. Update: Announcement will be on Wednesday, not tomorrow. — Paul