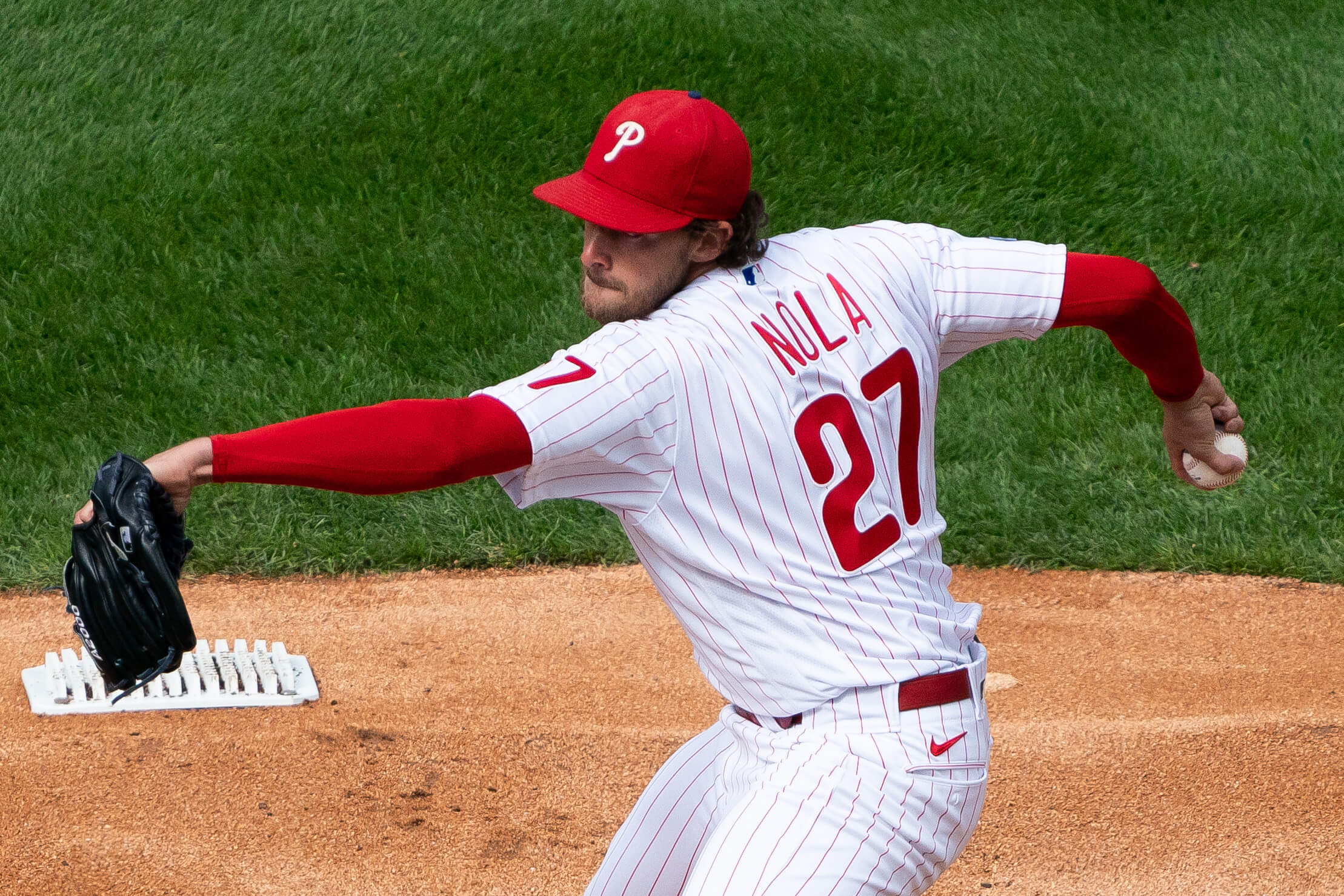 The strange saga of Aaron Nola's red cap has just gotten even stranger.
In case you missed it when I first wrote about it three weeks ago (or just need to refresh your memory): For nearly the first two months of the season, Nola's red cap — the one the Phillies wear for home night games and all road games — did not have the New Era logo, which has been standard on all MLB caps since 2017. His other caps this season (the blue cap worn for home afternoon games, and the various holiday caps) all had the logo, and all of his caps, including the red one, had the logo in 2020, 2019, 2018, and 2017 — but not the red cap he was wearing this season. Lots of players are superstitious about their headwear, so it's not surprising that Nola might have been wearing the same red cap all season long — but why would the Phillies have issued him a cap that was at least five years old?
The streak finally ended on May 26, when Nola wore a red cap with the New Era logo. I was going to contact the Phillies at that point to ask about all of this, but I decided to wait and see what Nola did in his next start. That was on June 1 — and sure enough, he wore the logo. At that point it seemed apparent that the no-logo cap had been retired, so I contacted the Phils, spelled out the whole situation, and asked if they could explain what was going on.
I did not receive a response. That didn't surprise me — on the scale of geeky media inquiries, asking about the maker's mark on a pitcher's cap ranks pretty high. Whaddaya gonna do.
I figured I'd follow up with the Phils at a later date, but I stopped paying attention to each of Nola's starts — which, as it turns out, was a big mistake. Fortunately, Uni Watch reader Kyle Mackie was on the case.
Mackie was intrigued by my original blog post about Nola's cap and had been anxiously awaiting to hear more. "Did you ever get an update/answer on Aaron Nola?" he asked me yesterday. "I think about it almost daily and want to make sure I didn't miss anything."
Before I could respond, Mackie looked up photos of Nola's recent starts on Getty Images and discovered something surprising: During Nola's start on June 8 — the first of his starts that I didn't pay attention to — his cap had the New Era logo in the first inning but didn't have it in the third inning!
I wanted to know more, so I looked up the game video. Nola lasted only five innings in that game, and here's how his cap appeared in those five frames (click to enlarge):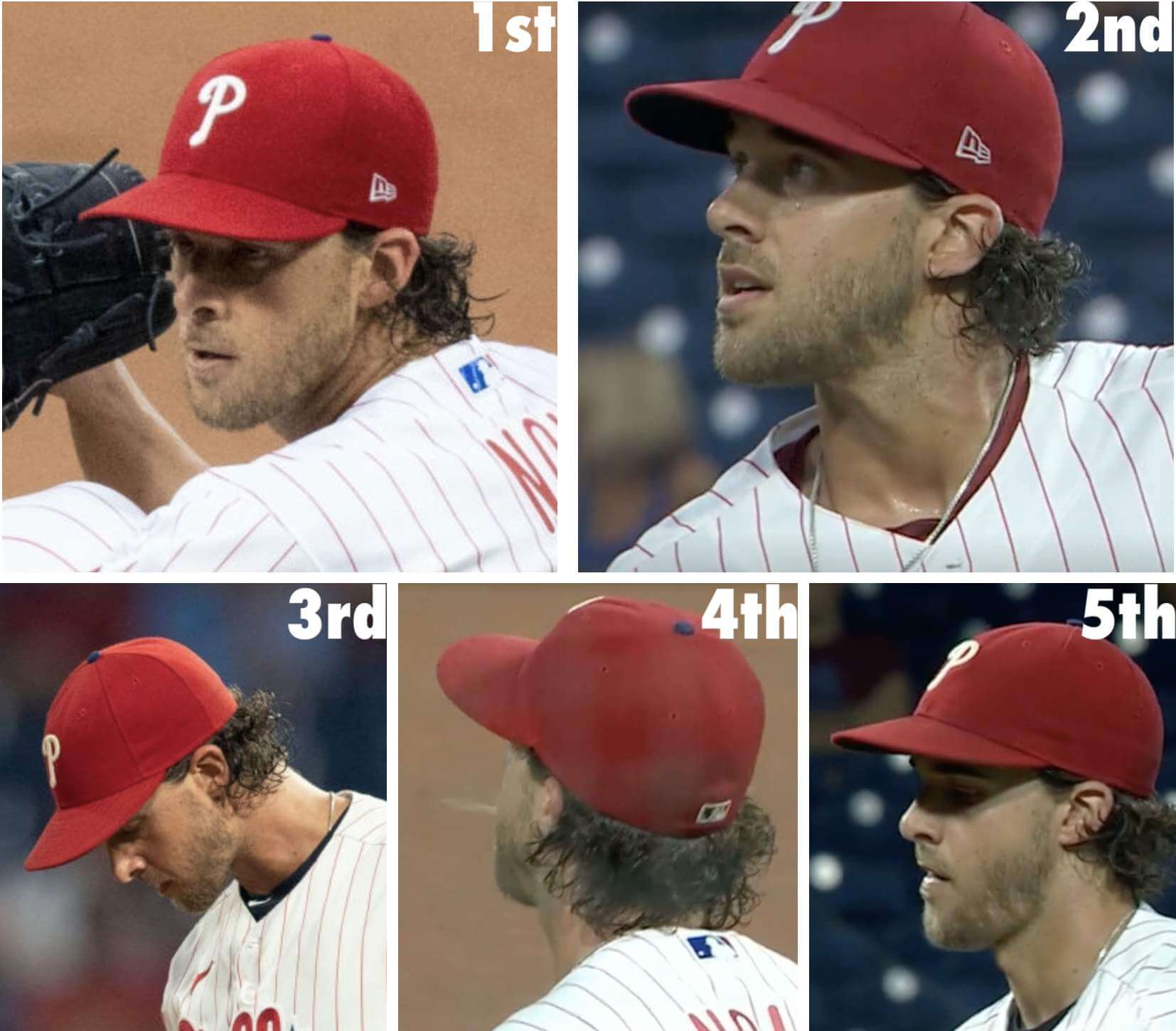 So Nola switched caps after the second inning. And he either went back to wearing the no-logo cap he'd been wearing in April and May (which would mean he'd been saving that same cap all along, even though he hadn't worn it during his previous two starts) or else he switched to
another
no-logo cap (which would mean the Phillies have a lot of pre-2017 caps on hand).
Given MLB's dominant storyline at the moment, I'm sure many of you are thinking that this all has something to do with Nola keeping a foreign substance on his cap. And sure, that might be the case — or it might not. Let's please not jump to conclusions.
Nola has had one start since that June 8 outing. That was this past Sunday — an afternoon home game, so he wore the blue, logo-clad cap. Pfeh — we can't learn anything from that.
Nola's next start is likely to be this weekend in San Francisco. Here's hoping it's on Saturday, when the Phils will be wearing their standard red caps (as opposed to Sunday, when they'll wear the Father's Day caps). I'll definitely be watching.
Meanwhile, here's a thought: If Nola pulled a cap switcheroo on June 8, who's to say he didn't also do it during his other starts? I've been checking on his individual games, not his individual innings. Hmmmmmm.
(Big thanks to Kyle Mackie, who deserves all the credit for today's post.)
• • • • •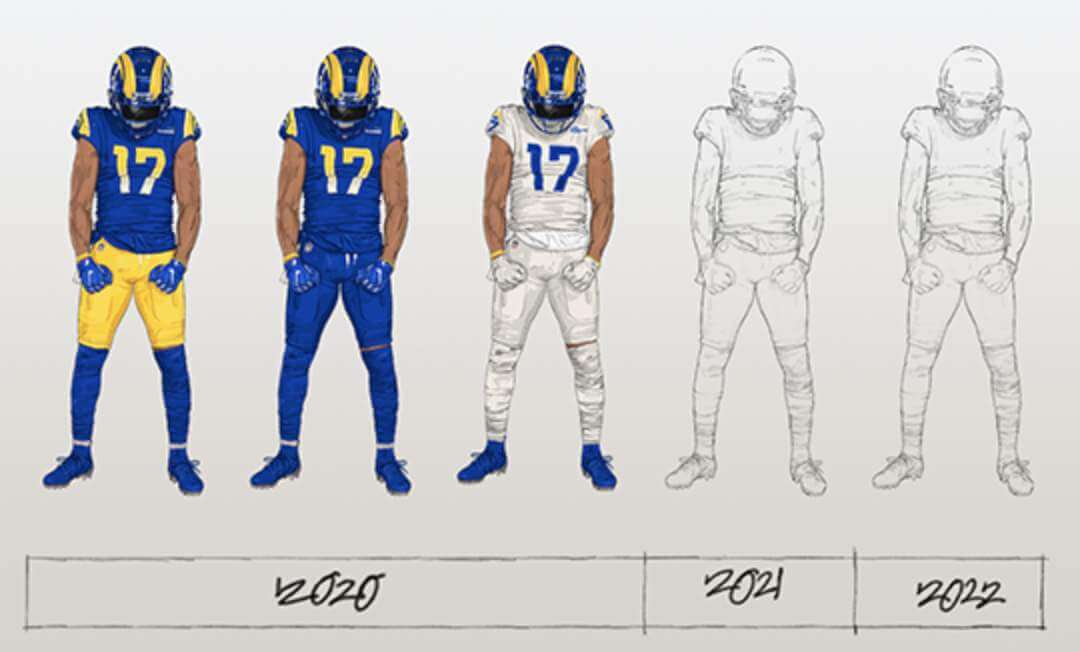 • • • • •
Rams alternate uni update: We've known for a while now that the Rams were planning to add an alternate uniform this year (and, based on the graphic shown above, another one next year). Yesterday Rams COO Kevin Demoff told The Athletic that the new uni would be unveiled at some point in July, and he cited an interesting reason for the timing: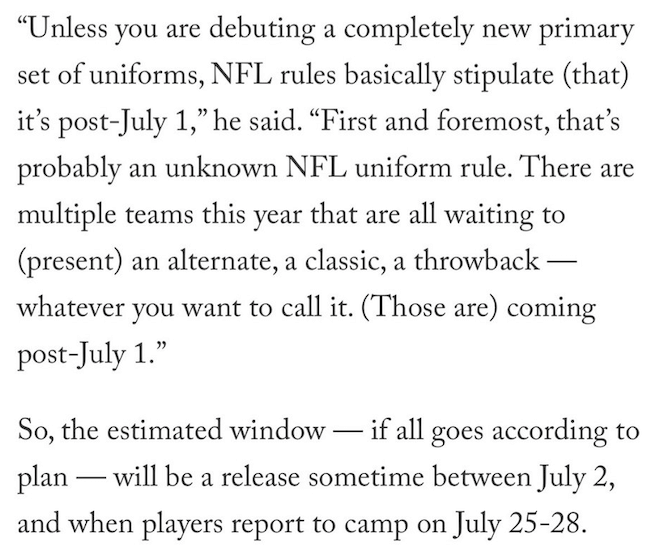 I've never heard of that rule before! It probably explains why the Browns and 49ers didn't unveil their widely anticipated throwbacks back at the draft like we thought they would, and why the Packers haven't yet unveiled
their new throwback
either. Looks like we can expect all of those (and maybe more?) in July.
• • • • •
• • • • •
Embed from Getty Images
There's gold in them thar uniforms: Yesterday was the first time this season that the Dodgers were able to have a full-capacity crowd in their ballpark, so they called it ReOpening Day and broke out the gold-trimmed championship uniforms that they originally wore back in April. But eagle-eyed Uni Watch reader Jeff Long spotted one difference in the uniforms (click to enlarge):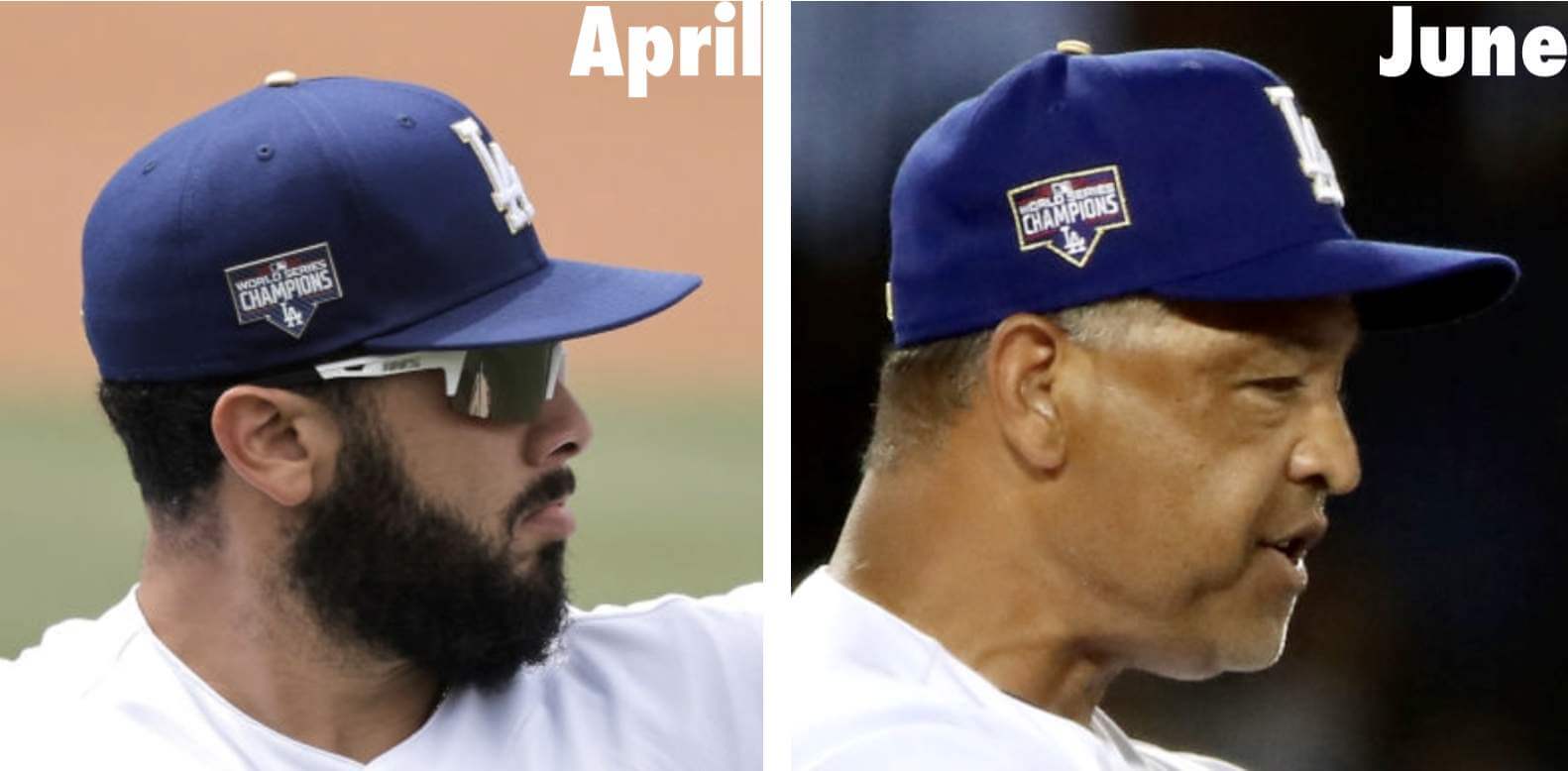 As you can see in that side-by-side comparison, the original caps back in April had a plastic side patch, while last night's patch was embroidered.
• • • • •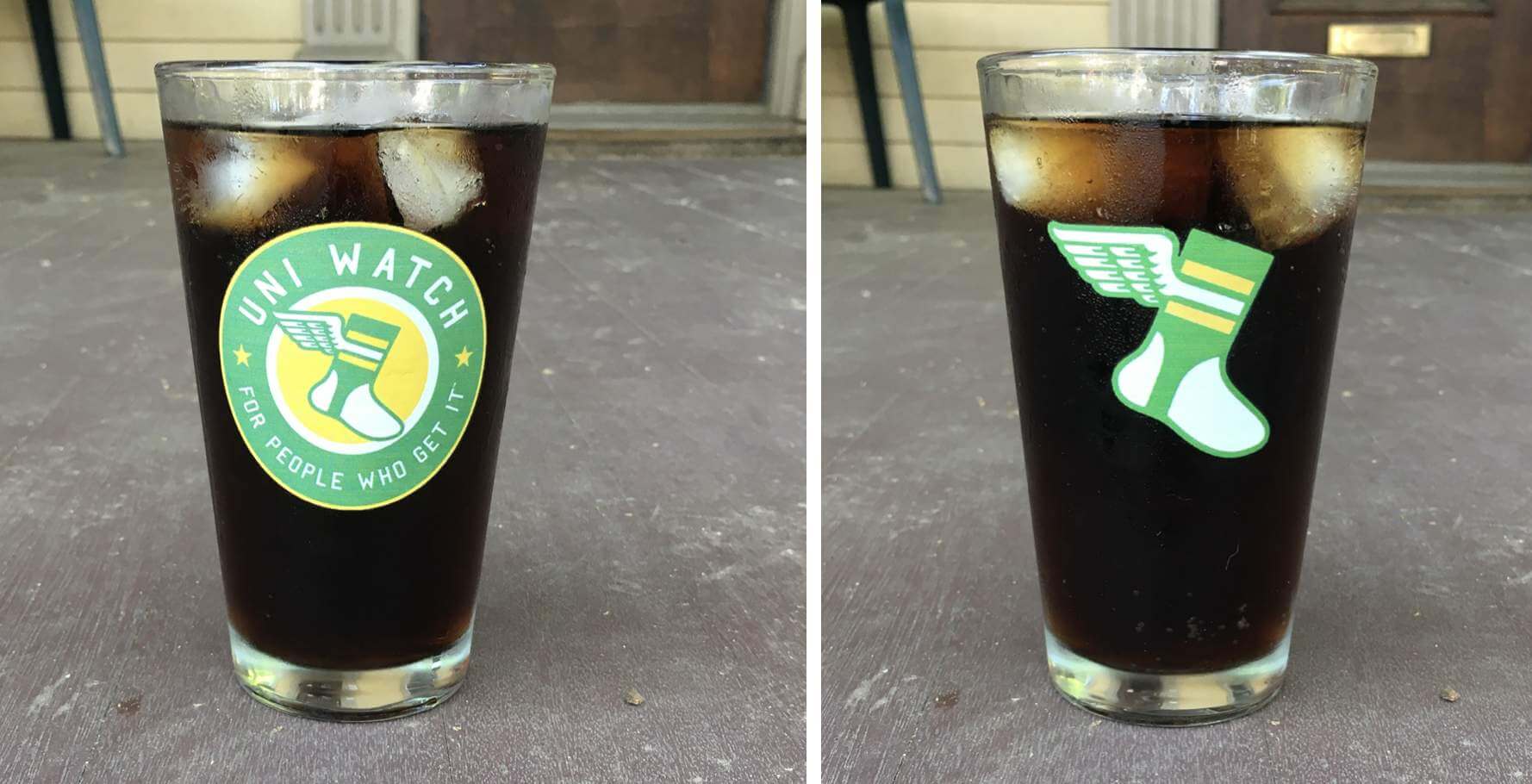 • • • • •
Click to enlarge
ITEM! Pint glass update: Thanks for all the feedback yesterday about the Uni Watch pint glass. The response on the blog, and also on Twitter, was overwhelmingly positive, so I'm gonna go ahead with it despite the slightly imperfect print quality. (If you missed my explanation about that, look here.)
The glass is available here. My thanks, as always, for your consideration of our products.
• • • • •
• • • • •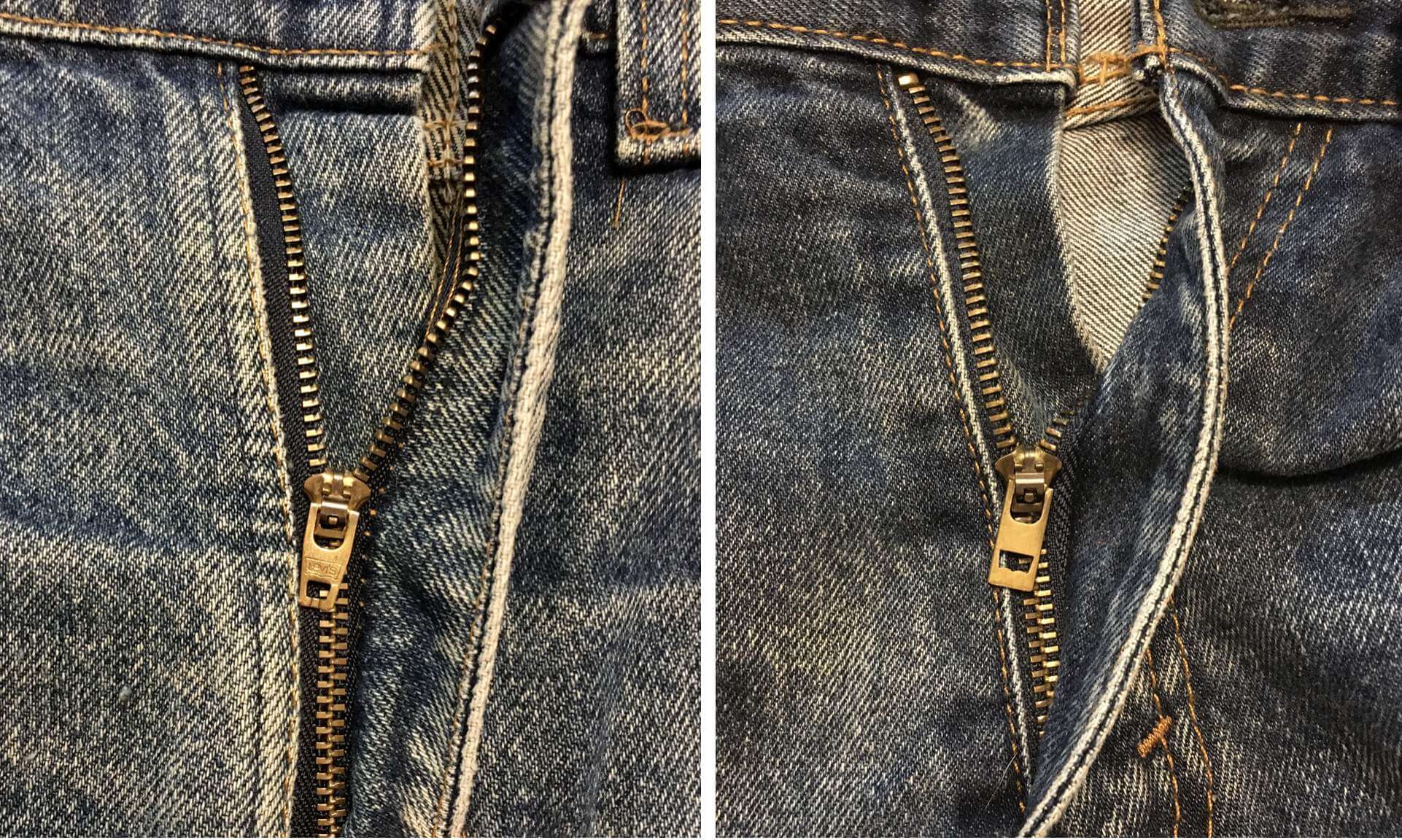 Click to enlarge
Another classically inconspicuous detail: I've been wearing Levi's jeans almost every day for most of my adult life. I almost always buy them used/thrifted/vintage, so if Levi's makes a small design change — an alteration to the tagging, say, or a change in the pockets' depth — I'm usually not aware of it until a few years after the fact, when the design change filters its way down into the used/vintage inventory.
I've recently become aware of one such design change, and it's freaking me out a bit. Here's the deal: For years and years, the pull tabs for the Levi's zippers had a tapered tip (above left). But at some point semi-recently-ish, they changed to a rectangular pull tab (above right). Again, I'm not sure exactly when this change happened — I only discovered it when I bought myself a pair of used jeans about two weeks ago, so it's a new thing for me, even though Levi's probably introduced it a few years ago.
And let me tell you, it feels so different. Every time I zip or unzip these jeans — mostly, you know, in the bathroom — the zipper tab feels gigantic compared to the old zippers that I'm used to. It doesn't feel bad, but it definitely feels weird and unfamiliar. At first I actually thought, "Oh, someone must have replaced the zipper on these jeans!" Then I saw that the zipper has the little cutout shaped like the Levi's logo, and I later confirmed that they're using the rectangular tab for new Levi's these days. So this is just how Levi's zippers are now, and I guess eventually all my jeans will have zippers like this one, as I cycle through older pairs of jeans and acquire new (used) ones.
Much like the caps on soda bottles that I recently wrote about, this is another case of a very small physical interaction — pulling on a zipper tab — whose nuances I've internalized to a much greater degree than I realized, or would even have thought possible. Interesting!
• • • • •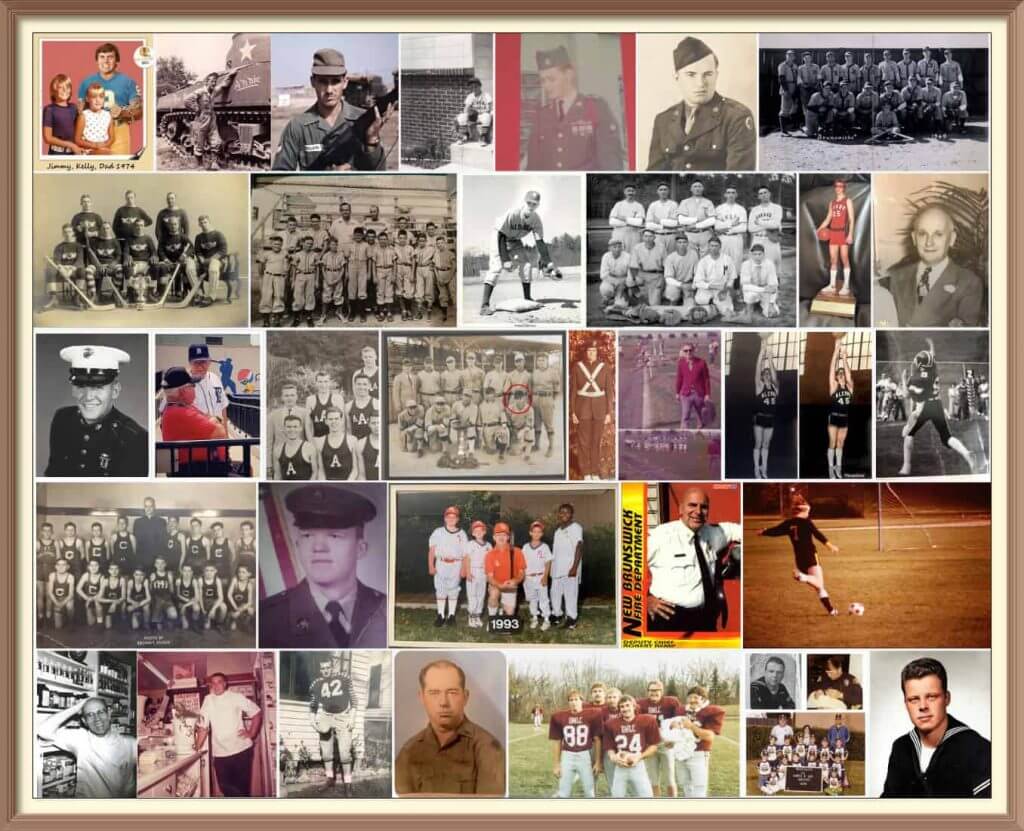 • • • • •
Father's Day reminder: Phil here. Sunday is Father's Day, and I'll once again be posting photos of Uni Watch readers' "Dads in Uniform," an annual tradition that began in 2013. This is always a very special day on the site, and I'd love for as many readers as possible to participate — especially those of you who haven't done so before. A few of you have reached out to me saying "I've run out of photos of my Dad," so if you want to resubmit a photo that we've used before, please feel free to do so!
To take part in this annual tradition, select one photo of your father (or grandfather or uncle) in uniform (it can be sports, military, work — as long as it's a uniform) along with a short description of 100 words or fewer. Then email your description along with the photo — again, only one, please — to me by this Thursday, June 17, midnight Eastern. I'll run all of the submissions this Sunday. Thanks!
• • • • •
• • • • •
The Ticker
By Lloyd Alaban

Baseball News: Tigers P Casey Mize changed gloves between the 1st and 2nd innings from darker to lighter (from Mark Kunz). … Here are Little League's Baseball and Softball World Series unis (from our own Phil Hecken). … Really fun story on Red Sox P Rob Murphy's unusual 1990 trading card, which showed Murphy sitting down with an early laptop computer (from our own Brinke Guthrie).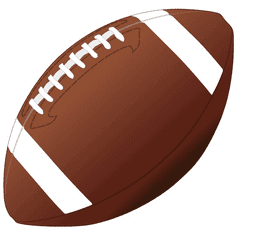 Football News: The latest creation from the great Paper Stadiums is a paper model of the Rose Bowl (from Kary Klismet). … UL-Lafayette's stadium is getting a new advertised name (from Timmy Donahue).


Hockey News: New advertised name for the Jets' arena (from Wade Heidt). … Also from Wade: The Canucks have released a shortlist for the names of their new AHL affiliate in Abbotsford.

Basketball News: WNBA teams are wearing Juneteenth-related warm-up shirts starting today (from our own Jamie Rathjen). … New unis for Emporia State (from Robert J. Osvak).

Soccer News: The new U.S. shirts mentioned in Monday's Ticker are coming out today (from our own Jamie Rathjen). … New advertised name for the Columbus Crew's stadium (from Timmy Donahue). … New home shirt for Brazilian side Corinthians (from Ed Zelaski). … Also from Ed: Third-tier English side Shrewsbury Town has inked a new four-year kit deal with Umbro.

Grab Bag: Here's an analysis of boots worn by Australian rugby league players (from @LeagueEyeTest). … Police officers in Hopewell Township, N.J., can now wear Pride patches (from Timmy Donahue). … This looks painful: Lego and Adidas have teamed up to introduce a shoe made of Legos. … The city of Reno is building a new home for the Reno Rodeo (from Kary Klismet).
• • • • •
Our latest raffle winner
is Nick Goode, who's won himself a Uni Watch membership card. Congrats to him, and thanks to James Flagg for sponsoring this one.
Tomorrow: The return of the Unified podcast! See you then. — Paul