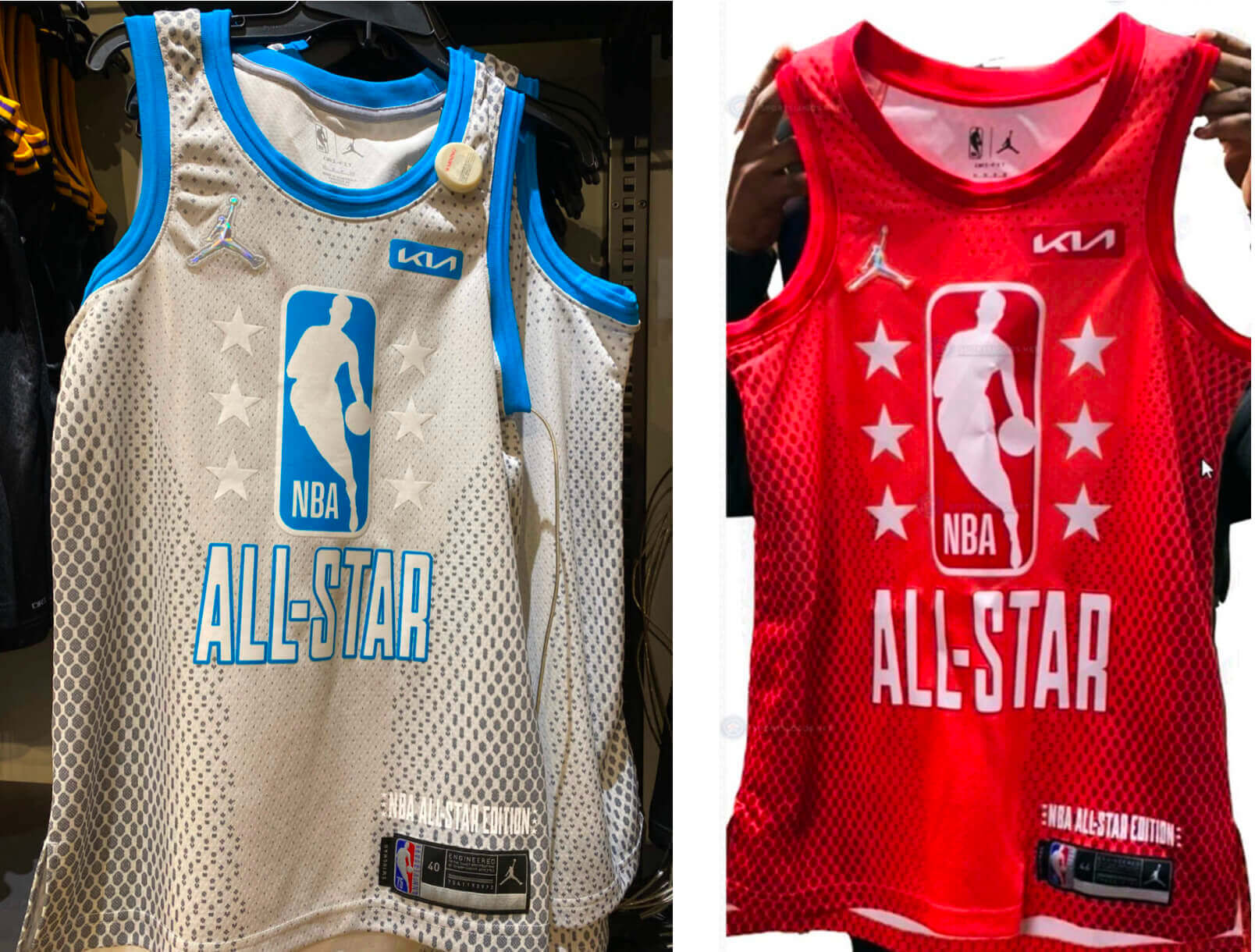 Click to enlarge
Last Friday we had a leak of an uninspired grey/blue design purported to be one of this year's NBA All-Star jerseys (above left). Now the other one has leaked, and SportsLogos.net has confirmed that the leaks are legitimate, so these are indeed what the NBA All-Stars will be wearing on Feb. 20.
These aren't just bad — they're inexplicably bad, confoundingly bad. Consider:
1. As you may recall from last Friday, I initially speculated that the first leak might be a practice jersey, because that's really what they look like. The diamond gradation pattern (similar to the Diamondbacks' late, unlamented snakeskin pattern) even makes the grey jersey look a bit like mesh fabric, enhancing the "Don't take this seriously" effect.
2. This year's game is in Cleveland, but the jerseys are completely devoid of Cavs-related elements. I can understand that they might have preferred to avoid local design references after what happened last year (as you may recall, the game was originally scheduled for February in Indiana, then was postponed due to the pandemic, and eventually took place on March 7 in Atlanta, but with players still wearing the Pacers-themed unis that had already been designed), but why go with such a characterless design when other options were available? Which leads us to…
3. As we all know, the NBA is currently celebrating its 75th-anniversary season. This would have been the perfect opportunity for a retro/throwback-style All-Star design. Fans would eat it up, Nike could go nuts with retro-themed design details, and you wouldn't have to worry about the game being moved to another city. Or…
4. They could even have taken a page from this season's mash-up City designs and created an All-Star uni set that drew upon previous NBA All-Star unis. Granted, that would probably be a train wreck, but at least the idea behind it would make sense, unlike the designs they're apparently going with.
5. In case you've forgotten from last Friday, the grey jersey has white typography on the back (we don't yet know what the back of the red jersey looks like):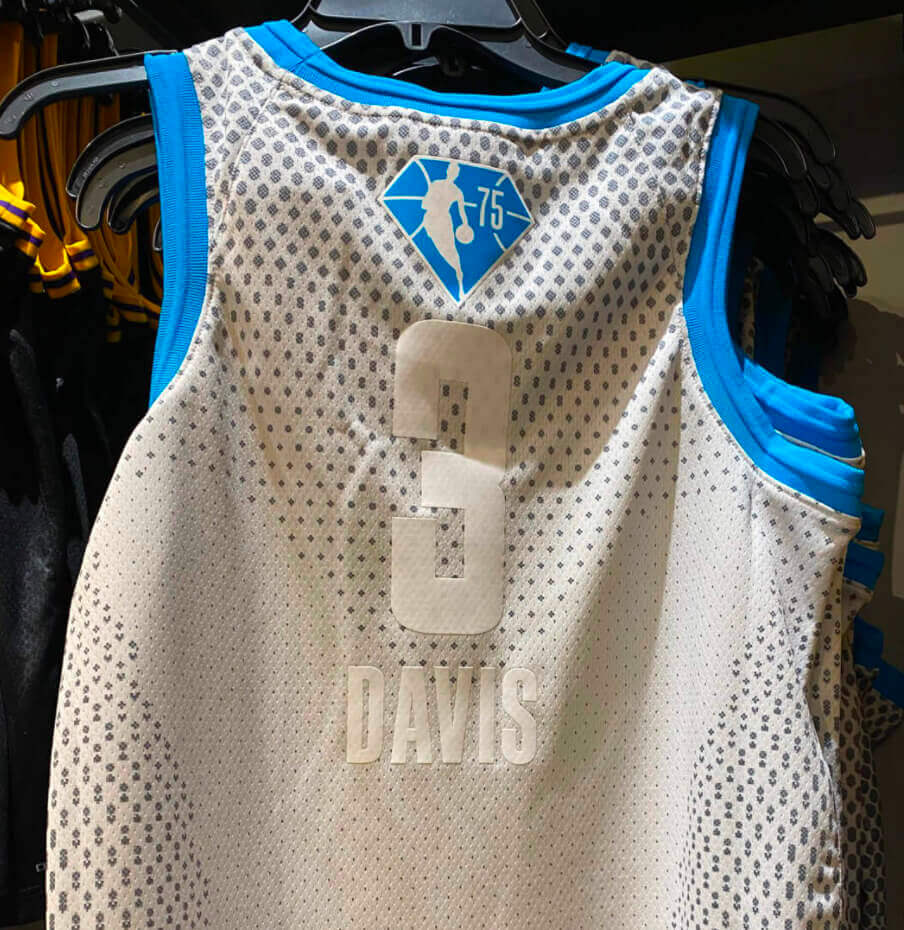 Like I said, this all seems so inexplicable. There are lots of bad uniforms where I can at least understand the underlying approach, even if I don't agree with it. Usually I think they're trying too hard. But in this case, it's like they didn't bother to try at all. Very strange.
• • • • •
• • • • •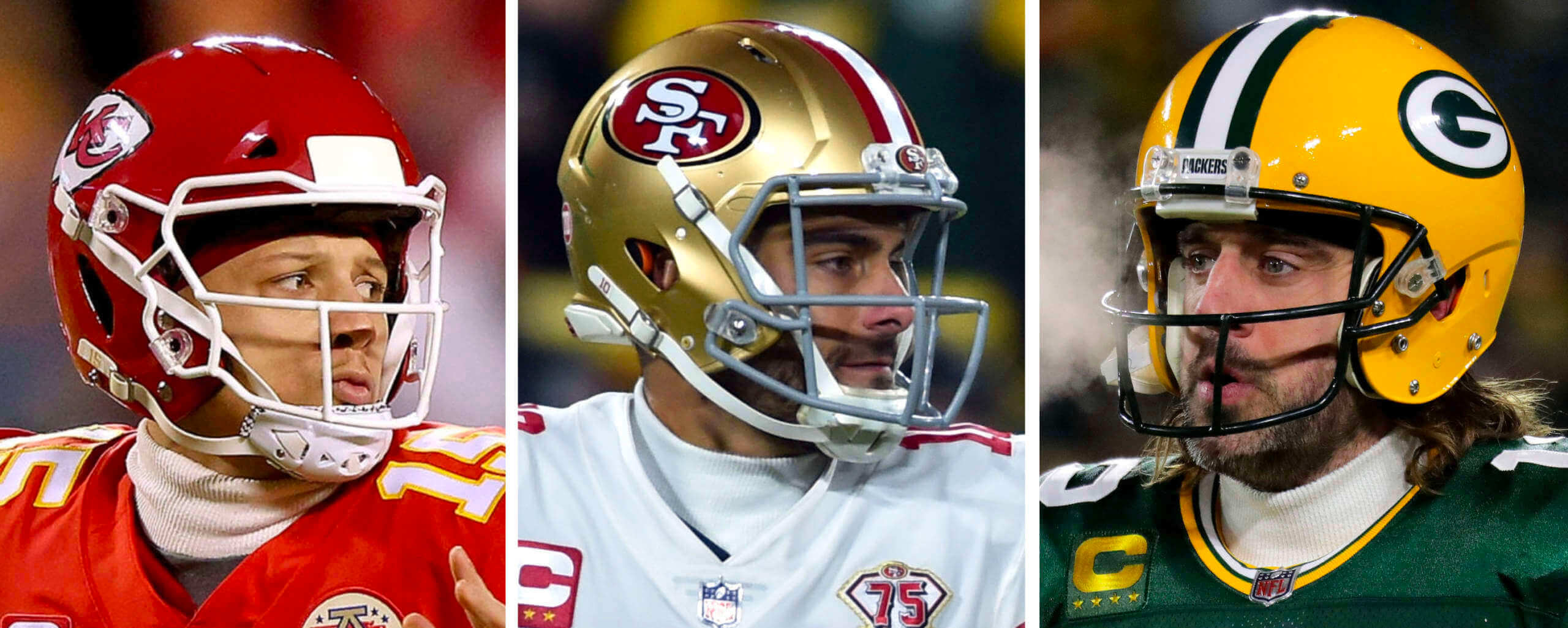 Click to enlarge
Neck-alikes: Reader Evan Miller noticed something interesting on Sunday: Three of the quarterbacks in that day's NFL playoff games — KC's Patrick Mahomes, San Francisco's Jimmy Garoppolo, and Green Bay's Aaron Rodgers — were all wearing the same mock-turtleneck collar.
Is this a full base-layer undershirt, or just a dickey? Either way, the off-white ribbed collar has an endearingly old-school look. As Evan put it in his email to me:
It's such a traditional-looking piece of apparel. When everything else in sports is "VaporMax SuperDry Wick Wick Wick," this looks like something an Austrian skier would've worn at the 1948 Winter Games. If it's produced by Nike or another big company, it just looks much more old-school than what those companies typically put on the market. And if it isn't made by a big brand, then it's interesting that all of these NFL QBs would insist on wearing some lesser-known company's gear because they're just that good.
Well put. Since there's no visible maker's mark (refreshing!), I asked on Twitter to see if anyone knew who makes this accessory. Several people informed me that it's from a Minnesota-based company called WSI, which specializes in cold-weather gear. And sure enough, they were bragging about their TV exposure on Sunday:
@WSISports special #coldgear will be on both the #packers #49ers tonight! #proudlymadeinusa #madeinamerica pic.twitter.com/Kmu0clQtLp

— Joel Wiens (@theunderweardoc) January 23, 2022
Like #GHOSTBUSTERS WHO YA GONNA CALL! When #packers #49ers need special #coldgwear made up overnight and delivered game day we love it! Thank you @ewise01 for braving the elements to deliver the gear! #proudlymadeinusa pic.twitter.com/Awmbuqm3Ee

— WSI Sports (@WSISports) January 23, 2022
I looked on the WSI website but couldn't find the exact item that the quarterbacks were wearing, so I've contacted the company to see if they can tell me more. Stay tuned.
• • • • •
• • • • •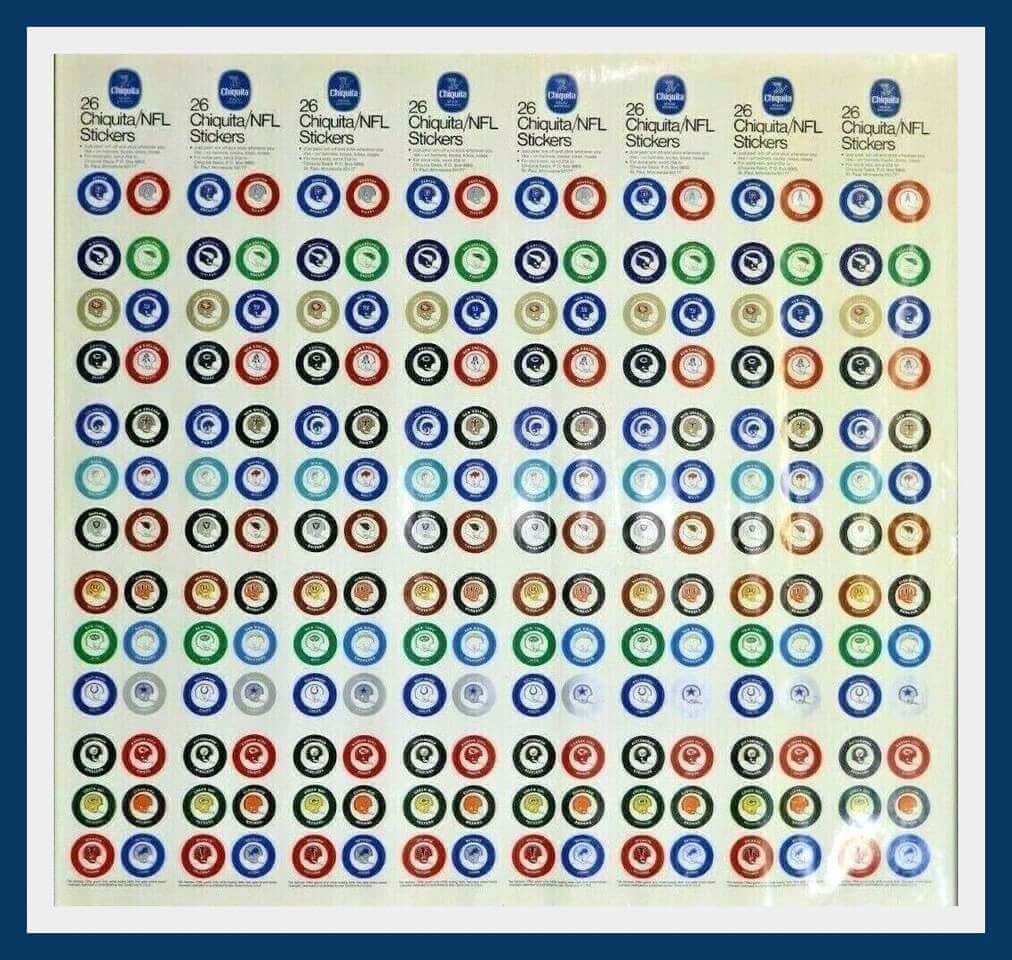 Click to enlarge
Collector's Corner
By Brinke Guthrie
Follow @brinkeguthrie    
Great googly-moogly! As you might expect, this one caught my eye. A great visual, no? Not one, but eight — count 'em, eight — complete sets of the 1970 Chiquita Banana NFL stickers. Continues to be my eBay Holy Grail!
Now for the rest of this week's picks:
• Love the artwork on this Coca-Cola promo set of 1960s NFL gumball helmets. It helpfully points out you get only one sticker for the Steelers.
• This Kansas City Royals pin features the Grateful Dead "Stealie" logo.
• Here we have a late-1960s Detroit Red Wings pin that says "© 1968 NHL Service."
• How about some glorious tequila sunrise action on this 1982 Houston Astros season ticket ordering booklet! It includes a flexi-disc recording from Nolan Ryan's fifth no-no.
• I'd say late 1960s or early 1970s for this "Luv Ya Braves" promo seat cushion from Eastern ("The Wings of Man") Airlines, which folded in 1991.
• In the 1990s, Russell Athletic was one of the suppliers of NFL team uniforms. Here's one of their print ads, featuring the Atlanta Falcons. Always liked Russell's "NFL Pro Line" stuff, which was top-quality. 
• Patriots head coach Bill Bellichick didn't always sport his current disheveled look. Here he is, "pre-hoodie," for an NFL Pro Set card from 1992, when he was with the Browns.
• Terrific artwork on this 1974 San Diego Chargers poster.
• Here's a 1970s Louisville Slugger baseball bat pen set featuring the Cincinnati Reds' "running man" logo, minus some of the finer detailing.
• This sticker is for a 1970s publication called  Basketball Pro-Style Magazine. 
• • • • •
• • • • •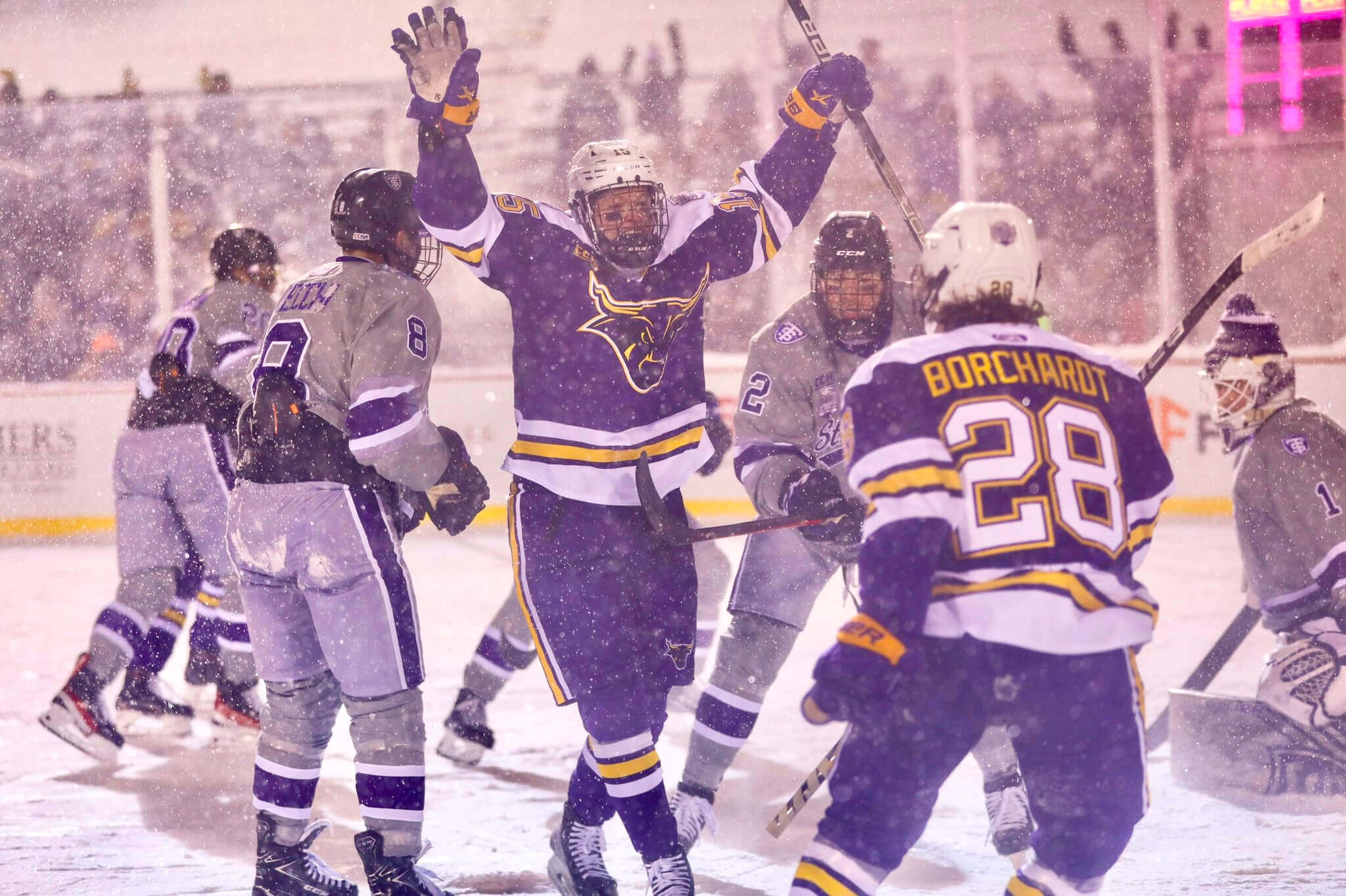 Photo by Evan Procaccini; click to enlarge
Too good for the Ticker: How awesome is this shot from last weekend's Hockey Day Minnesota outdoor game between St. Thomas and Minnesota State? So awesome that I don't even mind that it was a purple-vs.-purple matchup!
You can see more photos here and in this very nice Twitter thread.
(Big thanks to Scott Fasano for this one.)
• • • • •
• • • • •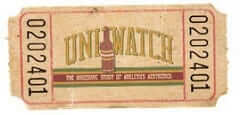 Raffle reminder: Today's the final day to enter the raffle for the last five Uni Watch pennants. Once they're gone, they're gone for good!
To enter, send an email with your mailing address to the raffle in-box by 8pm Eastern tonight. USA mailing addresses only. One entry per person. I'll announce the five winners tomorrow. Big, big props to the great Oxford Pennant for collaborating with Uni Watch on this product and for shipping out the five pennant prizes!
• • • • •
• • • • •
LAST CALL for the baseball bobble pin: We are now down to the last remaining July 2020 pin — that's the baseball bobblehead design, with a head that really bobbles! Once this last one sells, they're gone for good. Update: The bobble pin is now sold out.
This pin, like the rest of our remaining pin inventory, is available here, with big discounts for multi-pin bundles. We're running low on a few of the other designs (June 2020, November 2020, December 2020, November 2021, a few others), so get 'em while you can.
Also: In case you missed it on Monday, I'm trying to gauge how much interest there is in a new round of Uni Watch caps. Full details here.
• • • • •
• • • • •
The Ticker
By Alex Hider

Baseball News: No surprises from the Guardians' official cap reveal yesterday (thanks to all who shared).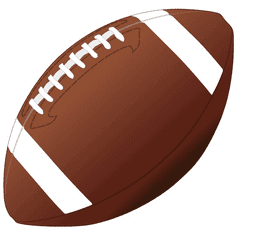 Football News: Has anyone else noticed that the red palm trees in the Super Bowl LVI logo look like dripping blood spatter? … Speaking of Super Bowl logos: Michael Rittenhouse spotted this commemorative Super Bowl champions poster at his local Hobby Lobby and noticed that while it features modern Dolphins and Giants helmets, it uses older designs for Washington and the Jets. … The University of Minnesota has a cool wall display devoted to the team's recent helmet designs (from @KevinZintheTC).

Hockey News: The Rangers wore Pride pregame sweaters last night (from @uniformnerd). … The Hurricanes will wear their Whalers throwbacks for the only time this season on Saturday. Here's a video showing the team practicing in their throwback helmets and breezers but with their usual black/red practice sweaters (from Wade Heidt). … Kraken G Philipp Grubauer was using several different equipment brands Sunday: CCM pads, a True blocker and glove, and a Bauer stick and helmet (from Ted Taylor). … A Ducks trainer was wearing team-colored Vans sneakers on the ice during last night's game (from Adam Femino). … The Coachella Valley Firebirds, who will begin playing in the AHL next season, unveiled their inaugural uniform set yesterday (from Rich Franklin). … Gotta love this vintage Penguins pennant, probably from the late 1960s. The skating penguin looks different at that angle, right? (From Trevor Williams.) … Henrik Lundqvist played for Team Sweden as well as for the Rangers. In this Sweden photo, he appears to be wearing his Rangers pants with a blue Sweden shell over them (from @SDubs35).

Basketball News: The South Carolina women debuted new pinstriped uniforms last night (from @Starkman55).
 a.

Soccer News: Comoros was forced to play LB Chaker Alhadhur in goal yesterday during an Africa Cup of Nations match after all their other keepers contracted Covid. Because he was playing in goal, Alhadhur opted to wear No. 3 and made a makeshift shirt number out of tape, which he pasted over his typical No. 16 (from Germán Cabrejo and Jeremy Brahm). … Yesterday marked an anniversary that most readers probably don't celebrate — the 46th anniversary of English club Kettering Town FC becoming the first British club to wear an shirt ad.

Grab Bag: The top Twenty20 cricket league in India, the Indian Premier League, has two new teams, one of which will be the Lucknow Super Giants (from our own Jamie Rathjen). … Timmy Donahue sends along the story of the 1st Samoan BN, a unit that fought in World War II with a unique uniform of a khaki cover, a white shirt, and no shoes.