Click to enlarge
With the NFL draft kicking off last night, I want to share this 1935 Philadelphia Eagles letter that reader/proofreader/pal Jerry Wolper came across the other day. At first I thought it was a Ticker item; then I thought it merited "Too good for the Ticker" status; and now I've decided it deserves an entire blog post for itself, especially in the context of the draft.
How remarkable is this letter? Let us count the ways:
1. The letterhead design is a doozie. So good! Damn, they don't design stationery like that anymore.
2. The blue/yellow color scheme will be familiar to anyone who remembers these Eagles throwbacks, which were worn (and largely ridiculed) in 2007. The colors are based on the Philadelphia flag. But here's the thing: According to the mighty Gridiron Uniform Database, the Eagles wore those colors in 1933 and '34, but in 1935 — the year at the end of which this letter was written — they had dropped the yellow and started transitioning to green. Interesting that they were still using the blue/yellow letterhead. Then again, it was the Great Depression, so maybe using the color-outdated design was just a matter of thrift.
3. I love that the Eagles' GM at the time, as listed at the very top of the page, was named Lud Wray — now that's a name! His full signature at the bottom, "J.R. Ludlow Wray," is somehow less satisfying. (There's more on Wray here.)
4. The letter is addressed to a "Mr. Bill Shakespeare" at Notre Dame. At first I thought this was some sort of joke, or maybe a placeholder name used on a sample letter, but it turns out that there really was a William Shakespeare who played football at Notre Dame! He was variously nicknamed "The Bard of Staten Island" (which is where he grew up), "The Bard of South Bend," and "The Merchant of Menace." (More on Shakespeare here.)
5. Oh man, that salutation — "My dear Shakespeare"! Did Wray begin all of his letters this way, or only letters sent to people who shared a name with the world's most famous playwright?
6. When Wray says the Eagles "have decided to rebuild our entire club, thereby giving a number of new men an opportunity to make good," he doesn't mention that the likely reason for this was that the Eagles had just finished a season in which they went 2-9.
7. I hooted out loud at this passage:
Professional football gives a college man a great opportunity to get a start in life after graduating and is in no way detrimental to his future, for the men in charge of all the League clubs are of the highest type.
So fascinating to see that prospective players apparently had to be reassured that football was "in no way detrimental to [their] future" as early as 1935, and that any such fears would supposedly be assuaged by the supposed integrity of the team owners. Good one!
8. Finally, there's this epilogue: Shakespeare did not end up playing for the Eagles in 1936. Why? For one thing, that was the year that the NFL held its first draft, and Shakespeare was chosen by the Steelers. But he opted not to play pro football and never appeared in the NFL. The Eagles, meanwhile, went 1-11 that year, so apparently Wray's rebuilding program didn't go so well. Ah, there's the rub.
(Huge thanks to Jerry Wolper for bringing this letter to my attention.)
• • • • •
• • • • •
@UniWatch @PhilHecken Chargers coach had a helmet on display tonight that didn't match any in their new set. pic.twitter.com/HfRjnaaDCo

— Matthew Salazar (@mtslzr) April 24, 2020
As for this year's draft: As you can see above, Chargers head coach Anthony Lynn had a helmet on display for last night's draft with a navy number and a yellow bolt. That doesn't match any of the versions shown in this week's unveiling.
In other uni-related news from last night's virtual draft:
• Giants GM Dave Gettlemann was ridiculed last night for wearing a mask while conducting the team's draft activities from his home, but had his reasons.
• The NFL announced yesterday that the logo on game balls is changing from gold to a metallic red, white, and blue. Commissioner Roger Goodell already had the new ball on display in his basement studio last night.
• We Ticker-mentioned last week that the 60 prospects participating in the draft had received caps for all 32 teams. Apparently they also received 32 jerseys. Actually, that should be 31 — no need for a Rams jersey, because they didn't have a first round pick (and, of course, haven't yet unveiled their new jersey design).
• The Bengals sent first round pick Joe Burrow and his parents No. 9 jerseys.
• With the NFL setting various brand restrictions for the draft, here are some of the "innovative" marketing deals that resulted (from @HitTheGlass).
• NYC radio station WFAN's Twitter feed reminded us that graphic design is important.
(My thanks to all contributors, including Mike Chamernik, Kevin Rice, and our own Anthony Emerson.)
• • • • •
• • • • •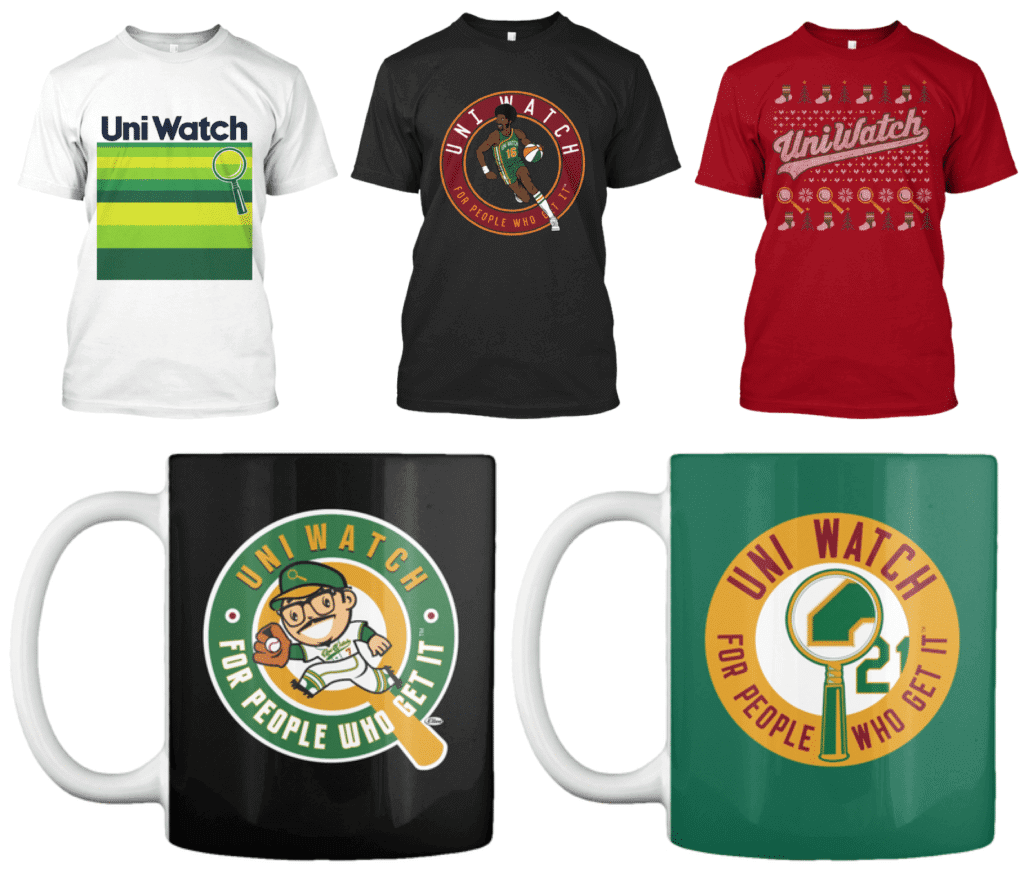 ITEM! Teespring raffle: Reader Ryan Harrington has generously offered to allow a lucky Uni Watch reader to choose up to $45 worth of merchandise from the Uni Watch Shop, and he'll pay for it. Nice!
This will be a one-day raffle. To enter, send an email to the raffle address by 8pm Eastern tonight. One entry per person. I'll announce the winner on Monday.
• • • • •
• • • • •
Click to enlarge
Hockey jersey reminder: In case you missed it on Thursday, we're now taking orders for another batch of Uni Watch hockey jerseys. Just like before, you'll have your choice of three different colors (see above) and two different tailoring cuts (standard "fan cut" and roomier "game cut," which will fit over pads for on-ice use).
To get in on these, you must order by next Friday, May 1. Full details here.
While we're at it:
• I still have the Uni Watch Classic Cap in sizes 7 and 7-7/8. And remember, the price has been reduced to a pandemic-friendly $35.99. (If you'd like to be notified when other fitted sizes and adjustables are back in stock after our factory reopens, email me.)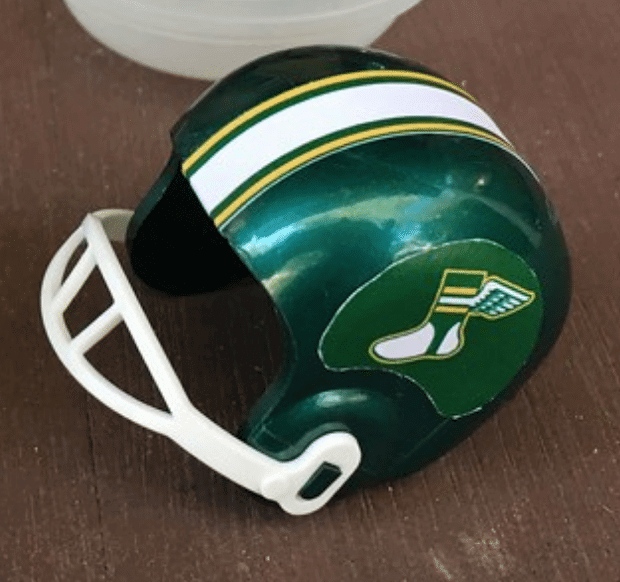 • I have one last green gumball helmet remaining. Who wants it? Now SOLD OUT!
• Uni Watch memberships, which usually cost $25, are reduced to $20 until further notice.
• You can get 15% off of everything in the Uni Watch Shop and the Naming Wrongs Shop by using the checkout code COMMUNITY.
• You can also support Uni Watch by making a donation.
My thanks, as always, for your consideration.
• • • • •
• • • • •
Click to enlarge
Hypothetically speaking: I ask you: Who doesn't enjoy a nice, tasty brat? Wouldn't you like to have one right about now?
If you'd like to discuss those questions with me, feel free to drop me a line. I'll bring extra napkins.
• • • • •
• • • • •
Membership update: Another 13 designs have been added to the membership card gallery, including Patrick Whelan's. Do you recognize the design? It's based on the late-'70s San Diego Clippers. Nice one! (Also of note: Benjamin Jones has become the first reader to have a card with the Browns' new design.)
Ordering a membership card is a good way to support Uni Watch (which, frankly, could use your support these days). And remember, as a gesture of comm-uni-ty solidarity, the price of a membership has been reduced from $25 to $20 until further notice.
As always, you can sign up for your own custom-designed card here, you can see all the cards we've designed so far here (now more than 2,600 of them!), and you can see how we produce the cards here.
• • • • •
• • • • •
The Ticker
By Anthony Emerson

Baseball News: Nats P Sean Doolittle's new glove is inspired by "Ramble On Rose" by the Grateful Dead, and includes a lyric and a rose (from Oleg Kvasha). … Also posted in the soccer section: Here's a cool photo of the Chicago White Sox before an exhibition game at Liverpool's Goodison Park, home of Everton FC. Everton also had its own baseball team (from Randy Williams). … Do you want to read an article about the weirdest defunct mascots in MLB history? Of course you do (from Kary Klismet). … Also from Kary: Here's a cool story about Stars Park, the defunct home stadium of the Negro Leagues' St. Louis Stars, and the efforts to preserve its memory at the site where a college baseball field now stands. … One more from Kary: The Fredricksburg Nationals had a "virtual opening day" yesterday, on what was supposed to be their actual opening day.

NFL News: Ohio Gov. Mike DeWine's latest sports-related coronavirus press conference move was adding Browns and Bengals helmets to the dais for the NFL draft (from Brian Spiess). … In case you were wondering, a Redditor has mocked up how the Colts' new "C-Indiana" logo would look on a helmet. They should stick with the horseshoe (from Kary Klismet). … John Roshell was watching '70s and '80s Raiders highlights on YouTube, and found a shot of K Errol Mann and QB David Humm wearing different NOB fonts in a 1977 games against the Vikings.

Hockey News: Did you know, the Capitals and Islanders went color vs. color in a 1989 game? It's a good look (from Ted Starkey). … The Alberta Junior Hockey League has revealed the logo of its newest team, the Blackfalds Bulldogs (from Dan Ukrainetz).

Hoops News: Here's a very cool video showing how the Thunder are turning their surplus T-shirts into masks (from @OKCTracker).
.

Soccer News: Here's a good article about how Coventry City fans revolted following the leak of an unpopular new badge design (from Kary Klismet). … Another day, another Liverpool kit leak (from Shawn Edwards). … Celtic FC photoshopped the Nike logo and advertisement logo off their kits in a story about then-Barcelona ST Samuel Eto'o playing at Celtic Park (from Ed Żelaski).

Grab Bag: UVA athletics posted a teaser video last night hinting at new logos. Another account then tweeted what it claimed to be the new logo set; that tweet was later deleted, but not before our own Jamie Rathjen — a proud UVA alum — had made this screen shot. "There's enough in them that matches up with the video" to suggest that these are legit, says Jamie. … This article traces the history of the mascots of some of North Carolina's smaller colleges (from Kary Klismet). … Check out the pants worn by Bobby Allison's pit crew in 1972! (from Patrick Lind). … Timmy Donahue writes in: "At the AF Academy graduation, cadets commissioning into the Space Force wore silver sashes. Cadets commissioning into the Air Force wore the traditional gold."
• • • • •
[adrotate group="2″]
• • • • •
Click to enlarge
What Paul did last night: Yesterday was a hard day. A bunch of things went wrong, and all day long I felt like I was scrambling to put out little fires but never quite caught up with all of them. So by the time porch o'clock rolled around, I didn't just want a beer — I needed one (or more than one). It's rare that I feel that way.
Porch time helped. So did a new dog we met, Anika. Such a cutie!
Okay, that's it for this week. Enjoy Phil's content this weekend, and I'll see you back here on Monday. I have some really good stuff in the pipeline, so it should be a really good Uni Watch week. Until then, take care and stay safe. — Paul