Click to enlarge
Matt Texter is a musician and graphic artist who lives in Erie, Pennsylvania. He likes to collect oddball items and frequently visits thrift shops in search of interesting finds. It was during one such visit, at a local Salvation Army, that he recently came across the shelf full toys and action figures shown above. At first glance, there was nothing unusual about them. But then he realized what set them apart: They'd all been painted in Cleveland Browns colors, and in some cases they had little uniform elements painted onto them as well.
Whoever did the paint jobs was pretty obsessed. Check out some of the toys:
"Once I took a closer look, I realized how detailed they were," says Matt. "All hand-painted. They're some of the coolest folk art pieces I've seen in a long time of digging in thrift shops. There must be 200 or 300 separate pieces, priced at 49 ¢ each. I didn't buy any of them, but I plan to go back to ask about buying the whole lot, even though I'm a Steelers fan. The effect of all of them together is what generates the most impact. If I am able to score the whole lot, I'll be excited to put them all out on the floor to just look at them."
Pretty cool. Who painted these, and why? How did they end up in a Salvo? If anyone knows, do tell.
(Big thanks to reader Tony Kellogg for letting me know about Matt Texter's find.)
•  •  •  •  •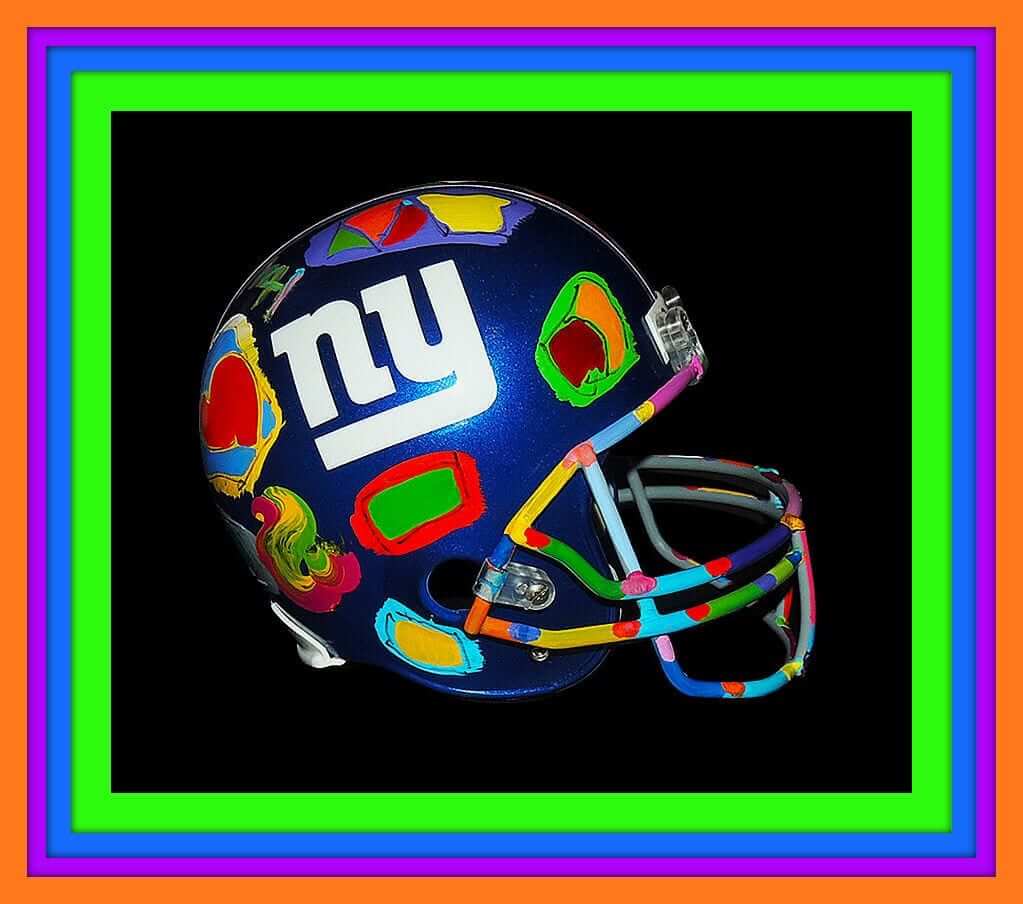 Click to enlarge, if you dare
Collector's Corner
By Brinke Guthrie
Now this Peter Max-painted Giants helmet is FAR OUT. "Super Bowl XLII Champions." This would look terrific at Uni Watch HQ "¦ if Paul wants to cough up $7K. [Not gonna happen. "" PL]
Looking for something a bit more conservative and budget-friendly? Collector's Corner has lots of suggestions that should meet your needs:
• Here's a 1969 "psychedelic" print ad that shows women lining up in NFL team-branded clothing. Gotta love that groovy late-1960s vibe!
• That, my friends, is how a uniform is worn. Note the sleeves — they have stripes! So do the socks! The numbers are embroidered, and the socks are perfect height. This was the Dallas defensive front when I lived there — from left, that's George Andrie, Bob Lilly, Jethro Pugh, and Larry Cole. Doomsday.
• I like this 1970s all-white Milwaukee Brewers rain jacket, c/o "Me and My RC."
• Here's a classic-looking Green Bay Packers varsity jacket from Sears, Roebuck & Co.
• Raise your hand, all of you who remember the 1960s ABA Oakland Oaks, represented on this nifty pin.
• This 1960s Colts coffee mug from Chase & Sanborn is in perfect shape.
• Here's a sheet of 1970s NHL logos for media use.
• Check out the logos on this 1960s NFL bed sheet. This was the same set of logos I used to have on an NFL thermal poncho. Sure wish I could see that one again.
• Look at the artwork on the cover of this 1967 Eagles yearbook — doesn't get any better than that. Great Eagles/Giants artwork here and here, too.
Rarely ever see a helmet pointing to the left, as on this 1980 Browns matchbook.
Follow Brinke on Twitter: @brinkeguthrie
•  •  •  •  •

Baseball News: On Friday I wrote about the White Sox and their upcoming 1976 throwback game, the exact date of which hasn't yet been announced. Now we have our first look at the jersey (from Ryan Gamble). "¦ Not sure I've ever seen emerald green-striped stirrups before. That's the Worcester Braveshearts, a collegiate summer team (from Brian Bednarski). "¦ Looks like Nats TV broadcaster FP Santangelo blacked out the Nike logo creep on his left sleeve. Good for him (screen shot by Noah Petro). "¦ Reds P Michael Lorenzen was wearing teammate Johnny Cueto's glove last night. "¦ Mets fans never get tired of Bill Buckner jokes. "¦ Stetson Pevear has noticed that Dodgers 3B Justin Turner appears to have some sort of repair — maybe duct tape? — on the index finger area of his glove. "¦ While working a 1987 Phillies/Expos game, Phils broadcaster Harry Kalas was doing the out-of-town scoreboard and made a point of mentioning that the Orioles were wearing orange jerseys as a slump-buster move (great find by Andrew Dixon).

College Football News: New nose bumpers for Michigan State. I don't really like them — the circular format doesn't work well within that horizontal space (from Mike Cole). "¦ Looks like lots of little changes for Kansas: silver numbers, new helmet stripe chrome facemask, KU on one side and a jayhawk on other (from @gimmethewooby). "¦ A thoroughbred racing jockey — not sure who — wore silks and a helmet patterend after a Nebraska football uni (from Barry Spears). "¦ Speaking of Nebraska, it looks like their new uniform, slated to be unveiled later this week, will have an even more annoying fabric pattern than Adidas's standard annoying fabric pattern. "¦ Here's a fairly detailed assessment of UMass's new uni set (from Nicholas Phelps). "¦ Yesterday was ACC Media Day, and some Miami players were wearing Nike jerseys. In case you missed it over the weekend, the Hurricanes have new uniforms from Adidas, which Phil reviewed here. "¦ Meanwhile, all attendees received an ACC Media Guide, which had an amusing surprise — the words "Fuck this shit" lurking on page 145. Guess someone involved in the guide's production was an unhappy camper. "¦ The collar on Florida State's home jersey now matches the road version. "¦ New uniforms for Presbyterian College.

Basketball News: Samantha Logic of the WNBA's San Antonio Stars had one of her numerals peeling off the other day. "¦ Ray Allen got a really cool jersey-based birthday cake (from Matt Edwards) … New court design for Northern Colorado (from Ryan Pfeifer).

Soccer News: New third kit for Norwich City. And if you're thinking there seems to be very little distinction between the team's, home, road, and third kits, you're right (from Brian Mazmanian and George Chilvers).

Grab Bag: Ooooh, check out this timeline of spacesuits (from Randy Peterson). "¦ The FIA is retiring No. 17 for F1 driver Jules Bianchi, who died last week after spending nine months in a coma following a crash at last October's Japanese Grand Prix (from Andrew Jobe). "¦ New Marvel Heroes jerseys for Round 21 of National Rugby League. "¦ Here's something I didn't know: High-end bicycles are easy to counterfeit. "¦ About freakin' time.