For the White Sox section of my recent ESPN column on the best throwback uni for each MLB team, I wrote, "Nope, no throwback of the infamous "Sox in shorts" uniform — at least not yet. But it's got to happen someday, right?"
That day could now be at hand. Reader Pat Budny pointed out yesterday that the White Sox are selling a 1976 throwback cap that, according to this listing, "will be worn on-field in late July, 2015." 1976, of course, is when the Sox debuted the shorts. Could they be planning a shorts-clad throwback game? Maybe just using the shorts for BP and then changing to regular throwback pants for the game?
It's a tantalizing possibility. I sent a note late yesterday afternoon to the Sox and to MLB, asking for details — no response yet.
Even if they don't wear the shorts, they basically can't go wrong with 1976 throwbacks, what with the untucked jerseys, the wide collars, and the clam-digger pants. I'm pretty sure this will mark the first time they've done a throwback from this era.
And when might this all be happening? Neither the Sox nor any of their scheduled opponents have any retro promotions planned for the next two weeks, so it's not clear when this game will be played. But hey, "late July" is a pretty short window, so we'll presumably find out soon.
Update: Word I'm now hearing is that the White Sox throwback game will likely be in August, not late July. Still no word on a final date or whether shorts will be involved.
• • • • •
ESPN reminder: In case you missed it yesterday, my latest ESPN column features the results of my Clippers redesign contest. Some really good stuff — don't miss.
• • • • •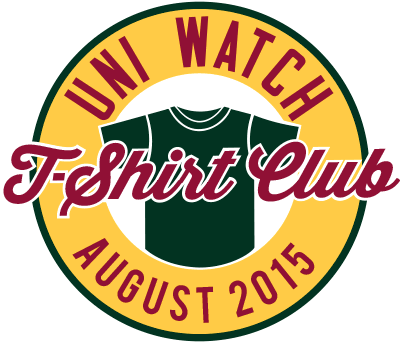 T-Shirt Club reminder: In case you missed it earlier this week, the Uni Watch T-Shirt Club's latest design — the green alternate shirt — is now available. And in response to reader requests, we've added a women's V-neck option, which comes in a slightly lighter shade of green. The men's crew neck and women's V-neck options are both shown below (click to enlarge):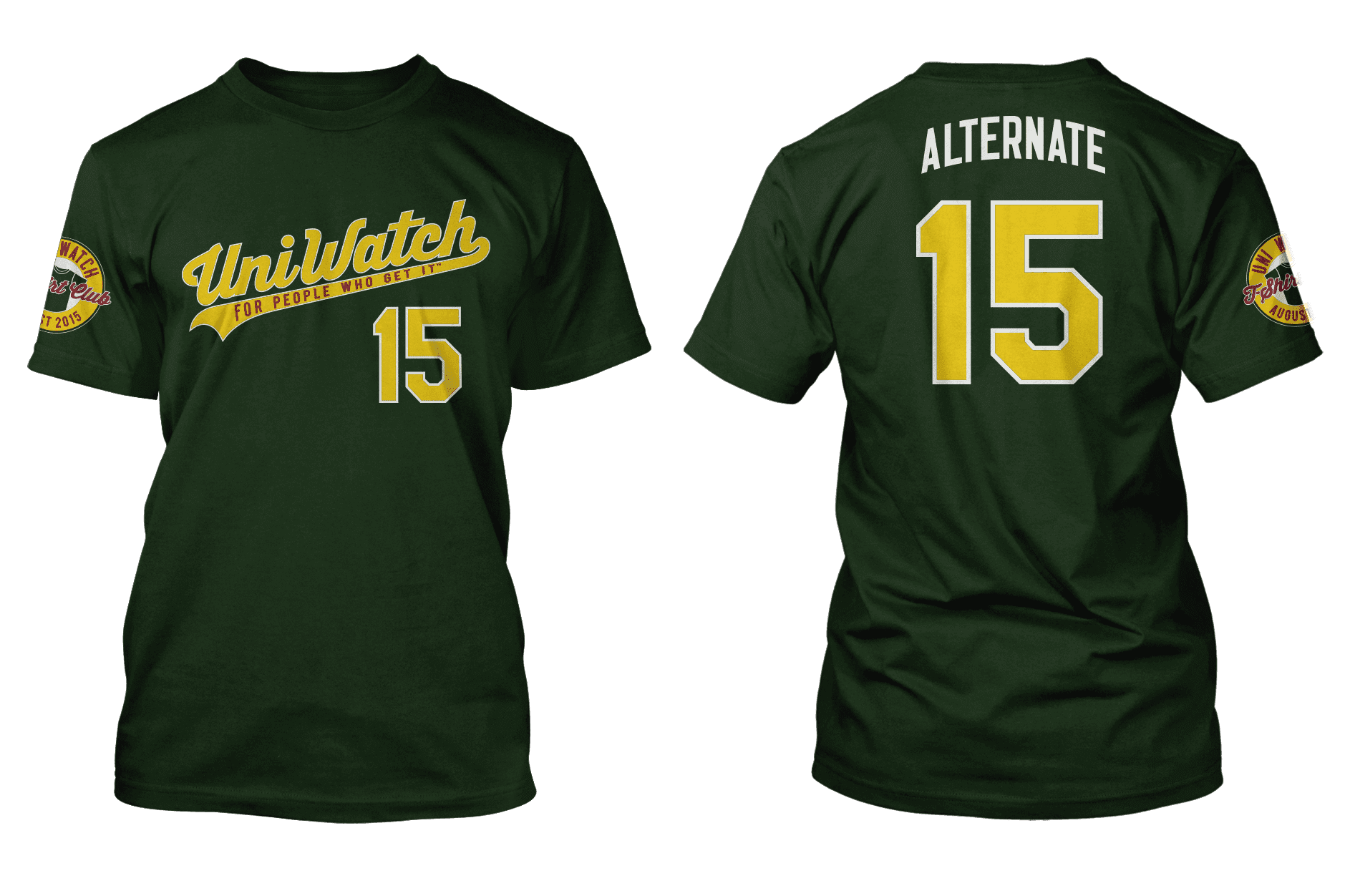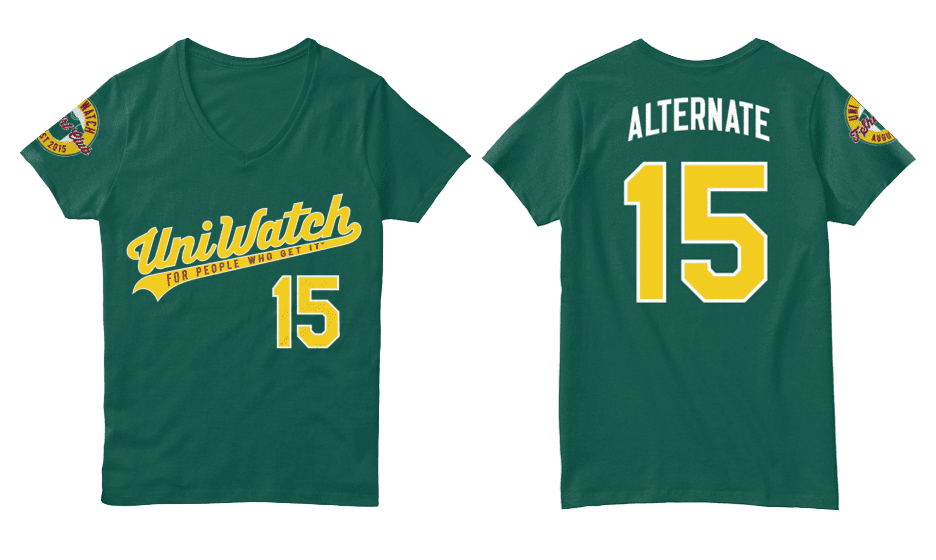 To order, go here, and you can get further info here.
• • • • •

'Skins Watch: Whether you're pro-Wahoo or anti-Wahoo, you definitely need to read this spectacular article on Wahoo's secret history. It shows that a version of the Chief appeared in Cleveland newspapers 15 years before the official logo was commissioned by Bill Veeck, and that the Wahoo name may have originated with pitcher Allie Reynolds! Essential reading — don't miss (big thanks to William Yurasko). "¦ The 'Skins name controversy was the source of a Jeopardy! answer the other day (from Chris Flinn).

Baseball News: The Astros will wear tequila sunrise throwbacks tomorrow night. Their opponents, the Rangers, will also be going retro. … John Candy's widow recently uploaded video of a 1982 SCTV softball game, with Candy in a Mellonville Mexicans uniform and lots of other good unis (from Mike Duffy). "¦ Christmas in July jerseys last night for the Reading Fightins (from Eric Scarcella). "¦ Cognitive dissonance: A bank robber pulled a heist on Long Island while wearing a Red Sox cap and a Yankees shirt (thanks, Phil). "¦ More Xmas in July-ness, this time from the Wisconsin Timber Rattlers (from Jon Gausewitz). "¦ The Reno Aces will wear jerseys saluting wildland firefighters on July 25 (from @NVHoonigan). "¦ Star Wars jerseys for the Bradenton Marauders (from Matthew Cox). "¦ Jimmy Buffet jerseys tonight for the Peoria Chiefs (from MrMichael). "¦ Tequila sunrise jerseys tomorrow for the Fresno Grizzlies (from Luis Gustavo). "¦ For a while the Astrodome had a mix of Astroturf and real grass. Love the astronaut groundskeeper with the vacuum cleaner (from @synoptico). "¦ Iowa Hawkeye-themed jerseys tonight for the Iowa Cubs.

NFL/CFL News: The Dolphins have painted over a bunch of murals by a controversial artist at their stadium. "¦ The Montreal Alouettes wore their alternate "signature" uniforms last night. Lots of additional photos here (from Mike Styczen).

College Football News: Here's a neat timeline of Minnesota Gophers uni history (thanks, Phil). "¦ Penn State added NOBs after the Sandusky/Paterno scandal — the stated rationale was to remind the players that they shared individual responsibility for everything connected to the team — but now they're removing the NOBs, plus they're going with the Nikelace. "¦ Here's a look at Virginia Tech's new white alternate helmet (from Andrew Cosentino). "¦ New helmets and white uniforms for Troy.

Hockey News: Penguins goalie Matt Murray spent some time talking about his mask design. "¦ Way back in the 1920s, there was an NHL team called the Pittsburgh Pirates, and they had a seriously killer uniform (from @penguinshistory).

Basketball News: Dwyane Wade wore No. 5 during his rookie stint in the NBA Summer League. "¦ Conrad Burry, whose leaks and scoops are usually reliable, says these are next year's NBA East and West All-Star logos. … Interesting editorial about Kansas's uniforms in the recent World University Games (from Matt Larsen).

Soccer News: New shirt for Chelsea. "¦ New white away uniforms for Liverpool. Further info, photos, and video here and here (from JohnMark Fisher).

Grab Bag: Looks like the new Netflix series Wet Hot American Summer: First Day at Camp features some killer striped tube socks. "¦ Good story about how college apparel deals were often much more contentious back in the day than they are now (from Steve Ceruolo). "¦ Jon Solomonson notes that the Red Lobter menu includes a logo timeline. "¦ Here's a very entertaining interactive map of profanities, cuss words, and the like. "¦ New rugby home uniforms for the Leicester Tigers (from Eric Bangeman). "¦ Cricket note from Graham Clayton, who writes: "During the cricket Test Match at Chennai in January 1977 between India and England, England fast bowler John Lever wore Vaseline-impregnated gauze on his eyebrows to stop sweating dripping into his eyes." "¦ The U. of Utah is limiting the uni numbers that will be offered on retail jerseys (from Paul Cherrington). "¦ New logos and uniforms for Howard University athletics. "¦ Plans to build a "bike helmet"-shaped stadium for the 2020 Tokyo Olympics have been scrapped.