Good morning! Hope you had a good weekend, as I did, and that you're looking forward to this first full week of summer.
Now then: I like to think that I've heard most of the major uni-related stories of the past generation or so, especially the ones involving star players. Sometimes, though, I'll come across a storyline that's new to me. That's the case today — maybe it's old news to some of you, but it's new news to me, so I want to talk about it today.
Here's the deal: As we all know, the NFL marked its 75th anniversary in 1994 with a diamond-shaped anniversary patch, which players wore on the upper-left chest, like this:
But here's the thing I didn't know: Cowboys quarterback Troy Aikman liked to wipe the sweat off his face with that part of his jersey (which sounds awkward to me, but whatever), and he thought the patch would be scratchy against his face. So for that year's preseason games, he had the team's equipment staff put the patch on the other side of his jersey. I haven't been able to find any photos from those preseason games, but low-res video from one of the games — against the Oilers on Aug. 15 — is available here. Here's a screen shot showing Aikman with the patch on the other side: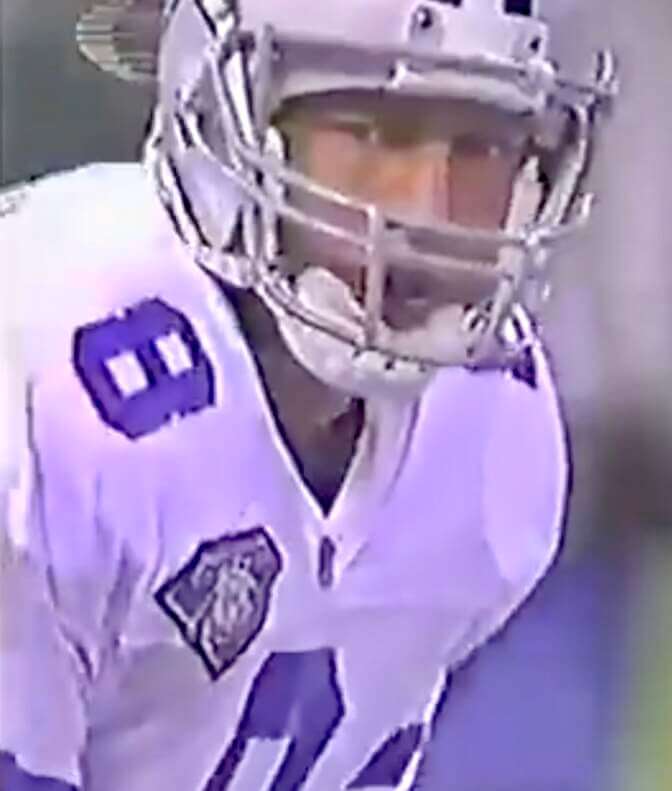 As it turns out, the NFL was not happy about this. They told Aikman to move the patch back to its proper side or else he'd face a fine, as explained in this AP item that ran in dozens of newspapers on Sept. 6:
So that was that, right? Wrong. While Aikman dutifully had his patch moved to the proper side, he wore it much lower than everyone else, on all four of his 1994 jerseys, so he wouldn't be rubbed the wrong way on that crucial bit of fabric where he liked to mop his face:
The difference was particularly obvious when Aikman was standing near a teammate:
Apparently the league didn't ding him for that, because he did it all season long.
I never knew anything about any of this until a few days ago. Did you? Apparently the folks at Mitchell & Ness didn't, because they sell a 1994 Aikman jersey with the patch riding high:
One final thought: All of this was supposedly driven by Aikman's habit of wiping his face on the upper-left portion of his jersey, but I don't recall ever seeing him do that. I guess it must have been something he did on the sidelines, because you can't wipe your face with your helmet on, right? Does anyone remember seeing him do this? Any photos or video?
(Big thanks to Moe Khan for bringing this issue to my attention; to Jeremy Snyder — aka @QuirkyResearch — for invaluable research assistance; and to reader/commenter Rob S. for pointing out a 1994 Aikman jersey that I hadn't included.)