Click To Enlarge
By Phil Hecken
Here we go again. It seems only a year or so ago, I wrote about the Miami Hurricanes getting new uniforms, and thanks to their new deal with adidas, the 'Canes got a new set last night.
Gone are "Smoke," "Surge," "Juice," and "Stormtrooper" (Nike's names for the gray, green, orange and white unis). Adidas has replaced those with (for now) just three: an orange, a green and a white (click on these and any photos below to enlarge):
The Canes unveiled their new uniforms at Club LIV at the Fontainebleau Hotel in Miami Beach to much fanfare — and while they contain the "trademark" treadmarks of (almost) all adidas unis, they're fairly restrained.
The adidas press release corporate-speak describes the uniforms like so:
Developed in collaboration with the University of Miami athletic department, the team's new look is highlighted by updated metallic stripes on the jerseys and pants, incorporating hurricane style cuts and patterns throughout the new uniform. Additionally, the "Hurricanes" moniker is strategically placed across the ribbing of the inside collar for the players to see when they don the uniform, while the classic oversized "U" logo is stitched into on the back of the jersey for all to view.

Made with a cutting-edge, proprietary yarn blend that increases durability and abrasion resistance, Primeknit is the premier compression uniform system, featuring the latest generation of adidas TECHFIT technology. Primeknit helps keep players cool and increases range of motion, giving athletes an unrivaled level of comfort and allowing them to perform at their highest levels. The jersey's padlock system secures tension over the shoulder pads, while the bodymap fit adheres to the player, making it difficult for opponents to grab, hold or tackle.
Whatever.
Before we look a bit more closely at the unis, the good news appears as though the 'classic' white helmet is the ONLY helmet (so far) the team will have — this not only looks great, but will please the traditionalists (if there are any left):
You will recall (and if you don't, you can refer to my linked article from last year) that the Canes had introduced a couple of new helmets with the last uni set.
I already mentioned that the uniforms have the 'treadmark' pattern on the jersey — it's not as apparent on the white jersey, but it stands out on the green and the orange ones:
An interesting design element (which we saw with the most recent UCLA jersey as well) is a striping pattern that contains breaks, and this one appears to resemble, for lack of a better word, feathers (yes, adidas describes them as "updated metallic stripes on the jerseys and pants, incorporating hurricane style cuts and patterns throughout the new uniform"):
This pattern is also seen in the pants 'stripe':
The treadmarks (despite all the accompanying corporate-speak about how they're faster, stronger, lighter, etc) are an annoying design feature — much like the Nikelace has become a ubiquitous design element for Nike. But I actually like the shoulder and pants-stripe pattern. It's evocative of past U uniforms, but (of course) with a 'modern' twist. I'm not really sure (despite the press release) what look they're going for with the pattern, but for now I don't hate it. It might even grow on me. It could certainly have been worse.
At the unveiling last night, the team announced (and you'll see below) that the uniforms are designed to be worn in mix-and-match style. While it's not quite as good as seeing them on the field, you can get a better idea of how the uniforms will look below (with a big thanks to twitter user @jonathanlaura for some of these shots):
<
Overall, I think, especially considering what adidas had done design-wise to the past few schools we've seen in the past year — these turned out OK. I like that there is (for now) no gray and no black, as the orange and green are two fantastic colors that work well together. It's also nice that there is only one helmet (again, so far). And despite the awful treadmarks, they probably won't be uber-noticeable unless you're right up close. And this may be damning with faint praise, but they could have been so much worse. They kept it fairly simple (having three basically identical uniforms in three different colors), even the mixing and matching (I really like that white/orange/white look) should look pretty good.
If you want to see more of the unis (although it's pretty much just stock adidas photos), there is a full gallery here, along with a lot of corporate bullshit commentary from those responsible for these unis.
OK, readers — what do you think?
Meanwhile…on the Diamond…
…the Rangers and Astros played a throwback game yesterday, with the Astros wearing (yet again — but that's perfectly OK) their 'tequila sunrise' uniforms, which they've worn before this year and have worn in the past. Their opponents, the Texas Rangers, wore their powder blue road uniforms which they wore from 1976 through 1982. I didn't get to see any of the game, but from photos, it looked like the usual assortment of hosiery styles (stirrups, socks and pajama coverings) was present. Of course, since the Astros and Rangers were in different leagues (and interleague play didn't begin until 1997), the uni matchup that took place yesterday could never have taken place in a regular season game before. Not that any of us (except maybe Jimmer Vilk) would hope for a uni clash like this every day, it was fun to see the rainbow guts vs. the powder blues once.
More photos can be seen here. And you can watch video and a brawl here (thanks, Brinke).
But that wasn't the only "special" uniform game yesterday.
The Pirates and Brewers engaged in a Negro League throwback game:
Both teams have worn Negro League throwbacks before (and both do them very well) — The Brewers donned uniforms of the 1923 Bears. The Pirates wore jerseys from the Pittsburgh Crawfords (1931-38). Even though the eras didn't quite match up, it was still a great looking game. You can see more photos here.
Uni Tweaks Concepts
We have another new set of tweaks, er…concepts today. After discussion with a number of readers, it's probably more apropos to call most of the reader submissions "concepts" rather than tweaks. So that's that.
So if you've concept for any sport, or just a tweak or wholesale revision, send them my way.
Please do try to keep your descriptions to ~50 words (give or take) per image — if you have three uniform concepts in one image, then obviously, you can go a little over, but no novels, OK? OK!. You guys have usually been good with keeping the descriptions pretty short, and I thank you for that.
Like the colorizations, I'm going to run these as inline pics — click on each one to enlarge.
And so, lets begin:
~~~
First up today is Lee Traylor who has a new look for the Cardinals:
Hi Phil,

Thought I'd take a crack at re-designing the Arizona Cardinals and wanted to share.

Thanks,

Lee Traylor
. . .
And we close today with Matt Armstrong with an updated concept for the Atlanta Hawks:
Phil,

I have refined one of my road uni concepts for the Atlanta Hawks. I'm really nervous about our rumored new uniforms for next season if our Christmas concept is any indication. I'm hoping for something closer to the "˜Nique era with a modern tweak to take advantage of the redesigned "Pacman" logo.

Matt Armstrong
. . .
And that's it for today. Back with more next time.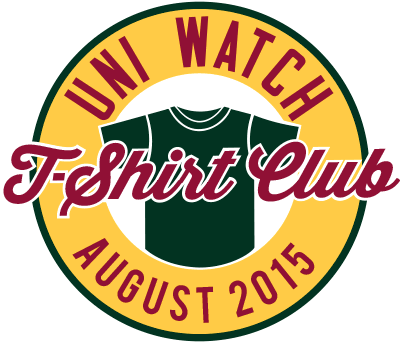 T-Shirt Club reminder: In case you missed it earlier this week, the Uni Watch T-Shirt Club's latest design — the green alternate shirt — is now available. And in response to reader requests, we've added a women's V-neck option, which comes in a slightly lighter shade of green. The men's crew neck and women's V-neck options are both shown below (click to enlarge):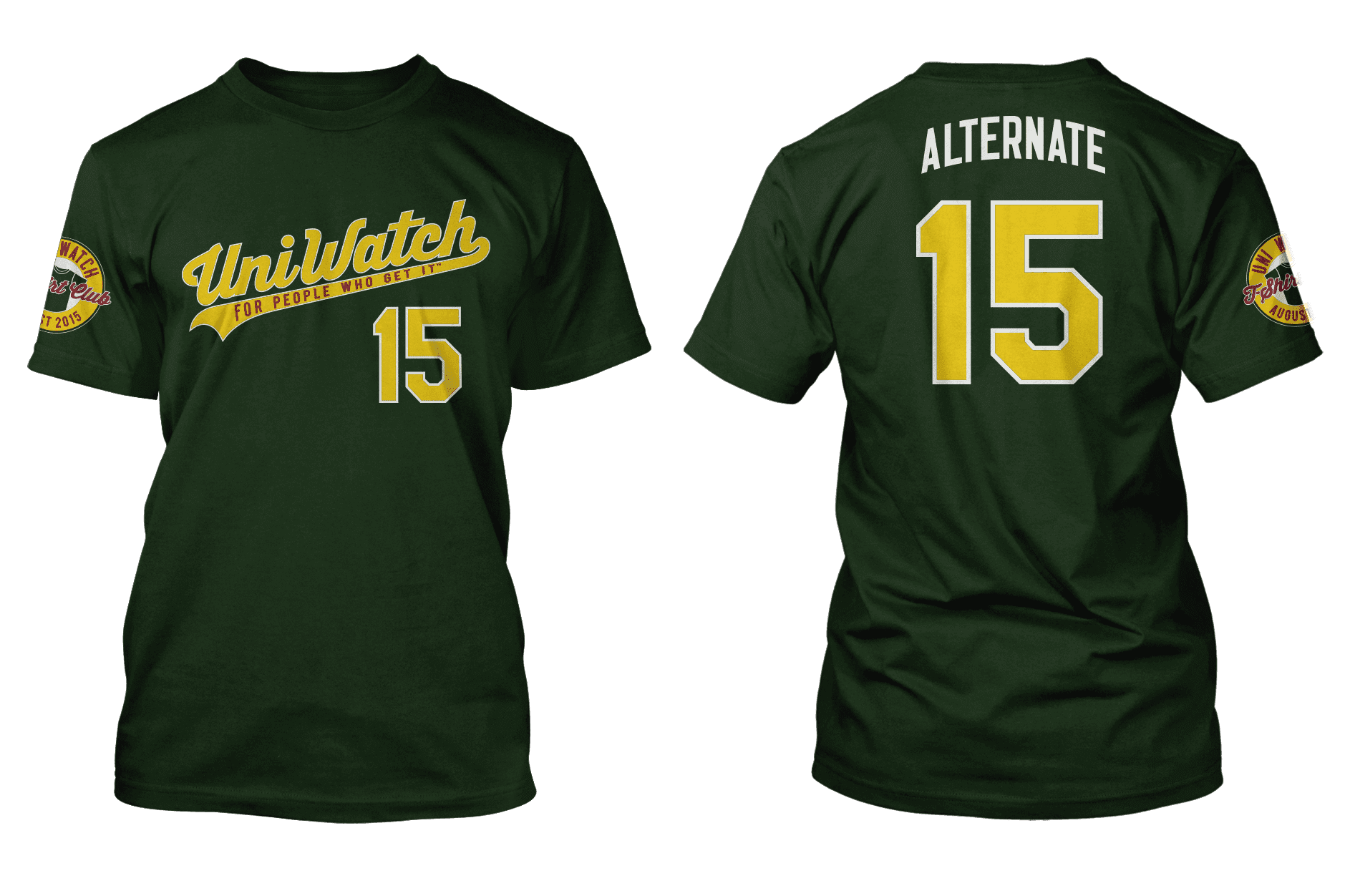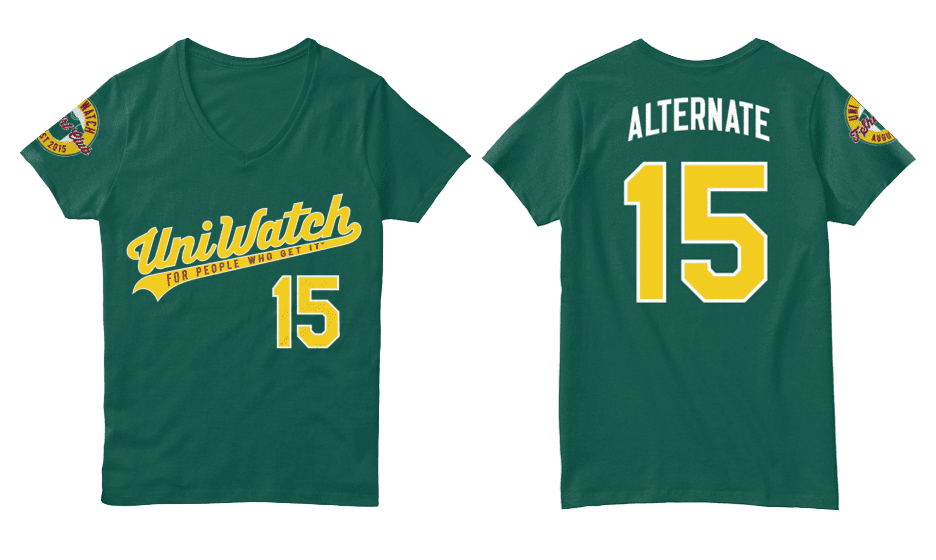 To order, go here, and you can get further info here.
Uni Watch News Ticker:

Baseball News: Paul (and baseball historian John Thorn) are quoted in this article, "Purists say longer baseball pants is a sock in the eye". Good stuff there. … Here's an additional look at the All-Star gear for Kris Bryant (from Warren Junium). … Cool shot of a 1980 Buffalo Bisons card for Jim Buckner (from Aaron Husul) who notes they were a Pirates farm team at the time. … Also from Aaron, here's an entire album of Joe Pepitone showing off his various hair and uniforms over the years. … The Worcester Bravehearts have got themselves some really nice hosiery (shame not all the players are sporting it tho). From Worcester Bravehearts. … "The Birmingham Barons/Chicago White Sox relationships is one of the best parent club/farm team is one of the best I have ever seen," writes Dustin Semore. "From the players wearing White Sox batting helmets to adapting White Sox logos to match Birmingham.I was at a Barons game and saw the classic 'Swinging Man' logo – but instead of 'Sox' underneath – there is 'BHAM.' I love it." … Is this a hint at the new Padres' uniforms? "Yes, I know this is a stretch, but look at the jersey and number font of this toy for sale by MLB for the Padres' All Star Game," says C. Tenorio. "It has to be somewhat reminiscent of the host team's (next) uniform, right?" … Yesterday, the Fresno Grizzlies threwback to the Astros' rainbow guts uniforms. … The Delmarva Shorebirds did the Christmas in July thingy (via Travis Nardella). … Lots of players now wear those oven mitt-style sliding gloves, but Mike Napoli's seems larger than most (via Paul). … Whoops — bit of an apostrophe catastrophe on this Reds t-shirt giveaway (nice spot by Jay Mazzone).

NFL/Football News: "I bought this jersey in about 1976 from an ad in football digest," writes Rob Bartlett. "My memory is that it was the Hawaii team in the WFL. When I look at any archive pictures the color is wrong. Can you help with what team it actually is, or is it a Hawaii?" Here are some tags and a patch. Anyone know what team this is? … "Not sure if you've covered it, but in SI's obit for Ken Stabler they ran a picture of him with what appears to be a yellow smiley face sicker on the front of his helmet," says Charles Noerenberg. "I found another image with the same sticker." … Is this the Seahawks 40th Anniversary logo? That was found on a Washington State Lottery ticket by Ryan Wetstein. … Here's the new Speedform from Under Armour for ND Football (thanks to Warren Junium). Also from Warren, the Cincinnati Football Under Armour Video, who writes, "Look at the football team and all their UA gear." … "I found these cool NFL items at the Brimfield Flea Market," says James Hayes. "The chair was a crazy $600. Unsure about the Denver stuff. Seller was M.I.A. The Miami chair would look better with Pat the Patriot." … Now that Miami is with adidas, here are the Five Worst Miami Uniforms Of the Nike Era, at least according to Fansided. … Rex Ryan went skydiving the other day. Here's a look at the patch on his jacket (from Aaron Husul). … I think we've seen these before, but here's a look at the UMass uniforms for 2015 (from UMass Lad). … Lotsa shoppers yesterday: "Saw this kids shirt today at Target," says Mike Wissman. "Interesting version of Steely McBeam. Wonder if it's something new or just for kids." … Reader Joe Bailey was at a conference in New Orleans, doing some shopping with his wife and "saw this Sir Saint dish towel in a trendy women's shop. As much as I love brownie the elf, I appreciate the saints continued use of this logo." … Here's a look at the new football helmet for Bishop Carroll Catholic High School in Ebensburg, PA (from Zane Heiple).

NBA/Basketball News: "If the HWC patch is for Hardwood Classic but 'Hardwood' is one word, then isn't this a fukk up?" asks Douglas Ford. "Or do you think HWC is an acronym for something else?"

Hockey News: Here's a pretty cool shot of a 1973 Munro WHL table hockey game (from Aaron Husul). Also from Aaron, this Buffalo Bisons hockey team jacket, which looks to be from the 1931-32 season. … Still more from Aaron, this 'undated' Lake Placid jersey [Looks like a Ralph Lauren sweatshirt — PH]. … Check out the beautiful Buffalo Bisons sweater (also from Aaron). … Finally (and sorry for the small images on some of these), check out this this old hockey valentine card (Aaron again).

Soccer News: Players' first names are embroided on the bottom right of Japanese team Jubilo Iwata's shirts, a pretty unique feature since the Urawa Red Diamonds did it back in 2003 (from Thomas Fiers). … The LA Galaxy's Steven Gerrard still repping his old club with his Liverpool shin guards (from Holy Calamity). … When Gordon Strachan was playing for Manchester United in the 1980's, he was the spokesperson for the "Centapost" football training game, and wore a unique Centapost jersey in advertisements for the game (thanks to Graham Clayton).

Grab Bag: Namibia revealed their new RWC kit. Says submitter Eric Bangeman, "A definite step up for the Welwitschias, who generally wear rather plain kit." … Check out this pic of Brendan Todd at the Open with an MLB.com logo on his jacket (nice grab by Douglas Ford. … The Curling team's LA Kings 'Burger King' outfits certainly make a fashion statement (from John Muir). … Canada Day shirt seen in the wild: "Here's a (bad) screenshot of me wearing my Canada Day t-shirt of the month at the All Star game. I'm the one in red," says Bruce Strang. "Okay, I'm standing, situated above the T, just after Joc Pederson caught a Manny Machado fly ball at the warning track. Product placement, baby."
That's it for today kids! I'll catch you guys next weekend — everyone have a great week.
Follow me on Twitter @PhilHecken.
Peace.
.. … ..
"The Marlins' tribute to Italy was tasteful, and nicely subtle with il tricolore and the Marlins name in Azzurri blue. Why can't MLB do that with the Stars and Stripes and Canada Day unis?"
–diggerjohm99