Serious historical find today, kids, and it's a follow-up to something we first discussed back in 2012. In May of that year we addressed the rumor that 49ers running back Doug Cunningham had worn a "Goober" nickNOB in the early 1970s. At the time, the only rear-view photo of Cunningham that anyone could produce was this shot showing a conventional NOB, and at least one longtime Niners fan assured me that the nickNOB rumor was bogus and that the team would never have sent Cunningham onto the field wearing "Goober." Absent any evidence to the contrary, that appeared to be that.
Five months later, in October of 2012, a 1970 newspaper column turned up indicating that Cunningham had indeed worn the "Goober" nickNOB. But we still didn't have a photo.
Now, thanks to reader Mike Traverse, we finally do. Dig: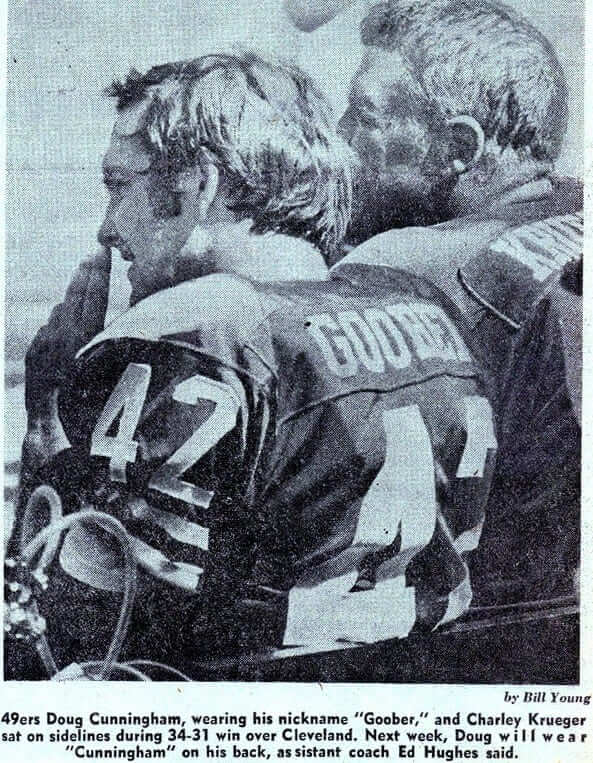 That photo and text appeared in The San Francisco Chronicle on Sept. 29, 1970. Mike found them in an old 49ers-centric scrapbook that he acquired a few years ago.
The Chronicle account indicates that Cunningham wore his nickNOB on Sept. 27, 1970, against the Browns. That was the Niners' second game of the season (yes, NFL seasons started later back then), and 1970 was the first year that NFL teams wore NOBs, so Cunningham probably wore the first nickNOB in NFL history. His only possible competitor for that distinction, at least that I'm currently aware of, would be Joe "Turkey" Jones. Jones did play in 1970, but I'm not sure which season, much less which week, his nickNOB appeared in. It's also possible that Jones and Cunningham both debuted their nickNOBs while facing each other in that 1970 Niners/Browns game.
Super-duper thanks to Mike for this major addition to uniform history. It's a nice coincidence that he sent it my way just a few days after I ran an ESPN column on nickNOBs. (I'll have a follow-up column tomorrow, incidentally, which will address lots of other NOB variations — FNOB, FIOB, FiNOBs, etc.)
+ + + + +
Collector's Corner
By Brinke Guthrie
I cannot recommend this item highly enough: A lot of what I learned about the technical side of football came out of this, a 1973 NFL Playbook. Brilliant graphics and solid writing. And this one is signed by Dick LeBeau, too. Fantastic. [Seconded. My own NFL Playbook, given to me by my father when I was eight or nine years old, is among my most prized possessions. Great info, great illustrations, great package all around. Don't miss. "" PL]
Other items we have for you this week:
• I wasn't playing Tudor NFL Football by the time these came out, but Seahawks fans, anxiously awaiting Sunday's Niners rematch, might want these guys for their collection.
• Did I say Niners? Go vintage in style with this jacket.
• This card meant you were an official member of the Great Gretzky fan club.
• Here's a batch of Minnesota North Stars drinking cups, from their Met Center arena. [Ooooh, I like those a lot! "" PL]
• Here's a set of Steelers Russian nesting dolls.
• Here we have a nice set of 1969-1970-era NHL hockey sticks.
• Here's a rarity: a Chiquita radio pocket radio with the NFL shield. Hurry on this one — the auction closes this afternoon.
• Got a little guy at home who's an Iggles fan? Suit him up in this vintage varsity jacket from Sears.
• Nice 1970s KC Chiefs sweater on Etsy. Can't say I've ever seen an NFL shield on the cuff of a Starter item before.
• Finally, I am including this 1972 SI cover shot of Joe Torre for one reason: He sure could have lined up a shaver endorsement for those sideburns.
Seen something on eBay or Etsy that you think would make good Collector's Corner fodder? Send your submissions here.
+ + + + +
If you can't see the slideshow above, click here
NFL raffle: Ever heard of Ligarius Jennings? Right, me neither. But he played a few games for the Bengals in 2001 and '02, and now you can own one of his game-used jerseys for free! It's been generously donated by reader David Sonny, who says it measures about 19 inches from pit to pit, and 29.5 inches from the back of the collar to the hemline.
To enter the raffle for this jersey, send an email with your shipping address to the giveaway address by this 7pm Eastern this Friday, Jan. 17. I'll announce the winner next Monday.
+ + + + +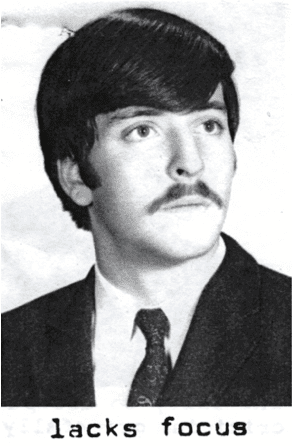 PermaRec update: Been nearly two months since I last posted anything on Permanent Record, but now I have a new entry and it's a doozy: an interview with a guy who found a bunch of 1960s and '70s grad school application files in the trash (including the photo and assessment shown at left) and used them as the basis for a great little project. Check it out here.
Slate/dentistry update: Last Friday I mentioned that I'd written a new article for Slate, about parents pulling out their kids' loose teeth by tying one end of a string to the tooth and the other end to a moving object (a door, a baseball, a cat, you name it), and that the link was "coming soon." As it turnd out, the article didn't go up on Friday, but it's up now, and I don't mind saying that it's pretty damn entertaining. Enjoy.
+ + + + +
Hypothetically speaking: See that cute little girl over there on the right? Imagine how much cuter she'd look, just hypothetically, if she had the logo from a certain theoretical T-shirt emblazoned on her onesie. Wouldn't that be something?
Of course, I'm just musing about hypothetical situations here. But sometimes it's fun to do that. If you want to do it too, give me a shout and we'll talk about assorted theories and hypotheses.
+ + + + +
Tick-Tock: Today's Ticker was compiled and written by Garrett McGrath, except for 'Skins Watch, which is by Paul.

'Skins Watch: Last week's news about the Indians demoting Chief Wahoo to secondary logo status has prompted a good piece arguing that the team should get permission from the Penobscot tribe if it wants to keep using Wahoo in any capacity (from Kevin Whisman).

Baseball News: The Chicago Cubs introduced the internet yesterday to Clark the Cub, their first official mascot franchise history (from Andrew Costentino, Bob Gassel and Ryan Lindemann). Clark — like all modern-day bears — can use Twitter decently well! "Seems like the Cubs ripped off their new mascot from the Disney cartoon TaleSpin," says Duncan Wilson. … "These look to be Spring Training photos from 1908," says Mike Powers. "The Cubs are wearing jackets that I have never seen before." … The Oakland A's seem to have a new road hat, although they still haven't officially acknowledged it yet (from Rudy Gutierrez). … A certain washed-up old guy who runs a tea store wears an "old timey" Mets hat (from Terence Kearns).

Football News: Paul neglected to mention yesterday that Broncos WR Wes Welker was wearing a bigger helmet on Sunday to protect against concussions. … Peyton Manning couldn't keep in that all he wanted was a particular kind of crappy light beer in the postgame press conference on Sunday. Said company rushed out a tweet to captialize on a great marketing ($$$) opportunity and proved they don't understand football. … Reader John Benson made modern versions of some of the older NFL franchises that are no longer with us. … Even Coach Harbaugh's (the one whose team is still playing football) postgame locker room speeches have their own logo (from Brinke Guthrie). … The 49ers victory led to a boost in Kapernicking (from Tommy Turner). … On the losing side of the contest, the Panthers posted a picture of Mike Tolbert with a chrome novelty team helmet (from Yusuke Toyoda). … "I just bought a November 1961 Sports Illustrated," says Chris LaBella. "In the magazine there was this ad for a magnetic football game." … If Auburn won the 2013 National Championship last week, this is what the merchandise would have looked like.

Soccer News: Soccer Uni leak roundup: World Cup kits for Australia (Home and Away), Bosnia (Home and Away), South Korea (Home and Away), Croatia (Home), and Portugal (Home). Non-World Cup kits for Slovenia (Away) and Zimbabwe (Home and Away). Club kits for Tijuana, Arsenal, and Club America Third (big thanks to Trevor Williams).

Basketball News: Kansas wore road throwbacks last night against Iowa State. … George Washington men's team will wear D.C.-inspired unis versus VCU. … "This Saturday during the first half of the NCAA Division II women's basketball game between California (PA) and Pitt-Johnstown." says Gary Smith, "One of the referees was wearing all black."

Grab Bag: The Los Angeles Dodgers Kings wore Dodgers inspired warm-ups to promote their upcoming Stadium Series participation. … Taiwan's special forces uniforms are horrifying (from Kevin Kleinhans). … The FIA released driver numbers for the upcoming season, which they have to keep for the duration of their careers.
+ + + + +

What Paul did last night: So I'm doing the dishes last night and I'm washing this glass, see — a really nice glass with a cool bowling graphic on it. My friend Jessie was drinking from it just the other day and mentioned how much she liked it. I used to have two of them, but somebody broke one of them a few years back, grrrrr.
Anyway, I'm washing the glass and totally doing it the same way I always do, nothing extreme or out of the ordinary, when all of a sudden the glass breaks right there in my hands. Like, out of nowhere! And I'm so stunned by this development — and also bummed over the loss of this cool glass — that at first I don't even realize I'm bleeding all over the fucking sink. But I kinda figure it out soon enough, you know?
Turns out it was my right index finger, between the knuckle and the first joint. Pretty deep cut — maybe down to the bone — but also very clean. I rinsed it out and then did my best to wrap it in gauze and tape. I figured if blood started oozing out of the wrap, I'd head to the ER to get stitches (which would be a fun early test of the new health insurance policy I just got under the Affordable Care Act). If it seemed under control, I'd leave it alone and hope for the best. That's what ended up happening. It hurts, but I'll live.
Looked on eBay and Etsy to see if I could replace the glass(es), but no dice. Dang.
Meanwhile, the real lesson of the story is this: Someone out there really needs to buy me a goddamn dishwasher already.