We've known since last year that the Seahawks would be reviving their old blue/silver uniform design as a throwback for 2023. Today they finally unveiled the retro threads, and I have to say they look great. My only real gripe is that Nike's new template interrupts the piping on the collar, as you can see above. (I realize some people may also feel that the pants don't look sufficiently metallic, but that ship sailed more than a decade ago.)
The design is based on the team's 1990s uniforms — blue facemasks, no sock stripes. Here's a bunch of additional photos:
One oddity: The NOB font isn't historically accurate. That's such an easy thing to get right — why would they botch it? But look: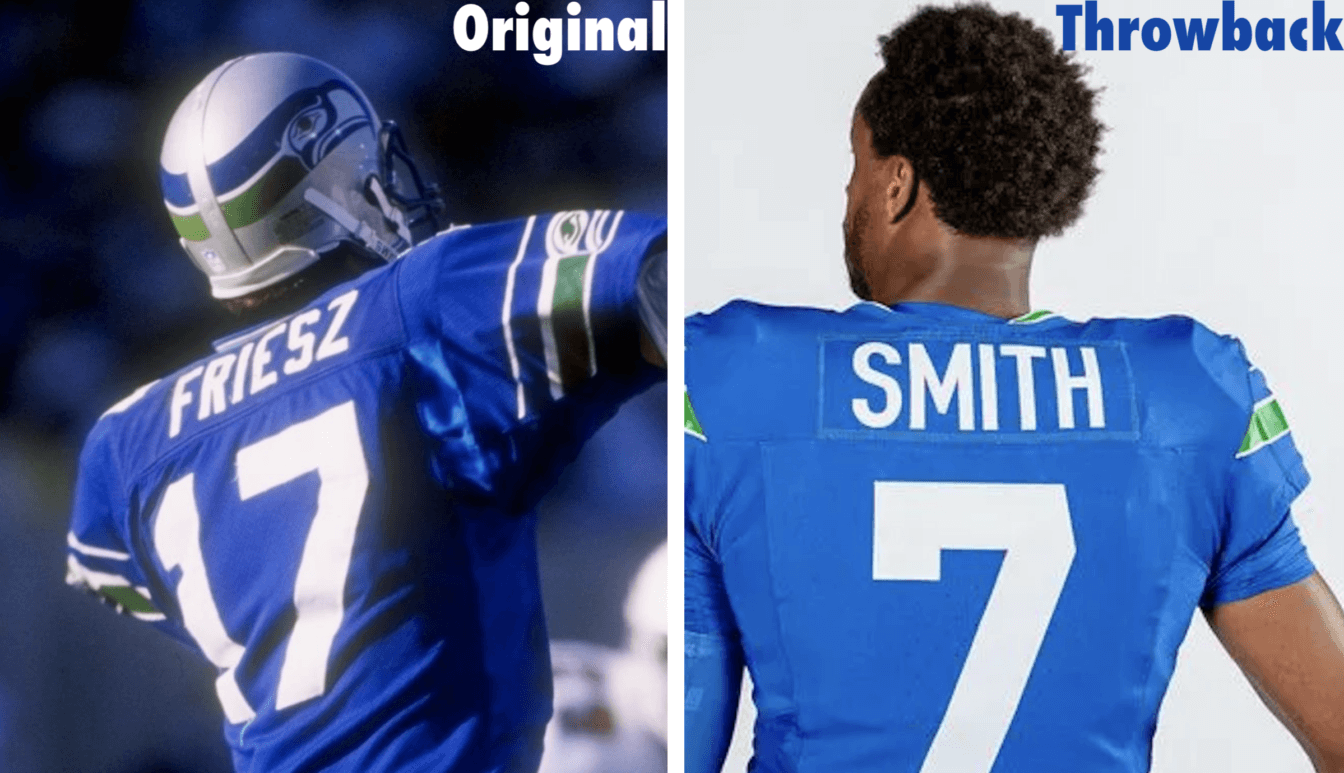 Also, as you can see in that photo comparison, the 7s don't match. (UPDATE: As several commenters noted, the Seahawks wore both kinds of numbers at different times.) None of these little glitches are dealbreakers, but it's disappointing that there are so many of them.
The Seahawks will wear this uniform on Oct. 29, when they host the Browns.
Seattle wore several slight variations of the blue/silver combo from their 1976 inception through 2001 and then switched to their current dark-blue helmet in 2002. They could have revived the original look as a throwback anytime from 2002 through 2012 but opted not to, and then the advent of the one-shell rule in 2013 made a silver-helmet throwback impossible. The one-shell rule was lifted in 2022, but retail supply-chain issues pushed back the throwback's launch to this year.
Want to learn more about the uniforms that these throwbacks are based on? I recently took an in-depth look at the Seahawks' blue/silver uni era, filled with obscure fun facts and great visuals. You can access that article by becoming a paid subscriber to my Substack. Subscribing will also give you access to my full Substack archives, including my recent deep-dive looks at other uniforms that inspired this season's new NFL throwbacks — the Bucs' creamsicles, the Eagles' Kelly greens, and the Oilers' uniforms. My thanks, as always, for your consideration and support!