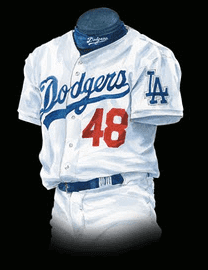 The red uni numbers on the front of the Dodgers' jerseys, which the team began wearing in 1952, are among the most unusual uniform elements in all of Major League Baseball. For some people, they're a nice visual accent, a splash of color, the cherry on top of a classic design. For others — many of whom have expressed their views to me over the years — the red numbers make no sense, because there are no other red elements in the Dodgers' uniform program.
I've been asked many times, "Why did the Dodgers add those red numbers in the first place?," and I've never had a good answer.
Until now.
Uniform designer/historian Todd Radom has uncovered the long-forgotten story, which was spelled out in the April 30, 1952 issue of the Sporting News (click to enlarge):
.
In case you're finding that difficult to read, here's the pertinent section:
The brand-new uniforms that the Dodgers unveiled on opening day carried five-inch identifying numbers on the left side of the shirt, below the team name, in addition to the regulation numbers on the back. This is another idea of Walter O'Malley, president of the club, and is of particular benefit to television fans who often obtain only a front view of a player before he passes out of the camera range. The stunt is one of good will to the public, and while we would like to be able to report that this is an innovation from 1952, actually the story is the result of an unhappy ending. These uniforms were made for the Dodgers to wear in the '51 Series!
In other words, the Dodgers had created a new set of jerseys with the red numbers in anticipation of appearing in the 1951 World Series. But as we all know, Bobby Thomson and the Giants had something to say about that, and the Dodgers never got to appear in the '51 Fall Classic. So they decided to use the number-clad jerseys as their standard home design the following year.
As soon as I read the story on Todd's blog, I sent the link to Dodgers graphic design director Ross Yoshida, who's a serious student of the team's history. He responded:
I've heard many different reasons for the red numbers over the years:

•  Walter O'Malley got the idea from watching football and liked the idea of players being identified from the front.

• Someone in the front office thought front numbers would be beneficial to home crowds at Ebbets Field. (Note that the Dodgers did not introduce front numbers on road jerseys until 1959, by which time the team had moved to Los Angeles.)

• A uniform manufacturer (most likely Rawlings) suggested the Dodgers use red numbers as a nod to the red baseball in logo used on the team's letterhead.

• Red was suggested because it would be easier to see at a distance (since the front numbers are considerably smaller than the back blue numbers).

I've also heard that the front numbers were born because of increasing television exposure, as told in Todd's blog post. Until now, however, I never knew that the front numbers were to be debuted in the 1951 World Series.
Imagine if the Dodgers had made it to the '51 Series and worn the red numbers. Would they have kept the numbers on their uniforms the following season? Or would the numbers just have been a one-time World Series thing? Maybe the Dodgers would have revived the red numbers whenever they appeared in subsequent World Series? Would other teams have copied them by coming up with their own special World Series accents? (Yes, the White Sox lived up to their name in the 1959 Series, but otherwise special World Series uni adjustments are pretty rare.)
We'll never know how those "What if"¦" scenarios might have played out. But thanks to Todd's great research, at least we finally know the backstory behind this uniform element.
One final thought: 1952 is not exactly ancient history, yet this story had fallen completely out of circulation until Todd found it. Makes you realize how fragile history and documentation can be, and how easy it is for tracks to get covered up.
+ + + + +

'Skins Watch: A Forbes magazine columnist thinks the issue of the 'Skins name change is a matter of when, not if (from Tommy Turner). "¦ Also from Tommy: Some Indian tribes in Virginia are unhappy with President Obama's comments about the 'Skins, although not for the reasons you might think. "¦ Indians fans are defending Chief Wahoo (thanks, Phil). "¦ A debate has arisen over the name of a Canadian junior hockey team called the Thorold Blackhawks (from Blair Hough). "¦ WFAN radio talker Mike Francesa usually wants no part of any discussion about team names, logos, and uniforms (he usually derides such subject matter as silly and pointless),so I was surprised when he devoted a fair amount of time to the 'Skins controversy yesterday. He has some history with this issue, because he's an alum of St. John's, whose teams used to be called the Redmen before they changed it to Red Storm in the mid-1990s. His basic position on the 'Skins (I typed this while he was talking, so I may have gotten a word or two wrong): "It's clearly an offensive term, and if some people are offended by it, why wouldn't you change it? I don't think the name is meant with malice, but if you were starting the team today, would you use that name? Of course not. Because it's wrong. I'm Italian and Irish — are you gonna have the New York Dagos or the New York Micks? Of course not. And besides that, you're in the nation's capital and you're defending a name that insults the people that you stole the country from!" He received a fair amount of pushback from various callers, most of whom disagreed with him.

Baseball News: MLB ump Wally Bell has died. I expect that the umps working the remainder of the postseason, who are already wearing a memorial patch for Frank Pulli, will now add one for Bell. "¦ Mike Napoli of the Red Sox was high-cuffed at the start of yesterday's ALCS game, but then he put his pants down to his shoetops — and promptly hit a homer for what turned out to be the game's only run. That can't bode well for his future high-cuffery "¦ Jose Veras of the Tigers sure has a lot of stickers on his underbrim (thanks, Phil).

NFL News: Upcoming this Sunday: The Jags will wear their teal alts for the first time, and the Titans will wear navy for the first time since 2008 (thanks, Phil). "¦ To the surprise of approximately nobody, it turns out that sales revenue from NFL Pinktober merch goes mostly to the retailers (which are usually NFL pro shops) and manufacturers, with only eight cents out of every dollar going toward cancer research. What a scam. "¦ Here are some good charts showing the height and weight of every NFL player, broken down by position (from Chris Flinn). "¦How do you personify the idea of football fighting cancer? If you're the Lions, you create a video of Herman Moore tackling players who are wearing NOBs like "Lung Cancer," "Prostate Cancer," and so on. Interestingly, the press conference footage at the end of the video shows Moore wearing an old Reebok-made Lions jersey, with the NFL Equipment logo. Tsk-tsk (from Rob Siergiej). "¦ Lovelovelove this old Broncos ski mask (great find by Jason Tierney).

College Football News: Some kid on the Western Kentucky squad takes the cake for the nastiest biker shorts look ever (from BJ Lanier). "¦ Pinktober has spread to the Purdue marching band (from Marc Burgess). "¦ Crown College — a D3 school in Minnesota — has no maker's marks on its uniforms. So nice to see a uni without logo creep! (From Eric Bangeman.) "¦ A note on this page indicates that "Nebraska wore blue jerseys out of courtesy to the visiting red-and-white-clad Sooners" when Memorial Stadium opened in 1923. Who knew? (Gil Neumann, that's who.) "¦ UNC is wearing black this Thursday, and Arizona State is going gold-maroon-gold. "¦ Texas A&M RB Trey Williams scored two touchdowns wearing wearing two different jerseys and uni numbers on Saturday. "He wears No. 3, but he also returns kickoffs and there's another No. 3 on kickoff returns, so Williams wears a nameless No. 17 jersey," explains Glenn Stern. "On one of the early drives in the game, he didn't change out of the 17 jersey and wore it as a RB." You can see him scoring while wearing the two different numbers at the 0:17 and 0:46 marks of this video.

Hockey News: Here's a small NHL change we all missed: The Blues have changed their decal on their helmets from their wordmark to their primary logo. Kinda makes you wonder why they need any helmet decal at all (good spot by Joe Mueller).

Soccer News: Yesterady I Ticker-mentioned that Oregon State appeared to be wearing numberless T-shirts for their Monday-night game, but I didn't have a photo. Now I do. "As you can see, Oregon State was wearing a black T-shirt with a beaver on it," says Vivek Tanna. "Our usual black jersey doesn't look like that. They forgot their regular kits in Corvallis (where Oregon State is located) when they left to play Washington on the road."

NBA News: The Pacers have become the first NBA team to sell courtside advertising. Can't say I'm a fan of this, but it's better than ads on the in-bounds part of the court — or, obviously, ads on uniforms (from Kyle Martinek). "¦ Here's a photo of Ed Macauley of the old St.Louis Hawks wearing No. 9 instead of his usual No. 20. "9 was the number of his teammate and basketball great Bob Pettit, so I find it amusing that Ed Macualey wore Pettit's uniform for this photo shoot," says Roman. "¦ David Firestone notes that NBA 2K14 is very good at getting the details right. "¦ Just what the world's been waiting for: the Bobcats cheerleaders going GI Joe. Sigh (from Robert Silverman).

Grab Bag: Pinktober has its limits: a Nebraska fire department has been told not to wear pink shirts this month (from Chris Bisbee). "¦ Unfortunately, nobody issued a similar prohibition on the Fort Gay Middle School football team's socks — yikes (from Brice Wallace).
+ + + + +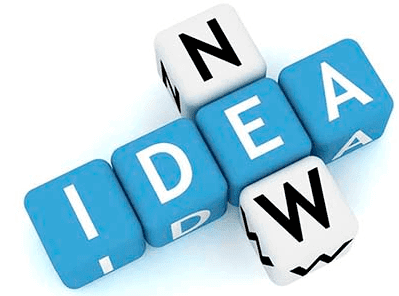 Let's try an experiment: Since the 'Skins issue isn't exactly bringing out the best in many of us in the comments section (myself sometimes included), we're going to try something new: Today the comments will be a 'Skins-free zone. We'll have no comments, pro or con, about the 'Skins name. We'll also have no comments, pro or con, about how we're not commenting on the 'Skins name, or about how some of you wish I'd done this sooner, or how others of you think it's bullshit, or anything else relating to the 'Skins in any way. Just for today, to see what it's like. Thanks in advance for your cooperation.