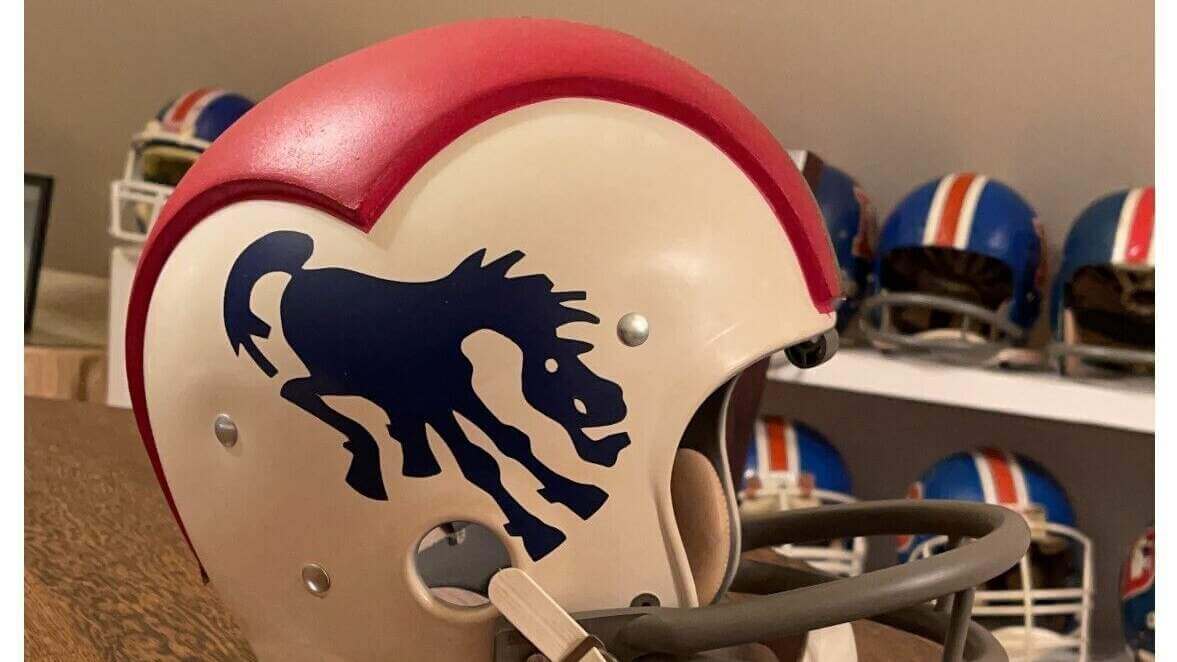 Good Saturday morning, everyone! I hope everyone has had an enjoyable first week of October.
If you followed Uni Watch during Paul's August hiatus, you'll recall that long-time reader Leo Strawn made a triumphant return to the board, following a period of inactivity. Leo graced us with a weekday article as he took us through the steps of colorizing a photo of his father, and then returned for several August weekend posts featuring various uniform-related quizzes.
Leo is back again today with a deep dive on some Denver Broncos prototype helmets. Enjoy! Here's Leo:
• • • • •
One, two or three (possible) 1960s Denver prototypes?!
by Leo Strawn, Jr.
No "expert" or "historian" knows everything that has ever existed in history. Not even within a very, very tiny sliver of world history, such as sports uniform history.
Allow me to explain. Regarding the orange Dolphins OPI helmet from 1966: If you scroll down the archived UW page on that link to find, "OPI Gumball Helmets and a 1966 Miami Dolphins Prototype Helmet?", you will obviously notice that the title is in the form of a question.
Within that article are speculative statements like, "This could be evidence…" and, "[I]t seems logical that the Dolphins were seriously considering that color for their helmet", as well as, "Maybe one day there will be a news story about someone cleaning out an old storage room in Miami and running across a layout of the proposed helmets…or even a full size orange prototype!" It ended with an appeal, "If anyone has any evidence aside from the OPI gumball helmets regarding an orange Dolphins prototype, please let us know!"
I also used my talent to create two photoshopped images in order to show what a prototype "could have looked like" IF it had (as the article was SPECULATING about) ever existed as a full-size prototype. A bit of fun that apparently caused huge egos and tiny heads to explode. If you are one of those, or take everything those people say or have ever said as absolute gospel truth, please, do not stop reading yet.
If you had seen this helmet a few years ago, you could rightly have said that it isn't a prototype you'd ever seen, but you could not have proven a negative by saying, "It never existed."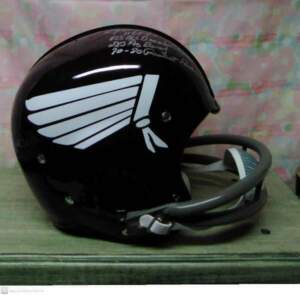 This is why uniform aficionados like us ask questions and investigate. Speculation is a good thing. This is how we make discoveries of prototypes, obscure unis/helmets, etc. It's part of the reason UW is such a popular site.
But simply saying "that possible prototype absolutely doesn't exist and/or was never considered; we here at such-and-such website, full of self-proclaimed experts on the subject, have never seen one" while using MY original artwork WITHOUT my permission on a webpage in an impossible attempt to prove a negative is a great way to look really, really bad. (Thanks to Phil and Mike Monaghan for this info which came from this twitter thread linked in the October 1 ticker.)
Can anyone prove that an orange shell Dolphins prototype never existed or was never considered? Can anyone provide any proof that Orange Products, Inc. did NOT get this idea from the Miami Dolphins organization or the American Football League? If so, kindly provide the proof.
To finish my point, had I not asked Bill Schaefer at GUD a question late in 2020, he may never have come across that previously unknown 1965 Washington prototype. It always existed. We just didn't realize it. So, keep asking questions, researching, going down those rabbit holes.
Similarly, I (and possibly a lot of UW readers) didn't realize a (presumably) certain 1962 Denver prototype existed. This rabbit hole may contain 2 others, as well…
When Tim Potter, a long-time friend and fellow gumball helmet enthusiast who makes and sells custom gumball helmets using original Orange Products, Inc. (OPI) shells, recently listed this oddity, which includes this curious photo and this companion pic as references for his creation, I calmly set my coffee on the table and immediately sent out a "WTF?!?" email to him.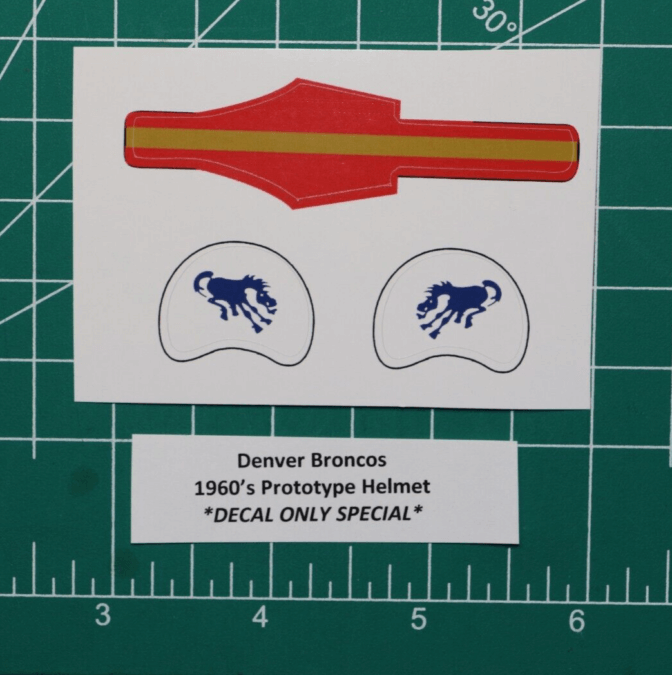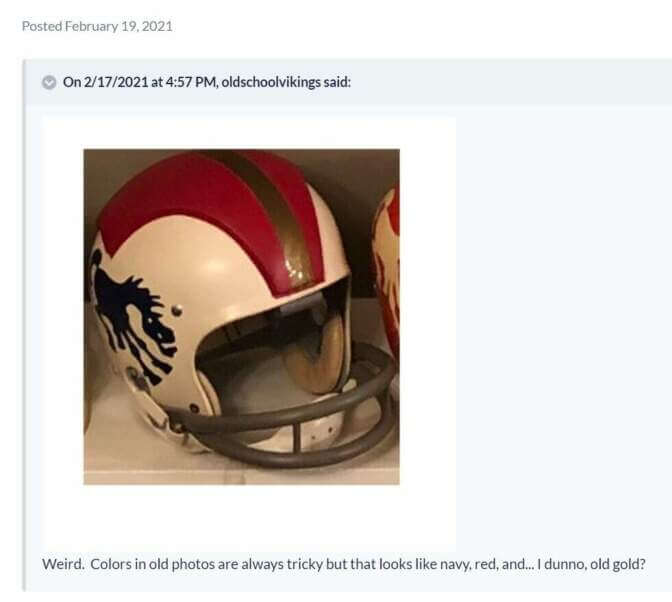 Of course, the things that stood out were the blue "drunken horse" logo, the unique exterior padding and the text at the top of the pics which read, "Posted February 19, 2021" on one and "Posted September 3, 2021" on the other.
First things first. That blue logo appeared on Denver's light orange helmets (with a single white center stripe) for the first five weeks of 1962. (This discovery, specifically that the horse was blue, was featured on UW and other sites years ago. To belabor my point: It was proven to be blue, not brown, as some people swore it was, but it took years of speculation and investigation to get there. More on that proof later…)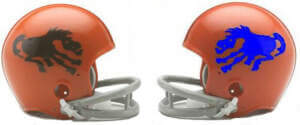 Next, growing up in THE religion, I was already familiar with the various Ohio State exterior padded helmets, worn throughout most of the 1960s (the 1962 Buckeyes version can be seen BYU, Duke, Fresno State, Harvard and Youngstown State, also sported them that season, so it's possible that Denver could have considered the same in 1962.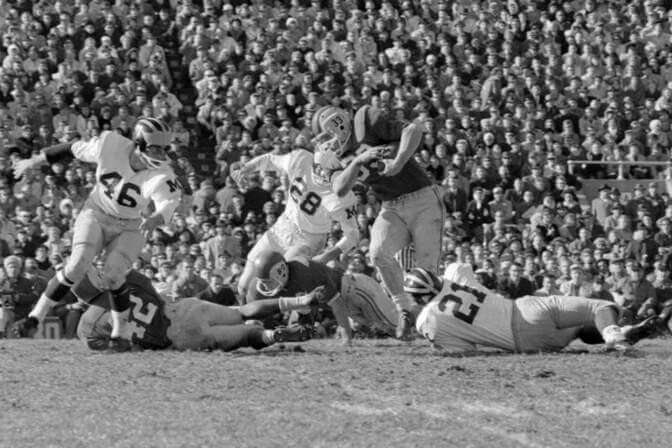 The next step was to figure out where the photos originally came from. Tim tracked them down for us. The source of the photos is this thread on another website familiar to uni/logo aficionados. Let's examine…
Notice that the original post has a photo of an impressive Denver helmet collection, including the helmet in question, one other helmet someone in the thread noted and another oddity I noticed, as well as this quote, "That is actually a prototype helmet from 1962 Riddell prepared for the team when they were coming up with new uniforms that year, it has a pair of the original blue horse decals on it." Unfortunately, OP did not provide the source of that quote.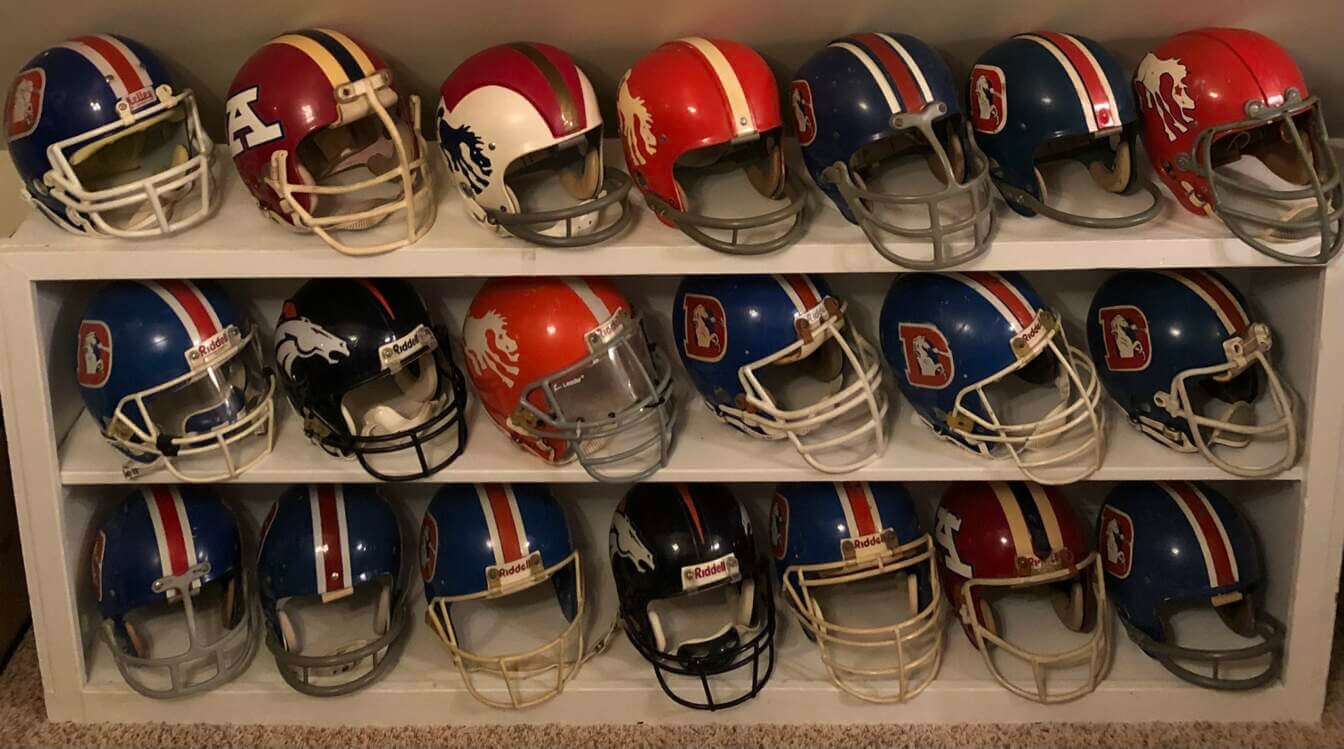 By the time we get to the bottom of the first page, someone posted one of Tom Jacobsen's photos. At the bottom of the second page, a poster, who had apparently become aware of that thread two months later, commented, "These are my helmets and my photographs of the game vs. the Titans with the blue decals…" Tom's September 30, 1962 Broncos v. Titans photos from the Polo Grounds were featured by Paul on UW and a couple of other social media sites. Tom's evidence was also featured elsewhere, e.g., denverbroncos.com. [Note: Tom's impressive collection was also loaned to The History Colorado Center, and Paul featured it this past Thursday — PH]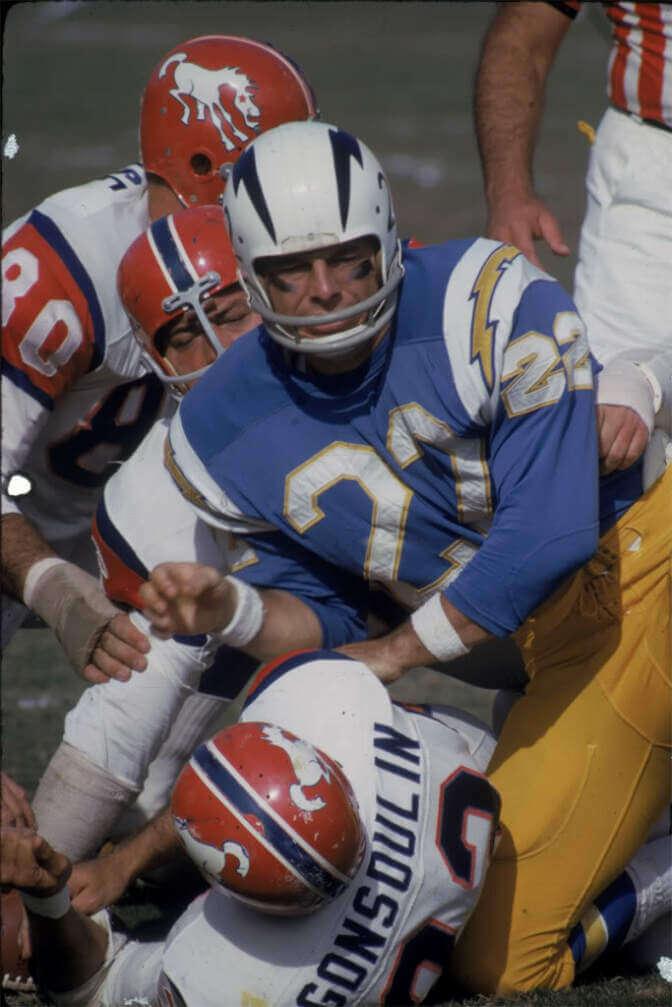 His post then addresses the helmet in question, "The helmet is a prototype Riddell proposed to the Broncos – using the original blue decals – on one of their new helmet types. The red area is extra padding, it wasn't colored specifically for the team, it was a color used by Riddell when manufacturing these helmets." Assuming the poster is indeed Tom, I would say that's a confirmed 1962 Broncos prototype!
Paul also ran an article on Tom's Denver memorabilia in 2018. If you scroll through that article, you'll notice that there are close ups of two of the helmets that can also be seen in the photo found in the 2021 sportslogos.net thread, including the Kelley helmet mentioned in the fourth post, "I'm curious about the very first helmet on the top row. It's the only one in which the inner part of the D isn't colored blue around the horse." Curious, indeed. Info or ideas, anyone?
Another anomaly I spotted was the last helmet on the right on the top row. The logo is similar to the 1966 Broncos helmet, but the shell doesn't appear to be the same shade of orange, it looks redder (almost KC red) and there are no center stripes.
Could there be THREE previously unknown prototypes in Tom's collection? The one Tim Potter made into a custom gumball helmet seems certain (although, perhaps that one wasn't previously unknown to every UW reader), but we need Tom Jacobsen to offer more details on the other two. Hopefully, if he doesn't read UW or isn't alerted to this piece, someone can contact him for info.
Until next time…and hopefully then I won't still be so [expletive deleted] mad about people associated with a website thinking they 'know' what never existed or was never considered in this world (without any proof to back it up) while doing whatever they want with MY original artwork without permission or compensation, and keeping that link live for a full FOUR AND A HALF YEARS. That webpage is archived here for two reasons; in the event the original link suddenly 404s and people say later that 'it never existed' and in case I decide to get an attorney.
(Disclaimer: My expressed views are not necessarily the views of Paul, Phil or UW.)
To the good people who read this, Paul, Phil and the rest of the UW crew…Cheers!
• • • • •
Thanks, Leo! Another great deep dive. I'm most definitely interested in finding out more about that "padded" concept helmet and if it was really a prototype!
Readers? What say you?