[Editor's Note: Paul is on his annual August break from site (although he's still writing his weekly Substack column). Deputy editor Phil Hecken is in charge from now through the end of the month.]
Good Morning Uni Watch. Hope everyone is having a good week.
Longtime readers will remember the name Leo Strawn, Jr., who shared several articles and sub-ledes on various uni observations, designs, and other uni-related minutia, all in what he lovingly deemed "Leo's World." I think the last time we featured a "Leo's World" was way back in 2016.
Leo has made a triumphant return, and today I'm pleased to share a brand new article. This one features a new project of his. I've featured many colorizers over the years, but in most of those cases, the subject has been a star (or at least a player) from early 20th century sports teams. Leo has colorized a football player alright, but in this case, the photograph he has colorized is that of his father!
I'll let Leo just take it from here…
• • • • •
Leo's World
by Leo Strawn, Jr.
My dad and uncle played football together at Lancaster (Ohio) High School in 1957, which was my uncle's senior and my dad's sophomore (and only) season.
Side note full of minutia: My uncle played as a sophomore in 1955, assistant coach John McVay's final season at Lancaster. Yes, that's the same John McVay who was head coach of the Memphis Southmen/Grizzlies of the WFL and the New York Giants, as well as working in the front office for the Niners during their heyday in which they won their 5 Super Bowls, and whose grandson is head coach of the Los Angeles Rams. Ironically, both of the NFL McVays were born in Ohio and were associated with the two teams (John as VP of the 49ers during the SB XVI and SB XXIII seasons and Sean as head coach of the Rams during the SB LVI campaign) that resulted in all 3 Cincinnati Super Bowl losses.
Anyway, my dad has a photo of himself in his LHS football uniform and I wanted to make a colorized version.
This is the original photo. It was taken at North School, where the Golden Gales played home games at the time. Part of the south side of Mount Pleasant (which the Wyandot, part of the Shawnee Confederacy, called "Standing Stone") can be seen in the distance.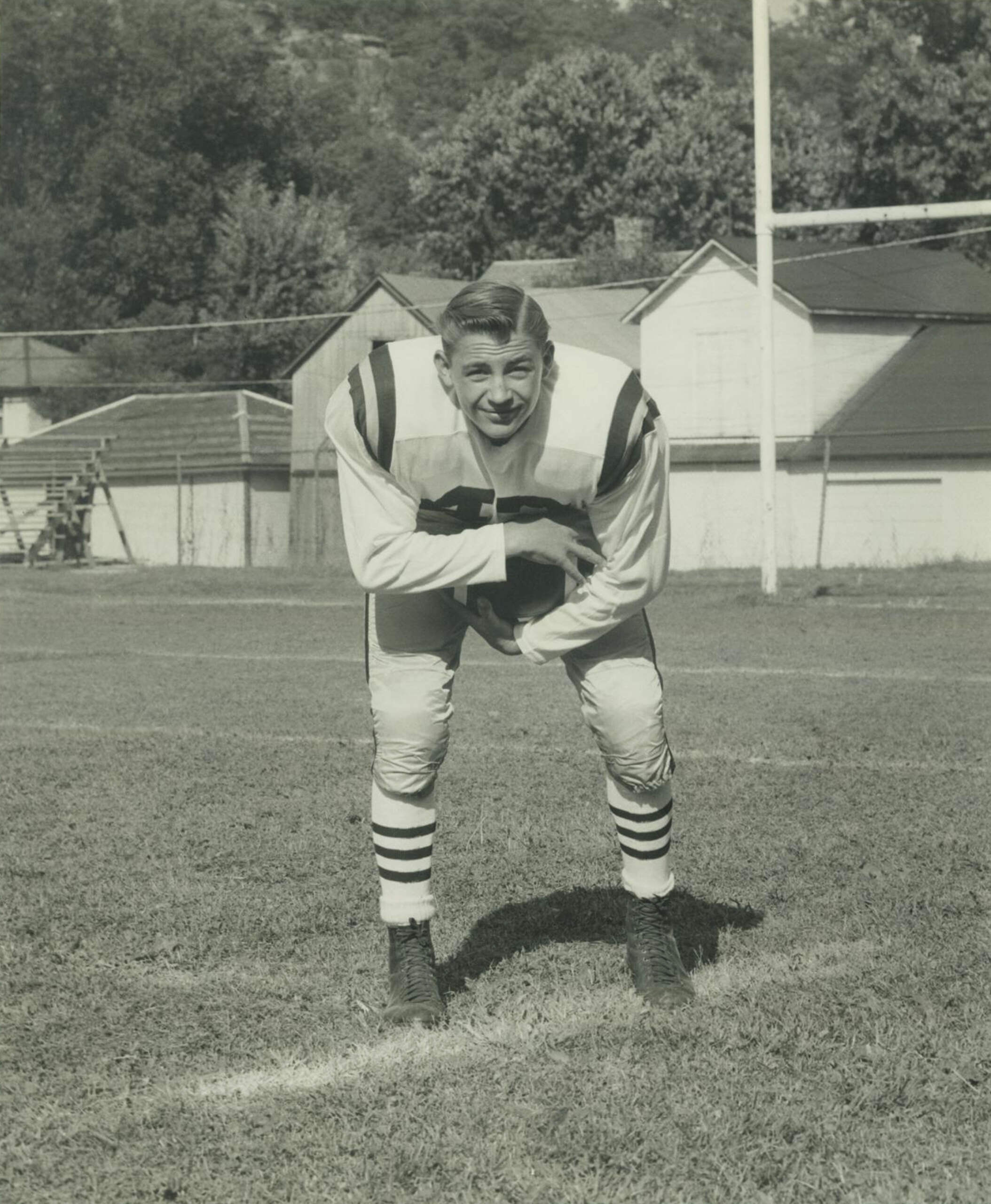 The first step was to take that black and white image and add several layers of different colors, including green, purple, red, etc. (The Gales' colors were purple and gold at the time.) Then I started erasing large patches of colors on each layer, i.e., I erased the green from the buildings on the green layer, etc.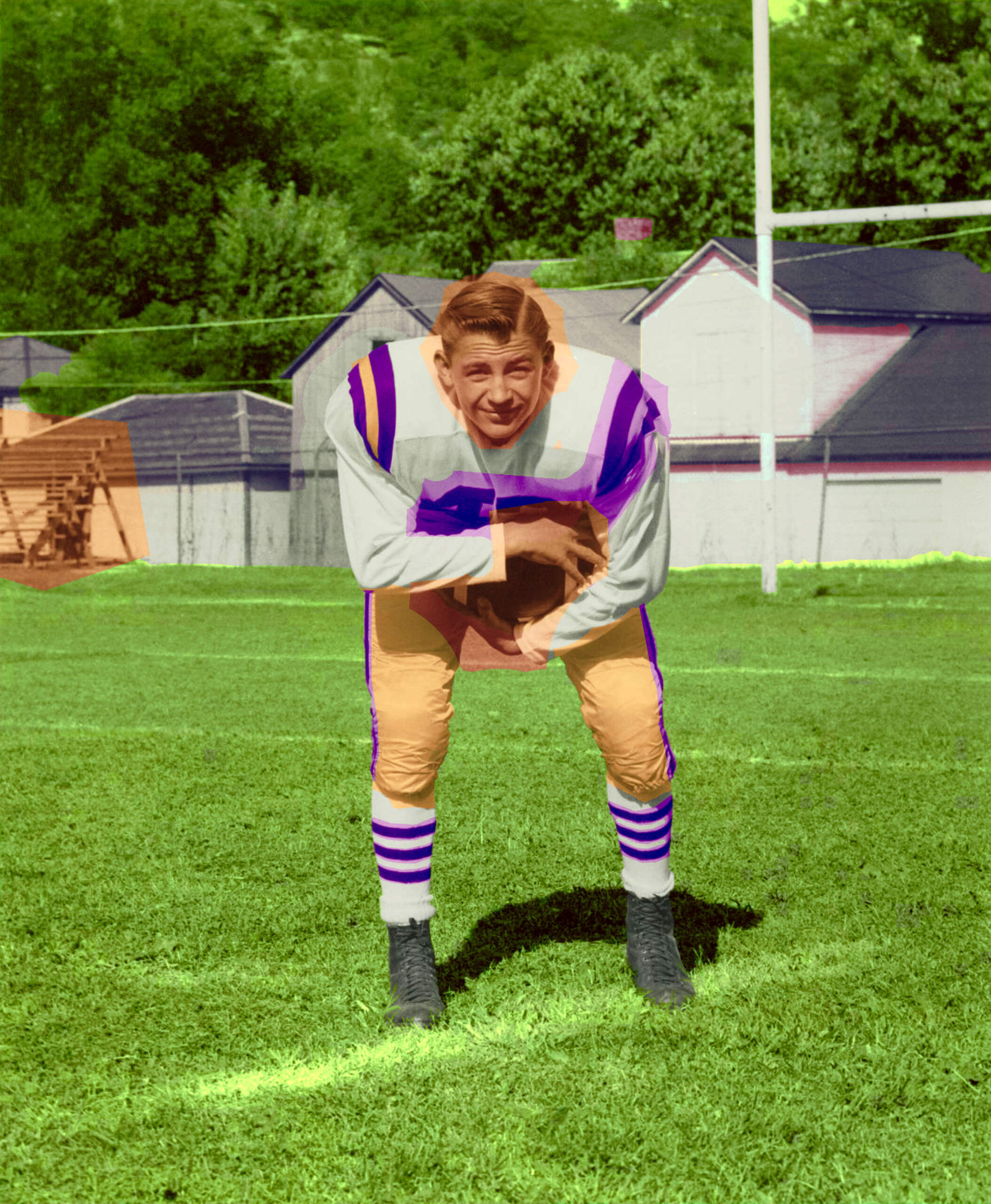 Layer by layer, I kept erasing out the unwanted color from each layer, getting more precise with each round.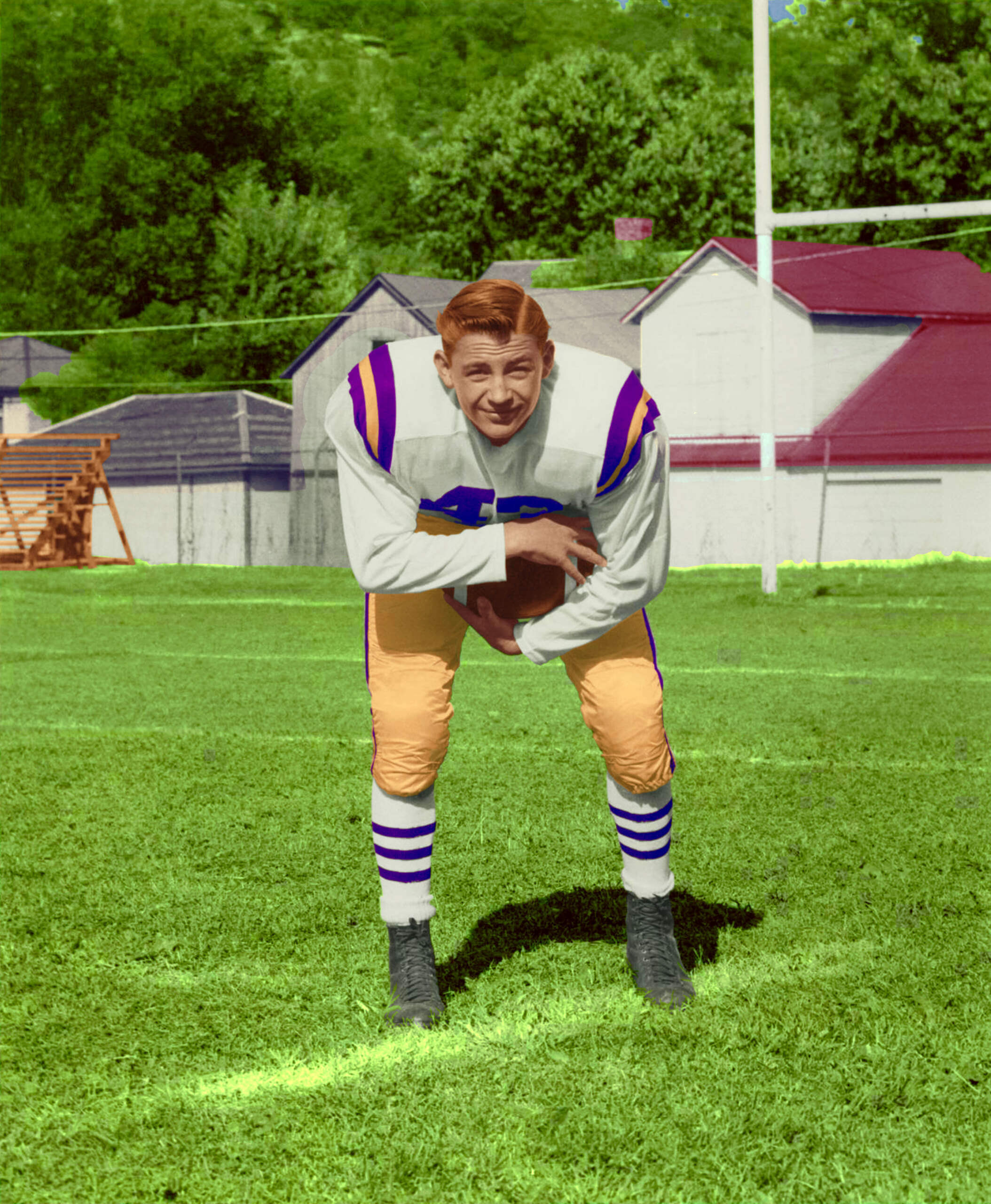 I continued that process while adjusting colors along the way and began splitting some of the layers into multiple layers of the same color. The brown layer, for example, was split into hair, bleachers and mountains so I could adjust the contrast, saturation, color balance, etc., on each one individually.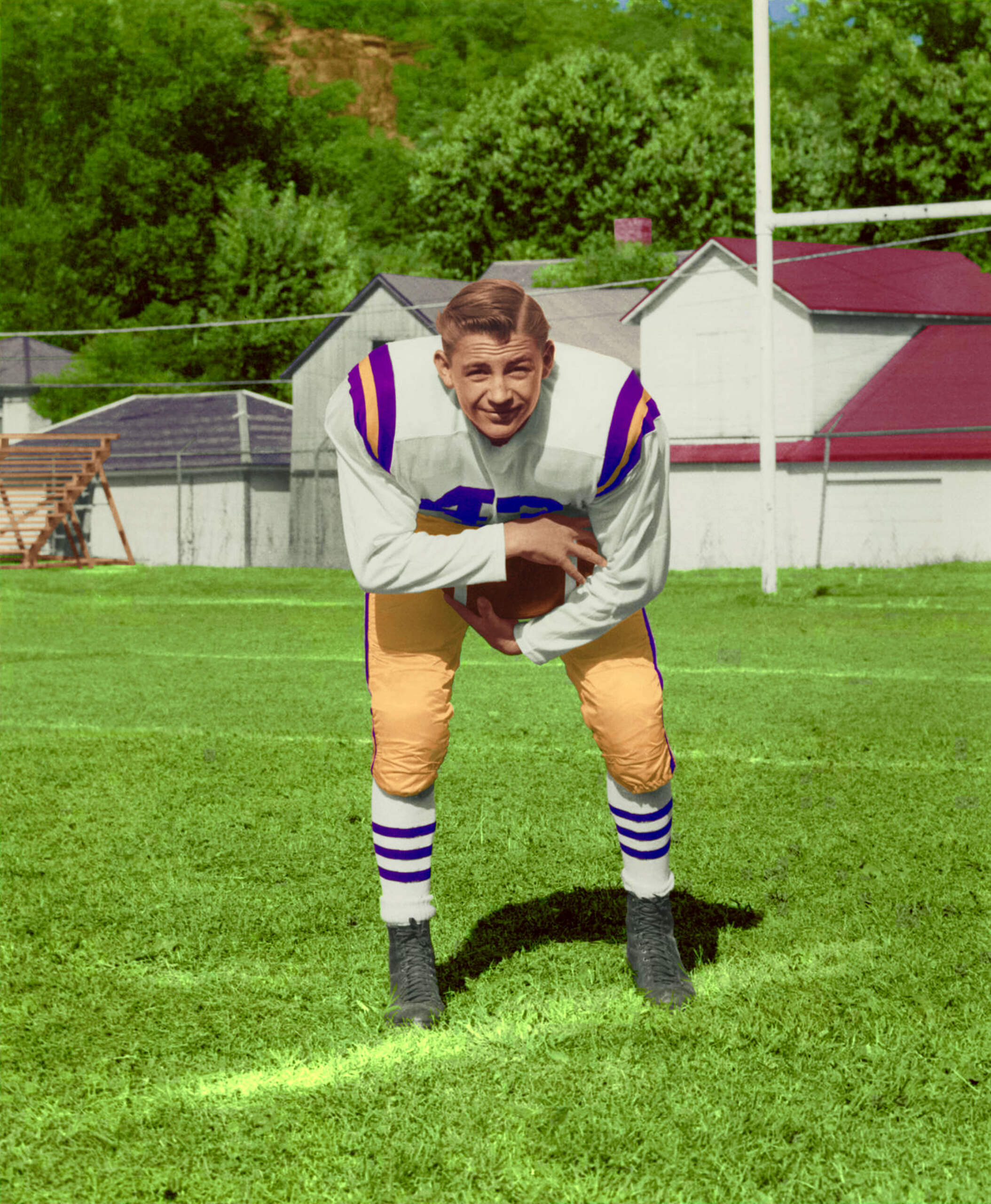 In the next image, the green has several layers. For example, the grass is two layers now, one with the entire area of grass and a second layer overlaid with more contrast and vivid color that was erased in a fade toward the back to give the illusion of depth. I also added white over top of the yard lines and hash mark, with each one of the white overlays showing more of the green underneath as it went back in the distance by lowering the opacity of the layer.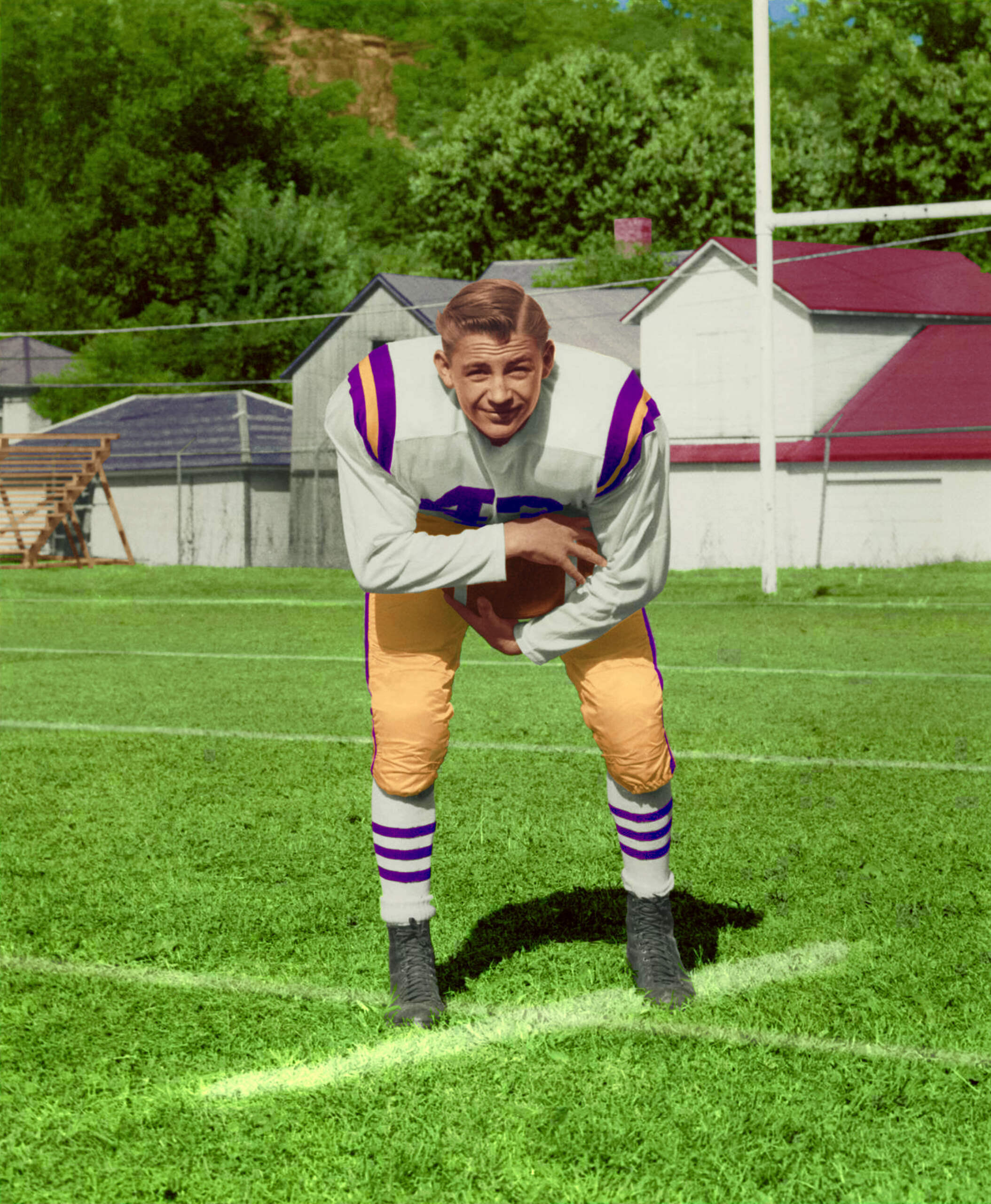 Continued tweaking colors, values, etc., until I was satisfied. Hair became two layers. The face became several layers, some with just highlights, some with just shadow, one with additional yellow in areas and one with additional red in areas, all with varying degrees of opacity. Final version: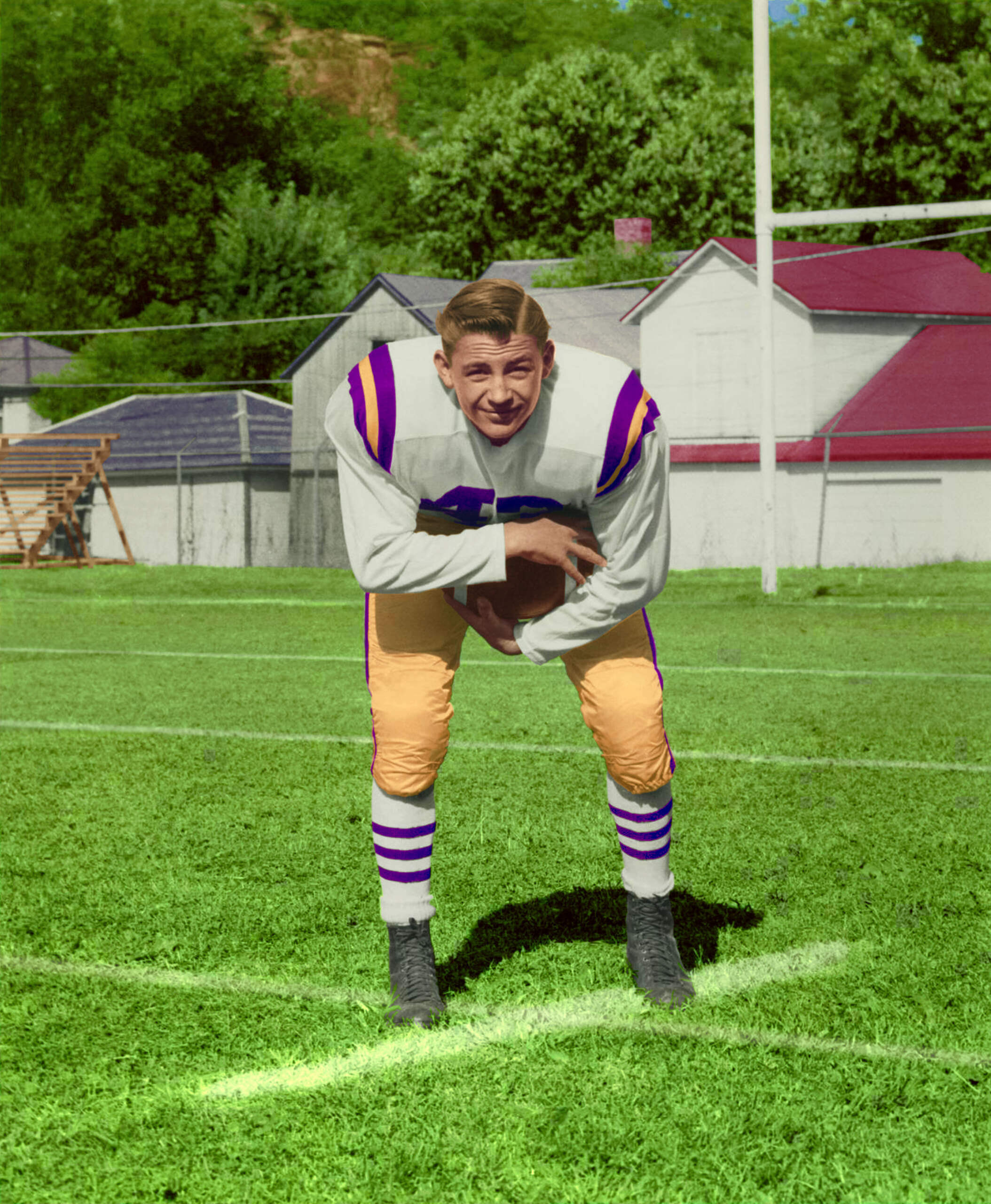 For comparison, I made a black and white version from the final version of the colorized image (on the right) and placed it side-by-side with the original b & w to show how much depth was added and how much crisper the image became.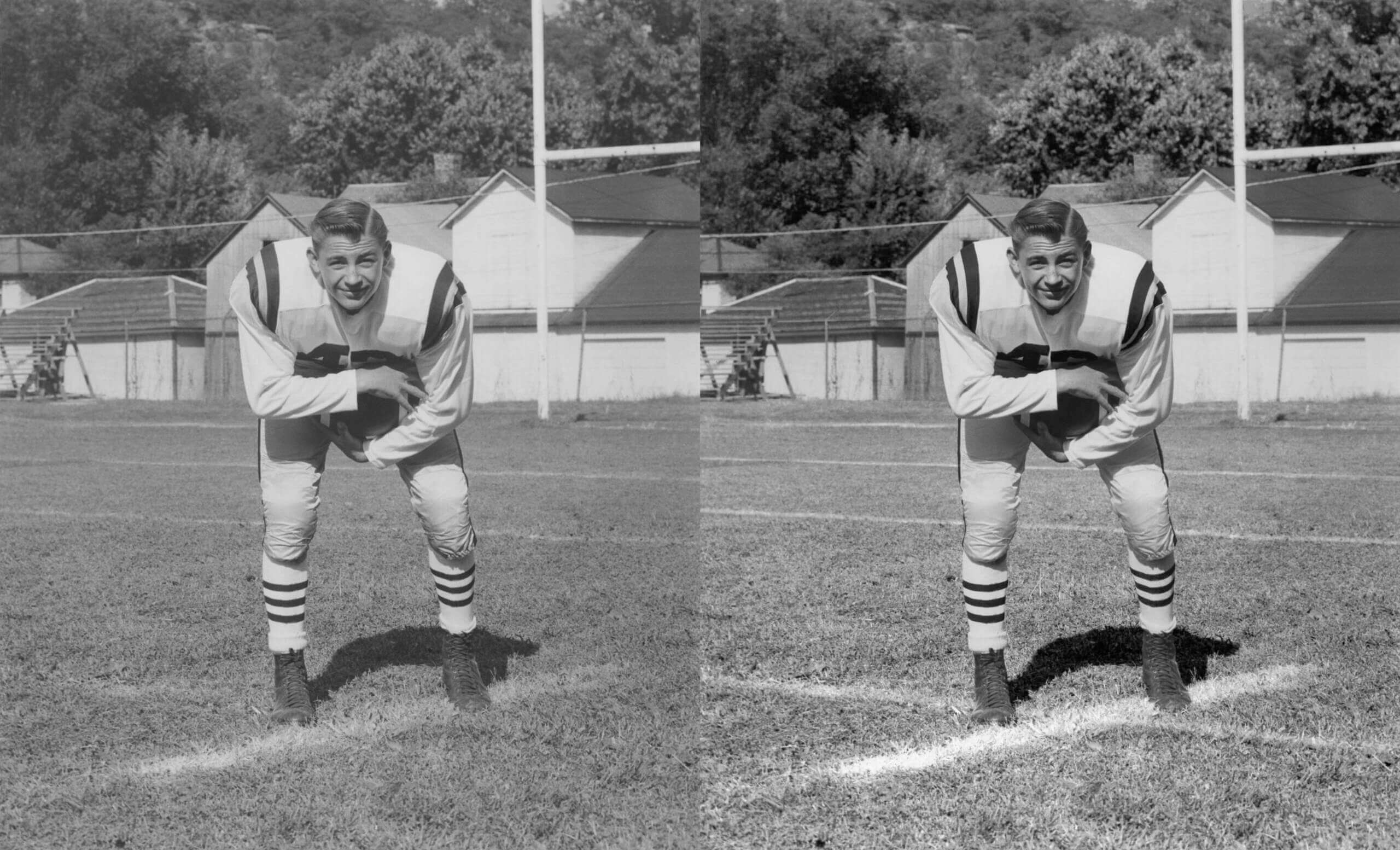 Here is the original b & w photo side-by-side with the final color version: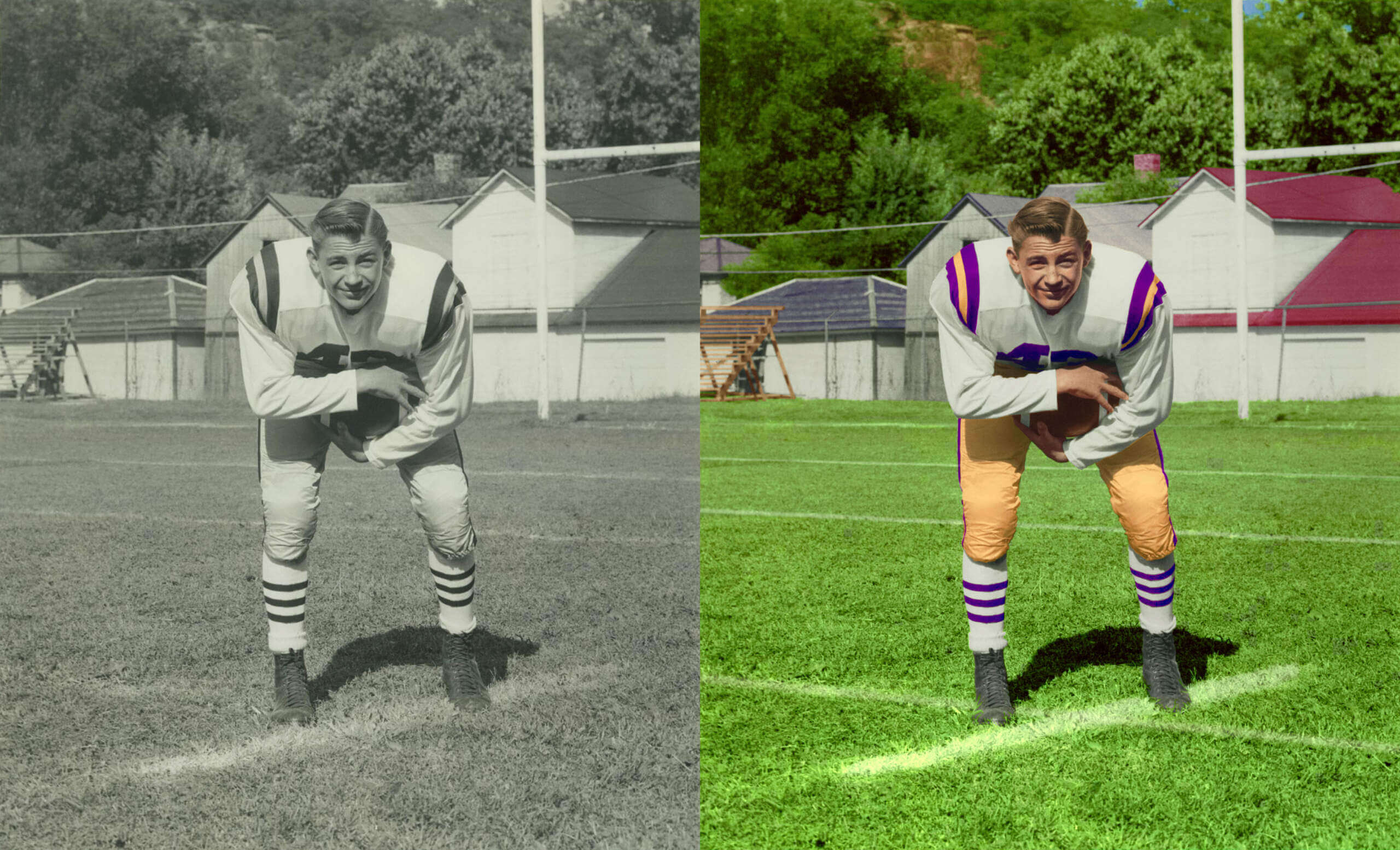 For my first detailed colorization, I thought it came out pretty nice. More importantly, my dad loved it!
• • • • •
Wow! Fantastic job on that colorization — I would never have known that it was your first. And the best part is that it wasn't some random old NFL or NCAA Football photo, but of your own pop! After seeing that result, I'm sure he really did love it — I know I would.