Click to enlarge
Last month I had two stories that were based on old Denver Broncos files that were shared with me by a collector. First there was my story about the incredible Buddy Young memo about the future of black players in the NFL, and then there was the piece about letters from Broncos fans who wanted tickets for Super Bowl I.
The guy who shared those materials with me is longtime Uni Watch reader Tom Jacobsen, who's one of the foremost collectors of Broncos memorabilia. I went out to visit him at his suburban Denver home in January so I could look through the old files myself (I'll definitely be writing more stories about them in the months to come), and while I was there I took some photos of Tom's amazing collection of game-worn uniforms, which he keeps in his basement. We're going to take a look at some of that collection today.
We can start with the photo at the top of today's entry. That's a Shannon Sharpe gamer, and Tom is holding a trading card of Sharpe that Tom has photo-matched to that selfsame jersey. Cool, right? Tom does this type of photo-matching with his collection whenever possible.
One thing I like about Tom's collection is that he doesn't restrict himself to any particular era, as you can see from the uniforms he has on display:
Those orange pants are great, right? Wish they'd bring back that design as a throwback.

Speaking of throwbacks, here's a great little detail I learned from Tom. In this next photo, the jersey on the left is a 1965 or '66 gamer, and the one on the right is a throwback gamer that was worn in 1994. Check out the collars:
As you can see, they used the wrong collar color on the throwback. Tom thinks this may be because the collar often wasn't that visible in mid-'60s photos — it would sort of curl under the shoulder pads and disappear from view. (For the record, the mighty Gridiron Uniform Database accurately shows both collar colors.)
Next up we have three prized items from the Broncos' earliest days, before they began wearing orange. Check it out:
The equipment bag is awesome, and the jersey is pretty sweet. But of course my favorite item here is the vertically striped stirrup, which gave the Broncos a distinctive signature style in their first two seasons. The stirrups were so unpopular that the team eventually burned them in a bonfire, but Tom actually has two of them!
"The two I have originated with Broncos coach Jack Faulkner," says Tom. "He became the coach in 1962 and came up with the 'Something new in 62' slogan that celebrated the new uniforms and new helmet logo (the infamous blue horse!). He also came up with the bonfire idea, but he held a few socks back to give to folks. One of the ones I have was given to the beat writer for the Bills at the time, and the other one was later given to a guy who worked with with Faulkner after he left the Broncos and worked for the Rams."
Tom says he's only aware of four other stirrups floating around out there besides the two that he owns. The Hall of Fame has a road one; the Broncos have a road one given to them by an former player; there's a home one on display in the Kansas City Chiefs' Hall of Honor; and the AP has a photo of a home one that's listed as being located in Los Angeles, although it's not clear exactly where.
Next up: Back when Bill Romanowski played, I was always intrigued by how his jerseys were modified with laces tied to his pads. Tom has one of his jerseys — complete with the laces (and, as it turns out, one of those crotch-extension panels):
Here's a closer look at the laces, and the little grommets that were sewn in to accommodate them, as viewed from the front of the jersey:

And here's how it looks from the back of the jersey:
Tom also let me turn one of the sleeves inside-out, so I could see how it looked from inside the jersey:
Speaking of jersey modifications, Tom has a Rich "Tombstone" Jackson jersey that went through some serious wars and ended up with a lot of repairs. He turned it inside-out so I could see all the repair work:
Next up: helmets! Tom has a lot of them, many of which are showcased in this display:
The red helmet at top-left was Louis Wright's helmet from the 1978 Pro Bowl. It's the same helmet he wore throughout the 1977 season and in Super Bowl XII. Back in those days, players just had their regular helmets repainted for the Pro Bowl, and then they were painted back again for the following season. It's not clear why this helmet was never painted back to Broncos colors (most likely Wright simply got a new helmet in the fall of '78). Here's a closer look:
Speaking of helmets, here's a manufacturer you might not have heard of before:
Kelley helmets were popular in the late 1970s and early 1980s. It's a little hard to see in that photo, but Kelley used a clear shell, with the graphics and paint applied from the inside. (There's more info on Kelley and the clear-shell process here.) This one was a salesman sample that was brought in for Rob Lytle to try. He had worn that style at Michigan.
Finally, there's this: On Sept. 29, 1968, Broncos rookie Marlin Briscoe entered the game in the fourth quarter and became the AFL's first black quarterback. Tom has the jacket that Briscoe had been wearing on the sidelines before being called into the game:
That's enough for today, but believe me when I say that this is just the tip of the iceberg regarding Tom's collection — he has a lot more stuff.
Last but definitely not least, I want to mention that Tom is a great guy and was an absolute pleasure to be around throughout the day we spent together. Ditto for his wife and daughter — they all welcomed a stranger into their home and couldn't have been nicer about it. It would be easy for two people who'd spent a full day poring over old paperwork to get sick of each other, but Tom and I hit it off so well that we went out to dinner at a Denver steakhouse, which was a great time. He even offered to pay for me! I wouldn't allow that, of course, but it was just one more gracious gesture from Tom, who somehow thought I was the one doing him a favor that day, when it was actually the other way around. Thanks, buddy — you're the best.
• • • • •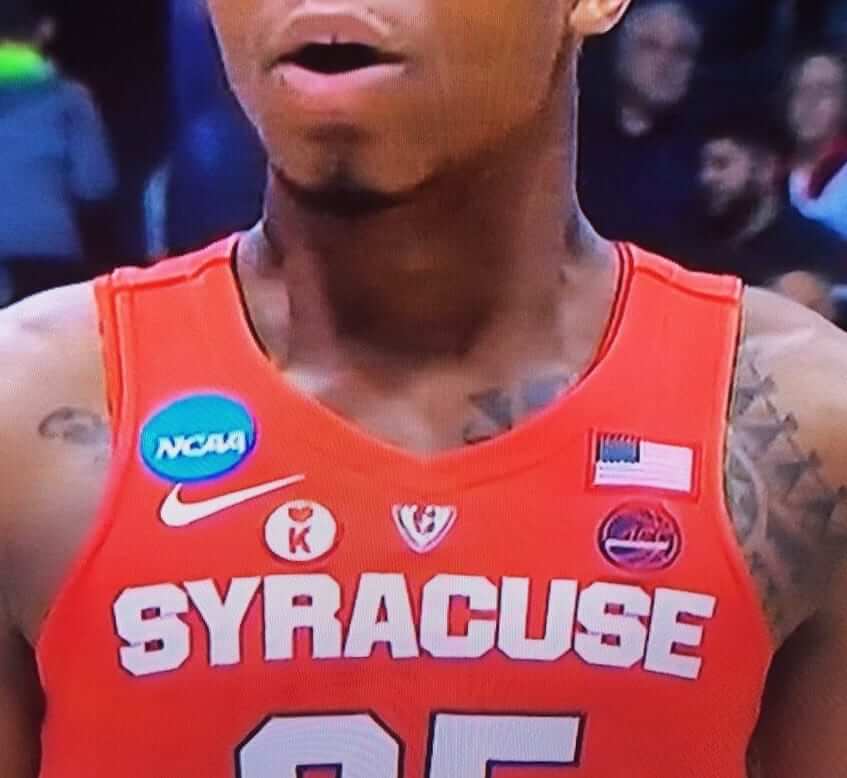 Just a little bit busy: Hmmm, ya think maybe Syracuse is setting a record for the most patches (or at least logos) on a basketball jersey?
(My thanks to Michael Alper for the screen shot.)
• • • • •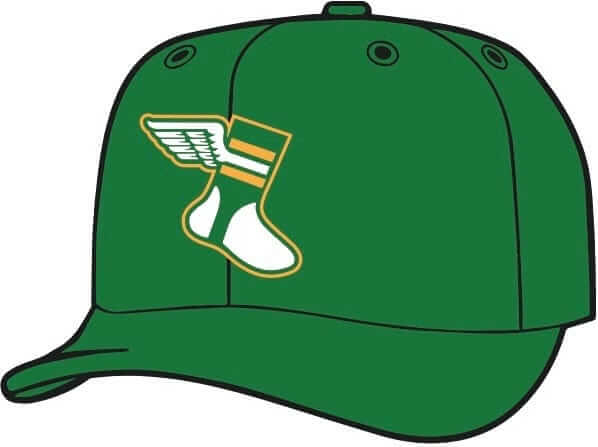 Cap update: Thanks to everyone who gave feedback and suggestions regarding my plans, announced yesterday, to create a Uni Watch cap. It's going to take a little while to sift through all the possible manufacturers (please, no more suggestions or recommendations — I'm hip-deep in them already as it is), but I'll figure out the best route to take shortly.
Meanwhile: A few people thought the cap looked too much like an A's cap, because of the color scheme. My smart-ass response to that was, "As far as I know, the A's have never had a cap with a winged stirrup." But last night reader/commenter Chris Cruz informed me that the A's do have a cap with a stirrup (albeit not a winged one):
Great new lids @Baseballism @Athletics #SpringTraining pic.twitter.com/rSqGFOfr3y

— Dave Kaval (@DaveKaval) February 16, 2018
That's pretty sweet, right? They offered it last month to fans who bought tickets to at least two of their first four spring training games.
I'm still fine with the Uni Watch cap design. And I like that A's cap so much that I don't even mind that they came out with a stirrup-centric cap design before we did.
• • • • •
Raffle reminder: In case you missed it earlier this week, I'm currently raffling off a T-shirt and a pair of retro shorts from the good folks at 19Nine.
To enter, send an email to the raffle address by tomorrow night, 7pm Eastern. One entry per person. I'll announce the winner on Monday. Good luck!
• • • • •
Click to enlarge
Pea crab reminder: In case you missed it yesterday, I've written an article for the food website Taste about pea crabs, which are the little crabs that live inside certain oysters. I hope you'll check it out here. Thanks.
• • • • •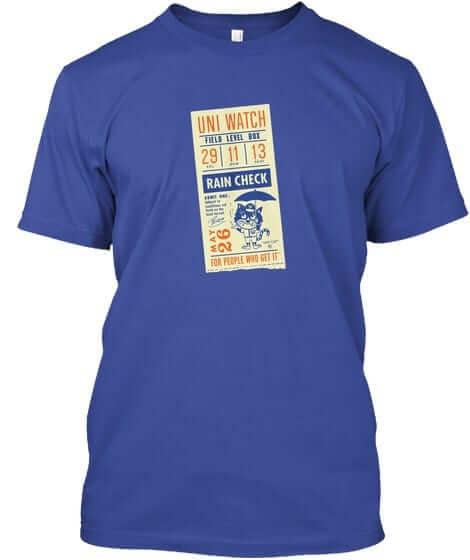 LAST CALL for the rain check shirt: Today is the last day to get our latest limited-edition Uni Watch T-shirt, designed by the great Todd Radom. It comes in a wide range of colors (including deep royal, as shown at right; click to enlarge) and is available only until 11pm Eastern tonight. You can order it here. If you want a color or style that isn't shown, get in touch and I can take care of you. My thanks, as always, for your consideration.
• • • • •
The Ticker
By Paul

Baseball News: The Grand Rapids Griffins — that's a hockey team — will wear West Michigan Whitecaps-inspired jerseys tomorrow. … Very cool throwbacks for Cincinnati (from Bob Wilzbach). … The Erie SeaWolves will become the Erie SnowWolves for a Christmas in July promotion on July 27. … Royals coach Dale Sveum missed the team portrait due to a doctor's appointment. So actor Jim Caviezel, who among other things has portrayed Jesus in The Passion of the Christ, and who's been attending the team's spring training camp at the invitation of the front office, stood in for Sveum in the photo. Sveum's face will be Photoshopped into the resulting photo.

NFL News: In the wake of scientist Stephen Hawking's death, the Patriots posted a photo of team owner Bob Kraft presenting Hawking with a No. π Pats jersey (from JayJay Dean). … Longtime Browns OL Joe Thomas announced his retirement yesterday. Instead of retiring his number, the Browns are going to retire his number of consecutive snaps (thanks, Alex).

Hockey News: Cross-listed from the baseball section: The Grand Rapids Griffins will wear jerseys inspired by the minor league baseball team the West Michigan Whitecaps tomorrow. … New St. Paddy's Day uniforms for the Niagara IceDogs (from Rasheed Clarke).

NBA News: LeBron James gave his compression sleeve to a kid who'd be holding a sign that said, "King James, you are more than an athlete" (from Mike Chamernik).

College and High School Hoops News: The Star Tribune created a beer bracket featuring jerseys inspired by Minnesota craft beers (from Cole Trace). … Duke has new sneakers for March Madness (from Megan Brown). … And so does Purdue (from Jason Miller). … Oh baby, look at these old Marquette shooting shirts (from @CVWarrior). … Stripe-o-rama! Check out the competing stripe patterns in this 1973 TCU/SMU game (big thanks to @john76065). … Good story on Providence's sideline mascot (from Kary Klismet). … Another day, another pair of Pennsylvania high school teams showing up with the same-colored uniforms. Come on, Keystone State, get it together (from Dave Thackara). … Here's a new one: Pikeville High School in Kentucky wore blue ribbons on their sneakers in memory of a local police officer who was killed earlier this week (from @The_Amish_Robot).

Soccer News: New home jersey for Steel FC (thanks, Phil). … Gambia may need to wear locally made kits for an international friendly because of an equipment dispute that led to the confiscation of cartons of gear. … New uni numbers for Accra Hearts of Oak. … Charleston Battery is bringing back the vertical stripes (from Daren Stoltzfus).

Grab Bag: Candlepin bowling is normally found only in New England and the Canadian Maritimes, but there's a gorgeous set of candlepin lanes in the basement of a Cincinnati civic center. That article includes a spectacular slideshow of two dozen photos — don't miss (big thanks to Brandon Ponchak). … Police seized a bunch of counterfeit clothing in Evesham, England. … Thieves in Michigan stole some vans filled with police and firefighter uniforms. … Here's a look at the history of the Marvel Comics logo. … A New Zealand cricket bowler has been wearing a rather unusual mask (from John Muir). … New airline uniforms for Aer Lingus. … In honor of Pi Day, the University of Missouri selected a pumpkin pie with the Mizzou logo constructed from pie crust as the winner of its "Draw the Logo" contest (from Kary Klismet). … Interesting Texas flag-themed swimsuits for Houston at this year's NCAA Swimming & Diving Championships. … New logo for the California city of Menifee. … A week ago we had a Ticker item about the Stanford University branch of the College Republicans being told that they couldn't put their new logo on a school-approved T-shirt because it included the American flag, which was a violation of school policy. The group has spent the past week lobbying to have that decision overturned, but now it turns out that the logo was plagiarized.