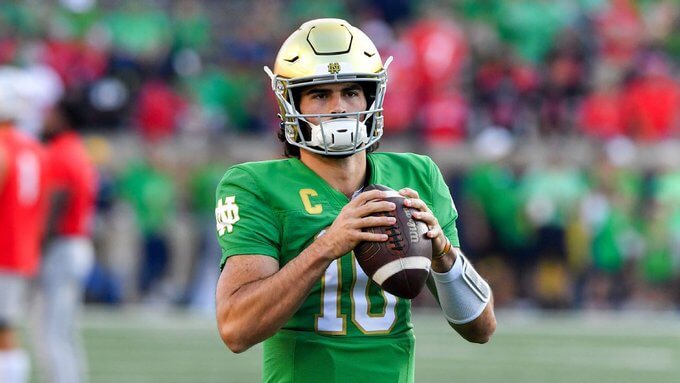 Good Sunday Morning Uni Watch. Welcome to the Week 4 edition of Sunday Morning Uni Watch.
In case you missed it, yesterday was a pretty big uni-news day in the NHL, with the Minnesota North Star, er, Wild announcing a new alternate, which actually honors the Minnesota North Stars look of 1978, the Winnipeg Jets unveiled a special alternate uniform which pays tribute to the RCAF's founding, and the Pittsburgh Penguins got themselves a spiffy new helmet advertiser. The NHL season may be just around the corner, but it's time for some college football!
One of the big games on the schedule yesterday featured 4-0 Notre Dame hosting 3-0 Ohio State (ranked #9 and #5 going into the game, respectively), and as they are wont to do, the Irish broke out a special uniform for the game. The uni consisted of their regular gold helmet, and new green jerseys and pants. Paul had the rundown on these when they were introduced on July 31st. But you can also read more here, here, and here for more on Notre Dame wearing green jerseys.
The green uniforms were pretty basic: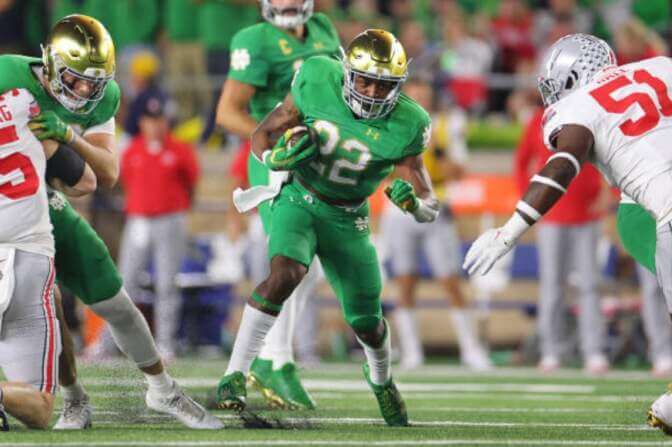 Solid green tops, with white numbers outlined in gold, and simple "ND" logos on each sleeve cap rendered in white. The pants were also kelly green with no stripes.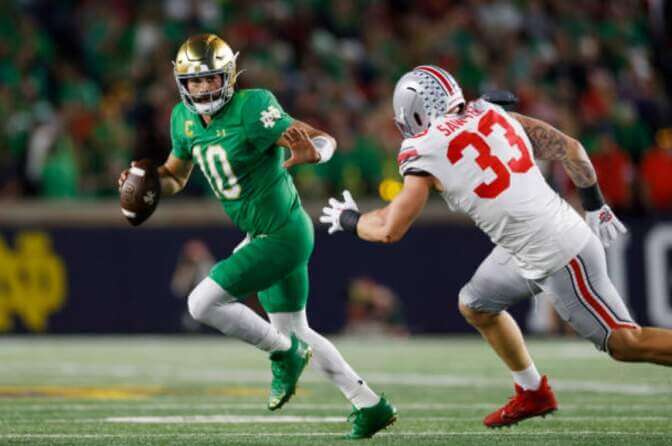 Most players went barelegged or with low white socks, but a few, such as quarterback Sam Hartman, went with high white socks/leggings (and in Hartman's case, bicycle shorts).
As per tradition, jerseys were NNOB.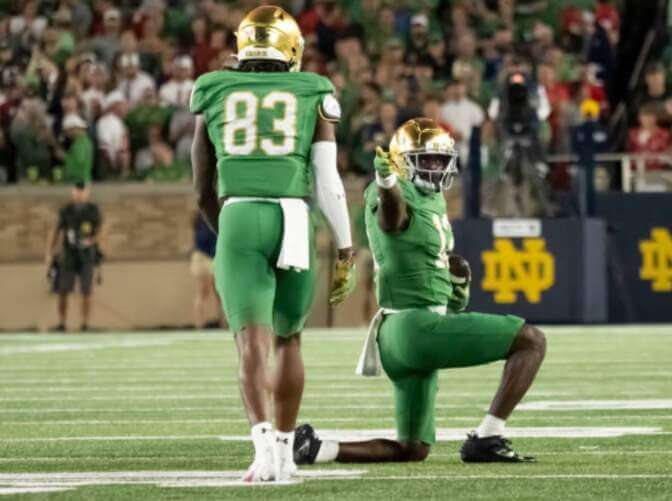 It was quite a good looking game, as THE Ohio State University went with their traditional gray/white/gray road uniforms.
You can see lots more photos here.
But that was just a taste of a pretty uni-eventful week 4 of the College Football season.
To take care of that, here's Terry D. with the rest of your…
• • • • •
Sunday Morning Uni Watch
by Terry Duroncelet, Jr.
Now that I'm no longer being mollywhopped by NyQuil after dealing with that inner ear infection from last week, here's that higher-energy column, as promised!
__________
From Thursday:
• Coastal Carolina/Georgia State: White at home for the Chants. Maybe it's the green field providing leverage, but Coastal is one school that does white at home very well.
__________
From Friday:
• San Diego State/Boise State: If the Aztecs had red pants, this would be the perfect 'opposites attract' matchup.
• San José State/Air Force: After what seems like ages, the Spartans FINALLY embrace a bit of yellow, and THIS is how they choose to use it?! Geez, the State of California experiences one (1) hurricane, and they make the color grey their entire personality.
__________
From Saturday:
• Michigan/Rutgers: Am I becoming a full-white appreciater? Granted, I think red pants would've made this a 10-out-of-10 game, but I don't hate the white lids for the Scarlet Knights Rutgers.
• Oregon/Buffalo: Keeping with the blanco-friendly train, I really liked Colorado's look in their trouncing at the hands of a less-than-stellar-looking Oregon. At least the marching band played along.
• Texas A&M/Auburn: Orange facemasks for Auburn. Honestly, it adds a nice character to an otherwise safe uniform.
• Vanderbilt/Kentucky: I swear, if anyone here mentions that DAMN DRESS… also, those chrome domes are still brutal.
• Louisville/Boston College: Louisville's helmets from yesterday looked kind of out of context, but I love them so much. Here's hoping they stay in the rotation.
• Kansas/BYU: White facemasks for BYU, and Kansas's red alts are apparently leftovers from last season, since they don't use that design anymore.
• South Alabama/Central Michigan: I don't talk about them enough, but South Alabama treats having a consistent helmet design like the floor is made of lava. I can dig it, though. This week's offering is Homecoming-focused (Blaise D'Sylva with the close-ups).
• Florida International/Liberty: Light blue togs for the Panthers.
• Misery Mizzou/Memphis: Between the grey Memphis suits, and choice of locale, this game was DREADFUL to look at. I'd rather watch a 3-hour documentary on the history of paper plates. I will say, Memphis's helmets did look kinda cool.
• LSU/Arkansas: Both squads wore '3' decals in honor and support of LSU defensive back (and former Arkansas defensive back) Greg Brooks. Brooks underwent emergency brain surgery recently to remove a brain tumor. The Razorbacks also wore full-red against the Tigers, which is supposedly the first time they did it in 5 years, which also was against LSU.
• Arizona State/USC: We all know that certain players will keep 'blood jerseys' with radically different numbers on their person, in the event that they need to hit the field, but might share a number with another player (which you can do in college football, as long as both of you aren't on the field at the same time). However, I'm not sure if I've seen someone peel off their alternate number on-camera before!
• Michigan Agricultural College Michigan State/Maryland: The Spartans wore some AMAZING MAC decals on their helmets as a tip of the hat to their roots, when they were known as Michigan Agricultural College (closer look).
• Old Dominion/Texas A&M-Commerce: Love those ODU lids.
• UTEP/UNLV: Well, freeze my farts and burp on Charlie Brown's momma's neck, it appears that UTEP is stuck in 2011. An ABYSMAL camo jersey top with those weird orange dart things on the sides is already bad enough, but THEN you throw the S&S helmet decal on top of that?! I don't know if I should be disgusted, or impressed. An odd mixture of both sounds about right. This is some goblin VTuber levels of UNHINGED to combine these two elements together and think that this is a good idea. On the other end of the ball, UNLV wore some simple –but effective– retro decals on their helmets (closer look). A tale of two teams, and one of those teams chose violence.
• • • • •
Thanks TJ! Great roundup, as always. Let's move on to the rest of the SMUW…