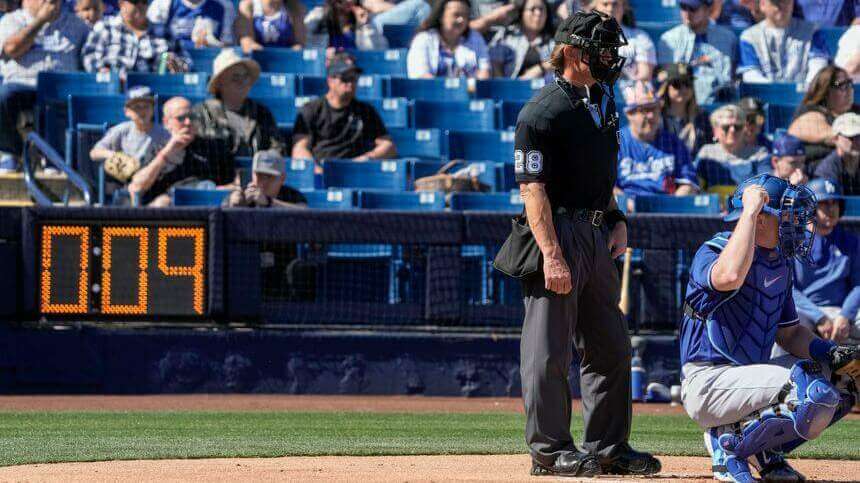 A good Saturday morning everyone. I hope you've all had a pleasant week.
I want to go a bit off-uni today to discuss some of the changes that occurred over the offseason to the game I have always loved and will always love: Baseball. Every Opening Day brings a new sense of rebirth. No matter what team you root for, Opening Day always provides a glimmer of hope that, this year — finally — will be the year. We all know the famous Terrance Mann Field of Dreams soliloquy. That literally almost brings a tear to my eye each time I rewatch the movie.
I couldn't think of a worse baseball Commissioner than Allan Huber Selig, until Robert D. Manfred, Jr. took over, and said "Hold My Beer!" Manfred enacted (with the owners' blessings) a few changes during his tenure that I absolutely abhored — including but not limited to the universal DH, the "ghost" runner in extra innings (aka the "Manfred Man"), and of course, most egregiously, uniform advertisements. We've rightly complained about uni ads not just screwing with the aesthetics (ads on any uniform look bad), but forcing other changes such as the Phillies eliminating uni numbers on the sleeve, or the Reds having to literally create a new logo to correspond to a player's "handedness." Ugh.
And of course one of the worst things that happened in baseball started well before Manfred's tenure: the amount of "dead" time. By that, I mean the time during the game when literally nothing was happening, despite both teams being on the field and ready to play. Whether it was batters doing anything but hitting…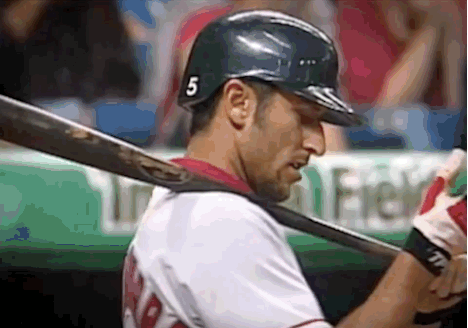 …or pitchers farting around with the rosin bag, or incessantly throwing over to first with a runner on, or any other delaying tactics. And sure, Tony LaRussa back in the day didn't help things when he'd change pitchers three times for three batters (despite what the sabermetrics and analytics, rudimentary as they were, told him). We'd joke that your typical Yankees-Red Sox game would take five hours, but that wasn't far off.
Speaking of analytics, I'm sure many of you noticed that aside from the pace of play being noticeably slower than a few decades ago, the way the game has been played has also changed. The defensive shift — justified by the analytics — was being used on virtually every at-bat. Pitchers are now routinely touching 100 mph (including relievers) and strikeouts are way up. I believe it was the immortal "Crash" Davis who decried strikeouts as being fascist. Teams bunt and attempt steals less and less because the analytics tell them not to. There are countless other things that happened to cause baseball up through 2022 to become a much slower, much more boring game, than the one I (and many of you) grew up with.
But folks…that's all about to change (and in a good way) this season and beyond. Through Spring Training games and just a couple days of regular season baseball, nothing short of a miracle has been happening — at least for those of us who have grown tired of the direction baseball has taken over the recent past. And it's all due to three (really four, but more on that below) rule changes that will, if not make baseball fun again, certainly make it more enjoyable.
1. Pitch Timer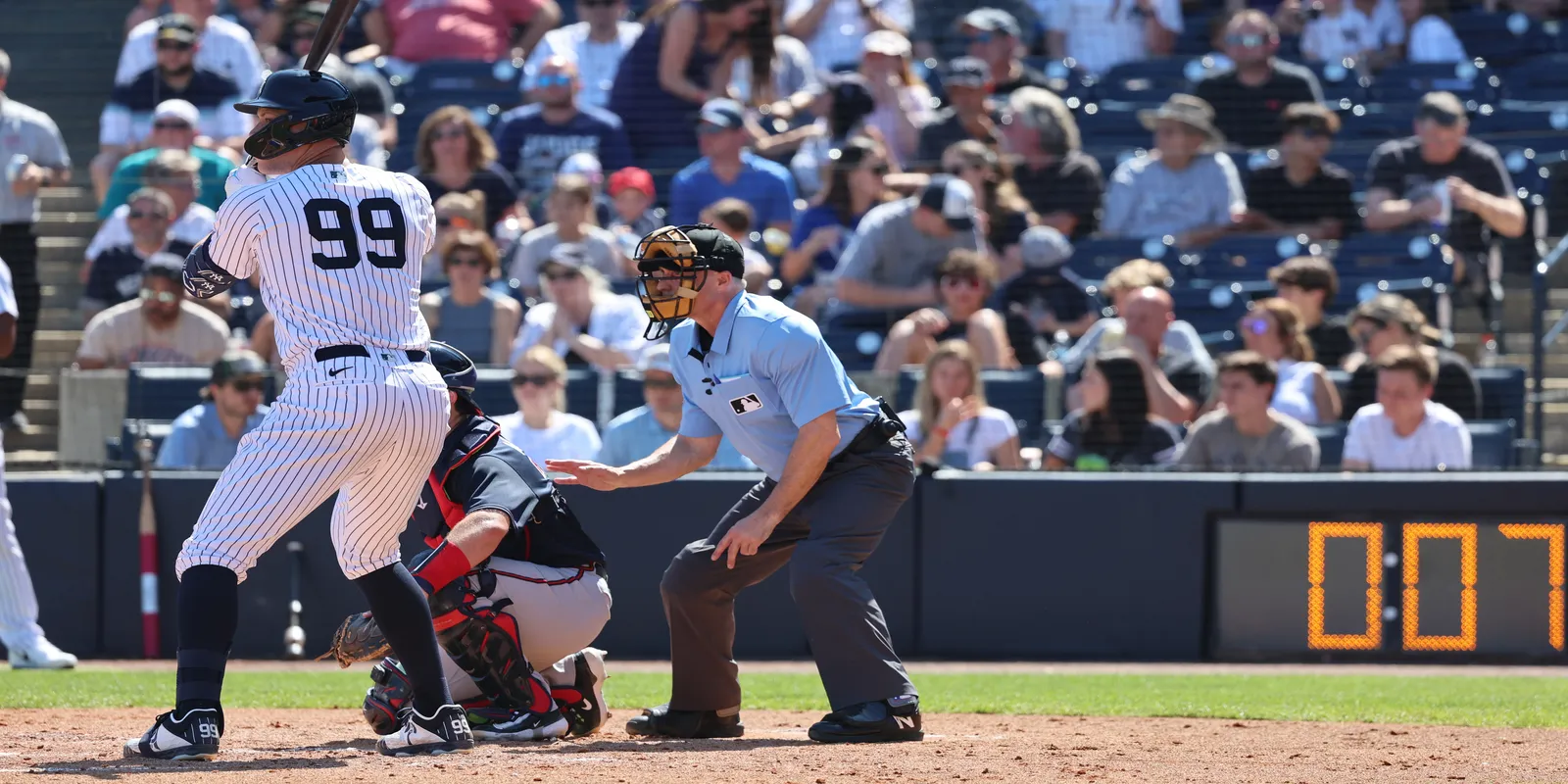 I'm sure you're all at least familiar with this one, so here's the basics:
The new pitch clock rules state that a pitcher gets 15 seconds to begin the motion to throw the ball with the bases empty and 20 seconds with runners on base. If he can't do this in time, he is charged with a ball. The hitter, however, must also be ready to go in the batter's box. He must be facing and looking at the pitcher with eight seconds left on the clock. If not, he gets charged with a strike.
You can read more on that here. Now, I'm largely a traditionalist when it comes to baseball (and a classicist when it comes to unis), and I always have lauded the fact that baseball is the one team sport where a clock never comes into play. In fact, when I learned MLB would be trying out the pitch timer (technically not a "clock") in the minors, I was sure I'd hate it. However, after watching a few spring training games — and THEN watching the WBC, which was played under the old rules — I knew baseball was on to something. After watching just a few innings with the pitch timer, I'm hooked. Pitchers get the ball from the catcher and then they actually pitch! Batters stay in the box and hit! It's a miracle, I tell ya. It's honestly like the baseball I remember from my youth. The down time between actual pitched balls seems to be cut at least in half.
Yes, the pitch timer will take some getting used to (not just for fans, but players alike), but it's amazing what a simple rule change has done to "speed" up the game. In the few regular season games I've watched so far, the pitch timer isn't visible to the viewing audience (although the scorebug of a couple games — and perhaps all — does show the "countdown" once the timer reaches :08). At first, one is keenly aware of it, but after an inning or so, it almost seems an afterthought. The game just moves along at a pace that feels right. And it's not just pitchers and batters — I saw the Mets get assessed a strike during Thursday's game when Pete Alonso was lollygagging around first base. Sure, that happened to "my" team (and I wasn't thrilled), but you can bet that's probably the last time it happens to the Mets.
My one fear if you will with the pitch timer was that things would feel rushed — and I did see a few pitchers definitely getting flustered — but they don't. We (and the players) have just slowly been so conditioned to the glacial pace of recent yore that it's simply something which we're all going to have to get used to.
1a. Pick-off attempts and step offs
While not specifically related to the pitch timer, this too will speed up the game. Pitchers are now allowed only two throws to first (or any base) with a runner on — if they attempt a third, they must pick the runner off or the runner will automatically be awarded the next base. The effect of this will be two-fold: it will speed up the game (because a pitcher can't keep throwing to a base infinitely), but will also likely encourage more steal attempts. Why? Because if a pitcher has already thrown to first twice, he can't throw over again unless the result is a pick-off. If the runner gets back to the base safely, he'll be awarded second. As such, runners are likely to take larger leads (and hence attempt more steals) under this new scenario. If any of you fondly remember the likes of Lou Brock, Vince Coleman or Rickey Henderson (as I do), then the stolen base will become a much more common side effect of the rule change. I, for one, welcome this.
2. Larger Bases
If you haven't noticed (and honestly — it's really hard to tell, at least on TV), first, second and third base have all been increased from 15″ per side to 18″ per side. That three inch difference was primarily enacted for safety reasons. You can read more about that here. But, like the pitch timer, there is a side effect here and it relates to 1a above. More stolen base attempts will likely be the result. Why? Well, first and third base will now the 3″ closer to home, and the distance from first to second and second to third will be 4½" closer to each other than previously. That 4½" distance may not seem like much, but with the bang-bang nature of the stolen base (especially combined with the pick-off/step off rule) will inevitably make a successful stolen base attempt much more likely.
3. Defensive Shift Prohibitions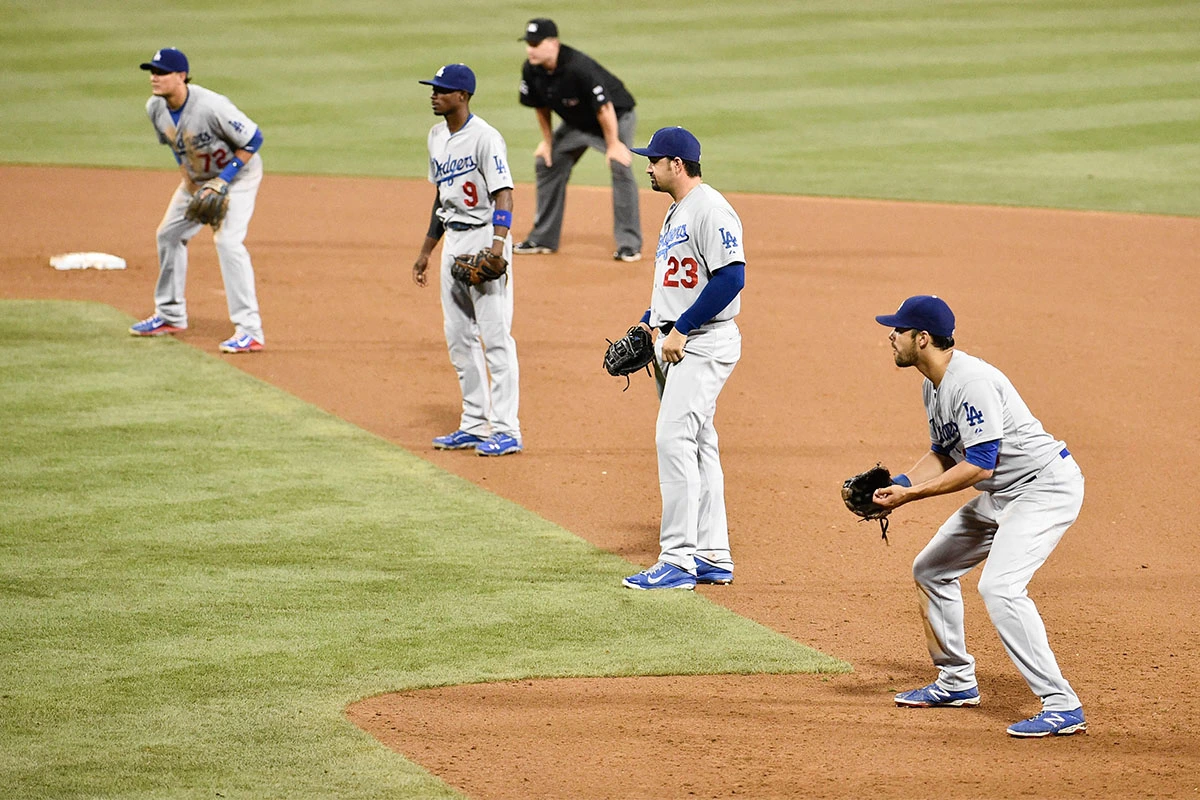 The above photo might be an extreme example, but the new rules now prevent the defensive shift by requiring teams to have at least two infielders on either side of second base, with all four positioned on the infield dirt, when a pitch is thrown. You can read more about this here. Of the three changes, this is the one with which I'm least excited. I am not a fan of the shift, per se, but I didn't think the rules should be changed to prohibit it — but I understand why the change has been made. And in a few of the games I've watched so far this season (including Spring Training), there have been more than a few balls hit that have become base hits where in years prior, the shift would have eliminated that hit. If the object is to inject more offense into the game, then this will certainly achieve that goal.
It's not a perfect panacea (just like the "livelier" ball wasn't without its problems), but more base hits will certainly generate more excitement (at least for one of the teams involved, lol).
Baseball has had problems in the past (and surely will in the future), but as an avid watcher for 50 years, one of my biggest complaints was pace of play AND style of play. By style of play, I mean the increasing tendency, driven purely by analytics, to score runs by getting a runner on base and then hoping for a home run. If you've watched more than a dozen games over the past five years, you'll agree. These three rule changes won't eliminate that strategy/thinking entirely, but it's returning the game to a quicker pace, with more action and less down time. Teams will adapt to those changes just like they have in the past. But I can't think of a time I've been more excited to watch (and go see live) my all-time favorite sport.
I still think Rob Manfred is the worst commissioner baseball has ever had, but I tip my cap to him (and the owners) for these simple changes.
And to bring this back to unis — I watched most of the Mets/Marlins Thursday, and a few innings last night, and yes, the uni ad on the Marlins sucks (as it does on all teams) — but after about an inning or so, I honestly didn't even notice the sleeve ad. It became a bit like white noise. And I couldn't even tell you what corporate entity the team was advertising, because I was much more enthralled with how much fun the game is becoming again. In fact, I noticed the ad on the mound a lot more than the ad on the sleeve. I actually didn't even remember who the ad was for until Mets color announcer Keith Hernandez mentioned it. Play-by-play announcer Gary Cohen semi-jokingly noted Keith was doing a plug for the sleeve advertiser (at which point Keith noted he was a consumer of said advertiser's services) … but like much of what Keith says during a broadcast, it was quickly forgotten.
OK. Enough of this decidedly non-uni monologue. Baseball: I'm back!