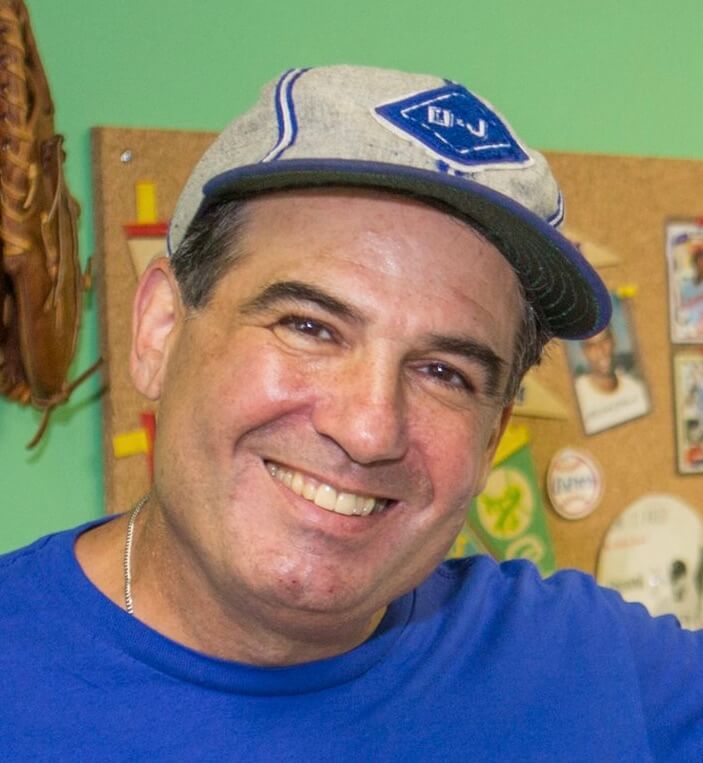 [Editor's Note: I've written several times about the great Jimmy Lonetti (that's him at right), who runs D&J Glove Repair in Minneapolis. Today he's going to tell us about an interesting item he recently acquired for his shop. Enjoy!

This post is part of Uni Watch Positivity Week. You can learn more about that here, and you can see all the UWPW posts here. — PL]
By Jimmy Lonetti
One of my Twitter followers recently suggested I get one of those vintage machines that dispenses baseball cards for the D&J Glove Repair shop. I looked into it and found that they're pretty spendy. When you add in the cost of stocking it with actual vintage baseball cards (which of course I would do), I figured I'd be laying out more than the machine would be taking in.
While researching this, I came across a vintage machine that dispenses mini baseball caps. It was being sold by a super-friendly coin-op outfit in Indiana called GumballStuff. They set me up with the machine and a period-appropriate stand: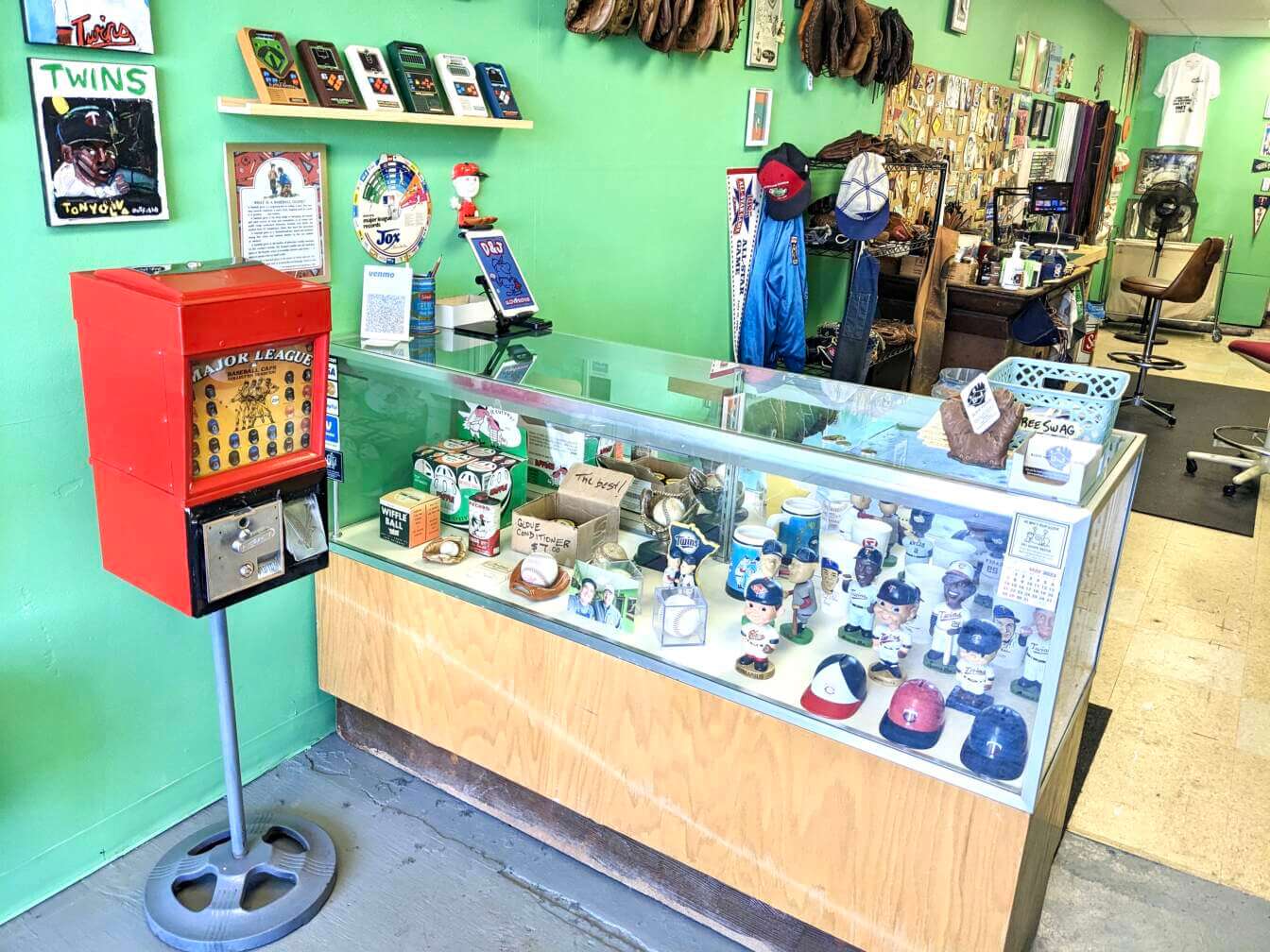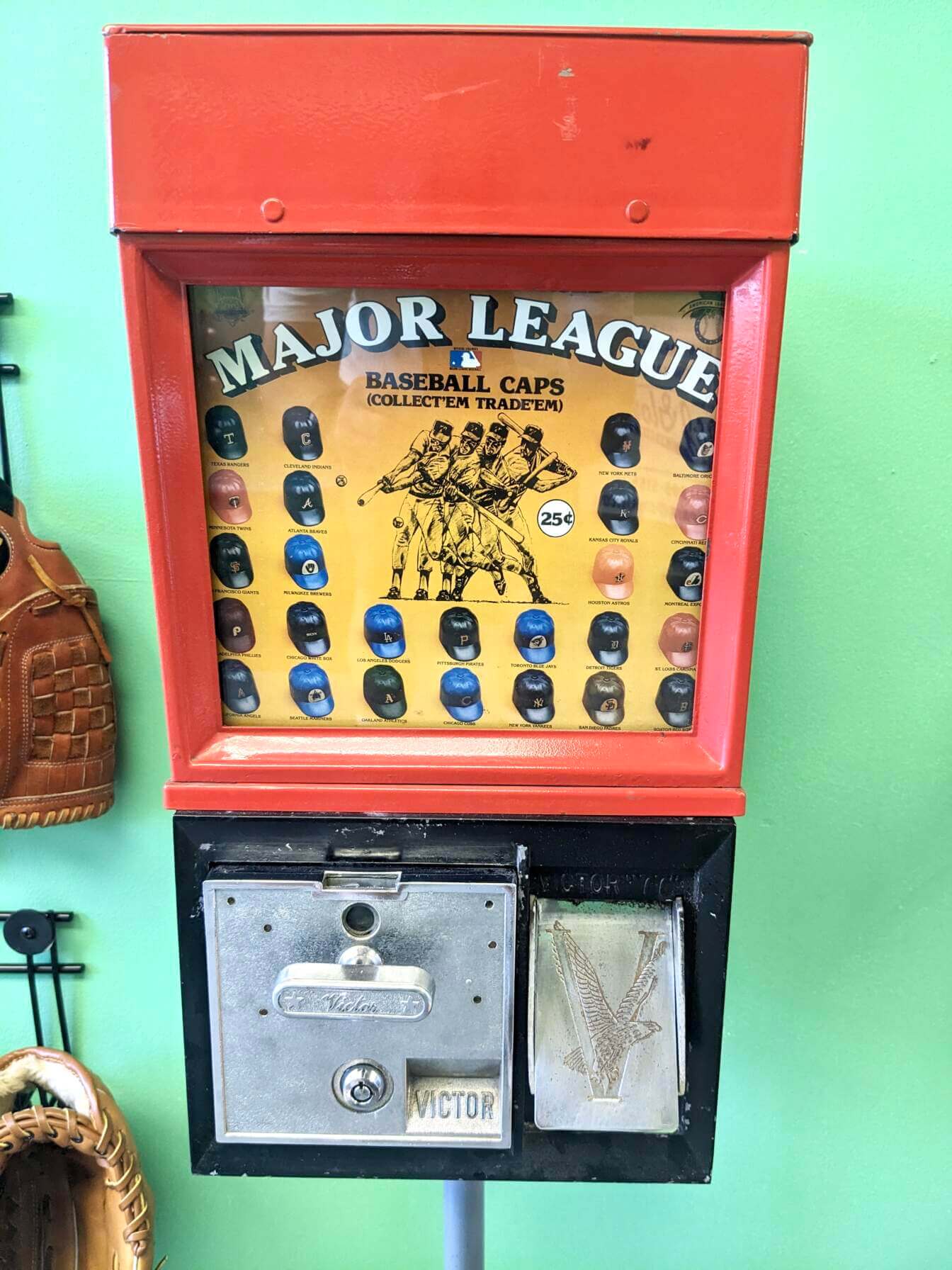 As you can see on the display card, the machine originally sold mini-caps that included faux seams, stitching, eyelets, squatchees, and so on, like this:
Unfortunately, the machine didn't come with any of those (the ones in the photo above are from my own collection), and those are pretty hard to source these days, so I just went and got a bunch of the newer mini-helmets (plus the capsules), which are easy to find on eBay, like these:
Intriguingly, included inside the machine were five short-brimmed yellow and green marbled mini-caps with just generic team name stickers:
I'd never seen this type of item before, so I pulled them out and saved them. Does anyone know anything more about them?
Anyway, it didn't take long for people to notice the new addition to the shop. Here's the machine's first customer:
First customer for the mini helmet machine. He bought two. Only have taken in 50 cents so far but in my eyes this thing has already paid for itself. pic.twitter.com/sm0RNuxT0M

— Jimmy Lonetti (@DJGloveRepair) May 27, 2023
———
Paul here. Oh man, how great is this story? When I hear from Jimmy, I always end up thinking, "This guy has the right approach to life."
One additional note: I immediately recognized the illustration on the machine's display insert, because it also appears on the cover of my 1982 MLB Style Guide: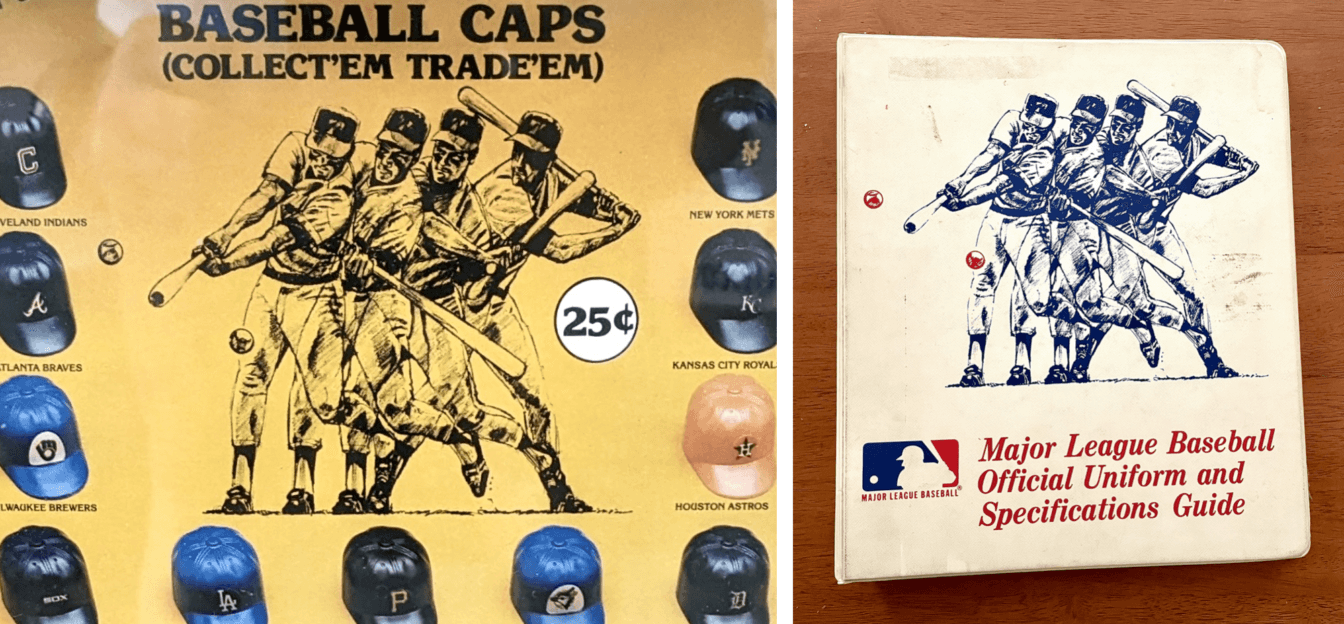 Does anyone know of any other contexts in which that illustration has been used?