Good morning! For this week's podcast episode (our 10th — double digits!), Chris Creamer and I talked about the Red Sox's new yellow "City Connect" uniforms, plus we have the second and concluding part of our interview with Dodgers senior design director Ross Yoshida, who gave us a scoop about how the Dodgers almost ended up wearing purple in the late 1990s!
In addition, we discussed the situation regarding the 2021 MLB All-Star Game patch now that the game has been relocated from Atlanta to Colorado, plus the question of the week and more. It's a really good episode!
As always, you can listen to us on Apple, Google, Stitcher, TuneIn, and Spotify, or just use the player below:
The show notes for this episode, which include photos of many of the things we discussed, are here. Those photos (and some additional ones) also appear in the video version of the episode, which you can see here:
Please consider supporting this episode's advertisers, Streaker Sports (get 20% off any order with checkout code UNIFIED), Ebbets Field Flannels (10% off, except on NFL items, with checkout code UNIFIED), and Homefield Apparel (15% off with checkout code UNIFIED).
Enjoy the episode, and thanks for listening.
• • • • •
• • • • •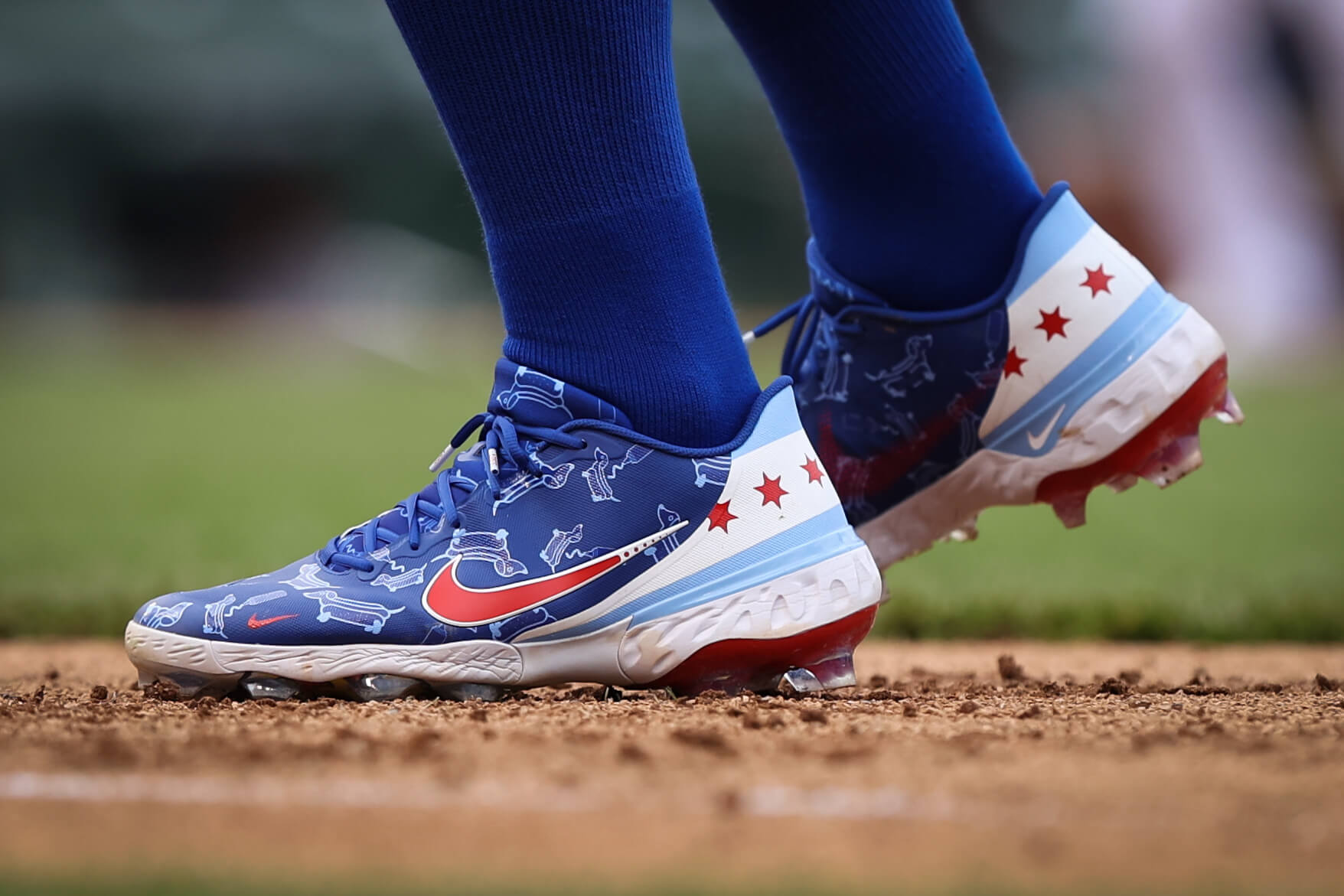 Click to enlarge
Star time: Last week I mentioned that Cubs outfielder Jason Heyward came onto the field on Opening Day carrying a Chicago city flag with the improper stars. That malady appears to be spreading: Yesterday Cubs first baseman Anthony Rizzo's shoes featured a Chicago flag theme — with the same improper stars. (And yes, Rizzo's footwear also had a nice wiener dog pattern, a reference to his dog, Kevin.)
Again, the stars on the Chicago flag look like this: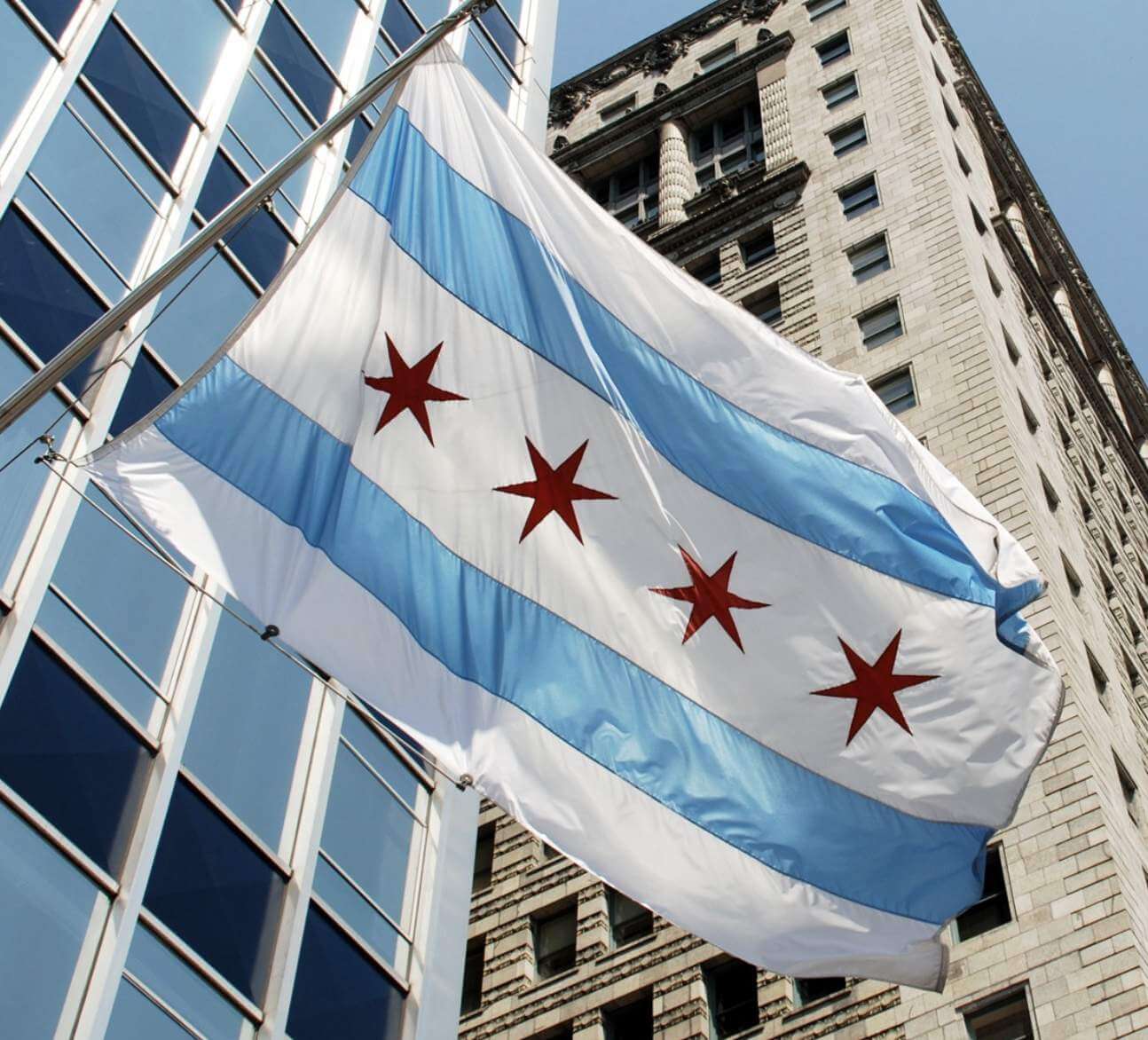 What is it about that shape that the Cubs find so difficult to get right?
(Great spot by Jerry Pemberton on the stars, and my thanks also to Joe Zook for explaining the wiener dog design.)
• • • • •
• • • • •
Membership update: Great job by card designer Scott M.X. Turner to create Greg Morrison's new membership card, which is based on Darrell Waltrip's car. Scott really captured that metallic feel — not easy to do!
Greg's card is part of a new batch that's been added to the membership card gallery, as we continue to plow through all the orders from last month's membership drive.
Ordering a membership card is a good way to support Uni Watch (which, frankly, could use your support these days). And remember, a Uni Watch membership card entitles you to a 15% discount on any of the merchandise in the Uni Watch, Uni Rock, and Naming Wrongs shops, plus the discount also applies to our Uni Watch Classic Cap. (If you're an existing member and would like to have the discount code, email me and I'll hook you up.)
As always, you can sign up for your own custom-designed card here, you can see all the cards we've designed so far here (now more than 3,100 of them!), and you can see how we produce the cards here.
• • • • •
• • • • •
Click to enlarge
Just my type: Back when I worked in book publishing, I was lucky enough to work with a lot of great authors who wrote about graphic design — a tremendous experience that taught me so much. One of those authors was Steve Heller, who has gone on to become America's (and probably the world's) greatest design historian.
Last night Steve gave an online lecture called "The New Typography in America, 1920–1940." I imagine the video will be archived and posted at some point (I'll share it when it's available), but in the meantime I took the liberty of making a few screen shots to share, including the one shown above. If you like that (and who wouldn't?), you'll probably like the rest of them, which you can see here. Enjoy.
• • • • •
• • • • •
The Ticker
By Paul

'Skins Watch: Colorado is the latest state to consider a ban on Native American mascots and team names. Meanwhile, the Washington state Senate has approved its own ban. Approval by the House is still pending (both of those from Phil). … Camanche High School in Iowa will no longer call its teams the Indians (from Kary Klismet). … Also from Kary: The Philadelphia Cricket Club, which has been featured before in 'Skins Watch for its Native American-themed sign, has now decided to remove that sign after complaints from a neighboring church. … One more from Kary: Newington High School in Connecticut, having previously dropped its "Indians" team name, will now call its teams the Nor'Easters.

Baseball News: The whole point of having Francisco Lindor on my favorite team was that the Mets would finally have a player who wore stirrups every day. But yesterday, in only the third game of the season, he went low-cuffed. What the fuck?! … Although the team hasn't yet announced it, the Rockies will reportedly retire Larry Walker's No. 33 on Aug. 21 (thanks, Phil). … I've written before about Dodgers 3B Justin Turner's unusual custom jersey tailoring. It appears that new teammate Trevor Bauer is having the exact same thing done to his jersey (good spot by Matt Sanderson). … Hillsborough High School in New Jersey is making players "earn" their batting helmet logos, because "successes in life don't come from free handouts" (from Fred Versaci). … New caps for the Hartford Yard Goats. … The Cubs are planning to add a statue of former pitcher Ferguson Jenkins at Wrigley Field (from Andreas Papadopoulos). … New costumed mascot for the Pioneer League's Missoula PaddleHeads (from Kary Klismet). … Red Sox skipper Alex Cora wore the team's BP cap during yesterday's game, although I'm told he later changed it to a game cap (thanks to all who shared). … The WCBL's Regina Red Sox have released renderings of their proposed 3,500-seat stadium (from Wade Heidt). … Trust me, this is worth the click: FIU's uniforms are really, uh, something (from Stephen Mason).

NFL News: Nike has suspended its endorsement deal with Texans QB Deshaun Watson, who's been accused of sexual assault and other inappropriate behavior by nearly two dozen women. … With the NFL considering a less restrictive policy on uniform numbers, the Patriots' official Twitter account posted mock-ups of what some of their players might look like if they were allowed to wear their college numbers — and, of course, they used the wrong number font for some of them (thanks to all who spotted this — proud of you!).

Hockey News: New "Irish Night" uniforms for the ECHL's Allen Americans (from Chris Mycoskie).



Basketball News: A USC grad has created homemade trading cards to commemorate UCLA's improbable run to this year's Final Four (from Kary Klismet). … Good article on college hoops coaches now going with more casual attire (from Warren Ehn).

Soccer News: Liverpool winger Harvey Elliott has signed an endorsement deal with New Balance. … Inter Milan's new shirt is the first one to feature their new club badge (thanks, Phil). … Meanwhile, here are several dozen Inter logo designs that didn't make the cut (thanks, Anthony). … Camila Castilhos created mock-ups of the AFC Richmond Fantasy kits from the TV show Ted Lasso. … MLS expansion franchise Austin FC has partnered with a local animal shelter to feature a new live mascot for each game — a dog that's ready to be adopted by a good home (from Kary Klismet).

Grab Bag: Reprinted from yesterday's comments: Chinese TV is blurring out the logos of Western companies (from Peter, who prefers that his last name not be used). … Colorado is auctioning off a series of marijuana-themed license plates (from Max Weintraub). … Here are some thoughts on the logo for the 2026 Milan Olympics. … Microsoft marked its 46th anniversary by reviving its original 1975 logo, which was definitely a a product of its era. … Aussie football team Brisbane Lions are asking for public input to name their new lioness mascot (from Kary Klismet). … New athletics logo for D2 school Humboldt State. … I've previously written about my visits to the Neon Sign Museum in Las Vegas and the American Sign Museum in Cincinnati, so I'm super-excited to learn that there's a new neon sign museum opening much closer to home — in Philadelphia (big thanks to Rob Riegert for the tip). … Here's a pretty cool video clip showing the evolution of Ohio Roller Derby jerseys (from Dan McGowan). … This is pretty funny: an article on why so many comic book villains wear my favorite and least-favorite colors — green and purple (big thanks to James Poisso). … The @Super70sSports Twitter account asked people to name their favorite uniform and got lots of great responses (from Erick Kriewaldt). … New maternity uniforms for the U.S. Marine Corps. … New uniforms for Nashville police officers (from Timmy Donahue). … Even without fans, sports owners got richer last year. Tell me again why we need all those new ads that were added during the pandemic?
• • • • •
• • • • •
Click to enlarge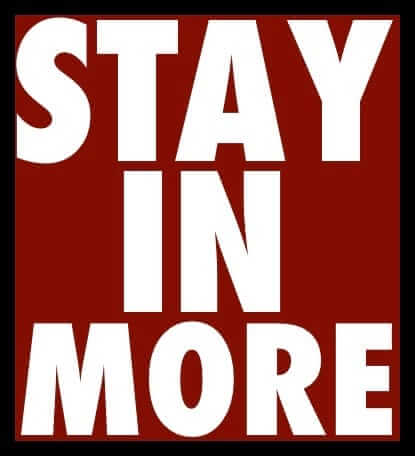 What Paul did last night: Our neighbor Hunter is a Phillies fan, and he knows I'm a Mets fan. So with the Mets getting thumped by the Phils yesterday afternoon, he moseyed over in the Phillies cap, just to give me the business. I like that he even wore the proper blue cap, which is what the Phils wore yesterday because it was a day game.
As always, you can see the full set of daily Pandemic Porch Cocktails™ photos — now well over a full year's worth — here.