Good morning! Phil is off this weekend, so I'm making a rare Saturday appearance, and we'll also have a post from Ticker assistant Jamie Rathjen later in the morning.
Now then: As you may recall, the Orioles' City Connect jerseys feature a black/grey mosaic pattern on the sleeve cuffs, with a colorful mosaic on the inner sleeves. So if the player wears his sleeves the conventional way, they look sort of drab, but there's a flash of color if the player rolls up his sleeves (as shown above).
According to the team, the explanation for the sleeve trim is as follows:
The pattern is a representation of the neighborhoods that shape our city. … The grayscale exterior represents the surface-level view that people have of the city. Look deeper and you'll find the colorful interior, inspired by Baltimore's arts culture, that highlights the vibrancy of the city. So roll up your sleeves, dig into our culture, and come see what we're all about.
Well, apparently not enough players were rolling up their sleeves during this uniform's first two games (or maybe the rolled-up sleeves kept coming unrolled), because the team has now made some adjustments. Beat writer Andy Kostka reported the news prior to last night's game:
The cuffs were sewn up

— Andy Kostka (@afkostka) June 23, 2023
I was hoping some enterprising wire photographer would provide us with close-up pics of the newly sewn sleeves, so we could see the stitching and other details. Alas, no such shutterbug stepped forward, so I checked out the game video. And sure enough, all the O's last night looked like fucking clowns were sporting plenty of color on their cuffs:
Wait, check that — almost all of the O's were color-cuffed. Shortstop Jorge Mateo had color on only one cuff: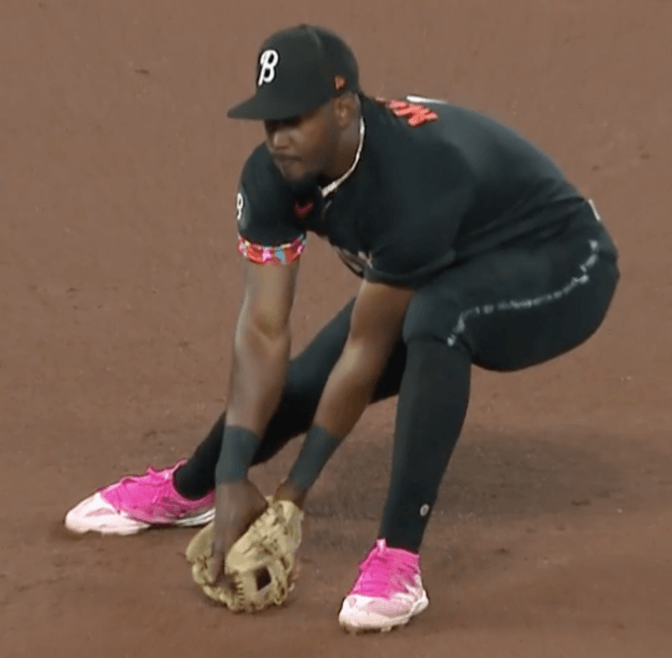 Upon closer inspection, it appears that his left sleeve did have the color treatment, but he rolled the cuff even higher to obscure the pattern, essentially reversing the design's original intent: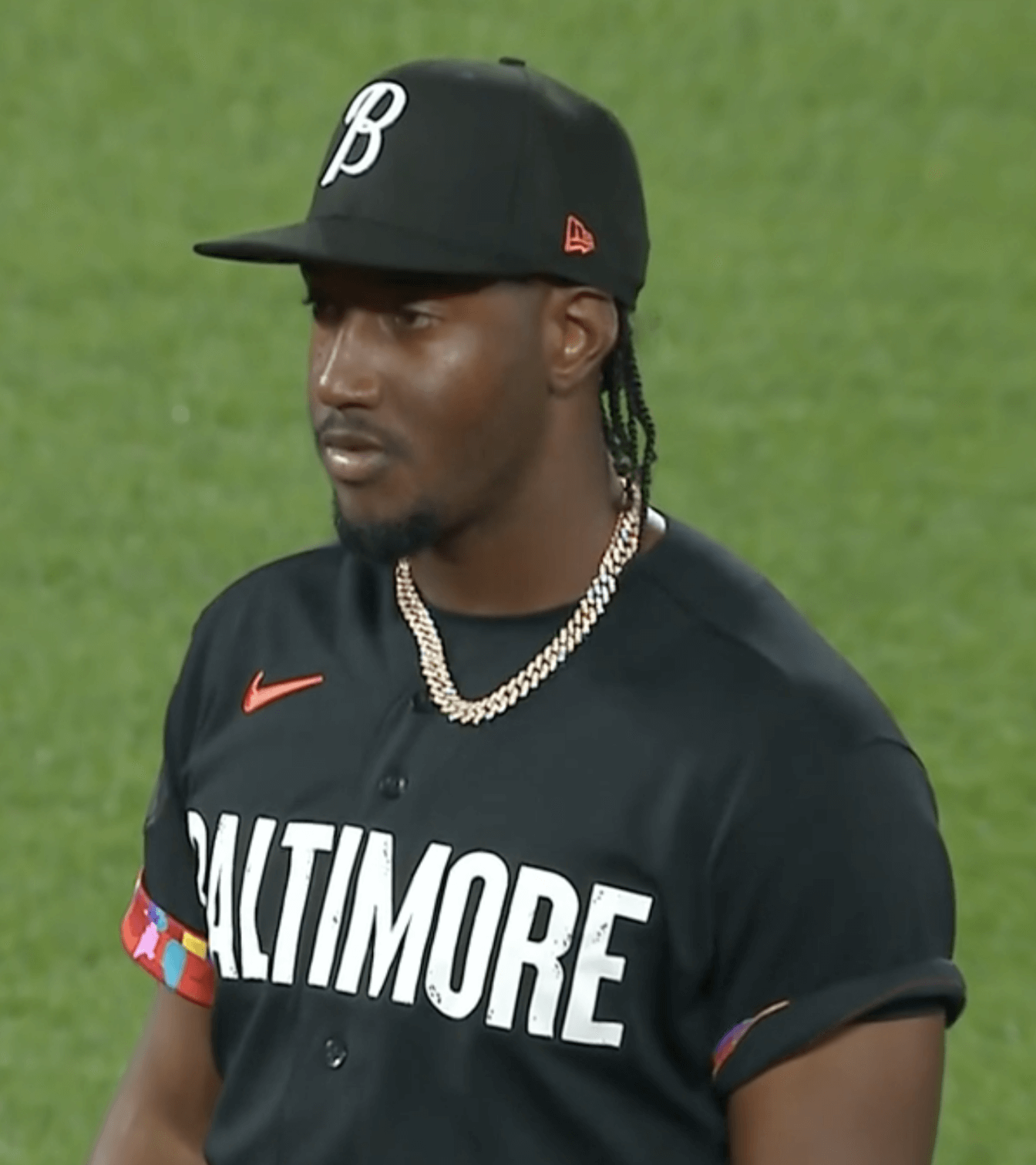 The funniest part about all this, of course, is that the sewing the cuffs permanently into place negates the whole point of the "storytelling" nonsense. What a joke.
Even better, this uniform's slogan is "You Can't Clip These Wings." But they did.
(My thanks to Chris Pika and Andrew Cosentino for bringing Andy Kostka's tweet to my attention.)