Good morning! The big uni news today will be the unveiling of the Pirates' City Connect design. But while we wait for that to happen (I'm not sure when in the day it will take place), I want to go off-uni and talk about something that's been on my mind.
So: I've always loved mail. I had several pen pals when I was a kid, so I was always looking forward to the daily mail delivery, hoping that there'd be a letter for me. This epistolary anticipation continued into my adulthood, as I became a zine publisher (which entailed a lot of fan correspondence and mail orders) and then a freelance writer (which meant I received most of my income via checks that arrived in the mail — any day could be payday!).
Although email, Venmo, and direct deposit have now rendered most of that moot, I still have a near-Pavlovian positive response when I hear the dull metallic clank indicating that our letter carrier has shoved the daily delivery through our front door's mail slot. This fascination with mail has occasionally extended into my work (I've written about letterbox design and Jimmy Lonetti's throwback postal uniforms) and even my home decor (as longtime readers may recall, I have a vintage mail chute here at Uni Watch HQ).
All of which is to say: I have an admittedly romantic notion of the mail system. That in turn explains why I'm so upset about a recent development at my local post office. Like all post offices, it has a letterbox outside at the curb. Lately that letterbox has looked like this: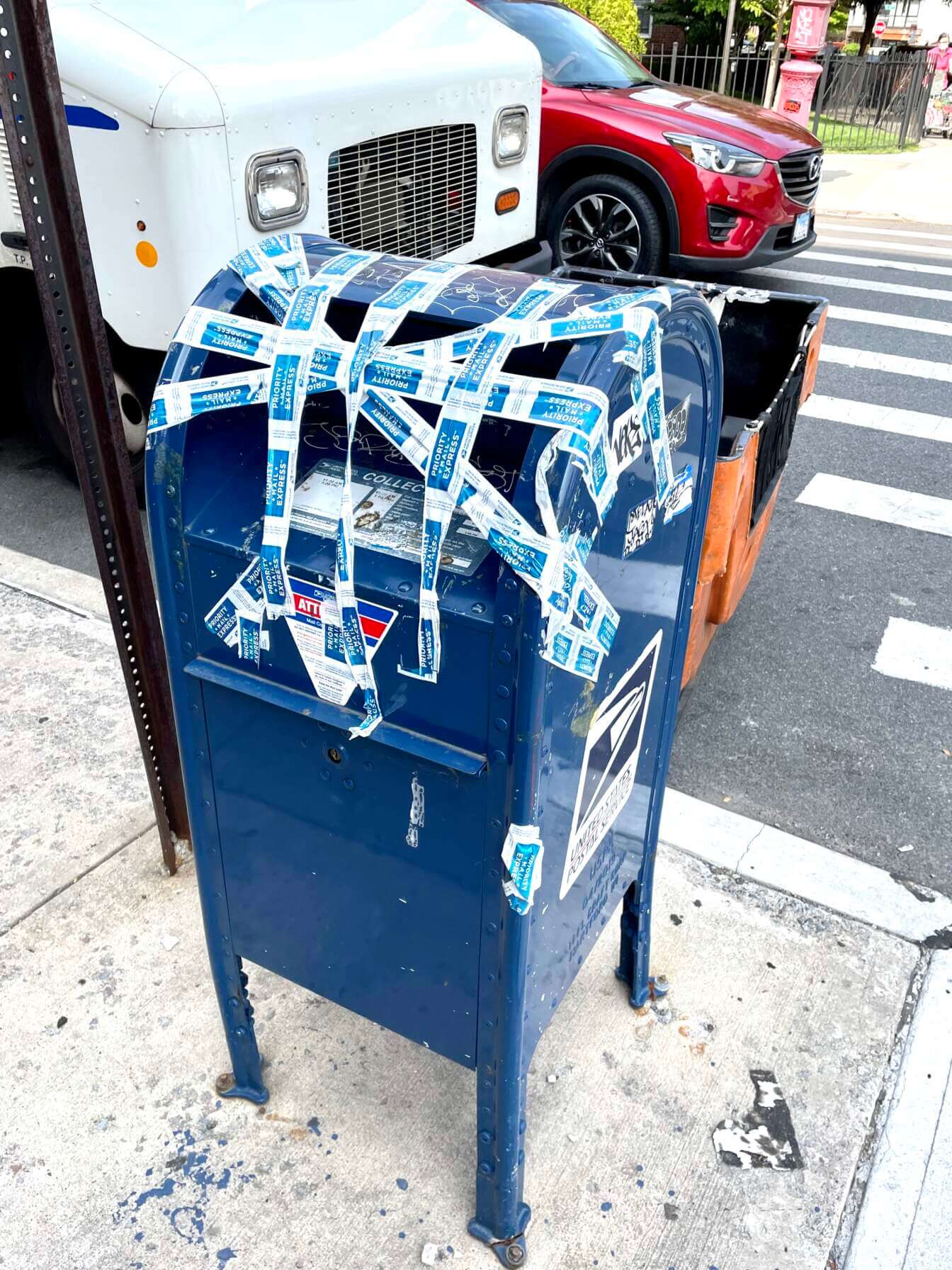 This may look like a kid's prank, but it's not. The box has been like this for a couple of weeks. If the postal staff didn't want the tape there, they could remove it.
From a practical standpoint, this isn't a big deal, at least during business hours, because anything that would fit in the letterbox's slot will also fit in the wall slot inside the post office, just a few feet away. The issue, from my standpoint, isn't that the box has been taken out of service (maybe there's a good reason for it), but rather the half-assed way it's been taken out of service. There's no sign, no explanation — just an amateurish tape job. It feels like something you'd see in a developing nation.
I find this off-putting — upsetting, even — because mail is, in many ways, an act of faith. At the risk of over-romanticizing again, I think it's kind of magical that we can scrawl something on an envelope, drop it in a box (or wall slot, as the case might be), and expect with reasonable confidence that it will arrive at the specified destination. And despite all the potshots people like to take at the Postal Service, they mostly do a remarkably good job. But that act of faith requires a lot of institutional trust, and things like taping over a letterbox outside the post office erode that trust. It makes me think that the people working at this branch are lazy and unprofessional, and that in turn makes me a bit more hesitant to entrust them with something I'm mailing.
And here's the thing: If the Postal Service wants to take a box out of service, they have a protocol for that, like they do for everything else. It involves an official Postal Service box boot (sort of like the boot that gets put on a scofflaw's car wheel), which is secured in place by an official Postal Service padlock: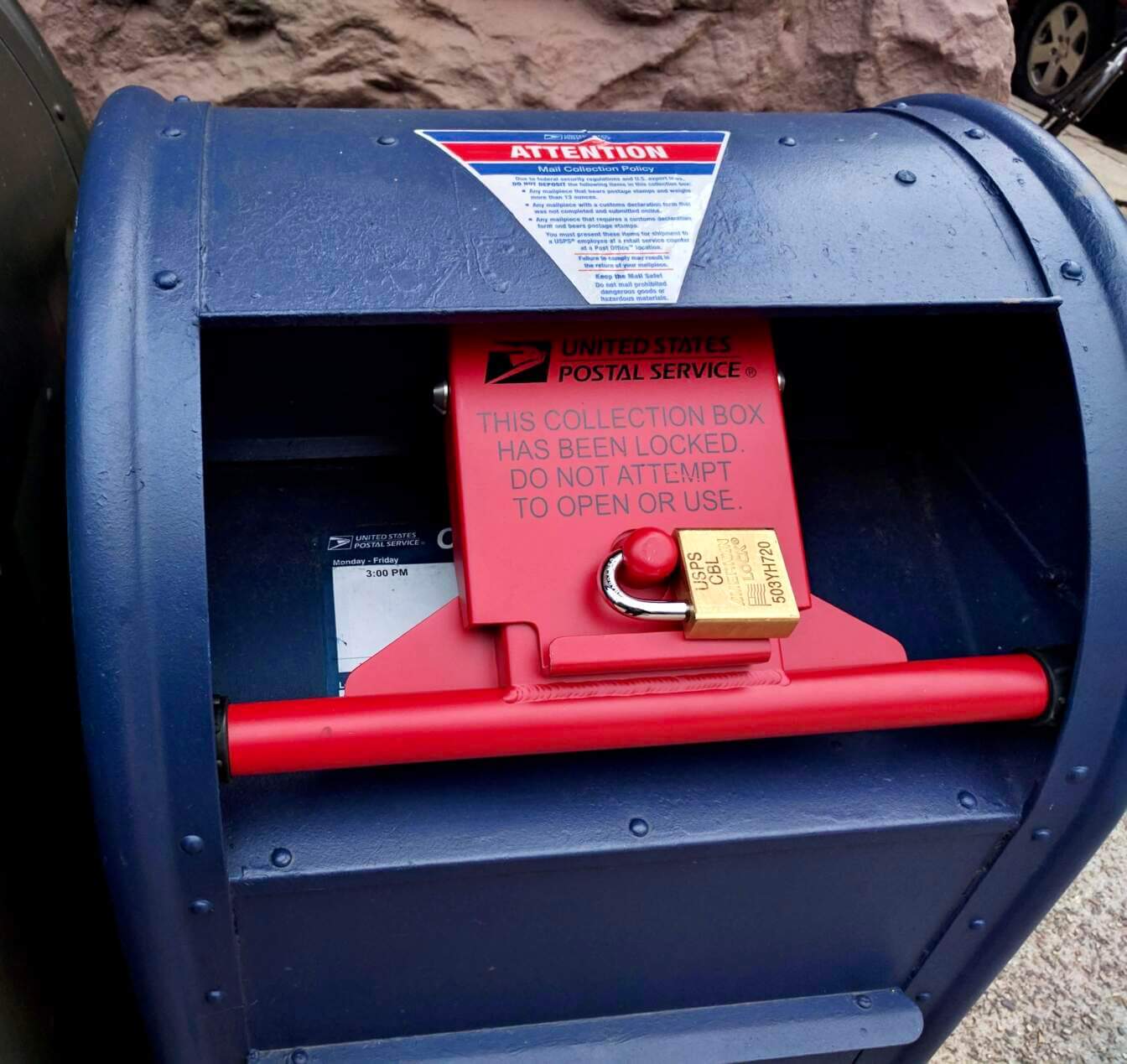 I suppose that may look a bit imposing, but that's the point, right? It looks like the work of an organization that knows what it's doing. (In case you're wondering, they have similar boots for boxes with those extender attachments [which, incidentally, are officially known as snorkels!]).
Let's cut my local post office some slack and assume, for the sake of argument, that they didn't have any of the big red boots available. They still could've done something like this: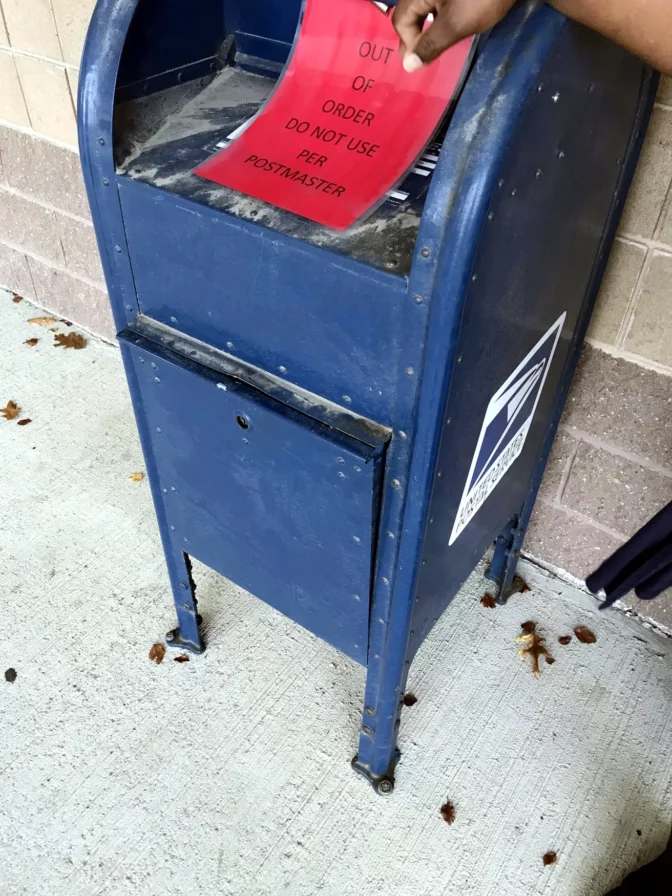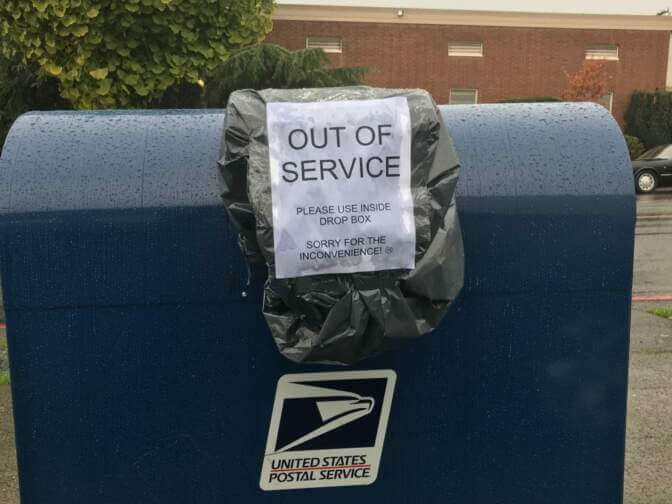 Those signs are a bit rinky-dink, but at least they make an attempt to communicate with the customer, whereas the tape job has more of a "Talk to the hand 'cause the face ain't listening" vibe. Would it kill my local branch to add a simple sign like that to the taped-up box? I just wish they'd make more of an effort.