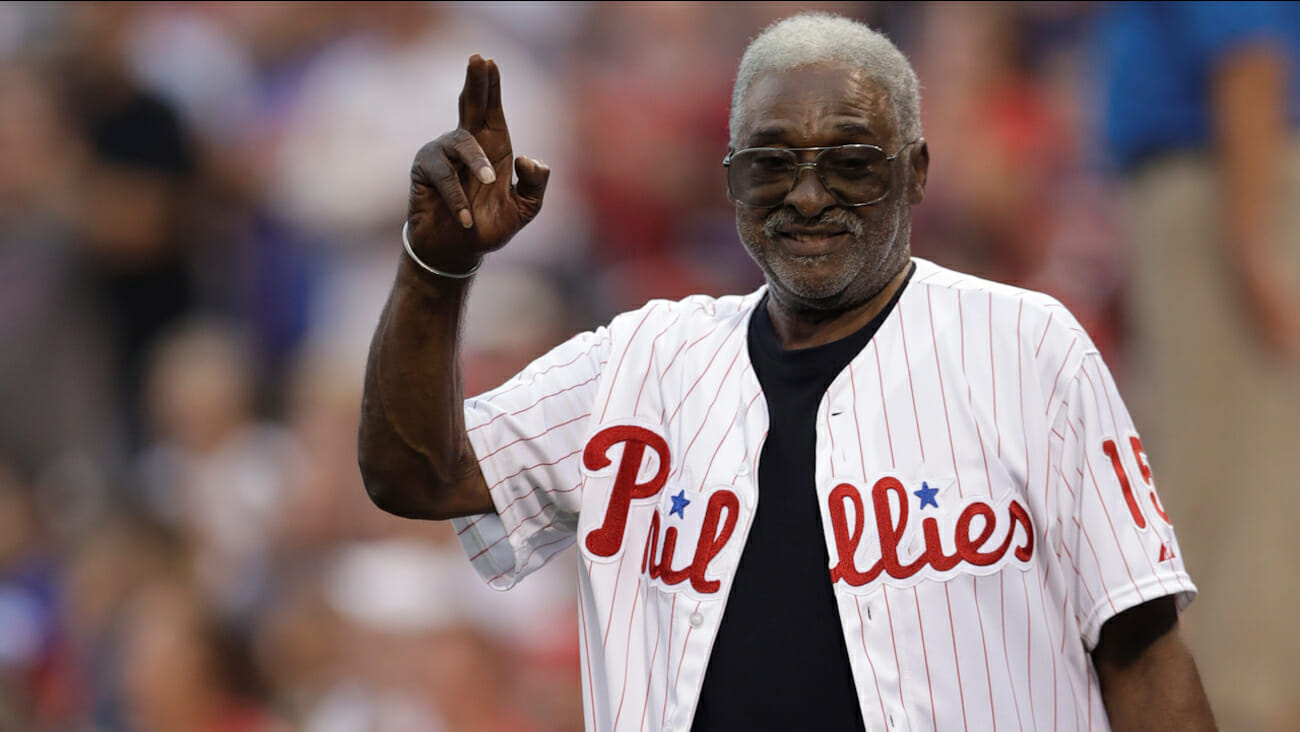 For most of today's photos, you can click to enlarge
Former MLB great Dick Allen (shown above at a Phillies game in 2017) died yesterday at the age of 78. History will record that he was the 1964 National League Rookie of the Year, the 1972 American League MVP, a seven-time All-Star, and arguably the greatest player not to be enshrined in the Baseball Hall of Fame.
But the record should also show that Allen was an unusually robust character in the realm of athletics aesthetics, with a slew of uni-notable distinctions to his credit. Let's go through them one at a time:
1. He wore his high school graduating class as his NOB and number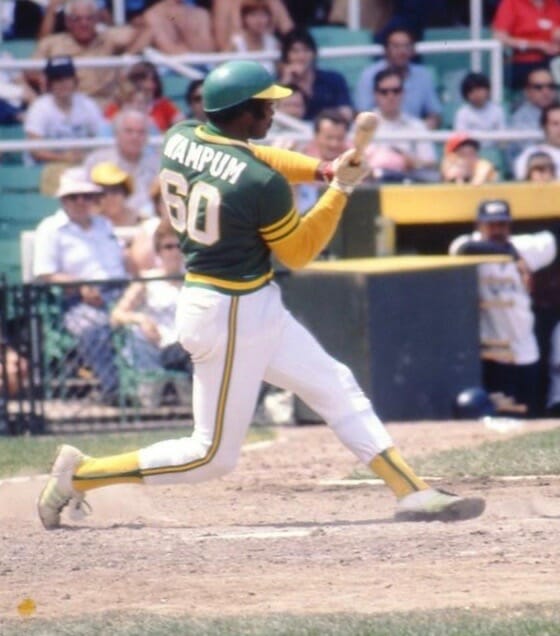 After wearing No. 15 for the majority of his career, Allen switched to No. 60 when he joined the A's in 1977 for what would turn out to be his final season. He also wore "Wampum" as his NOB. The number/NOB combo referred to him being a member of the Class of 1960 at Wampum High School in Pennsylvania. (Allen was at his Wampum home when he died yesterday.)
2. He wore eyeglasses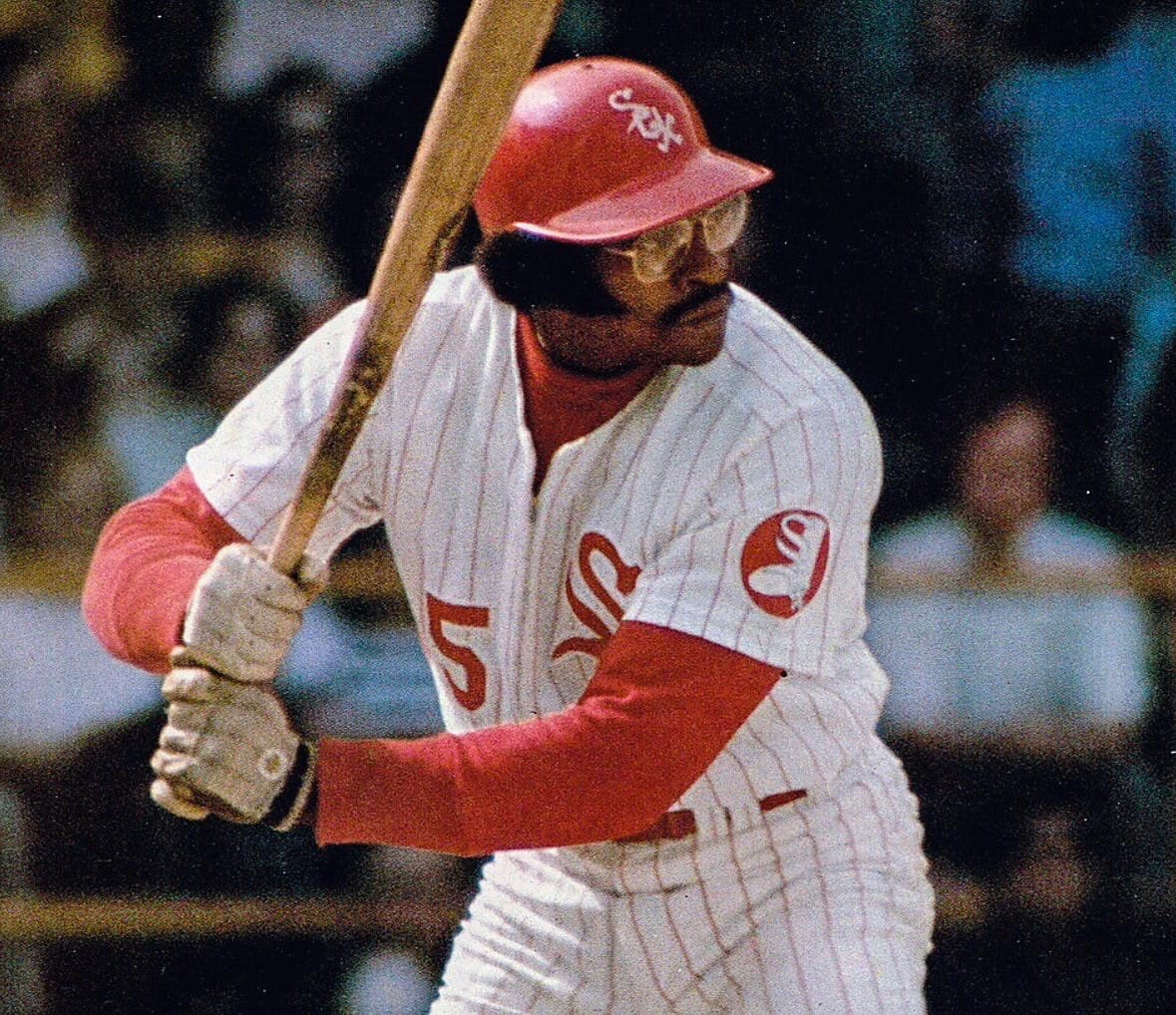 Wearing specs on the field wasn't quite as rare in Allen's era as it is today, but it was still fairly unusual. He originally went with the horn-rimmed style before switching to wire frames. Has any other glasses-clad player ever won the MVP? I can't think of another one off the top of my head. Anyone..? (Update: Reader/commenters Tom Pachuta and Dootie Bubble note that Jim Konstanty and Reggie Jackson are also in the ranks of bespectacled MVPs. And now that I think of it, so was Zoilo Versailles. So Allen was not unique in that regard, but his specs still stood out.)
3. He wore a batting helmet in the field
Long before John Olerud became known for going hard-hatted while playing first base, Allen had already made that style one of his visual signatures. He began doing it in the 1960s while playing for the Phillies, because the local fans often threw ice, batteries, and other projectiles at him, and he continued doing it for the rest of his career.
4. He created his own memorial armband — for his agent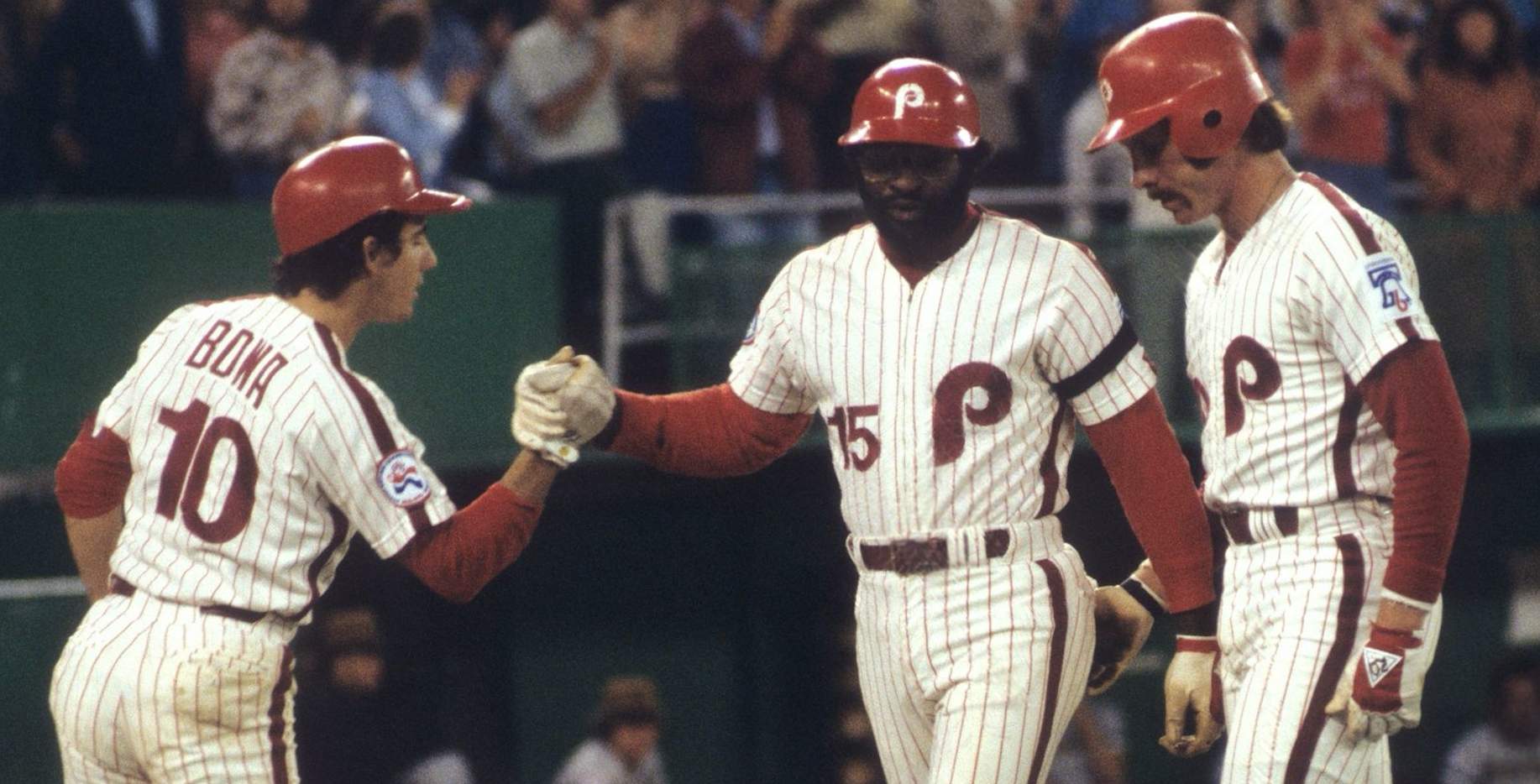 I didn't know about this one myself until yesterday. I was doing photo research for this blog entry and came across the photo shown above (dated Sept. 15, 1976), which shows Allen wearing a black armband while teammates Larry Bowa and Mike Schmidt are armband-free. I didn't know what to make of it, so I tweeted it and tagged my Allen biographer Mitch Nathanson, who quickly responded, "He had that affixed himself to commemorate the death of his agent, Clem Capozzoli. A member of the Veterans Stadium grounds crew sewed that on."
Capozzoli, who was one of Allen's close friends in addition to being his agent, died prior to the start of the 1976 regular season, on March 28, but Allen apparently didn't add the armband until midway through the season. He wasn't wearing it on April 10 or June 10, for example, and the earliest instance of him wearing it that I could find was on July 23. (Footnote: As of Aug. 11, the Phillies had no idea why he was wearing it! Different times.)
Again, I didn't know about this armband story until yesterday. Fascinating.
5. He wore zippered jerseys in both leagues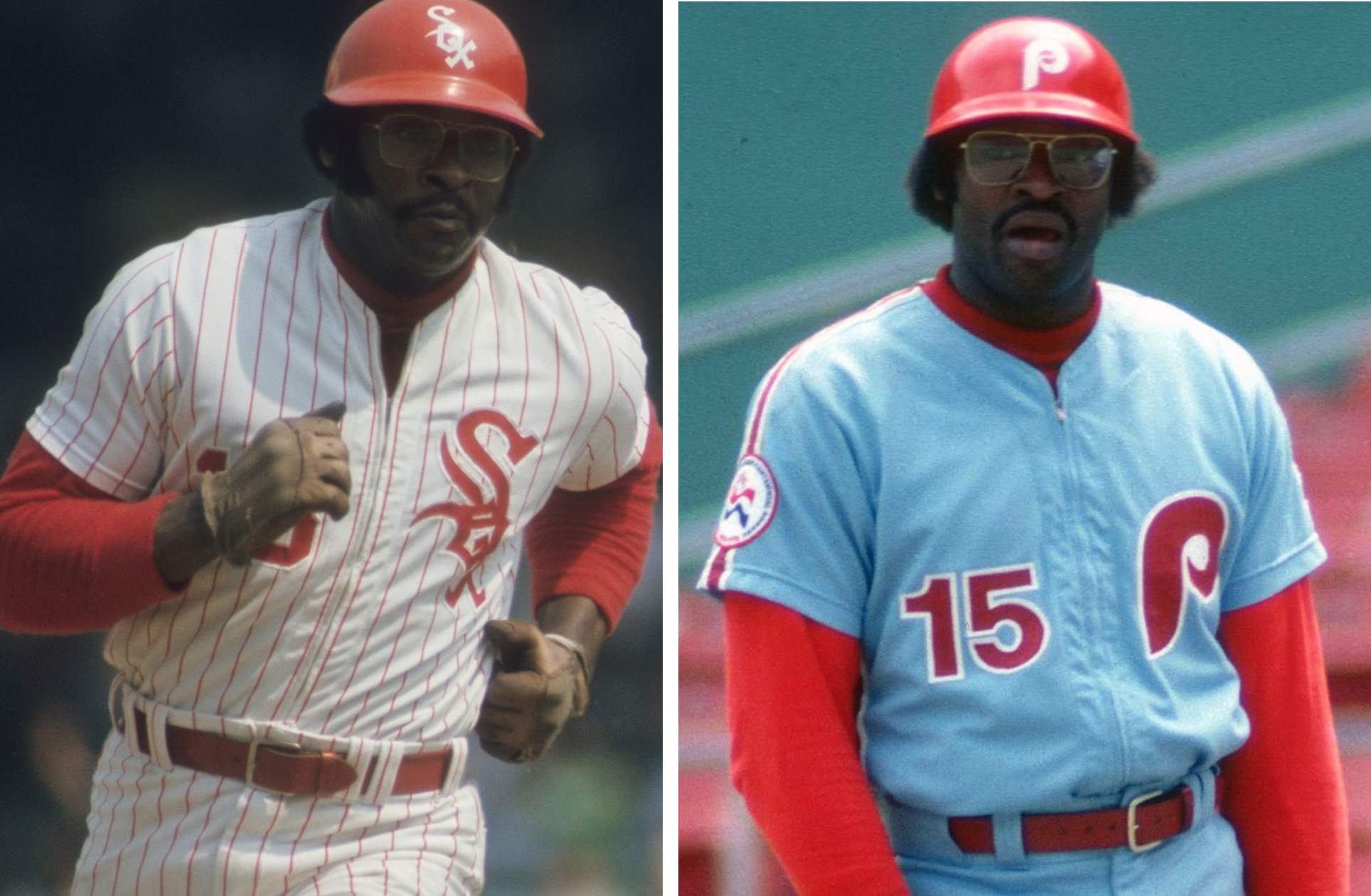 Only a handful of MLB teams have worn zippered jerseys. Allen played for two of them in the 1970s: the White Sox and the Phillies. Zip-a-dee-doo-dah!
6. He wore white shoes in both leagues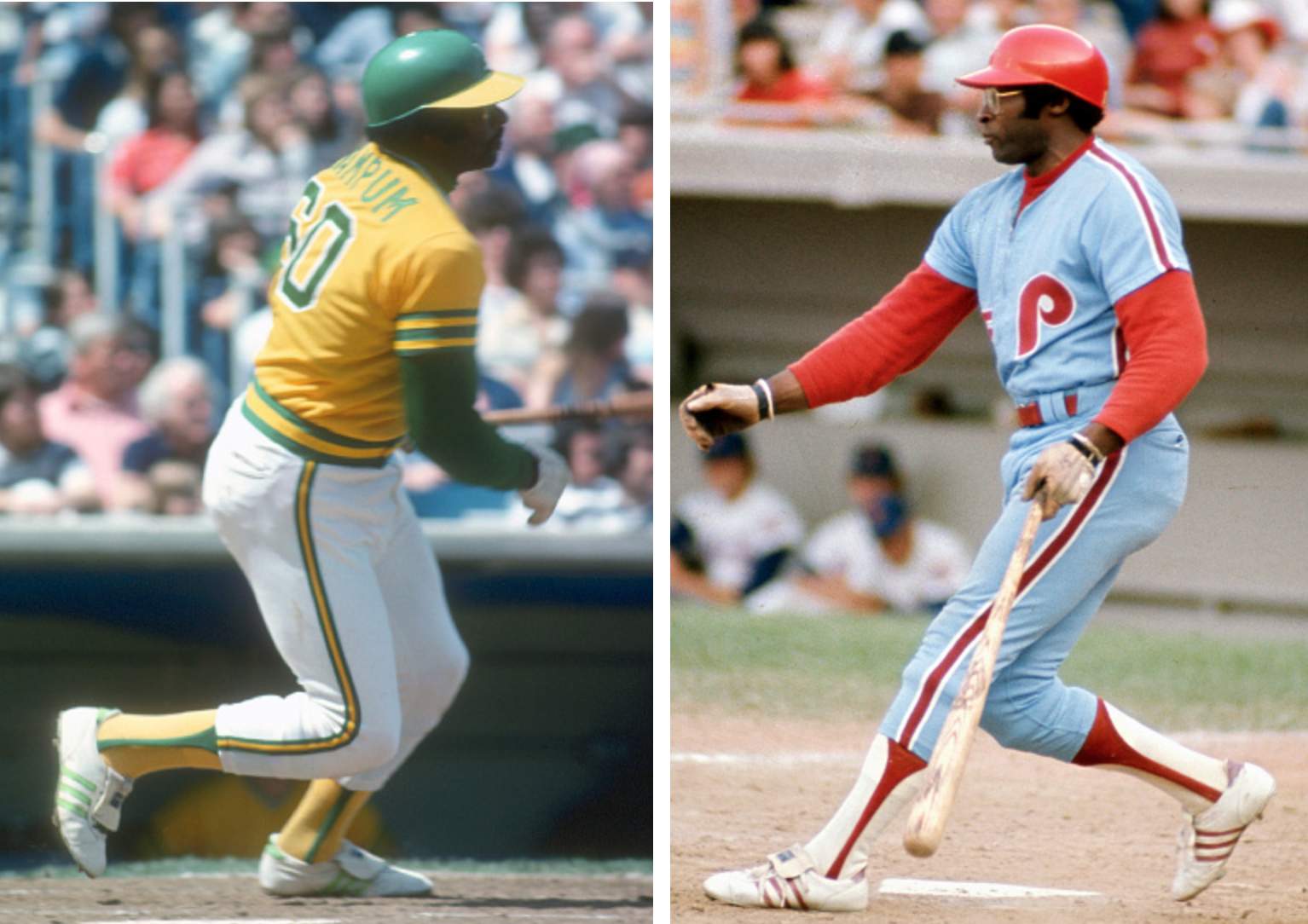 Only a handful of MLB teams have used white as their official shoe color (back where there was such a thing as having an official team shoe color). Allen played for two of them toward end of his career: the 1975 Phillies (who went white-shod as a one-season experiment that was quietly abandoned the following year) and, of course, the A's.
7. He wore chain-stitching with three different teams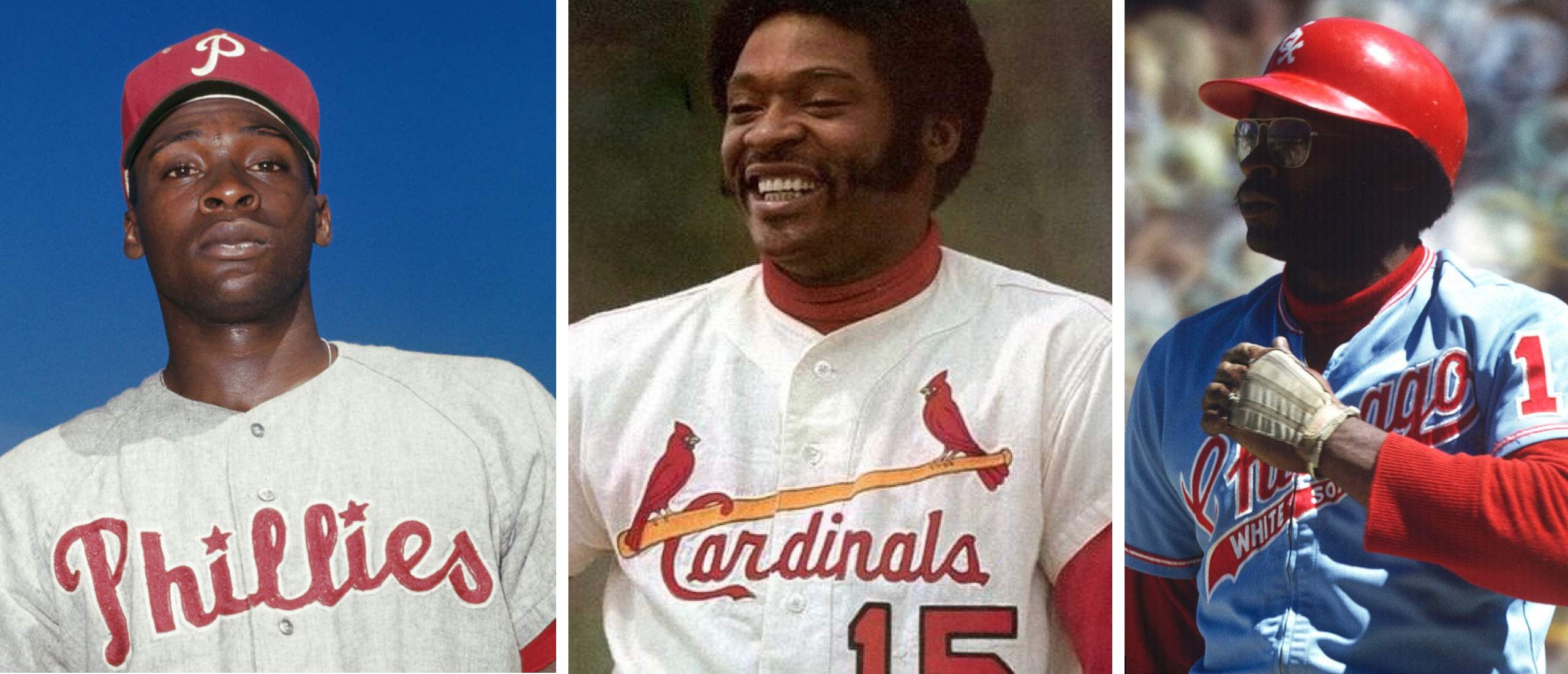 Only a handful of MLB teams have used chain-stitching on their jerseys. Allen played for three of them: the Phillies, the Cardinals, and the White Sox. (The Sox stitching is harder to see because it's just the white "White Sox" lettering on the tail underneath the script. You can see the texture of the stitching more clearly on this game-used jersey.)
8. He always went long-undersleeved
If you look at the photos of Allen scattered throughout this piece, you'll see that they all show him wearing long sleeves. "He did that regardless of the weather," says Mitch Nathanson (the biographer who filled me in regarding the black armband). "He said he needed to work up a sweat, so he'd always wear a shirt or even a jacket under his uniform. There are very few pics of Allen where you can see his arms."
9. He wrote messages in the infield dirt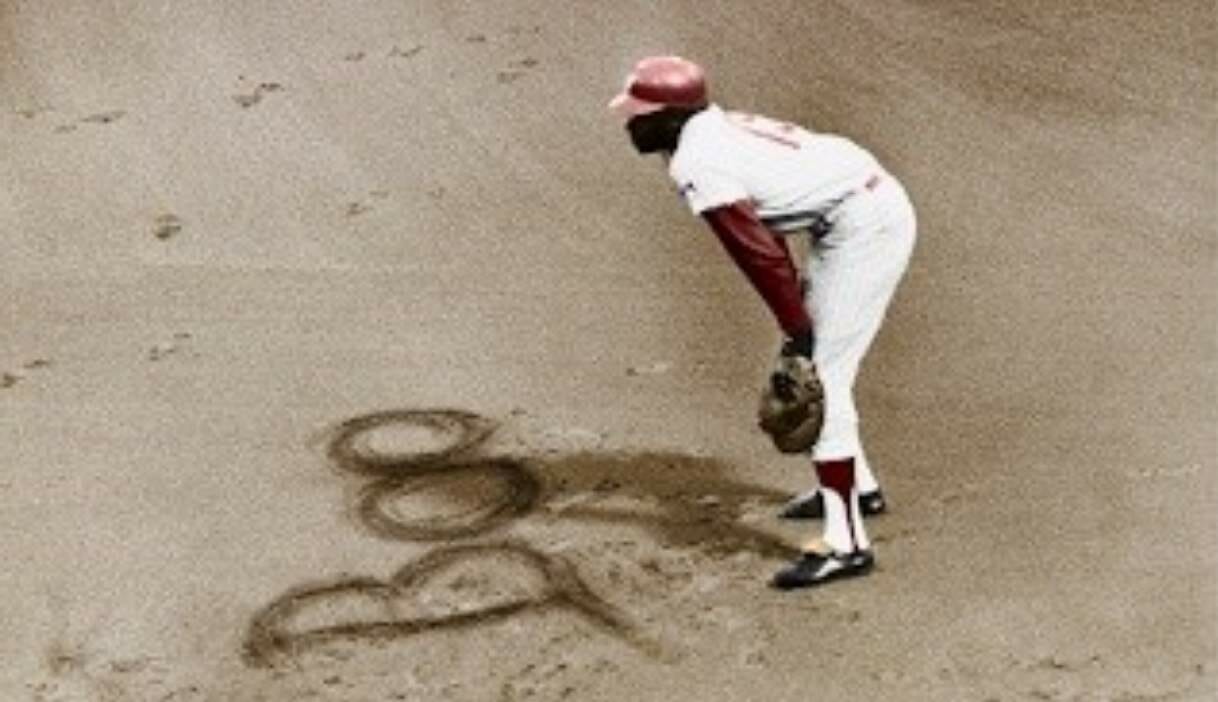 I'll let this blogger tell the story:
By 1969, Dick Allen had basically reached the end of his rope with the Phillies — and the Phillies with him. In August he wrote "Oct 2" into the dirt by first base, which happened to be the last day of the National League season, and the day he would be "free" from the Phils. The next day he scratched "Coke" in the dirt, later explaining that the nearby home-team fans were "getting on me and I wanted to hit a home run over the Coca-Cola sign to shut them up…" The next night he scratched "Boo," and of course the Phillies fans obliged him. He continued to scratch messages over the next six games. MLB Commissioner Bowie Kuhn told him to stop, prompting Allen to scratch "Why?" and "No" into the dirt. The next day, an umpire stopped the game and told him to stop, and erased the message and played on. [Allen later responded] with "Mom," because she was "the only one that could tell me what to do…"
10. He smoked in the dugout (and on the cover of Sports Illustrated!)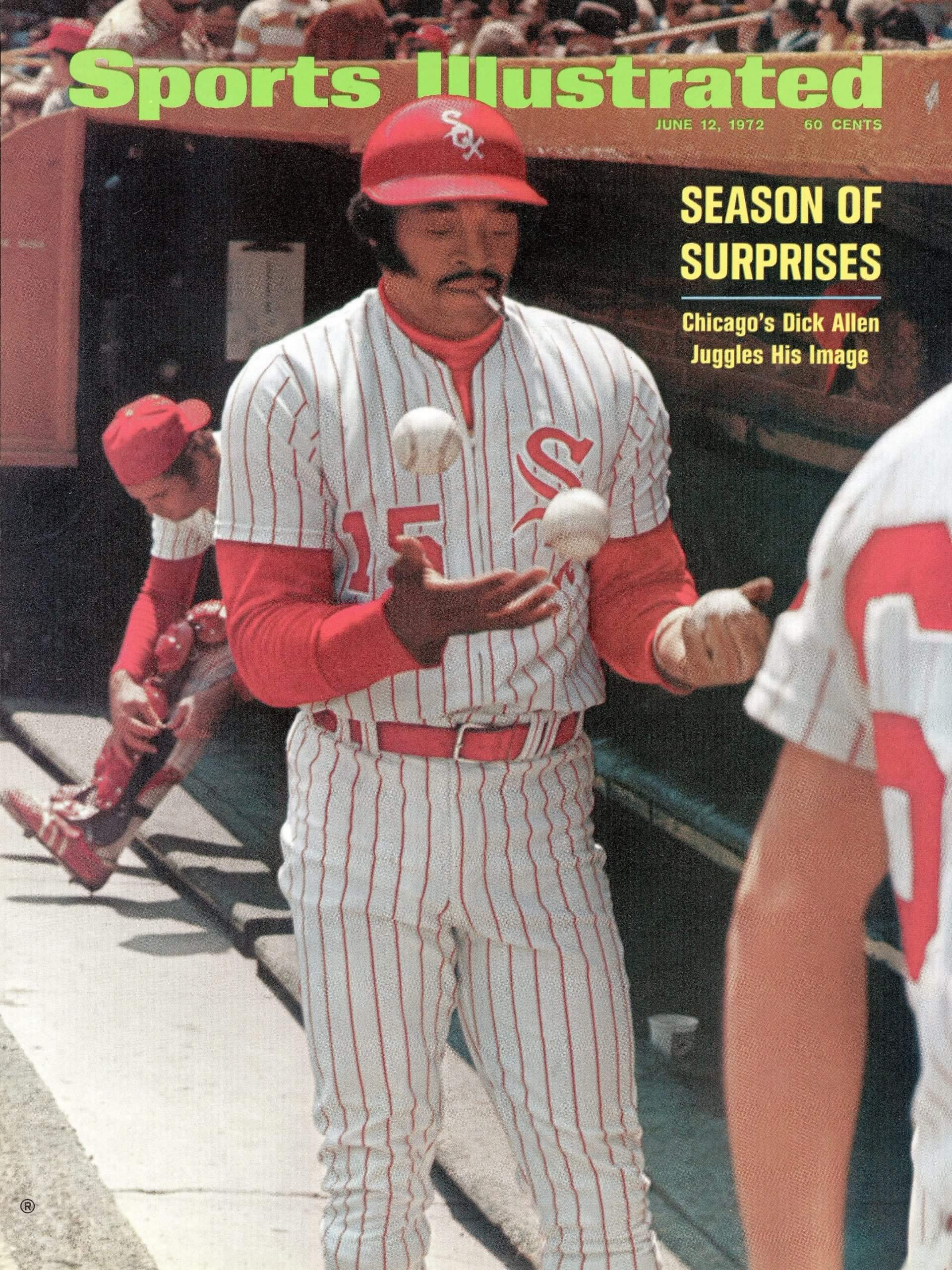 I certainly don't mean to make light of a serious public health hazard, but that SI photo is arguably the greatest cover in the magazine's storied history. I also like this shot of Allen smoking while wearing a batting glove: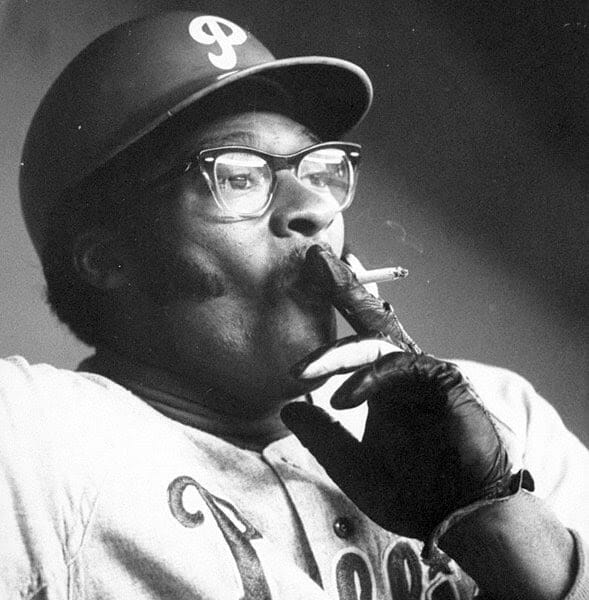 ———
Now that's what I call a very uni-notable career!
And there's more: While working on this piece, I came across some additional photos of interest. Let's start with these, which show Allen on his high school hoops team at Wampum High: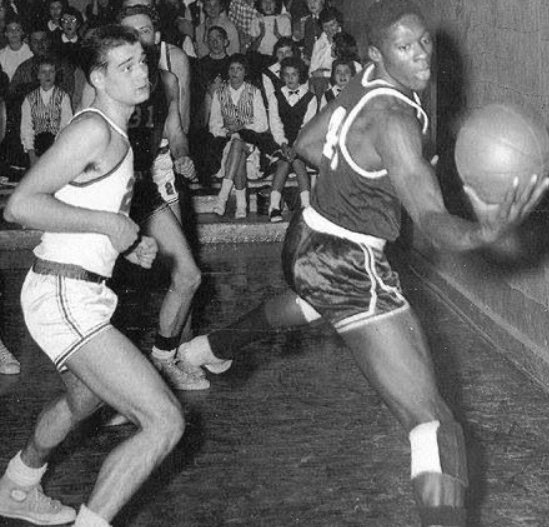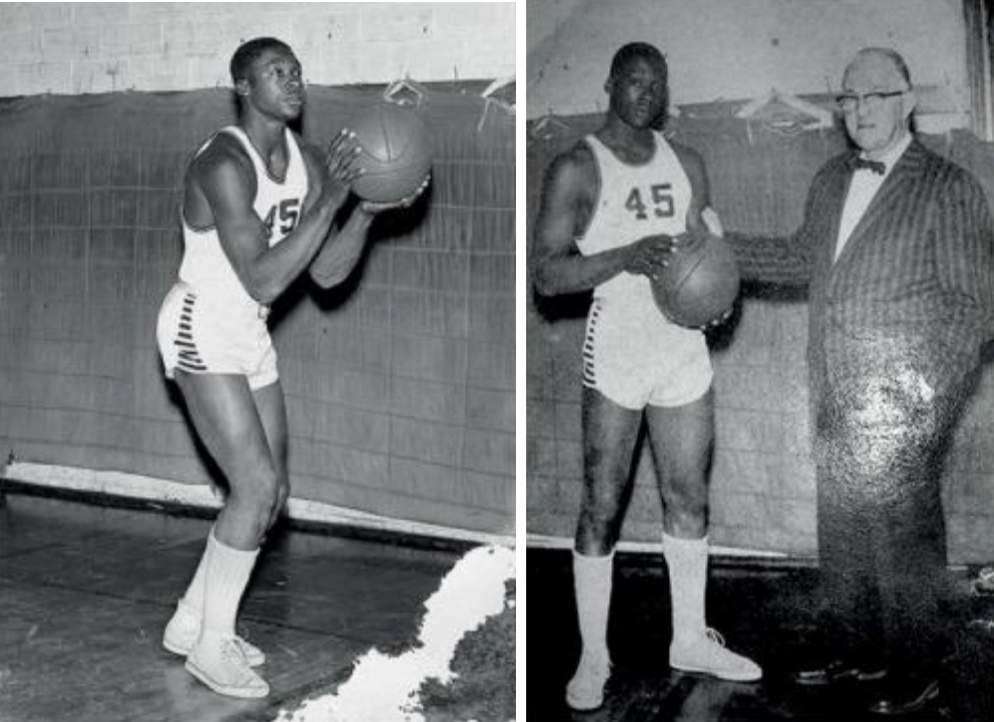 Then there's this one, which shows him in the early 1960s with the minor league Elmira Pioneers — his first pro team: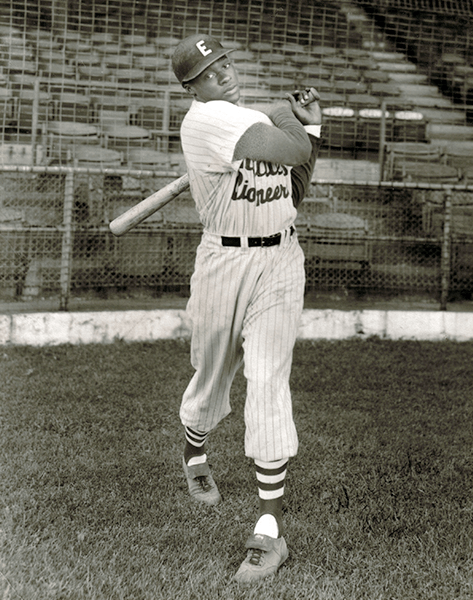 Here's another minor league shot, this time from 1963, when Allen was with the Arkansas Travelers: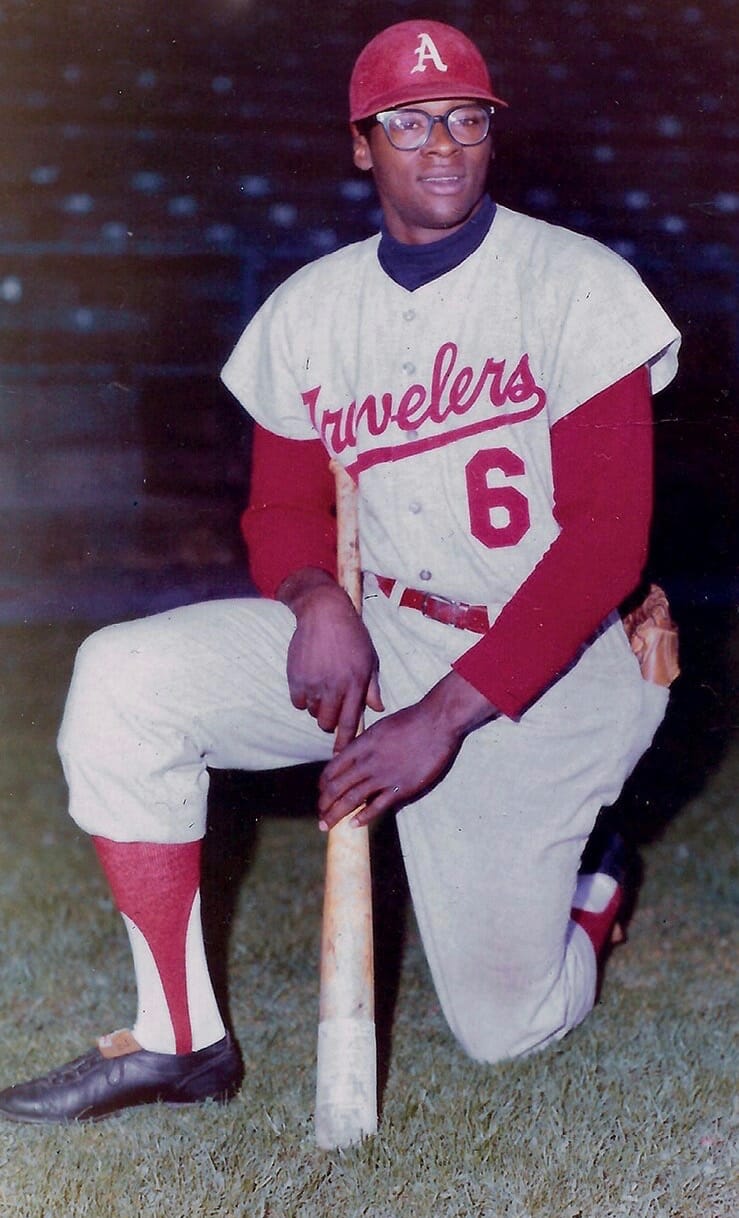 There's a lot to parse in that photo. For starters, the helmet appears to be flocked. Second, the helmet logo is clearly the Athletics' Gothic "A," even though the Travelers were a Phillies farm team. (Then again, the A's had been a Philly-based team less than a decade earlier, so maybe the Travelers were intentionally trying to evoke that semi-recent Philly connection.) And third, Allen's undershirt is blue at the collar but red at the sleeves! He must have been wearing a dickie, but it's odd that the colors didn't match (or maybe this was a colorized black-and-white photo and the colorization was inconsistent). So many uni-notable details in a single photo!
Finally, there's this really nice photo of Allen posing with his 1964 Topps All-Star Rookie trophy: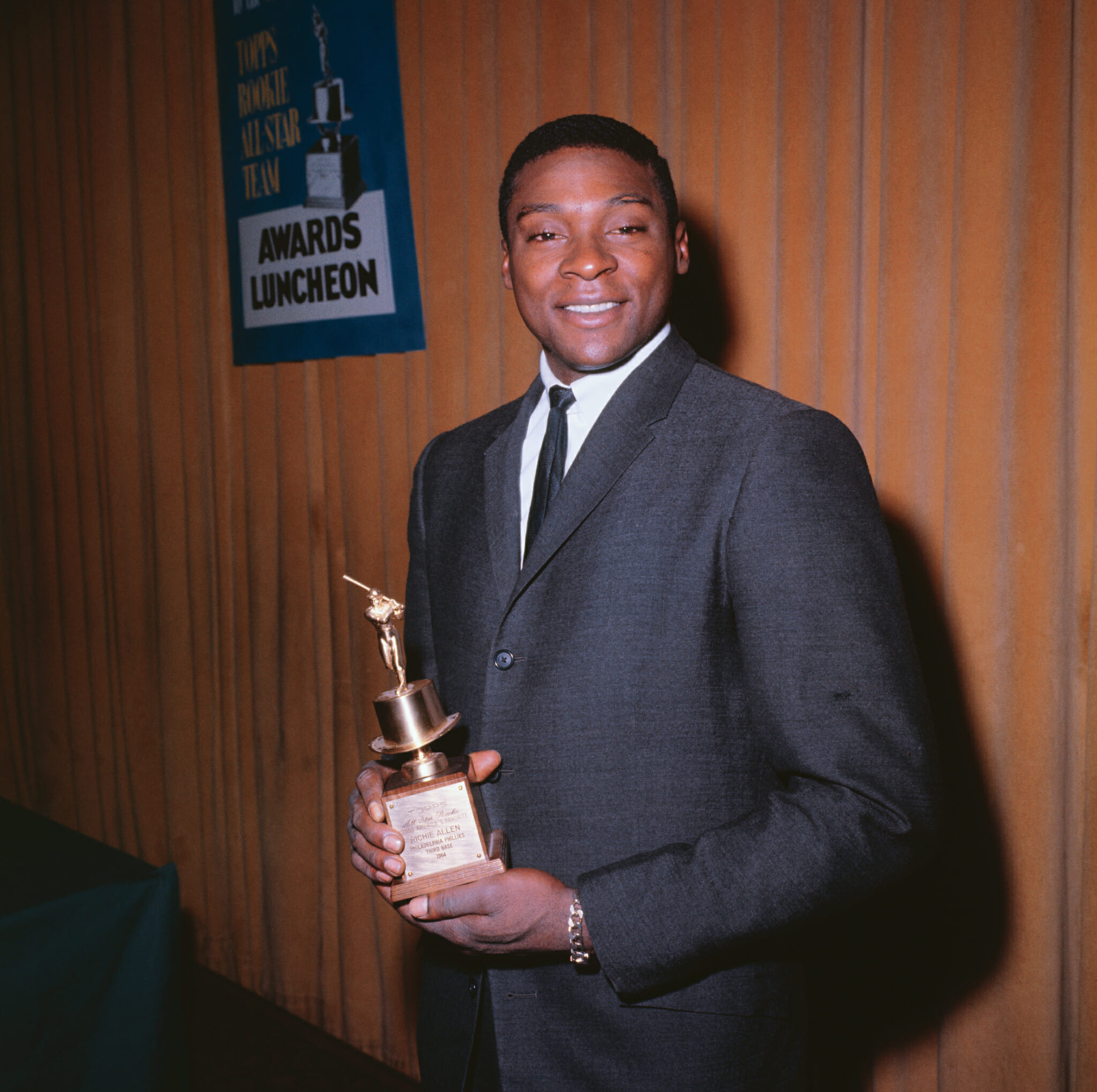 ———
The Phillies retired Allen's No. 15 earlier this year, and lots of fans and former players have been beating the drum for his Cooperstown induction for many years now. His stats surely merit that honor — here's hoping it finally happens. R.I.P.
• • • • •
• • • • •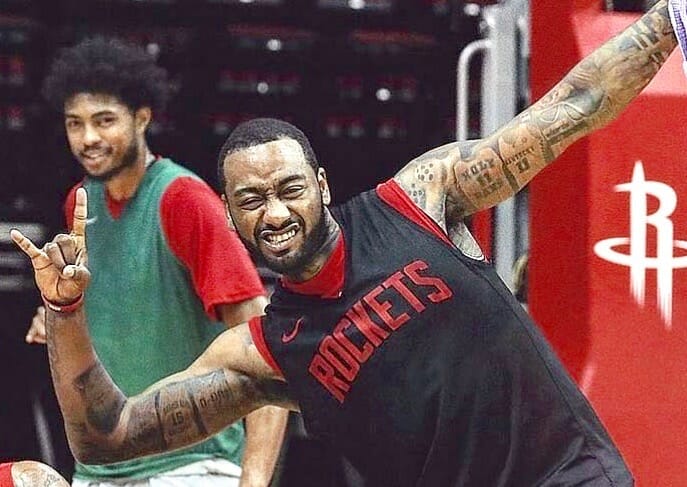 Click to slightly enlarge
A new way to "wear" a uniform: The Rockets released this photo of point guard John Wall, who was acquired in a trade last week. If you look at his upper arms, you can see that he has tattoos of the various jerseys he's worn. Gotta like that!
(Thanks to Chris Hopkins for this one.)
• • • • •
• • • • •
Masking (video)tape: The Wisconsin Interscholastic Athletic Association, which governs the state's high school sports, announced last week that all high school basketball personnel — players, officials, coaches, etc. — would be required to wear masks, and that teams will receive two additional timeouts per game "to alleviate concerns regarding fatigue due to masking." You can see how a fully masked game looks in the highlight video above, which is from Sunday's game between Brookfield Central and Arrowhead.
I realize other states or school districts may have similar rules, but this is the first time I've seen game footage where everyone was masked up.
(My thanks to Chris Hopkins and Jason Collins for this one.)
• • • • •
• • • • •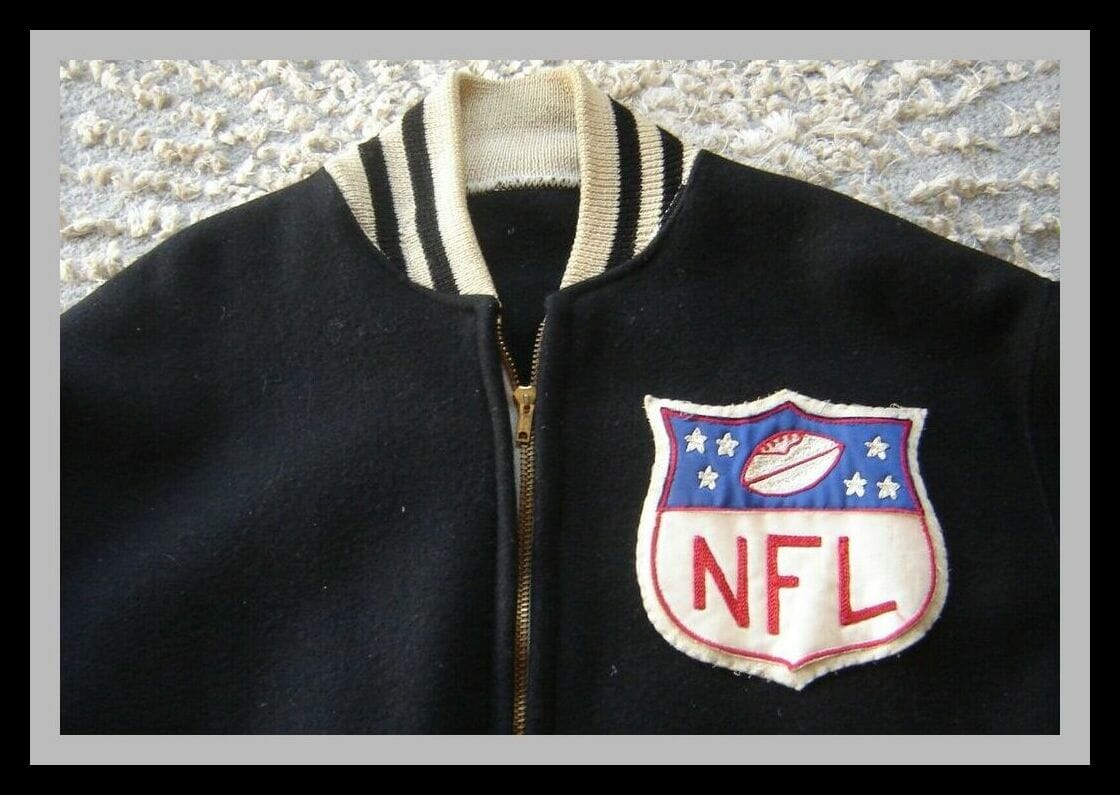 Collector's Corner
By Brinke Guthrie
Follow @brinkeguthrie    
Great googly moogly, will you look at this. There's a bunch of history behind this one, so I'll let the seller explain it:
[This is] a 1950s NFL official's jacket that was worn by a member of the chain-gang at Wrigley Field. This 100% wool beauty was made by 'May and Halas' and is a size 44. Free from any rips and/or tears, this baby has just a touch of wear on the collar of the jacket. On the NFL patch, there are some missing stitches between the blue and silver portion of the patch. The jacket has been perfectly stored and came from a family whose father and grandfather were members of the crew. It is an awesome and seldom seen jacket.
Amazing, right?
That's a hard one to top, but here are the rest of this week's picks:
 • Staying with the 1950s Bears, the Monsters of the Midway (Rick Casares, No. 35) were featured on the cover of the December 1957 issue of Sport Magazine. Stories include "The Celtics Look Better Than Ever," "Why Yogi Wins and Newk Loses," and "Everybody Likes the Bears."
 • Here's an ad (going to say 1930 for this) for Louisville Slugger bats. It refers to Rogers Hornsby being named "the most 'useful' player in the National League in 1929." Mr. Hornsby did have a most useful season in '29 as these numbers indicate!
 • The auction for this 1980s Cleveland Browns Shoe Duffle Bag ends tonight, so move fast if you're interested. Notice the front-facing helmet on the side; never seen that view on retail merch before.
 • San Francisco's Greens Sports Bar offered this Monday Night Football mug back in 1988. The seller indicates it was for a 49ers game against the Bears, which would make it Oct. 24th. The Bears won that one, but the Niners would get their revenge in the NFC title game and go on to win the Supe. Meanwhile, Greens is still in business!
 • Here's a set of 1972 World Series Commemorative Envelopes featuring the winning Oakland A's and their NL opposition, the Cincinnati Reds.
 • Here's a promo football for the late-1990s first-generation CBS Sportsline website.
 • Brooklyn Dodgers fans would stick this window decal on their cars back in the 1950s.
 • Can't leave out New York Baseball Giants fans of the same era. They'd collect stamps of their favorite players like Willie Mays in this Golden Stamp Book.   
 • The same artwork design was used for the covers of these 1974 Detroit Wheels and Chicago Fire WFL programs.
• And from reader Will Scheibler, what's not to like about this WLAF poster, showing all of the league's teams?
Got an item to include on Collector's Corner? Tweet submissions to @brinkeguthrie.
• • • • •
• • • • •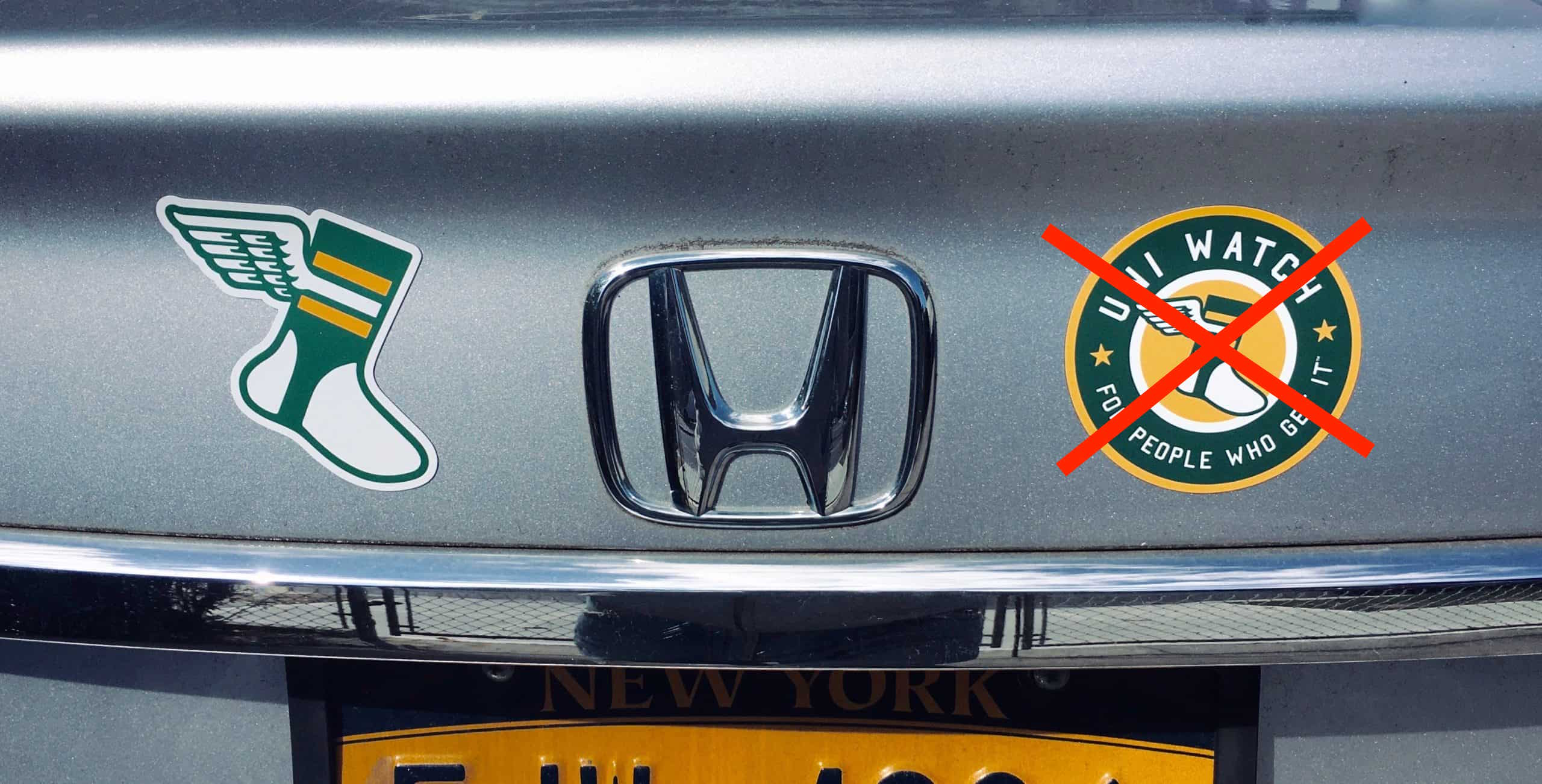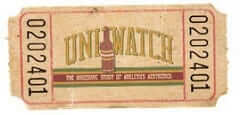 ITEM! Magnet raffle: Uni Watch Winged Stirrup Magnets are now sold out. But reader Matt Mosca purchased five of them me to raffle off, and reader Rich Picardini tossed in another one, so I have six to give away.
This will be a one day raffle. No entry restrictions. To enter, send an email with your mailing address to the raffle in-box by 8pm Eastern tonight. I'll announce the six winners tomorrow.
Meanwhile, the winners of yesterday's membership raffle are Ray Schaefer and Patrick Raven. Congrats to them, and thanks to Erik Papke and Kristopher Stahr for sponsoring this one.
• • • • •
• • • • •
IMPORTANT "Collect 'em all!" reminder: If you've collected all 12 of this year's monthly Uni Watch Pin Club pins, you're eligible to get our 2020 All-Star pin as a free bonus.
If you qualify, you must claim your prize by emailing me with (a) your mailing address and (b) some combination of photographic evidence and/or receipts to prove that you've purchased all 12 pins. For example, if you order the December pin today (there are 33 of them remaining as of this morning), you could send me a photo of the 11 pins you've already received plus your email from Teespring confirming that you ordered the December pin. Or you could wait until the December pin arrives and take a photo of all 12 pins. Or you can simply go to "My Purchases" in your Teespring account and take a screen shot of that. As long as you can prove that you collected 'em all, that's what I'm looking for, okay? Okay!
• • • • •
• • • • •
The Ticker
By Alex Hider

Baseball News: The Triple-A Syracuse Mets are selling customized bricks that will be placed outside their stadium (from Timmy Donahue).


Pro Football News: Washington RB Peyton Barber lost the "4" on his helmet last night (from @leaaves). … Speaking of Washington, they went mono-white yesterday and teased the move throughout the morning and afternoon on Twitter. The first letter of their first nine tweets of the day spelled out "ALLWHITES." According to the Gridiron Uniform Database, it was their first mono-white game since 2009 (from our own Jamie Rathjen and Dylan Hecox). … Speaking of Washington, ABC News mistakenly used the team's old nickname in a Ticker graphic yesterday (from Jon Gates and Bryan C.). … Jags DE Dawuane Smoot (No. 94) is the latest NFL player to wear a jersey with the updated Nike tailoring template in a game (good spot by John Thome). … Many Rams defenders have been wearing those custom Tredcal thigh pads this season. Apparently, DT Michael Brockers got those for his teammates as a gift (from Denis Costello). … Speaking of the Rams, a St. Louis hotel still has a Rams-themed Coke vending machine (from Andreas Papadopoulos). … This article breaks down the best uniforms in the history of each CFL franchise (from Wade Heidt). … A Home Alone-themed graphic during last night's Bills/49ers game showed a Patriots player wearing the team's current navy home jersey but old silver/grey pants (from Adam Femino).

College Football News: It appears that Oklahoma will be wearing their alternate jerseys this weekend (from Sam McKinley). … Also this weekend, BYU will be going BFBS (from Stephen Freeman). …  The ACC Tracker has been updated to reflect the weekend's games.

Hockey News: We have our first look at the Flyers' full Reverse Retro uni on the ice. … CCM has released the pad designs for goalies of many of the teams who will compete in the World Juniors Championships (from Wade Heidt and @OlegKvasha). … When G Patrick Roy played his first game for the Avalanche in 1995, he wore a blank mask and his old Canadiens pads (from Moe Khan). … According to Paul, Northern Michigan's green-and-gold look makes for a "perfect Uni Watch hockey uniform" (from @artofscorebug).

Basketball News: For the latest in NBA number assignments, check out Etienne Catalan's Twitter account. … Speaking of uni numbers, the Blazers haven't given out No. 7 since SG Brandon Roy wore it in 2011, but Roy has given his blessing for Carmelo Anthony to wear that number this season (from Shane Bua). … For good luck, and to bring a bit of Canada to the Raptors' new temporary home in Tampa, team exec Masai Ujiri placed a toonie — that's a Canadian $2 coin — under the floorboards of the team's new training facility (from Andreas Papadopoulos). … Rutgers will be wearing throwback uniforms tonight against Syracuse.

Soccer News: In 2017, the NWSL's FC Kansas City moved to Salt Lake City and became Utah Royals FC. Now, they're moving back to Kansas City but will likely select a new nickname because they have new owners. Our own Jamie Rathjen says the team will not play in Sporting Kansas City's stadium, but will instead play at either Arrowhead or a local minor league stadium. … New logo for Pyramids F.C. of the Egyptian Premier League (from Kary Klismet).

Grab Bag: InsideHook has a piece about an amazing trove of deadstock 1990s caps that just hit eBay. … Too cute: Remington, the medical alert assistance dog for an employee in North Carolina's athletic training staff, has a plush toy of himself! The toy is also available on Etsy (from James Gilbert). … Rugby union club Toulouse has a new uniform that commemorates French astronaut Thomas Pesquet's upcoming mission to the International Space Station (from Josh Gardner). … Break dancing will become an Olympic sport in 2024. I would imagine that could make for some interesting uniforms.
• • • • •
• • • • •