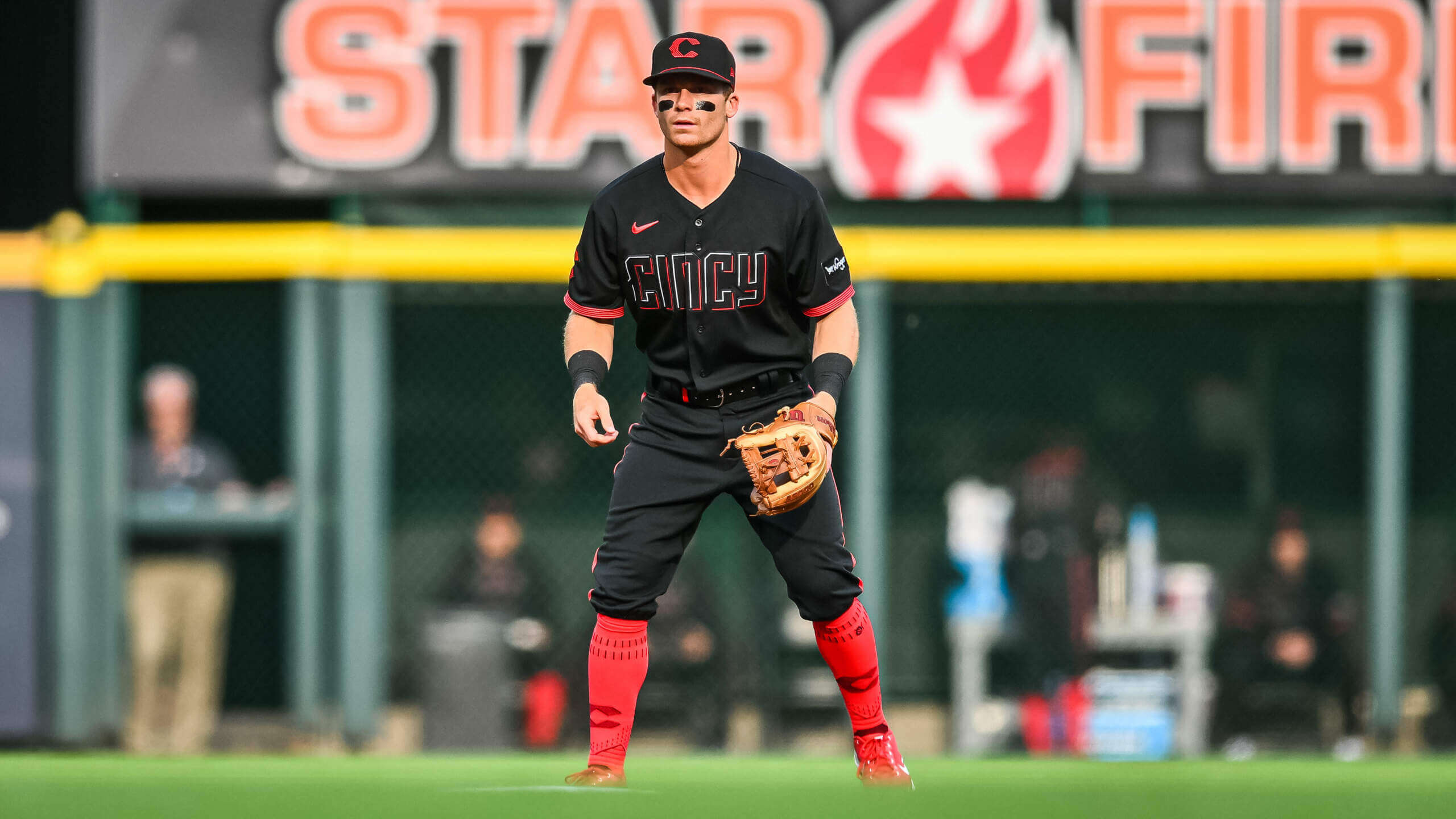 Good Saturday morning UWers. I hope everyone had a good week.
Last evening, as expected, the Cincinnati "CInCy" Reds debuted their new City Connect (CC) uniforms. As you can see from today's splash, they have a lot of black elements — cap, jersey, pants. Only the few who chose to show hosiery by going high-cuffed added any color to an otherwise all-black uniform. Unlike many other CC uniforms, these weren't too heavy on storytelling, but there was some. In case you missed it, last Sunday I wrote about the new unis, so I won't go too heavy on the descriptions since they're covered there.
As I said in that article, and every time a new uni is unveiled, I always wait until seeing them on the field before rendering any final opinions. And my biggest fear was the "CInCy" wordmark and numbers, which were both rendered in a "ghost" font with multi-directional blockshadowing, would be difficult to read at any distance. Since the Reds were hosting the Yankees last night, I was able to watch almost all of the game. My fears, unfortunately, were mostly confirmed about the legibility factor.
But first, let's take a few looks at the uniforms in action: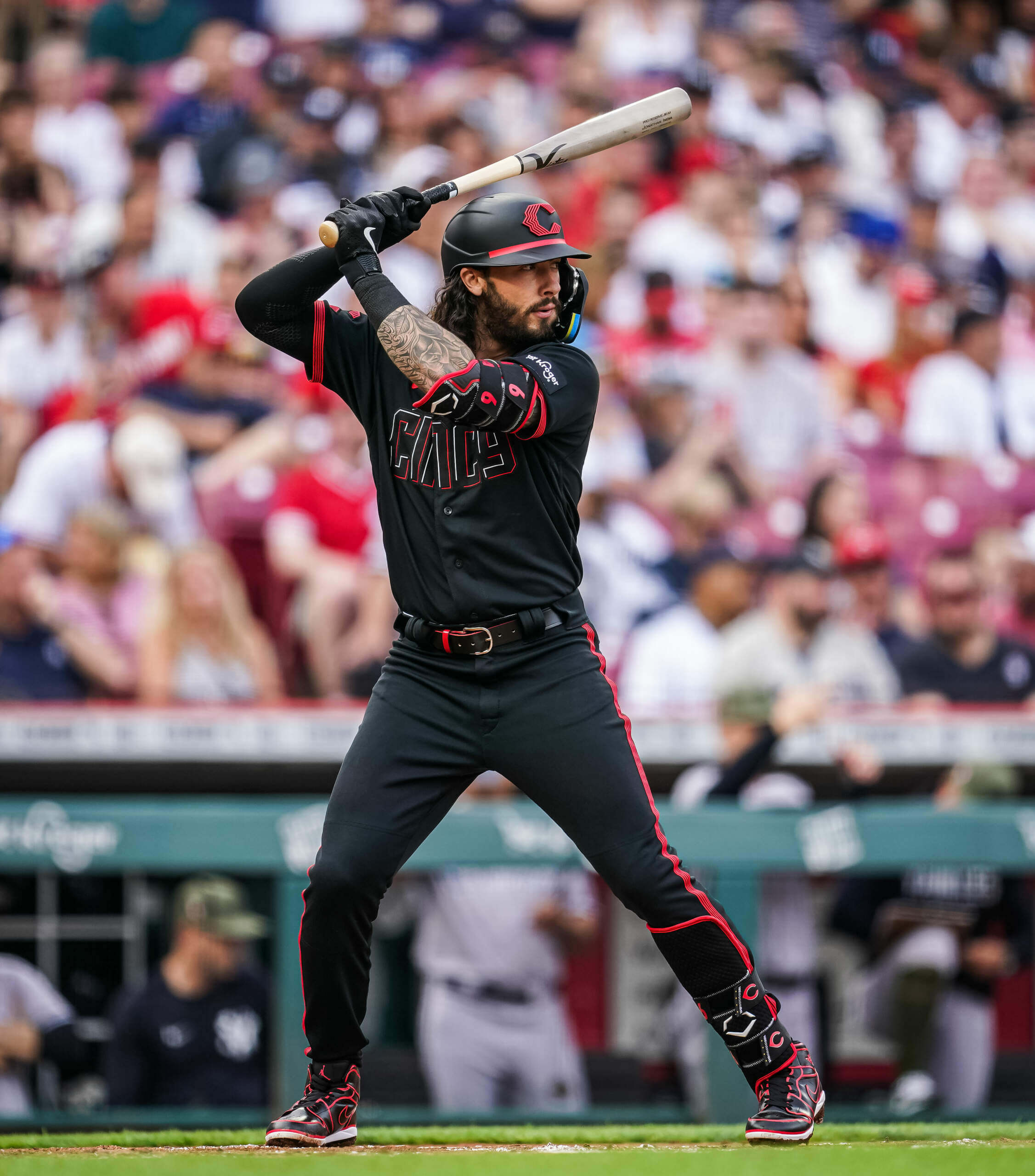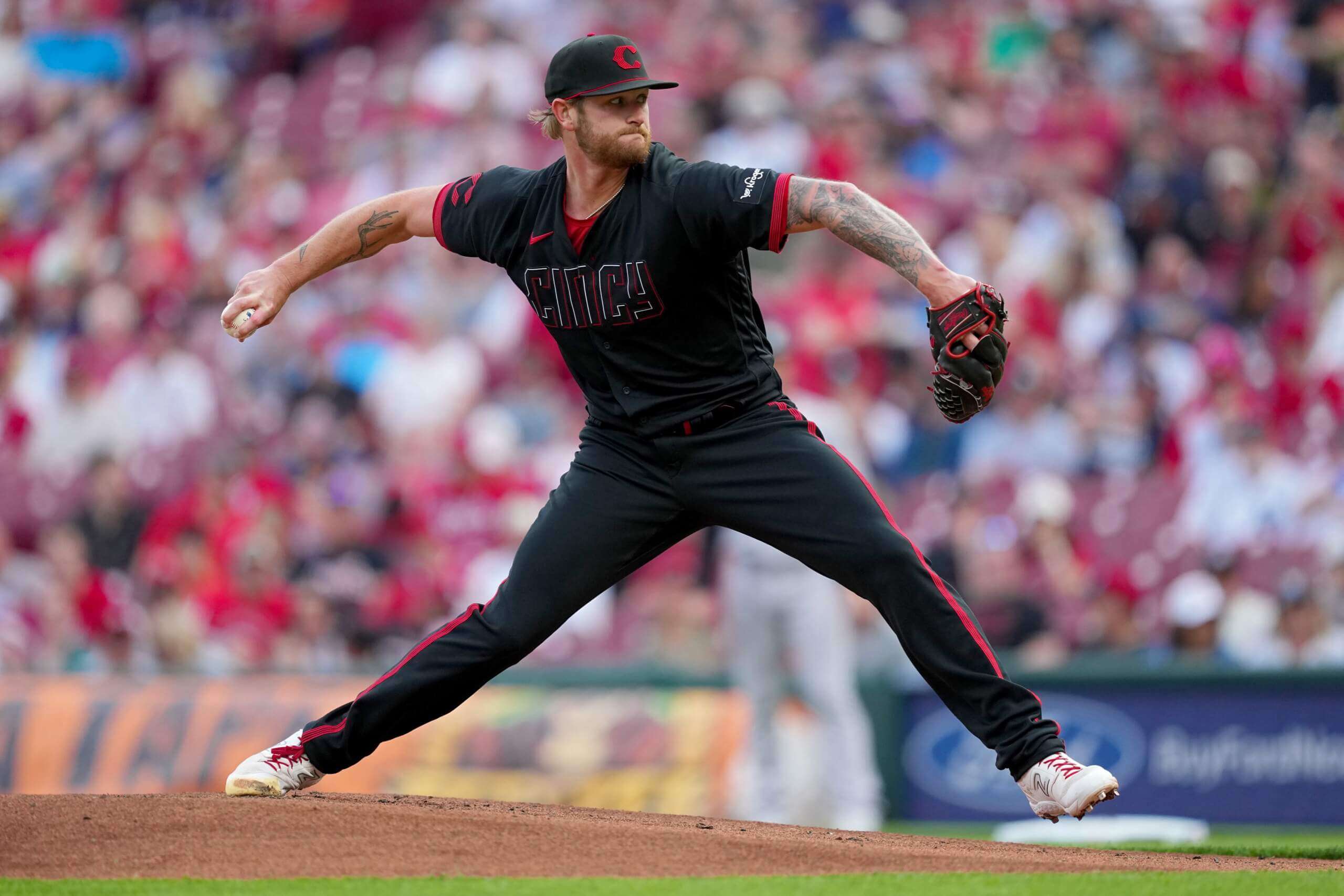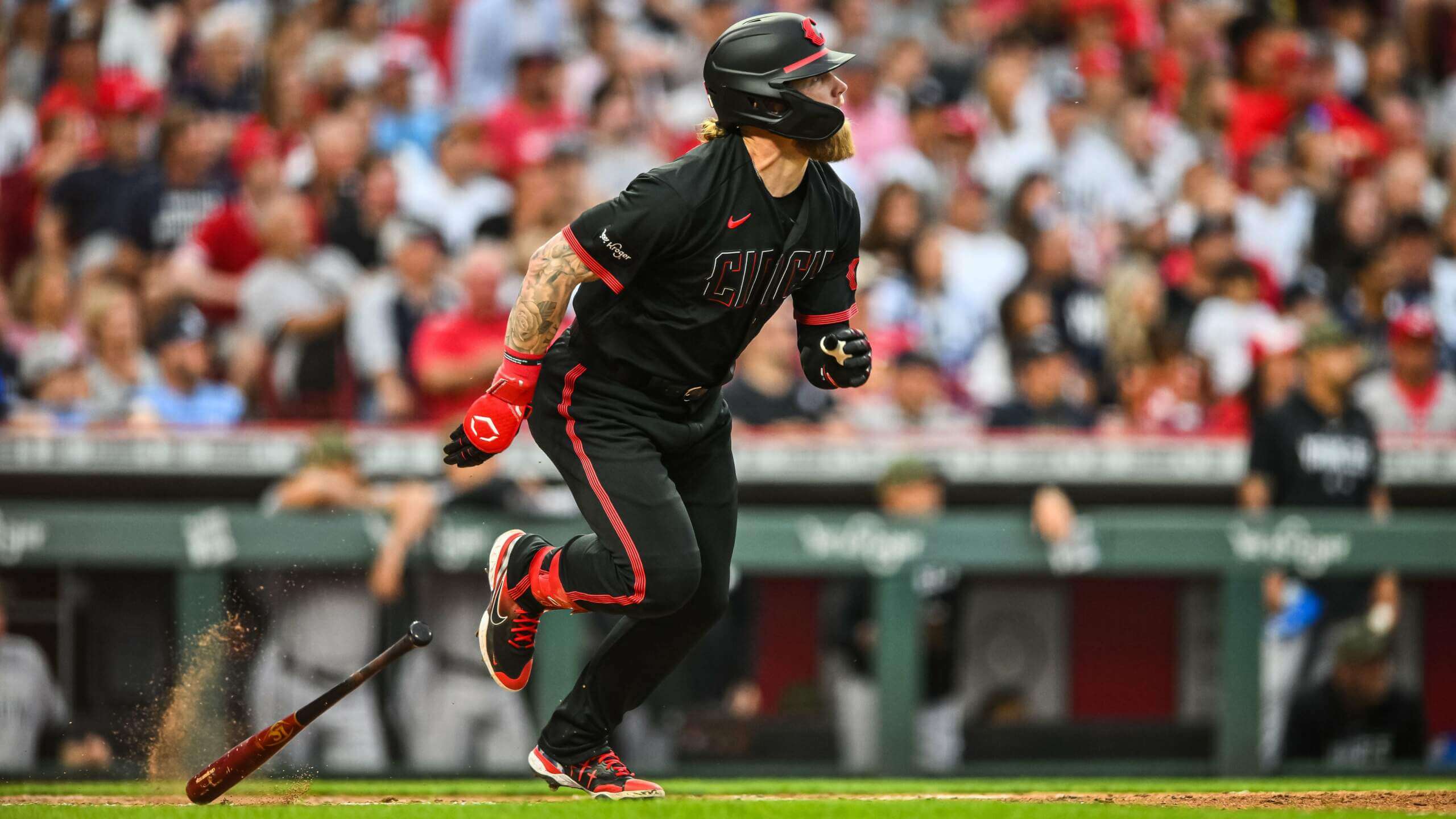 OK. Obviously there is a lot of black — not something we're really used to in baseball. But that doesn't automatically make this a terrible uniform. I actually like some of the elements, including the cap, and the five thin red stripes that adorn the sleeve hems and run down the side of the pants. The red lines are so close together they almost appear as one thick, solid stripe. I'm not a huge fan of the cap logo being repeated on the "dominant" sleeve (determined by handedness, as the team also sports an ad), but even that isn't a deal breaker. The big problem with the unis are the basically unreadable wordmark and number, AND the fact that so few players chose to go high-cuffed. As I said in the first piece, if there was ever a uniform that calls out for hosiery, this is it.
The difference is night and day: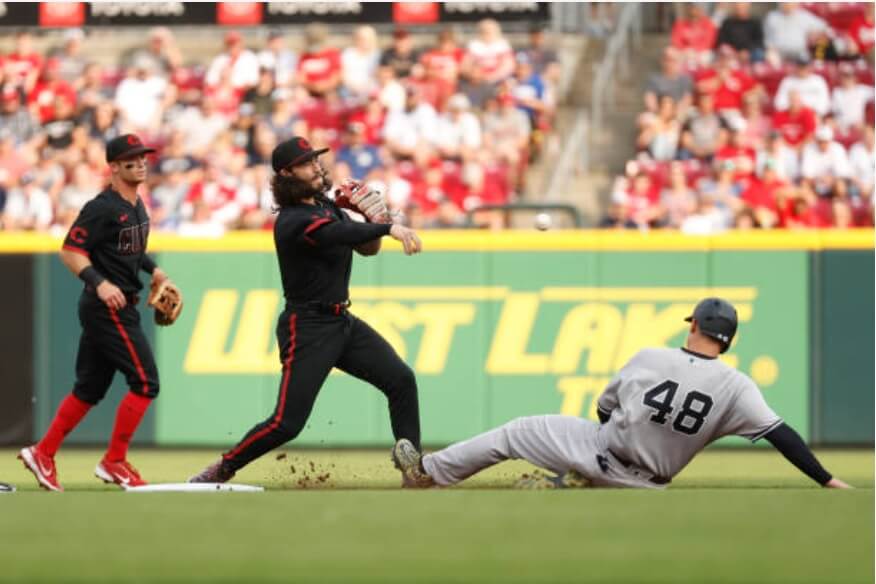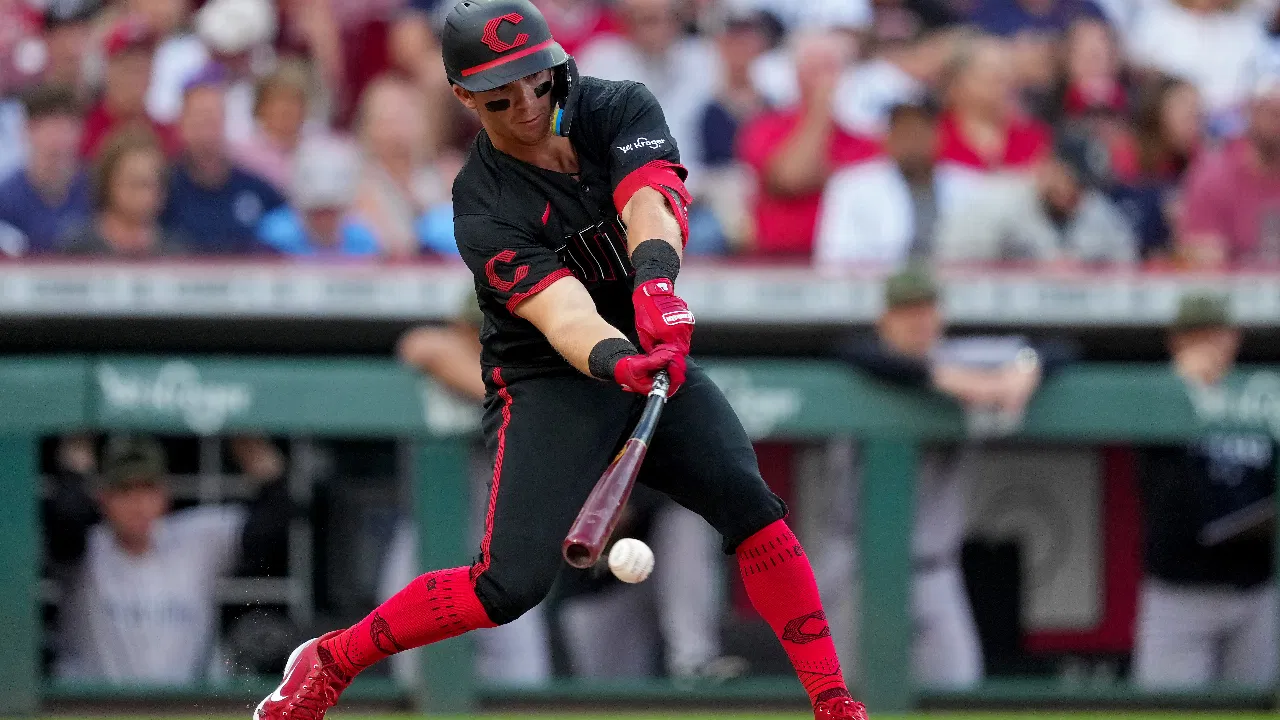 The on-field debut looked about as expected — and there didn't seem to be any last minute changes or surprises. Like all CC unis now, the team created special matte-finish, black helmets to try to match the caps.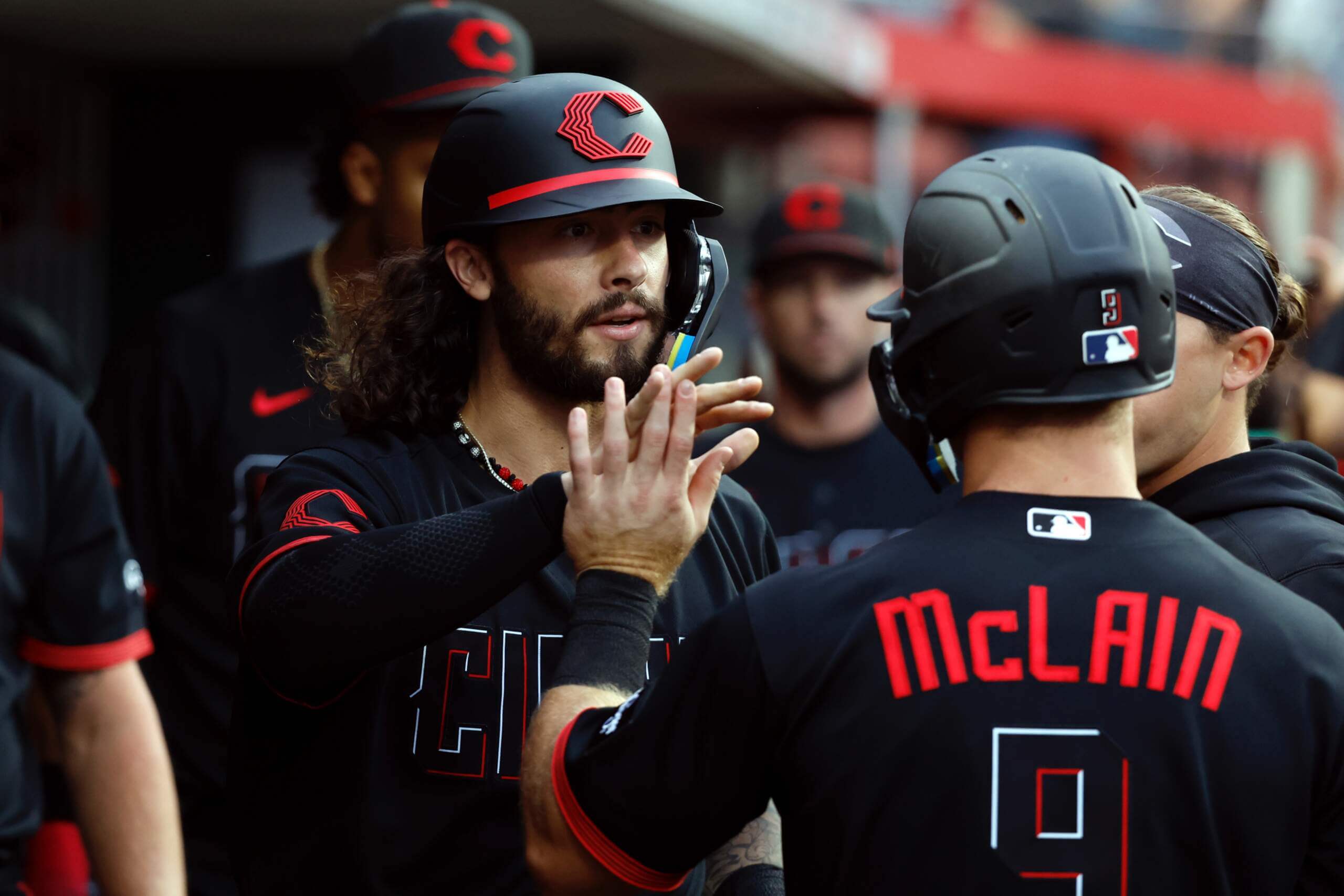 Note the helmet number was created with the same "infrared" font as the uni numbers (and actually seemed a bit easier to read than the actual jersey numbers). The new "C" logo was also rendered in a raised 3-D attachment. The thin red soutache which encircles the brim of the cap was recreated with thicker tape, but only on the front of the helmet.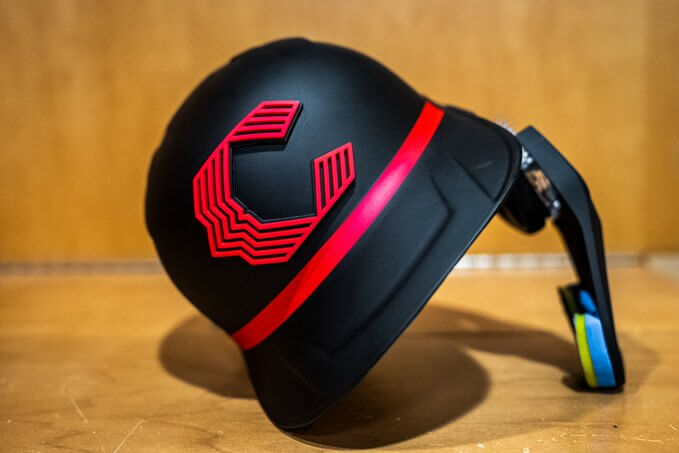 NOB were a bespoke font style, in bright red, and used mixed-case lettering (as is used in the "CInCy" font). Even up close, numbers were difficult to read.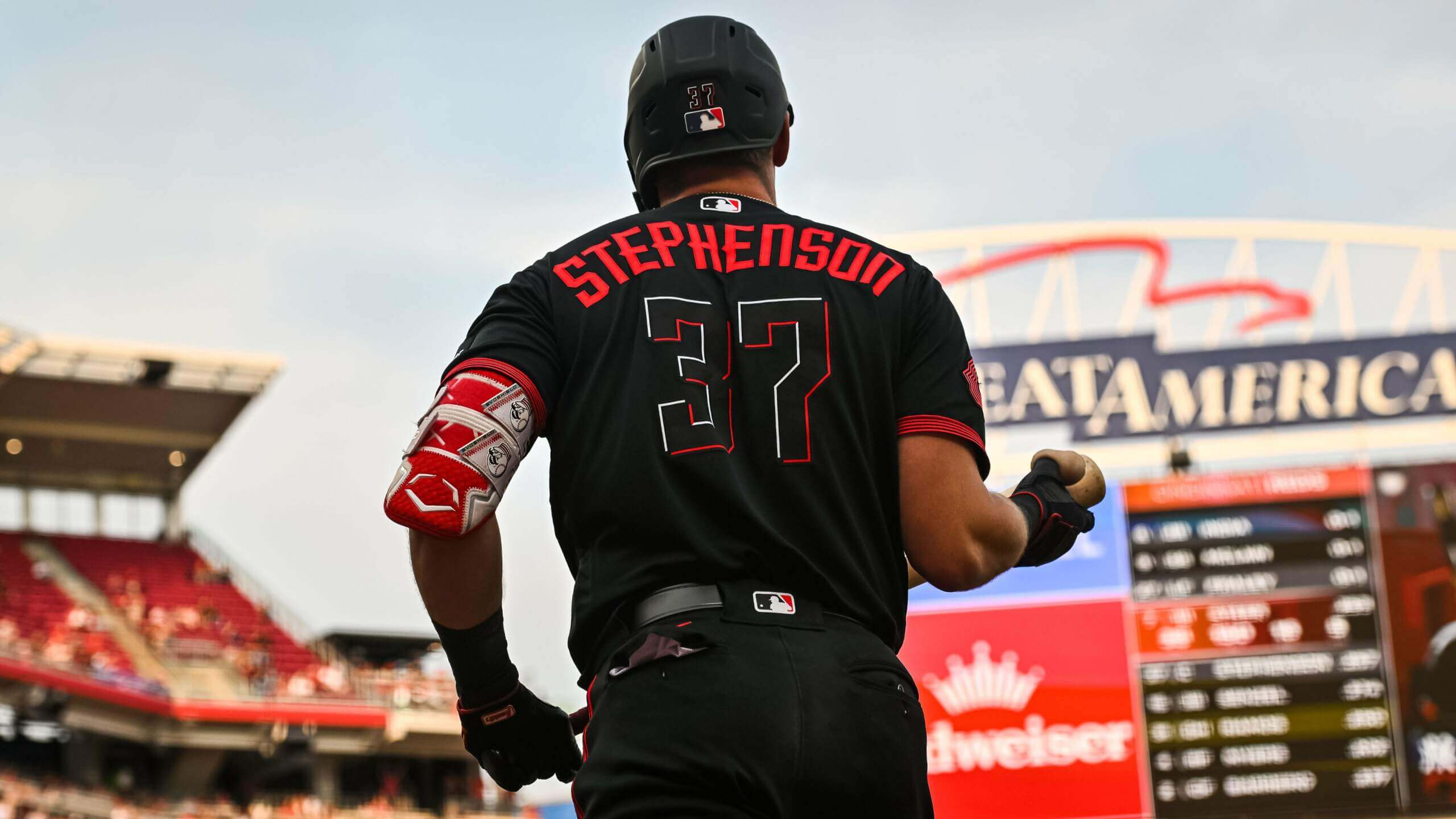 Unfortunately at almost any distance, wordmark and number were unreadable. At certain angles, they were almost invisible.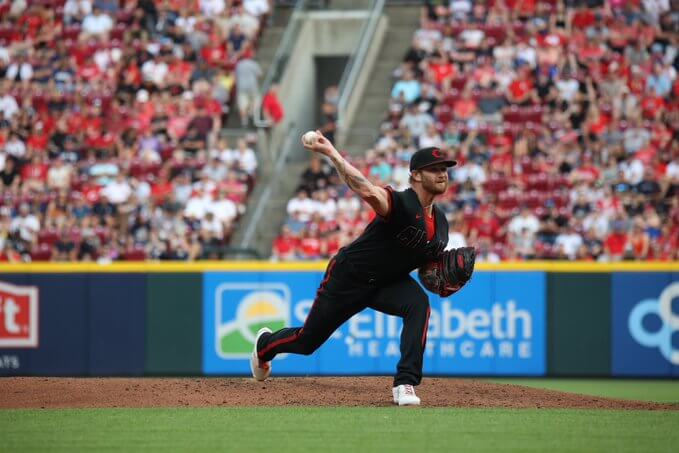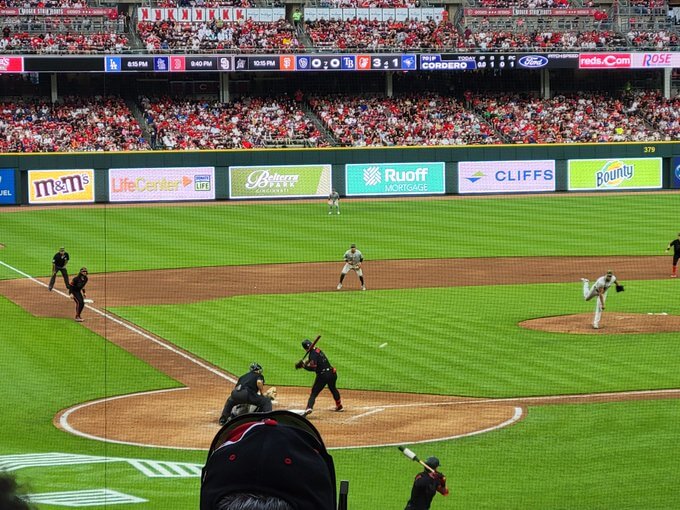 There are not two CInCy players near third — one is an umpire, though you'd be hard-pressed to tell from the above.
If you look at that last screen grab, you'll note the Reds placed their new stylized CC logo behind the plate. Unfortunately, they didn't really remove their regular logo completely, so the result was less than aesthetically-pleasing…even sloppy looking.
Gametime temperatures were in the 70s yesterday, so I didn't really see anyone wearing long sleeves — I was hoping at least a few players would have worn red sleeves, which would have injected a bit more color. The few players who wore compression sleeves wore black ones, further adding to the blackness of the uniform.
As the Rockies and Dodgers have done, some have speculated that at some point the Reds will swap out their black CC pants for white ones. That remains to be seen, but in pre-game warmups, the team actually did mix some elements of the CC uniforms with their regular home white pants…so if they do decide to go that route down the line, here's a kinda-sorta preview: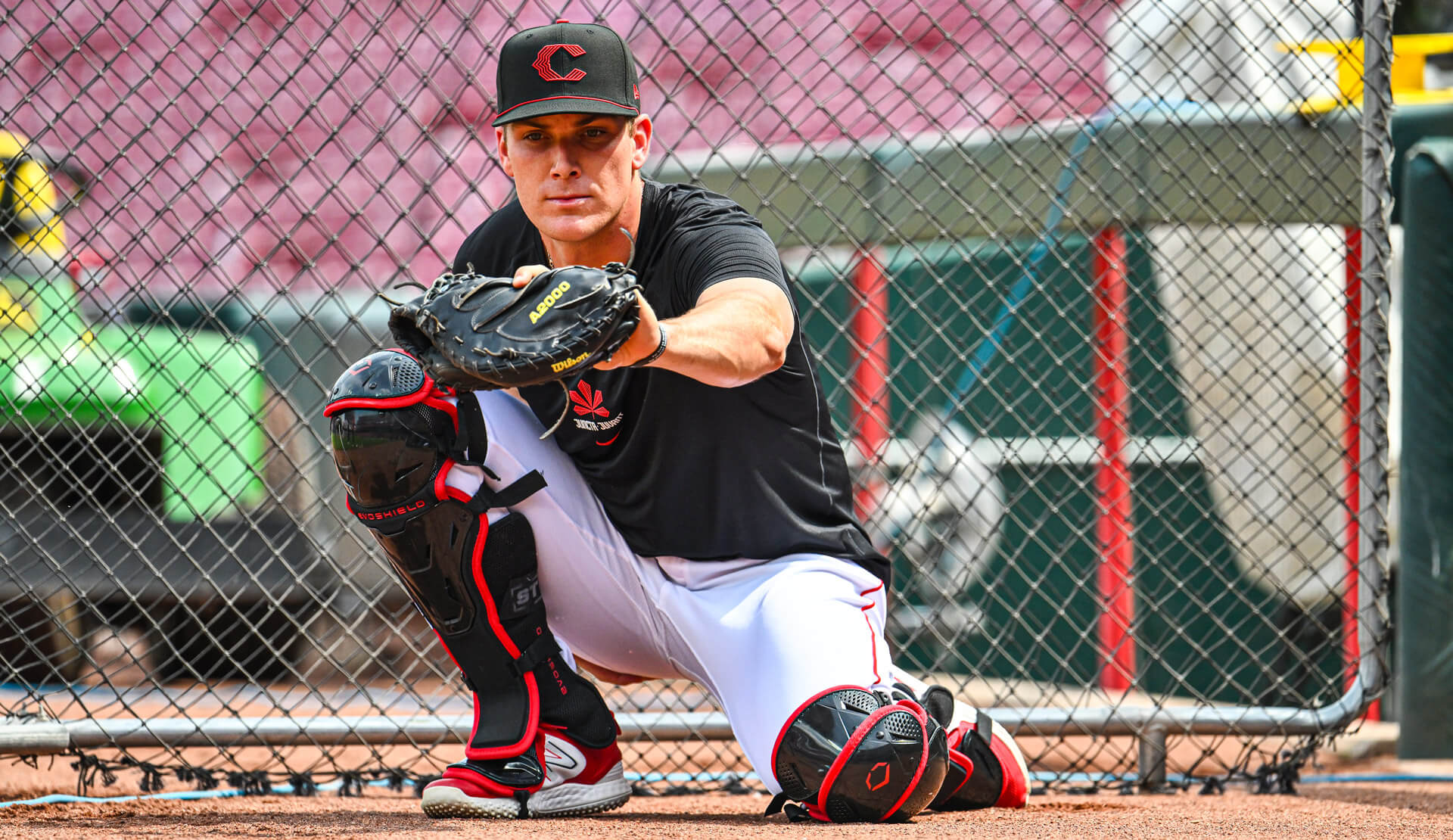 Here's a look at the unis in action:
Rake being Rake@jfral_23 pic.twitter.com/X3v3FIBBgT

— Cincinnati Reds (@Reds) May 20, 2023
And if you want to see more photos, there are lots here.
OK, despite my criticisms, I still don't hate these uniforms. There is really a LOT of potential, and I'd love to see some team adopt an all-black uniform to be worn very sparingly. There is historical precedent (1901 Orioles, 1905-6 Giants, 1977-84 Pirates, for example) for all-black uniforms. But I can't get behind this CC because of the legibility issues. Had the team simply gone with something along these lines…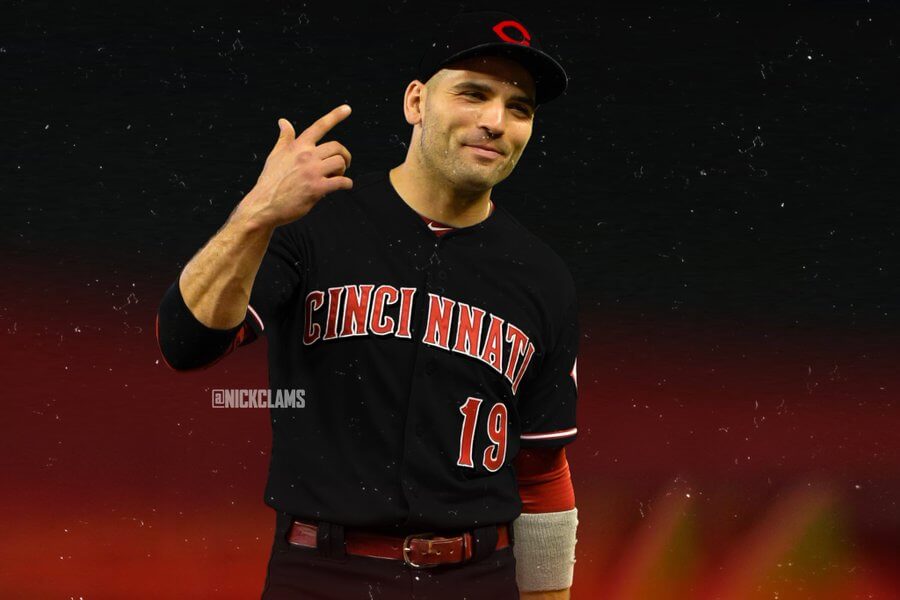 …even with the funky "CInCy" wordmark and bespoke numbers…I would have been much happier with the result. As it was, the wordmark/number were even less legible than the universally-panned all-black "Players Weekend" uniforms from a few years back.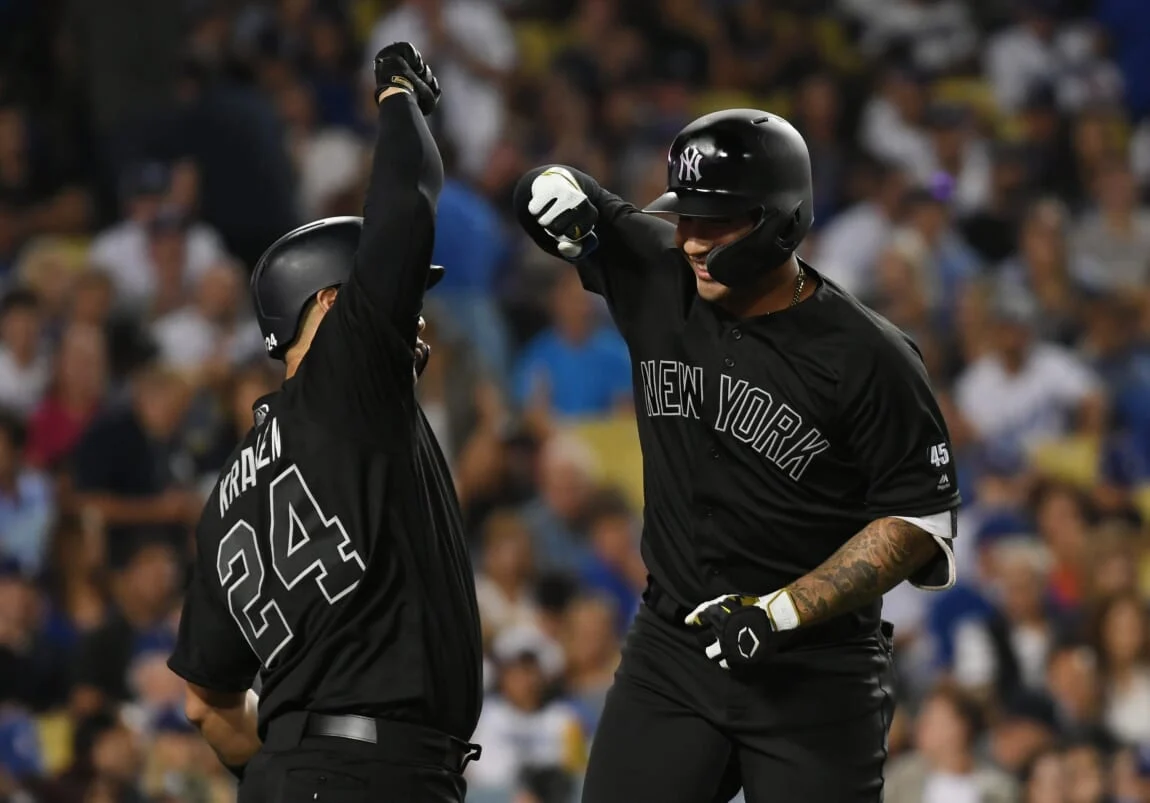 Rather than learn from that debacle (and the all-white PW uni was worse), the Reds seemed to say, "Hold My Beer" with these. Rather than crafting what could have been a really neat all-black uni, they got too cute by half. Too bad.
We still have two more CC uni sets to be revealed this year: and both are for teams for whom black is an actual team color: the Orioles and Pirates. Either or both of those would have been perfect candidates for an all-black uni. But after seeing the direction in which CInCy went, I won't be getting my hopes up.