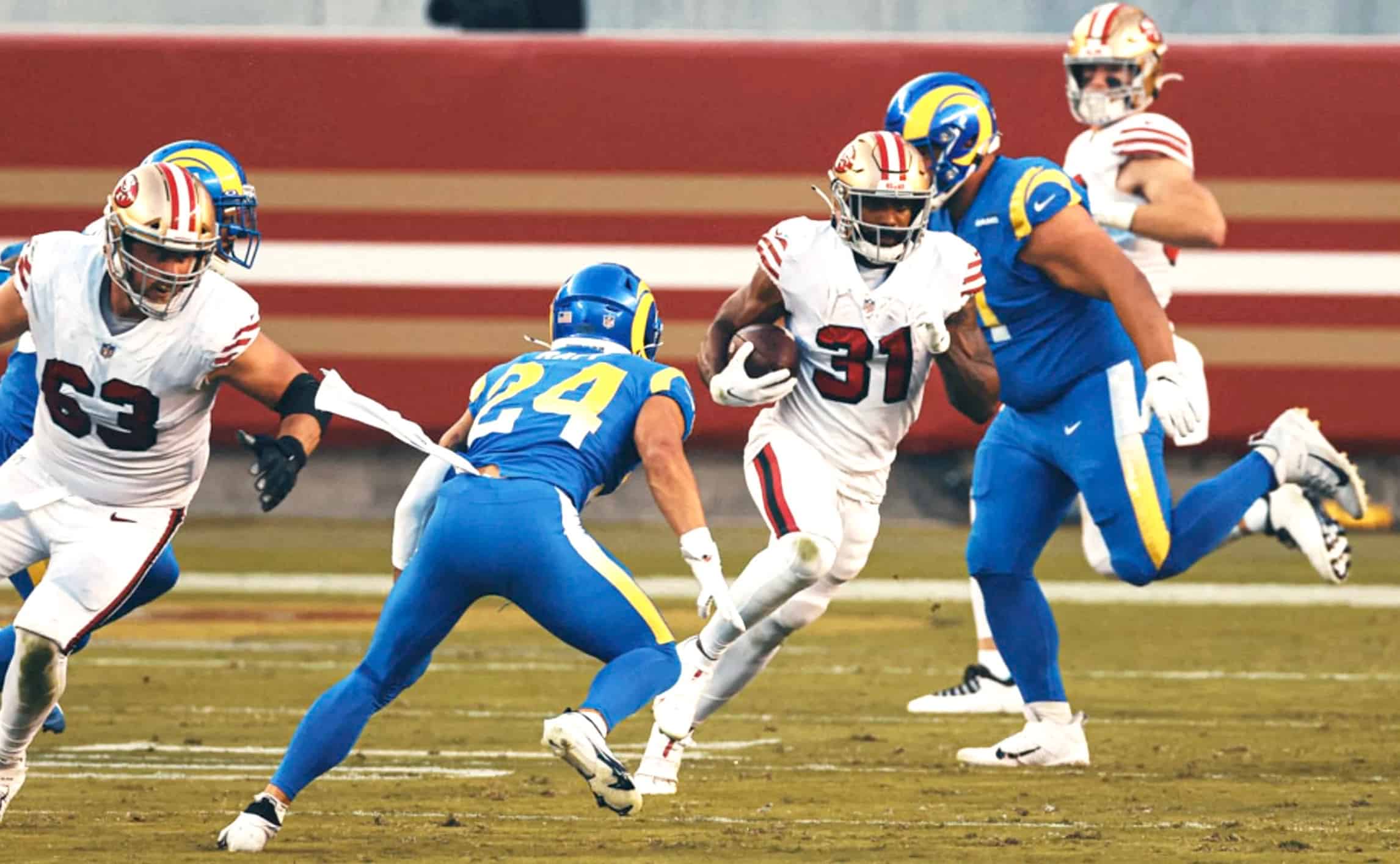 For most photos, click to enlarge
Good morning! Greetings from Uni Watch HQ, where all three inhabitants continue to be safe (although one inhabitant had to go to the vet on Friday due to a case of fleas). Hope all's well at your home, too.
So: Study in contrasts last night in the Bay Area, as the 49ers wore their white throwbacks at home and the Rams went mono-blue. This game was an NFL uni rarity, as neither team wore TV numbers! Lots of additional photos here, here, and here.
A subtle detail regarding those Niners throwbacks that you might now be aware of: The package includes a throwback helmet logo. Here's a side-by-side comparison — regular logo on the left, throwback on the right: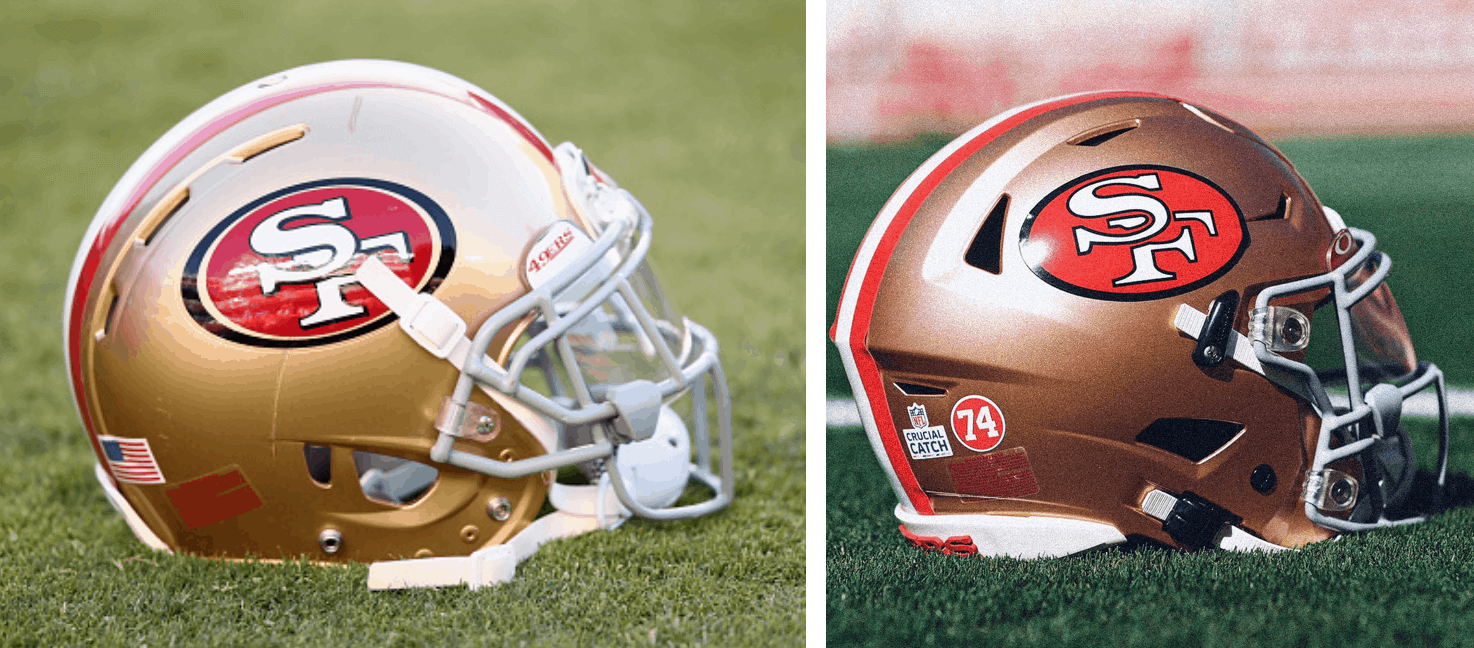 But they still had the current logo, not the throwback logo, at midfield: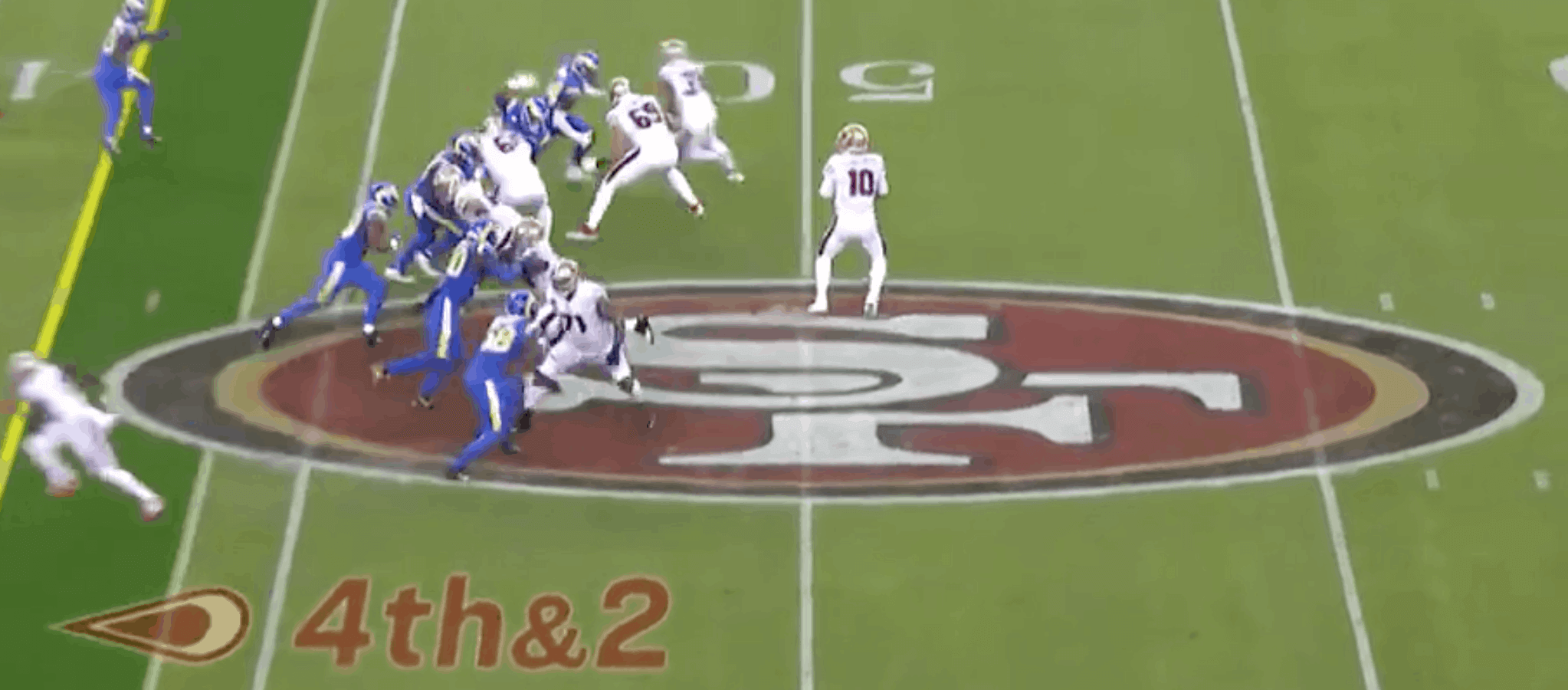 In addition (and as you can see in that throwback helmet photo), the Niners added a "74" rear-helmet memorial decal for defensive lineman Freddie Dean, who died last week: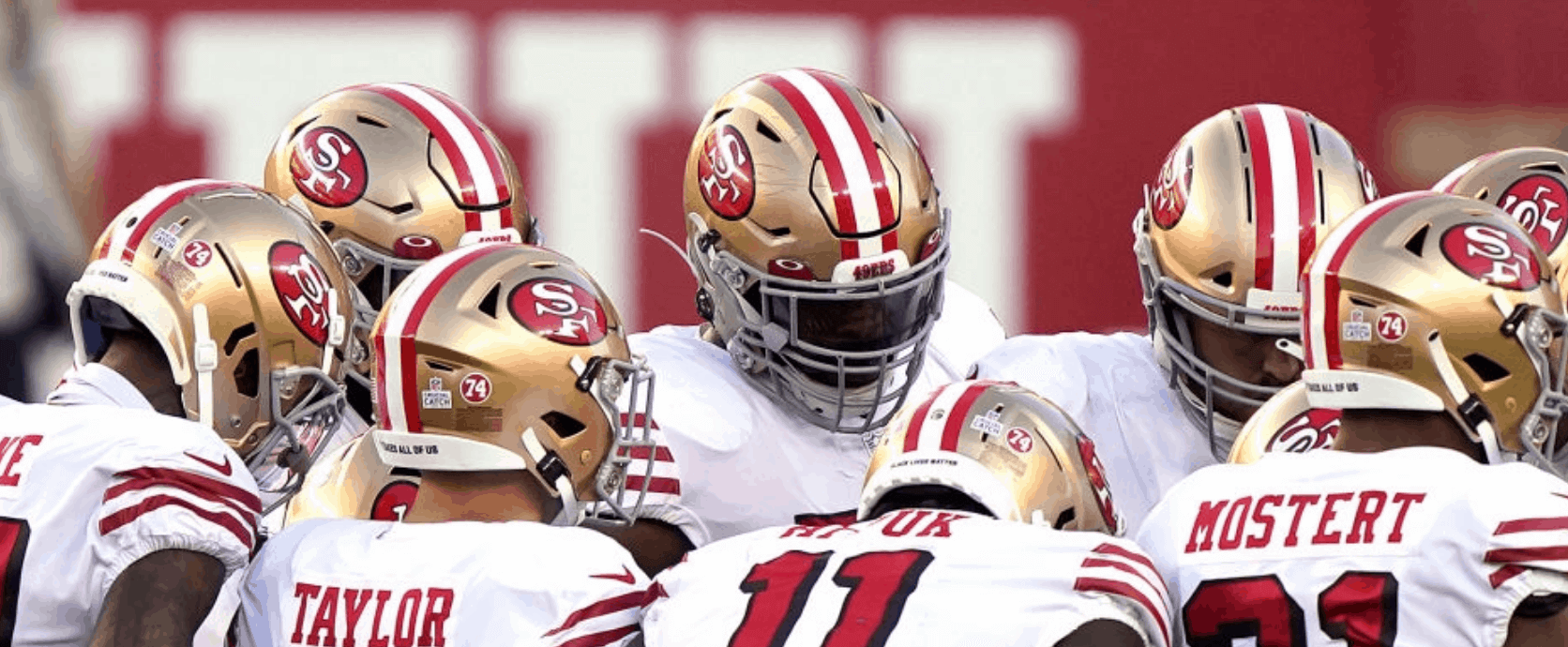 I'm not 100% sure, but I think this memorial decal was just for last night's game, not a season-long thing. I'll try to confirm. (Meanwhile, the Bears still haven't uni-memorialized Gale Sayers.)
In other news from around the league yesterday:
• Weird situation in Carolina, as the Panthers wore their blue alternate jerseys for the third time in the season's first six weeks (and for the first time at home):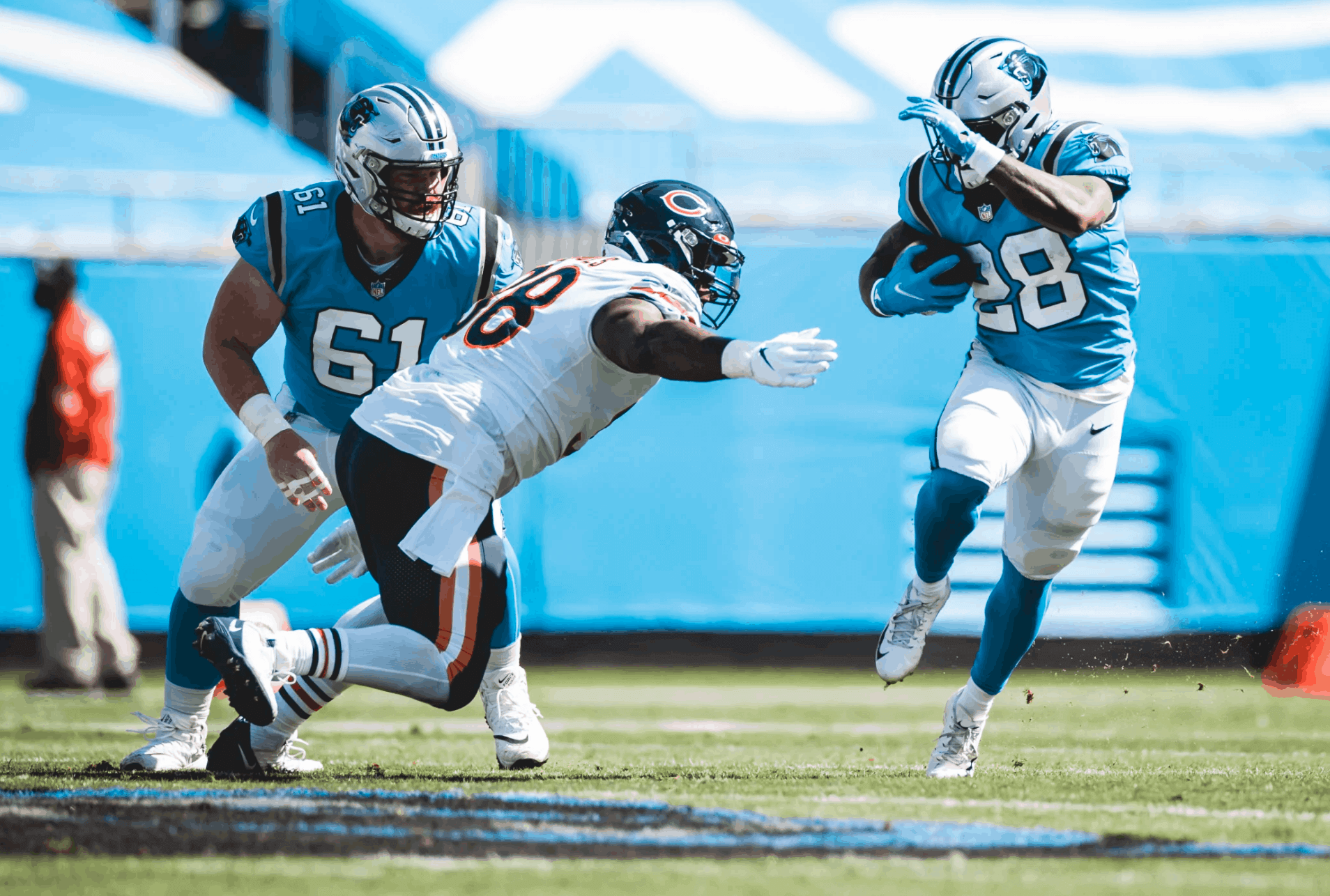 The Panthers have worn white for their three other games, so they're in the odd position of already having maxed out the use of their alt jersey for this season without yet having worn their primary black colored jersey. They're scheduled to wear white again next week, and then the black jersey will finally make its 2020 debut the week after that.
• The Browns wore white over brown in Pittsburgh — the first time they've worn that combo from their new uni set. It made for a very nice-looking game: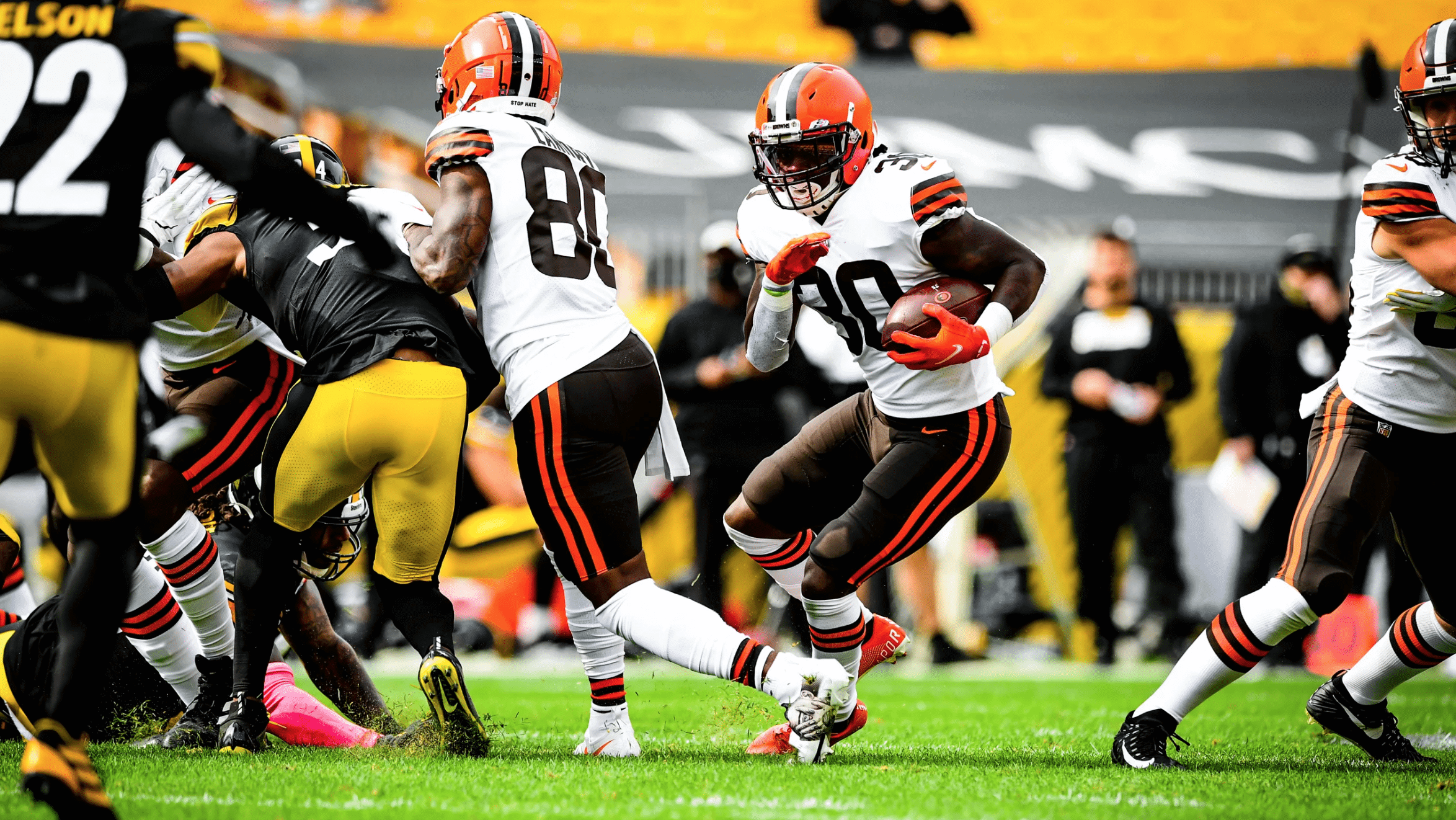 • Since that Browns/Steelers game was taking place in Pittsburgh, Cleveland wide receiver Jarvis Landry wore cleats featuring portraits of the late Pittsburgh-based rapper Mac Miller:
Jarvis Landry honoring Mac Miller with his cleats today 🙏

(via @MACHE275, @God_Son80) pic.twitter.com/fCr201K8Hw

— NFL on ESPN (@ESPNNFL) October 18, 2020
Embed from Getty Images
• In yet another note from that game, Browns cornerback Kevin Johnson's biker shorts-style pants looked even more minimalist than usual, thanks to his untucked undershirt and white leggings: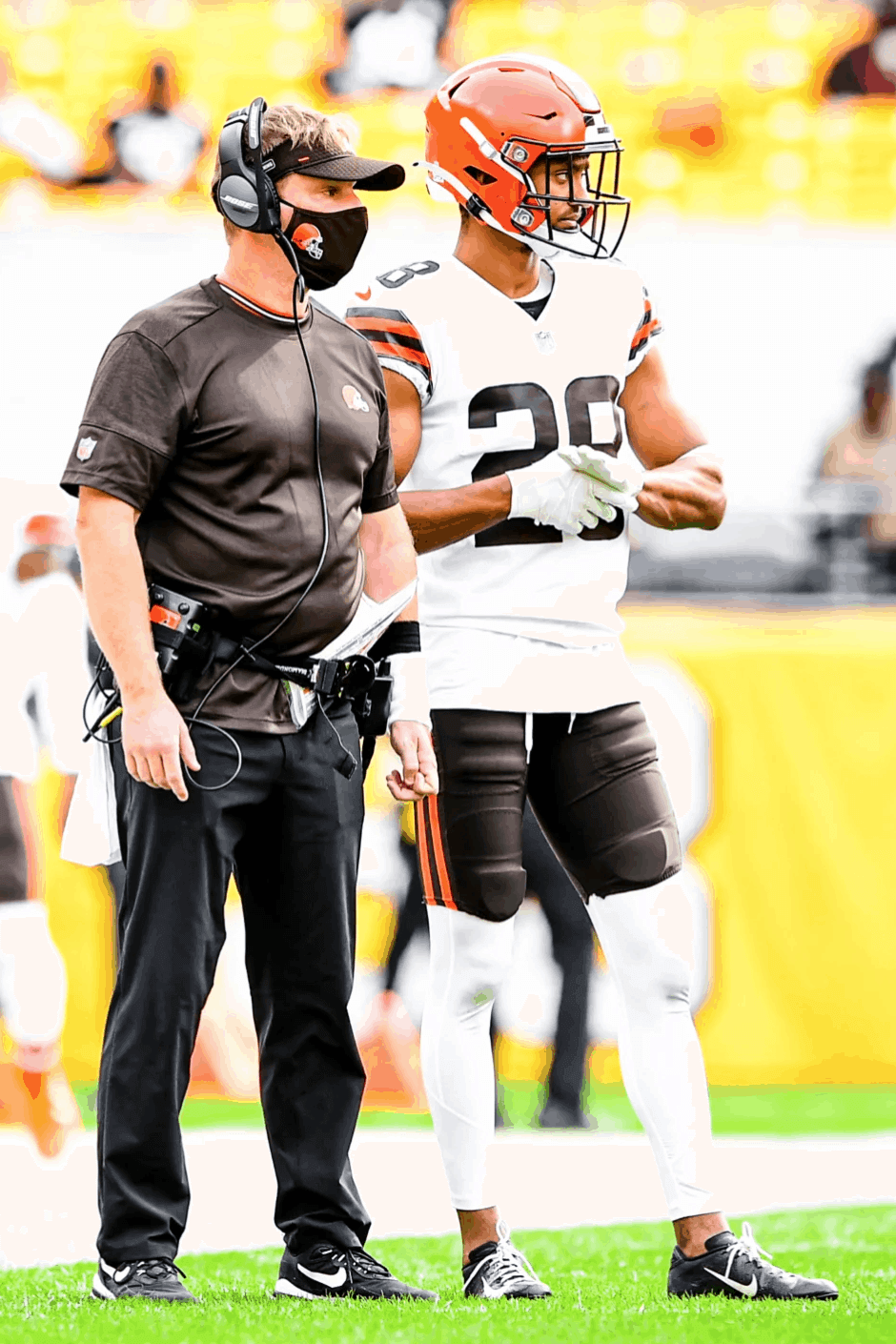 • With Bill O'Brien no longer coaching the Texans, interim coach Romeo Crennel has brought back the team's captaincy patches: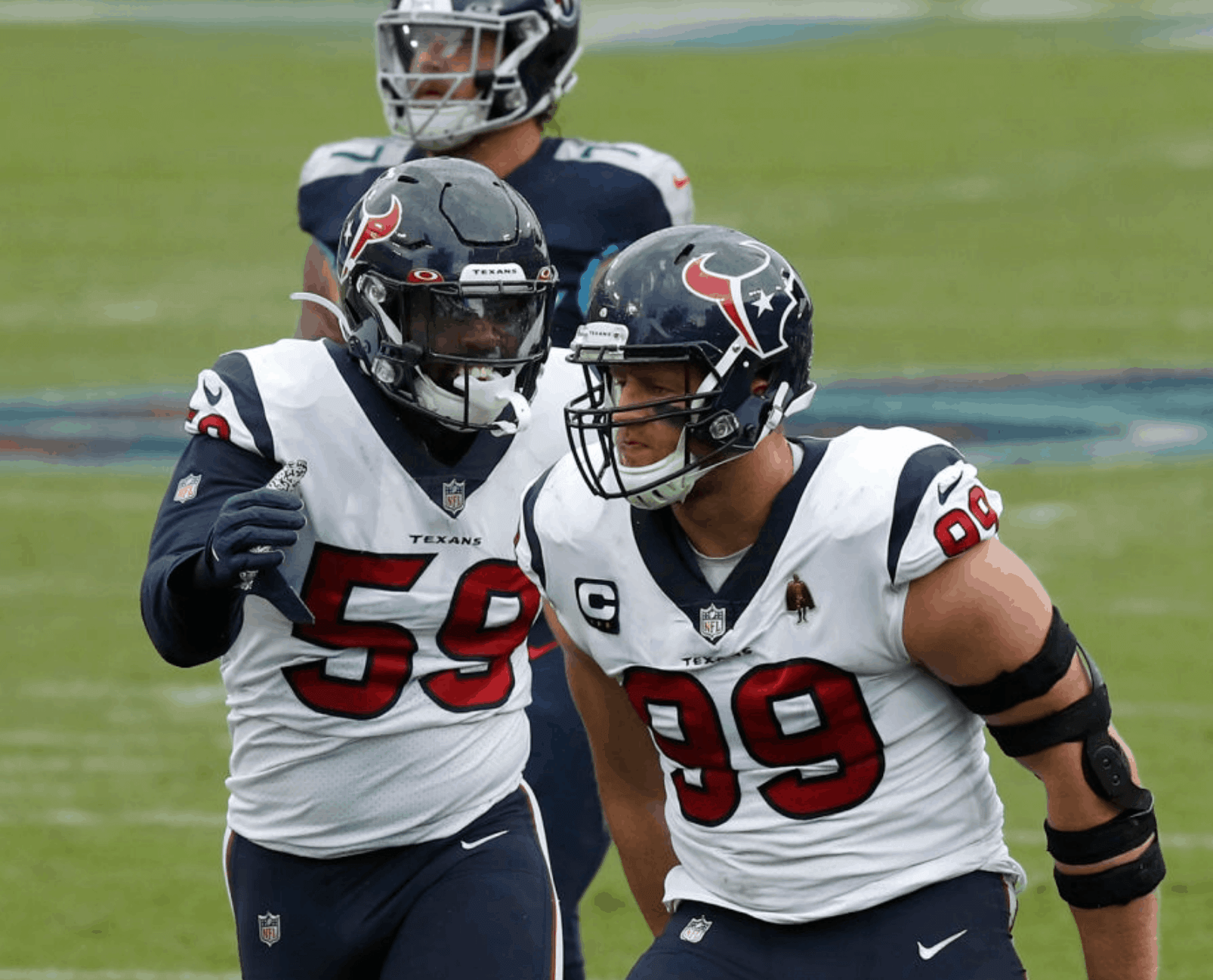 • Here we are in Week Six and Patriots wide receiver Isaiah Zuber still — still! — has the old/wrong font for the "Z" on his nameplate: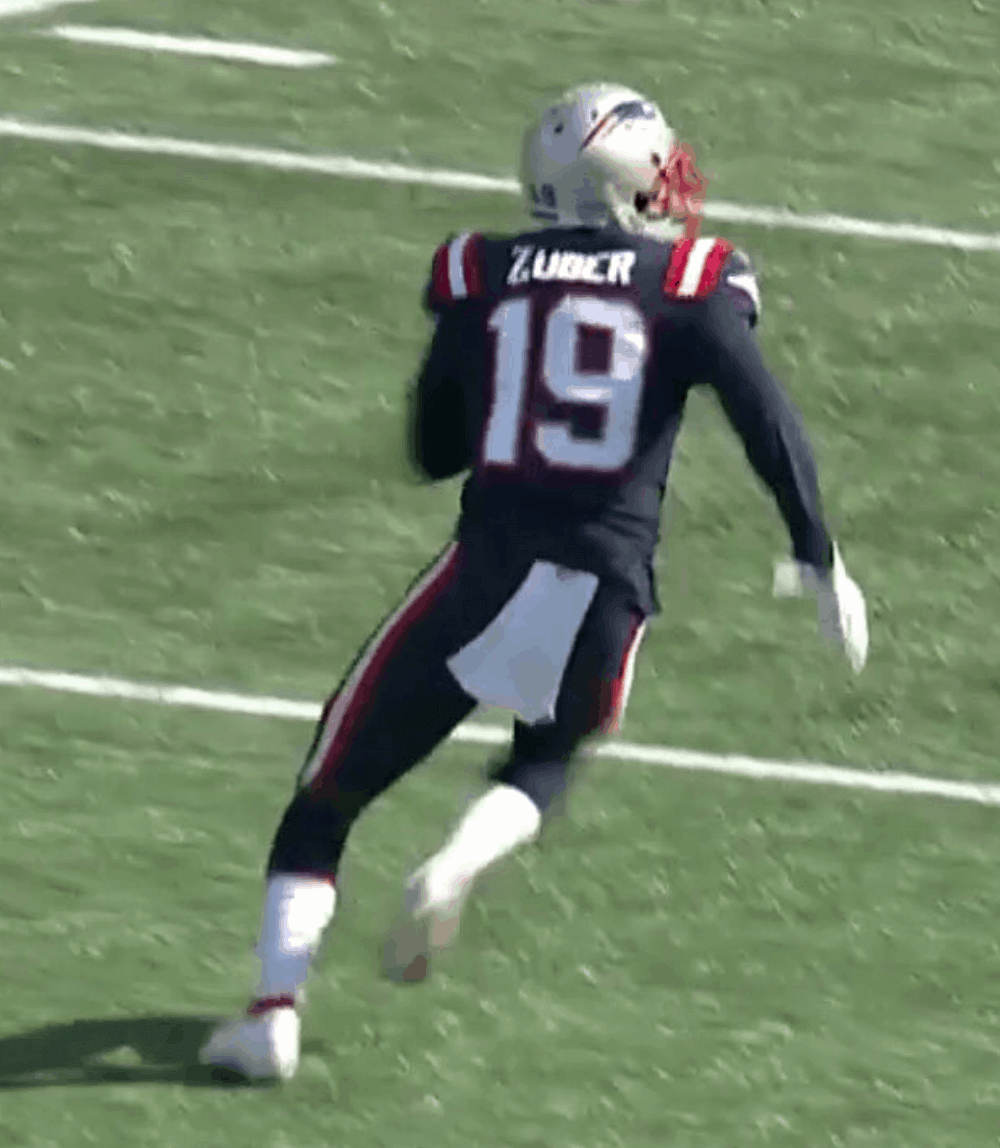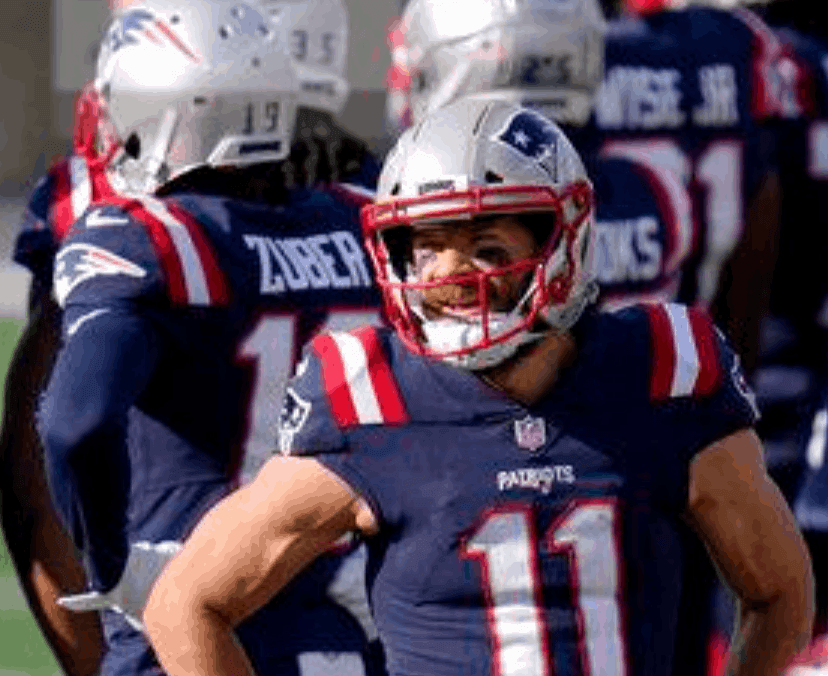 • Titans wide receiver A.J. Brown, who played college ball at Ole Miss, repped his alma mater on his gloves: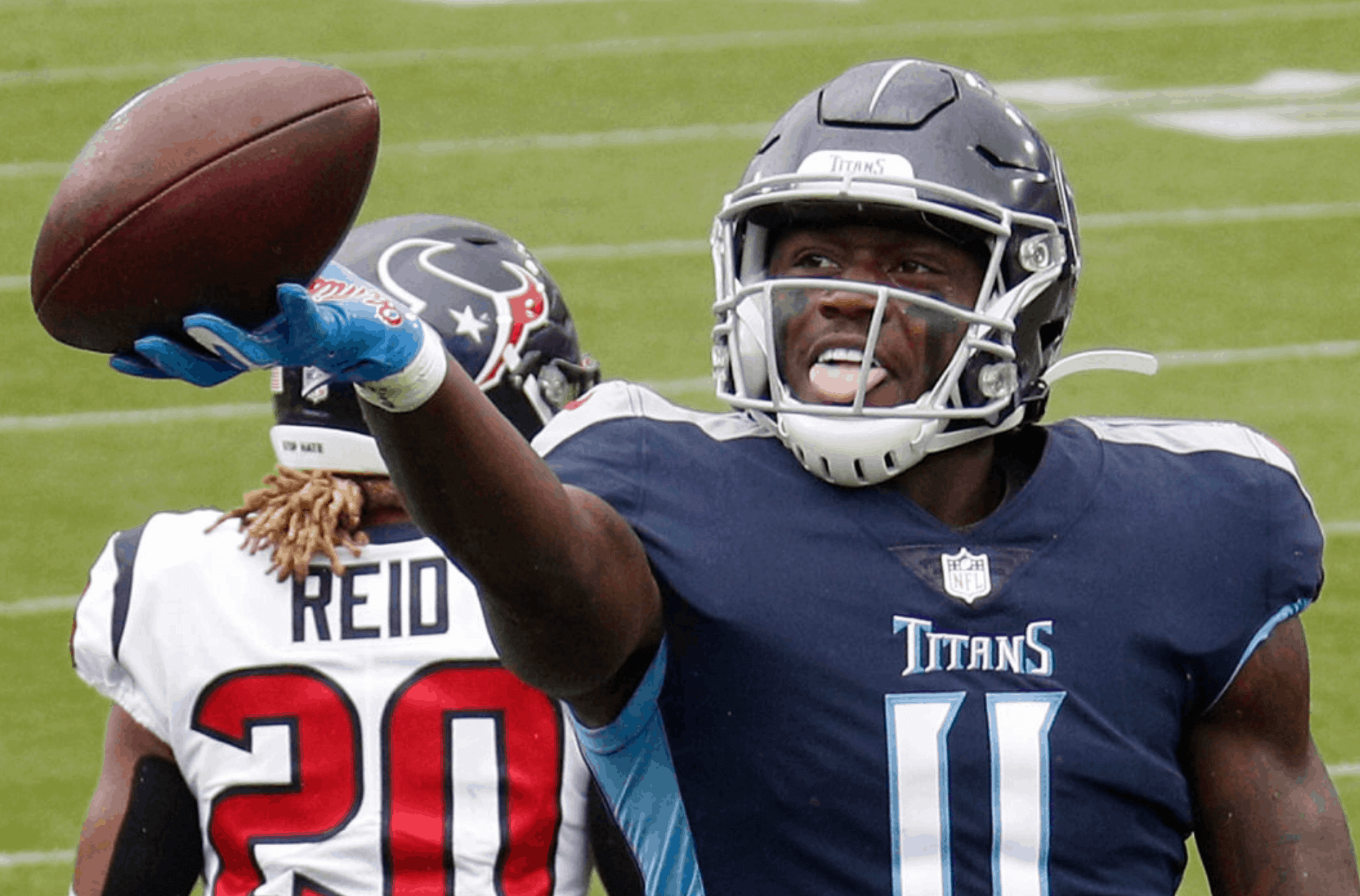 • At one point, Ravens cornerback Marcus Peters went bare-legged: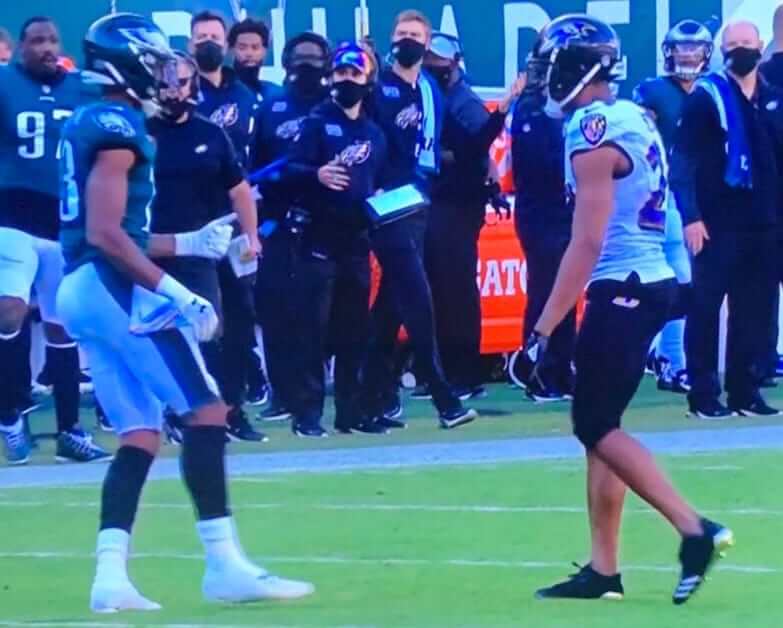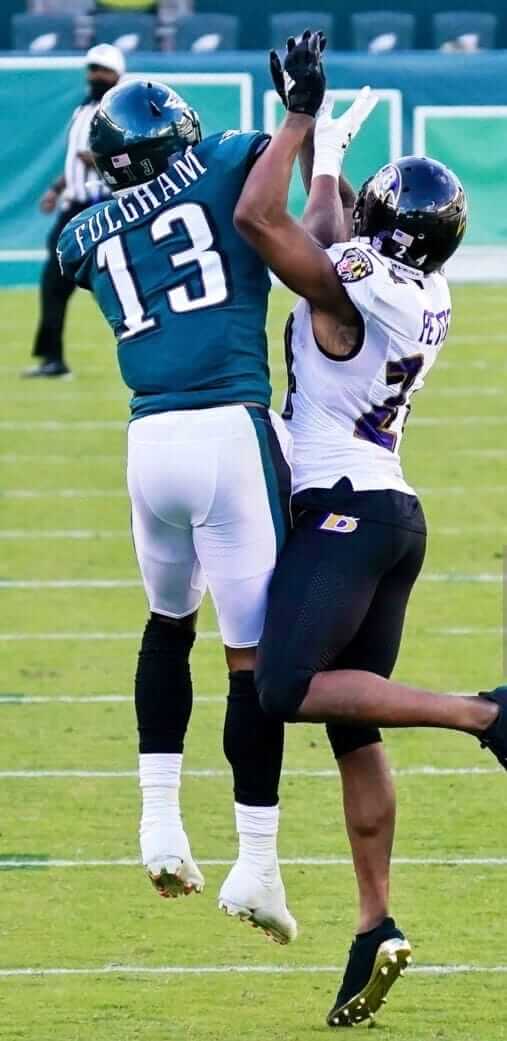 He didn't do this for the entire game, but it wasn't just a random thing either, because we've seen him do this before.
• Dolphins quarterback Tua Tagoviloa made his NFL debut. His facemask spelled out "808" — the area code for his native Hawaii: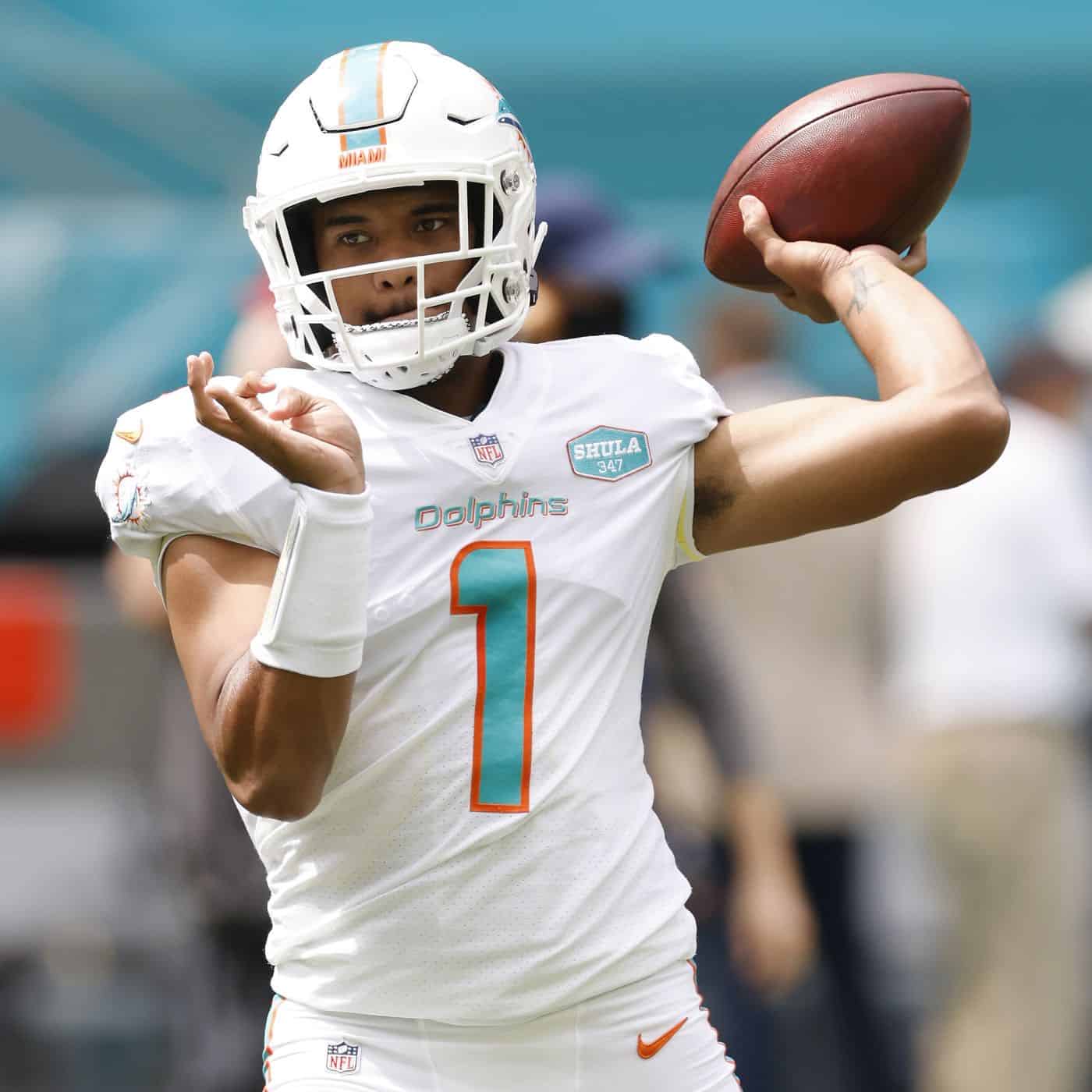 We've seen something similar before from another Hawaiian NFL quarterback: Marcus Mariota.
• This isn't new, but I hadn't noticed until yesterday that Bears coach Matt Nagy has been wearing a triple-striped mask:
Embed from Getty Images
• Although not specific to yesterday's action, it's worth noting that line judge Sarah Thomas, who previously had to tuck her long hair under her cap, is wearing a snap-back cap this season, so her ponytail can stick out. Here's a comparison — last year on left, this year on right: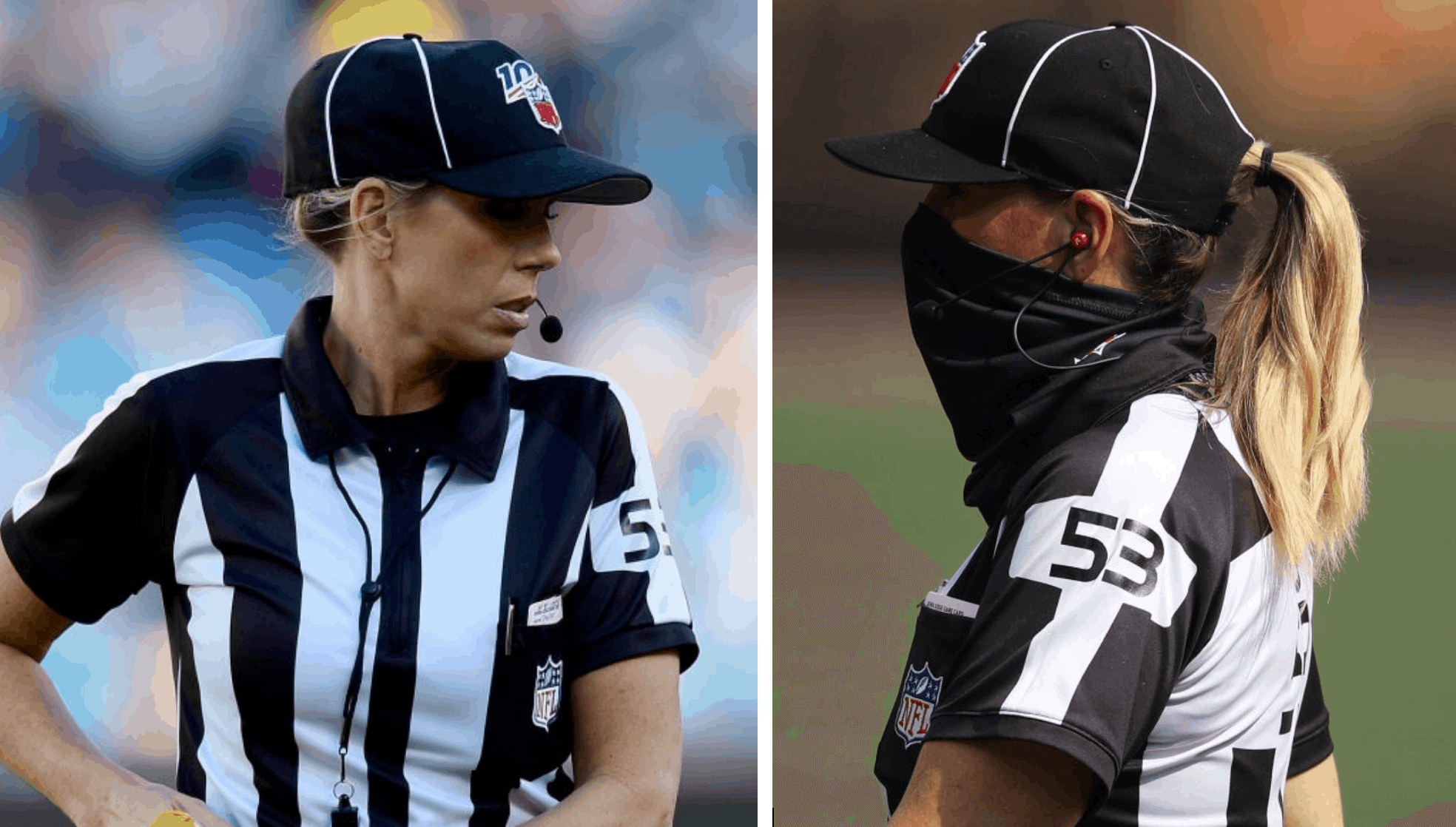 • In addition to the aforementioned 49ers, two teams wore white at home: the Buccaneers and Dolphins.
(My thanks to all contributors, including Allan Bell, Lance Harris, Ryan Kelly, Jefferson Penrod, Lucas Paquetá, Matthew Wolfram, @mrvinhtran, @notquay, and @1007MountainDr.)
• • • • •
• • • • •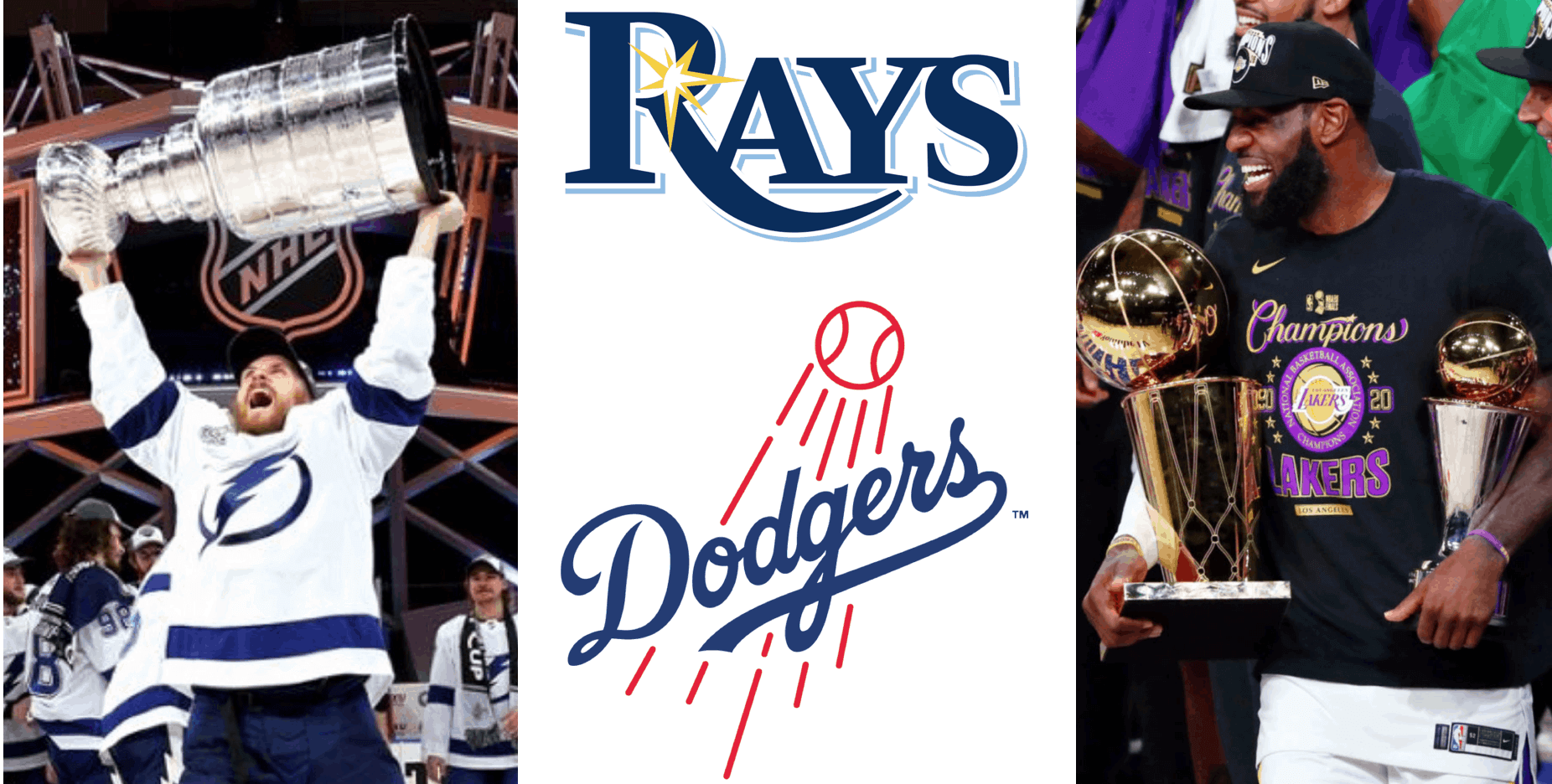 Coastal elites: After the Dodgers won the National League pennant last night to set up a Rays/Dodgers World Series, Twitter-er Colin Short noted something interesting: Due to pandemic-induced scheduling oddness, we're currently in the midst of a 30-day period in which three of the Big Four pro titles will be decided. The first two of those went to Tampa Bay (the Lightning) and Los Angeles (the Lakers), and the third — the World Series championship — will go to another team from one of those two cities. So this year's Fall Classic is sort of like a Tampa/L.A. 2020 tiebreaker.
As for the World Series uniforms, it's no contest (duh), as the Dodgers' timeless look runs rings 'round the Rays. I'm juggling a bunch of different obligations today, but if possible I'll try to put together a World Series uni preview for tomorrow.
• • • • •
• • • • •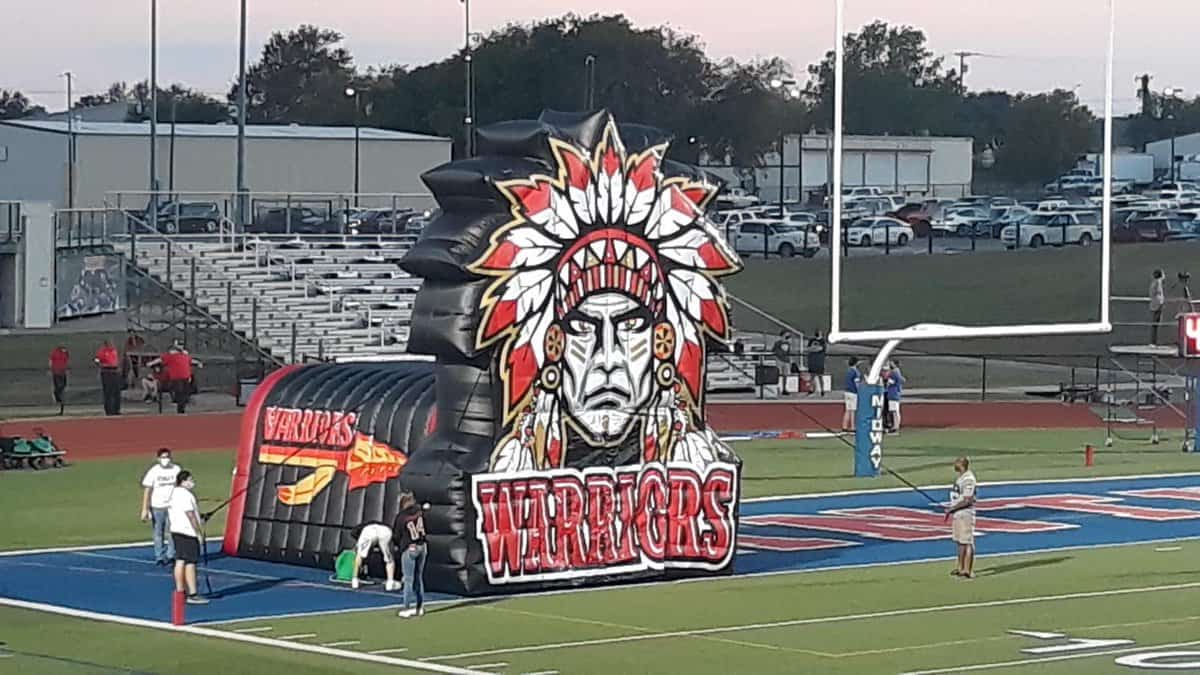 South Grand Prairie update: Last Friday I published an interview with Art Senato, the coach who recently removed the Native American imagery from the baseball uniforms at South Grand Prairie High School in Texas.
In the interests of equal time, I thought it would be good to do a similar interview with the school's football coach, Brent Whitson, about why he's chosen to retain the Native imagery for his sport (including the new inflatable tunnel shown above), so I emailed him over the weekend, leading to a brief back-and-forth. Here's how it went:
Hi, Brent …

Paul Lukas here. I'm a former ESPN and Sports Illustrated columnist, and I currently run a website called Uni Watch, which is about uniforms and logos. (Yes, it's a very specific niche!)

On Friday I published an interview with SGP baseball coach Art Senato, who talked about how he recently decided to remove the Native American imagery from the SGP baseball uniforms. You can see that interview here

In the interests of equal time, I'd love to do a similar interview with you about how you've chosen to *retain* the Native imagery in the SGP football program.

Interested? Hope so! Let me know.

Stay well,
Paul

———

Paul, I appreciate your interest. The only imagery that could be characterized as any reference to Native Americans in our program is our SGP spear logo and the spear decal on each side of our helmets. No conscious effort has been made to retain or remove the spear. It is simply the symbol of our Warrior Football program and a tribute to Warriors.

I don't see any reason to interview about a non-issue in our program.

BW

———

Hi, Brent. That's [sic] for getting back to me! Just to clarify, I think it would be fair to say that the use of the spear imagery is not a "non-issue" — rather, it is very much part of the issue. And there's also the new inflatable tunnel.
 
But if you'd rather not discuss any of that, that is, of course, your prerogative. I appreciate your response — stay well.
 
All best,
Paul

———

I guess I think more of the use of cartoon-like images that are the issue.  But I still think it is in our best interest to not discuss any of it.
 
Again, thanks for your interest.
 
BW
And that was the end of that. Disappointing. Leaving aside the issue of whether the spear icon is no big deal, it seems pretty self-evident that the inflatable tunnel is the very definition of a "cartoon-like image." Perhaps Whitson feels differently, but I guess we'll never get to hear why. Too bad.
• • • • •
• • • • •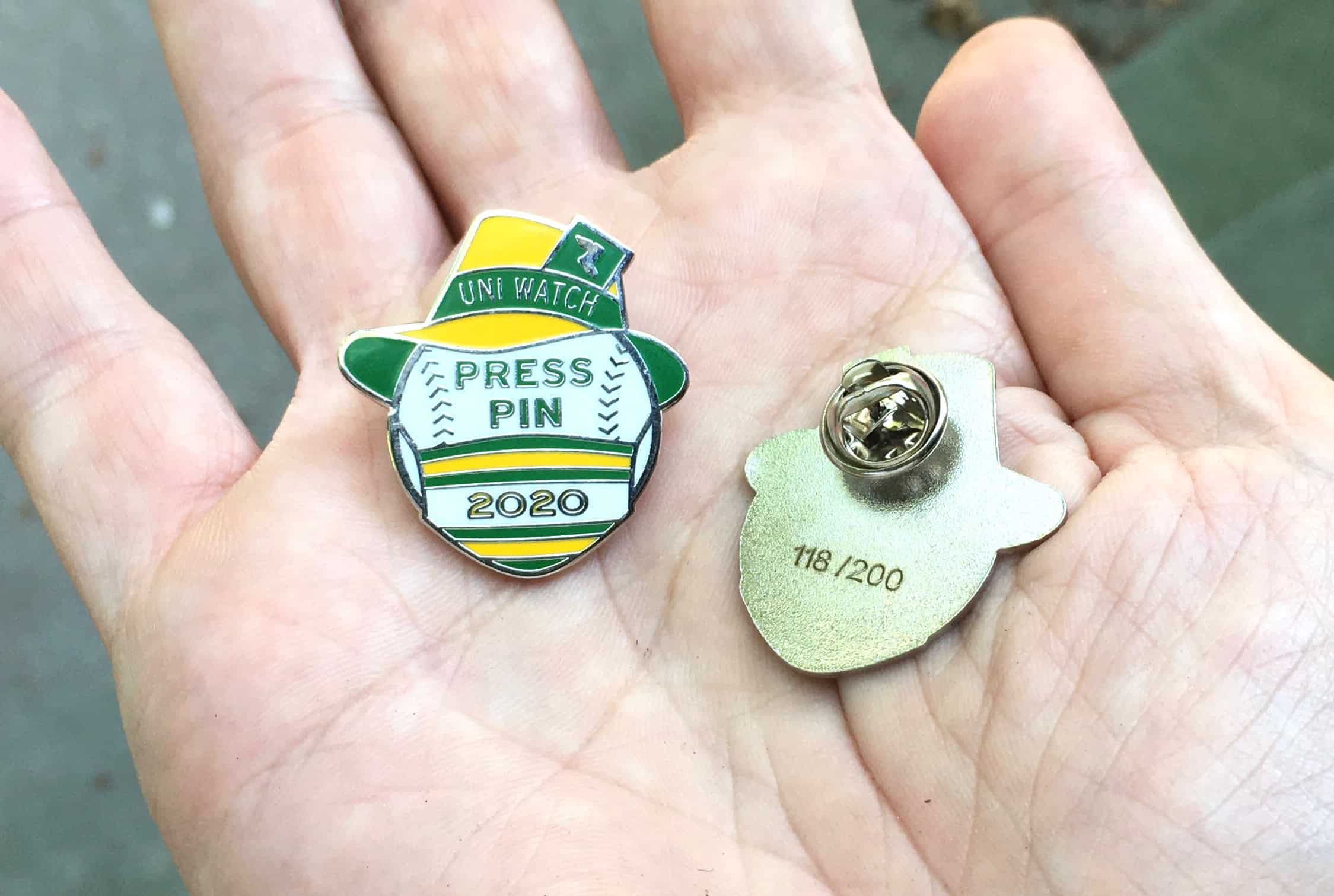 Click to enlarge
Press Pin update and IMPORTANT question for pin customers: As of this morning, there are fewer than 40 Uni Watch 2020 Press Pins remaining. If you want one, they're available here while supplies last.
While we're at it, here are the approximate inventory numbers for all of the Pin Club releases:
• January (pennant): 350 made, 80 remaining
• February (Abe and George): 350 made, 130 remaining
• March (St. Paddy's Day): 250 made, 45 remaining
• April (signed baseball): 250 made, sold out
• May (Indy car): 250 made, 45 remaining
• June (uni-ty): 300 made, 35 remaining
• July (bobble): 500 made, 35 remaining
• August (scoreboard): 250 made, 40 remaining
• September (football ref): 250 made, 70 remaining
• October (jack-o-goalie): 250 made, 55 remaining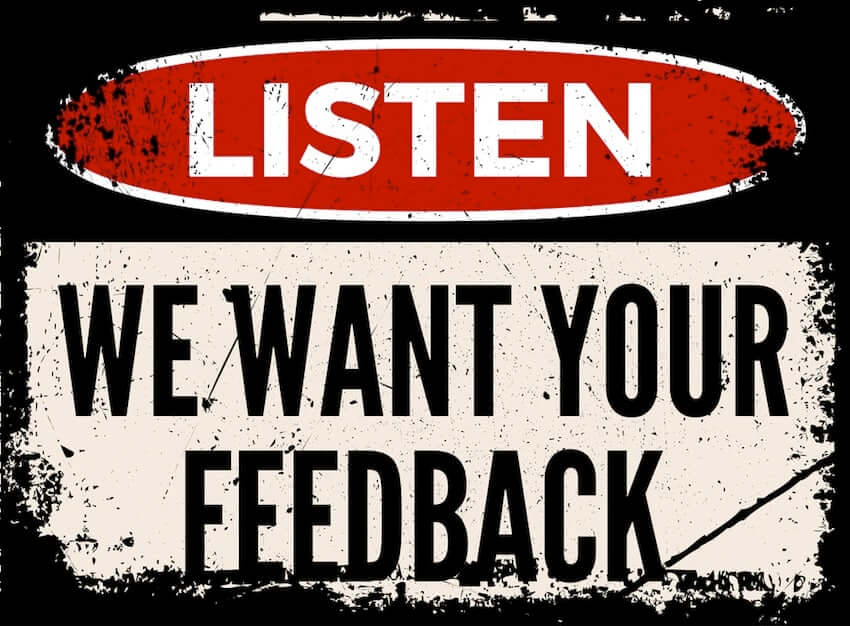 Looking ahead, designer Todd Radom and I would like to keep the Pin Club going in 2021. With that in mind, we wouldn't mind some feedback from you folks. For example:
• For this year, we've put the words "Uni Watch Pin Club" on the front of each pin. Do you like that, or would you prefer it if we scrapped the words "Pin Club" and just stuck with "Uni Watch"? (Making that change would certainly give us more design flexibility.)
• Similarly, we've included "2020" on each pin this year. Again, do you like that, or would you prefer that the year be engraved on the back, along with the month? (Again, this would give us more design flexibility.)
• Many of this year's designs have been seasonal or holiday-themed. Do you like that, or do you not care about a design matching up with its launch month?
• If you have any other suggestions or thoughts about this project, we're all ears.
You can respond in today's comments, or feel free to email me directly. Thanks!
• • • • •
• • • • •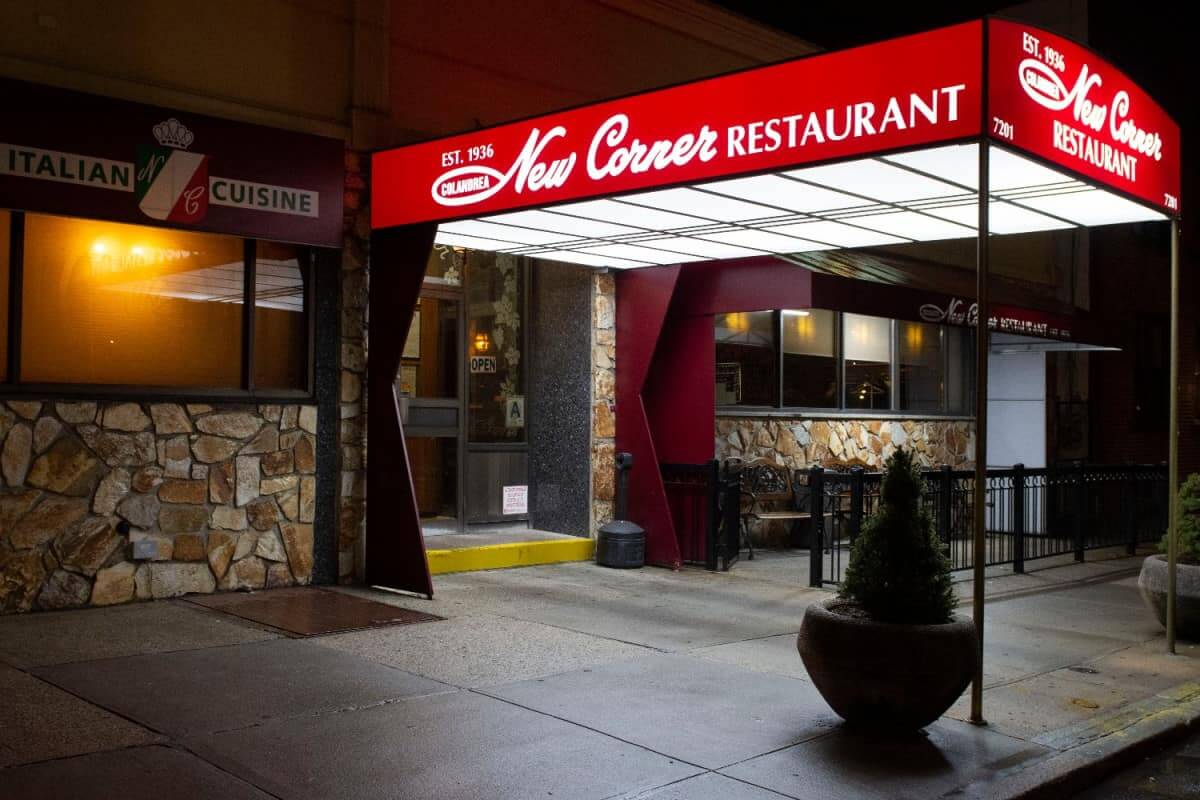 Tasty, but bittersweet: Back in early March, I began working on a story for InsideHook about New Corner, a very special 84-year-old Italian restaurant I've long admired in an out-of-the-way part of Brooklyn. Unfortunately, the timing was bad — I filed my story just as the pandemic shutdown hit. So we put the story on the shelf and figured we'd run it when the restaurant reopened.
Earlier this month, the word came that New Corner will not be reopening. I suggested to my editor that we go ahead and run the story now (with an explanatory author's note appended to the top), so it can serve as a requiem of sorts — not just for New Corner, but for all the restaurants and other local businesses that the pandemic has claimed.
My editor agreed, and the story was finally published last Friday — more than seven months after I originally filed it. You can check it out here.
• • • • •
• • • • •
The Ticker
By Jamie Rathjen

Baseball News: MLB is putting people's tweets on batting practice balls used during the World Series (from Ignacio Salazar). … Fenway Park is one of many stadiums being used as a polling place, and the "I Voted" stickers there are Red Sox-themed (from Steve Flack).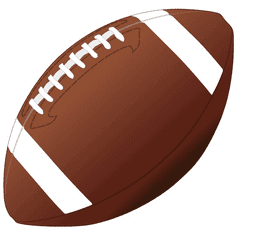 Football News: A graphic during BYU's game on Friday featured a blue helmet for them, which I don't think they've worn recently as a throwback or otherwise (from Gregory Lyons). … Cross-posted from ice hockey: Ohio State women's goalie Quinn Kuntz has new pads that feature one of the entrances to Ohio Stadium (from Moe Khan).

Hockey News: Maple Leafs C Jason Spezza said he offered his No. 19 to new signing Joe Thornton, who had worn that number for every NHL season since 2000-01. However, Thornton declined and is wearing No. 97 for both the Maple Leafs and Switzerland's HC Davos (from Josh Claywell). … Ohio State women's goalie Quinn Kuntz has new pads that feature one of the entrances to Ohio Stadium (from Moe Khan). … The Junior A Alberta Junior Hockey League's Camrose Kodiaks and Drumheller Dragons played a color-vs.-color preseason game on Friday (from Wade Heidt). … Writer and radio host Justin Bourne posted some old jerseys worn by his dad, former Islanders and Kings center Bob, including ones from minor league baseball and celebrity softball (from @markinvictoria).

Basketball News: The British Basketball League's Cheshire Phoenix have a new logo (from Timmy Donahue).



Soccer News: Real Madrid's second kit is pink this season, so both the men's and women's teams wore it at home this weekend for breast cancer awareness. … In the NWSL, the Orlando Pride wore a pink patch designed by center-back Toni Pressley, who actually returned to the team about a year ago after surviving breast cancer. … Scottish teams are wearing the annual Show Racism the Red Card charity patch for the next two weeks, but it seems that primarily women's teams did so this weekend and men's teams next weekend. … Kansas's women's team wore both pink and a Black Lives Matter/unity patch on Friday. … A D.C. United blood shirt that almost saw action yesterday was numbered 96, an apparent reference to MLS's first season or DCU's first championship (from @OlegKvasha).

Grab Bag: The new NASCAR Cup Series team owned by Michael Jordan and Cup driver Denny Hamlin appears to want its car to have No. 23, though Jordan said it's up to driver Bubba Wallace and ultimately car numbers belong to NASCAR (from Christopher Hickey). … New kits for Ireland's County Down's Gaelic games teams. … The Australian Football League's grand final is being held outside Melbourne, in Brisbane, for the first time ever, and a piece of the Melbourne Cricket Ground's grass is being added to the grass at Brisbane's Gabba for the occasion. Of course, that was almost immediately criticized both as bad optics during the pandemic and as a waste of money. … Also in Australia, landmarks in Perth, including the city's main stadium, Optus Stadium, turned green to support the West Coast Fever in Super Netball's grand final. … The next two items are from Timmy Donahue: The Portland, Ore., police are to have ID numbers stenciled on their helmets worn during protests. … Police officers in Newburgh, N.Y., have new uniforms.
• • • • •
• • • • •
Click to enlarge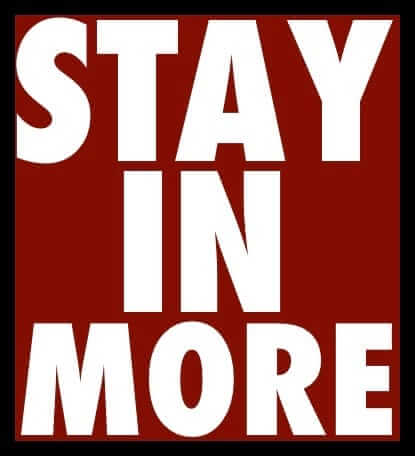 What Paul did last night: An absolutely perfect fall setting out on the porch yesterday — perfect in its crisp autumnitude, its autumnal crispitude, its October magnificence. As I've mentioned before, October is my favorite month, and it completely lived up to my expectations yesterday.
Also, if you look above the Tugboat Captain's head, you can see that we now have a new porch participant. Here's a better look: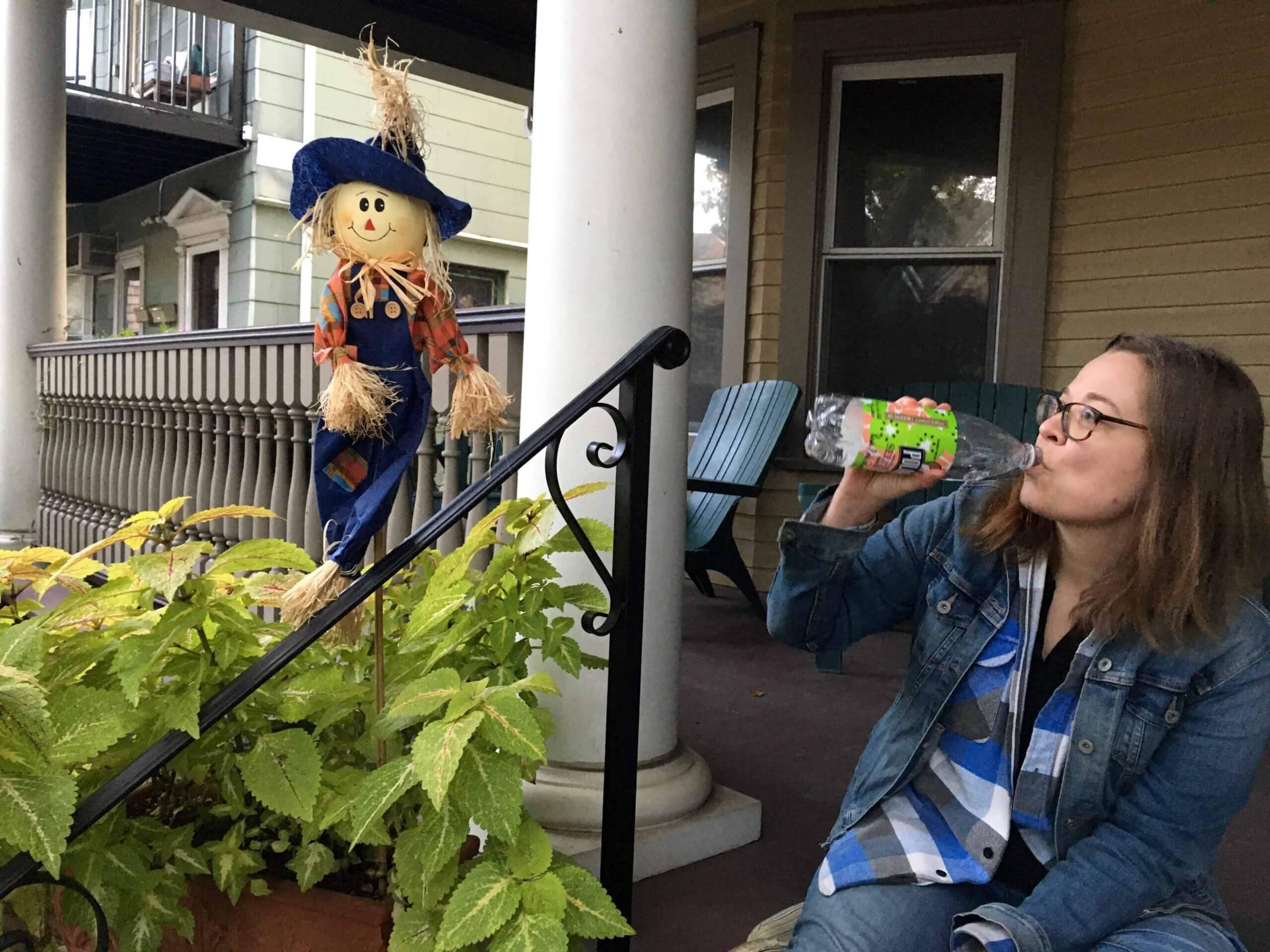 Our landlords added him to one of the porch planter boxes yesterday. He makes an agreeable drinking partner, so we're happy to have him on board. Maybe today we'll try to name him.
As always, you can see the full set of Pandemic Porch Cocktails™ photos — now well over 200 of them — here.