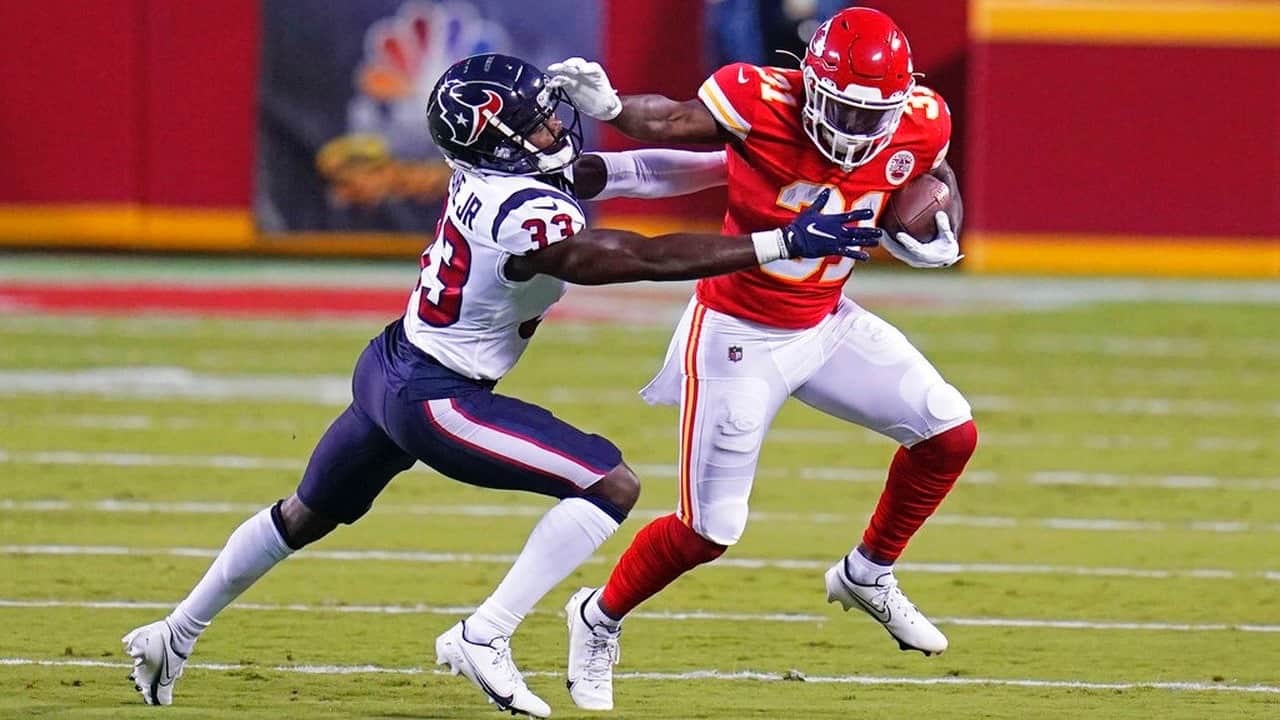 The 2020 NFL season got underway last night, as Kansas City hosted Houston. As KC took the field, I was surprised to see that they weren't wearing a Super Bowl champions patch. As I noted in my NFL Season Preview column, a team source had hinted to me that they'd likely unveil the patch on game day, but they apparently changed their minds.
The last defending Super Bowl champs to skip the championship patch in their subsequent season opener? The Broncos in 2016. It's interesting that the NFL lets the teams decide this, instead of having a rule about it. Seems like the kind of thing they'd legislate, right? Nice to see there's still some room for teams to make their own choices.
In other notes from last night's game:
• The Texans added an "RCM" memorial patch for owner Bob McNair for the last couple of games of the 2018 season, then converted it into a helmet decal in 2019 (which seemed reasonable, since McNair died so late in the 2018 season). They've retained it this year, so we can now classify this as the league's latest perma-memorial (joining the ones for Lamar Hunt, George Halas, William Clay Ford, and Al Davis):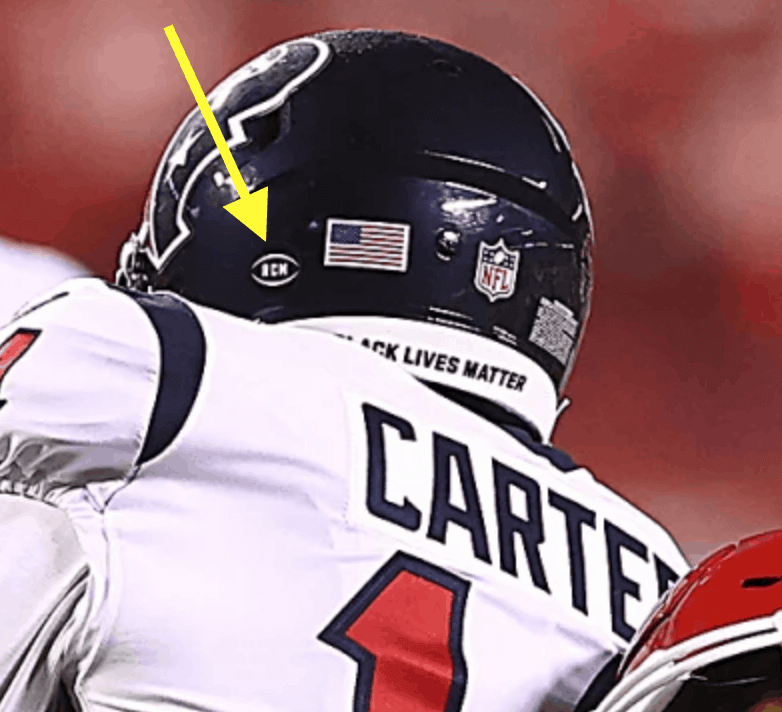 • That last photo also shows one of the racial justice phrases that many players wore on the rear helmet bumpers. Many other players wore the names of Black victims of systemic racism. (Here's a page showing and explaining what six of the Texans chose to wear.) The lettering was much smaller than what was shown in earlier mock-ups:
Remember their names. pic.twitter.com/MnNE12qOn6

— Kansas City Chiefs (@Chiefs) September 11, 2020
• The officials wore masks and carried messaging on the sides of their caps:
Clete Blakeman and crew with #EndRacism patches on their hats 🏈🦓@UniWatch
📸Jamie Squire/Getty pic.twitter.com/ZB7tc13bCE

— Fᴏᴏᴛʙᴀʟʟ Zᴇʙʀᴀs ✊🏾⚖️ (@footballzebras) September 11, 2020
• We got our first on-field look at KC running back Clyde Edwards-Helaire's prodigious NOB, which is rendered in heavily compressed type: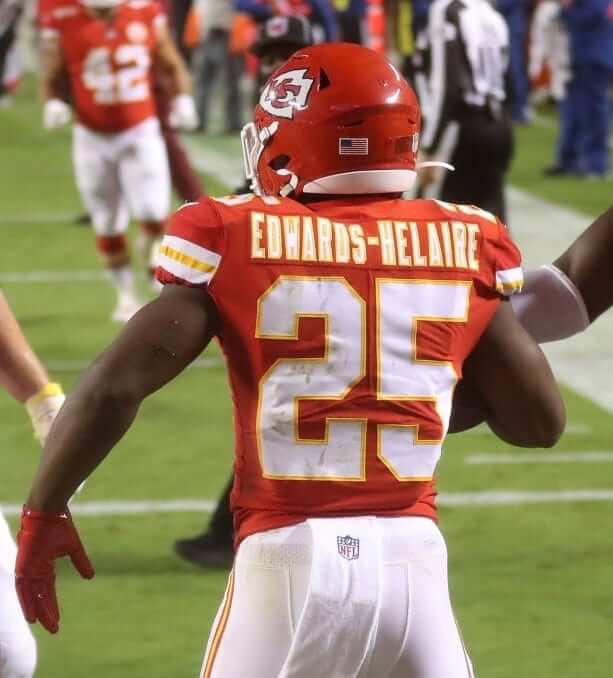 • I'm happy to see that a longtime KC equipment quirk has been rolled over for another season: uni-numbered chinstraps! (To my knowledge, the Chargers are the only other team that does this.)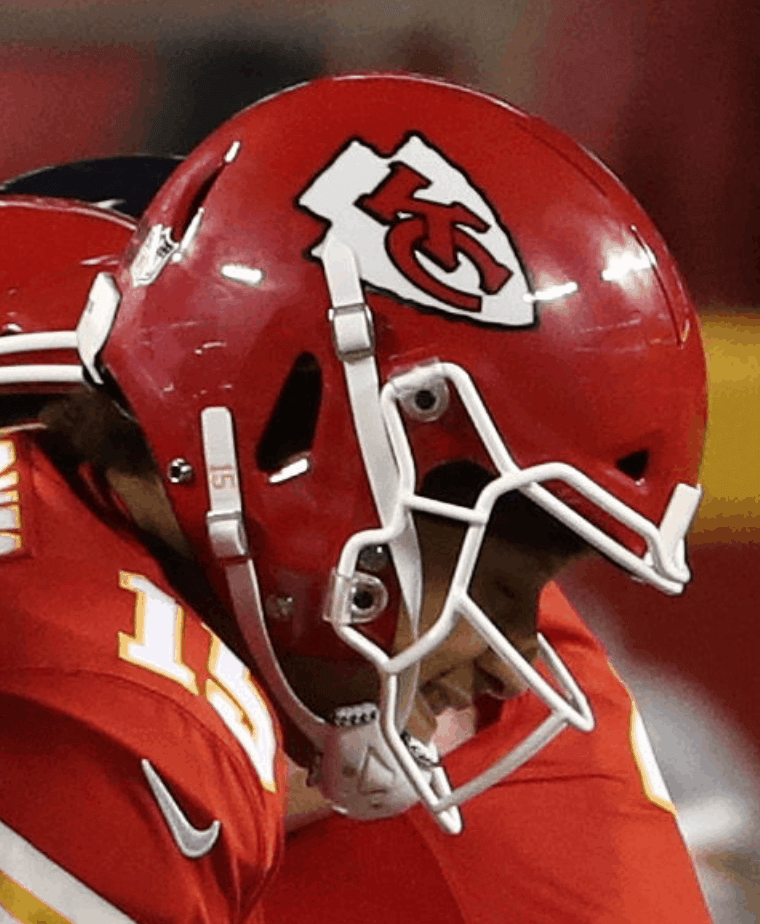 • All coaches were required to wear masks or face shields on the sidelines. Looked like everyone chose masks except for KC coach Andy Reid, who wore a shield. It fogged up a lot, which may explain why he raised it at one point:
Embed from Getty Images
• As had been reported a while ago, the phrases "End Racism" and "It Takes All of Us" were printed on the end lines. The plan is for these the remain in place for all games, all season long:
The end zone at Arrowhead Stadium reads "End Racism".

The other will read "It Takes All Of Us" and all teams will have these messages painted in their end zones for the full regular season. pic.twitter.com/o04ZMsQPi9

— Front Office Sports (@frntofficesport) September 10, 2020
• The Texans opted to stay in the locker room during the national anthem. Most of the Chiefs stood during the anthem, but defensive end Alex Okafor knelt and raised his fist in a Black power gesture:
Embed from Getty Images
———
So there you go — the first NFL game of the season. I have to admit, given the state of the pandemic, I was skeptical that the season would start on time, or at all, but the sports world has managed to hold things together. The NBA and NHL bubbles have been very successful at stopping the spread of the virus, and it now looks like MLB, despite some early wobbles, will make it to the finish line. Impressive!
• • • • •
• • • • •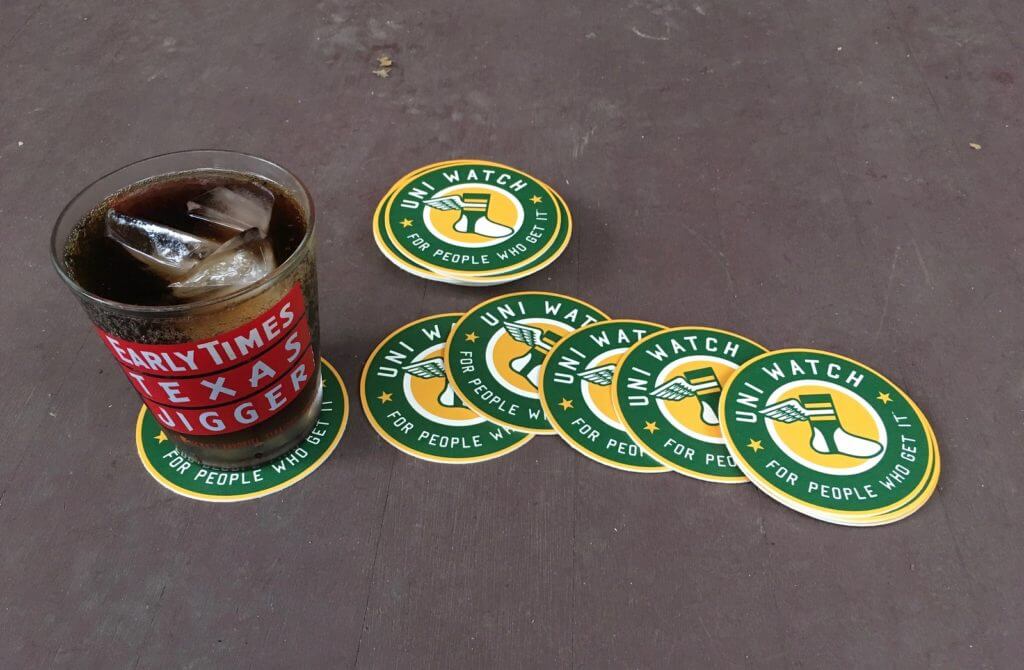 Click to enlarge
ITEM! The return of Uni Watch Coasters: I've once again been able to have 50 Uni Watch Coasters made at a decent price (the manufacturer offers periodic discount deals), which in turn allows me to sell them to you in sets of three for $9, including shipping!
They're made in the USA from sturdy pressboard and measure 3.7″ across.
To order, send me $9 via Venmo (use @Paul-Lukas-2 as the payee), Zelle (plukas64@gmail.com), or Google Pay (plukas64@gmail.com). If you want to use Apple Pay or a paper check or well-concealed cash, get in touch and I'll give you the appropriate info.
After paying, email me with your shipping info. Thanks!
• • • • •
• • • • •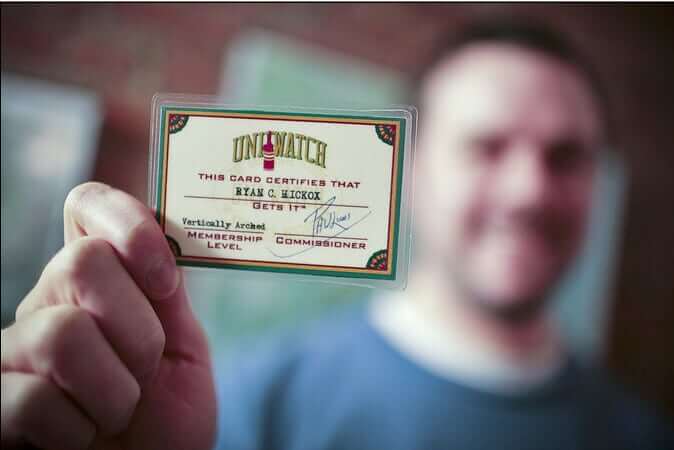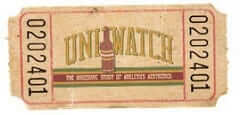 ITEM! Membership raffle: Reader Charles Meisse recently purchased a Uni Watch membership for me to raffle off, so that's what we're going to do today.
This will be a one-day raffle. No entry restrictions. To enter, send an email to the raffle address by 8pm Eastern tonight. I'll announce the winner on Monday.
Meanwhile, the three winners of yesterday's raffle are Howard Corday, Amy Marantino, and Julia LaBua, who've each won a Uni Watch Tequila Sunrise Mask. Congrats to them, and big thanks to Adam Bogan for sponsoring that one.
• • • • •
• • • • •
The Ticker
By Anthony Emerson

Baseball News: The Cardinals had the day off on Roberto Clemente Day, so yesterday C Yadier Molina wore No. 21. Also, both the Cardinals and their opponents, the Tigers, wore the "21" patches (from Erik Spoonmore). … Ditto for the Phils and Marlins, with Phils IF Neil Walker and OF Andrew McCutchen both wearing 21, but with their usual NOBs (from Jerry Wolper). … In that Cards/Tigers game, Detroit LF Travis Demeritte's batting helmet was missing its team logo (from @mrmichael21). … More Tigers: SS Willi Castro's name is misspelled as "Willie" on his own bat (from David Raglin). … Dan LeBatard's podcast featured a relatively in-depth interview with former Marlins President David Samson, and topics included the team's uniform changes in 2012 (from Brandon S. Bowker and @railbourbon). … Kansas City Chiefs QB Patrick Mahomes wore a Kansas City Monarchs jersey while arriving for last night's NFL season opener. That's cool! What's not cool is that he (or someone) added a strip of tape with an Adidas slogan to his jersey, as if the Adidas logo on his mask wasn't enough (from @TheSmokingPun).

NFL News: The Giants have released their jersey schedule for the season (from Russell Price and Andrew Cosentino). … The Museum of Jerseys blog, which normally writes about soccer kits, has written an article on the Patriots' new unis just to suggest they adopt white pants. I agree! (Thanks, Jamie.) … The facsimile Statue of Liberty at the New York, New York Casino in Las Vegas was decked out in a giant Raiders jersey ahead of the team's first game since relocation. Notice Lady Liberty is also masked up (from Mike Chamernik and Jeff Lagro). … The Browns are adding a helmet-style stripe at the 50-yard line. Here it is rendered in Madden 21 (from @Believeland1994). … Speaking of the Browns, they won't have captaincy patches this season (thanks, Alex). … The Ravens will wear white jerseys at home for Week 1 (from Robert Turning). … The Falcons' new endzones have been revealed (from Jon Anker). … Cross-posted from the baseball section: KC QB Patrick Mahomes wore a Kansas City Monarchs jersey while heading into the stadium for last night's season opner. That's cool! What's not cool is that he (or someone) added a strip of tape with an Adidas slogan to his jersey, as if the Adidas logo on his mask wasn't enough (from @TheSmokingPun). … The Dolphins have decided to remain in their locker room during the playing of both "The Star Spangled Banner" and "Lift Ev'ry Voice and Sing" this Sunday.

College/High School Football News: New uniforms for Montana (from Benjamin B. Goble). … Duke is still trying to make BFBS happen, putting a black logo on their blue helmet (from Shane Smith). … You think there are enough patches on this Notre Dame jersey? (from Randy Joseph). … UNC is going blue-blue-white for their first game (from James Gilbert). … Appalachian State is debuting new mono-black uniforms for Week 1. Here are some additional photos of it (from @Jon_Ed, @loxley44 and @DieselOnRadio). … UAB had some super inconsistent nameplate issues last night.

Hockey News: The Winnipeg Freeze, an expansion team in the Manitoba Junior Hockey League, have unveiled their uniforms (from Adam Peleshaty).
.

Soccer News: The Premier League won't carry over the Black Lives Matter sleeve patch into the new season, instead opting to include a "No Room for Racism" patch. NRFR is the Premier League's own initiative (from Jakob Fox and our own Jamie Rathjen). … Also from Jamie, here are Virginia men's new navy shirts. … Utah State's Twitter account posted a series of images showing the evolution of USU's women's soccer kits (from Benji King). … New kits for FC Lviv, their first set with Jako after moving from Nike (from Ed Żelaski).

Grab Bag: Yesterday's episode of ESPN's The Daily podcast was about the history of playing the national anthem at sporting events (from Andrew Cosentino). … The NLL's New York Riptide will wear special doctor's-scrubs-themed jerseys to honor healthcare workers. The team has yet to announce a date for when the unis will be worn (from Wade Heidt).
• • • • •
• • • • •