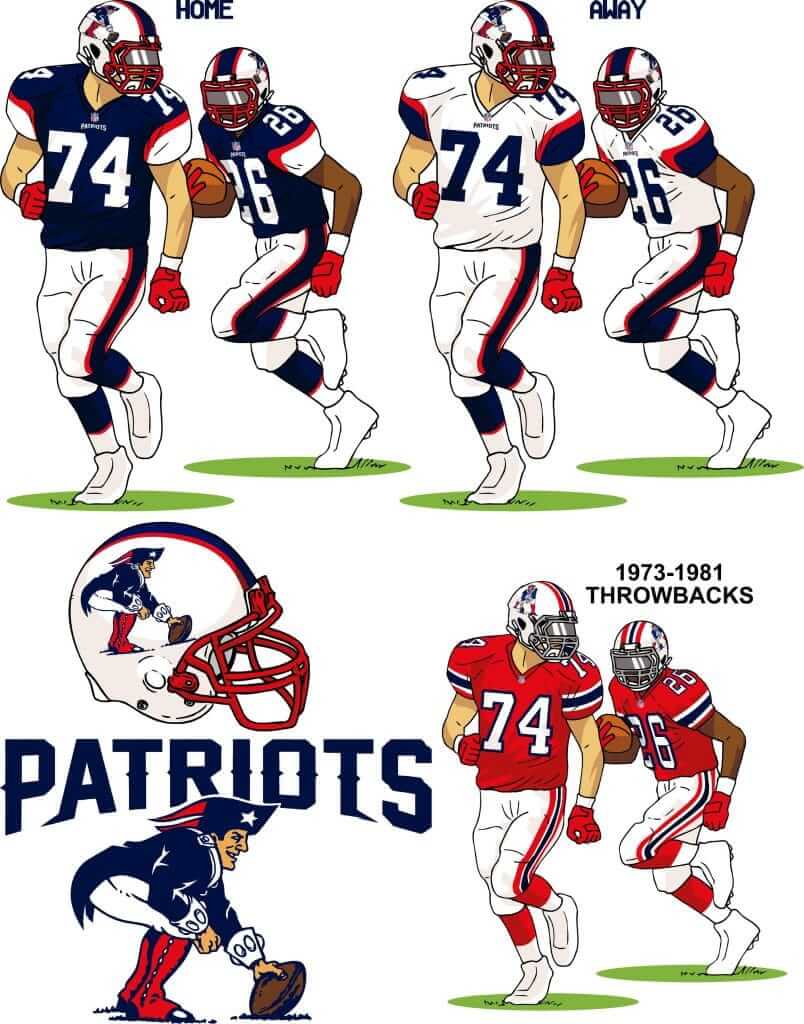 Click to enlarge
Big thanks to everyone who submitted entries for our "Redesign the Patriots" contest (including Gene Sanny, whose entry, shown above, caught my eye because of his interesting side-view rendition of Pat Patriot). Today we have the results, as I've singled out the best and most interesting results. You can see them over on InsideHook.
• • • • •
• • • • •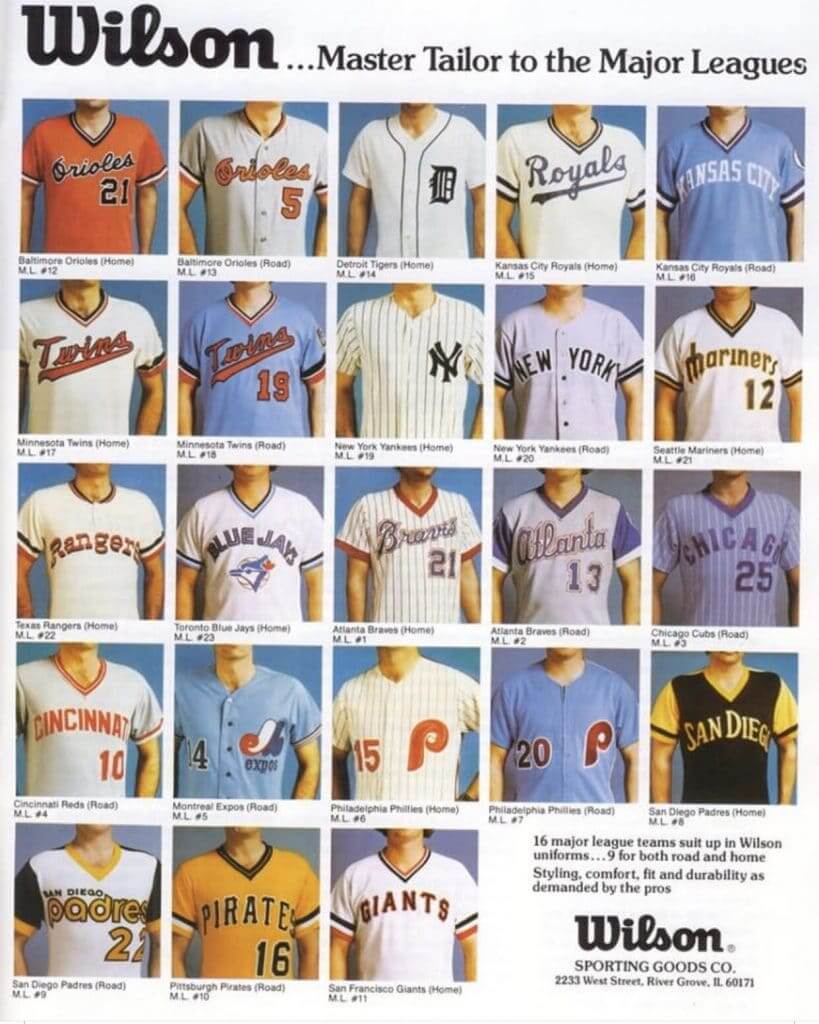 Click to enlarge
Thing of beauty: Gotta love this late-1970s ad from Wilson. Of particular note, check out the line at bottom where it says, "16 major league teams suit up in Wilson uniforms … 9 for both road and home." In those days, that was more the exception than the rule, as teams routinely had different outfitters for their home and road unis.
(My thanks to Tom O'Grady for posting this on Twitter.)
• • • • •
• • • • •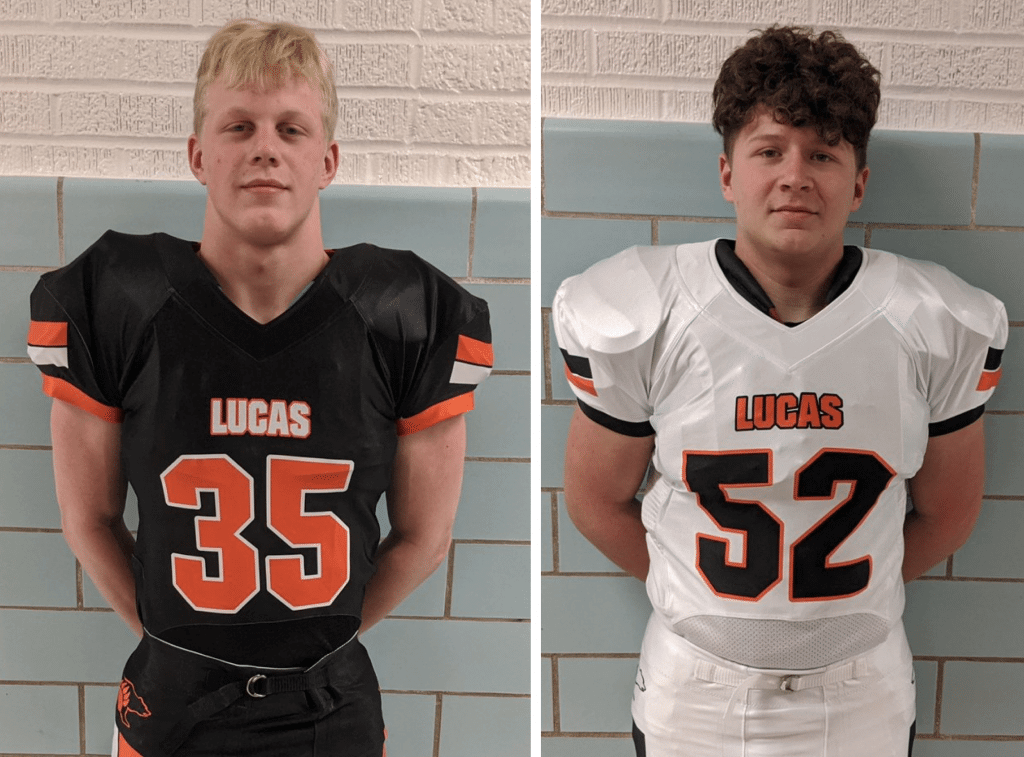 Click to enlarge
What's in a name, continued: Earlier this month I mentioned how weird it was to see an obituary for someone with the same name as mine. Similarly, my surname has been misspelled as "Lucas" so often during my life that it's also a bit weird to see the misspelling printed on the chest of a high school football uniform.
The school in question is Lucas High in the heretofore unknown-to-me town of Lucas, Ohio. They unveiled the new uniforms yesterday. Interestingly, they don't seem to have maker's marks — very Lucas/Lukas-appropriate!
Lucas, incidentally, is about two hours due east from another notably named Ohio town: Uniopolis. I may have to hit both of those towns on a road trip one day.
• • • • •
• • • • •
For the first time in Games history, #Tokyo2020 has created kinetic sport pictograms! #Tokyo2020 has created the first animated pictograms to highlight just how dynamic, innovative, and special this Games will be! ✨#UnitedByEmotion @Olympics @Paralympics pic.twitter.com/NFw8uhFaU2

— #Tokyo2020 (@Tokyo2020) February 26, 2020
Too good for the Ticker: Pictograms for the various Olympic sports are nothing new. But as you can see above, the 2020 Tokyo Games will have something new: animated pictograms.
I'm a sucker for this kind of simple but engaging animation. Click on the video link — it's fun! Lots of additional info here.
Of course, it's worth noting that the Tokyo Games could be cancelled due to the coronavirus, but let's hope it doesn't come to that.
(Big thanks to my pal Rob Walker for this one.)
• • • • •
• • • • •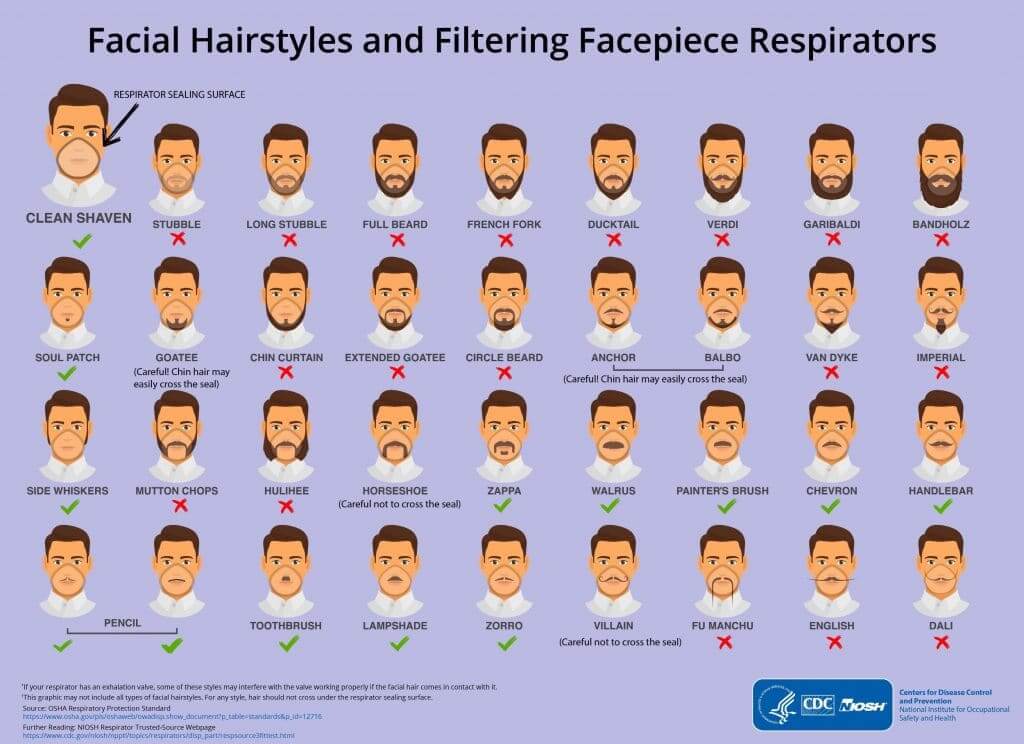 Click to enlarge
And hey, speaking of that virus thingie…: With the coronavirus threatening to become a global pandemic, the Centers for Disease Control issued this spectacular infographic showing how certain male facial hair styles compromise the efficacy of protective masks. Lots of names here I wasn't familiar with, like Hulihee and Balbo. I also didn't realize that a Hitler-style 'stache is called a Toothbrush, or that there's another style called a Painter's Brush. The more you know!
All joking aside, I'm a bit concerned about all of this because (a) I am a chronic asthmatic, which means any respiratory virus is a major danger for me (that's a polite way of saying there's a good chance the coronavirus would kill me), and (b) I take a medicine — for something else, not for asthma — that compromises my immune system, so I'm at a higher risk for infection (although, on the plus side, (c) I work from home, which helps limit my exposure). All of which is to say, I haven't put on a mask yet, but I'm thinking about it. And if I go that route, this chart indicates that I'll have to change my facial hair in order to preserve the mask's effectiveness. I wonder how many other men will end up up changing their facial hair as a result of this outbreak.
Update: Reader/commenter Martina notes that this infographic was actually released in 2017. "The advice about respirators might end up being relevant to the coronavirus, but currently CDC is not recommending people use them." Thanks for that, Martina!
Meanwhile: I'm sorry to report that the coronavirus's disruption of global supply chains has affected us here at Uni Watch. Our March design for the Uni Watch Pin Club would normally be due to launch next Tuesday (the first Tuesday of the month), but that will will be pushed back to next Friday or maybe the following week, depending on how things shake out. Also, our Uni Watch hockey jerseys, which were originally slated to ship out to customers in mid-March, are being delayed by about a month. Obviously, we're just a very small part of the global slowdown, but it's interesting to see that even Uni Watch is not immune. Thanks to everyone for their patience.
(My thanks to the Tugboat Captain for this one.)
• • • • •
• • • • •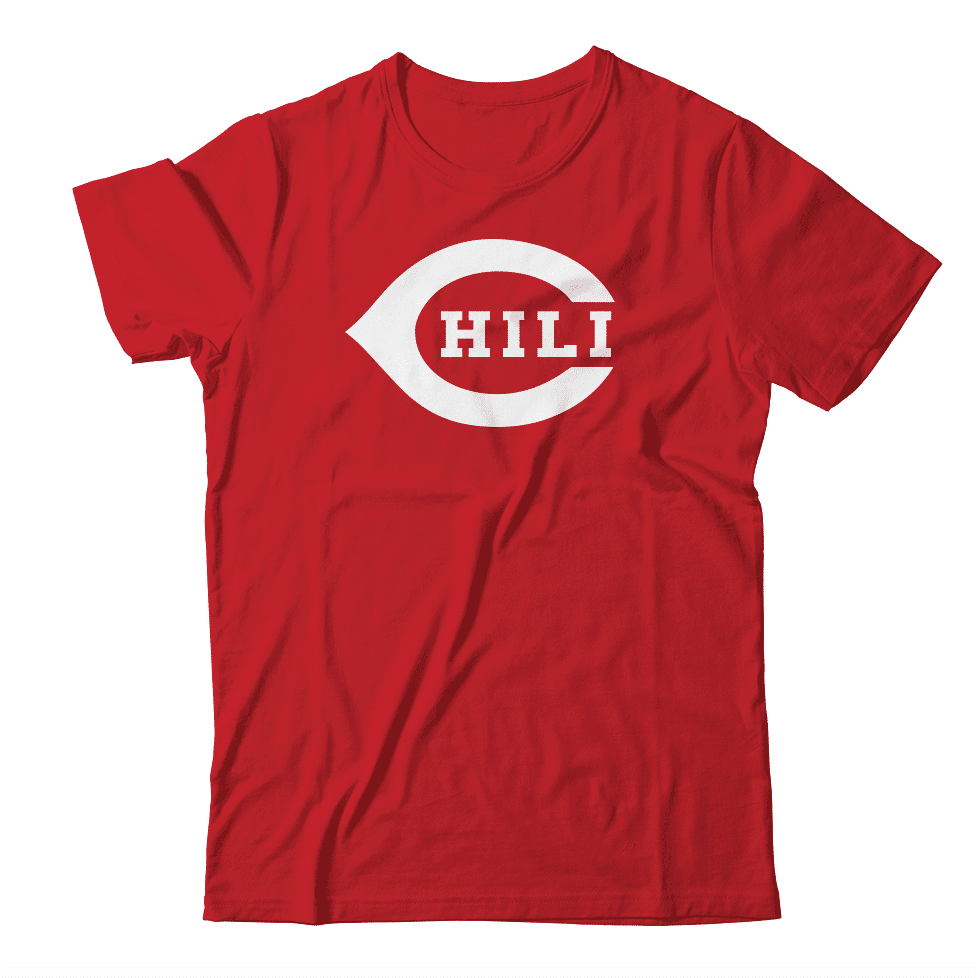 Hypothetically speaking: Did you know that today is National Chili Day? It's true! Wouldn't it be fun, just hypothetically, if this momentous occasion could be celebrated with the shirt design concept shown above? If you agree, shoot me a note. Thanks.
• • • • •
• • • • •
The Ticker
By Paul

'Skins Watch: Students at South San Francisco High School, whose teams are called the Warriors, are pushing for the school to stop using Native American imagery, although there's no move to change the team name itself (from Timmy Donahue). … There's reportedly an increased push for the U. of Illinois to change from the Fighting Illini to the Kingfishers (from Matt Snyder). … High school students in Menomonee Falls, Wis., have narrowed down the list of potential names that will replace "Indians" for the school's teams (from @dbalke). … A recent installment in The Sturgis Journal's ongoing series about local high school mascots in Michigan covers the White Pigeon Chiefs and the story of Wahbememe, a Potawatomi chief whose name translates to "White Pigeon" — the town's name. "The article delves into the appropriateness of Native American nicknames and whether written approval from one of Wahbememe's descendants provides sufficient justification for the use of the 'Chiefs' name," says Kary Klismet.

Baseball News: Phillies P Zach Eflin has noticed some changes to the MLB ball this spring (from @brianspeaksnow). … The Single-A Lexington Legends, a Royals affiliate, will play as the Kentucky Beer Cheese on Aug. 13-15 (from Noah Neidlinger). … Former Red Sox star David Ortiz is selling off a bunch of cool memorabilia (from Sara Klein). … The Diamondbacks have explored the possibility of playing in Vancouver if their home ballpark has a structural emergency (from Wade Heidt). … The famously flippant St. Paul Saints will be giving away "Astro the Grouch" bobbleheads on July 31 (from Nick Hannula). … New powder-blue jerseys for the Pensacola Blue Wahoos (from Chris Nickinson). … The Cubs gave away Arizona State-themed Cubs caps for yesterday's spring training game. … New cream uniforms for Cal State Northridge (from @MistaMaxG). … Reds OF Nick Castellanos was wearing the team's regular season cap, rather than the spring/BP, during yesterday's exhibition game against the Mariners (from Joanna Zweip). … Also from Joanna: Phillies OF Bryce Harper posed for a photo with Phils prospect Bryson Stott, who appeared to be wearing Harper's personal logo on his belt. … Remember the black memorial armband that the Blue Jays recently added for Tony Fernández? They've now stopped wearing it. I thought they might replace it with a patch based on their new outfield wall memorial graphic, but not so far. … Vanderbilt C Ty Duvall's batting helmet logo was askew yesterday. … It's a little hard to see, but at least two Houston Cougars players appeared to be wearing black bands over their right hoodie sleeves the other night. Bob Andrews thinks they might be memorial bands for John Altobelli, who played college ball at Houston and recently died in the Kobe Bryant helicopter crash. … The Smithsonian's permanent collection includes a Rangers uniform worn by country singer Charley Pride (from James Gilbert). … MLB will reportedly be cracking down on pitchers using foreign substances this season. … "The 1988 Fresno Suns were a co-op team consisting mostly of Japanese minor leaguers (with great names like Bullet Manabe) and castoffs (with even greater names like Rocco Buffolino) looking for a new gig," says John English. "There are almost no color photos of them, aside from two card sets." But that didn't stop John from DIYing this great jersey. "My process involved printing stencils backwards, tracing those onto fusible bond-mounted flannel felt, then stitching everything together to reinforce, and adhering it to the jersey." He also DIY'd that 1961 KC A's jersey that's visible in the final photo! … The Cubs have put their old, much-derided "Cuba" script in the outfield grass.

NFL News: Whoa, what the hell were they thinking when they put this messed-up Saints helmet graphic on the field in 1970? (Good find by @unavion.) … Here's a weird one: The NBA's Cleveland Cavaliers are offering a bobblehead of one of their players, Larry Nance Jr., in a Browns jersey. The rare cross-sport bobble! (From Jerry Wolper.) … Buccaneers coach Bruce Arians, discussing the team's upcoming new uniforms, says, "I think it's more closer to the Super Bowl uniforms." If he's right, that doesn't bode well for those hoping for a return of the Creamsicles.

College Football News: The LA Bowl — that's a new bowl game debuting next winter because, you know, there weren't enough bowl games already — unveiled its inaugural logo.

Hockey News: Trinity Catholic High School will retire former co-captain Brian Bill's No. 24 on March 2. "Bill, who became a Navy SEAL, died in action in Afghanistan in 2011," explains Timmy Donahue). … Rare shot of Wayne Gretzky in a Phoenix Roadrunners uniform. He played one exhibition game for them in 1993 (from @SDubs35). … In this photo from a 1970s Leafs/Caps game, the Caps player in the center has white "Washington" lettering, while his teammates have blue (good spot by Johnny Woods). … Military-appreciation pregame sweaters last night for the Avs (from Collin Felix). … Speaking of the Avs, head coach Jared Bednar had quite the outfit last night (from Collin Felix). … The Golden Knights added a helmet decal last night for Alex Bush, a 12-year-old in the team's youth hockey program who was recently killed by a distracted driver (from Taylor Crabtree). … The hockey team at Moorhead High in Minnesota has pretty much the best logo ever (from Jimmy Lonetti). … Unusual development in last night's Kings/Pens game, as a puck got stuck in the net's exterior plastic apron. … Prior to that same game, Kings mascot Bailey wore an L.A. Blades jersey in honor of pregame Black History Month guest Willie O'Ree.

NBA News: PF/C Donta Hall will wear No. 42 for the Pistons. … The D League's Texas Legends went with mental health awareness gear last night (from Chris Mycoskie). … Cross-listed from the NFL section: The Cavs are offering a bobblehead of PF/C Larry Nance Jr. wearing a Cleveland Browns jersey (from Jerry Wolper).

College Hoops News: Here's the court design for next month's MAAC championships (from @DaveGH2P). … Villanova retired alum Kyle Lowry's No. 1 last night (from Timmy Donahue). … Yesterday was Virginia Tech's "Maroon Effect" game, so the Hokies wore maroon at home, with UVA wearing white on the road (from Andrew Cosentino).

Soccer News: New title advertiser for the Russian Premier League (from Ed Zelaski). … Also from Ed: New kit outfitter for Scottish side Kilmarnock FC. … "A match-worn Celtic shirt from the 1991-92 season was recently stolen from England's National Football Museum in Manchester," says our own Jamie Rathjen. … New secondary jersey for the Chicago Fire (from Terry Mark). … Speaking of the Fire, they've also unveiled a series of 12 patch designs that they'll wear during the upcoming season (from Anthony Nuccio). … Chattanooga FC's inaugural jersey will be subtly imprinted with the names of nearly 4,000 investors in the club (from @TannerDabbs). … Here's a look at some basic facts and figures for every MLS training facility (from Wade Heidt). … Fun plug by Miles Crowther for an interesting-sounding project: "Away Days is a service this dude in Massachusetts runs, where he'll send you a completely random, small-club soccer jersey for really cheap. There's also membership component in which you receive a typed newsletter and random sticker for a U.S.-based club. It's a cool way to learn about some lesser-known clubs from around the world." … Bayern Munich will celebrate their 120th anniversary by wearing 1932 throwbacks. "That was the year when they first won the German championship," says Tim Wünderlich. "Here's a photo of the original kit." … Finland's women's league has changed its name from "Women's League" (Naisten Liiga) to the gender-neutral "National League" (Kansallinen Liiga). "The scarf at the top of this story shows the league's new logo," says our own Jamie Rathjen.

Grab Bag: NASCAR Cup driver William Byron's car will have a Kobe Bryant-themed paint scheme this weekend. "it's particularly appropriate because he's the current occupier of No. 24," says our own Jamie Rathjen. … And here's a roundup of all the NASCAR/Bryant tributes (from our own Anthony Emerson). … Fun article on the current state of golf shoes (thanks, Brinke). … New logo for the historic Marylebone Cricket Club (from James Gilbert). … Whoa, this Twitter feed devoted to Japanese mascots is pure gold (from Alex Graber). … Here's an explanation of the TSA's logo (from @alfredisgreat). … You knew about retired uniform numbers, but did you know about retired sheriff's deputy badge numbers? An Oklahoma sheriff's department is doing just that for a deputy who recently died in the of duty (from Timmy Donahue). … Also from Timmy: New logo for the Truckee Meadows fire department in Nevada. … Dayton, Ohio, is down to three finalists in its quest for a new city flag design (from Todd Herzog). … Marine Corps Commandant Gen. David Berger has ordered all Confederate-related symbols to be removed from Marine Corps installations (from Timmy Donahue). … The Milwaukee brewery employee who shot five of his co-workers and then himself yesterday was still wearing his work uniform.
• • • • •
Our latest raffle winner is Chris Spisak, who's won himself a free Uni Watch membership (and has chosen to base the card's design on this awesome Cleveland Force jersey!). Congrats to him, and thanks to the anonymous donor who sponsored this one — he knows who he is. — Paul