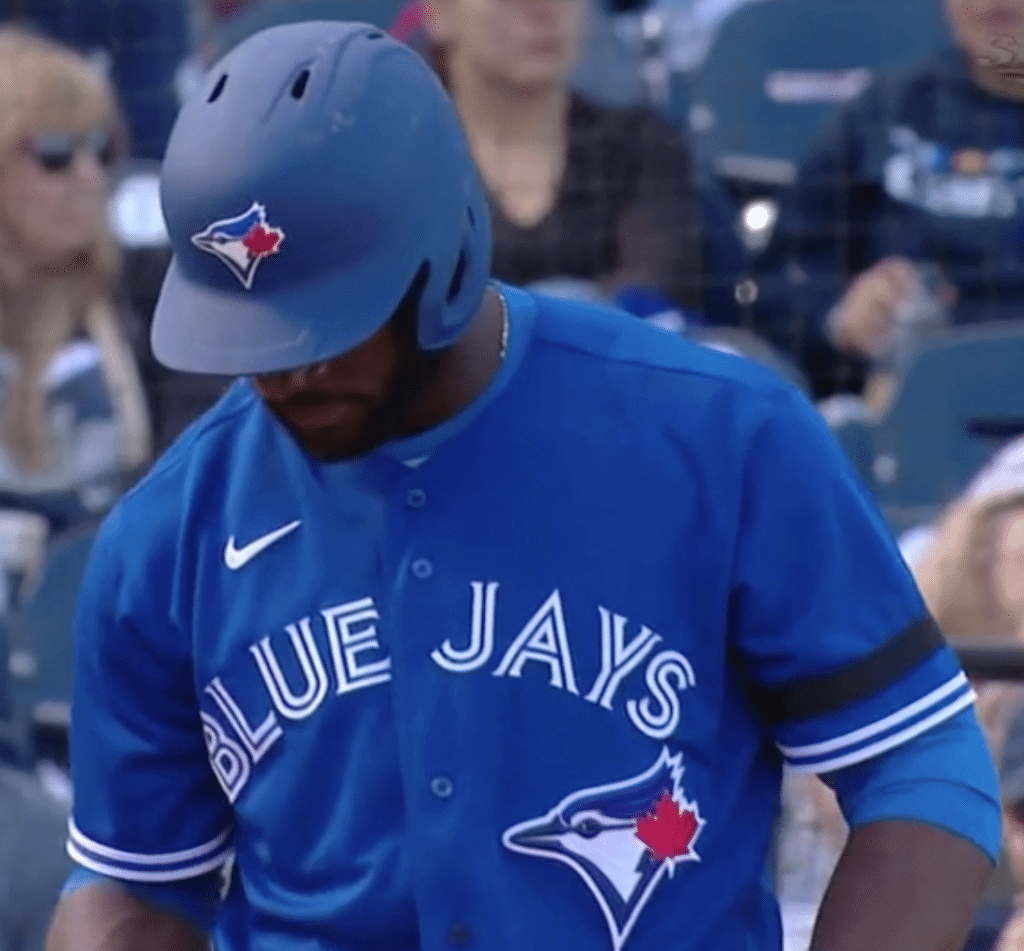 Click to enlarge
Paul here, filling in again for Phil, who's off this weekend.
Grapefruit and Cactus League action got underway in earnest yesterday, and there were several uni-notable aspects of the Yanks/Jays game in Tampa. First, as you can see above, the Blue Jays have added a black armband. That's for former player Tony Fernández, who died last Sunday.
Black armbands have become fairly uncommon in MLB, as custom-designed memorial patches have become the norm. It's not yet clear, at least to me, if this armband is just a spring training thing, or if it'll be worn all season long, or if it's just a placeholder until the Jays have a patch ready to go. I'm trying to get clarification on that from the team — stay tuned.
In addition, as you can also see in that photo, the Jays have become the latest team to adopt a matte batting helmet with a 3D logo. But their base coaches are still wearing glossy helmets: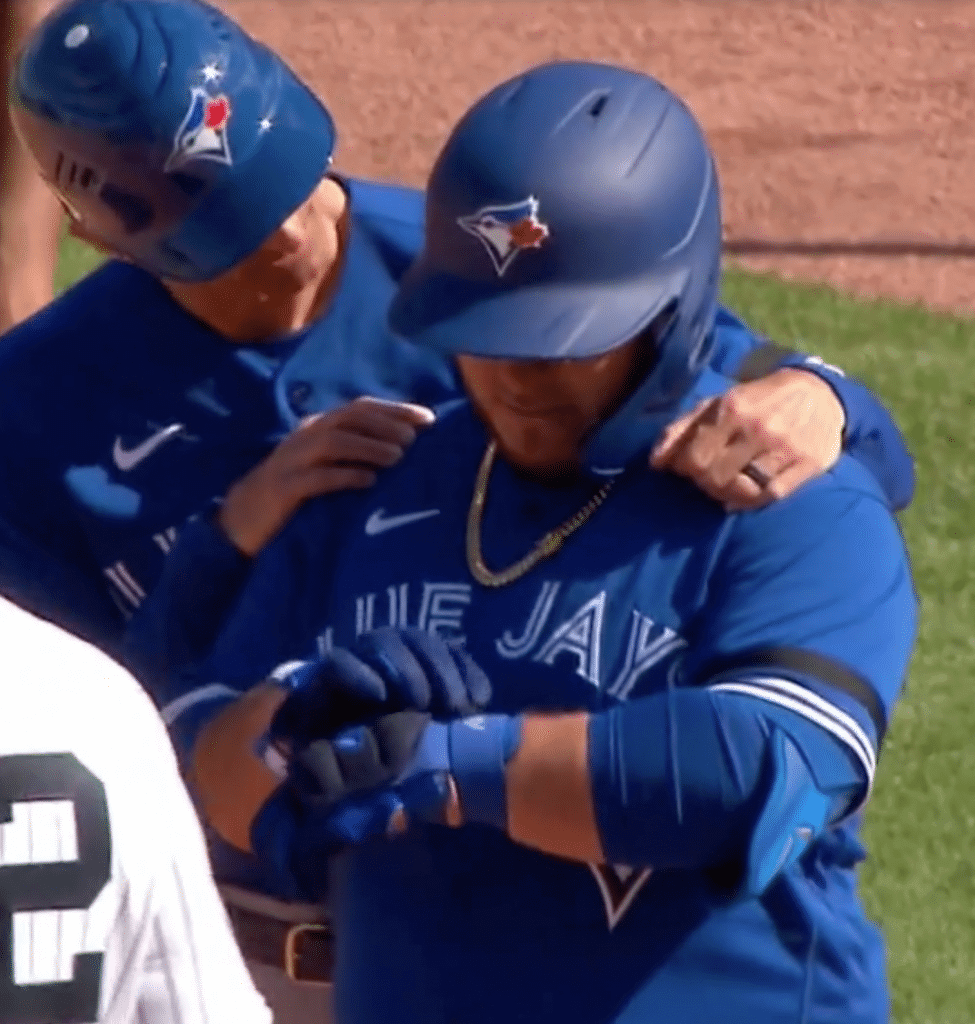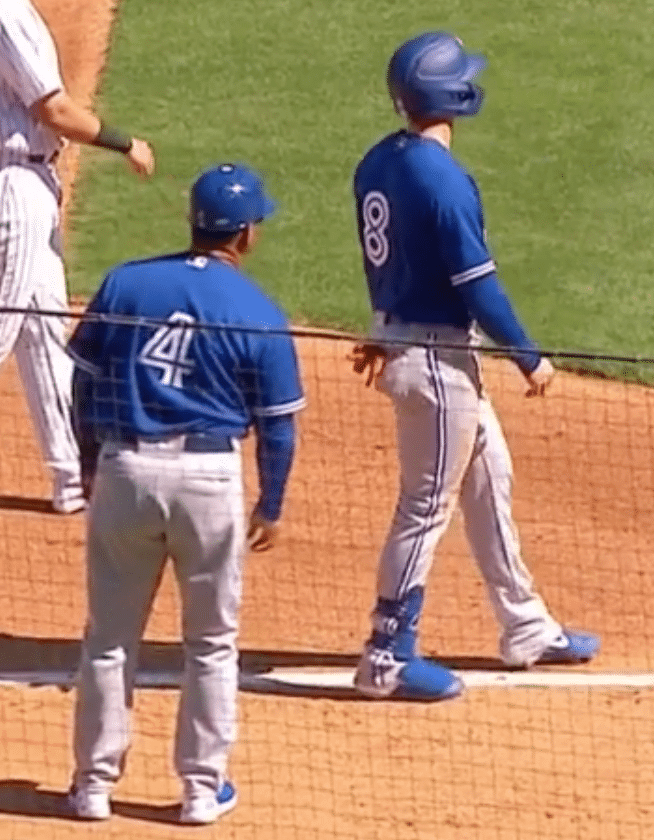 Seeing the two helmet finishes side by side, it seems pretty clear to me that the glossies look better. I like matte for certain teams, but not in this case.
Also of note from that game: As you may recall, the Yankees have been wearing a Steinbrenner Field 25th-season patch on their spring jerseys. But for yesterday's game, their wore their standard pinstriped jerseys — which did not include the patch (even though the game was being played at Steinbrenner Field). Interesting.
And yes, the new maker's marks on the jerseys looked like shit, but we all knew that would be the case.
• • • • •
• • • • •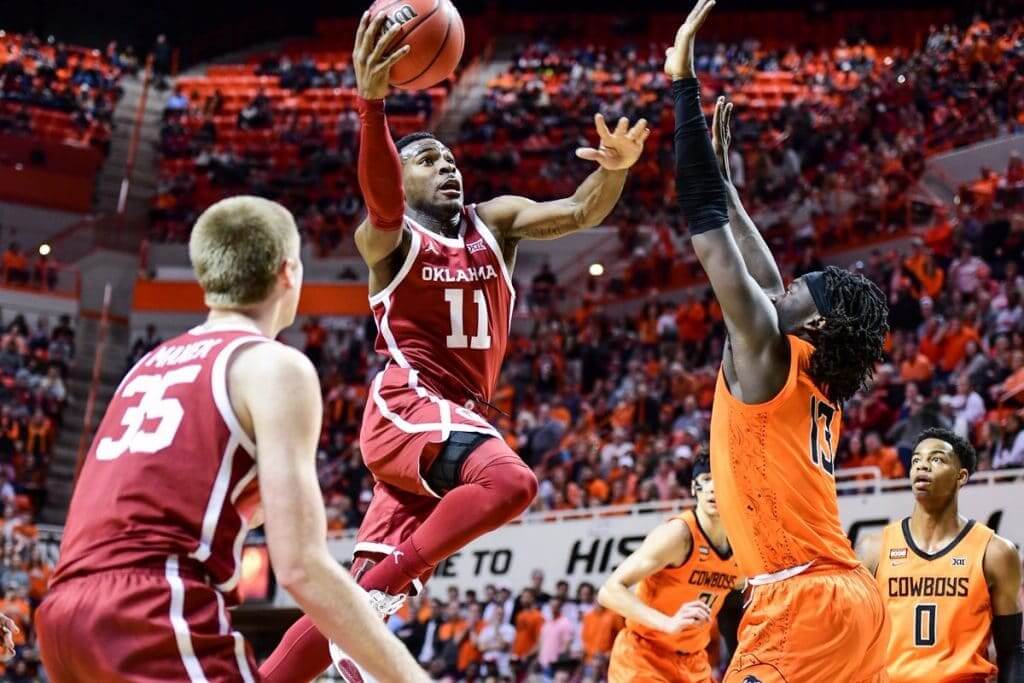 Click to enlarge
Hoop-de-do: There were a couple of color-vs.-color college hoops games yesterday. Let's start in the Sooner State, where Oklahoma and Oklahoma State went red vs. orange — ugh. I thought the entire sport of basketball had sworn off that color matchup after the Knicks and Hawks tried it in 2013, but apparently not.
Here are a few more shots from last night's disaster: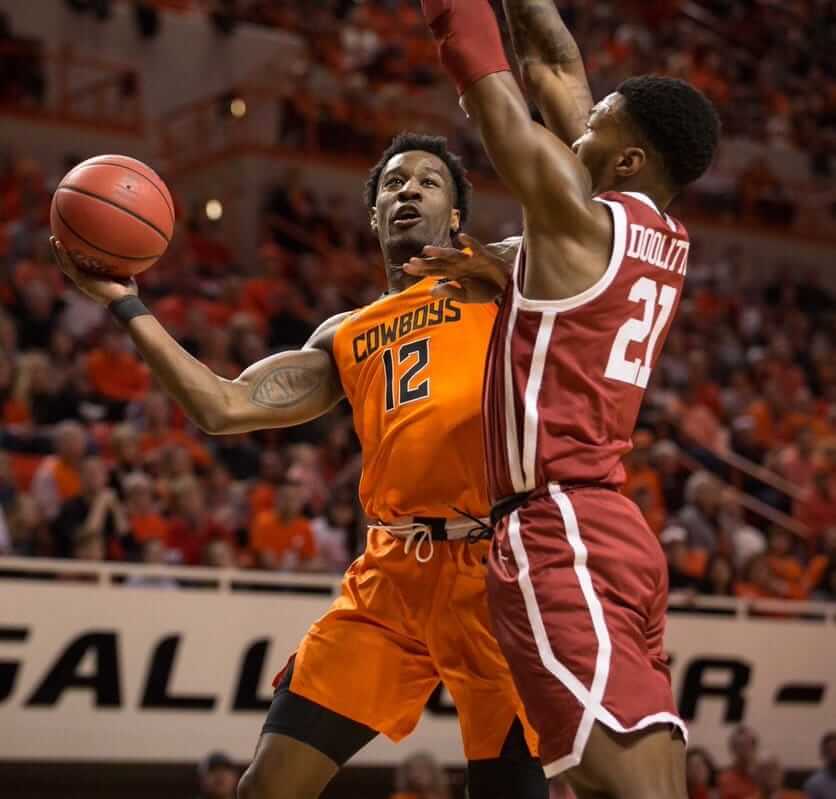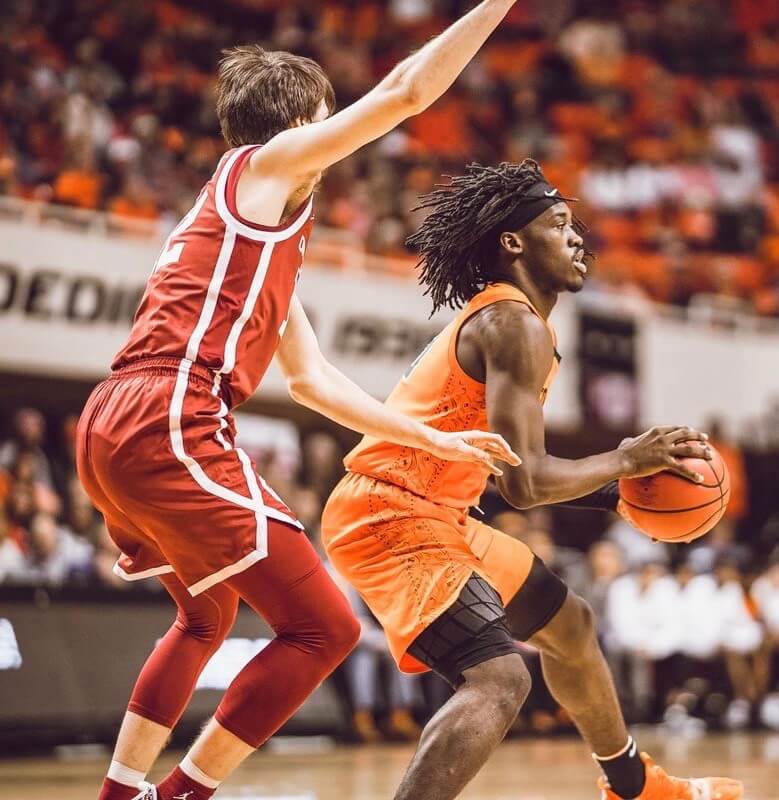 Meanwhile, Kansas State wore their lavender/purple throwbacks at home against Texas, creating a visual mishmash for the ages: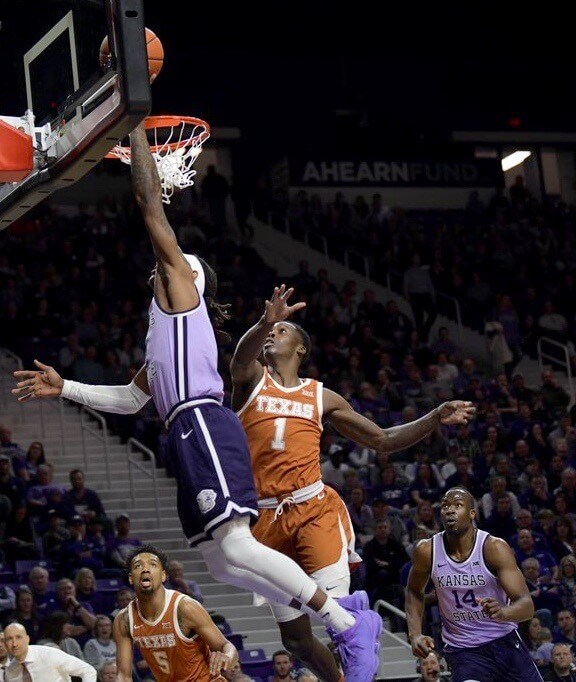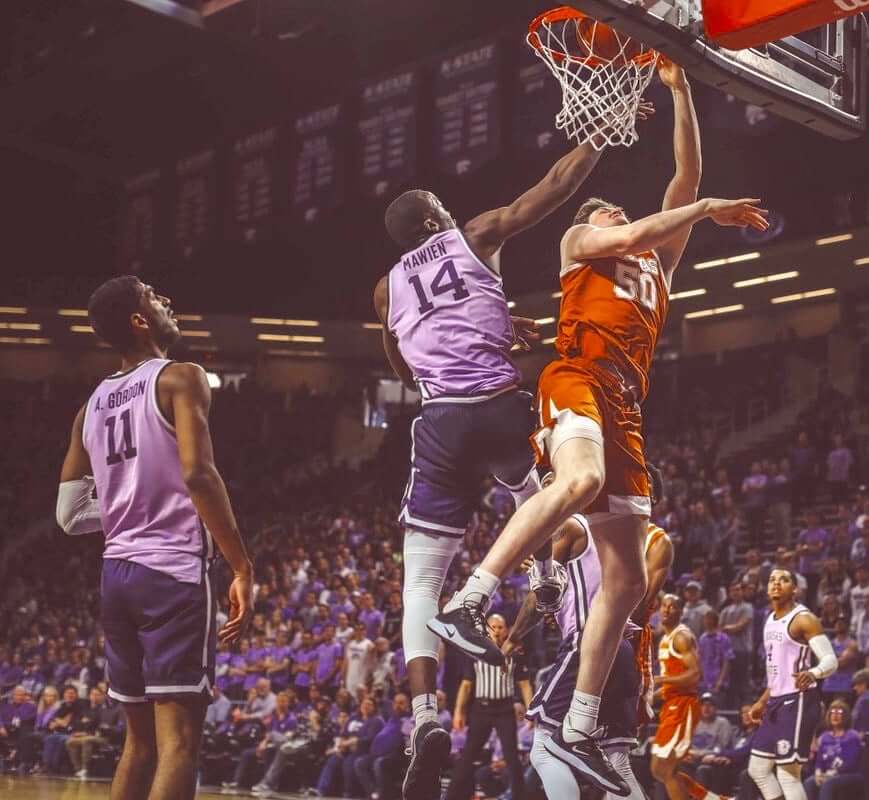 In order to fully appreciate how bad this one looked, you really need to see the players in action, so here are two video clips:
YESSIR @thrillbaker!! 😤😤#AllForTexas | #HookEm pic.twitter.com/cer1TyNmBV

— Texas Men's Basketball (@TexasMBB) February 22, 2020
Courtney Ramey IS ON FIRE.
He finishes the first half with 21 points for @TexasMBB. pic.twitter.com/SygL2q3LAz

— CBS Sports CBB (@CBSSportsCBB) February 22, 2020
On the plus side: Very color-appropriate score bug design!
• • • • •
• • • • •
Video- In Goal For The Carolina Hurricanes Is: Here's something you don't see every day. After Petr Mrazek and James Reimer went down with injurues, emergency goalie David Ayres makes his @NHL debut! pic.twitter.com/5p5kFbqigG — Sportsnet (@Sportsnet)… https://t.co/qyjTKbhZns

— Kukla's Korner (@kuklaskorner) February 23, 2020
Not quite ready for prime time: During last night's Hurricanes/Maple Leafs game in Toronto, 'Canes goalies Petr Mrazek and James Reimer both went down with injuries, so emergency netminder David Ayres, who's the Zamboni driver for the AHL's Toronto Marlies, was pressed into service — and made his NHL debut at the age of 42! As you can see in the video clip above, he took the ice in the second period wearing Marlies-themed blue pants, a blue/white mask, and blue/white pads (additional info here).
But by the time Ayres came out for the third period, someone had gotten him a pair of red pants (or maybe just a red shell to put over the blue pants):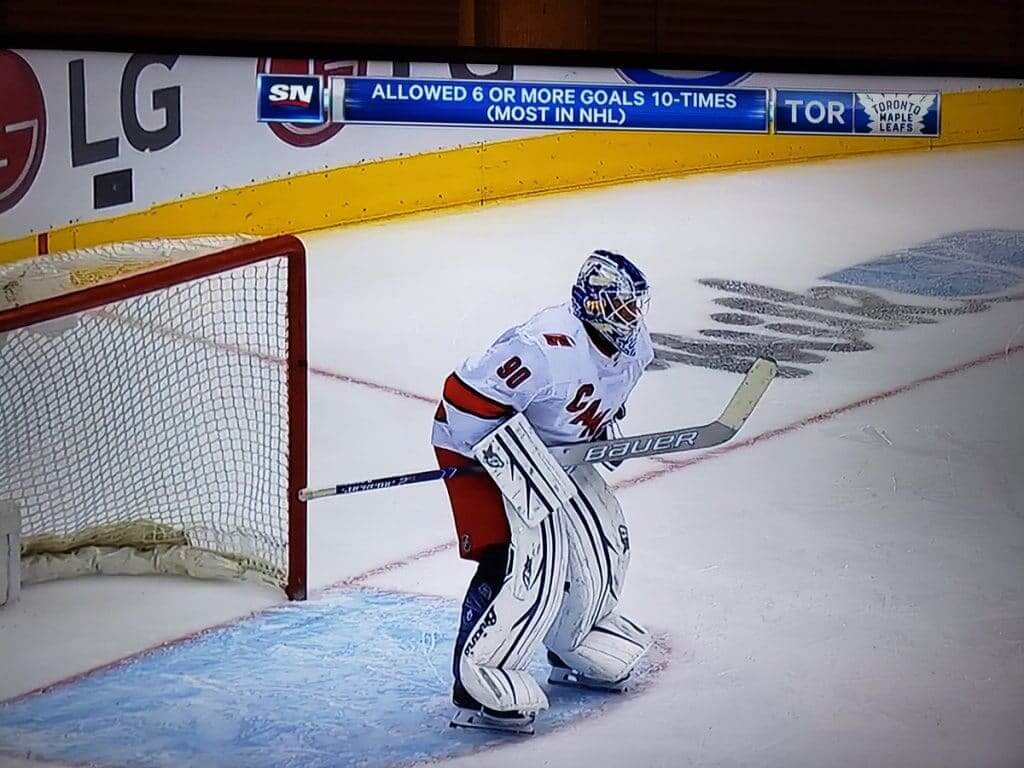 Also: Ayres wore No. 90. According to Hockey-Reference.com, only 21 other players in NHL history have worn that number!
So how did he do? Ayres allowed goals on the first two shots he faced but then stopped the next eight shots, earned the win (reportedly becoming the first emergency goalie to do so in NHL history!), and was named the game's first star. Here's a great postgame interview with him:
"It was awesome. Time of my life out there."

After coming in as the emergency goalie for the @Canes, David Ayres spoke with @SNkylebukauskas about picking up his first @NHL win. pic.twitter.com/pNaxv6z880

— Sportsnet (@Sportsnet) February 23, 2020
(My thanks to the many people who were keeping track of this one.)
• • • • •
• • • • •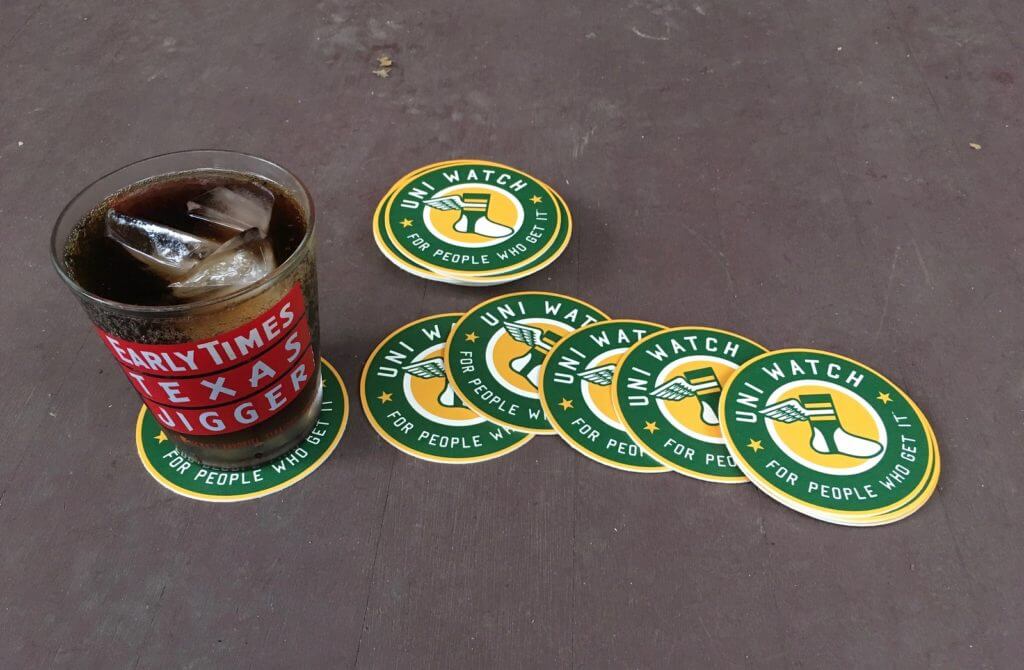 Click to enlarge
Going fast: As of now, I have six five four three two remaining sets of these great-looking Uni Watch coasters. I'm selling them in groups of three for $9 with free shipping. Get 'em while they last!
• • • • •
Sorry, no Ticker today, because I spent most of the day on hiking and eating in Staten Island and the rest of the Uni Watch team had the day off. We'll get back to full content tomorrow — and I don't mind saying that I have some really good content lined up for the coming week. See you then! — Paul