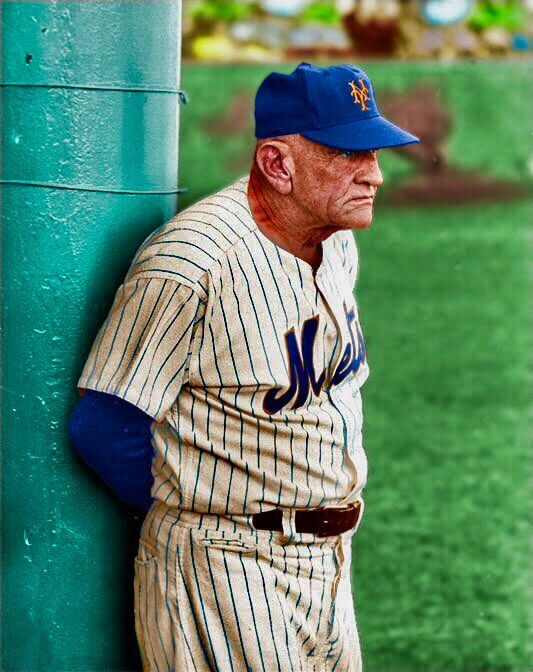 It all started when one of my Twitter followers, Dwayne White, tagged me while retweeting the Casey Stengel photo shown above and asked, "Ever seen a watch pocket on a pair of MLB pants?"
At first I thought, "Eh, that's just a wrinkle in the pants that makes it look like a pocket. But the more I looked at it, the more it did indeed seem to be a watch pocket. And no, I'd never seen that element on a pair of MLB pants before. So I decided to investigate further.
I found that Stengel does appear to have had a pocket on his pinstriped pants for at least part of his time skippering the Mets in the early 1960s. You can see it pretty clearly in these next three shots (the last of which you can click to enlarge):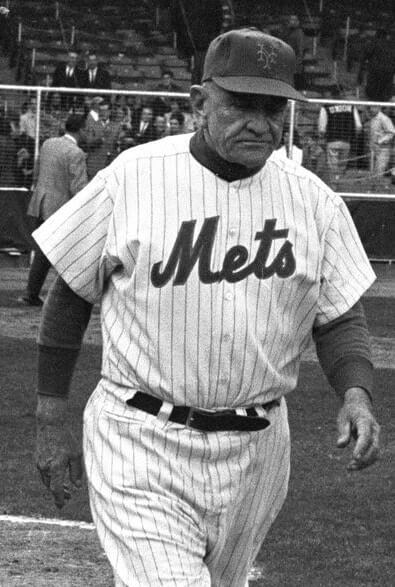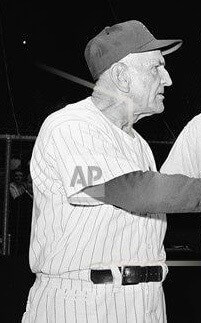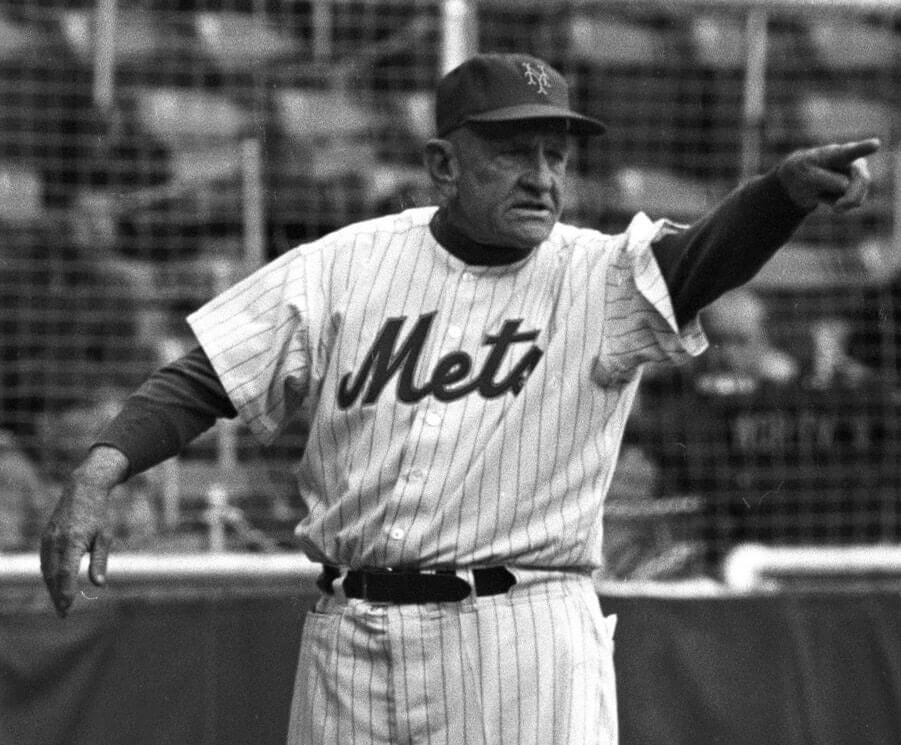 There are also several photos that appear to show the black (or dark) tip of something poking out of the pocket: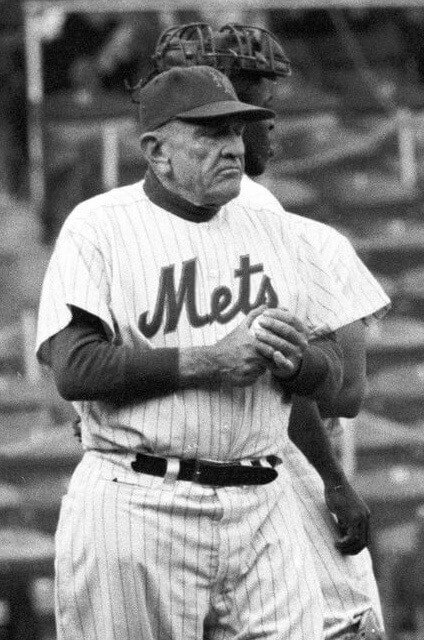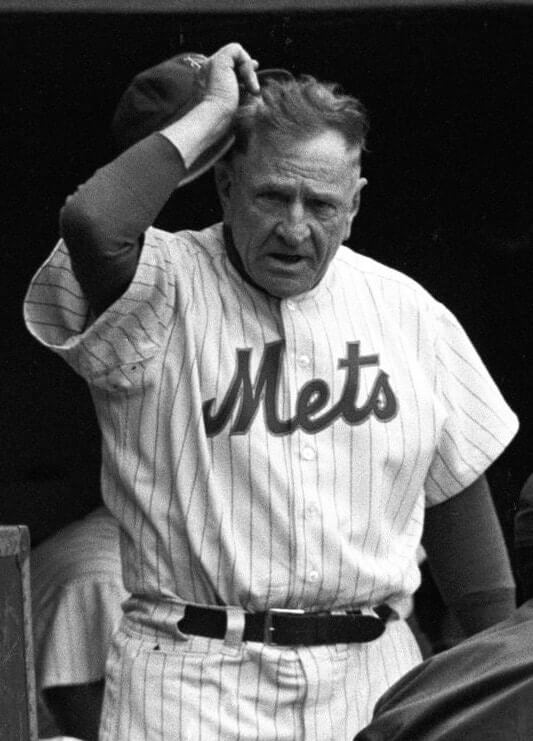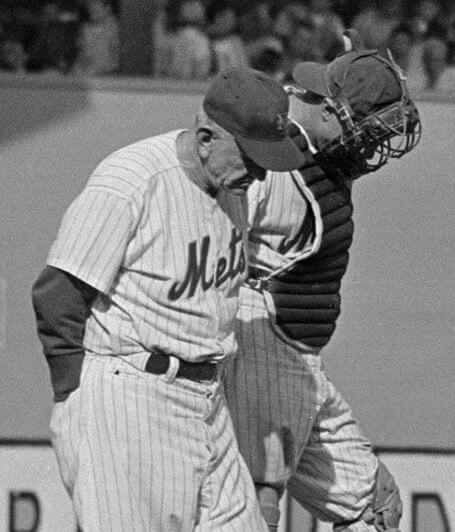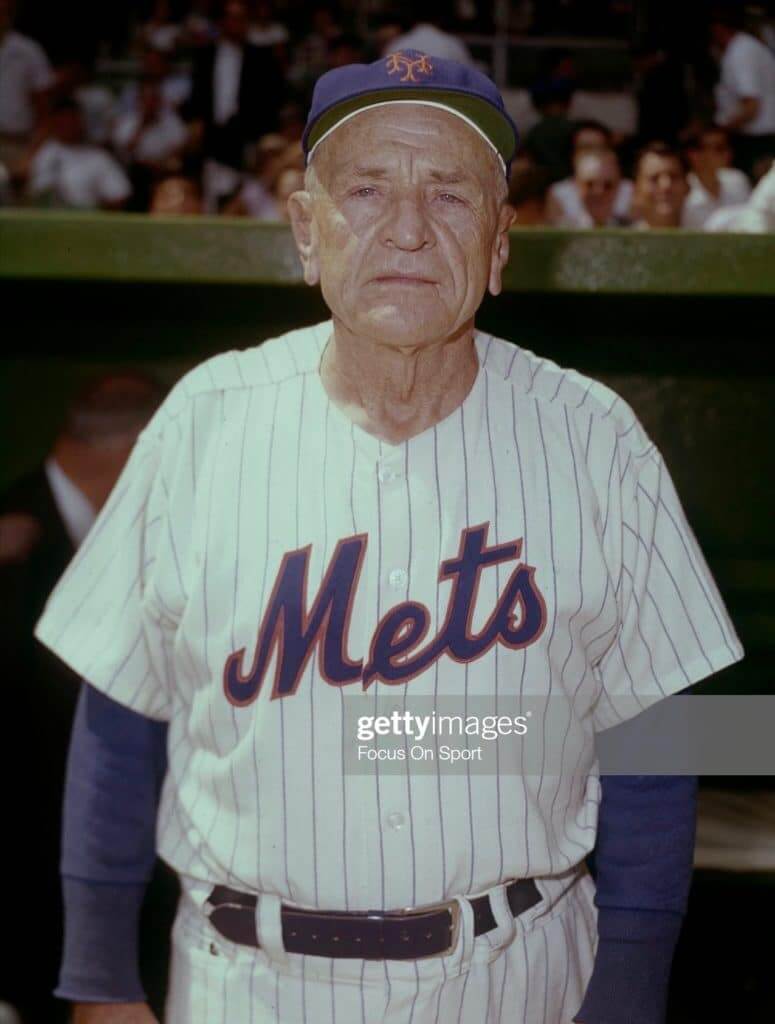 Interesting, right? The pocket isn't evident in every shot of Stengel wearing a pinstriped Mets uni, but it's definitely there in most of them. The weird thing, though, is that I see no evidence of the pocket in any photos of Stengel wearing a Mets road uniform (click to enlarge):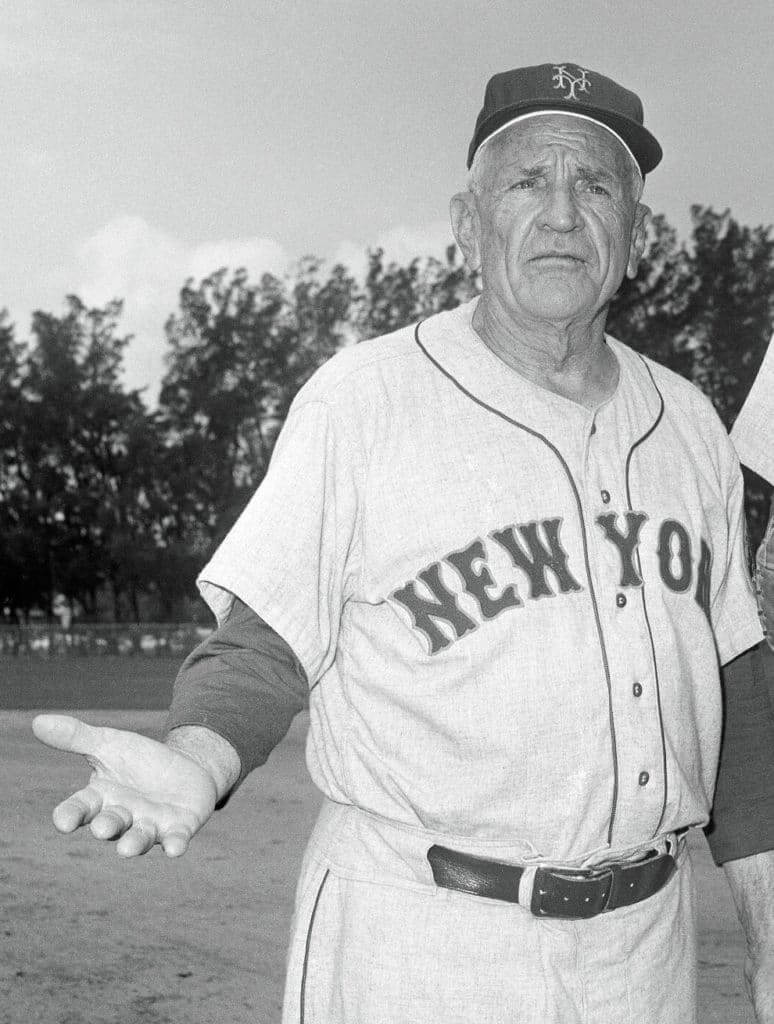 Then I had a thought: What about Stengel's time skippering the Yankees? I immediately found this (click to enlarge):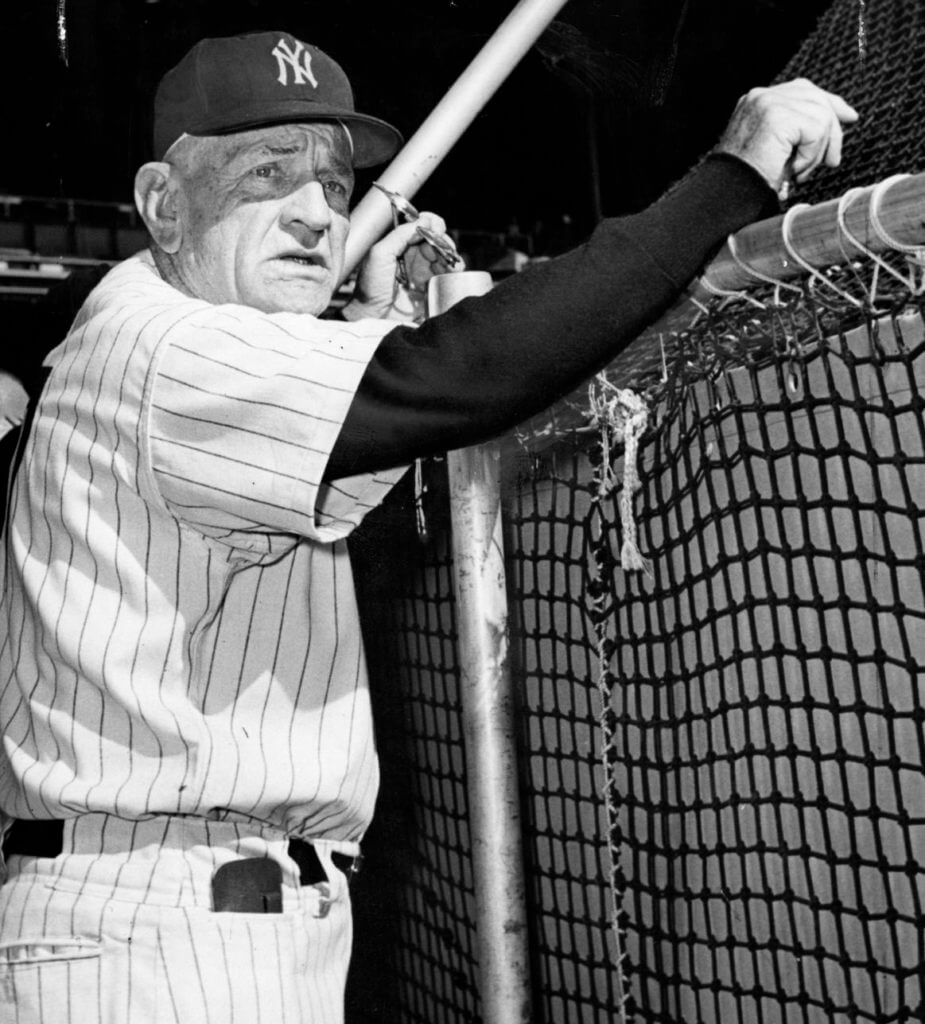 Ding-ding-ding! There's our clearest evidence yet that Stengel liked having a front pocket in his pants. And he used it to keep his sunglasses! I've never seen anything like that before.
I found that pic on the Hall of Fame's website, so I asked HoF curator Tom Shieber about the photo. He told me it was taken at Game Five of the 1960 World Series, on Oct. 10 of that year. He also found some additional shots of Stengel wearing a pocket during his Yankees tenure: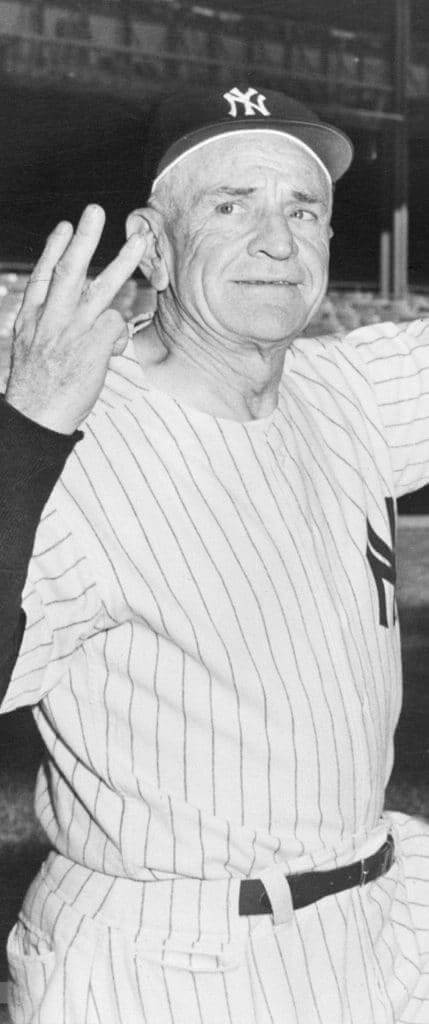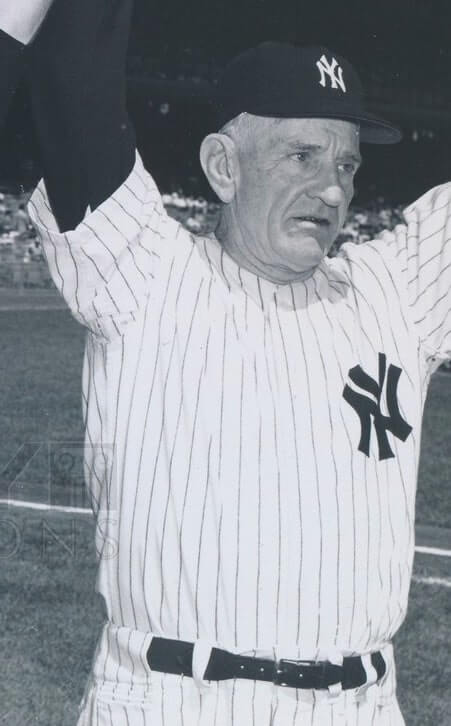 And then there this shot, which appears to show Stengel wearing a flap pocket, although it's hard to be sure: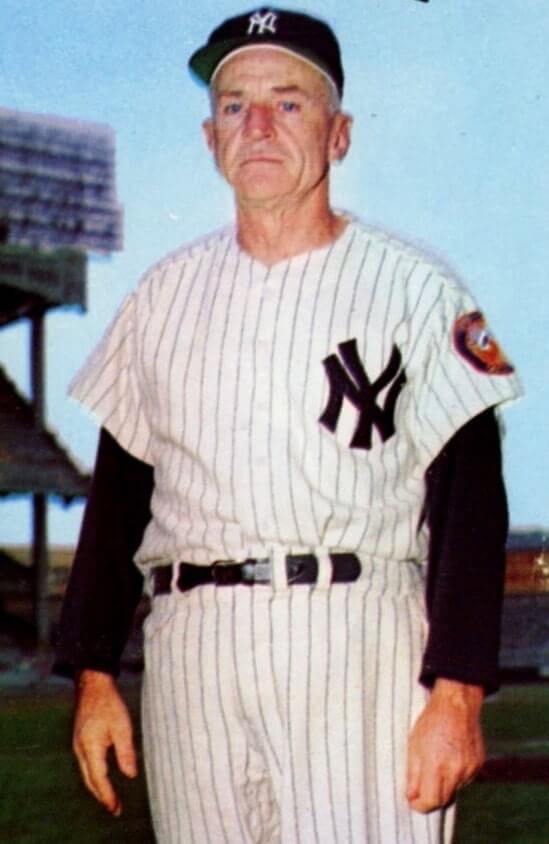 All of these show Stengel in the Yanks' home pinstripes. But wait — here's one that shows the pocket on a road uni: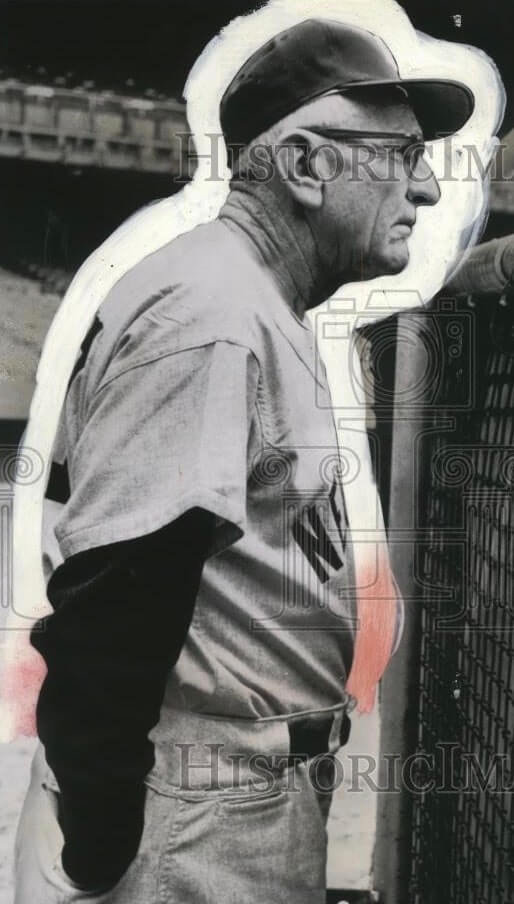 Most of those shots are from the 1950s. To drive home that point, Tom told me, "We have a Yankees uniform [at the Hall] that Stengel wore in 1953 and, likely, in 1952 — and the pants have a front pocket that buttons! So, apparently, this was a thing with him for quite a while."
Here's a photo of pants Tom was referring to (courtesy of National Baseball Hall of Fame and Museum; click to enlarge):
"I checked the pocket to see if there was anything in it," says Tom, "but in Geraldo-esque fashion, it was empty."
So it turns out that Casey Stengel, in addition to his other eccentricities, liked having a front pocket on his uniform pants for the last dozen years or so of his managerial career. What a nut! I've never seen that before. Does anyone know of any additional examples?
(Big thanks to Dwayne White for sending me down this rabbit hole.)
• • • • •
• • • • •
Golden State changes in the works: SportsLogos.net broke the news yesterday that the NBA quietly registered several new trademarks for the Warriors last week. It's nothing earthshaking — a new alternate logo (shown above) and some very minor tweaks to the team's existing logos, some of which will presumably be reflected on the team's uniforms.
You can read the full story over on SportsLogos.net.
• • • • •
• • • • •
Click to enlarge
Sock it to me: Heroic work by reader Jason Whitt, who's chronicled Cleveland reliever Adam Cimber's remarkably varied lower-leg stylings over the past two weeks or so. "I'm hoping for a two-in-ones appearance next!" says Jason.
I asked a team spokesman if I could interview Cimber about his pants/hosiery habits and was basically told that they're all too busy until after the All-Star Game. So maybe then — stay tuned.
• • • • •
• • • • •

Cap conundrum: I got a note yesterday from a friend from Cincinnati, as follows: "All my friends who are Chiefs/Reds/Cardinals fans won't wear their traditional gear or are scared to because people are mistaking them for MAGA hats. This came up in four different text conversations."
As you know, I don't usually care about fan apparel, but this is interesting. If true, it speaks to the power of the MAGA cap. Seriously, has there ever been another piece of apparel out there that made sports fans think twice about wearing their team merch?
Also, conversely, I wonder if there are any pro-Trump people who've found themselves more drawn to teams like the Reds and the Cardinals because of their red headwear.
If you fall into either of these categories — anti-MAGA and therefore skittish about wearing your red team caps, or pro-MAGA and therefore more drawn to red-capped teams — I'd like to hear from you. Anonymity assured if you prefer it that way. Thanks.
(As an aside, let's please avoid any political vitriol on either side if this comes up in the comments. Thanks.)
• • • • •
• • • • •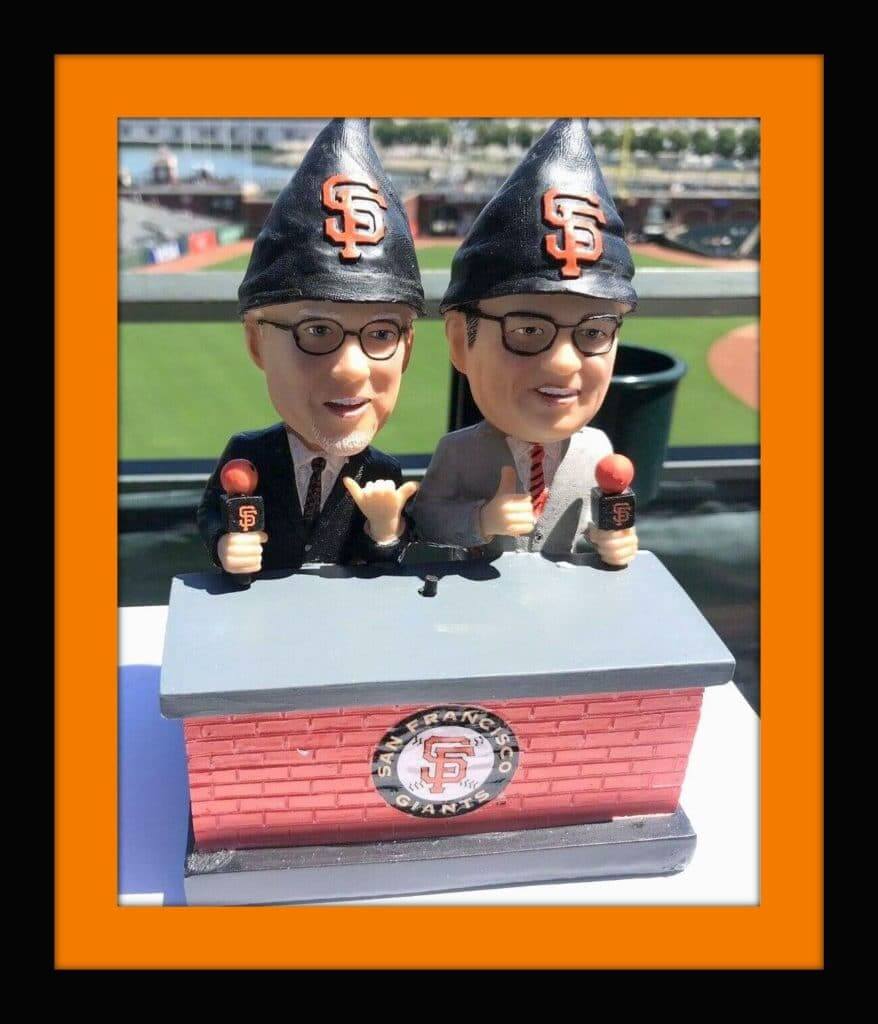 Click to enlarge
Collector's Corner
By Brinke Guthrie
My wife and I live in the San Francisco Bay Area, and I've been a Giants fan for many years. Interestingly enough, though, I don't have a favorite player. My guys are Manager Bruce Bochy and broadcasters Duane Kuiper and Mike Krukow, along with in-game reporter Amy G. (I was fortunate to meet both Boch and Amy last year at the San Francisco New Balance store.)
Which brings us to today's featured item. Back in 2003, you could buy a dual-figure bobblehead of "Kruk N Kuip," as they are known, for just 25 bucks or so. It was a promo item that you could order, not a stadium giveaway. However, I had just been laid off from my tech job and thought we'd better not spend $25 then.
That was a crucial error on my part.
Those bobbles regularly go for two to three hundred dollars these days. So imagine my excitement when the Giants announced they were doing a similar set this season — though this time, both guys would be gnomes. Perfect, I love gnomes and they would match the one Bochy signed. I bought one from Charles, a big Giants fan and co-worker, who went to the game this past Saturday. And there they are in the video below (just like the original 2003 edition, they both say their signature phrases — Kuiper's "It…is…outta here," and Krukow's "Grab some pine, meat"):
As an aside, the Giants created the bobblehead giveaway craze with a Willie Mays bobble 20 years ago, and naturally did a 20th-anniversary Mays giveaway bobble recently. So you can credit them with all the bobblehead wackiness.
Now for the rest of this week's picks:
• This 1970s Rawlings Broncos youth helmet sure makes you long for a return to the big orange D, right?
• Here's something unique from the 1960s, a wooden rain check token bearing the image of Mickey Mantle. Did the Yankees pass these out if the game was called?
• Here's one more for the Mick: This green plastic coin dates back to 1960, as it has his 1959 batting average on it.
• "This is a new Vikings logo to me," says reader Matthew E. If I'm not mistaken, these New Era "Classic Team Collection" hats all had alternate, made-up-just-for-this logos that weren't used in any other capacity.
• This is a 1950s charm bracelet for the Cleveland Indians.
• One more from the 1950s: How about this Cincinnati Red Legs button?
• This button is even older (1930s) — it says, "Go! Go! (White) Sox Club" and was a newspaper giveaway.
• Great artwork (which I've seen on other items) on this 1980s 49ers plastic cup.
• Tremendous-looking Texas Rangers bobblehead. This was originally listed as a 1960s item, but I wrote them to let them know it was 1972 at the earliest.
• Here's another bobble from way back, this time a decidedly feline-looking Detroit Tigers model.
Seen an item on eBay that would be good for Collector's Corner? Send any submissions here.
• • • • •
• • • • •
Click to enlarge
Picture perfect: Oh man, is that a softball player who Gets It™ or what? The striped stirrups, the bloused pant cuffs, the eye black — uni-riffic!
That's Rya Wykes, the 12-year-old daughter of longtime Uni Watch reader/contributor Tris Wykes. She pitches for the Lebanon (N.H.) Lightning, a team of fifth- and sixth-grade recreation department softball players. "After watching all the stirrups-clad NCAA softball teams this spring, she asked if we could get some for her team," says Tris. "We watch sports together on TV and while she's interested in what happens, we usually discuss uniforms and equipment more. It's become a cool little topic that we share. How lucky am I?"
While the stirrups are indeed impressive, it's the blousing that really gets my attention. So much better than the bunched-up look that so many players have. Nicely done, Rya!
• • • • •
• • • • •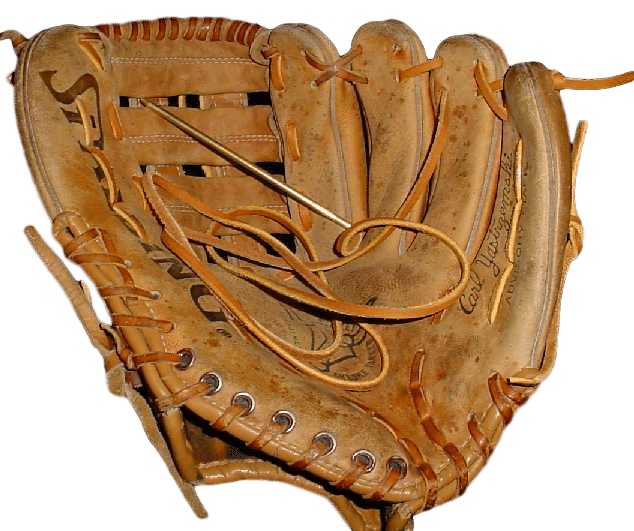 Glove-repair auction reminder: In case you missed it on Monday, Jimmy Lonetti of D&J Glove Repair is generously auctioning off a full glove re-lacing and reconditioning, plus a glove-leather wallet, with the proceeds going to Uni Watch.
This is a $150-$175 value, with the bidding starting at just $75 — perfect for Father's Day.
For full details, look here.
• • • • •
• • • • •
And now a few words from Phil: Phil here. Sunday is Father's Day, and I'll once again be posting photos of Uni Watch readers' "Dads In Uniform," a tradition that began in 2013 (and has continued in 2014, 2015, 2016, 2017, and last year). This is always a very special day, and I'd love for as many readers as possible to participate — especially those of you who haven't done so before.
To take part in this annual tradition, select one photo of your father in uniform (it can be sports, military, work — as long as it's a uniform) along with a short description of 100 words or less (refer to our prior years' entries to get a feel for the style of the descriptions). Then email the photo — again, only one, please — and text to phil.hecken@gmail.com with the subject line "Uni Watch Father's Day 2019" by this Thursday, June 13, midnight Eastern. I'll run all of the submissions this Sunday. Thanks!
• • • • •
• • • • •
Membership update: A bunch of new designs have been added to the membership card gallery. We're now done with all of the Purp Walk designs, thankfully.
The new batch includes Rob Yasinsac's card, which is based on Slovakia's 1994 hockey uniform. The cool thing is that Rob opted to have the Slovakian version of his family name — Jacenčák — as the NOB. I like that.
Ordering a membership card is a good way to support Uni Watch (which, quite frankly, could use your support these days). And remember, a Uni Watch membership card entitles you to a 15% discount on any of the merchandise in our Teespring shop and our Naming Wrongs shop. (If you're an existing member and would like to have the discount code, email me.) As always, you can sign up for your own custom-designed card here, you can see all the cards we've designed so far here, and you can see how we produce the cards here.
• • • • •
• • • • •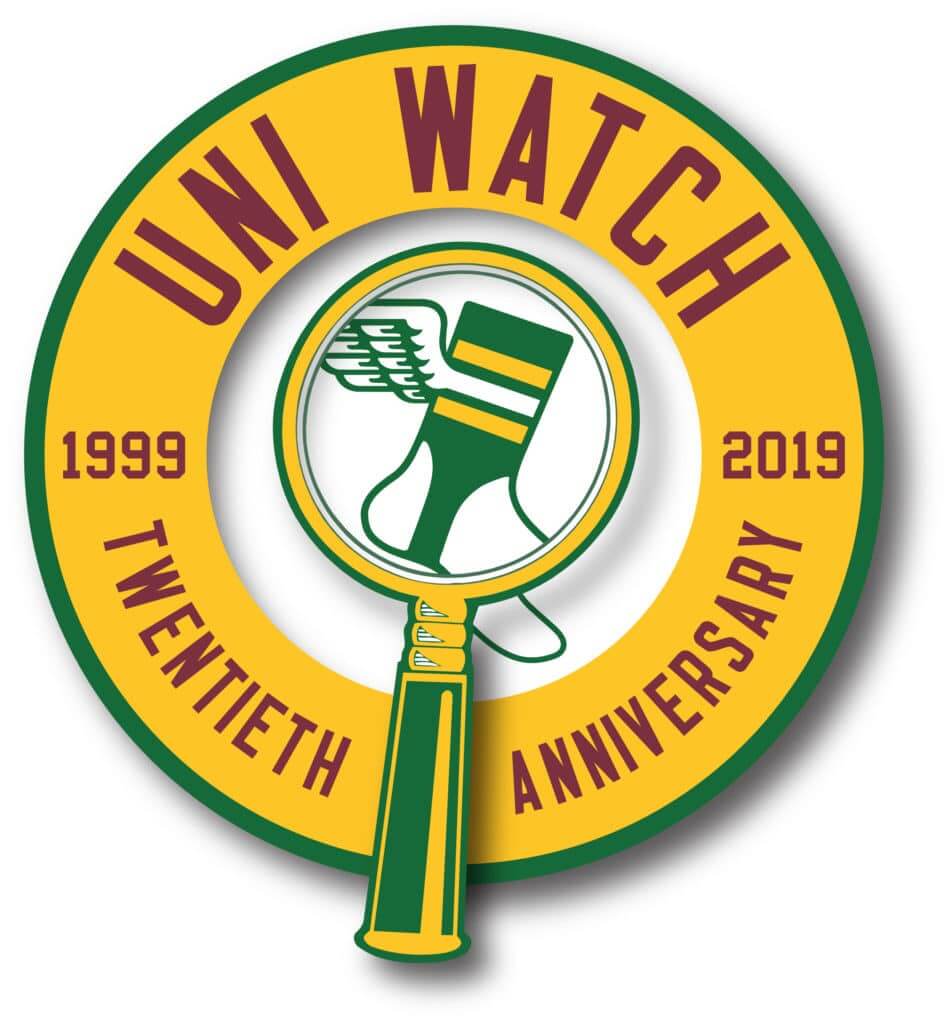 Uni-versary reminders: In case you missed it last week, Uni Watch 20th-anniversary parties will be taking place literally all over the world on June 29 (although the Paris party will be on June 27, so they'll get a head start on the rest of us).
There's an interactive map of all the gatherings here (click on the party locations for more info), and a spreadsheet of the various parties is here. Remember, if you want to organize or attend a gathering in your city, contact party coordinator JohnMark Fisher.
Meanwhile, I hope by now most of you are aware of our awesome "Turn Ahead the Clock Shirt," which celebrates the dual 20th anniversaries of Uni Watch and MLB's infamous 1999 TATC program. You can order it here.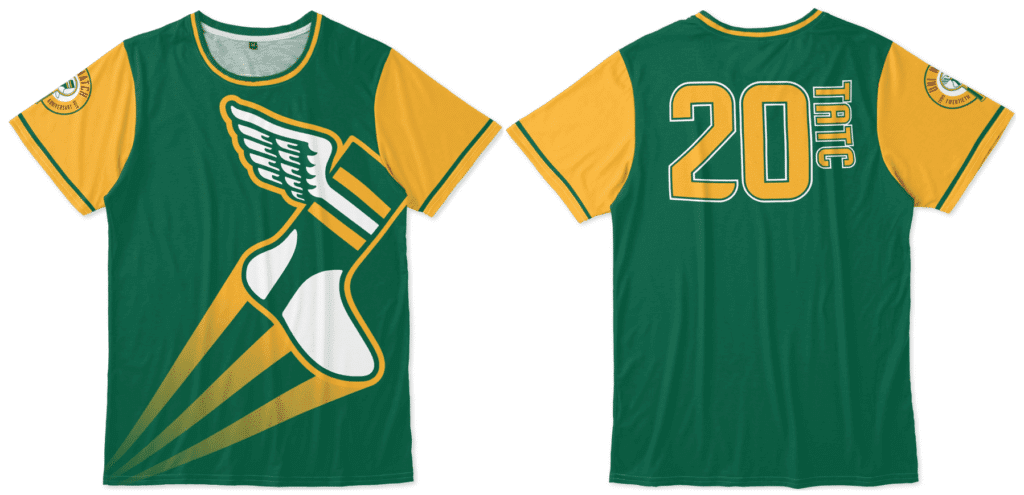 We have other anniversary items — and, of course, non-anniversary items — in the Uni Watch Teespring shop. My thanks, as always, for considering our products.
And while we're at it, don't forget that 'tis the season for our stars and stripes shirt and our Canada Day shirt. Thanks.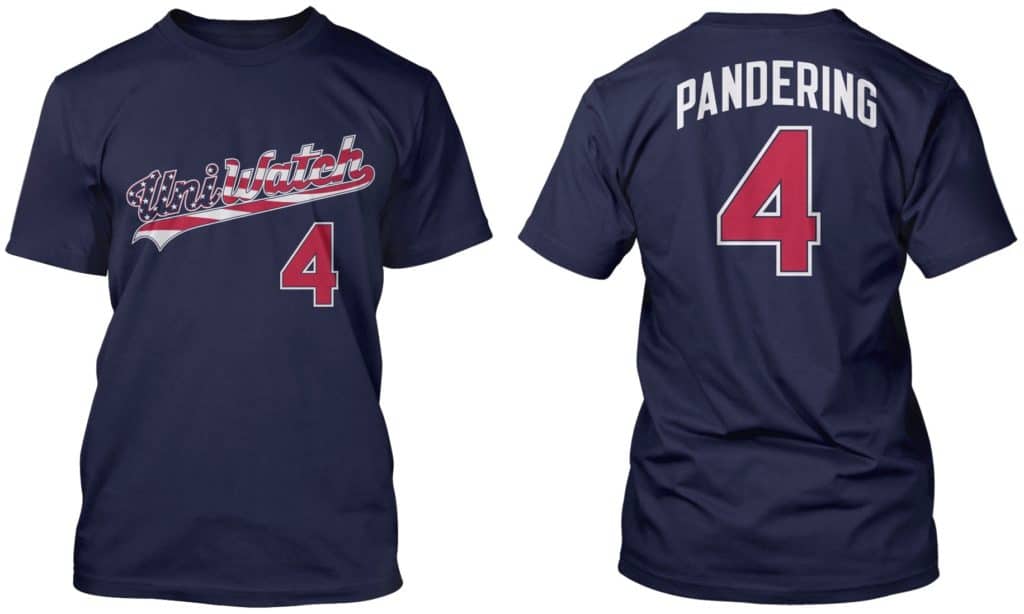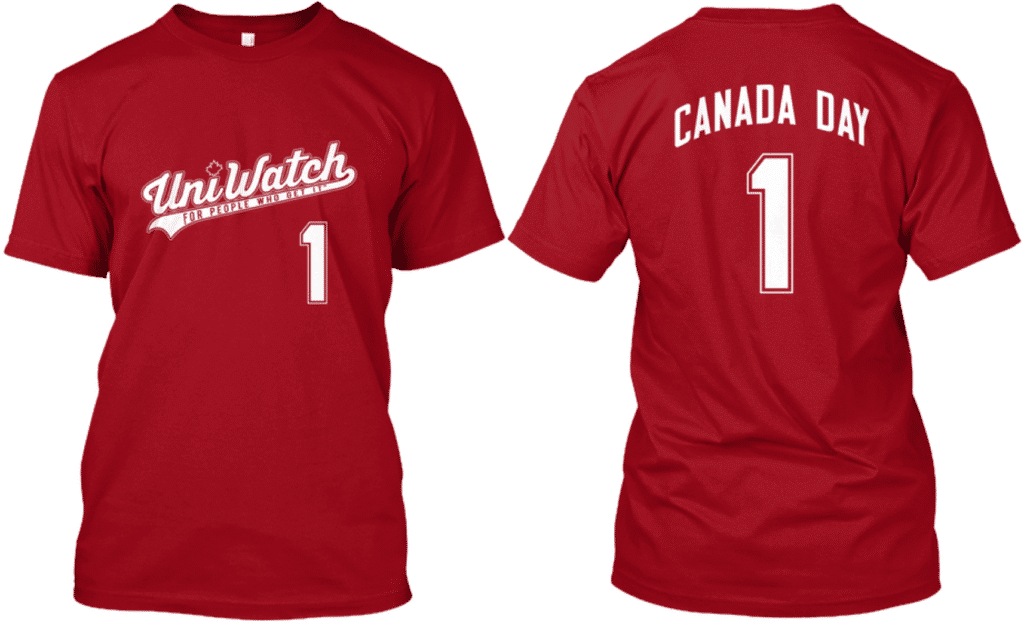 • • • • •
• • • • •
The Ticker
By Alex Hider

Baseball News: The side patch on the caps for the 2019 All Star game will be rendered in team colors (from Noah Kastroll). … The Mariners are giving away a Jimi Hendrix bobblehead on June 22. Not only that, the design has Hendrix in a Pilots jersey! (From Josh Claywell.) … On Netflix's World's Toughest Prisons, two teams in Mexico's El Hongo Prison faced off in Red Sox and Yankees uniforms (from Damon Hirschensohn). … The Lake Elsinore Storm, a Padres affiliate, will give away Star Wars caps on June 22 (from Becker. … Selena Night uniforms this Saturday for the El Paso Chihuahuas.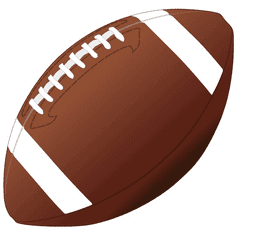 Football News: The Toronto Argonauts delivered their 2019 season tickets in a team-branded tin, and sent along a team scarf (from Ted Arnold). … The 49ers will wear their 1994 throwbacks at home against the Panthers on Oct. 27 (from Brinke). … A waste management company in Fairfield, Conn., is poaching the Patriots logo (from Scott Boroczky). … Speaking of, a drywall company in Charleston, S.C., is using Pat Patriot (from Matt Grandi). … Here's a very detailed breakdown of the Bears' new throwbacks (from Jordan Grimes). … In a related item, here's a ranking of the various throwback uniforms that the Bears have worn over the years (from Adam Childs). … This blog speculates (without evidence, frankly) that the Vikings may wear a throwback this season (from Phil).

Basketball News: Raptors PG Fred VanVleet wore a mouthguard last night after he took an elbow to the face and lost a tooth during Game four (from Mike Chamernik). … University of Memphis's practice uniforms include the personal logo for their coach, former NBA star Penny Hardaway (from Rob Montoya). … New logos for Rochester University of NAIA (from  @secretrock). … Check it out: a basketball coach in full uniform (from @MATHnBASKETBALL). … An ESPN promo graphic for last night's NBA Finals Game featured some remarkably generic-looking jerseys (from Chris Mycoskie).

Soccer News: These are the uniforms Cameroon will wear in the Women's World Cup (from our own Jamie Rathjen). … A number of items from Josh Hinton: Italy's Women's World Cup squad removed the four stars from the national team's crest that represent the men's four World Cup titles — but the star-clad version still ended up on the women's team's shorts; Nippert Stadium, home of FC Cincinnati, laid down sod on top of its synthetic turf when it hosted a USMNT friendly on Sunday. However, Nippert will return to artificial turf when it hosts an FC Cincinnati game on Wednesday; new second and third kits for Serbian club Red Star Belgrade; Premier League teams will wear redesigned sleeve patches this season, which will include (along with the numbers), smart labels that can be scanned with a smartphone.

Grab Bag: Here's what the top-ranked golfers will be wearing at the US Open this weekend (from Phil). … The Premier Lacrosse League has announced a league-wide ad patch deal (from Jared Buccola). …This Washington Post writer thinks there are too many presidential candidates with boring campaign logos (from Justin C. Cliburn).
• • • • •
Our latest raffle winner is Matthew Samilow, who's won himself a membership card. Congrats to him and big thanks to Pete Garofalo for sponsoring this raffle.