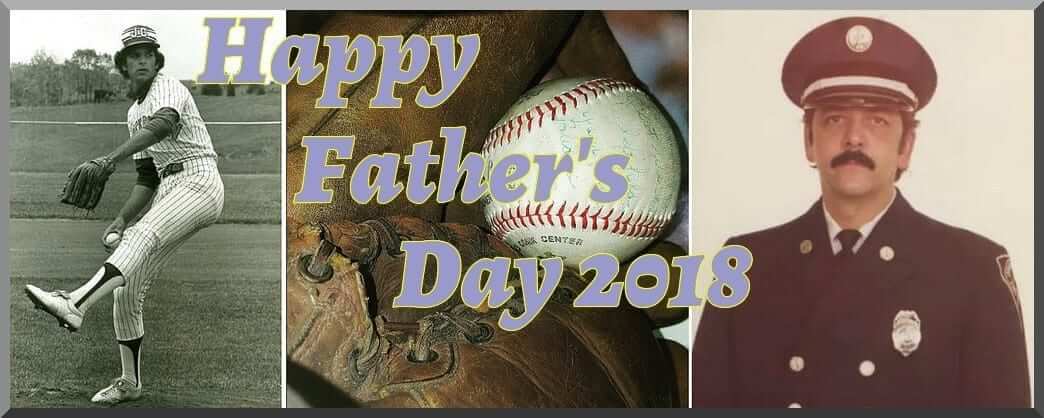 By Phil Hecken
Follow @PhilHecken

For the past five years (2013, 2014, 2015, 2016), and last year it has been my privilege and pleasure to run photographs of our fathers dressed in uniforms — whether they be sports uniforms, military uniforms, or any other uniform. The response was overwhelmingly positive, and I'm pleased to again run this feature. This year, based on a suggestion from reader Bill Hetrick, I've added an additional category of "equipment your dad passed down to you," along with the usual pic-of-dad-in-uni.
If you're not familiar with this tradition, just click on any of the past Father's Day posts for a description. That's all I'll have to say today. So sit back, enjoy (and click on the photos to enlarge). I'm running them in the order they were received.
Happy Father's Day everyone!
• • • • • •
Josh Hinton
Hi UW,

My dad, Steve Hinton, wore this beautiful baby-blue jersey at Lafayette High School in Lexington, KY during his freshman/sophomore (he's not sure exactly which) year, which would have been in 1988 or 1989. The school was getting new unis the next season, so they let the players keep the uniforms.

-Josh Hinton
• • • • • •
Eric Lovejoy
My dad passed away one year ago this June after a two year battle with esophageal cancer. Father's Day 2017 was his last "good" day of his life and this Father's Day will be my first without him. He loved baseball and loved the St. Louis Cardinals and taught me everything about the game growing up. Here is a picture of him as a kid in the early 1950's, very proud of his Cardinals uniform, complete with a MLB belt, which he once mentioned was extremely difficult to find and buy as a kid in those days.

– Eric Lovejoy
• • • • • •
Jacob Kubuske
My dad, Jim, coached high school football and baseball my whole life. Here he is in his New London(OH) High School uniform and jacket, reading to me. Probably about 1990.

Jacob
• • • • • •
Phil,

Thanks again for doing the Father's Day Uni Watch–one of my favorite special pieces on the site. And great idea to open it to things beyond photos–I had run out of those.

Attached are two photos of my Dad's track shoes from the late 1940's-early 1950's. He was a long time baseball player but was "discovered" by chance as a freshman and ended up running track and cross country throughout his college career. Me and many of my siblings also were runners in high school or college, and my sons and many of their cousins have continued to carry that torch.

If you look closely you can see that these are Converse Chuck Taylor running shoes! You can also see some initials on the sole of the left shoe. One of my nephews was a senior in high school the year after my Dad died, and he carried these shoes for at least one lap during warm-ups in his senior track season. The shoes have since gone to each HS senior runner in the family, and each done the same and then have initialed the bottom.

The laces are not original. I remember taking the cotton ones out at one time when we were kids, but I don't remember what we used them for.

John K
• • • • • •
Jimmy Corcoran
My Father always looked so big to me when I was a kid and he always looked so much bigger than all the other kids Dad's at school. My 16 year old nephew is 6'0 205lbs, the same size as the King when he played for the Philadelphia Bell. Funny how much different things look to you as a kid. My Father never got to meet Connor but the arm strength is very similar. Here is his Bell game jersey and the same t shirt he wore for every game in 1974, he gave it to me after they lost in the playoffs to the Blazers. Happy Fathers Day 2018!

Jimmy Corcoran
• • • • • •
Jason Von Stein
Hello Phil,

My father is a songwriter. He has written over 5000 songs. He still writes but emphysema prevents him from playing now.

I play his songs now. Wherever I can, whenever people will listen.

Here is a link to his original versions.
And here is a link to my versions.

My father bought me my guitar pictured. He has gifted me with so much. Love being number one.

I hope you'll give his songs a listen. Thank you for listening.

I wish only love to all the wonderful fathers we get our inspiration from.

JVS
• • • • • •
Craig Stoltz
Phil,

As an avid reader of Uni Watch, I couldn't pass up the opportunity to share the attached picture and description below. Thanks for letting me share this memory.

My father, Marshall Stoltz, taught at Haddon Heights HS in southern NJ from the late-1950s through the mid-1970s, and was the head athletic trainer for the school during that time. He brought this helmet home for me when I was a baby in the early 70s. When I got a little older, I would wear it as I ran around our yard, throwing a football up in the air and catching it on the way down. The helmet would flop around on my head – providing more of a challenge than protection. Today, it hangs on a wall in my garage and offers great memories.

Craig Stoltz
Holland, PA
• • • • • •
Jeff Spry
Dad grew up in baseball/football-crazy town of Cooleemee, NC. He admits he was not all that good at either but loved sports so he played.

Here are pictures of his football days, recreated a few years ago.

I love the picture of my dad as scorekeeper on left, holding scorebook where he recorded the hits/outs of a few brothers and cousins on the team.

He excelled at tennis, though, playing at Wingate College.

Jeff Spry
• • • • • •
Lawrence Beron
Hi guys, here's a 1950 photo of my Dad, Phil Beron Jr., when he was playing for the Jesuit High School Blue Jays in New Orleans, LA. He went on to play for the LSU Tigers.

The photo appeared in the October 7, 1950 edition of the old "New Orleans States" newspaper.

Best,

Lawrence P Beron
• • • • • •
Christopher Hickey
On the left is a photo of my father, the late Dr. John S. Hickey, wearing in his WWII-era USN uniform while standing outside his father's Mayfair (NE Philly) rowhome, which doubled as a doctor's office (that black rectangle above the stone wall is the office sign…"Francis S. Hickey, MD", my grandfather). That's a SeaBees patch on his shoulder. I don't know if those were issued before deployment or during/after service; consequently, no one in my family can determine if this photo was taken before he shipped out for the Pacific or when he returned. After his discharge, he attended medical school, met my mom, bought a home nearby and, like his father, opened a practice downstairs. Upstairs, he helped to raise 11 children.

On the right is a recent photo I took of that same location. So much has changed in this area since he resided there, and in my life since his passing. I was saddened that my father was not with me that day to pose once more. But he was still there…just as he is with me today. Love you, Dad. And thank you, Phil!

Chris Hickey
• • • • • •
Adam Vitcavage
Love this tradition. I submitted back in 2016 of my dad in the '70s.

Here's my dad's softball glove he used primarily in the mid-1990s for church softball. I've lost or sold so many pieces of equipment through the years but kept this glove. I played 3rd base in a league recently and was error-free thanks to this sexy beast.

—
Adam Vitcavage
• • • • • •
Ed Kalas
Hey Phil,

Thanks for putting this together. Here is a photo of my Grandfather Edward Kalas, who served in the Navy during WW2 as a Coxswain in the South Pacific. My father also served in the National Guard in the 60's and 70's, though I couldn't track down a photo of him this week.

Thanks again for your great content on Uni-Watch!

Best,

Ed Kalas
• • • • • •
Brad Eenhuis
Hi Phil

Here's my Dad's senior basketball photo from 1963. I liked the jersey so much I did my best to recreate it. Note:feel free to cut me out of this, I won't be offended.

Brad
• • • • • •
Kraig Mewbourne
Hi Phil,

This photo is of my dad, David Mewbourne (#24) of the Evangel College Crusaders. He played and coached at Evangel from 1977 to 1981 and was a part of their first football team when the school began a program. He also met my mom there who was a cheerleader! He loved the game and it is still something that he and I bond over today. He is my best friend in the world and will always be my biggest hero!

Thank you for including him on this special day!

-Kraig Mewbourne
• • • • • •
Craig Maki
My Dad, Derek Maki, is the good looking guy on the left end of the back row. I learned to keep score at his games and one of the highlights of my young life was getting called off the bench to play ball with him at 13 when his Sinclair team was short. I even got a hit! He retired on Friday after 40 years of service to the students and communities of east Baltimore and eastern Baltimore County as a teacher, coach, and athletic director. He's impacted thousands of lives but none more than mine. Love you, Dad!

Craig Maki
• • • • • •
Nick Hanson
Hello Phil & Paul,

Here's a picture of my dad (front row, second from left) on his youth baseball team, the Ste. Rose Royals from Laval, Quebec that got the opportunity to play some exhibition games in Cooperstown. Also in the photo are his brother (to his right) and his father/my grandfather (second row, far right). Gotta love those stirrups as well!

Best,
Nick Hanson
• • • • • •
Richard Meloy
Hello Phil,

This is my dad, John Meloy, who played for the Cockermouth Rugby League Club.

During his career he was awarded Player of the year, Players' player of the year, Most sporting player and the Frasier trophy for outstanding service to the club.

In 1975-1976, Cockermouth beat Broughton Red Rose to claim the League championship trophy. Dad battled on for 80 minutes, having treatment three times including for a broken nose. He was back at work the next morning.

Dad (Poppa to my daughter) passed away at the start of last year and we miss him so much.

Thanks

Richard Meloy
• • • • • •
And that's all for today. A bit smaller collection than usual, but that's OK — maybe you guys have all already sent me photos of your Dads in uniform! If you have any thoughts/suggestions as to how this could be expanded or improved for 2019, please let me know in the comments below.
Everyone have a safe and wonderful Father's Day 2018.