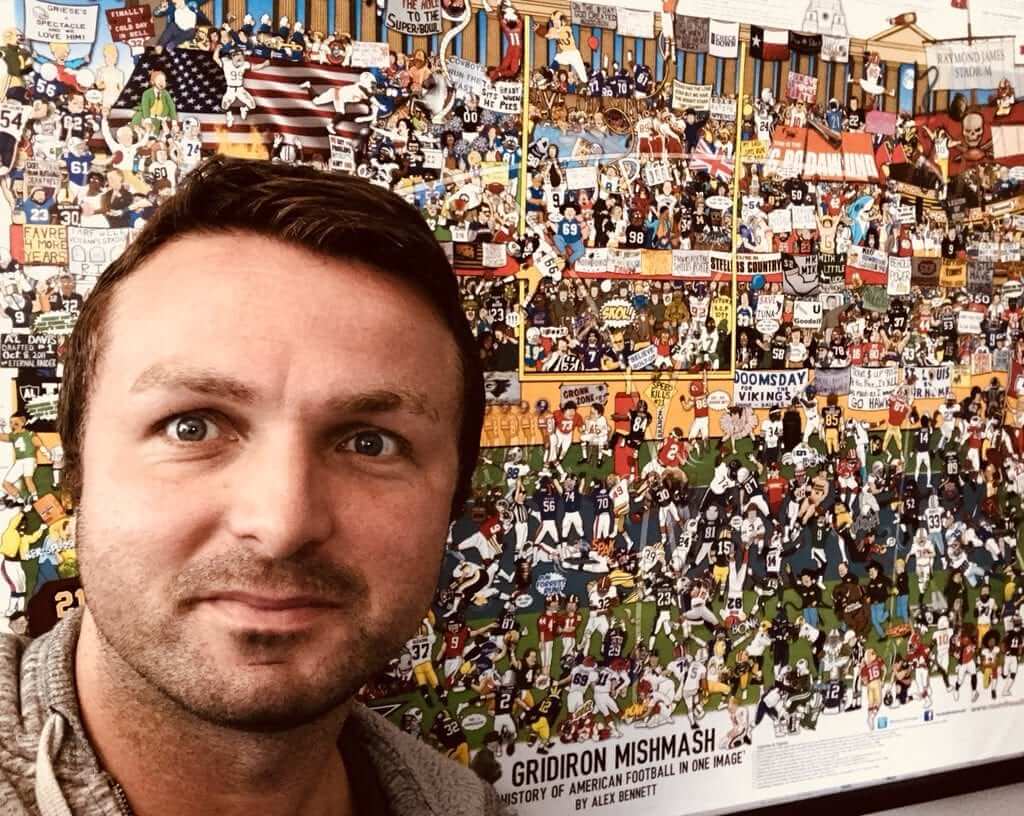 For all photos and illustrations, click to enlarge
Earlier this year we Ticker-linked several times to British illustrator Alex Bennett and his various sports "mishmash" posters, each of which shows the history of a team or sport in one detail-crammed, information-overloaded, "Where's Waldo?"-style image. We also raffled off two copies of his then-new Gridiron Mishmash poster, which charts the history of NFL and American football.
I thought an interview with Bennett, focusing on the Gridiron Mishmash poster, would be a good ESPN piece for that slow NFL period in between the draft and the start of training camps, so we did a Skype interview in early June and I delivered the piece to my ESPN editor. For various reasons, its pub date kept getting pushed back, and then it basically went down the memory hole, so now I've reclaimed it and am running it here on the blog. Here's how our discussion went:
Uni Watch: How old are you, and where do you live?
Alex Bennett: I'm 37, and I live just outside of London.
UW: How and when did you get the idea to do these "mishmash" illustrations, and which one did you start with?
AB: I do a lot of illustration work for soccer clubs, in their match-day programs, so I started with the European soccer poster, in 2013. It took me nearly 14 months to do. I keep a clock on my desk, and I tap it every time I start working. For that one, it was nearly 1,800 hours. Quite a daunting number, really. But I was struggling to get work at the time, so I thought I needed something that would put me on the map.
UW: When you did that first one, were you thinking all along that you'd do a series of them for other sports? Or were you thinking, "Ugh, this is taking so long, I'm never doing this again."
AB: The second answer! Especially since I had no idea whether the first one would be successful. You're working on it and you're not getting any revenue from it. It was all a gamble, a shot in the dark. But it went well, and now it's like a hobby that's gotten out of hand.
UW: How many have you done?
AB: Eight. After European soccer, there was pro wrestling and rugby. Then I did the soccer club I support, Watford, and then West Ham and Tottenham Hotspur. I did those clubs because I also do work for their programs.
UW: Regarding the new "Gridiron Mishmash" piece, do you actually follow American football, and American sports in general?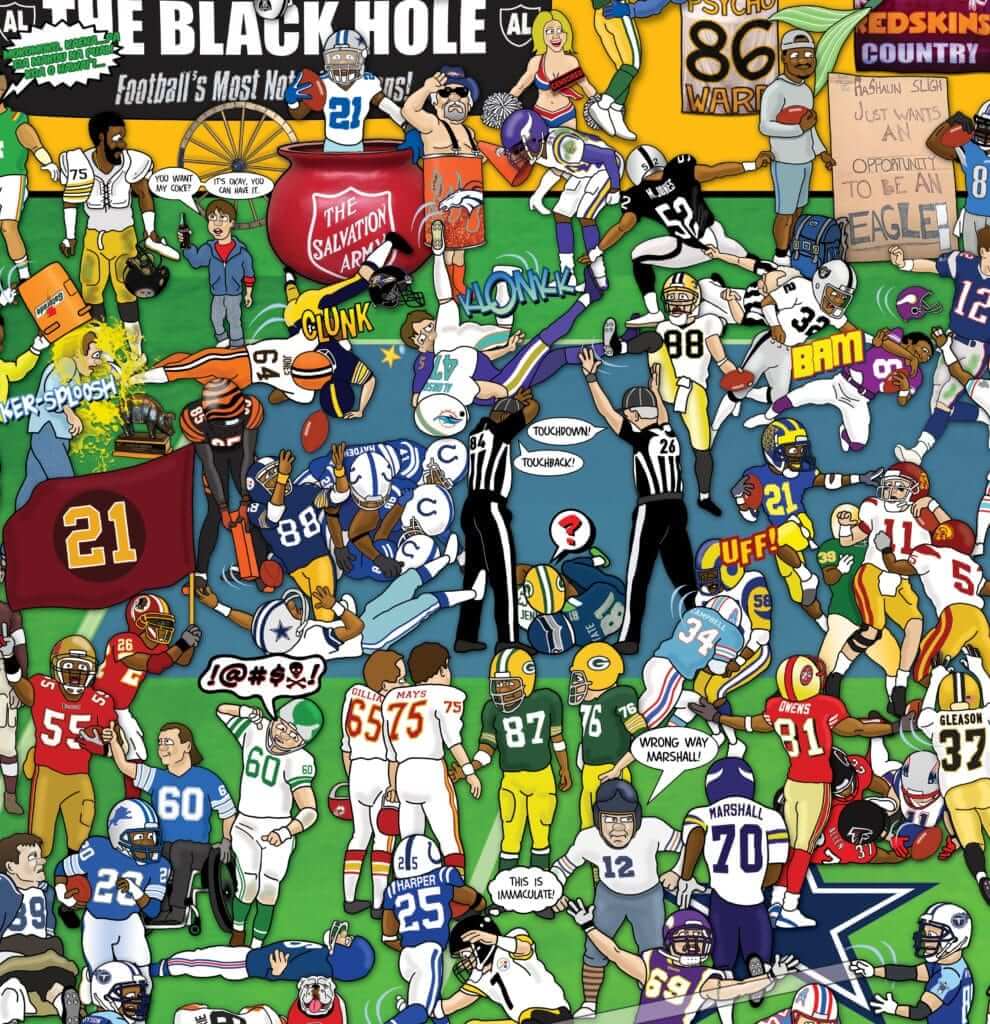 AB: I must admit, I struggle with baseball. But I do enjoy the NFL. I went to see the L.A. Rams playing the Cardinals in London last year. And when I've been to Florida, I've seen the Buccaneers play a couple of times.
UW: How did you get into American football?
AB: As a 10-year-old, I went to the 1991 World Bowl — the London Monarchs versus the Barcelona Dragons, at Wembley Stadium in London. The attraction there was William "The Fridge" Perry playing for the Monarchs. So that really gave me the bug.
UW: When you're doing one of these mishmashes, do you aim to have a certain number of people in them, or to document a certain number of scenes or moments?
AB: It's very tricky to describe how it works. I start off, obviously, with an empty canvas. I always ask people on the internet which scenes they'd like to see included, so you get a sense of how busy it's going to be based on that. This new one has about 800 to 900 people in it. The soccer ones are probably about double that.
UW: You mentioned that the first soccer mishmash took you nearly 14 months to do. Have you gotten more efficient since then?
AB: Yes. This new one took about six months, and 1,300 hours. See, I do my paid work during the day, and then I work on the posters until about three in the morning every night. I try to do at least four scenes every night. If I keep up that pace, I can have a good sense of when I'll finish it.
UW: What's your typical working method? Obviously, a lot of these illustrations are based on photos, so do you scan in a photo and work from that, or what? Is any of the work done by hand, or is it all digital?
AB: It's all hand-drawn. I haven't really caught up with modern-day methods. I usually start with a photo, and then I have these little miniature mannequins and I'll position them for the angle I'm trying to capture.
UW: So you have these little plastic figurines, and you pose them like they're catching a football, or whatever?
AB: Yeah, exactly.
UW: I guess they look more like some body types than others. They don't look much like the Fridge, for example.
AB: For people who are a bit on the chunkier side, I actually attach modeling clay to them. It makes them look a bit bulkier.
UW: So what happens after you do a sketch?
AB: I'll ink the sketch, then I'll scan it and take it into Photoshop and Illustrator to add the colors, the logos, and so on. Once that's done and I'm happy with it, I'll drag it into the main image. That's when the real wild work starts — trying to find a place for each drawing.
UW: Is it hard to make everything fit, and do you often end up having to discard certain ideas or scenes as you go along, just because there's no good spot for them?
AB: Yes, that is the problem. I try to put things where they really occurred on the field, but sometimes it isn't possible. For "The Catch," with Joe Montana and Dwight Clark, I put that right where they were on the field. But there's other stuff that doesn't make any sense. I've got guys celebrating touchdowns nowhere near the end zone, just because it fills a gap.
UW: The NFL will be celebrating its 100th anniversary next year, so you had a lot of history to potentially draw upon. Did you try to distribute the content evenly throughout the decades, or focus more on recent history, or what?
AB: I usually try to start at the beginning. So I've got the Canton Bulldogs, and then I move forward from there. But obviously there's a lot more from the last few decades.
UW: Do you try to include as many teams as possible, so there's something for everyone?
AB: I made sure to include every NFL team, definitely. And then for colleges — to be honest, I'm not sure I should have gone down that road, because there are so many schools. I could probably do a separate poster just for college football. I find the college game more interesting, honestly. There's something about the crowds.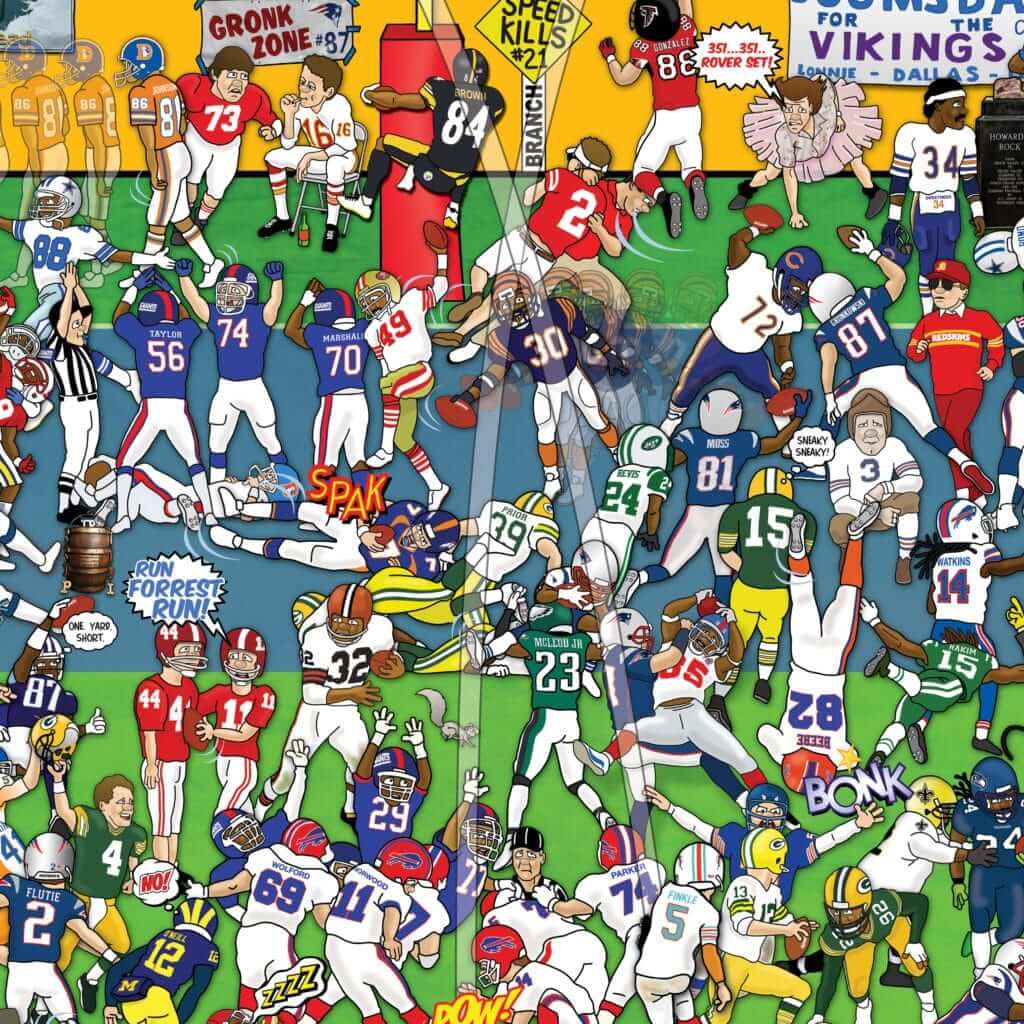 UW: Are there any cleverly hidden details or anything like that that you're particularly pleased with?
AB: I always put my son in the picture. He's nearly five years old now, and he's been in all of them.
UW: Really! Where is he in the American football poster?
AB: I couldn't even tell you, honestly. He's in the crowd, somewhere. In the first poster, the soccer one, I showed myself taking him to his first game, when he was a baby. That was based on a photo that someone took. And after I included that in the first poster, I figured he may as well come on this journey with me.
UW: You've included scenes of some famous injuries, like Tim Krumrie's and Joe Theismann's broken legs, and Chuck Bednarik standing over Frank Gifford after delivering a big hit. Were you conflicted about including those?
AB: I think the key thing is that you don't want to be disrespectful. So for Tim Krumrie, for example, I showed him slumped on the ground, just trying to capture the drama of the moment. Still, some people weren't happy that I included that. But that's what you're going to get no matter what — some people will be unhappy with the choices you make, for various reasons.
UW: Did you consider even more gruesome injuries, like Jack Tatum's hit that resulted in Darryl Stingley being paralyzed?
AB: Yeah, I didn't want to include that. Not sure why I felt differently about that one — maybe because I've watched it so many times. It's just so horrible, isn't it? I don't know. [Pauses.] You've got to draw a line somewhere, I suppose.
UW: Are there any issues regarding licensing? You're basing most of your work on copyrighted photos, you're showing various team uniforms — does that cause any problems?
AB: There's no issue with the soccer clubs, because I work with them. But for this latest one for American football, I spoke with a guy from the NFL very early on. I basically wanted approval that what I was doing was OK, and he said to go for it. I was prepared to pay a fee or something like that, but it never materialized.
UW: The poster includes a legend, or captions, explaining all the moments that are included. It's sort of like an answer key. Did you consider not including that, because it sort of spoils the fun of people figuring out each scene?
AB: You can't win with something like that. Some people would prefer to have it and others wouldn't. But I think I made the right decision to include it.
UW: I see that the captions refer to the "pitch," rather than the field. Is that just for the UK version? Do you change it to "field" for American customers?
AB: I messed that up, actually. It's so ingrained in the way we talk about sport, I just missed it. I should have thought of it, but I didn't.
UW: What do you think about American football uniforms now that you've had to depict so many of them?
AB: I'll be very happy to never draw a football helmet ever again. Each face mask is different, and you can't really show the features of the players' faces. With the European sports, you can show their faces.
———
Bennett is now working on a few more soccer club mishmashes, which will be followed by a hockey mishmash. His various posters are available here.
• • • • •
• • • • •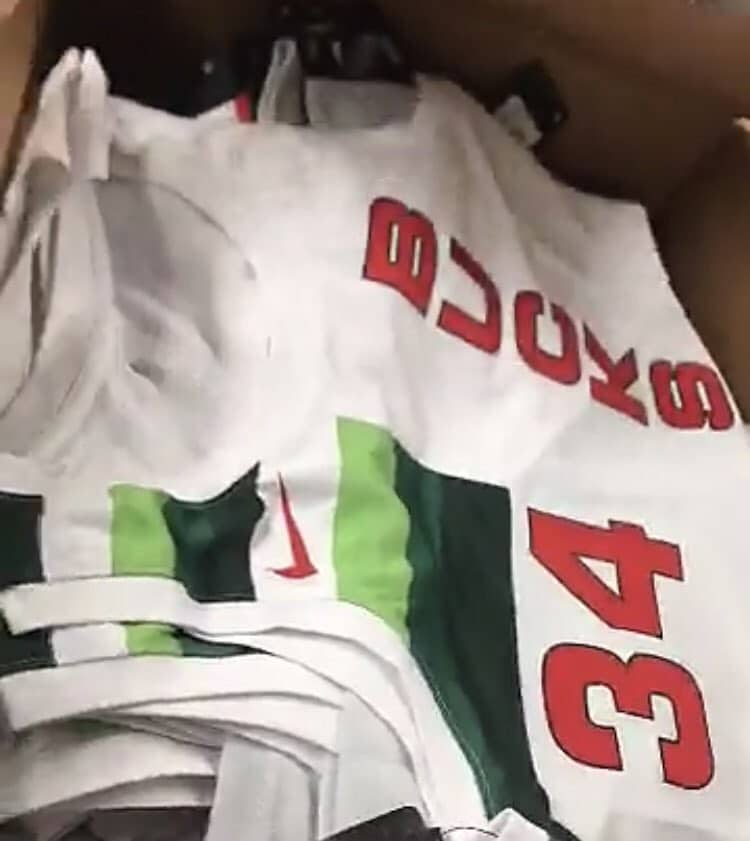 The latest NBA leak: A source indicates that this may be the Bucks' new Earned uniform (aka the Participation Trophy uniform). On the other hand, LockerVision had previously indicated that that uniform would be grey, not white, so who knows. (Update: Upon closer inspection, the lower part of the jersey does appear to be grey, so there you go.)
I'll say one thing for this latest round of NBA uniforms: They haven't released them in time for the holiday shopping season, so at least we can't say it's all about retailing. Or maybe they've just had some production snafus and couldn't get them done in time.
• • • • •
• • • • •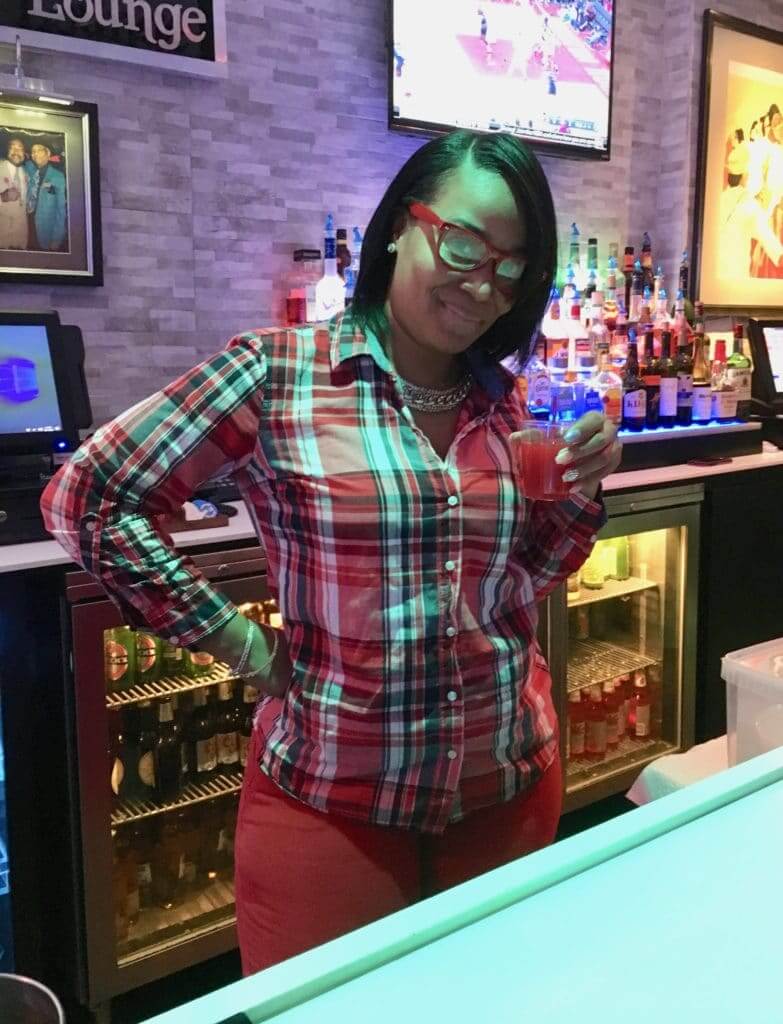 Click to enlarge
Welcome wagon: On the past four or five Tuesday evenings, the Tugboat Captain and I have walked about a half-hour to a bar where we are the only white people. One reason we've kept going back is that the bartender, whose name is Lily (or maybe Lilly, or Lili), made us feel welcome literally from the first moment we walked in the door — no small thing when you're entering a place where you don't necessarily belong, a place that other people call home. We've also made friends with some of the regulars, but Lily has been our ambassador, signaling to everyone that we're okay.
Lily has a slight accent that suggests she's from the Caribbean, or maybe Central America. (The bar's owner is from Panama, so there might be a connection there.) She usually dresses very casually, but last night she wore red pants, a red plaid shirt, and red eyeglass frames, and even mixed herself a red drink! It was all so color-coordinated that I asked if she'd consent to a photo, which she readily did.
The guy next sitting two stools down from me said, "You're lucky. She usually won't let anyone photograph her." He reached for his phone and turned to her: "Lily, how about a photo?" She laughed and walked away. I later learned that he's the bar's manager.
• • • • •
• • • • •
Click to enlarge
The new HQ, continued: I've never lived in a house or building that displayed Christmas lights. So it was a surprise to come home from the bar last night and discover that our landlord, Jeff, had given our house the full treatment. The Tugboat Captain, who had already lived here for eight or nine years before I moved in with her a few months ago, says Jeff has never done this before. Not sure what inspired him this time around, but it feels like yet another way in which the new digs have been a major upgrade. Ho-ho-ho!
• • • • •
• • • • •
The Ticker
By Lloyd Alaban

Baseball News: Lee Smith had a bit of a mishap when donning his Hall of Fame jersey yesterday. He buttoned his jersey incorrectly, leading to an awkward-looking photo-op (from Jeff Ash). … Here's something you might not be aware of: Back in the late '80s and '90s, the Rangers had inconsistent batting helmet logos (from Chris Mycoskie). … Patrick Lavery owns a 1988 Starting Lineup figurine depicting OF Rickey Henderson during his days with the Yankees. Notice anything odd? Of course you do! Henderson's figurine has an NOB, while actual Yankees jerseys do not. … The Las Vegas 51s, the Triple-A affiliate of the A's, are now the Las Vegas Aviators (from Paul Szydelko).

NFL News: A bidder paid $36,150 for Chiefs QB Patrick Mahomes's jersey from the epic MNF game that the Chiefs lost 54-51 to the Rams in LA. Proceeds from the sale are going to California Wild Fire Relief (from Mike Chamernik). … This Bengals promo photo features both old and new Nike templates (from Kristofer Terrell). … Josh Callahan has started a petition for the Buccaneers to bring back their creamsicle uniforms.

College Football News: Here's how the Military Bowl patch will look on Virginia Tech's uniforms (from Andrew Cosentino). … Top college recruit DB Chris Steele is in this photo that combines all five schools he's considering a commitment to (from Jorge Cruz).

Hockey News: The NHL unveiled the logo for the 2019 draft, which will be held in Vancouver in June (from several readers). … A dwarfism advocacy group is pushing for Alberta hockey teams to remove the word "midget" from age categorizations and league names (from Mike Styczen). … Arizona State has new black sweaters and gold sticks.

Basketball News: What's even better than the Bucks' original mascot logo? Seeing that logo rendered in chain-stitching (from @BeautyOfAGame). … The Harlem Wizards have new uniforms, and they were designed by reader Brian Begley! … The Windy City Bulls will be wearing canine-themed jerseys for Dog Night on Friday. Proceeds from the jersey auction will be donated to Anderson Animal Shelter of Elgin (from Steve Johnson). … Fun fact: Back in the early 1950s, LSU had sleeved jerseys.

College Hoops News: Georgia Tech men's will wear "Ramblin' Wreck" jerseys against Georgia on Dec. 22 (from @sonnylax). … Former Louisville coach C.V. "Red" Money, who coached the team in the 1930s, once pulled his team from the court to protest the officiating, resulting in a 2-0 forfeit. Among his complaints were that the opposing team changed jerseys at halftime and used lots of uni numbers ending in 6 (from Jason Collins).

Soccer News: Tottenham Hotspur of the Premier League have released a retro shirt based on the yellow shirts they wore from 1988-91 (from Richard, who didn't give his last name). … VfB Stuttgart have released a 125th-anniversary kit to be worn on Dec. 22 (from Gabriel Hurl). … The Indy Eleven of the USL have a new kit (from Josh Hinton). … Atlanta United won the MLS Cup on Saturday. On Monday, a few players brought the trophy to a prominent Atlanta strip club to celebrate (from @rbchoopmas).

Grab Bag: The National Lacrosse League announced an expansion franchise on Long Island that will begin play in 2019-20. You can help choose the team's name here (from multiple readers). … If you were placing holiday decorations on the big sign at the entrance to the Holland Tunnel, where would you position each decorative item? It's trickier than you might think (from multiple readers). … An artist who calls himself Tommervik has a vaguely Cubist painting style and has applied it to subect matter that includes baseball, basketball, tennis, boxing, and other sports. You can browse his full collection here.