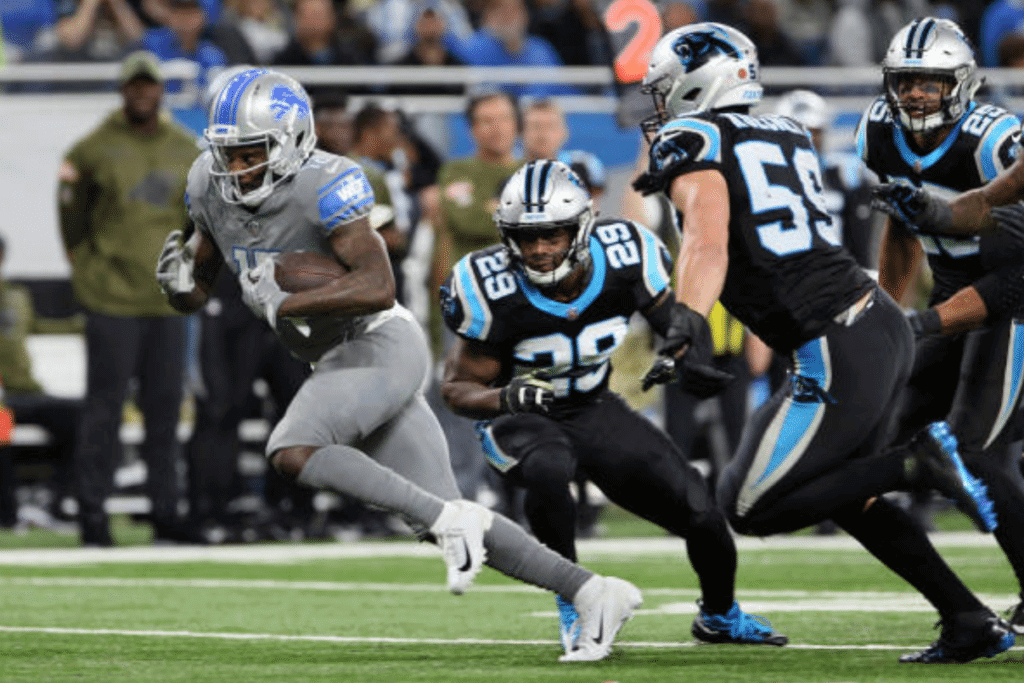 Absolutely brutal-looking game yesterday in Detroit, where the Lions went mono-grey against the visiting Panthers, who went mono-black — ugh. Additional photos here, if you dare.
According to reader Gabe Cornwall, who's something of a Panthers uni scholar, this was the first time the Panthers have ever worn black socks with their mono-black look. In the past, they've always had blue socks: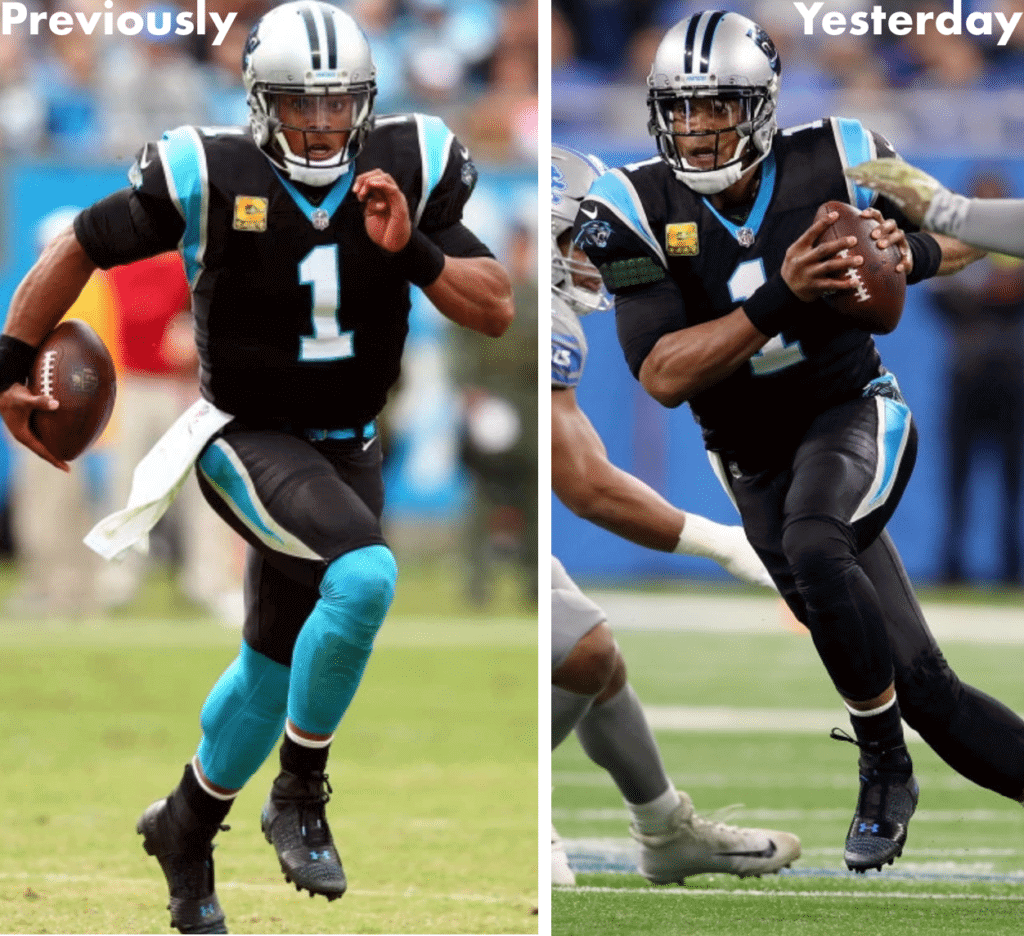 So we can chalk this up as yet another instance of the Panthers wearing a first-ever uni combo. I've lost track of how many times they've done that this season, but it's a lot. Interesting case of a team sticking with its current wardrobe but still presenting a lot of new looks.
In other news from around the league on Sunday:
• Washington wore their throwbacks: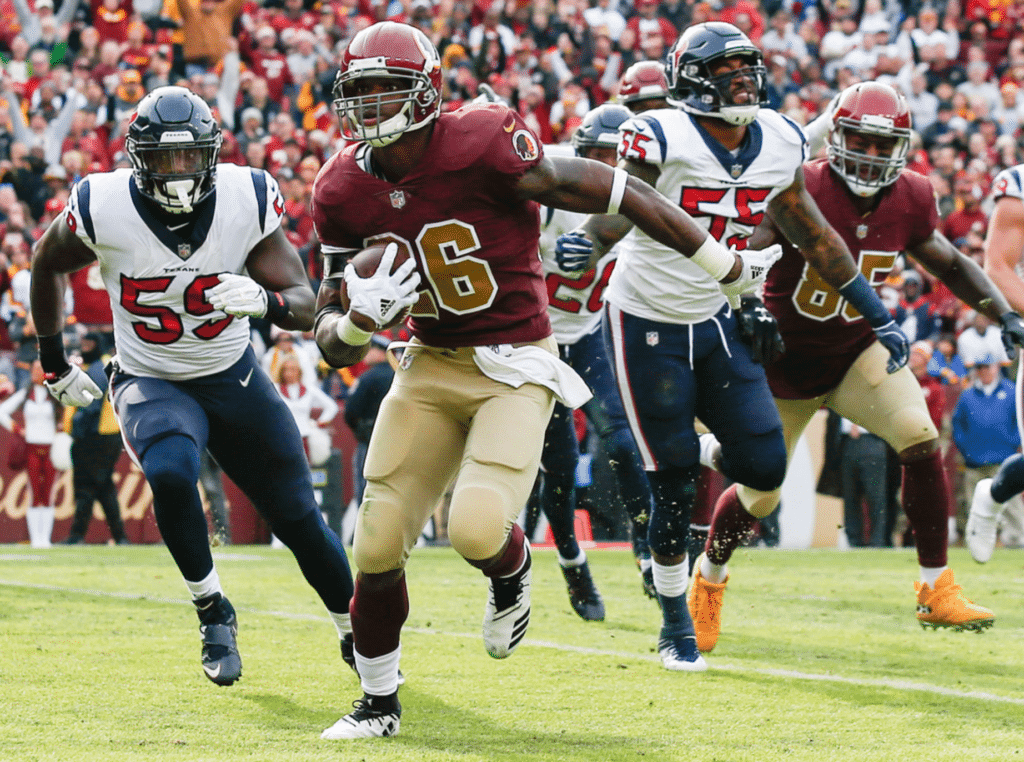 • More retro action in Atlanta, where the Falcons wore their excellent throwbacks (click to enlarge):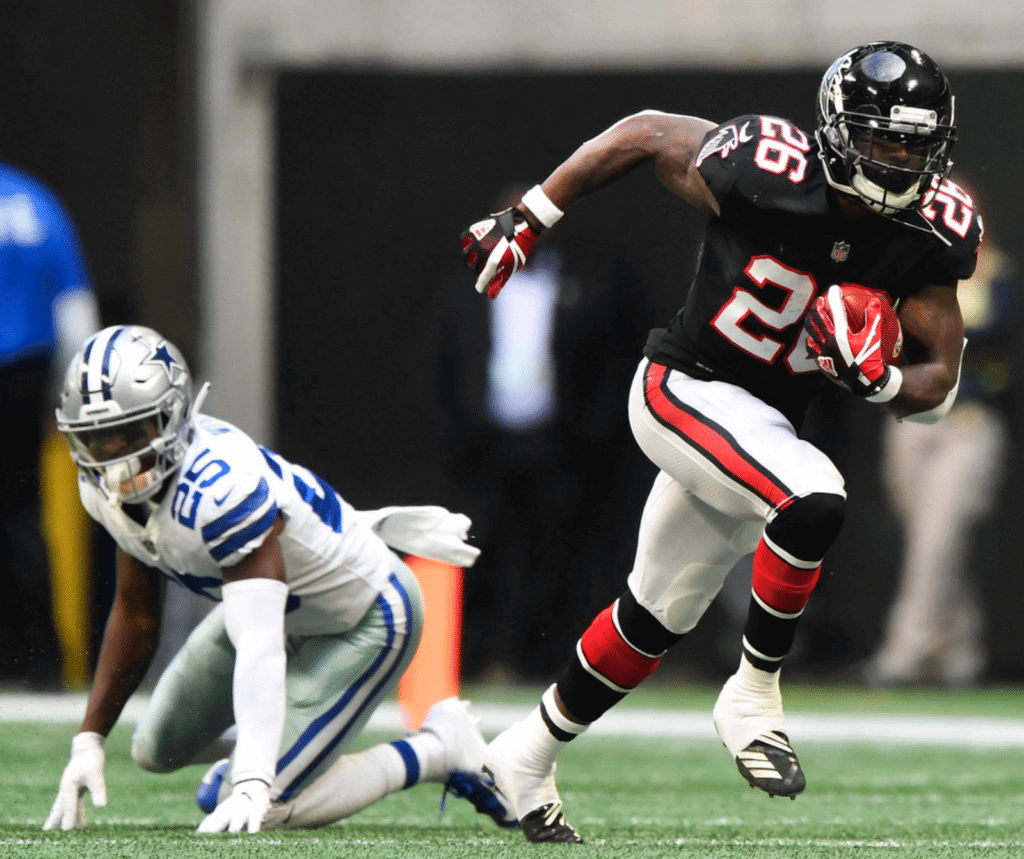 • Saints coach Sean Payton lost a golf bet earlier this year to Eagles coach Doug Pederson, and the payoff was that New Orleans had to wear white at home yesterday against Philly. But instead of wearing their primary white jerseys, they wore their mono-white Rash uniforms, which just about everyone likes (myself included), so Payton's golf loss was everyone else's gain.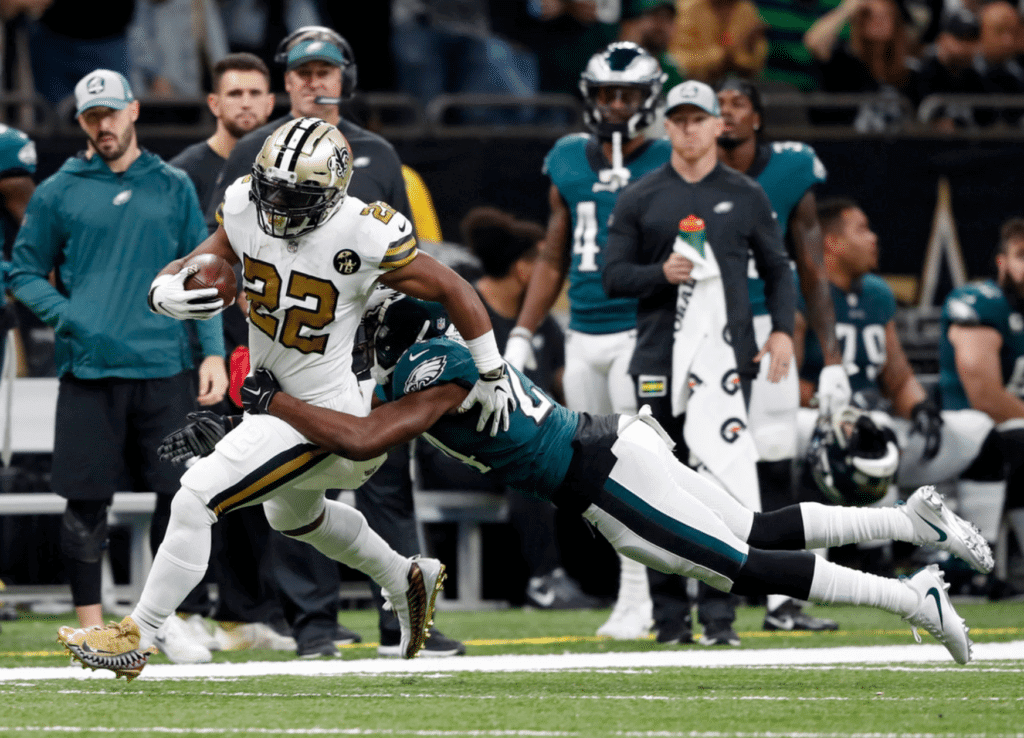 • For the second time in three weeks, the Ravens wore their black alternate jerseys. But unlike Week Nine, when they paired the black jerseys with white pants, this time they went mono-black: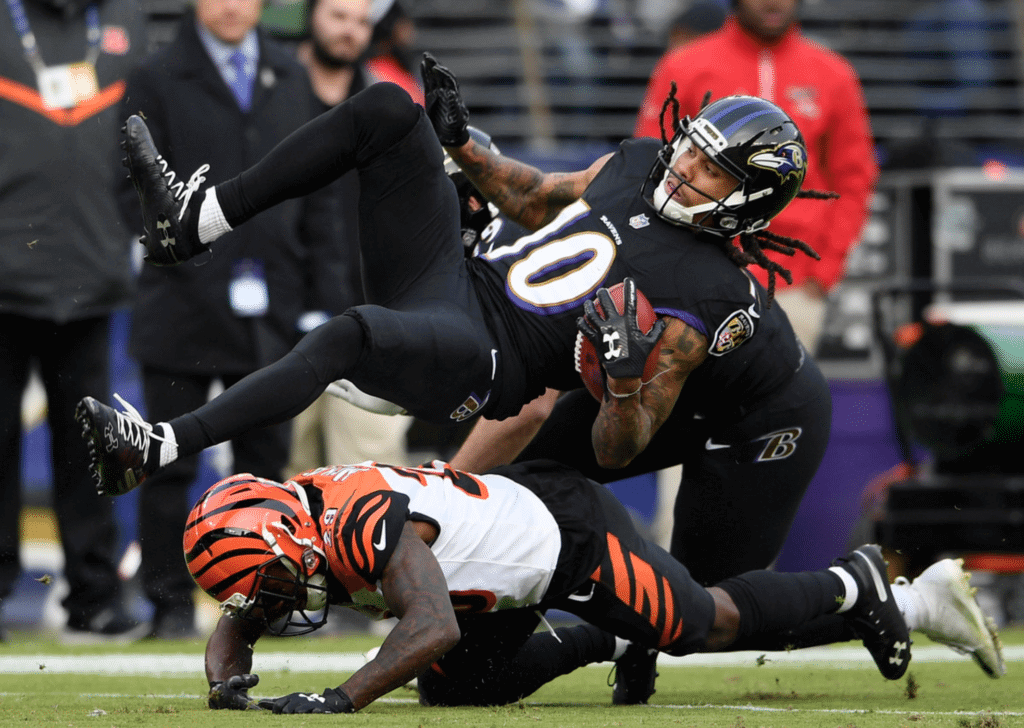 • The Chargers went mono-navy — easily the worst of all their possible looks: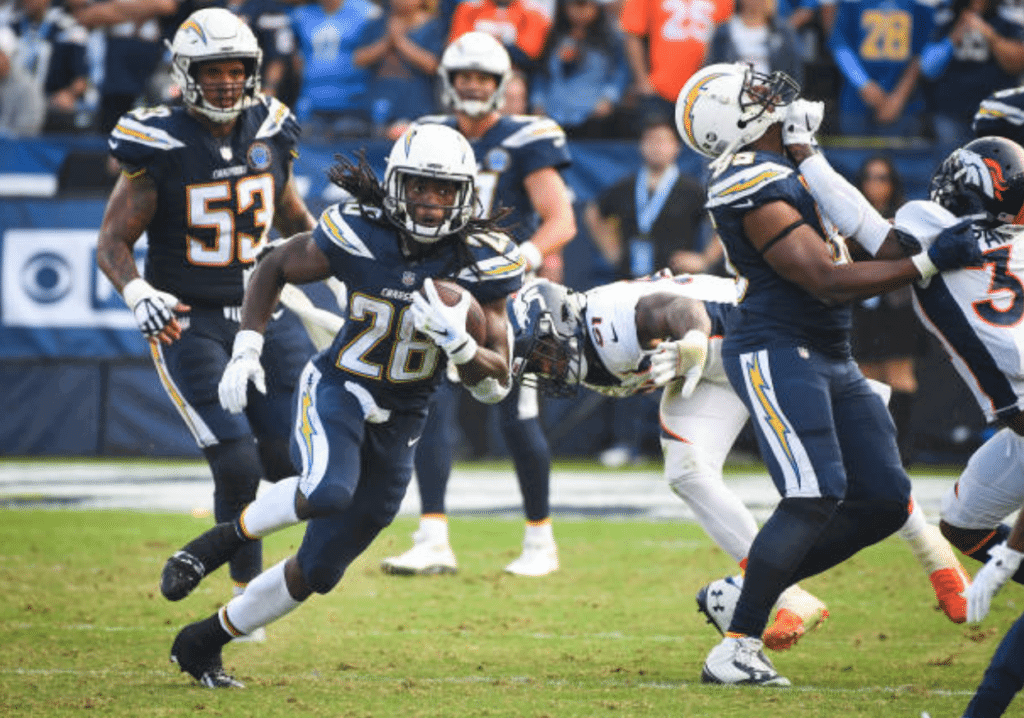 If they insist on going mono, I wish they'd just wear the Rash, which is a much nicer shade of blue.
• The Bears wore their orange throwbacks, which made for a very vibrant-colored game against the purple-pantsed Vikings: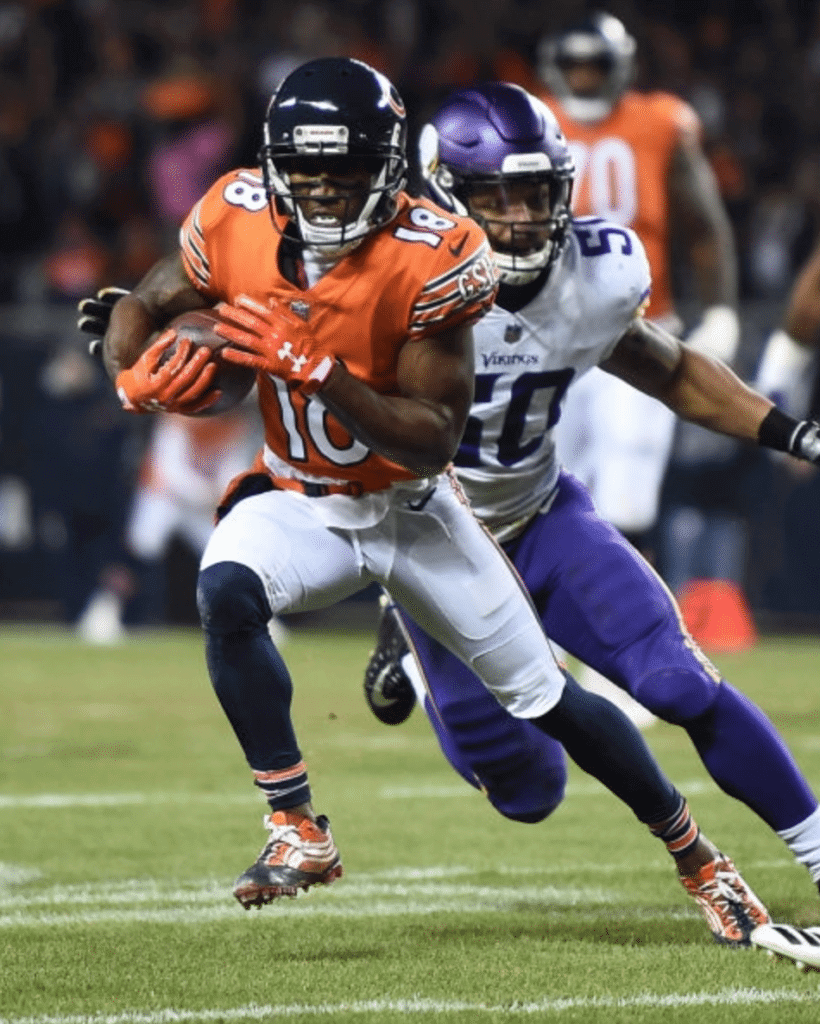 • Speaking of the Vikings, wide receiver Adam Thielen apparently changed his socks at halftime:
@PhilHecken Halftime hosiery change for @athielen19. @UniWatch pic.twitter.com/WqXZznz9fB

— Curtis Galvin (@CurtisGalvin) November 19, 2018
• Steelers quarterback Ben Roethlisberger's helmet stripe was extending onto his nose bumper: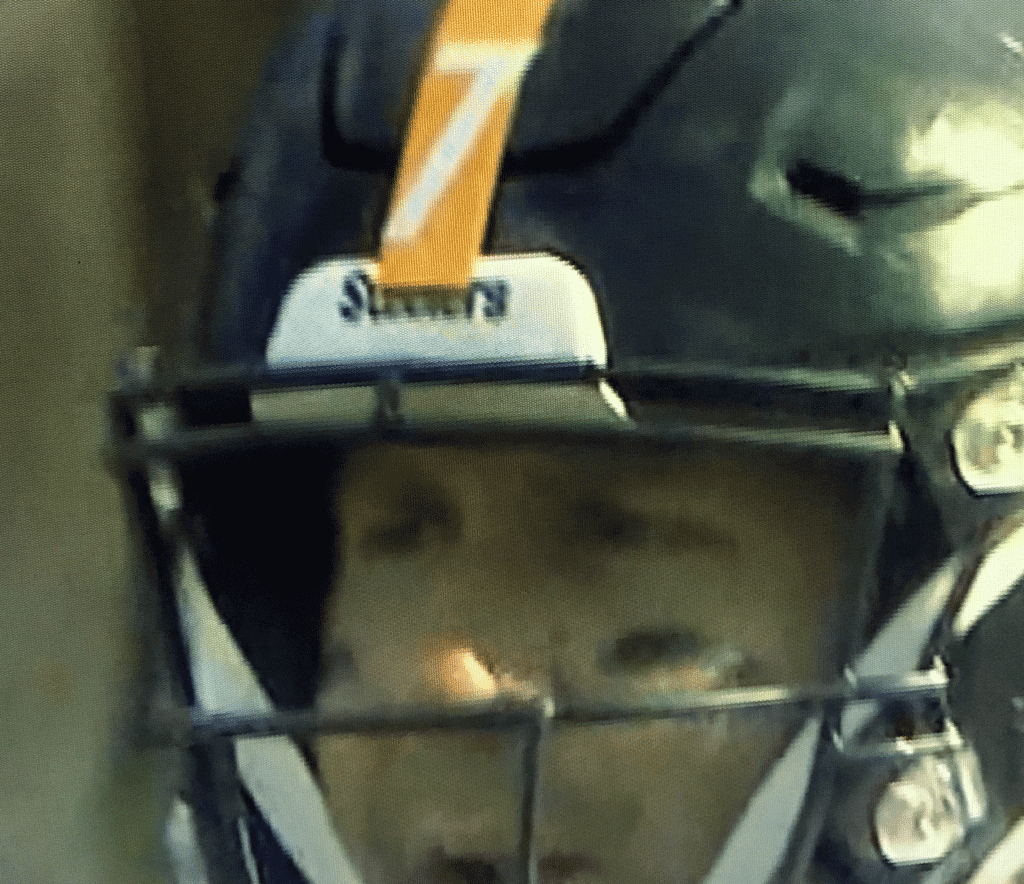 • On the last play of the Steelers/Jags game, Jacksonville linebacker Myles Jack had his internal radio speaker knocked out of his helmet (click to enlarge):
• This isn't the best screen shot, but Bengals quarterback Andy Dalton appears to have torn his jersey collar on both sides (click to enlarge):

• Only one team wore white at home: the aforementioned Saints.
(My thanks to Curtis Galvin, Mark Johnson, and Jon Solomonson for their contributions to this section.)
• • • • •
• • • • •
Blast from Andy Reid's past: With Chiefs coach Andy Reid slated to lead his team into Los Angeles to play the Rams at the L.A. Coliseum tonight, longtime sports broadcaster Rich Eisen shared the following post on Instagram over the weekend:
How great is that?! I wonder how many other NFL coaches participated in PP&K.
(Big thanks to Cino Commisso for bringing this one to my attention.)
• • • • •
• • • • •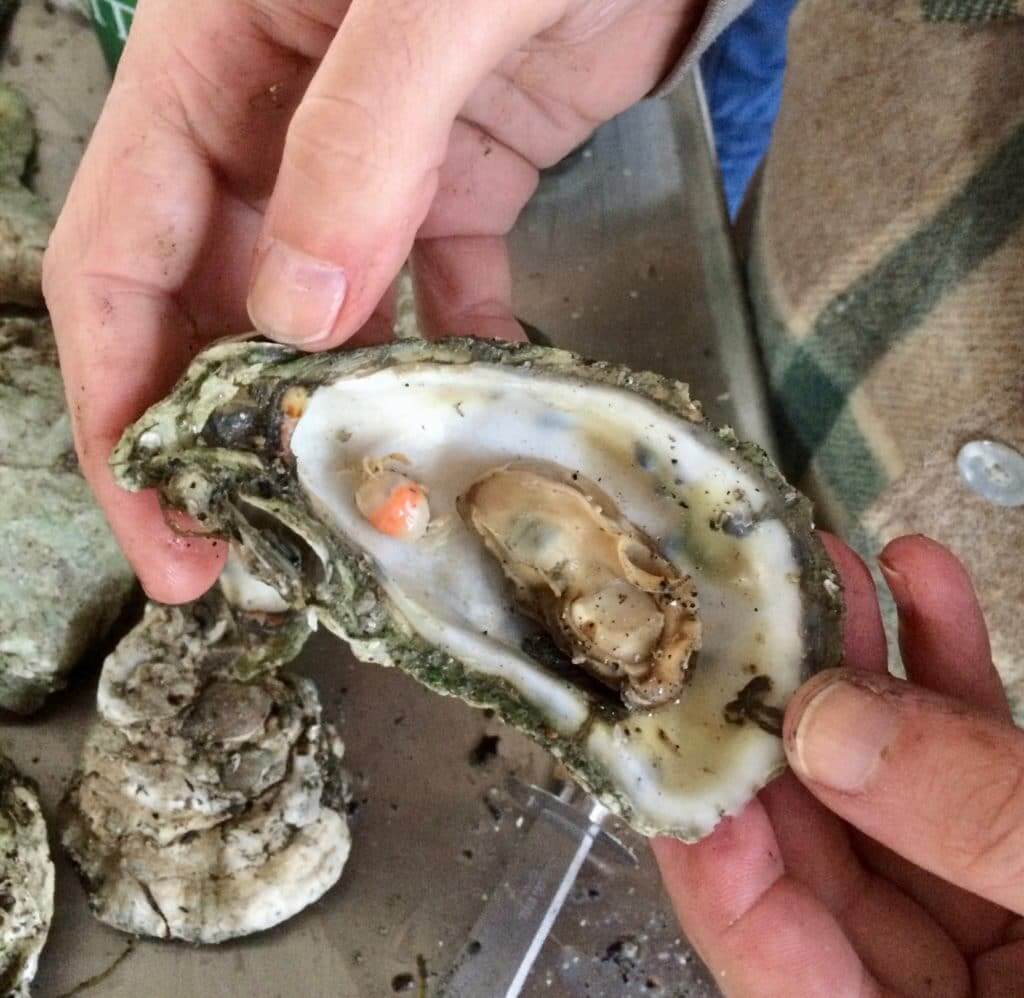 Photo by the Tugboat Captain, click to enlarge
Better than a pearl: In yesterday's entry I mentioned that I only found one pea crab in the oysters I ate at this year's Ducks Unlimited Oyster Roast on Virginia's Eastern Shore. Here's a photo of the little bugger. It was a sweet little morsel, just like I remembered from last year. Too bad it was the only one I found.
(If you have no idea what I'm talking about, go back and read about my experiences at last year's oyster roast and the resulting article I ended up writing about pea crabs for the Taste website.)
• • • • •
• • • • •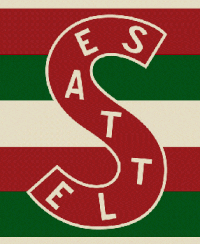 Contest reminder: In case you missed it late last week, ESPN.com's hockey editor has asked me to have a design contest for the potential new NHL franchise in Seattle. Here's the skinny:
• Your entry must include a team name, a primary logo, full home and road uniforms (jerseys, pants, socks, helmets), and an inaugural-season logo that can be worn as a patch. If you like, you can also include secondary logos, an alternate uniform, and a center ice design, but those aren't required.
• You can draw upon Seattle's rich hockey history or start from scratch. Up to you!
• Your designs can be created in any digital or analog medium (Illustrator, Photoshop, crayon, whatever) and can be submitted in any standard digital format (JPG, PDF, TIFF, etc.). You can also create a video presentation, upload it to YouTube, and submit the YouTube link as your entry.
• The files you submit should be named after yourself (PaulLukas.jpg, for example). If you're submitting multiple files, please either number them (PaulLukas1.jpg, PaulLukas2.jpg, etc.) or use some other designation (PaulLukas-homeuni.jpg, PaulLukas-logo.jpg, etc.). Files that don't follow this format will not be considered.
• In keeping with longstanding Uni Watch chromatic policy, entries with even a hint of purple will not be considered.
• Email your entry to Uni Watch HQ (note that this address is just for contest submissions — please don't use the usual Uni Watch email address). If you have more than one concept, feel free to enter as many times as you like.
• Deadline: Monday, Nov. 26, 7 p.m. ET.
The best entries will be showcased in one of my upcoming ESPN columns. Good luck!
• • • • •
• • • • •
Naming Wrongs update: When I showed you our new green and purple Bradley Center shirts last week, I mentioned that we might also be doing some Marquette-themed versions. Those designs are now ready, in navy, bumblebee-striped, light blue, and white: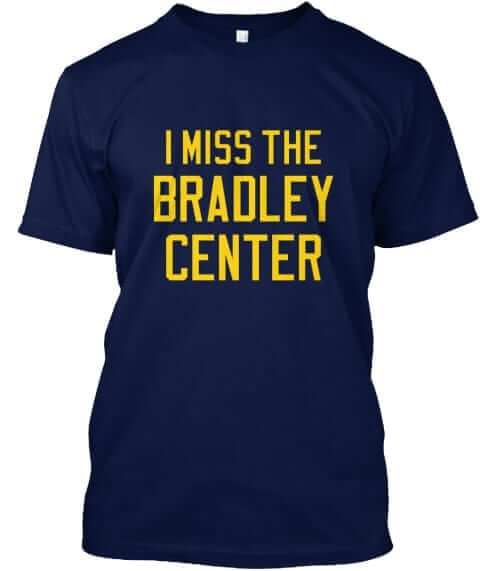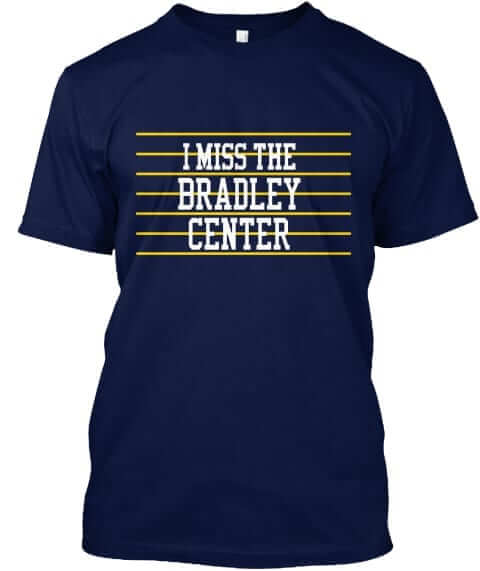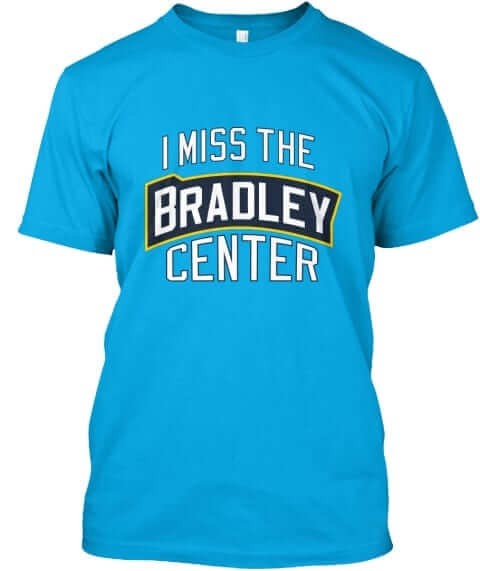 These shirts are now available in the Naming Wrongs shop.
Several people have requested that we also do MECCA shirts, and those are now in the works. Soon!
• • • • •
• • • • •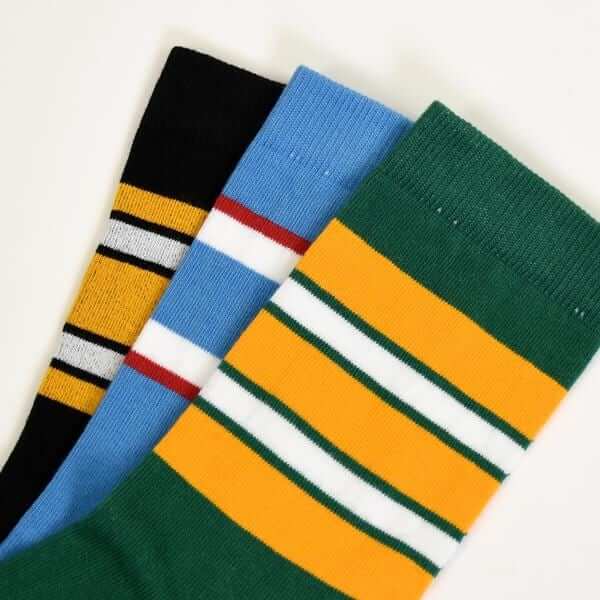 StripeRite update: The folks at American Trench tell me that as of last night we had only four pairs left of the green/yellow design shown at right. We have a bit more of the black/yellow (22 pairs) and the blue/red (51) — not bad considering we started with 12 dozen of each design. So if you've been meaning to order, I suggest doing so now.
Then again, you might want to wait until Wednesday, because American Trench will be running a sale from this Wednesday through the following Monday. You can use the checkout code BFCM for 15% off your entire order for anything on the American Trench website (i.e., not limited to our socks).
• • • • •
• • • • •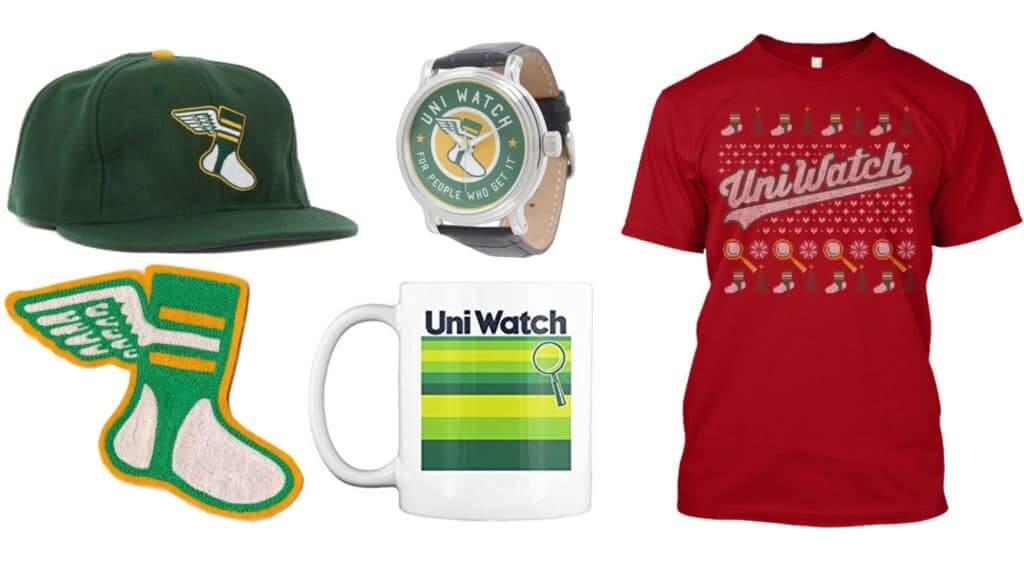 And as long as we're talking about merch: I've updated the Uni Watch Merchandise page so you can see all our current product categories at a glance — perfect for your holiday shopping. Check it out here.
Also: The Uni Watch Teespring shop is no longer carrying Naming Wrongs shirts. Hopefully this will make it easier to shop for the Uni Watch items without slogging through all the Naming Wrongs stuff. (The NW items are still available in the Naming Wrongs shop, and the 15% discount for Uni Watch membership cardholders will work in both shops.)
• • • • •
• • • • •
The Ticker
By Jamie Rathjen

Baseball News: One of the Marlins' new uniforms appeared on their Arizona Fall League team, and here are the blue alternates (from multiple readers). … Japanese Central League team Chunichi Dragons released their uniforms for next season (from Jeremy Brahm and @GraveyardBaseball). … The Indians will be unveiling some tweaks for next season this morning.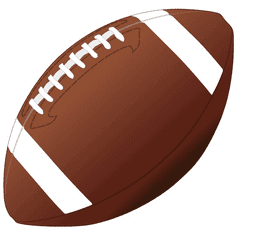 Pro Football News: From the CFL division finals: The Hamilton Tiger-Cats added a yellow stripe to their helmets, as it was reported they would last week, and also wore yellow pants. The Calgary Stampeders wore their alternates (from Wade Heidt). … Reader John Elbertson sent us an Eagles concept.

College Football News: Time for a mini-Sunday Morning Uni Watch: Hawaii wore a No. 65 decal for former guard Vince Manuwai, who passed away this month (from Rob DeMello). … Old Dominion wore a helmet tribute to their stadium, Foreman Field, which is being rebuilt for next season (from @MonarchUnis and Blaise D'Sylva). … New helmets for the FCS's Bethune-Cookman (from @Trent_PhD) and Georgetown (from Emory Hunt). … The Canadian junior champions, the Saskatoon Hilltops, defended their title and broke the trophy, the Canadian Bowl (from Wade Heidt). … Here's a maker's mark you don't often see: The NAIA's Saint Xavier (Ill.) University wears Rawlings (from Casey Wieder). … Seeking a change in fortune, Indiana wore powder blue in the 1958 and 1959 seasons (from @MaroonHoosier).

Hockey News: This is an entire Franken-uniform for Sabres winger Jason Pominville, who reached 1,000 NHL games this weekend, split between the Sabres and Wild. The Sabres half is the 2018 Winter Classic uniform. … Ryan Wetstein tells us that every time the WHL's Portland Winterhawks and Seattle Thunderbirds meet and the game is on TV, it's color-vs.-color. … Reprinted from Saturday's comments: the WHL's Kootenay Ice wore throwbacks to the Cranbrook Colts, a team that existed in the same city at lower levels of junior hockey from 1971 to 1998 (from Wade Heidt). … Also from Wade: Three mascot-ified versions of former Canucks raced around their arena wearing uniforms from their respective eras. … Here's how the Bruins equipment staff fits the NOB of center Jakob Forsbacka Karlsson on his jersey (from Amol Yajnik). … Michigan debuted navy script alternates (from @netillaman).

Basketball News: South Florida radio announcer Jim Lighthall tells us that their men's team wore black yesterday for the first time in 20 years. … Hawaii wore throwbacks last night (from Charles George). … Iowa debuted grey alternates with TNOB on Friday. … Much like many Polish soccer teams are visually comemmorating the 100th anniversary of the country's independence, so are Latvian basketball teams Ventspils and Valmiera for Latvian independence (from Reinis Lācis). … The University of Illinois at Chicago's arena, long known as the UIC Pavilion, is getting a corporate name (from Tim Shriver).

Soccer News: A new USL League One team in Madison, Wis., is called Forward Madison (from Josh Hinton and Jerry Nitzh). The team also made a sarcastic logo explainer (from @BorchertField and Mike Nessen). … Arsenal's women's team wore their third kit against Everton, creating a rather bizarre blue-vs.-blue matchup between teams whose primary colors are blue and red. … England's Women's Super League was also the first to begin the Rainbow Laces campaign (see Thursday's Ticker), which runs for the next two-plus weeks. … Northern Ireland had a tribute to long-serving kit man (i.e., equipment manager) Derek McKinley, who held the role from 1981 to 2011 and passed away this week, before yesterday's UEFA Nations League game against Austria. … Also from Josh: New third kit for Danish team FC Copenhagen. … Also-also from Josh: Here's a graphic showing 40 years of Barcelona shirts. … Still from Josh: During last week's England/U.S. friendly, England goalie Jordan Pickford turned his water bottle into a cheat sheet on potential U.S. penalty takers. … Puma extended its contract with Borussia Dortmund until 2025 (from Ed Żelaski). … Tennessee's women's team have checkered shirts and wore them in the NCAA tournament. They're solid white on the back.

Grab Bag: New kits for Russian volleyball team Zenit Kazan (from Jeremy Brahm). … Here are next season's kits for all the teams in Major League Rugby, a new North American rugby union competition that started this year. For some reason the teams aren't labeled in the pictures, but the article is in alphabetical order by team: Austin; Glendale, Colo.; Houston; New Orleans; New York; San Diego; Seattle; Toronto; and Utah (Salt Lake City). … Several new kits appeared at field hockey's women's Champions Trophy in China, including white/black for Japan, dark blue for Australia and red for Great Britain, and white/blue for Great Britain. … The girls' volleyball team at Paradise Adventist Academy — a school in the middle of the Camp Fire in California — was given new uniforms and other gifts by the school they were playing on Saturday night, Forest Lake Christian (from Tris Wykes).