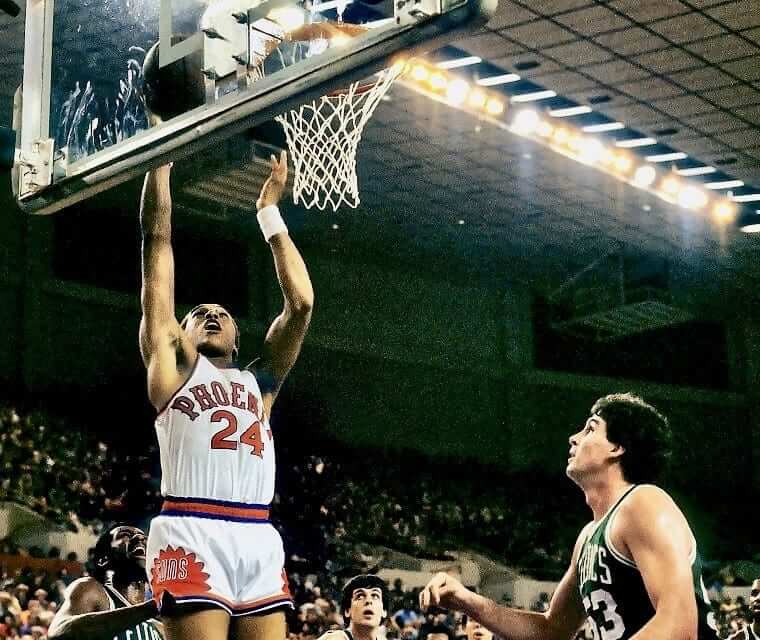 [Editor's Note: Paul is on vacation until May 30. Today we have a guest entry from Brad Eenhuis, who's going to fill us in on a DIY project he recently completed. Enjoy.]
By Brand Eenhuis
I love jerseys from all sports and love basketball shorts as well. In the past, I would take my ideas for custom shorts to a local seamstress and have her sew them for me. I hated waiting for my stuff, worrying that they might not get all of my little details correct, and it was also getting expensive. So I recently took a couple of sewing lessons from a local shop and stole my Mom's sewing machine, which hadn't been used since the 1980s, from her basement.
I've put my new skills to work with a few DIY projects. This is my latest one, and while it's not perfect, I'm pretty happy with how it turned out.
Here's the deal: I've always loved the Phoenix Suns' old shorts from the 1970s and '80s. Loved the half-sunburst on the side — just thought it was cool. I could never find them available for purchase, so I decided to make them myself.
Surprisingly enough, it took several months of trips to Goodwill to finally find a pair of plain white shorts: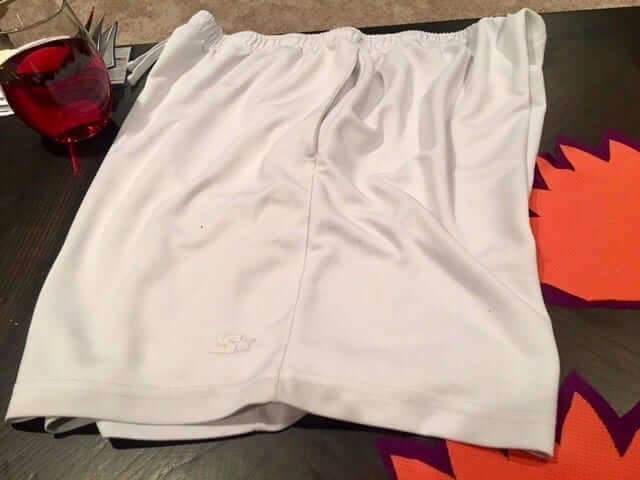 For the graphics, I was going to buy tackle twill, since it's the easiest to cut and sew, but I didn't want to weigh the shorts down (plus I wasn't sure if I could actually do this project successfully, so I didn't want to spend a lot of money on tackle twill, which usually runs $15 a yard). So I decided to use material from other clothes at Goodwill, using lightweight dry-fit material. Luckily, Goodwill sorts stuff by color, and they have half-price items each week . So I got an orange dry-fit golf shirt and a purple dry-fit workout short for my fabric.  The whole project came in at under $10.
That was the good news. But I found that cutting and sewing dry-fit was a challenge. Nothing wants to cut nice and neat. Still, I managed to cut out the sun, the outline, and the "Suns" lettering, which was the most tedious part: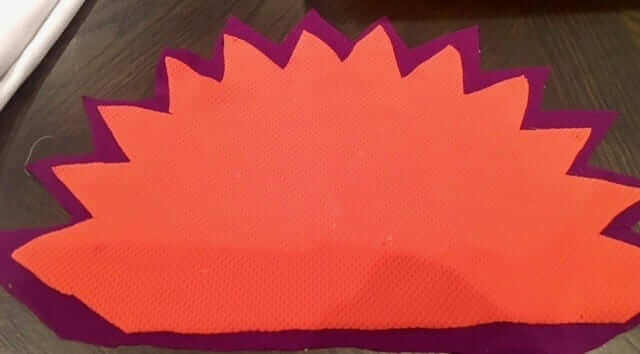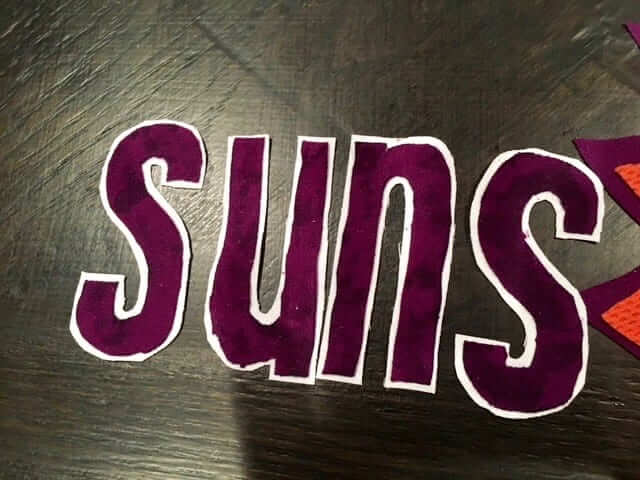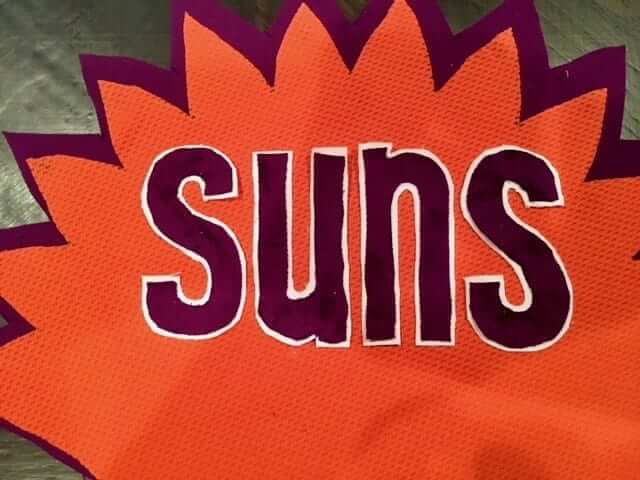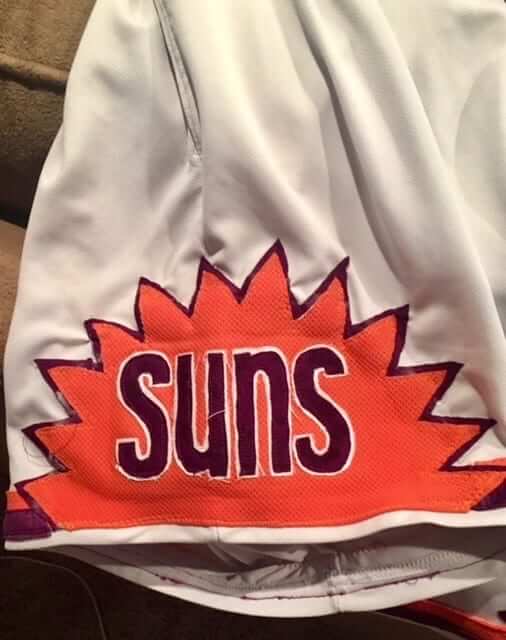 The one mistake I made is that I left out the purple striping should have continued under the sunburst. I didn't realize it until the shorts were complete, but I think they turned out great anyway:
Not perfect by any means, but I'm very pleased. Can't beat $10, either. Now I'm looking for my next project.
• • • • • •
[adrotate group="2″]
• • • • • •
The Ticker
By Alex Hider

Baseball News: Indians P Trevor Bauer wrote "BD 911" on the mound during last night's game against the Cubs. There's been a lot of speculation that the code means "Bush Did 9/11," but Bauer says he wrote "BD 91.1," which is "a personal thing of importance to me"(from Mike Chamernik). … Speaking of Bauer, his helmet decal was trying to come loose last night (from Derek Brownlee). … More from the Mariners' upcoming Turn Ahead the Clock Night: A look back at the original TATC game and Ken Griffey Jr.'s influence on the uniforms (from Jeremy Brahm). … Astros players worked out in black T-shirts honoring the victims of the Santa Fe High School shooting yesterday (from Ignacio). … ESPN flipped the Red Sox and Orioles logos in one of their recent stories (from Andrew Cosentino). … The Sussex County Miners will wear Star Wars jerseys on June 9 (from John Cerone). … Also from John Cerone, the New Hampshire Fisher Cats will host Poutine Fest and wear Franco-American jerseys on June 23. … Mark Miller snagged this Aaron Judge bobblehead given away by the Stockton Ports. Judge grew up in the Stockton area, so he's dressed in his Linden High School uniform — a school of which Mark is an alumnus! … Not sure if this was ticked yet or not, but the Hickory Crawdad wore pink for Mother's Day two weekends ago (from Phil). … Vanderbilt's Ethan Paul had a 3D batting helmet logo snafu during yesterday's game (from Jonathan Schexnayder and Joe Moroney). … Former SEC Commissioner Mike Slive died last week. The conference is memorializing him with a sign at the SEC Baseball Tournament this week (from Phil). … Darien High School in Connecticut has some pretty clean uniforms and nice striped stirrups (from John Dankosky).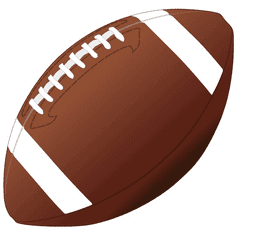 Football News: Looks like Vicis, who up until now has exclusively made football helmets, will now be working with the military (from Patrick O'Neill). … We have our first look at Johnny Manziel in a Hamilton Tiger-Cats uniform (from Griffin Smith). … This is a good feature on William & Mary's equipment manager (from Tom Turner).

NFL News: The Niners are reportedly unveiling new throwback uniforms tonight. Phil will have the full recap in tomorrow's edition. … Speaking of the Niners, rookie WR Dante Pettis was photographed in an old jersey with truncated sleeve stripes in Rookie Premier this weekend. Not only that, the Niners can't even keep the jerseys consistent on their website (from Scott Seeger). … The Giants signed WR Russell Shepard yesterday, meaning there are now 10 sets of at least two players on the team that share a last name (from Bryan Prouse). … Former Rams DE Robert Quinn was traded to the Dolphins this offseason, so this camp flier got creative to photoshop him in Miami colors (from Brian Spiess). … Speaking of the Dolphins, looks like they got practice jerseys to match their new jerseys (from Zachary Cintron and @Frankie__Doodle). … Pittsburgh Central Catholic's logo seems to be inspired by both the Minnesota Vikings and the Chicago Bears (from Mark R. Hirschfeld). …

Hockey News: The Memorial Cup, awarded annually to Canada's top junior hockey team, is celebrating its 100th season this year, so "100" was painted on the ice behind the net (from Wade Heidt). … The ECHL's newest team is the Newfoundland Growlers. … A Minnesota company, Elevate Hockey, is making hockey sticks with multiple bends in them, which is supposed to allow for more leverage, a quicker release and a faster shot (from Mike Chamernik). … Lots of patches for the Acadie-Bathurst Titan (from @burkeman78).

Soccer News: Brandi Chastain was inducted into the Bay Area Sports Hall of Fame on Monday, and just like Ronaldo's statue, her plaque doesn't bear much resemblance (from Kary Klismet). … Spanish club Sevilla has signed an apparel deal with Nike (from Josh Hinton). … Adidas will continue to sponsor the UEFA Champions League until 2021. That mostly means they'll continue to make the league's official game ball. … More from Josh Hinton: Wil Ohler, a St. Louis high school goalkeeper with leukemia, is accepting donations of soccer balls to donate to other sick children with a passion for soccer. "What I thought was interesting, aside the awesome charitable act, was the variety of brands and balls that he received," Josh said. More on Wil here.

Grab Bag: Robert Indiana, a famed pop artist and the man who designed the famous basketball floor at Milwaukee's MECCA Arena, died Saturday at 89 (from Adam Herbst). … If you miss NFL helmet carts, maybe racing helmet carts can help scratch that itch. Here it is in action (from Arwien Reza and Jake Young). … This is what USA Lacrosse will be wearing in the world championships later this year (from Dan Siegel and María Canales).
• • • • • •
[adrotate group="2″]
• • • • • •