From top: By Alex Connor; by Stanley Meckler; courtesy of GV Art + Design
My ESPN column last week was about Indians fans who are de-Chiefing their jerseys and caps. At the end of that column I invited pro-Wahoo fans to get in touch so they could weigh in on the logo controversy. Several fans responded, and the three shown above — from top to bottom, Alex Connor, Jonathan Meckler, and Greg Vlosich — are featured in a follow-up column that's up now on ESPN. "" Paul
+ + + + +
Unmasking the Commenters: I recently invited the site's commenters to tell us a bit more about themselves and give us a peek at what they look like, just because I thought it would be fun to pull back the internet's curtain of anonymity. I'll keep showcasing you folks as long as you keep sending in your photos and quick bios.
Today we're featuring longtime reader Matthew Robins, who sent along this photo:
I've been reading Uni Watch since around 2004, when I first discovered it as a part of ESPN.com. Since May of 2006, this blog has been the first thing I read every morning either on my computer or mobile phone. Occasionally, I leave comments on this site, although not as much as I used to.

I went to school at the University of Colorado in Boulder. My obsession with uniforms and logos probably began at a home football game in 1998, as the Buffaloes took the field in gold uniforms and black helmets, which totally blew my mind. It was also in college that I began to collect pocket schedules, which is still a healthy obsession.

Even at 34, I still get excited over the unveiling of a new jersey, logo, cap, or helmet, and Uni Watch has been a big part of it. I've also gained an interest is so many other sports-related issues and social issues that I had no idea I was interested in, all thanks to this site. While I don't always agree with the reviews or opinions of every Uni Watch writer or commenter (I love purple), it's great that so many people care and contribute. Obviously, a huge tip of the cap goes to Paul, but everyone else — from the interns to the guest bloggers to those sharing tips via email, and of course the commenters, masked and now some unmasked — that's what makes Uni Watch so strong.
Thanks so much for the kind words, Matthew, and also for your many contributions over the years. You help make Uni Watch a better place!
Do you want to be featured in "Unmasking the Commenters"? If so, send me a photo and a quick paragraph about yourself. You don't have to reveal your real name, and the photo doesn't have to show your face, but you must include a photo to be considered. Send everything this-a-way.
+ + + + +
Membership update: We're once again at one of those points where we've almost filled out the current batch of eight membership card designs (including James MacNeil's 1990s Nets design, shown at right) but still have a couple of slots open. So if you sign up now, you'll likely get your card very quickly, with very little wait.
As always, you can order your own custom-designed card here, you can see all the cards we've already designed here, and you can see how we make the cards here.
+ + + + +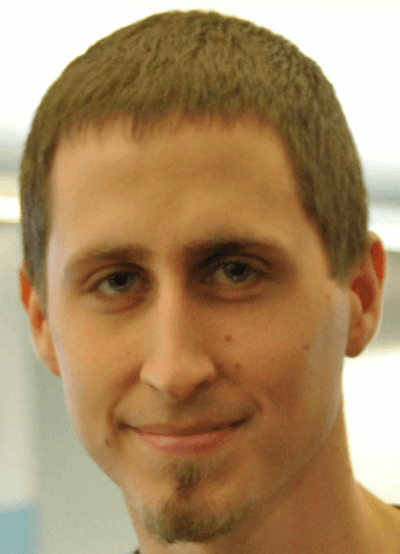 Mike's Question of the Week (aka "I Wanna Know"): Intern Mike Chamernik (that's him at right) is back with another question for the Uni Watch readership:
My favorite basketball team is the Milwaukee Bucks, and though there are many, many problems with that franchise (I don't feel like listing all of them), one of the big issues is the team's look.

Not only is the logo a scared deer (wouldn't this be much better?), but the uniforms are dreadful. The green-and-red color scheme is a mess and the road and alternate jerseys are seriously homely. The home jerseys are a tad better but they, like the road unis, have stupid ugly beveling, which I hate. Other than that, the team looks great.

So here's what I wanna know: Do you dislike the uniforms or logos of any team of which you are a fan? And has it affected your fandom at all?
Thanks, Mike. Post your responses in the comments and we can all commiserate together.
+ + + + +
Tick-Tock: Today's Ticker was compiled and written by Mike Chamernik.

Baseball News: Two Northwest Indiana high schools played a tequila sunrise versus camo game the other day (thanks, Zeke Clark). "¦ Baltimore Ravens CB Ladarius Webb is holding a charity softball game at M&T Bank Stadium (where the Ravens play) on June 1, and here's how the field will be laid out (from Andrew Cosentino). "¦ Orioles 2B Jonathan Schoop doesn't normally go high-cuffed but he did last night (also from Andrew Cosentino, who I'm guessing is from Charm City). "¦ A team in Coleman Mullins's nephew's baseball league wears camo. "¦ The Vermont Lake Monsters have new road unis (from Phil). "¦ A fireworks display accidentally set the American flag on fire at the Braves game Tuesday night. "¦ Nebraska wears some excellent stirrups (from Joe Andersen). "¦ Pepperdine will wear camo hats on Saturday (from Phil). "¦ The Giants gave away Hunter Pence motorized scooter bobbleheads last night (from Phil). "¦ Simmons Field, in Kenosha, Wisconsin, is incorporating a fishing boat into its outfield wall. Very cool (from Matthew Robbins via Phil). "¦ Orioles OF Adam Jones wants to increase punishment for fans who run onto the field, including this twist: "And they should let us have a shot to kick them with our metal spikes on because it's stupid," Jones said.

NFL and College Football News: Jerry Rice has a new "tribute shoe." It's in 49ers colors and has Rice's career highlights printed on the insole (from Brinke). … Mississippi State's new uniforms, which are due to be unveiled today, will include a patch for Scott Field's 100th anniversary (from Phil).

Hockey News: "In the spirit of old-tyme baseball re-creators, I tried to do the same using vintage hockey equipment," says Chris Mizzoni. "¦ Bruce Bennett recently photographed his 5,000th hockey game, and here are 10 of his best shots. Garrett McGrath likes this Mike Bossy photo in particular. "¦ The Halifax Mooseheads have an elaborately cool on-ice pregame display.

Grab Bag: NBA commissioner Adam Silver again said that NBA uniform ads are "inevitable." Of course, he's been saying that for three years now. If it were truly inevitable, it would have happened already. "¦ New logos and wordmarks for University of Southern Indiana (from Lee Wilds). "¦ Wacky hairstyles are a way for people to show their fandom (from Chris LaHaye). "¦ Dennis Alpert has a nifty Masters autograph collection. "Signatures ranging from Sam Snead, Byron Nelson, Gene Sarazen to Jack Nicklaus, Arnold Palmer, Gary Player to Vijay Singh, Fred Couples and Tiger Woods," he says. "¦ A watch for blind people is up for design of the year at London's Design Museum (from Tom Mulgrew). "¦ Here's a book that chronicles vintage corporate design manuals (from Brinke). "¦ Nascar's Brian Vickers will have a Florida State paint scheme (from David Firestone). "¦ Look at this photo of yesterday's Pennsylvania stabbing suspect being taken into custody: The officers are wearing seven-pointed stars, but their sleeve patches and caps show six-pointed stars! (Great spot by Leo Strawn Jr.)