We've seen plenty of cases of MLB umpires wearing makeshift uniforms after their luggage was lost. But reader Jerry Wolper has come up with a particularly unusual case in which the four umps working a given game ended up wearing four distinct outfits.
The date was Oct. 1, 1982, and the Mets were in Philadelphia to open a season-concluding series against the Phils. Let's start at first base, where Harry Wendelstedt (father of current MLB ump Hunter Wendelstedt) wore a Phillies cap, a maroon sweater, and khakis:
Over at second, Lee Weyer was wearing a Phillies cap, a Phillies windbreaker and black slacks:
Unfortunately, it's impossible to make out the jacket's NOB, but I'm pretty sure it wasn't "Weyer." Even more unfortunately, this is the only glimpse of Weyer that's available, so we won't get a better view of the NOB than this one.
Moving to third base, Randy Marsh was wearing a Phillies cap, a Phillies windbreaker similar to Weyer's, and what appears to be gray baseball pants:
The NOB lettering is a little clearer here, but still not fully legible. I looked through the Phillies' 1982 roster in search of a name that might match up with the lettering but came up empty. It occurs to me that these might have been a groundskeepers' jackets.
Meanwhile, the gray pants could be slacks, but the fit seems more like gray baseball pants. That's interesting, because the Phillies were wearing powder blue on the road in 1982 and hadn't worn gray in a decade, while the Mets had those racing stripes down the side of their road pants (as you can see above), so who came up with the plain grays for Marsh to wear?
The most interesting outfit was worn by Ed Montague, who was working the plate. Check out his attire:
Lots of oddities here. Let's go one thing at a time:
• That uniform is pinstriped, which means Montague was wearing a Mets home uni. Why would the Mets have brought a home uni on the road, especially for the final road trip of the season?
• The jersey is NNOB, but the Mets' 1982 home jerseys had NOBs.
• No. 35 was worn in 1982 by pitcher Randy Jones. He had made his final appearance of the season — which turned out to be the final appearance of his career — on Sept. 7.
As you can see in the crossed-out text above, I initially thought Montague was wearing a Mets home uni. But as several commenters quickly pointed out, it was actually a Phillies home uni with a Mets cap. (The colors on the uni are really washed out, and the cap fooled me into thinking the pinstriping, piping, and numbering were blue, not maroon. The giveaway is the number font, which is clearly the Phis' font, not the Mets'.) Odd that he got a full uni while the other umps didn't.
Interesting that Montague's jersey was NNOB. Jerry Reed wore No. 35 for the Phils in 1982, but he was traded to the Indians on Sept. 12, so maybe they just grabbed one of his old jerseys and removed the NOB.
I love — love — that Montague wore stirrups. Granted, he probably had no choice but to go high-cuffed, because baseball pants in those days had shorter inseams, but he could have just worn white sannies and left it at that. So cool that he went the extra mile and wore stirrups! (Since Randy March appears to have been wearing gray baseball pants over at third base, did he wear stirrups as well? Unfortunately, there's no full-body shot of him.)
As a bonus, this game went 10 innings (in fact, all the base ump shots are from the top of the 10th), just to prolong the umps' indignity a little bit.
How awesome would it have been if there had been an argument over a disputed call in this game? Imagine Montague, in full Phillies regalia, arguing with with Phils manager Pat Corrales — that would have been rich! Makes me wonder if the umps and managers have a sort of gentleman's agreement in this type of situation — "Look, I already look ridiculous out here, so don't make it worse by coming out to argue."
If you want to see the video that served as the source of these screen shots, Montague can be seen here (at the 2:36:56 mark), and the base umps are all shown in this sequence (2:41:00).
Let's all thank Jerry for this awesome find. I can never get enough of stuff like this.
+ + + + +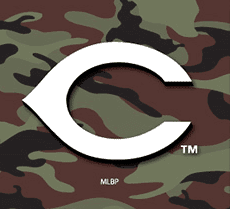 More camouflage bullshit: We had already reported earlier this week that the Reds would be unveiling a new GI Joe uniform tomorrow. Now Reds beat reporter (and longtime Uni Watch reader and contributor) C. Trent Rosecrans has reported that the GI Joe design will be worn for six "Military Appreciation" nights. (For those keeping score, that's one more game than the Mets' five planned "Military Mondays." Why are the Mets 16.7% less supportive of the military than the Reds?)
This is all particularly interesting in light of a radio interview I recorded yesterday with Zoe Stagg of the Armed Forces Network. We were talking about the upcoming Army/Navy game, and we discussed the irony of how the two service academies — the teams that have the greatest authority to wear camouflage, and whose players are the only high-profile athletes in America that will actually serve in the military — will be wearing fairly straightforward camo-free uniforms for their biggest game of the year, instead of doing the look-at-me camo routine like everyone else. Zoe also mentioned that the Army base-layer shirt has olive branches on one sleeve and oak leaves on the other (because both appear on the West Point logo. So while every other team under the sun is trying to evoke intimidation, combat, and militarism, Army isn't afraid to wear a symbol of peace.
I think the Reds, and a lot of other teams, could learn something from the service academies. Remember, kids, not all soldiers are heroes, and not all heroes are soldiers.
+ + + + +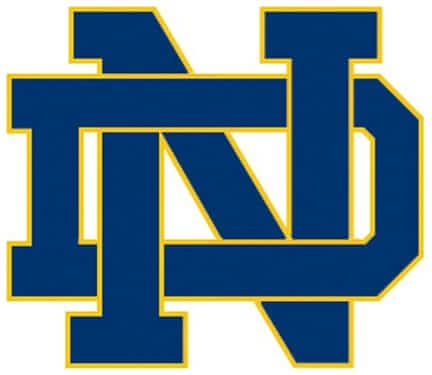 More Notre Dame News: Yesterday I posted some exclusive inside information about Notre Dame's stadium. Today I have additional info, this time from a different source, who has this to say:
What they are planning on right now is a renovation of the stadium that will commence in about five to six years. They will be digging underneath the stadium to make a subconcourse where all the offices, storage, and kitchens will be moved, as well as a loading dock. There will be jumbotrons added to the stadium, but they'll be in the corners so that they do not block Touchdown Jesus. They will build a tower opposite of the current press box to provide suites and club settings.

Overall, the expansion as currently planned will add about 8,000 seats into the stadium. There will be a ballroom as well as classroom. Since the initial announcement, there have been drastic changes to the plans — of course because of money. The stadium itself will still not be able to host winter events, as it is not and will not be winterized — only the new parts will be. The renovation will mostly focus on suites and clubs. The wooden bench seating will remain. Most fans will not see too many changes to normal concourses, facilities, and such.

As for field turf, the coach has been pushing for that for some time, and I expect we will see it sooner rather than later.
+ + + + +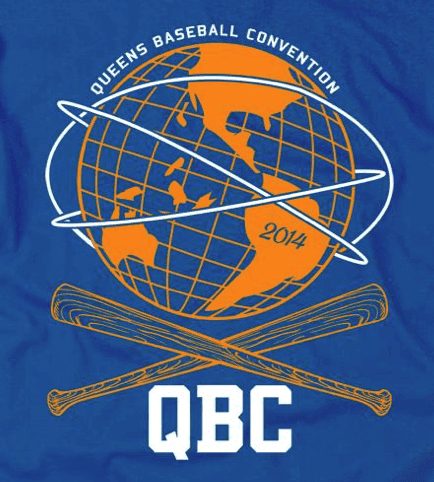 Update! Big QBC news: On Tuesday I mentioned that I'd be participating in the Queens Baseball Convention, which is the Mets-centric event being put together by Mets Police blogger Shannon Shark. It will take place on Jan. 18 at McFadden's.
I originally said I'd be conducting a pub quiz-style trivia contest based on Mets uniforms and that Mets uniform timeline curator Mike Cesarano would be doing a presentation on the team's uniform history. But now our plans have changed: Mike and I have decided to combine our time slots into a longer segment. It will consist of a panel discussion devoted to Mets uniforms, and I don't mind saying that we've assembled an all-star roster of panelists. In addition to Mike and myself, it will consist of the following:
• Russ Gompers, who owns Stitches, the shop that does all the lettering, numbering and tailoring for the Mets' uniforms. (I did a story on him way back in 2004.)
• Uniform designer Todd Radom, who has done his share of Mets-related work over the years.
• Mets by the Numbers impresario Jon Springer, who's the world's foremost authority on Mets uniform numbers.
• Our own Uni Watch weekend editor Phil Hecken, a lifelong Mets fan whose uni-related bona fides speak for themselves.
• We've also invited Bill Henderson, whose game-worn jersey guide makes him a serious authority on all things uni-related. Bill isn't sure he can make it, but he's hoping to rearrange his schedule so he can join us. Stay tuned.
As I think you'll all agree, that's an impressive mix of industry professionals, enthusiasts, and scholars. I think it'll make for a lively discussion, and I for one can't wait.
As I mentioned two days ago, the Queens Baseball Convention will also feature lots of non-uni stuff, including autograph sessions with former Mets Ed Kranepool and Ron Darling; presentations by ESPN.com columnist Mark Simon and Faith and Fear in Flushing blogger Greg Prince; a scavenger hunt for kids; and a lot more. You can see the full schedule of events and purchase tickets ($35 for adults, $10 for kids) here.
+ + + + +
Blazers contest reminder: In case you missed it last week, I'm soliciting entries for a Blazers redesign contest on ESPN. The deadline is Dec. 9, and the results will be published on ESPN soon after that. I look forward to seeing your designs.
+ + + + +
Tick-Tock: Today's Ticker was compiled and written by Mike Chamernik.

Baseball News: Lawrence Finnell found a photo of Red Ruffing wearing an odd sleeve patch. I asked Paul what it was about and he responded: "That's the famous and fairly rare 'ruptured duck patch.' I wrote about it nearly six years ago. Interestingly, in that entry I mentioned that Red Ruffing wore the patch but that I didn't have a photo. Now we do!" "¦ Paul Konerko is returning to the White Sox for a 16th season. Though it seems he's played for the South Siders his entire career, Andy Chalifour reminds us that Konerko played catcher for the Dodgers and went clean-shaven for the Reds nearly two decades ago. "¦ David Firestone found two vintage baseball uniforms, one for the Yancey Hotel in Nebraska and the other for Pepsi. "¦ A 1927 photo found by a Baltimore baseball historian determines the exact location of a bygone Negro Leagues ballpark (from James Ashby). … Forget about customizing your own Jarrod Saltalamacchia jersey (for now, at least): The Marlins' online shop limits personalized jerseys to 12 NOB letters (from Matt Shevin).

NFL News: The Seahawks repainted their endzones before Monday night's game against the Saints (good spot by Kyle Hanks). "¦ These logo redesigns are for the people who love both Disney cartoons and pro football (from Phil). "¦ Niners WR Michael Crabtree isn't afraid to mix it up with his footwear on gameday (from Brian Graham). "¦ Speaking of the 49ers, the team sent an email to fans reminding them when to cheer. "L-A-M-E," says Dave Rakowski. "¦ Jimmy Kim found a photo of Len Dawson smoking a cig and drinking a Fresca on the sidelines during Super Bowl I. Better yet, Jimmy found a colorized version of the photo on Reddit. … Seahawks WR Golden Tate was wearing Seattle skyline socks on Monday night (from Andy Heiting-Doane).

College Football News: Cincy will have new helmets for tonight's game against Louisville. … Here's a clever way to kick the two-time defending national champions when they're down (from Phil).

Hockey News: New Jersey's North Wildwood Recreation and Tourism group has a good interpretation of the Whalers' logo (from Paul Ricciardi). "¦ Henrik Lundqvist has a new mask. "¦ Brett Leonhardt, the Capitals video coach and who occasionally moonlights as an emergency backup goalie, has changed his number from 80 to 35 (from William F. Yurasko). "¦ "While watching the highlights of Penguins vs. Islanders, I caught Calvin de Haan's NOB," writes Maks Skuz. "It's labeled as "˜de HAAN.' Upon research, I've found "˜DE HAAN' or "˜[small caps] DE [normal caps] HAAN.' I wonder how many NOB modifications has he gone through?" … Mikhail Grabovski of the Caps was victimized by an NOB typo during warm-ups the other night, but it was fixed in time for the start of the game (from Vince Serritella).

Soccer News: Volkswagen will no longer sponsor D.C. United's jerseys (from Phil). "¦ "It looks like Adidas didn't waste any time getting their Brazuca soccer ball on the shelves," says Andrew Cosentino, reporting from a Modell's in Greenbelt, MD. "¦ "I routinely get game updates from the English Premier League via the SportsCenter app for the iPhone," says Chad Hensley. "I got this one a few minutes ago and noticed the spelling error immediately." "¦ Come to think of it, the US soccer crest really is outdated (from Brian Bittner).

College Hoops News: Pinktober is over, but Wake Forest hoops wore pink anyway last night. … These ACC/B1G Challenge logos are being digitally superimposed by ESPN on the floor. "Much better and safer than stickers," says Phil.

Grab Bag: "This is why you never wear team gear to the game," says Phil. "¦ If you're ever in Minneapolis you can go to Familia Skateshop to design your own Nike sneakers with fridge magnets (from Brinke). "¦ "I hope you enjoy the irony of Wal-Mart selling a print titled "˜Destroy Capitalism,'" writes Andy Moeschberger. "¦ Burton unveiled the US Olympic snowboard uniforms. "¦ "I know, I know, "˜minimalist' is a bit overdone lately," says Yusuke Toyoda, "but a British website named Form & Glory is creating some nice, simple prints for soccer, baseball and a bunch of other sports. "¦ George H. W. Bush wears socks with his face on them! How charming (from Robert Silverman). "¦ Union City High School (TN) dyed its 419 Bermuda grass football field purple. "We believe that we are the first to dye a Bermuda field a color other than green," says Stephen Crockett. "¦ Yo dawg, I heard you like Chucks. So we put Chucks in your Chucks so you can style while you style (from Gordon Blau). "¦ Ignore these newfangled high school basketball jerseys and instead focus on how "Village" is misspelled. Also mentioned in the piece, here are Atlantic High School's football unis from last year. … 2014 is going to be difficult, at least judging by Pantone's official color for the new year (from Bernie Langer).