I think it's no secret at this point that I am largely indifferent and therefore clueless when it comes to the world's most popular sport. I say this with neither pride nor shame — it's simply a fact.
But there's one aspect of soccer that fascinates me: ball design. So I was intrigued when the ball for next year's World Cup was unveiled (complete with its own Twitter feed) last night.
I read a few articles about the new ball last night and was particularly intrigued by the following passages (yes, I'm mixing text from more than one source, but whatever):
Made up of six interlocking panels (compared to the eight panels of the 2010 World Cup's Jabulani, or the 32 of the iconic 1970 World Cup Telstar), the [new ball] features a swirling multi-color ribbon design that is intended to evoke the Brazilian tradition of wish bracelets. …

[B]oth the design and the structure of the World Cup ball have been changed with each iteration [since 2002], often prompting debate among players, especially goalkeepers and dead ball specialists, about how the alterations affect the consistency and flight of the ball. …

When designing the ball, [Adidas] wanted to improve on many of the criticisms they faced during the 2010 World Cup, where their Jabulani ball was widely panned. Dickson Etuhu of Nigeria called the Jabulani "the worst ball ever."

Basically, the Jabulani had very few seams and was really lightweight, so it moved around like a knuckleball. Players didn't like it. Goalies understandably hated it.

So Adidas basically needed to design a super-light ball … that didn't fly all over the place. To try and solve the problem, the company shaped the panels much like a series of interconnected boomerangs. This allows them to have only six panels but still have plenty of seams, hopefully ensuring that the ball flies truer.
I find it really interesting that the construction of a soccer ball can vary so widely, and that these variations can have such a big effect on the ball's performance. I mean, a baseball is basically a baseball, right? There may be minor variations between leagues (Japanese pitchers, e.g., have often said that the seams on the MLB ball are higher — or lower, I forget — than those on a Japanese ball), but it's still made from two interlocking pieces of horsehide and a familiar seam pattern. Same goes for a football. True, the WNBA and D-League use different balls than the NBA, but those balls aren't that different from the NBA ball.
But soccer balls are all over the map, especially for the World Cup (that's a great interactive page, by the way — click around on it). All you soccer folks out there: Why so much variation? Is it because soccer is such an international sport, with each country or region having its own ball-design style? Is it just a matter of corporate branding? Something else?
Hmmmm. I've run lots of "Redesign [some team]" contests on ESPN. Should I do a "Redesign the soccer ball"?
When I think of a soccer ball, I still instinctively think of the classic black-and white design based on a truncated icosahedron. I mention this for two reasons: (1) Although the old design is my mental default, I really like all the different designs that have emerged over the years. If I were a soccer fan, maybe I'd think, "Oh, that's too newfangled" or "That's not what a soccer ball's supposed to look like." But since I have no emotional stake in the sport, I'm free to appreciate the designs on a more abstract level. (2) It's fun to say, "truncated icosahedron."
But you know what's even more fun than that? This video showing the production of the new ball. Fascinating stuff, and totally worth three minutes of your time:
+ + + + +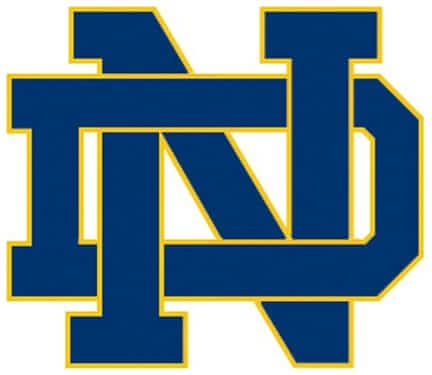 Uni Watch Exclusive! Big changes possibly afoot for Notre Dame: A little birdie from South Bend, who I happen to trust, checked in last night with some interesting news about potentially big doings in the land of the golden dome. Here's what the birdie had to say:
I don't have all the details yet, but it appears that Notre Dame will announce major renovations and changes to Notre Dame Stadium. In May, the University officially announced a study into the feasibility of creating a multi-use stadium facility. The results of the study and the next steps will apparently be announced next month. My contacts who've seen some of the possibilities are very impressed. It appears that the stadium will add field turf, a jumbotron of some type, and some luxury seating and student-use areas beyond football.

The Notre Dame old guard are losing their minds over the possibility of a jumbotron and plastic field. The school permanently destroyed the stadium in 1996-97, when they built the modified version around the historic stadium. The modified version is trashy modern and really doesn't represent the university well. They need to get this right, or else they will lose a ton of support forever.

Also: Notre Dame signed a 10-year deal with Adidas in 2005, and rumors are rampant that school officials met with Adidas on Tuesday to tell them that the university will not be continuing the relationship. I have not confirmed if that means immediate termination or non-renewal. Nike is mentioned as the likely replacement.
None of this is confirmed yet, so take that for what it's worth.
+ + + + +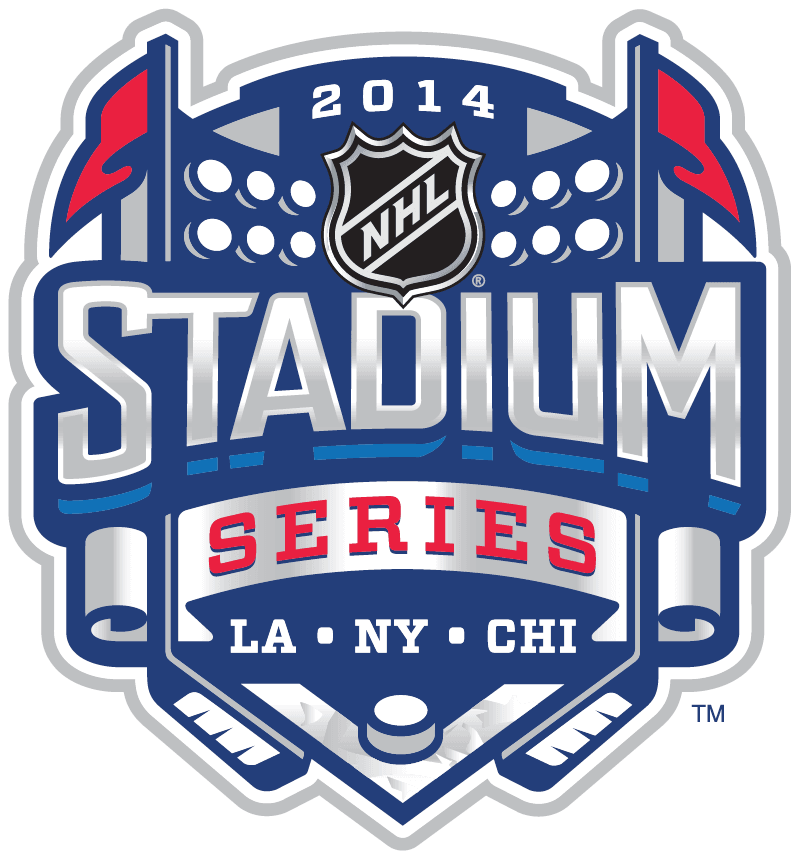 NHL Stadium Series, continued: Two more NHL teams unveiled their Stadium Series uniforms yesterday — the Ducks and the Kings. Chris Creamer provided very good coverage here.
The Ducks design seems like a good exemplar of something I've thought for some time now: Orange is great — maybe even unparalleled — as an accent color, but it's too strong to serve as a uniform's base color.
It might surprise you to hear me say this (I'm a little surprised myself), but I really like the Kings design. The black/gray color scheme with white accents totally works, and the crown crest seems a little less cartoonish in this context. Have a feeling I won't like the raised hitch in the hip areas of the hemline, but I'll wait until I see it on the ice before deciding for sure.
Incidentally, once the rest of the Stadium Series designs have been revealed, Phil will be collaborating with some of our most hockey-obsessive readers to provide a fuller assessment of them. Looking forward to that.
+ + + + +
ESPN reminder: In case you missed yesterday, my annual Uni Watch Holiday Gift Guide is up now on ESPN.
Blazers contest reminder: Remember, I'm soliciting entries for a Blazers redesign contest on ESPN. The deadline is Dec. 9, and the results will be published on ESPN soon after that. I look forward to seeing your designs.
+ + + + +

Baseball News: Ian Kinsler will wear No. 3 with the Tigers (from Andrew Cosentino). … Salty and his longest-ever NOB are headed to Miami. Man, his name is gonna look brutal on that orange jersey. … Cort McMurray was recently traveling in London, where he saw an Andy Warhol baseball jersey. "Also, a stranger in Manchester expressed horror at the Dolphins' 'poncey' orange and aqua color scheme," says Cort. "I tried to explain that there was nothing poncey about it at all, and anyway, the team has pretty much replaced orange with navy blue, but they'd already lost interest. England — it's quite a place." … Reprinted from last night's comments: Last season the Royals used this BP cap, but now they appear to have added a road version with a gray front panel (from Mike O'Neal). … Check out the oddly rotated Orioles cap logo on this photo of Bobby Grich. Was that white panel must sewn on sideways or what? (Good find by Joe Moulden.) … The triple-A Charlotte Knights have a new stadium with a new name, and Tyler Maun isn't happy about it. "Not only is 'Ballpark' a perfectly acceptable word without the capitalized 'P' in the middle [This is known as intercapping. "" PL], but the team's own site dedicated to the new grounds has it spelled without the extra capitalization. Maybe it's just a continuation of the MiLB epidemic of pushing two words together and capitalizing both of them. Or maybe it's because there's already another BB&T Ballpark." … Too late for my Uni Watch Gift Guide column, but you could do a lot worse than this merch from the Negro Leagues Museum (thanks, Phil). "¦ The new summer collegiate Futures League franchise in Worcester, Mass., will be known as the Worcester Bravehearts. Here are the uniforms and logos.

NFL News: This is weird: Seahawks QB Russell Wilson was holding his mouthguard during a play on Monday night. "Maybe the snap came earlier than expected," speculates Scott Morell. I watched that game, and there was a play when the center snapped the ball early, but it's impossible to know if the photo is from that play. … Here's the logo for the Super Bowl XLIX host committee. … I think we all know by now that there's no such thing as a concussion-proof football helmet, but here's another article emphasizing that point (from Tommy Turner).

College Football News: Ohio State has extended its contract with Nike through 2018 (thanks, Phil). … Missouri fans will get to vote on the team's bowl game uniform (from Patrick Sokolowski). … Arizona State going gold-maroon-gold this weekend (from Marc Altieri). … Here's Cincinnati's helmet for this weekend. … Joe Duider bought one of those game-used NIU GI Joe jerseys from a few weeks ago. "Everything on it is sublimated except the Adidas logo in the collar, which is screened and almost rubbery," he says. "Even the sizing tag is sublimated. Both the star- and stripe-patterned yokes are made from different materials than the much shinier sleeves, so the sheens don't match when viewed up close. The jerseys seem double-layered but fully bonded — the inner white side is completely uncolored but can't move independently at all from the outer layer."

Hockey News: The ECHL and Orlando Solar Bears are inviting fans to design the 2015 ECHL All-Star jersey (thanks, Phil). … Here's one guy's picks for defunct but sorely missed NHL jerseys (Phil again). … The Islanders' fisherman mascot has been moonlighting with the Hingham (Mass.) Harbormen (from Joe Giza).

Soccer News: How do the 2014 World Cup teams get their nicknames? This article offers up some insights (thanks, Phil). … The new Sacramento Republic FC kit may have leaked (from Kyle Burkholder). … Thomas Fiers tried his hand at making a set of mimimalist logos for the J-League teams. … "Arjen Robben wore tights in Bayern Munich's win against BTSV, which isn't that uncommon," says Tanner Welch. "But when he scored the opening goal, he went in for a knee slide celebration, only to be rebuked by the pitch, leaving him with torn knees." Additional photos here. … Here's a commercial for the new Brazil kit. "Not too shabby," says Yusuke Toyoda.

Basketball News: You know things are out of hand when the night before the NBA All-Star Game has its own sponsor and logo. … Hmmm, did you know you could buy cycling jerseys based on NBA jersey designs? "That company is apparently the only authorized seller of NBA-licensed cycling gear," says Paul Kos. "Pretty neat!" … Are Duke's black uniforms cursed? Maybe (thanks, Phil).

Grab Bag: Canada is test-driving a few logos in advance of the country's 150th anniversary. "All horrible!" says David Kuruc. "¦ The L.A. Kiss — that's the arena football team owned by the members of Kiss — unveiled their new jerseys yesterday (from Greg Keklak). "¦ Several months old but still interesting: "Project Active Armor is working to encourage law enforcement officers to wear ballistic vests at all times during their shifts, not just occasionally," says James Ashby. "To raise that awareness, some members wear their vests during athletic events, like the Quantico triathlon." "¦ Here's another high school football team with COB, or cross on back. That's Detroit Loyola High from Michigan. Also, note the old English "D" on the back of the helmet — is that the Tigers' jersey logo? Close, but not quite (from Chad Hensley).