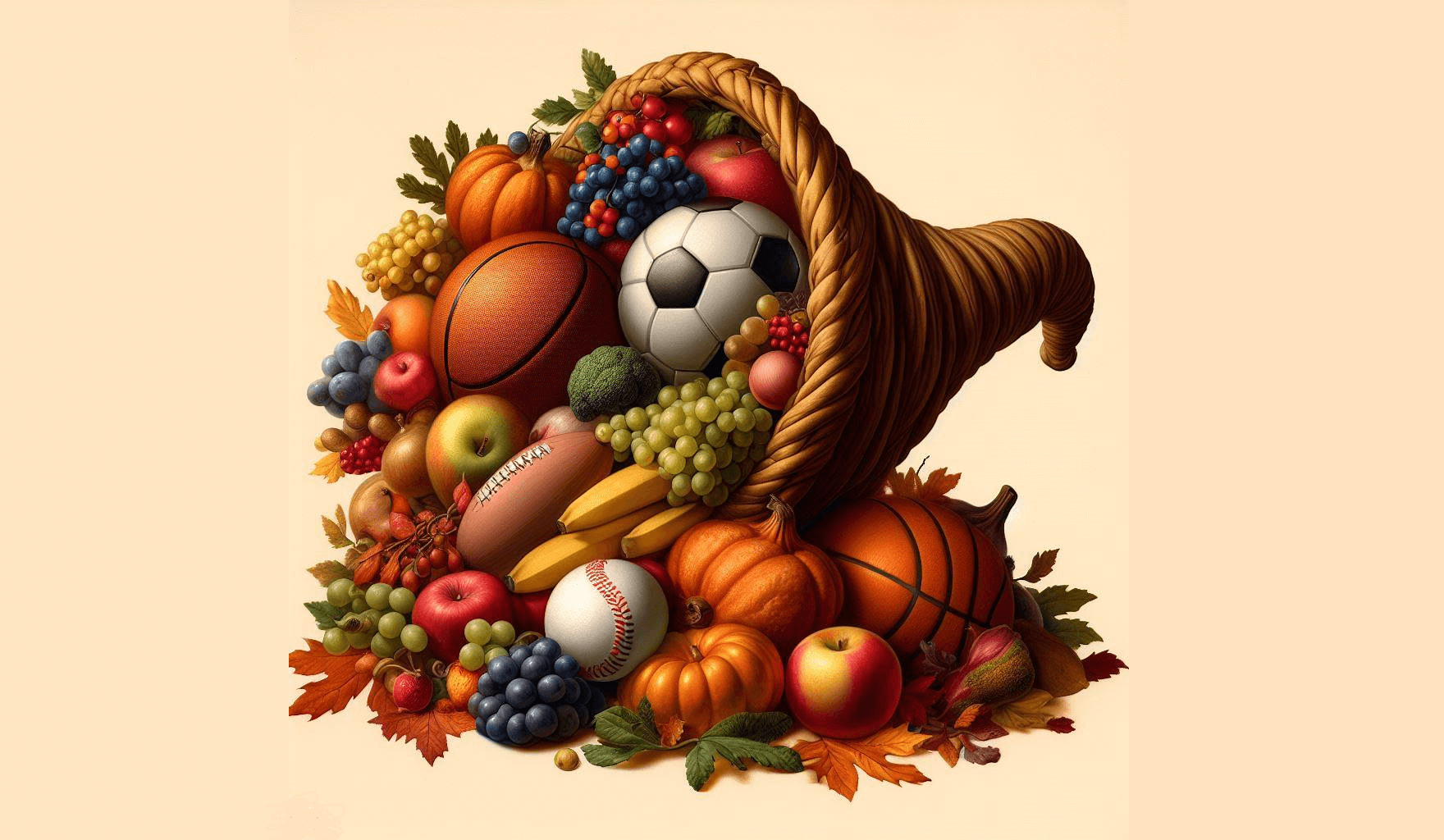 [Deputy Editor's note: With Thanksgiving coming this Thursday, today we have another guest entry from UW contributor/pal Kary Klismet, continuing with his "Dressed for the Season" series. "Dressed for the Season" is a series on uniforms appropriate for particular holidays. The series began with Easter, and moved on to Independence Day, and finally last month progressed to Hallowe'en. This is Pari IV in the series. Enjoy! — PH]
__________
Dressed for the Season — Thanksgiving
by Kary Klismet
Happy fall, fellow uni-watchers! We're even deeper into my favorite season of the year than we were just three weeks ago, when we explored the best uniforms for that other holiday pillar of autumn – Halloween.
As much as I loved putting that list together, I'm even more excited to share what I've uncovered for this piece because Thanksgiving is the holiday I love the most on the calendar. It provides a moment to pause and reflect on our blessings, it always includes an abundance of football, and it revolves around the one activity I think of myself as an expert at – eating! But most importantly, I was born on Thanksgiving, so it's always felt like "my" holiday. And this list (indeed, the entire series) feels like my way of giving a gift back to the comm-un-ity.
Keeping with the previous editions of Dressed for the Season, I laid out some ground rules for myself as I examined all the sports uniforms that might make our menu of visual Thanksgiving goodies. For starters, I took a holistic approach to the teams I considered. I put some weight on teams with Thanksgiving-appropriate identities, but such teams were few and far between (unlike the plethora of candidates for Halloween). But with Thanksgiving being so thoroughly associated with the autumn harvest season, I expanded my search to include teams with color schemes that reflect the imagery of fall, particularly the changing of the leaves.
As always, I gave more weight to uniforms a team wore with some frequency as opposed to specialty or one-off getups. That's not to say that a few alternate outfits might not get a nod or two in the upcoming rankings, but all things being equal, I stuck with a team's regular garb whenever I could (in no small part because they're usually easier to find photos of).
When all was said and done, I came up with a group of sixteen teams for this list (the same as with the Halloween rankings), And I had to make some tough cuts to keep it from growing any larger (like me grabbing another serving of stuffing at the Thanksgiving buffet).
But we're not here to talk about my (annual and inevitable) expanding waistline during the holidays. Let's clear the hors-d'oeuvres and get to the main course!
_________
14. (tie) Lansing Christian School coed varsity cross-country and track teams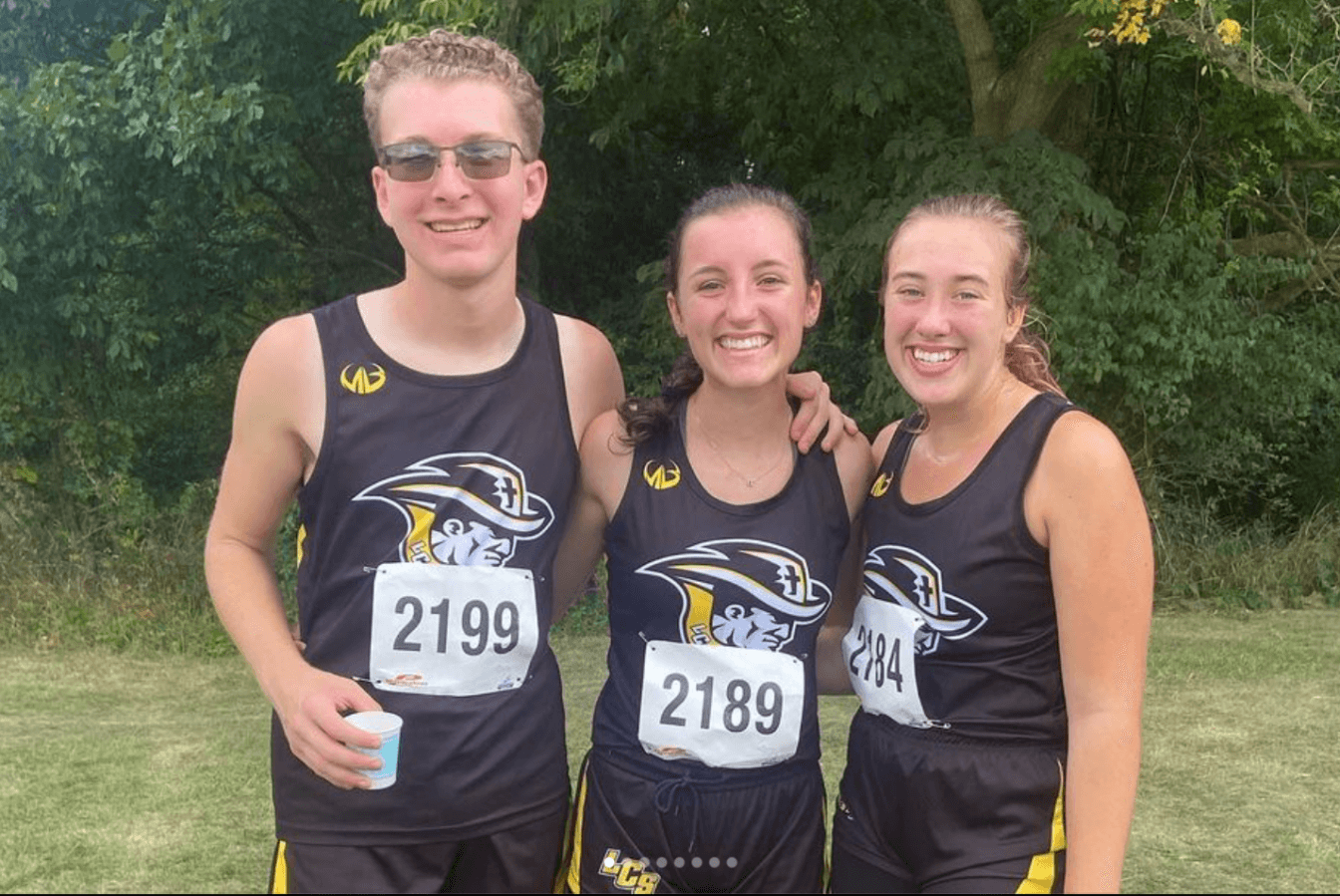 We dig into this feast of Thanksgiving-themed uniforms with a triple helping of Pilgrims. Yep, we have a three-way pie – err, tie – for the fourteenth spot! The holiday is synonymous in America with Pilgrims, so we simply couldn't have this list without a team so aptly named. The problem was, while several teams use "Pilgrims" as a mascot, there wasn't one that separated itself so thoroughly from its peers that it earned a solo spot on this list.
I was hoping to find a team out there called the Pilgrims with just the perfect look. Unfortunately, no such team exists (except in the results of my ill-advised decision to dabble into AI image generation, which yielded some… curious creations). Instead, there were three teams that brought distinctive enough elements to their visual identities that they separated themselves from similarly named teams, but without pulling ahead of the other two.
Our first of the three are the Pilgrims of Lansing (Mich.) Christian School. They warrant mention on this list with a logo that conveys a fairly traditional representation of the Thanksgiving Pilgrim (although the cross on the Pilgrim's hat is perhaps a bit of an embellishment, aesthetically speaking). And their color scheme earns mixed reviews. The black is on point for their identity, and the yellow could fit in with any number of autumn-oriented combinations (as we'll see later). But together, the combination feels less than Pilgrim-y.
Even so, Lansing Christian's coed cross country and track teams make the medal stand by emphasizing black (always popular with the Pilgrim crowd) in their uniforms and by featuring the Pilgrim logo prominently on their jerseys. It's almost like Myles Standish, William Bradford, and their fellow Plymouth colonists themselves are sprinting to the feast on that first Thanksgiving Day! (Sorry to drop another one of those weird AI images on you, but I couldn't resist!)
__________
14. (tie) New England College Pilgrims Women's Hockey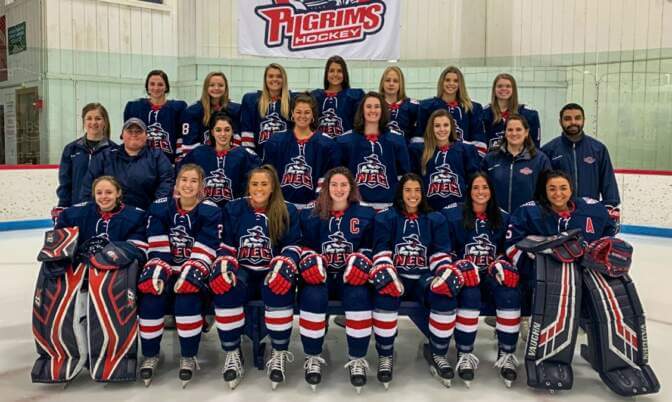 It's no surprise that a college in New England would choose "Pilgrims" as its team name, given the region's history. New England College, of Henniker, New Hampshire, earned its place in this three-way tie by having a logo that comes closest to the visual archetype that most Americans associate with Pilgrims – except, that is, for the color scheme.
Pilgrim apparel in red, white, and blue? Come to think of it, it wouldn't be the first time that Puritanism has been conflated with patriotism, so I guess I'll allow it. And it gives us the chance to highlight these great uniforms worn by the New England College's women's hockey team. The big, bold pilgrim graphic on the front of their jerseys make them feel like something you could wear on Thanksgiving and look appropriately adorned for the festivities. (Just don't spill any cranberry sauce on those gorgeous sweaters!)
__________
14. (tie) Plymouth Argyle F.C., 2023-24 Home Kits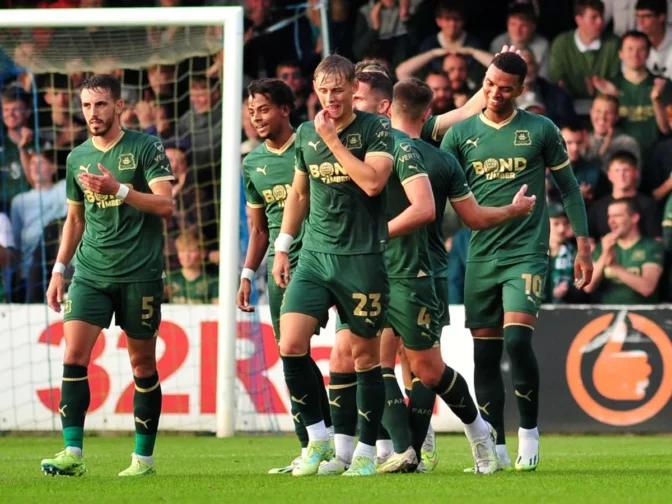 An English soccer team? On an American Thanksgiving uniform list? Didn't the Pilgrims flee the tyranny of England for, like, religious freedom and all that? Well, yes, but because the city that launched their transatlantic journey enthusiastically celebrates their erstwhile ancestors, this team has managed to claw their way into a tie with a couple of their American counterparts.
Plymouth Argyle, of the English Football League Championship (the country's second-tier competition behind the Premier League), have called their side the Pilgrims as far back as their founding in 1886. They traditionally wear green kits at home, occasionally accenting them with gold, as they have done to nice effect this season.
And Plymouth Argyle enhances their identity well with the Mayflower featured prominently on their crest and the coolest costumed Pilgrim mascot out there! If they're willing to cross the pond, these Pilgrims are welcome at my Thanksgiving table any time!
__________
13. Pumpkins Girls' Soccer Club, Katutura, Namibia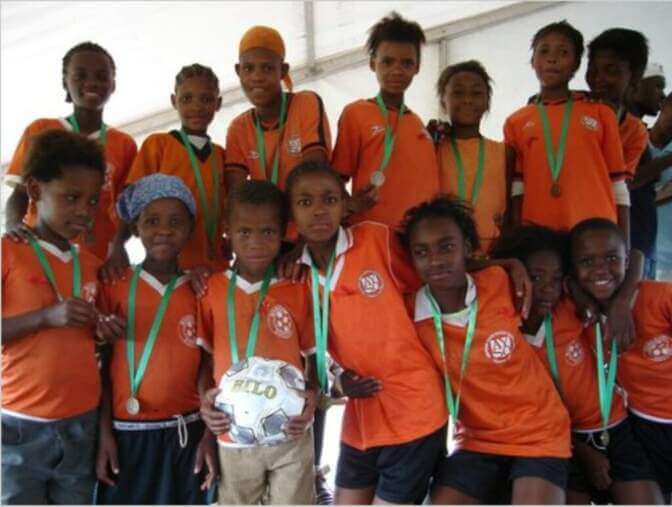 Pumpkins may take top billing at Halloween, but they're equally at home as part of Thanksgiving decor. As such, an orange-clad team that calls itself the Pumpkins simply had to be on this list, especially when taking their heartwarming story into account.
Founded in 2006, the Pumpkins are the first female youth soccer team in Namibia. They earned their nickname from the orange hand-me-down jerseys donated by a team in suburban New York. Facing an uphill battle in a culture where many considered girls' participation in sports inappropriate, they persevered by playing boys' and women's clubs, gaining their opponents' respect and establishing a place for themselves in Namibia's sporting landscape. Their story is told in a children's book that can still be found for purchase online.
As you make your way through this list, you'll notice that most teams mentioned have more than one fall-oriented color incorporated into their uniforms. But the combination of one of the most celebrated fall colors, coupled with a quintessentially autumnal team name, was more than enough to propel the Pumpkins into these rankings. Besides, it gives us a chance to celebrate their courage and pioneering role in gender inclusion in African sports, and that's something that's worth giving thanks for!
__________
12. Seaholm High School Maples Football Team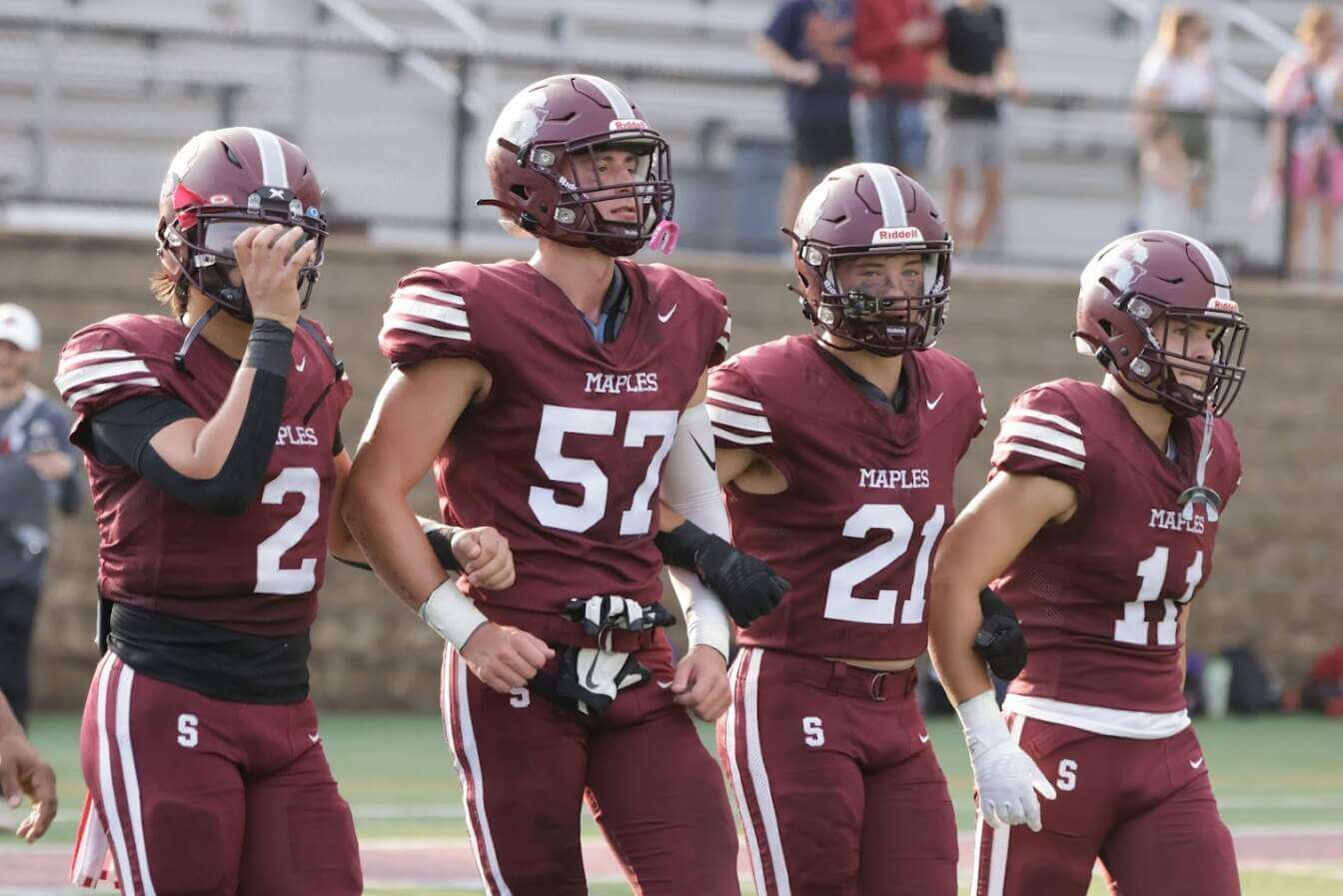 The Maples of Seaholm High School in Michigan are another team whose color scheme includes just one color associated with fall – in this case, a deep, rich maroon. Perhaps maroon doesn't trigger thoughts of autumn for some the way brown or orange might, but it's not hard to find maple leaves in precisely this shade dotting the landscape during the peak of the season.
And with a maple leaf logo on their helmets that looks like it could have even been plucked from a fall wreath, Seaholm has found a look that captures the Thanksgiving spirit splendidly. Now if only they'd bring back their old maple leaf sideline mascot, it might improve my attitude about having to rake leaves this time of year.
__________
11. Des Moines Oak Leafs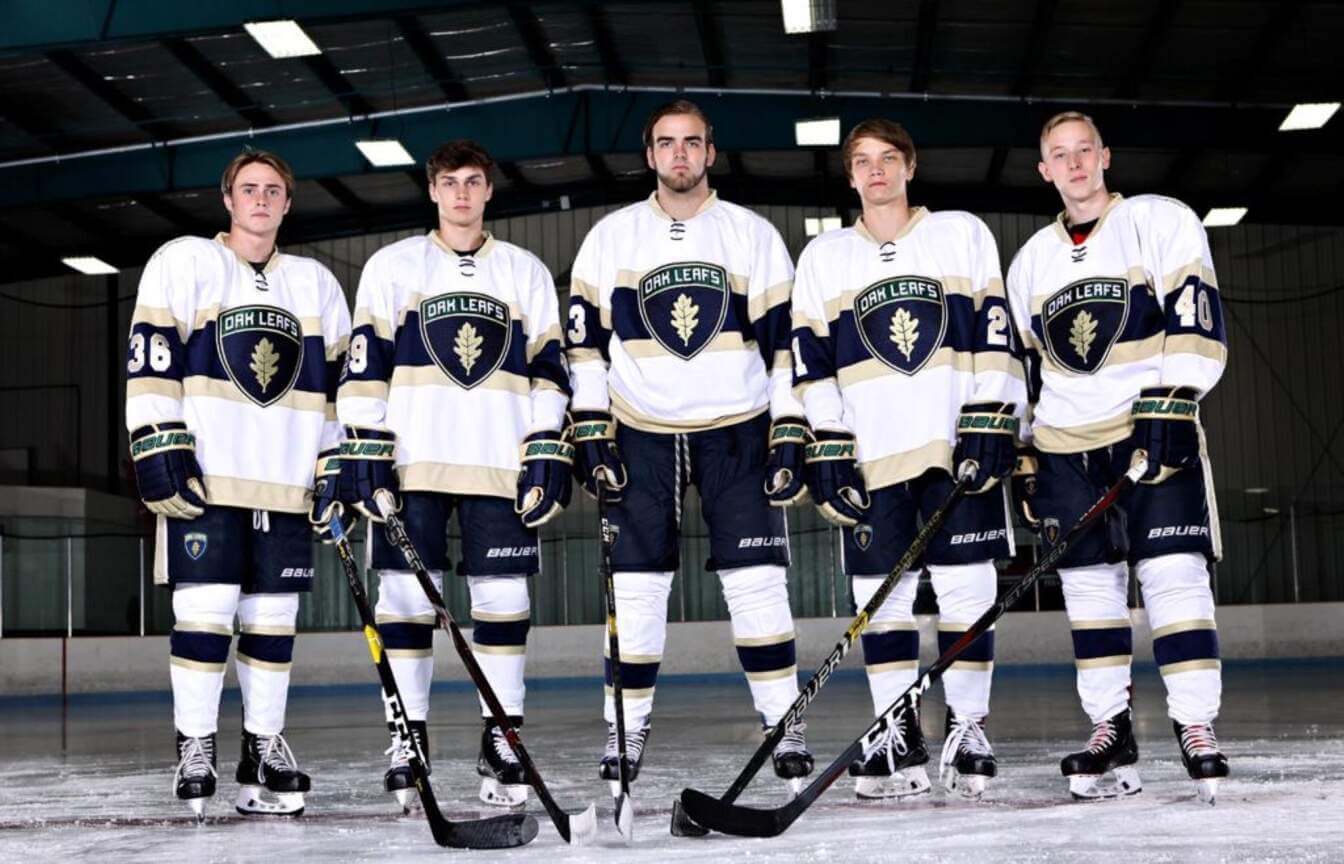 Let's jump from the pile of maple leaves we were just in to a pile of oak leaves – or Oak Leafs, I guess! In this case, we're talking about the Des Moines Oak Leafs, a competitive high school-age hockey travel team celebrating their 25th anniversary this season.
The Oak Leafs use a name that can be traced back to an old minor league team that played in Iowa's capital as far back as 1961. Their color scheme includes blue and green, perhaps not everyone's cup of tea for Thanksgiving decorations. But I've seen it pulled off well before, so it's not unprecedented.
What really stands out, though, is the gold oak leaf at the center of their logo, rendered in a shade akin to beige that looks all the world like an oak leaf one might see blanketing the ground near the State Capitol on a brisk November day. It would be a worthy companion to the maroon maple leaf we already have in our fall wreath.
__________
10. Montana Grizzlies Football Team 1967-95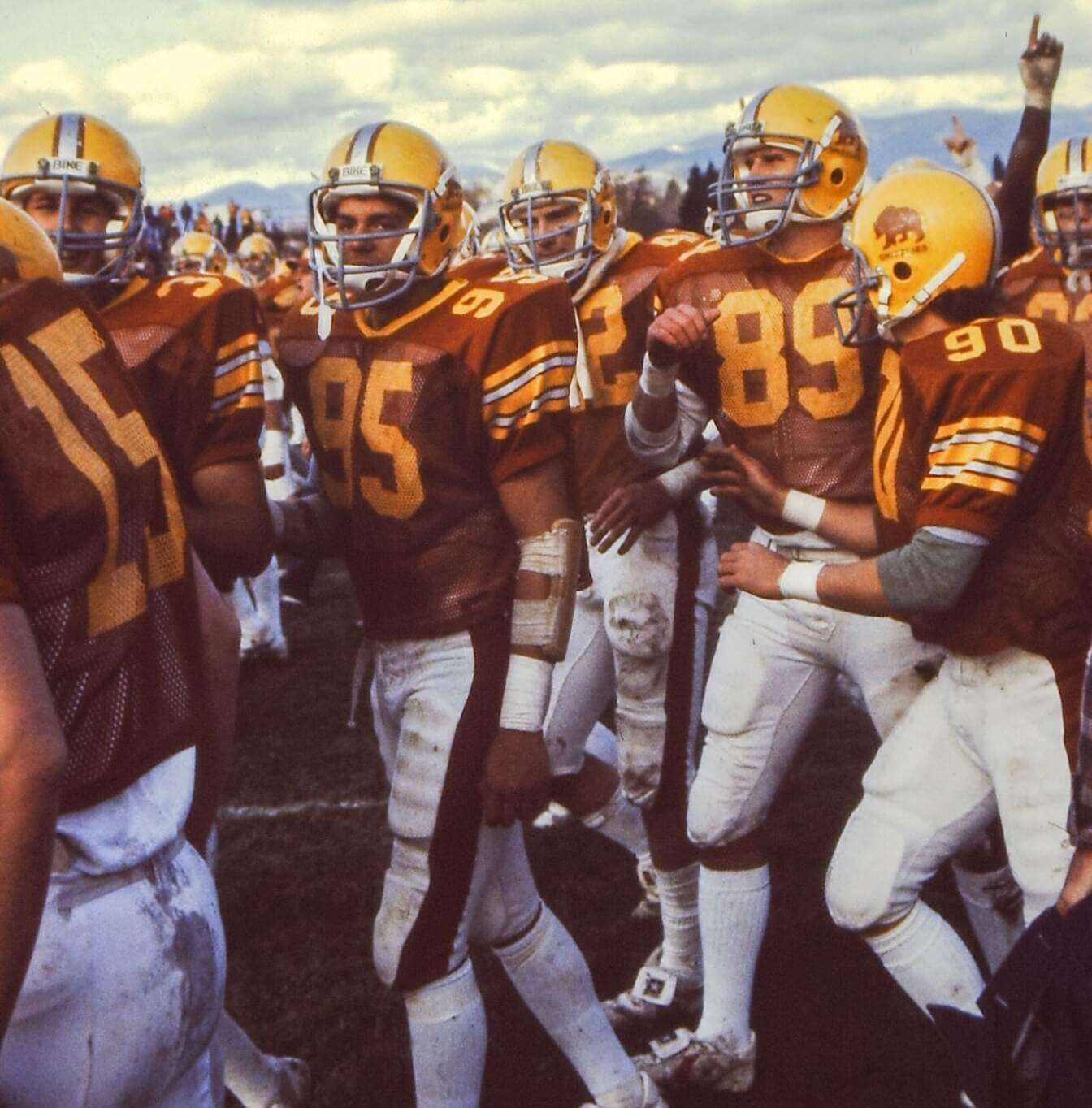 Is there a color combination that evokes a feeling of fall better than burnt orange and yellow? (Well, yes, now that you mention it, seeing as how we have nine more entries to go on these ratings. But, hey, the combo's no slouch!)
The University of Montana's official colors are copper, gold, and silver – a tricky palette to pull off on football uniforms. That has led the Grizzlies to use maroon and silver as their "spirit colors" on sports uniforms for much of their history. But for a glorious stretch of nearly 30 years, they tried to replicate the mineral wealth of the Copper State on their football uniforms.
The Griz settled for "Texas orange" in place of copper and yellow as a substitute for metallic gold. The end result might not have confused anyone with the output of the United States Mint, but the team could have blended in well with the vibrant fall colors on campus.
Even after reverting back to their old maroon and silver colors in 1996, the autumnal awesomeness of those orange and yellow uniforms has proven popular enough to be revived as a throwback option from time to time. A crisp fall day in Missoula simply couldn't feel more fall-like than when the Griz break out these beauties!
__________
9. Brown University Baseball Team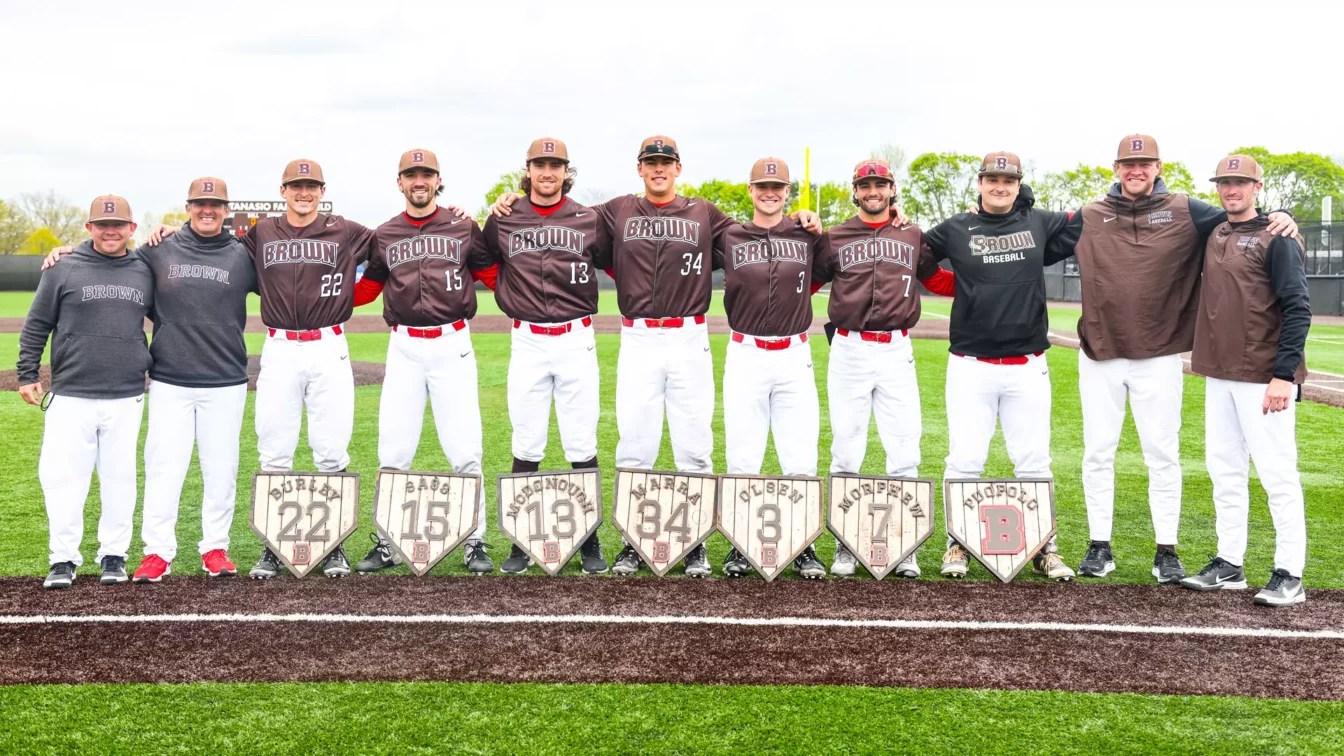 If red, orange, yellow, and brown are the four colors most closely associated with fall decorations, and we explored two of them (orange and yellow) in our previous entry, is there a team out there that can cover the other two (brown and red) for us? Indeed there is! And they proudly use their school's moniker – Brown University – to proclaim allegiance to their namesake hue in all its mahogany magnificence.
Across Brown's athletic department, the Bears' baseball team does the best job of balancing the school's ubiquitous shade of brown with a splash of red to round out the fall feel to their uniforms. And in the process, they remind us that Brown is always stylish this time of year.
__________
8. Denver Broncos, 1960-61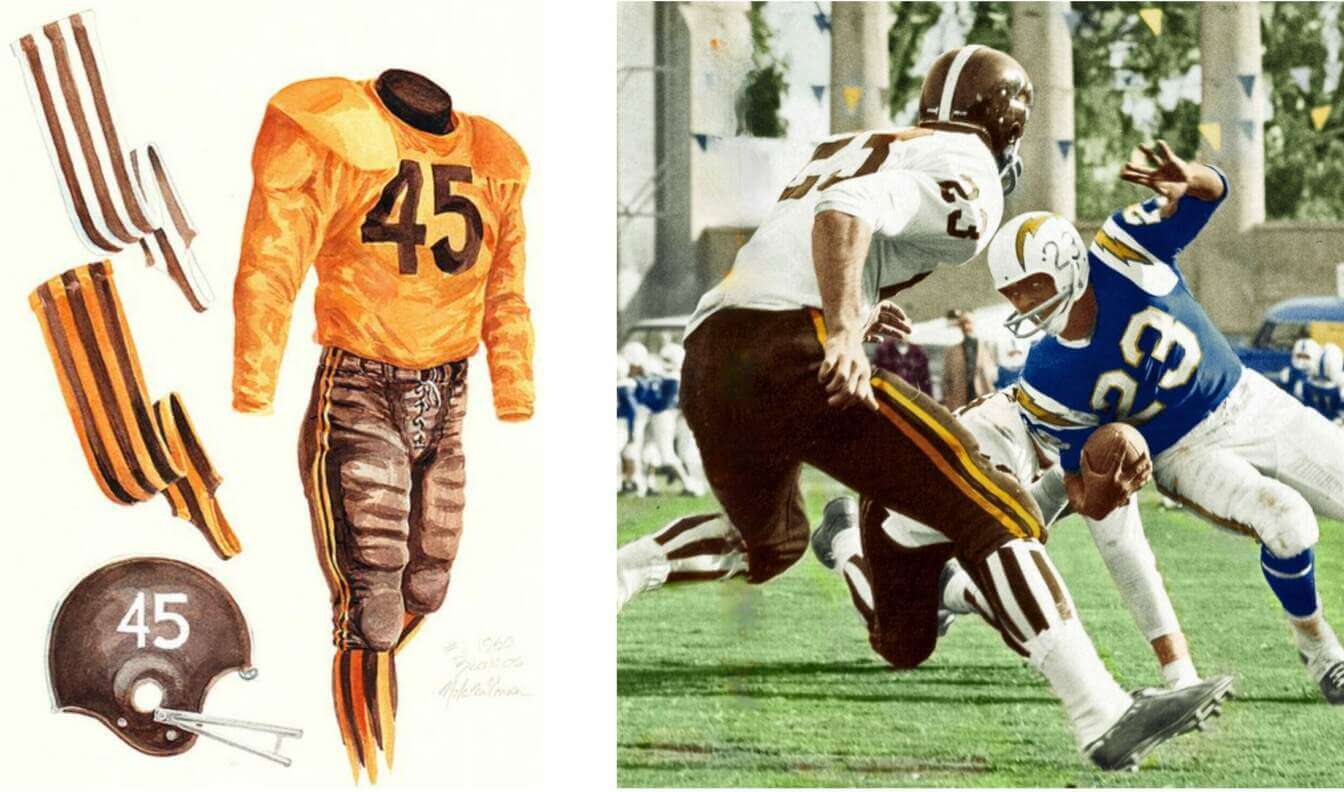 With our autumnal color spectrum firmly established, let's explore some of the other ways that teams have intermixed them. Brown and yellow? Check! Denver's franchise in the upstart American Football League was one of the first in professional football to experiment with that chromatic combination. And with those infamous vertically striped socks, it's no surprise that it's a path that few have followed!
Nevertheless, with hosiery harkening to the harvest season serving as the foundation for a well-balanced blend of brown and yellow throughout the rest of the uniform, the Broncos galloped through their first two seasons looking like wild horses dashing through a Rocky Mountain aspen forest in the fall! They famously burned the socks after switching uniforms to their more familiar orange and blue color scheme in 1962. But a new generation of fans got to see the old duds (pun intended!) when the Broncos wore them as throwbacks for a couple games in 2009. I, for one, would love to see them once a year around Thanksgiving (if only the NFL's helmet rules would allow it).
__________
7. Memphis Southmen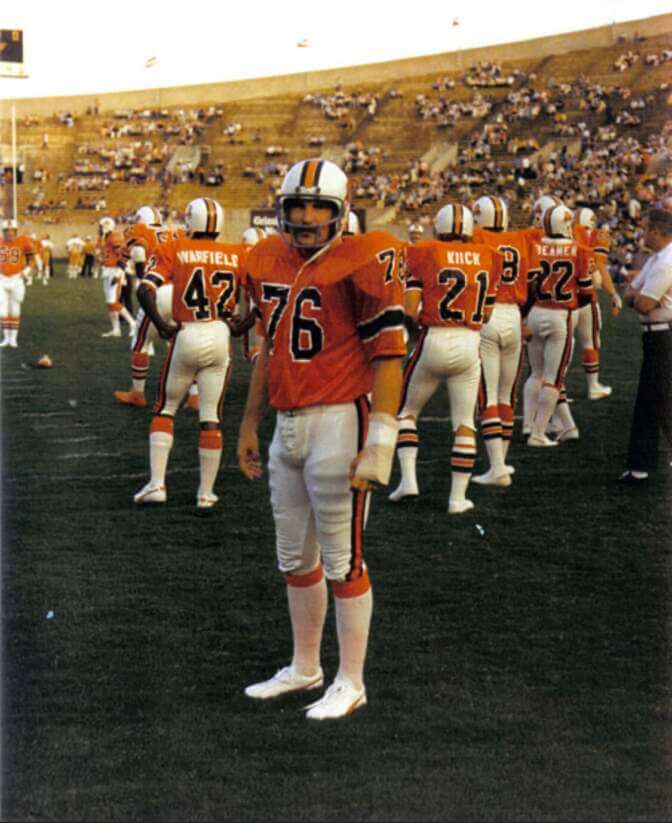 A pro football team that wears brown and orange? I know who you're thinking of (and we'll get to them soon enough), but did you know there was another pro football team that wore brown and orange? This one flipped the script by wearing orange jerseys with brown trim. And by using an earthy shade of burnt orange that fits flawlessly within our range of fall colors, they distinguished themselves just enough from other orange and brown-clad teams to earn a spot on this list.
In case you've never heard of them, we're talking about the Memphis Southmen of the old World Football League. Also known as the Grizzlies (it's a long story, but you can read about it here), they rocked this rustic-tinged regalia for the entirety of their short-lived existence from 1974-75. It's a look that not only recalled the fall foliage, but also the colors you might see on a Memphis Thanksgiving table when they bring out the barbecued turkey. (That's not the bear on the Southmen's helmet you hear growling. That's my stomach!)
__________
6. Cleveland Browns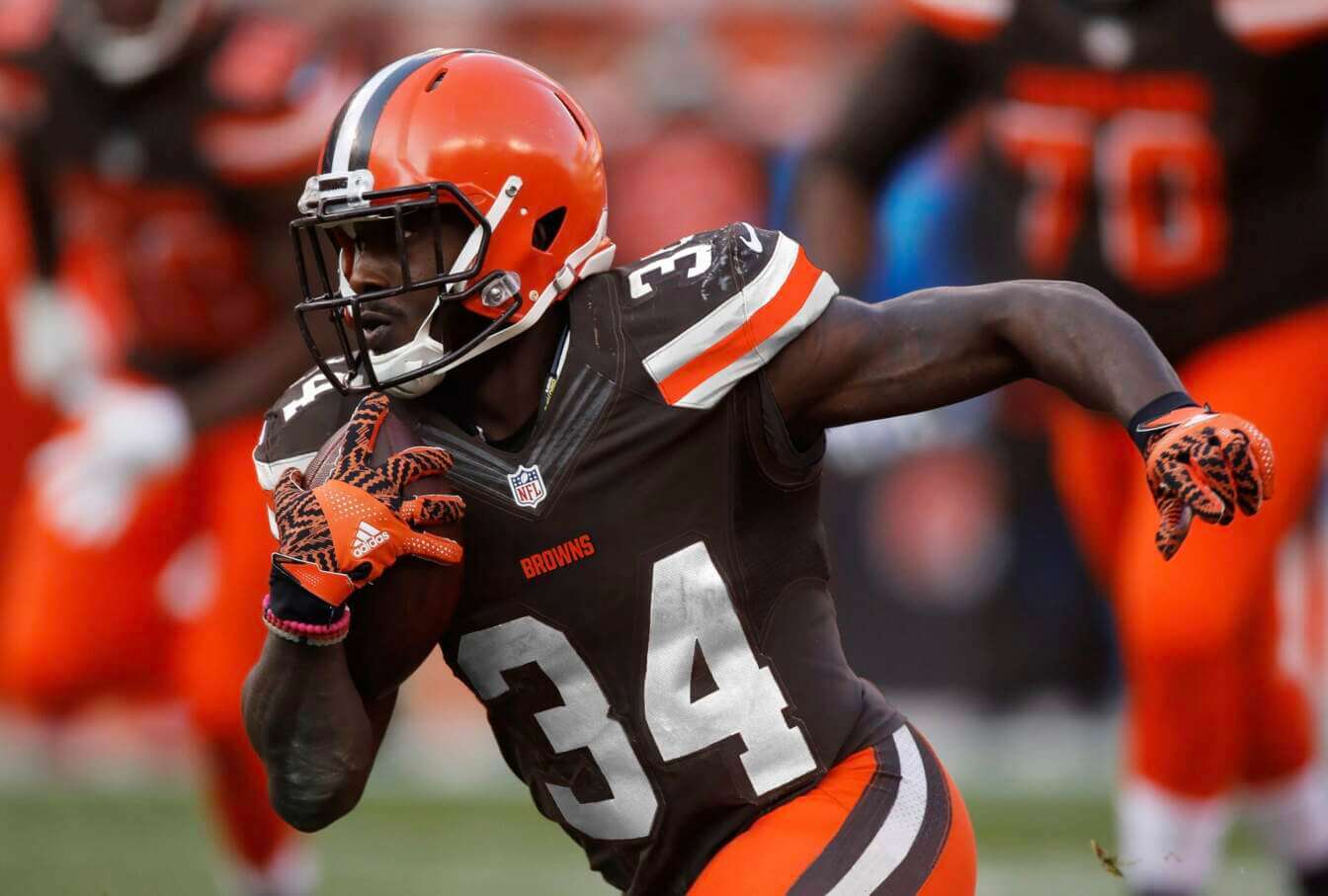 So now we get to that other brown and orange pro football team I was mentioning! Does anything conjure the iconic feeling of football on a fall day more than images of the late, great Jim Brown tearing through the opponent's defense in old Municipal Stadium, or Brian Sipe leading the Kardiac Kids on another come-from-behind victory?
Cleveland has had a wide variety of uniforms throughout its history that I could have chosen for this slot (okay, just kidding on that last photo!), but the combination that strikes me as the most fall-like is the home set they've worn since 2020, with orange pants and the brown facemask. I may like the white facemask better (it's what I grew up watching them wear), but dang if that helmet with the brown facemask wouldn't work spectacularly as a centerpiece on a Thanksgiving table somewhere along the shores of Lake Erie!
__________
5. Wyoming Cowboys Men's Basketball Team, 1980-87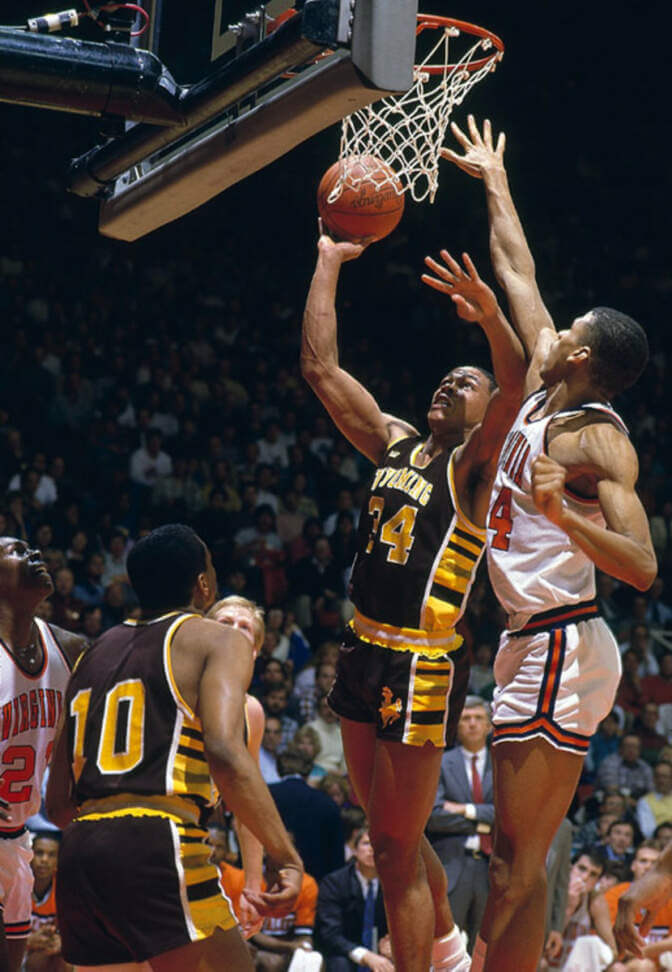 How does a team take its brown and yellow color scheme and make it feel even more fall-like? By using multiple shades of brown and yellow! That's what the Wyoming Cowboys did with the side panels of their uniforms for much of the 1980s.
Some might consider it a ripoff of the Milwaukee Bucks' famous "Irish Rainbow" uniforms, but I prefer to think of it as more of an homage. Maybe we can call it a "Thanksgiving Rainbow!"
__________
4. The Hawaiians
From the lofty 7,220-foot elevation of Laramie, Wyoming, we travel next to an unlikely destination for autumn adornments: the lush Pacific shores of the Aloha State! No, it's not a road trip in the Mountain West Conference. Rather, we're traveling back in time, too – back to 1974-75, when Honolulu was home to a WFL team whose location name and team name were rolled into one.
You might not expect a team from a tropical paradise to outdo the likes of the Cleveland Browns and Wyoming Cowboys on a Thanksgiving-themed list like this, but just look at that color scheme – the dark brown, the rich yellow, and the red! It's like a whole forest's worth of autumn leaves fell out of the trees and stuck to the Hawaiians' uniforms!
__________
3. Utah Jazz "City Edition" Uniforms, 2017-20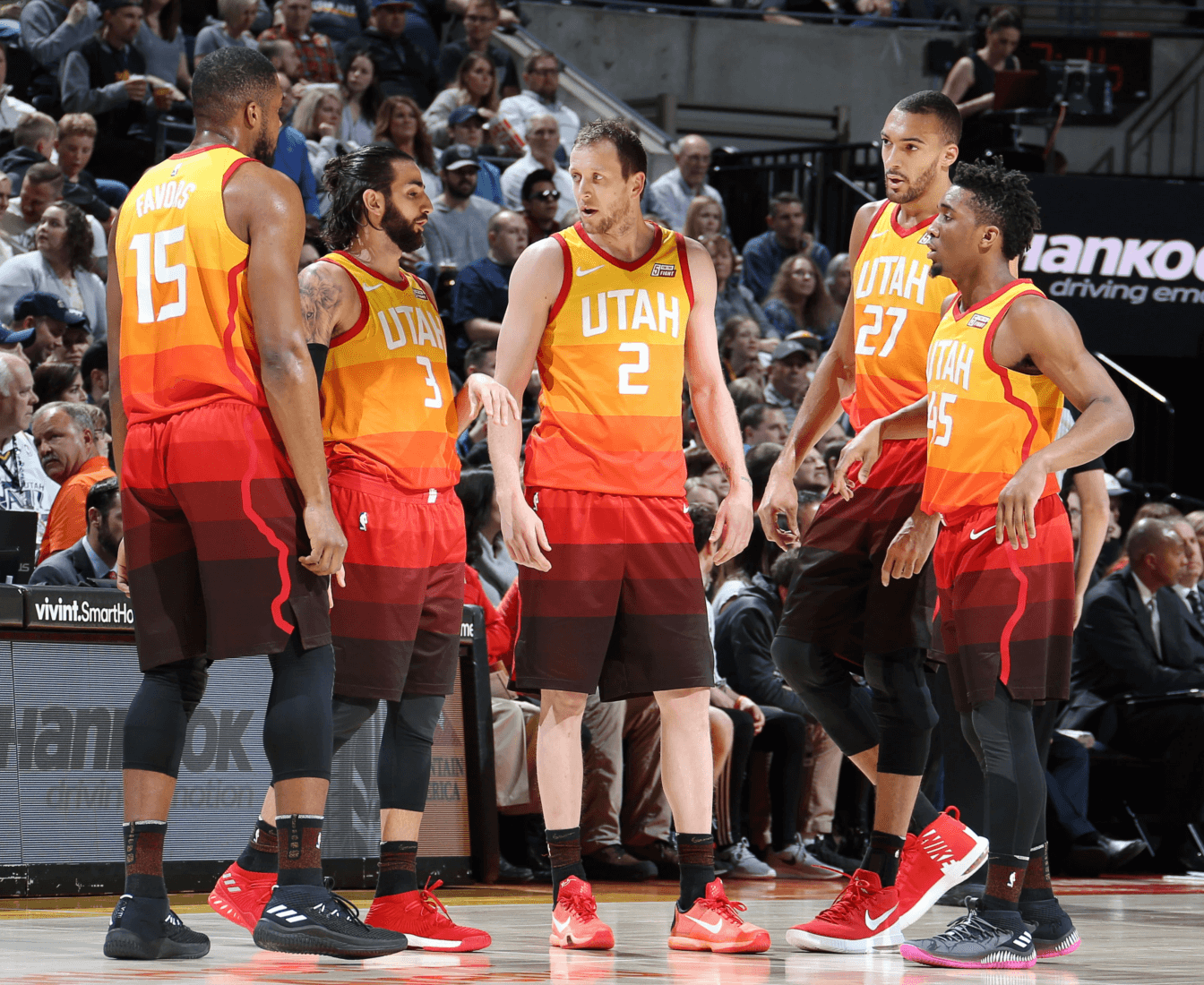 Yes, the differently-shaded stripes on the Utah Jazz's fan-favorite alternates from a few years ago were meant to invoke images of the sedimentary layers of the state's red rock landscapes. But what if we thought of them as different shades of fall leaves, instead?
You could probably find a leaf to match each and every one of those uniform stripes while on a November hike in the Wasatch Mountains just east of Salt Lake City. And that scenery is just about as breathtaking as anything else the Beehive State has to offer, with the finest-looking uniforms the Jazz have ever worn just a slight step behind.
__________
2. San Diego Padres, 1980-84
A fall classic, best known for an appearance in the Fall Classic, this uniform deserves its high ranking on this list with a triple Thanksgiving treat of brown, orange and yellow. The Padres, with their deep history of wearing brown uniforms, were pretty much assured of a spot on this list from the beginning. The real question was whether to choose a uniform from one of their brown-and-yellow eras or from their stint as a brown-and-orange team from 1985 to 1990.
The answer? Neither! Why select from one two-color set or the other when you can have all three fall colors on the same uniform? The Padres have never felt more ready for Thanksgiving than they did during that early '80s heyday.
__________
1. Virginia Tech Hokies Baseball Team, 2015-17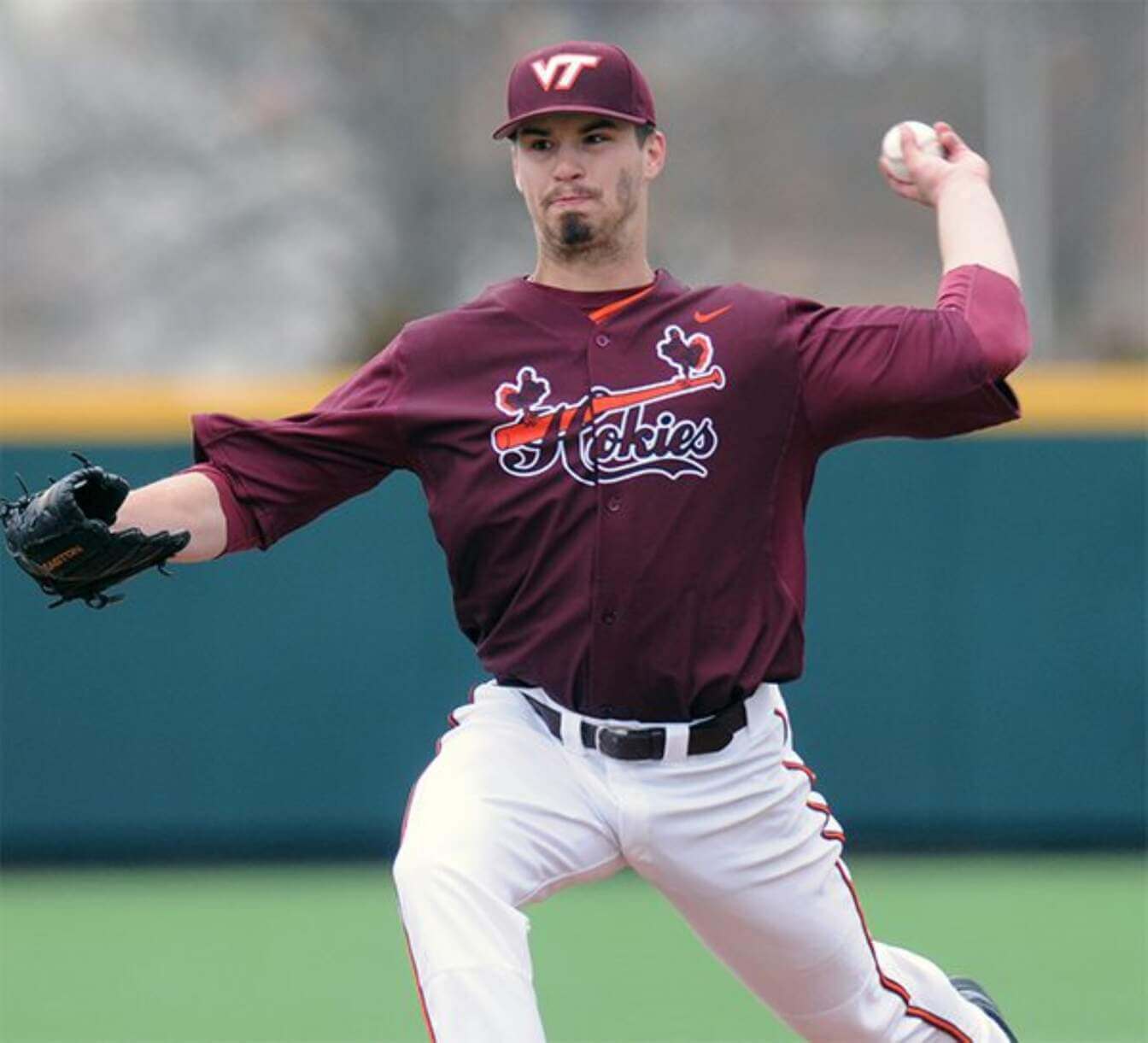 It takes a special uniform to top this cornucopia of contenders, and, to their credit the Virginia Tech's baseball team has delivered with a 100 mph fastball right down the middle of the plate. Not only did they beat out the rest of the teams on this list, but they also had to fend off plenty of challenges from within their own athletic department – particularly the football team – to claim the title.
Besting all comers, the Hokies ballplayers have claimed the crown with this ensemble that took the St. Louis Cardinals' familiar bird-on-bat trope and gave it a wonderfully Thanksgiving-appropriate twist. I mean, has a bat ever looked more like a Thanksgiving accessory than it does as part of this uniform? (Well, there was that one time a guy grew a gourd that looked like a baseball bat, but I still think these jerseys have that beat.) Combining a maroon and burnt orange color scheme ideal for fall with imagery of the one species of fowl that's always the star of the holiday – the HokeBird – err, turkey – the Hokies have easily gobbled up the competition.
__________
And with that, we've closed out another vestiary volume in the Dressed for the Season series. I hope you found my picks palatable. But if not, I'd love to hear your thoughts! Whip up your best argument for who should have been included and serve it in the comments below! And here's wishing you all a happy Thanksgiving!